Southern-style, fluffy, all-butter biscuits packed with spicy chorizo and shredded cheddar cheese. Made with buttermilk, butter, seasoned chorizo, and Tillamook Sharp Cheddar both in the biscuits and melted on top to finish with a bang. Perfect for fall get-togethers, brunch, or breakfast for dinner.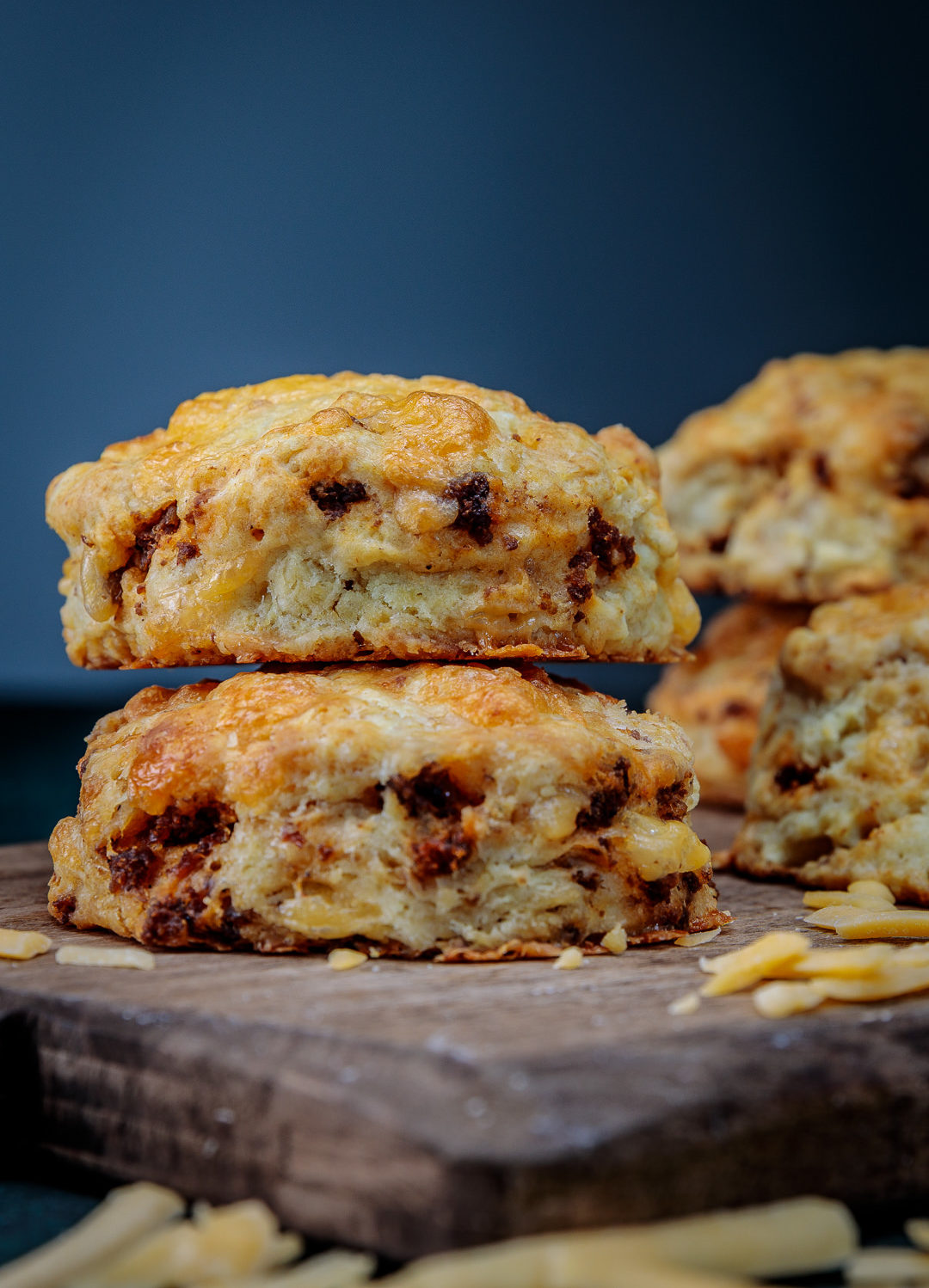 Here in the south, you aren't really having a party unless there's a place at the table for the biscuits. A solid southern biscuit is an unforgettable addition to any good brunch or get-together. Since fall has finally rolled in, I'm so excited to share one of my best biscuit bites with y'all. — Buttery biscuits loaded with spiced chorizo sausage and melt-worthy Farmstyle Cut Sharp Cheddar Shredded Cheese from my partners at Tillamook.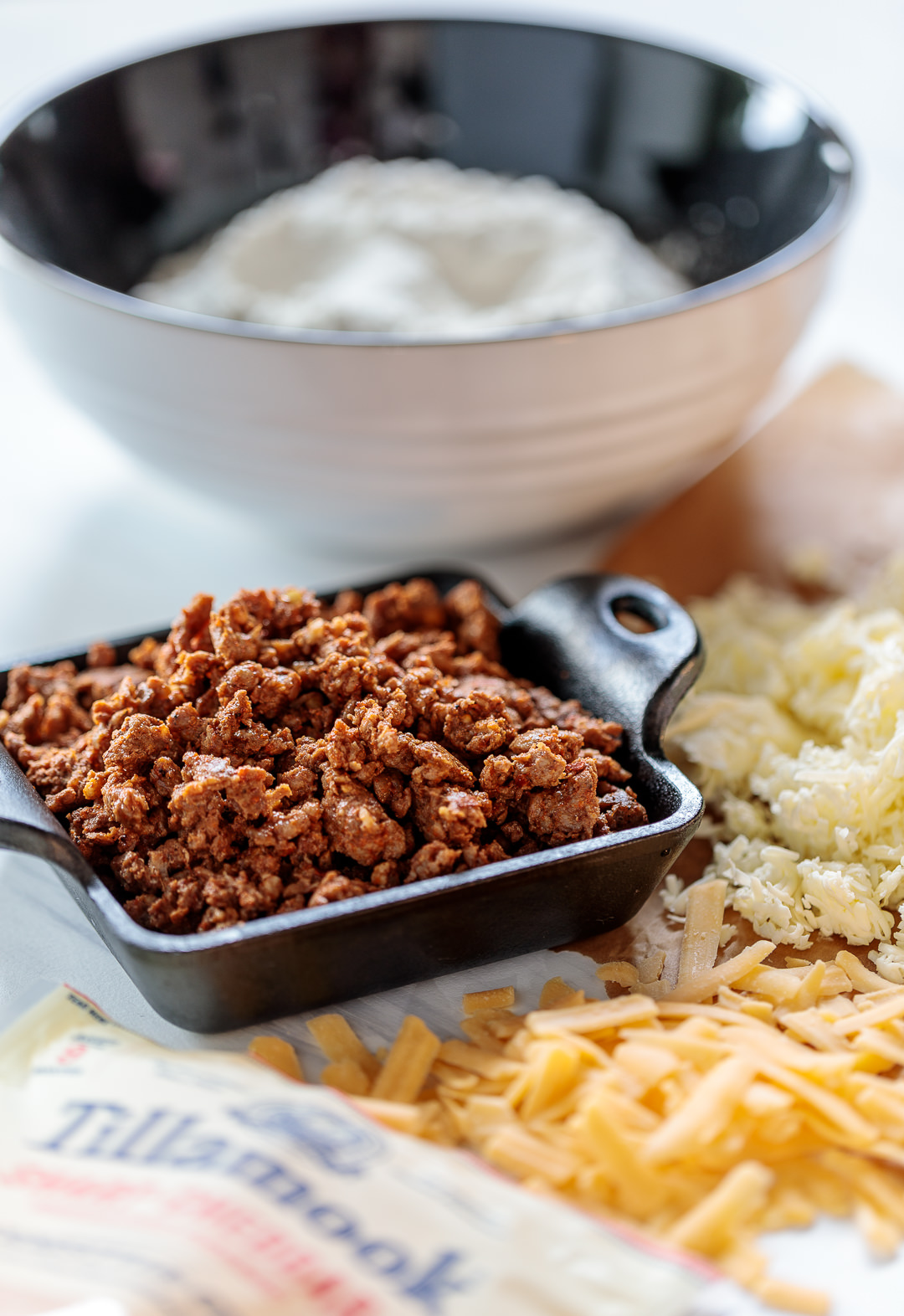 When the days start cooling off a bit, I find myself spicing up the food that I make more often. I've never been crazy about super spicy food, but I like to find ways to give just a bit of a bite with more focus towards the flavors than the heat. I love the mild spice and garlic-packed flavor of chorizo pork sausage. Cumin is such a perfect fall spice, and the full combination of the sausage with the rich buttermilk biscuit base is my new favorite way to perk up a brunch with friends.
Need some Biscuit 101 tips?
Check out our guide here.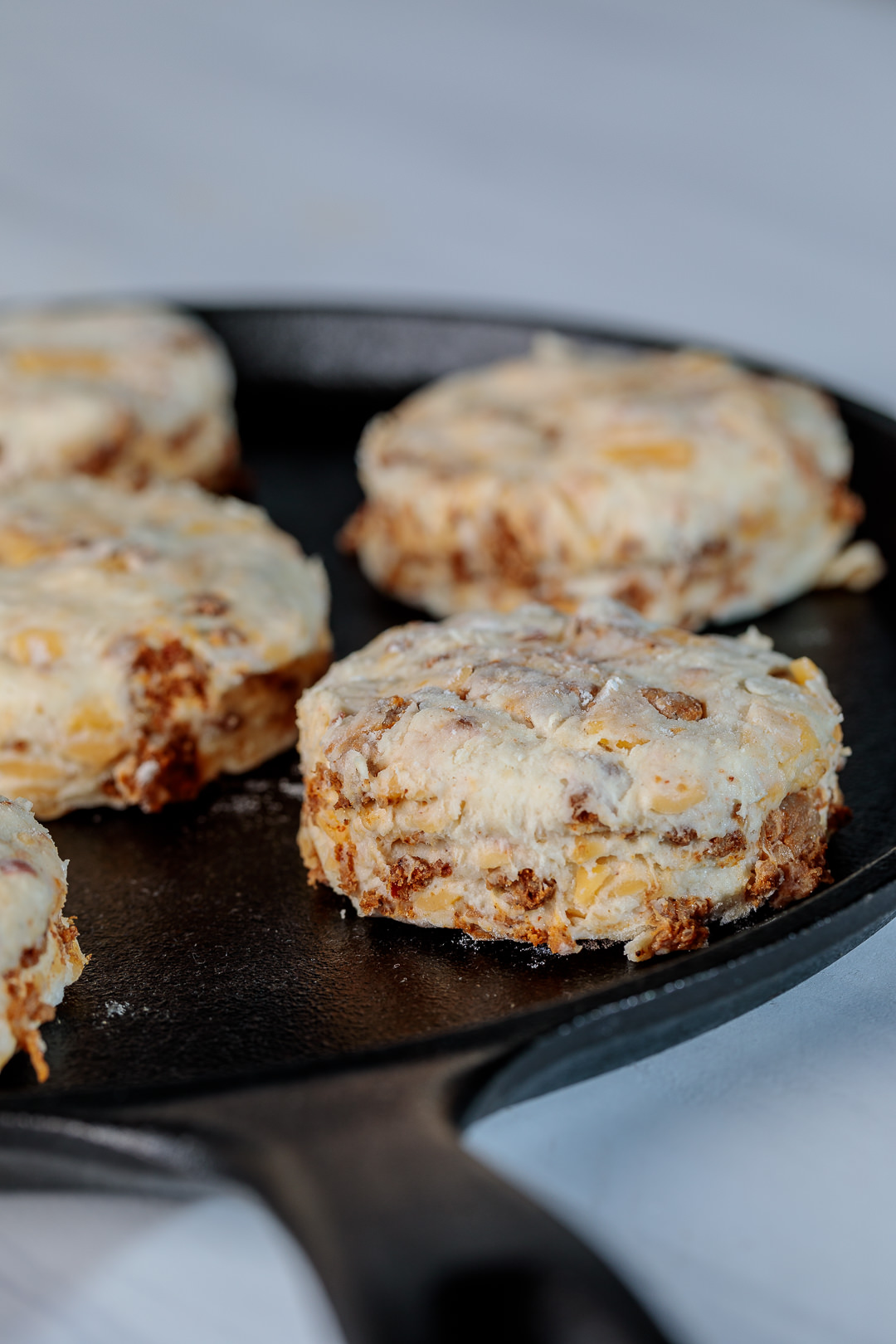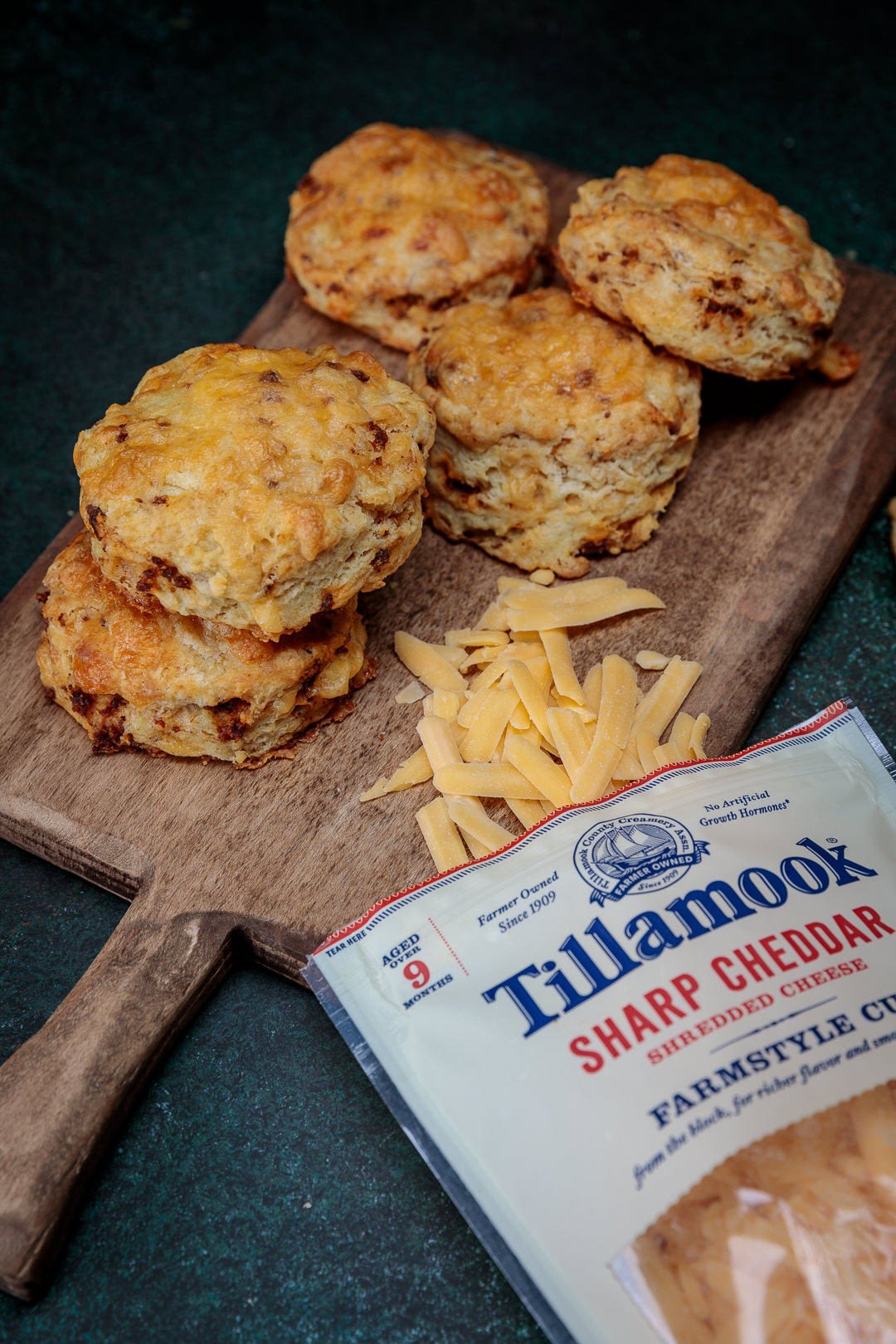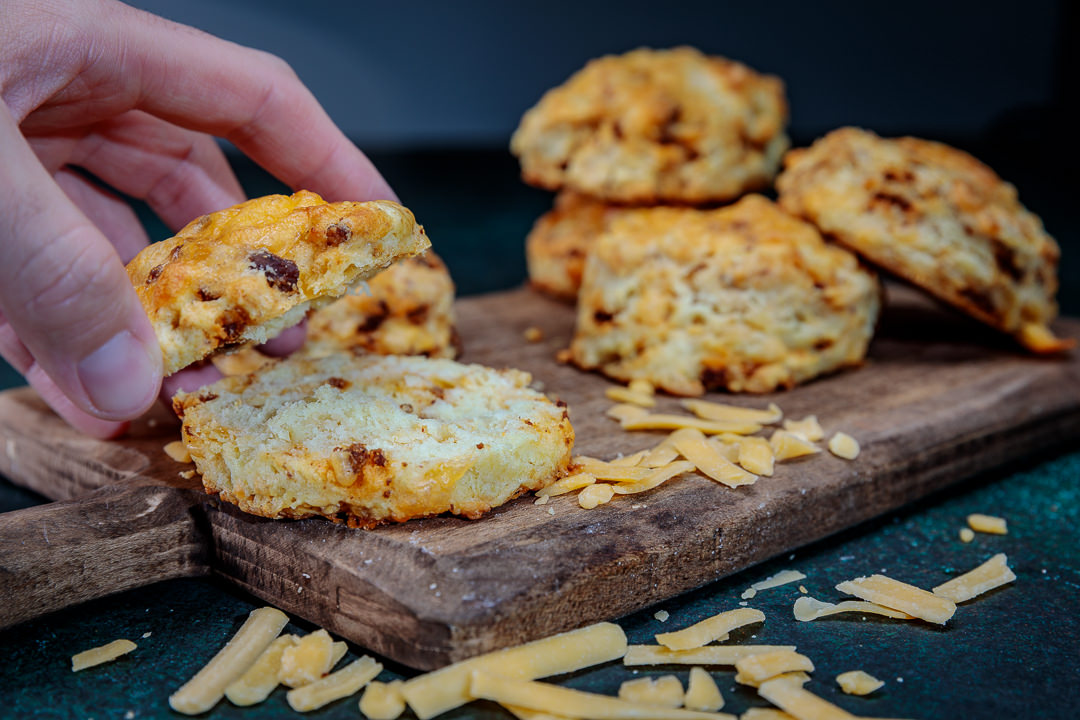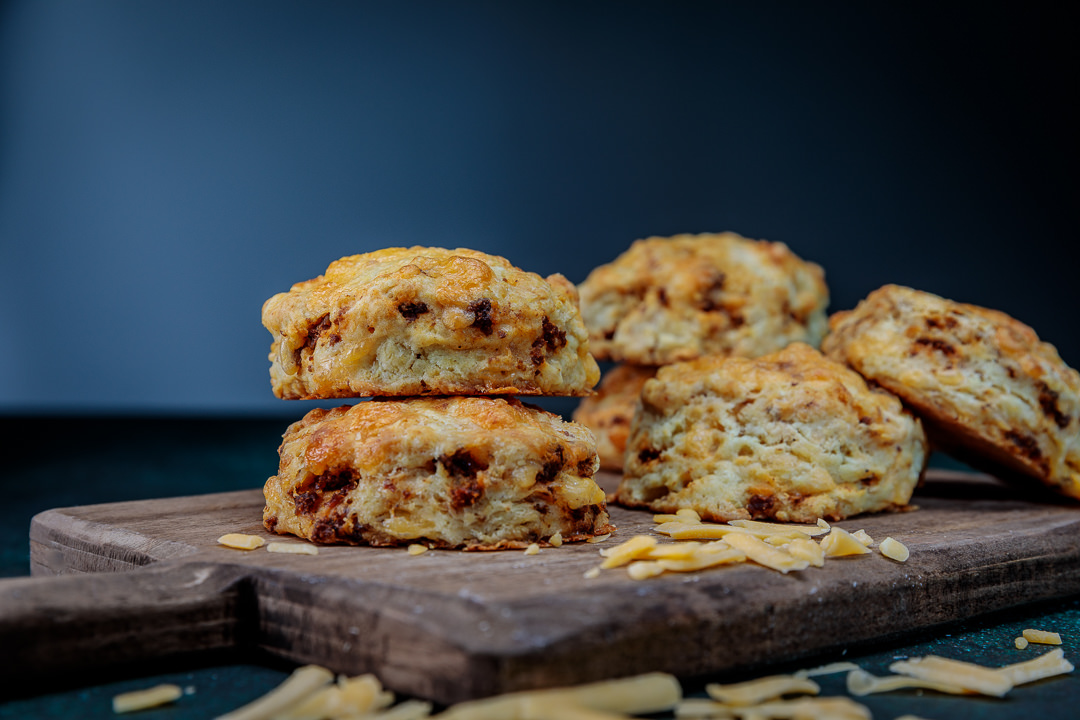 Mixing some cheese into biscuits is obviously a no-brainer, right? Cheese just makes everything better, and my favorites over at Tillamook make the best of the best cheese. With the buttery biscuits, I decided to use Tillamook Farmstyle Cut Sharp Cheddar Shredded Cheese. It's full-bodied and sharp, which works soooo well when you mix it in the dough.
Tillamook shreds are HUGE, y'all. I love that their all-natural cheese is grated in larger shreds because they have some serious melting power. Plug in your zip code here to find out where you can grab them locally!
Cheddar is better, and I decided to finish the biscuits with an extra sprinkle of the shreds on top. Hitting that flavor with the first bite is the best way to start the party.
Bring a little bit of the south to your fall brunch. Enjoy!
Find Tillamook cheese using
the product locator here.
Chorizo Cheddar Biscuits
Southern biscuits take a smoky twist with these chorizo packed, fluffy, all-butter biscuits topped and filled with shredded sharp cheddar cheese.
Author:
Phillip Fryman | SouthernFATTY.com
Ingredients
2 cups (240 grams) flour, all-purpose
1 tablespoon (5 grams) baking powder
½ teaspoon (3 grams) baking soda
1 teaspoon (5 grams) salt
½ cup (115 grams) butter, unsalted, FROZEN
1 cup buttermilk, very COLD
6 ounces (175 grams) chorizo, ground
8 ounces (227 grams) Tillamook Farmstyle Cut Sharp Cheddar Shredded Cheese (click to find)
buttermilk or cream, to finish
Instructions
Check out the Biscuits 101 guide for some tips and tricks before starting.
Pre-heat oven to 450 F with rack in center.
Start by browning the chorizo until fully cooked, about 5 minutes.
Remove to a mixing bowl and set aside.
Combine all of the dry ingredients (flour, baking powder and soda, salt) and whisk well in a large bowl.
Grate frozen butter with larger side of a box grater. Alternatively, you can chop it finely, about pea-sized, as evenly as possible. Keep frozen.
Combine grated butter with flour mixture and stir to evenly distribute.
Add the cooked chorizo and coat with flour mixture.
Saving about ¼ of the cheese top top the biscuits, add the remaining ¾ of the 8 ounces of Tillamook Farmstyle Cut Sharp Cheddar Shredded Cheese (click to find) to the dry mixture.
Pour the cold buttermilk over the flour mix and use a wooden spoon to combine.
Do not overmix. Mix just enough for the dough to form when pressed together and stop.
If it has started to warm, chill the dough for 10-15 minutes prior to rolling.
Press the dough onto a lightly floured surface at about 1 inch in height.
Fold the dough over itself and roll dough to 1 inch again.
Using a floured cutter, press biscuits out. Press straight down, not twisting for best results.
Transfer biscuits to sheet pan.
Lightly brush tops of biscuits with the additional cream.
Sprinkle with remaining Tillamook Farmstyle Cut Sharp Cheddar Shredded Cheese (click to find).
Bake until golden and cheese has fully melted, about 15 minutes.
Enjoy with friends and family!
Find more recipes on SouthernFatty.com.
Did you make these? Share with us on social media by tagging @southernfatty and #southernfatty.
Notes
Recipe from SouthernFatty.com in partnership with Tillamook.
Nutrition Information
Serving size:
1 biscuit
Calories:
280