It's just a little hocus pocus, y'all. — Ghouls and goblins are great and all, but a cast iron cauldron full of queso cheese dip is what I really want as my Halloween treat. This simple creamy four cheese queso is perfect for your monster bash or movie night in.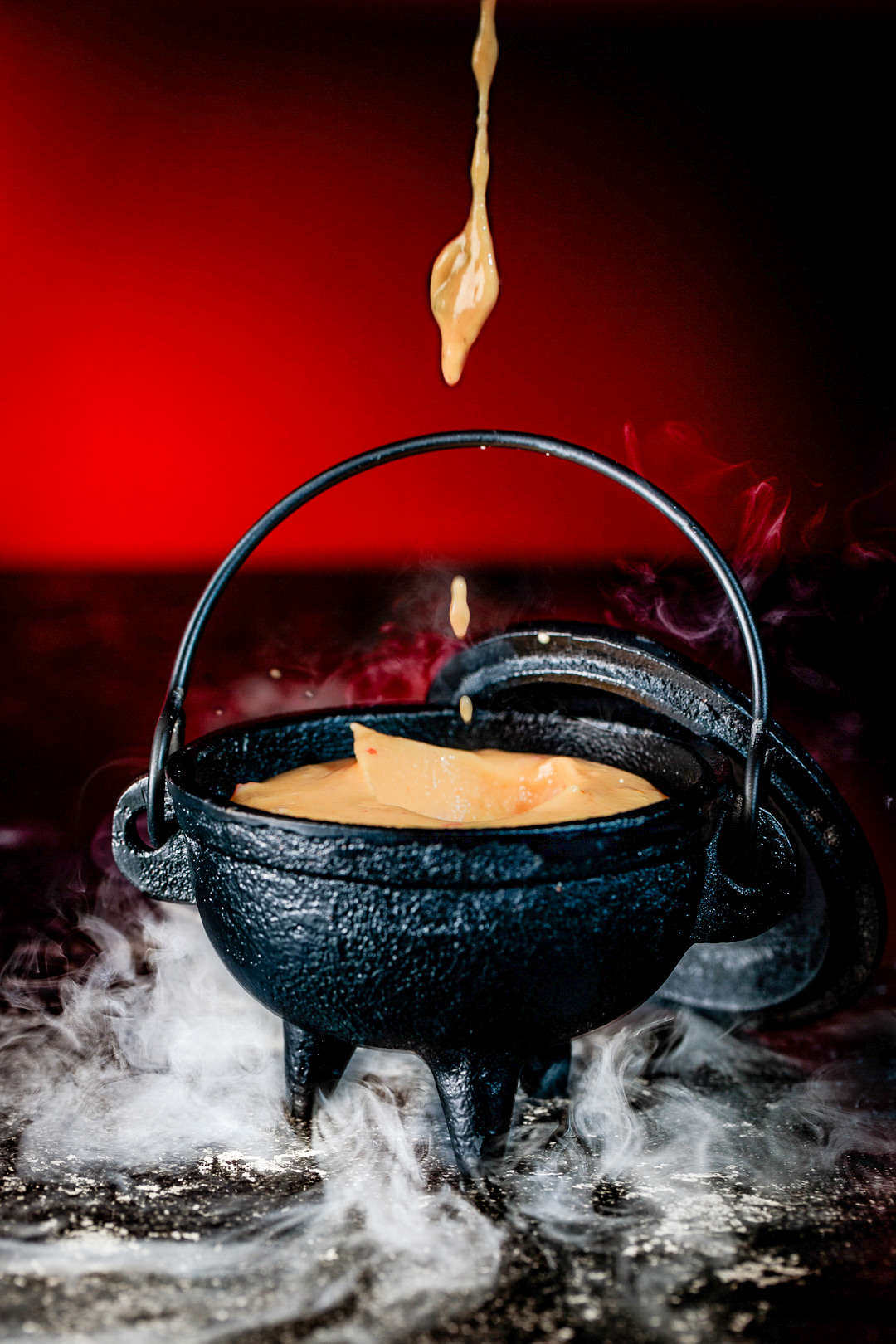 Without any doubt, Halloween is my favorite holiday. Maybe you're all pumpkin spice and carving cute pumpkins, but I prefer a little bit more…. how would you say it? Hocus Pocus, perhaps. Running amok, amok, amok, amok around with friends is great, but we all know the party food is where its at. Officer, this is not a prank! This quick recipe for creamy four cheese queso will have all of your guests all damn, damn, damn, double damn!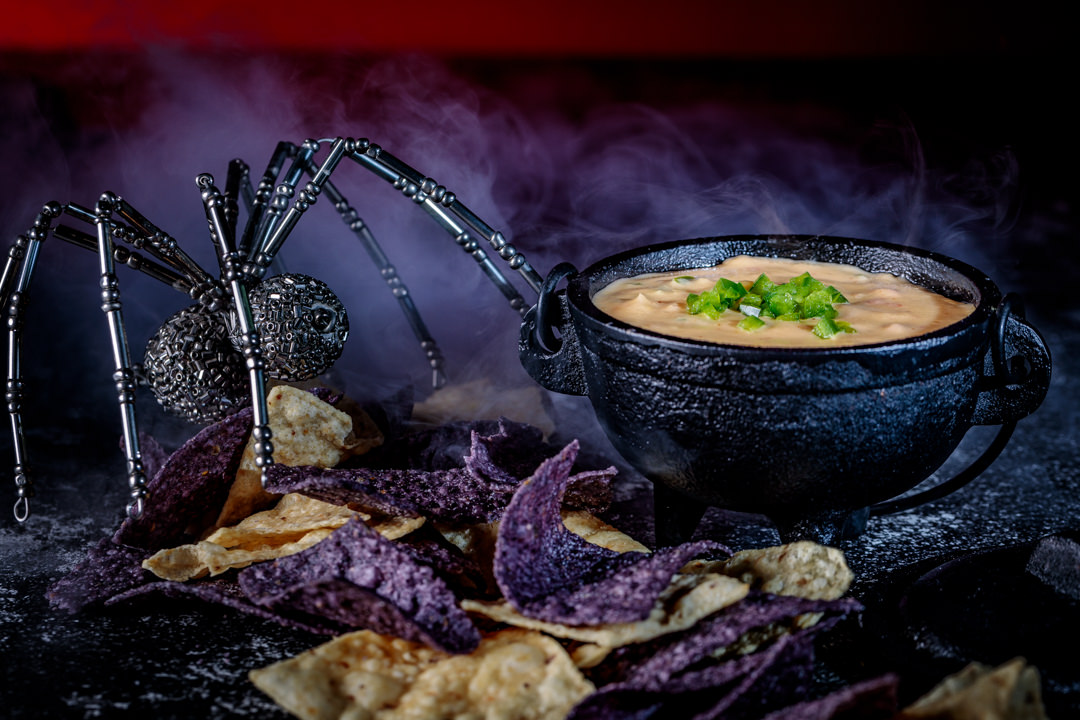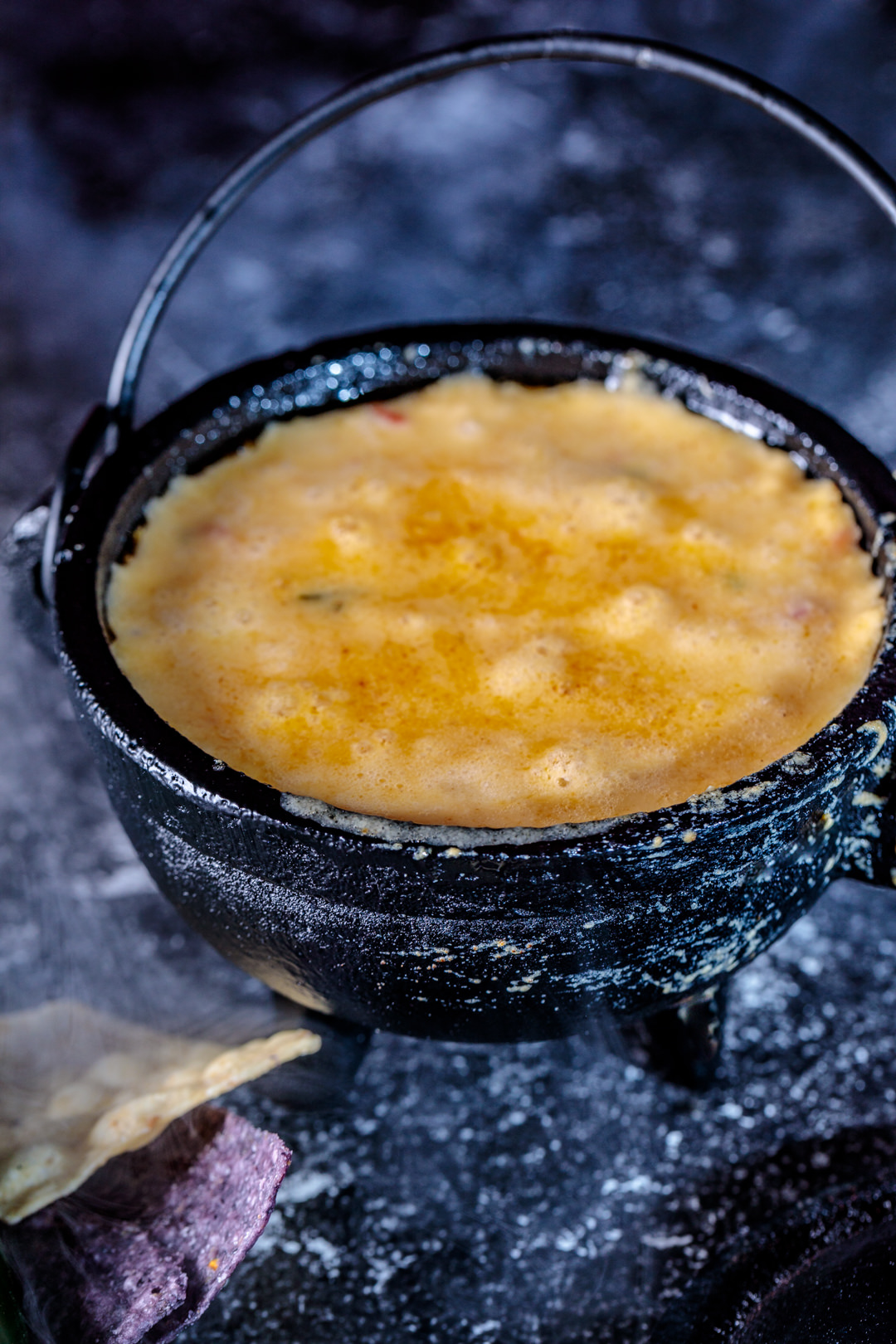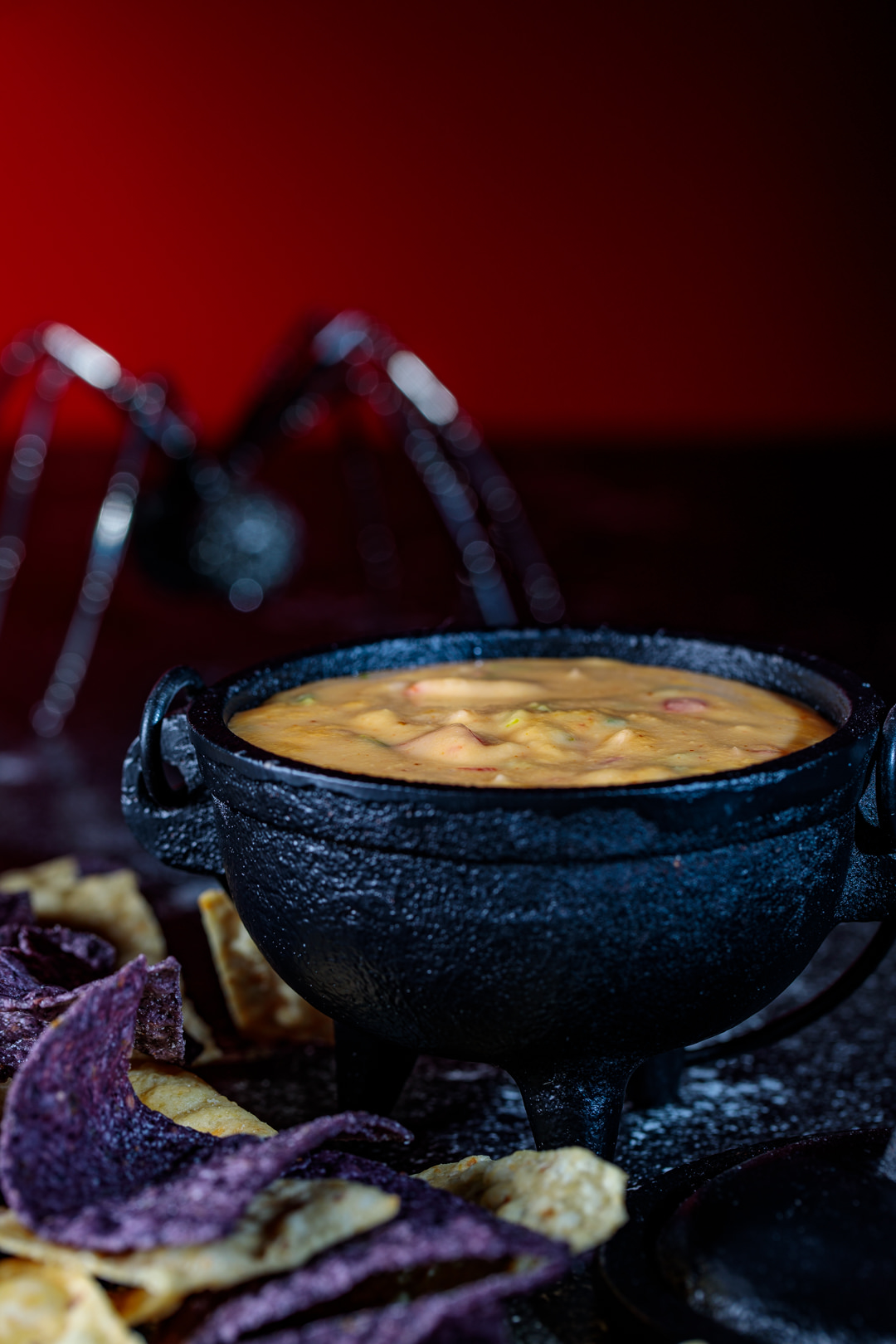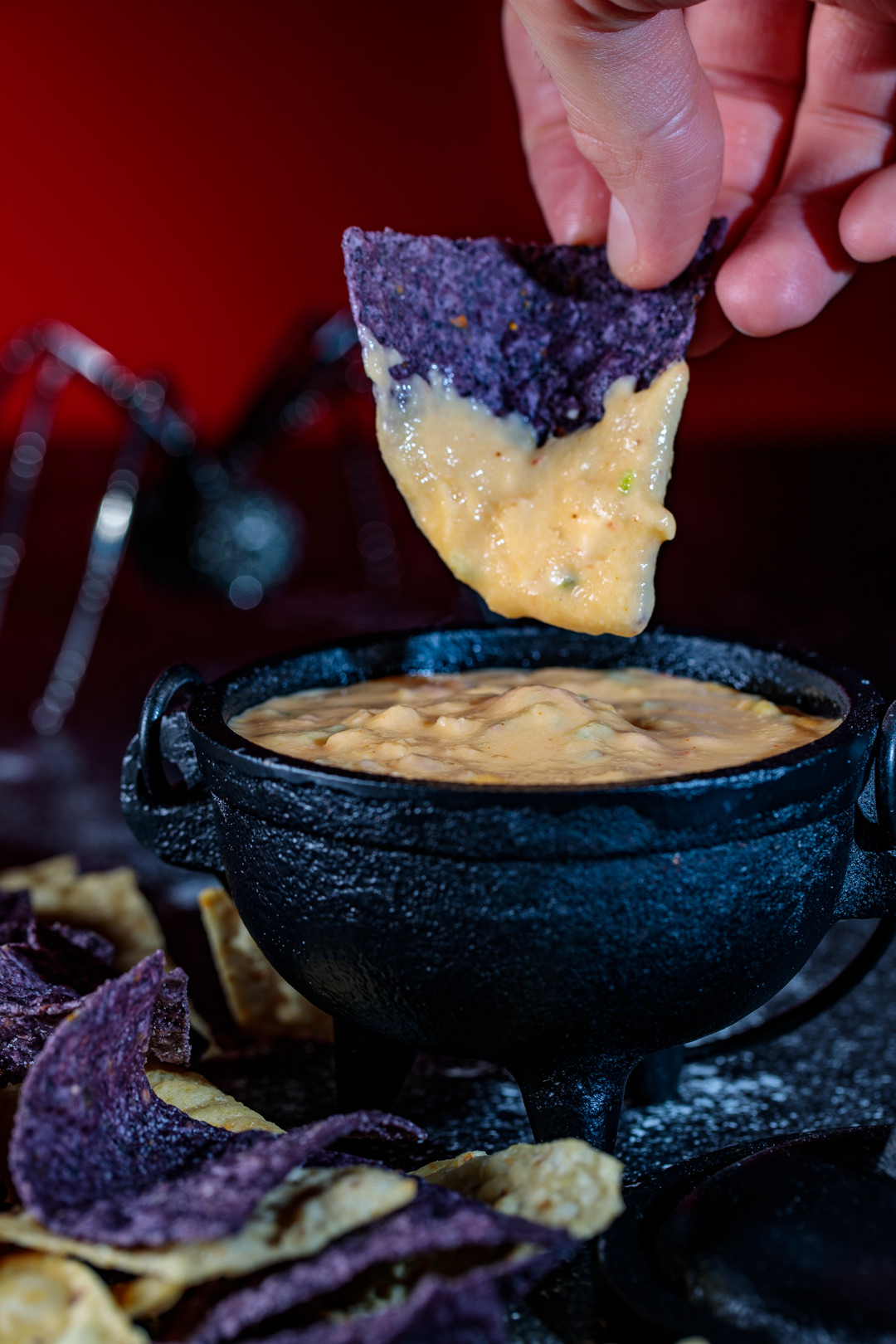 This brew isn't made with a dead man's toe, but I promise it will not disappoint. There is a secret ingredient in the potion that I can't sing enough praises for. Evaporated milk is the key to a perfectly creamy queso in my boooooooooooook.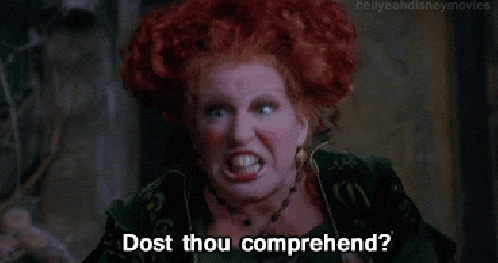 Bonjour. Je veux mon livre.
Bubble, bubble, I'm in trouble! — It's almost magical how creamy and smooth this queso stays for a party. Don't get your knickers in a twist and confuse it with thy sweetened sistahhhhh condensed milk. I made that mistake once when I grabbed from the pantry without paying attention. Needless to say, I wouldn't ever wish that trick on my least favorite jerk face.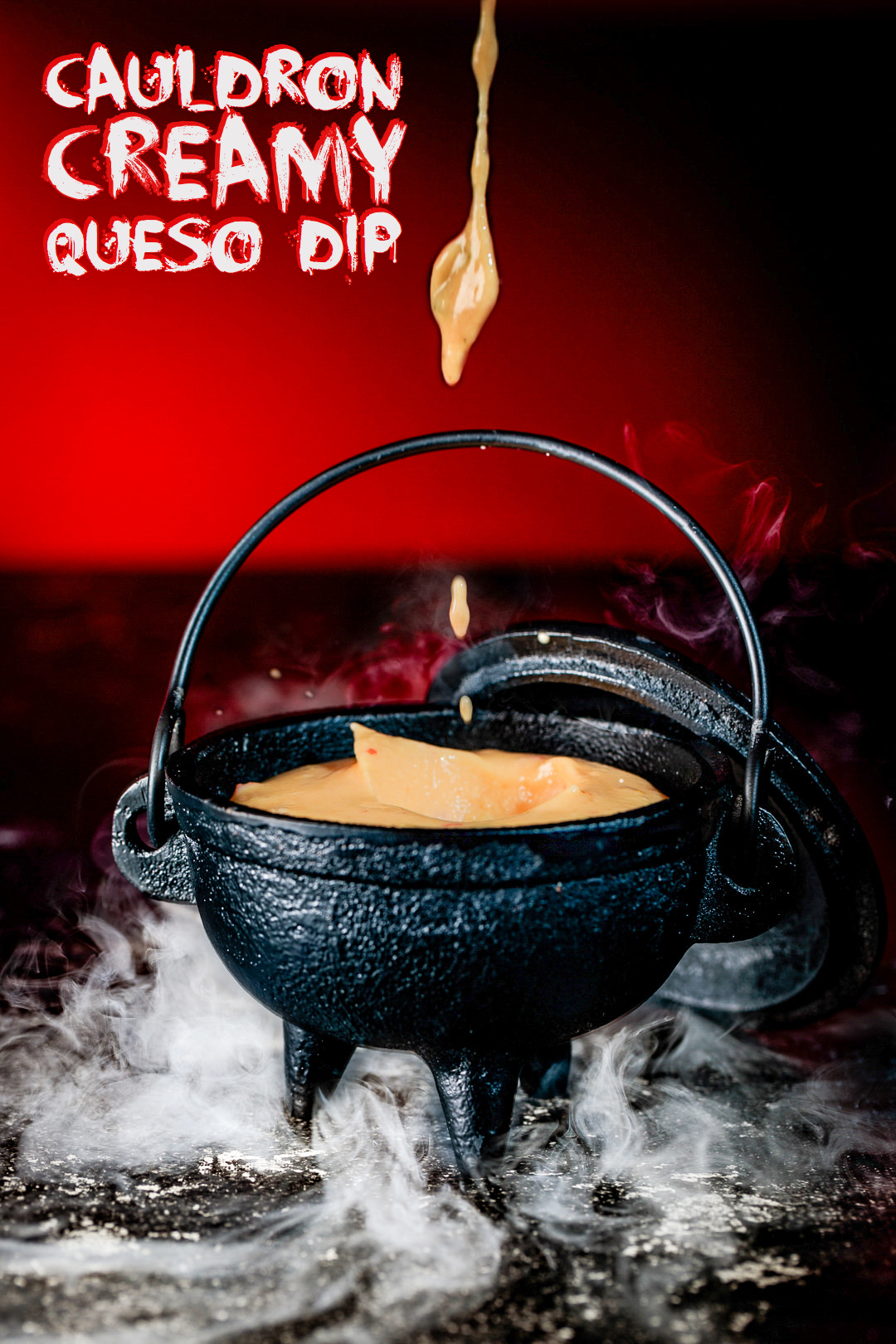 Don't get your knickers in a twist, but this one is killer whether you are spending a quiet evening at home or are out sucking the lives out of children. This one is a good zombie, and you won't regret stirring it up.
Find the cast iron cauldron that I used
in my witch's brew on Amazon here.
Come, we fly!

Creamy Cauldron Queso Dip
Creamy four cheese spicy queso recipe. Made in a cast iron cauldron pan. Perfect for your fall monster bash or Hocus Pocus movie night in.
Author:
Phillip Fryman | SouthernFATTY.com
Ingredients
2 cups (200 grams) cheese blend (see instructions)
1 tablespoon (14 grams) butter, unsalted
3 tablespoons onion, diced
3 tablespoons red peppers, diced
1 garlic clove, minced
½ teaspoon cumin
¼ teaspoon smoked paprika
¼ teaspoon chili powder
12 ounces (300 grams) [1 can] evaporated milk
¼ cup tomato, seeded and diced
½ teaspoon salt, to taste
2 tablespoons jalapeno, diced, to finish
Instructions
Note that freshly grated cheese is best. Bag shredded cheese can leave a grainy texture to the melted result because of the starch coating they apply to prevent sticking.
The four cheese I used are: Aged cheddar, Monterey Jack, Queso Quesadilla and Asadero. Similar to most Mexican cheese blends (eg: Tillamook Shredded Mexican 4 Cheese).
In small saucepan, melt butter over medium heat.
Sauté onion and red peppers for 3-4 minutes. Add garlic and sauté for about a minute.
Add dry seasonings and mix well to incorporate.
Pour in evaporated milk and heat until simmering.
Add in cheese in small batches, stirring to fully melt each addition.
Stir in tomatoes and salt to taste.
Enjoy warm with optional diced jalapeños to finish.
Find more recipe on SouthernFatty.com.
Nutrition Information
Serving size:
¼ cup
Calories:
180
Fat:
12
Saturated fat:
6
Carbohydrates:
6
Sugar:
3
Find other Halloween recipes on the blog here.