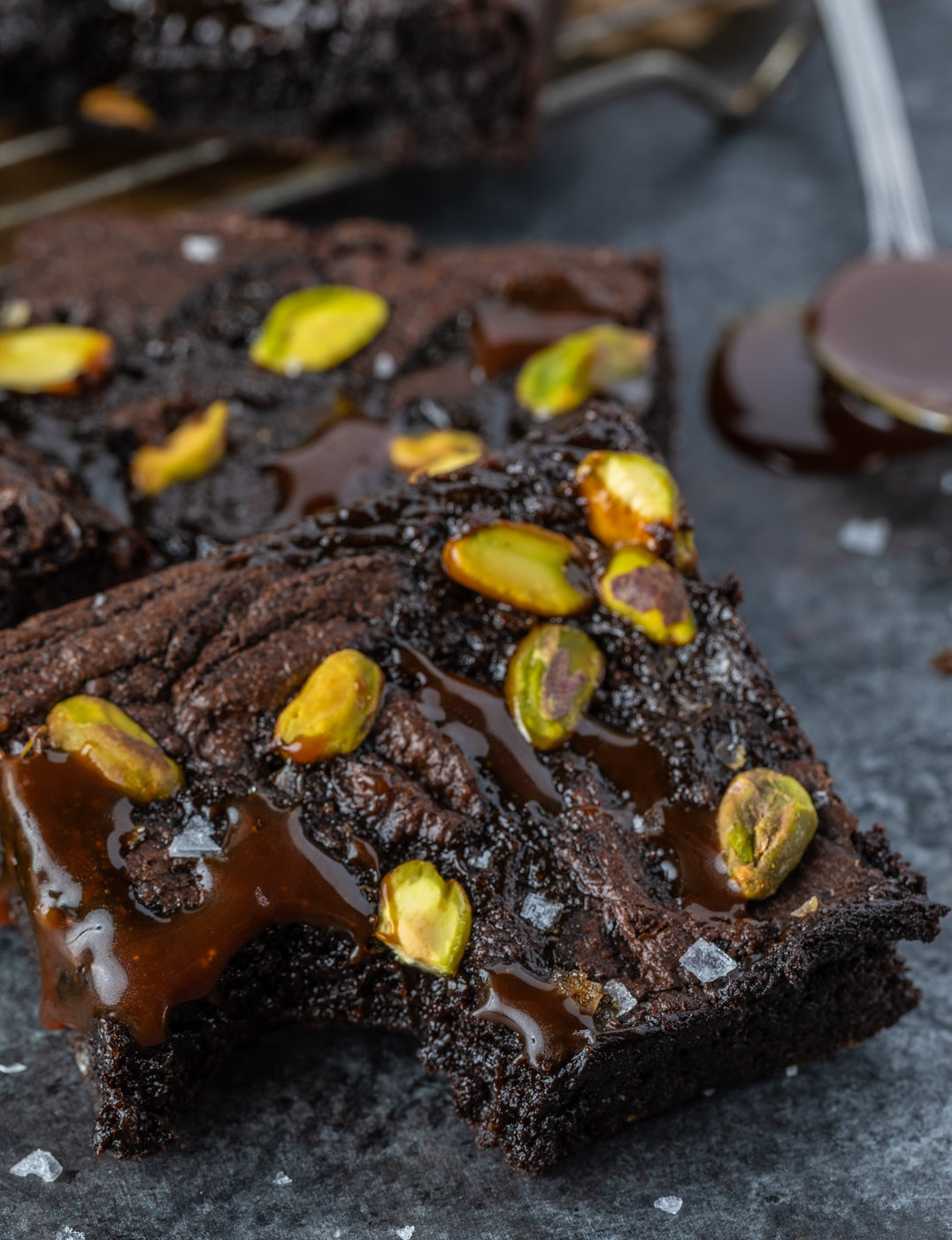 I guess I'm just going to continue the whole chocolate theme for the month with these. I don't expect anyone will have too much protest for that, right? These chocolate rye brownies with a bourbon caramel swirl and crunchy pistachios are a unique, toasty twist on a fudgy brownie. Rye flour is something that I've been playing with more and more lately, giving my bakes this depth of flavor that I find a bit difficult to fully appreciate unless you have one of the treats in your own hand. I hesitate to say it has an earthy flavor because, well, I don't want you to think of the handfuls of dirt you might see some kid munching on across the street on the playground. Ari Weinzweig of The Atlantic and Zingerman's Deli may have said it best in this article.
Rye has a deep flavor, a flavor of the earth, a flavor full of character, a flat feel on the back of your tongue that gradually fills your whole mouth.
– Ari Weinzweig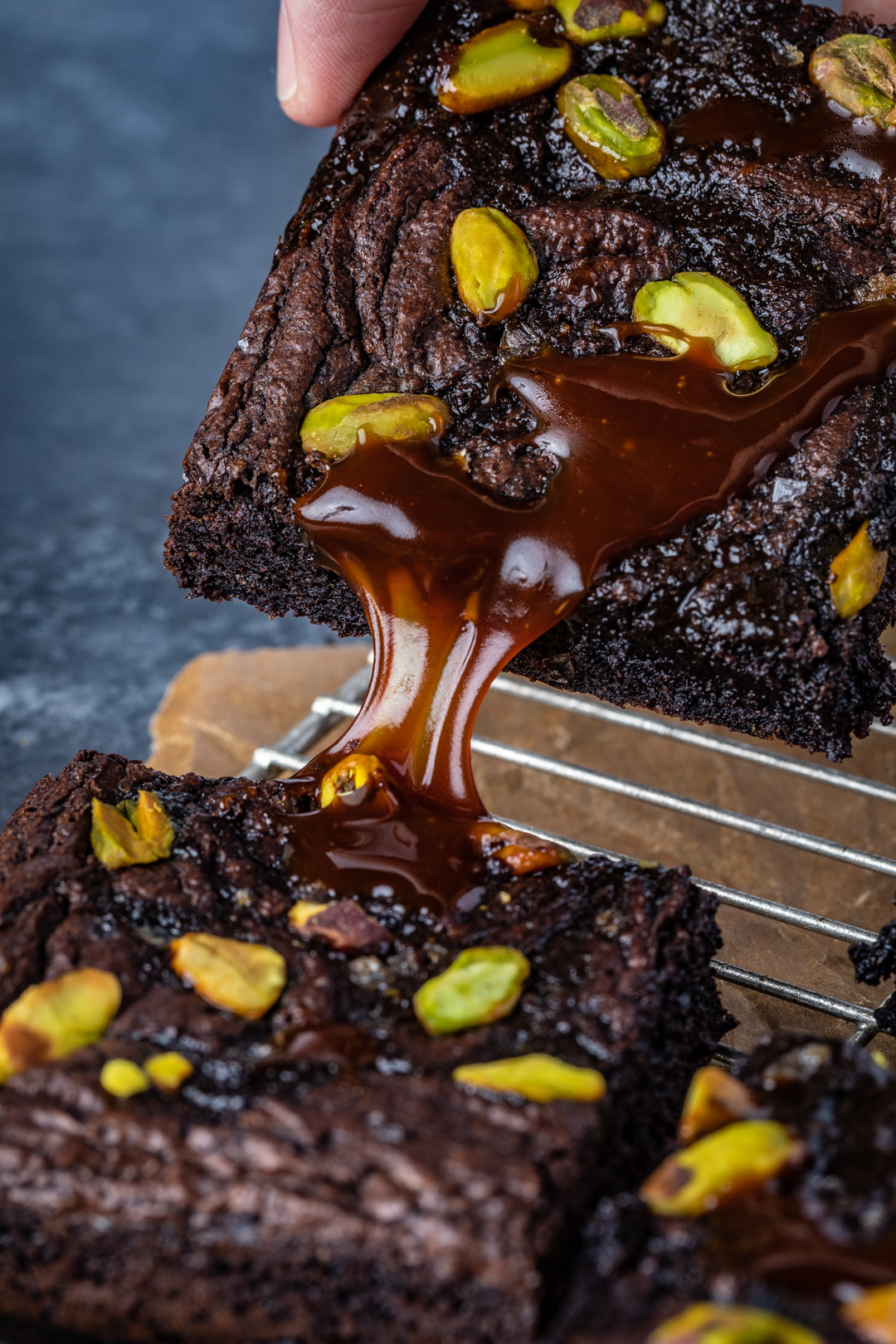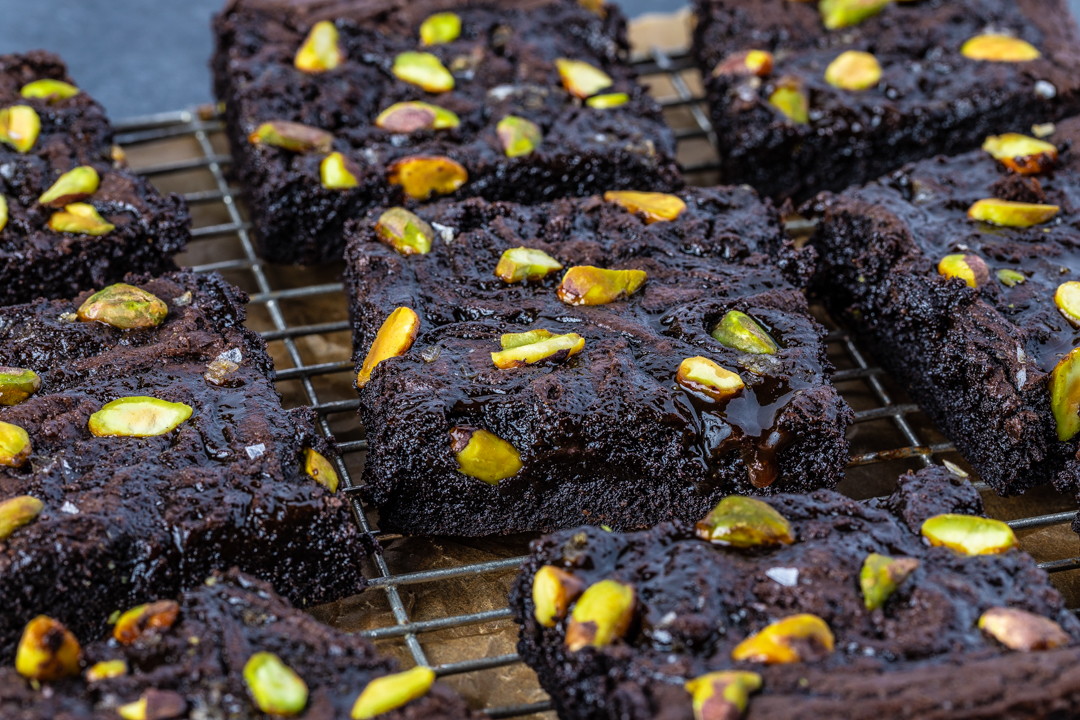 I have to admit that I'm generally not the biggest of fan for rye bread (unless it is in some specific circumstances with regard to sandwich combinations), but recognize that something wonderful happens when you combine rye flour with chocolate. Just enough to give you a bit of density and depth that opens the chocolate up a bit in a dessert. Rye flour by itself contains very little gluten, so unless you want to pass along a brick brownie, you need to fortify it with some glutenous flours to allow it to rise just a bit. With that said, the rye adds that oh-so-craved fudginess (is that even a word? is now.) to a brownie base. Nobody likes a cake-like brownie. Nobody with any sense at least, right? — I'll wait over here in the corner on my Instagram for the hate mail.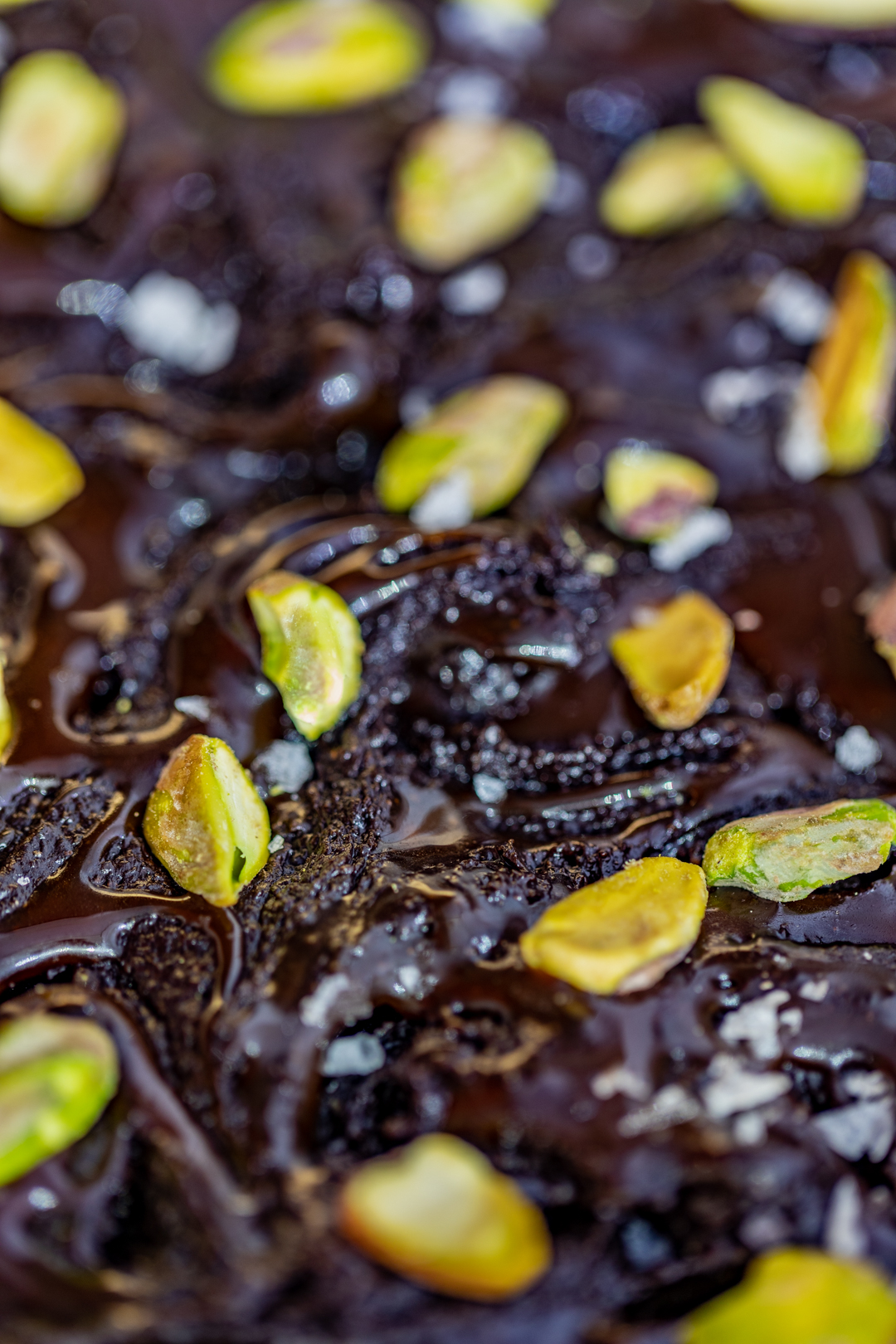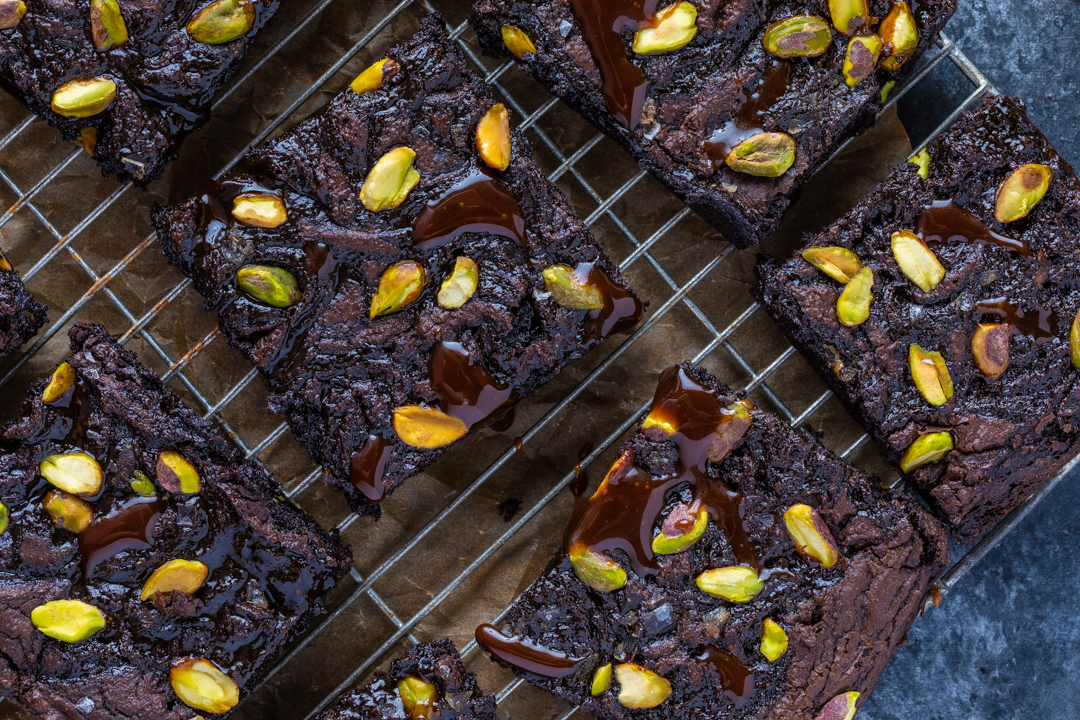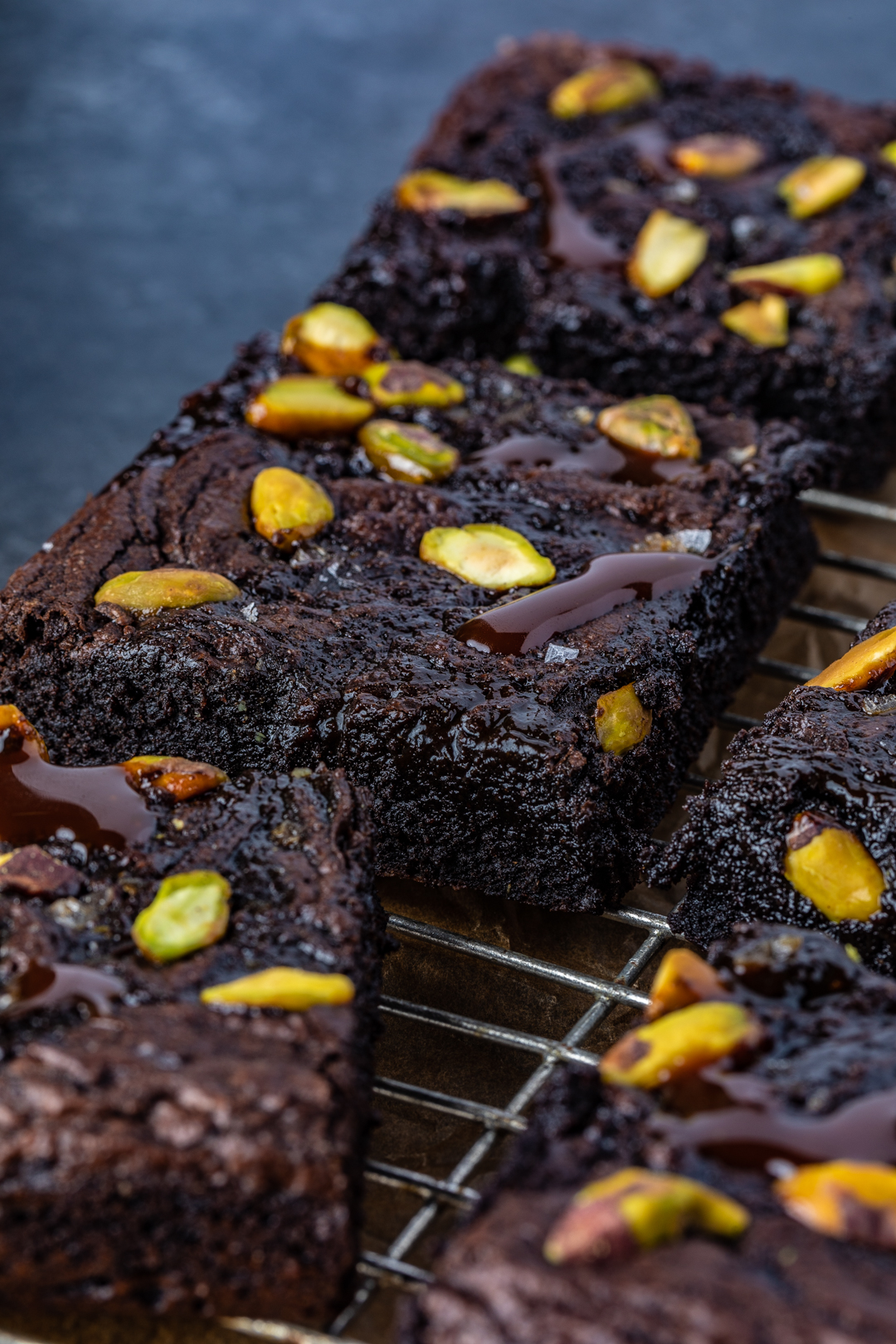 I talked a bit about my cookbook addiction in the last recipe post for Chocolate Chestnut Eclairs. You'll probably see a lot of inspiration derived from the many books on my sagging shelves this year. There's something about the feel, sights, and even smells of old and new cookbooks that sparks a lot of ideas for recipes with me. Claire Ptak, of recent fame after creating the famous lemon and elderflower wedding cake for the 2018 Royal wedding between Prince Harry and Meghan Markle, has a wonderfully warm cookbook with some fantastic recipes.
The Violet Bakery Cookbook (click to see on Amazon) had one recipe that really grabbed my attention as I thumbed through the pages. Chocolate Rye Brownies sit on page 153 with a simple image of rich-colored brownies with that tissue paper thin top crust that makes or breaks a great juuuuust slightly under-baked bite to the left of the recipe.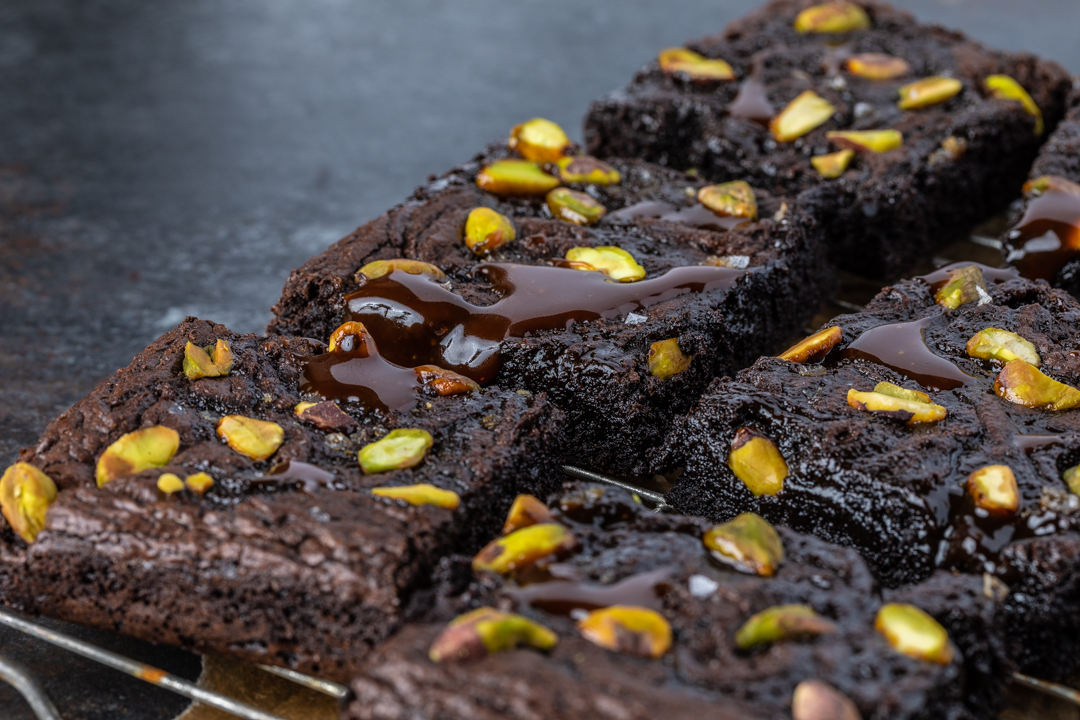 Claire's inspiration for these brownies came from another wonderful legend in the American baking lineup, Chad Robertson. Chad is the name behind the famed Tartine (see some of the highlights from my visit to the bakery in San Francisco on my Instagram highlights here). Robertson, in his Tartine Book No. 3, presented a rye chocolate cookie that was the base for Claire's brownie recipe. — With both of these authors books in my favorites list, I decided to create something with my own translation on the rye story.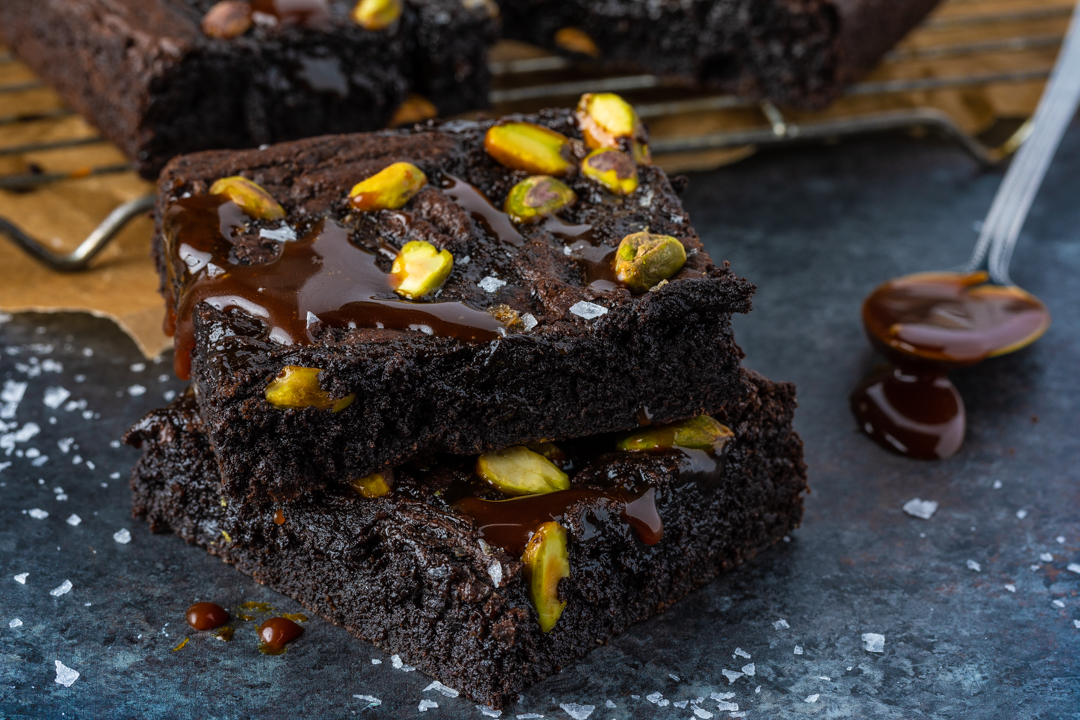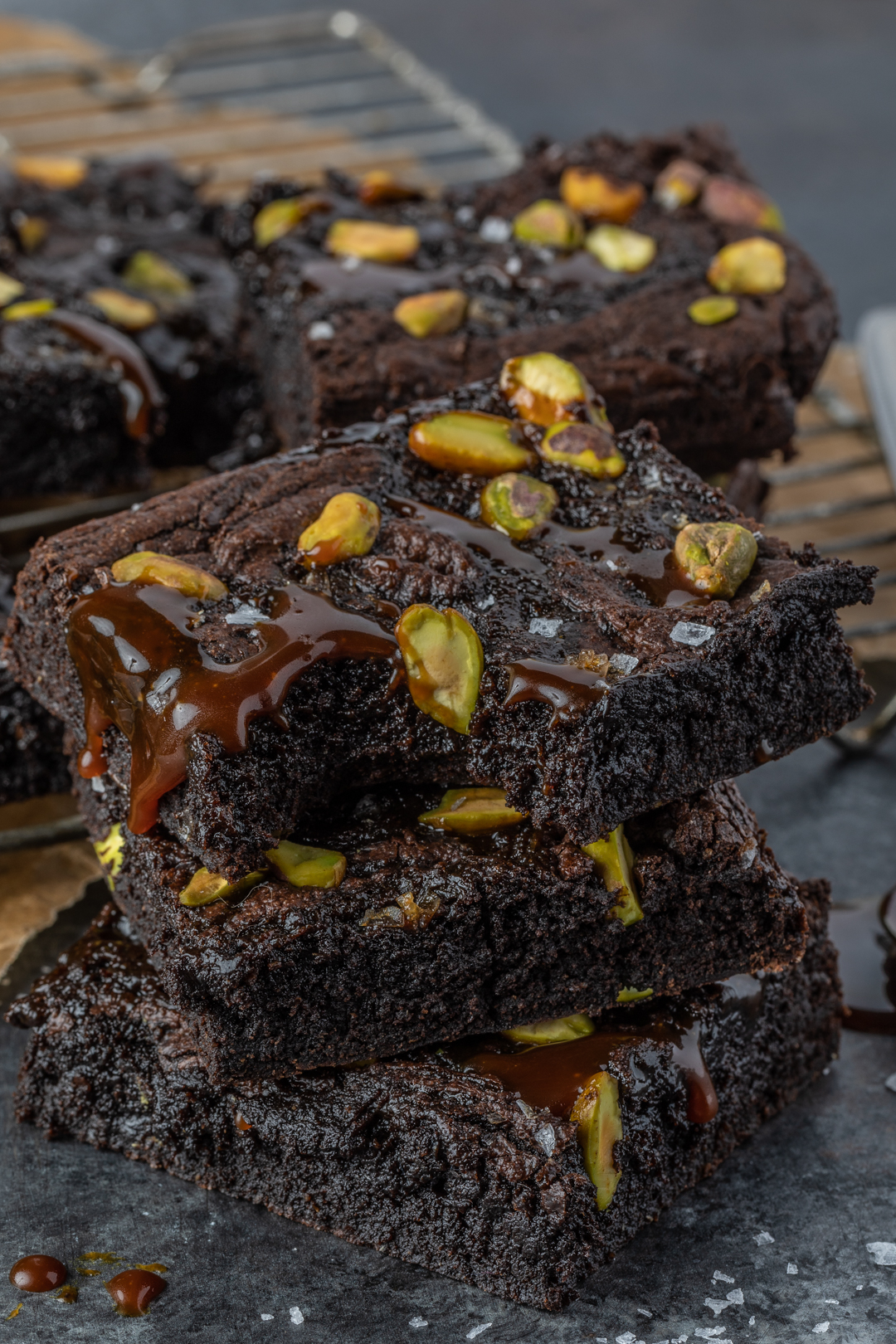 These dare I say it…. moist chocolate brownies are made with cocoa powder, dark chocolate, rich brown sugar, and whole grain rye flour that all works together to create a nostalgia with a splash of intrigue in the mix of familiar and new flavors. The caramel and pistachios are the icing on the double chocolate cake.

Chocolate Rye Brownies with Bourbon Caramel
Chocolate brownie recipe with whole grain rye flour, cocoa, melted dark chocolate finished with bourbon caramel, pistachios, and flaked salt. From SouthernFatty.com.
Author:
Phillip Fryman | SouthernFATTY.com
Ingredients
Bourbon Caramel
Follow caramel recipe on Fig Bourbon Gelato recipe and set aside.
Chocolate Rye Brownies
115 grams (8 tablespoons) butter, unsalted
225 grams (1½ cups) dark chocolate, chopped
40 grams (1/3 cup) cocoa powder, unsweetened (I used this one)
150 grams (1½ cups) whole grain rye flour (I used this one)
½ teaspoon baking powder
¾ teaspoon salt, fine
150 grams (2/3 cup) granulated sugar (I prefer unrefined organic cane sugar but any will do)
150 grams (3/4 cup) brown sugar
150 grams (3 large) eggs, whole large
1 tablespoon vanilla bean paste (or extract)
To Finish
¼ cup pistachios, shelled
1 pinch sea salt flakes
Instructions
Bourbon Caramel
Start by making the caramel. Follow the simple steps for bourbon caramel in my Fig Caramel Gelato post.
Set aside to cool.
Chocolate Rye Brownies
Preheat oven to 350 F / 175 C.
Butter a standard 8x8 square baking pan.
Line pan with parchment paper for easier removal after baking.
Combine butter and chopped chocolate in a microwavable bowl. Warm in two 30 second intervals, covered. Stir between and after.
Set aside for a few minute and stir to fully incorporate.
Alternatively, warm over steam until gently melted.
In a mixer bowl combine both sugars and eggs.
Whip until lighter and incorporated, about 4 minutes medium speed with whisk.
Add vanilla and gently add chocolate mixture. Mix to combine.
Whisk the remaining dry ingredients together in a bowl.
Add this dry mix to the batter. Mix just until combined and no more.
Transfer to prepared pan.
Drizzle caramel over batter and swirl gently with a knife.
Sprinkle pistachios.
Bake for about 20 minutes. Do not over bake if you want more fudgy brownies.
Remove and sprinkle gently with sea salt flakes.
Enjoy!
Find more recipes on SouthernFatty.com.
Tag @southernfatty on social media.