Chocolate Rye Brownies with Bourbon Caramel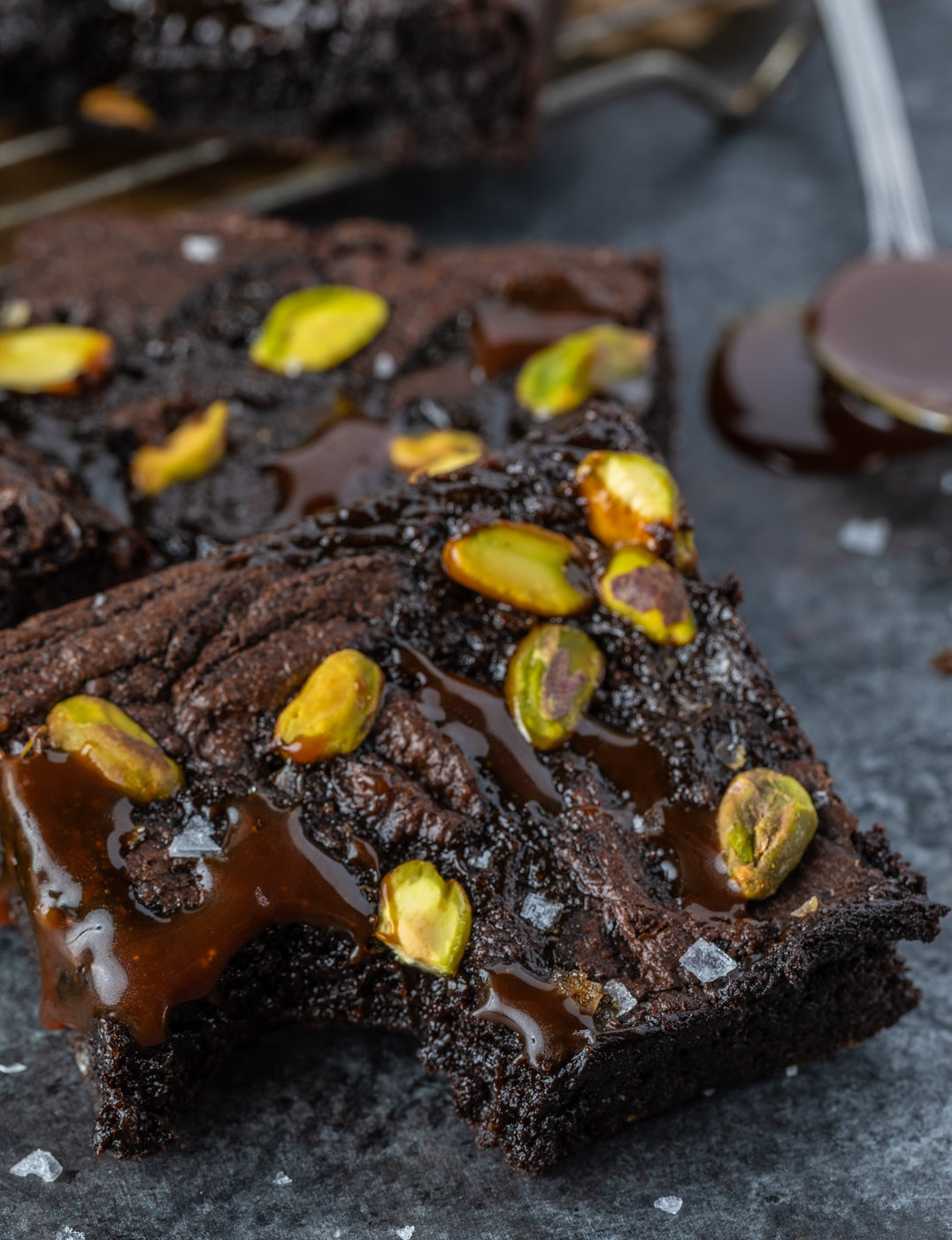 Author:
Phillip Fryman | SouthernFATTY.com
Follow caramel recipe on Fig Bourbon Gelato recipe and set aside.
115 grams (8 tablespoons) butter, unsalted
225 grams (1½ cups) dark chocolate, chopped
40 grams (1/3 cup) cocoa powder, unsweetened (I used this one)
150 grams (1½ cups) whole grain rye flour (I used this one)
½ teaspoon baking powder
¾ teaspoon salt, fine
150 grams (2/3 cup) granulated sugar (I prefer unrefined organic cane sugar but any will do)
150 grams (3/4 cup) brown sugar
150 grams (3 large) eggs, whole large
1 tablespoon vanilla bean paste (or extract)
¼ cup pistachios, shelled
1 pinch sea salt flakes
Start by making the caramel. Follow the simple steps for bourbon caramel in my Fig Caramel Gelato post.
Set aside to cool.
Preheat oven to 350 F / 175 C.
Butter a standard 8x8 square baking pan.
Line pan with parchment paper for easier removal after baking.
Combine butter and chopped chocolate in a microwavable bowl. Warm in two 30 second intervals, covered. Stir between and after.
Set aside for a few minute and stir to fully incorporate.
Alternatively, warm over steam until gently melted.
In a mixer bowl combine both sugars and eggs.
Whip until lighter and incorporated, about 4 minutes medium speed with whisk.
Add vanilla and gently add chocolate mixture. Mix to combine.
Whisk the remaining dry ingredients together in a bowl.
Add this dry mix to the batter. Mix just until combined and no more.
Transfer to prepared pan.
Drizzle caramel over batter and swirl gently with a knife.
Sprinkle pistachios.
Bake for about 20 minutes. Do not over bake if you want more fudgy brownies.
Remove and sprinkle gently with sea salt flakes.
Enjoy!
Find more recipes on SouthernFatty.com.
Tag @southernfatty on social media.
Recipe by
Southern FATTY
at https://www.southernfatty.com/chocolate-rye-brownies-with-bourbon-caramel/