Grilled blue cheese-stuffed, buffalo covered slider burgers with crunchy grilled tots – all on the grill. — makes this summer sizzler recipe simple and seriously delicious. In partnership with Weber.
Y'all know how you go on a trip, eat everything that you possibly can, and then randomly wake up a year later at home drooling about something you had while traveling? That's basically every morning for me, but this time I decided to do something about it. – If you follow my Instagram Stories, you'll know that I basically live at my Weber grill. Grilled food just tastes better, and the added bonus of not cleaning another pan is always top on my list. This blue cheese crumble-stuffed, buffalo sauced slider recipe is a serious comfort food pleaser. Even the crispy tots are cooked on the Weber grill.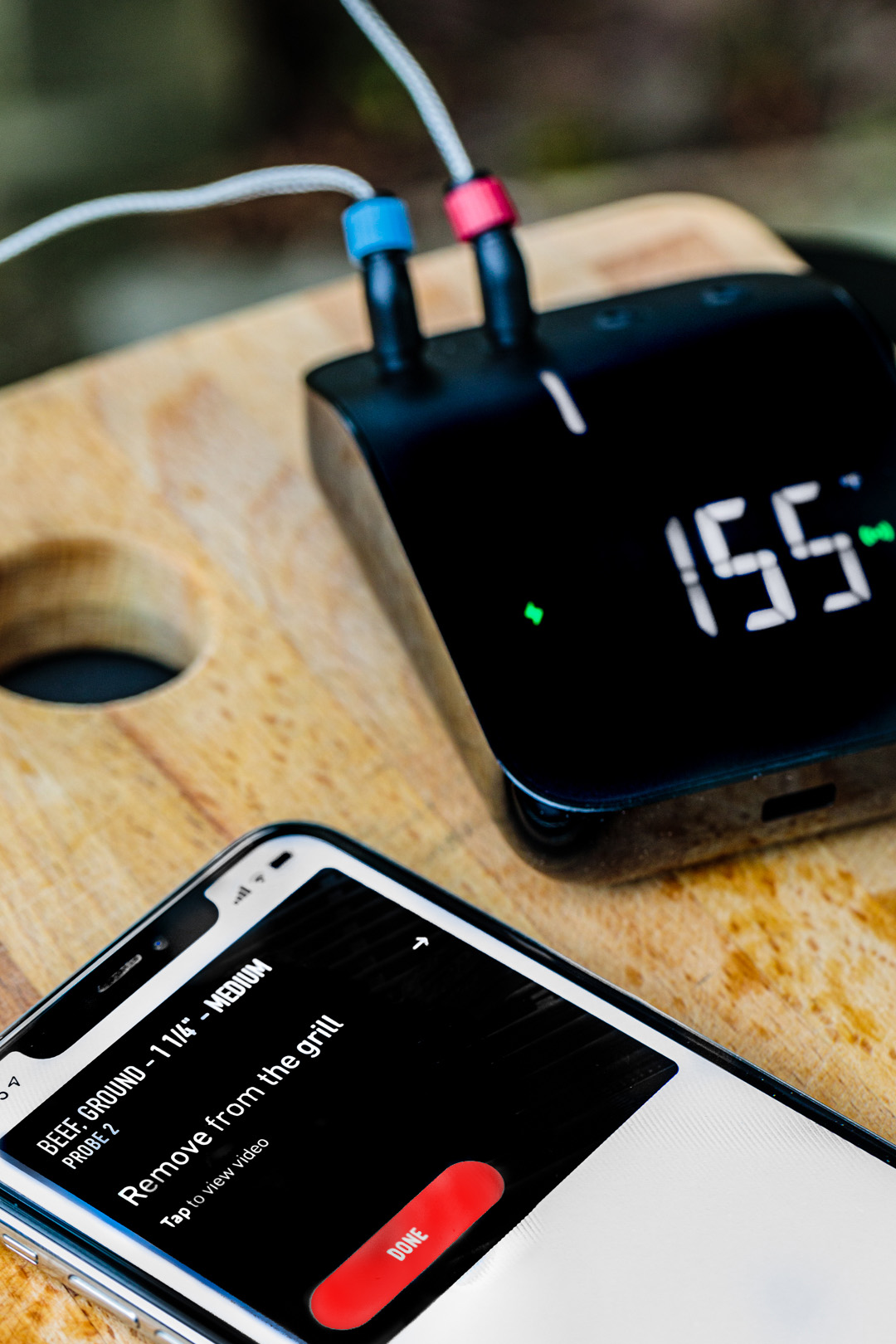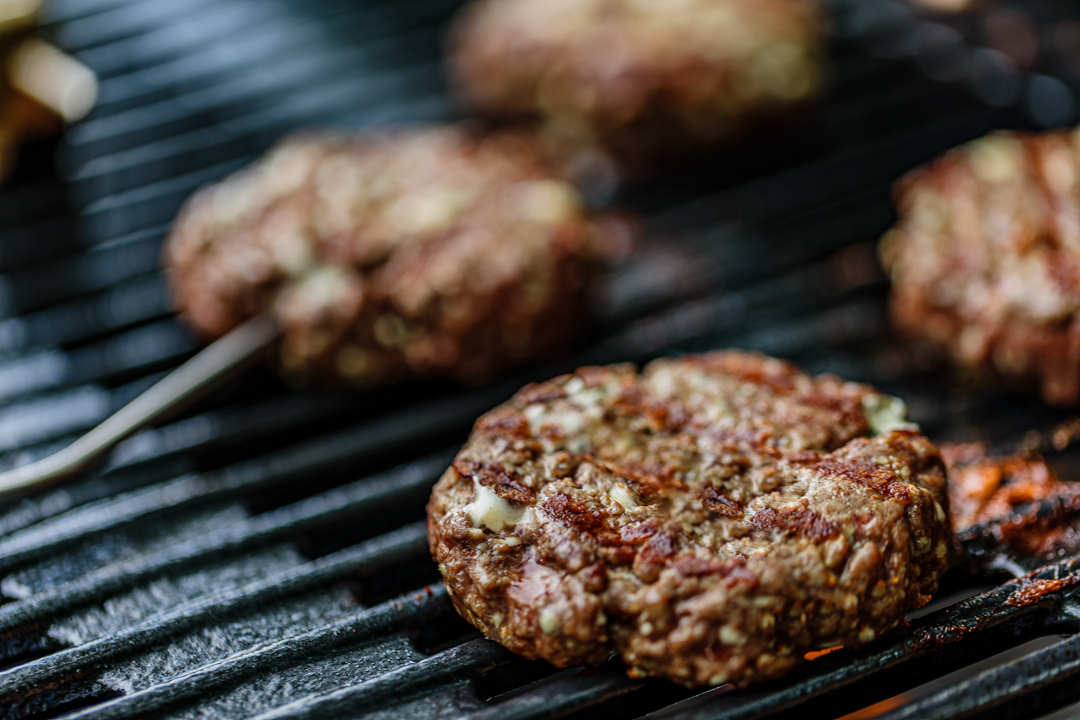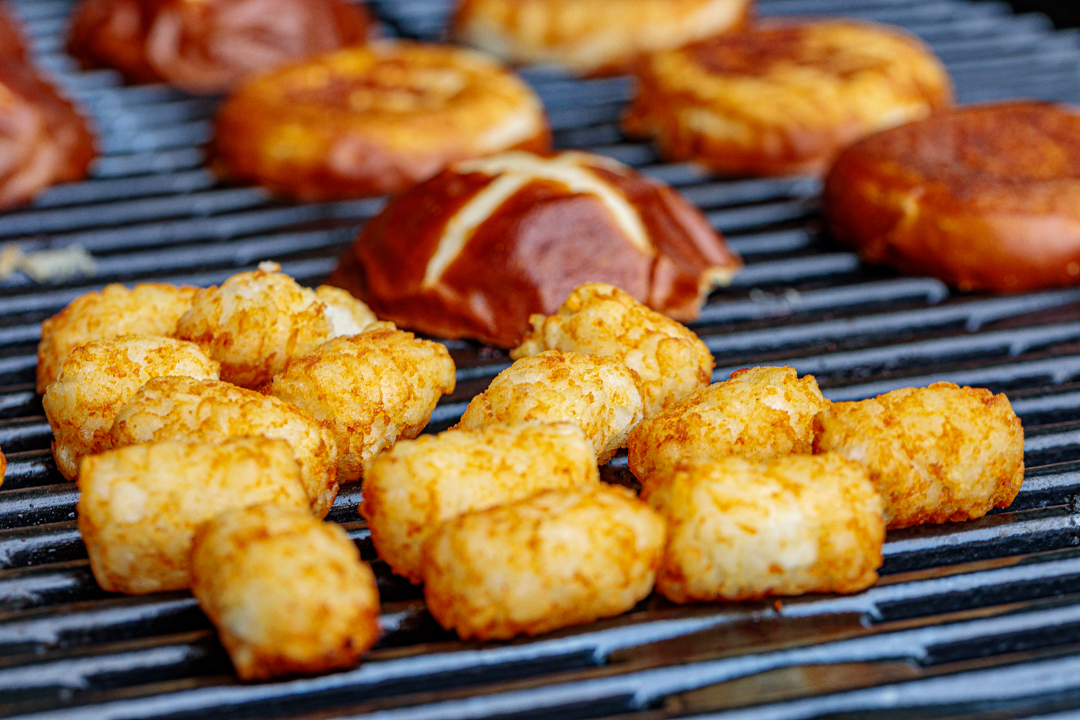 Before this unplanned summer staycation, I was on a pretty busy travel stretch. Amazing visits to new-to-me cities in the States from Austin to San Diego to OKC, some amazing new places overseas (Croatia was insanely beautiful – and I've nearly mastered the recipe for the best fries I've ever had… stay tuned), all have me trying to recreate some of my favorite bites since. With a trip to Spain last month postponed, creating new inspired-by recipes has been a fun way to stay connected to some of the travels while to staying at home as much as possible.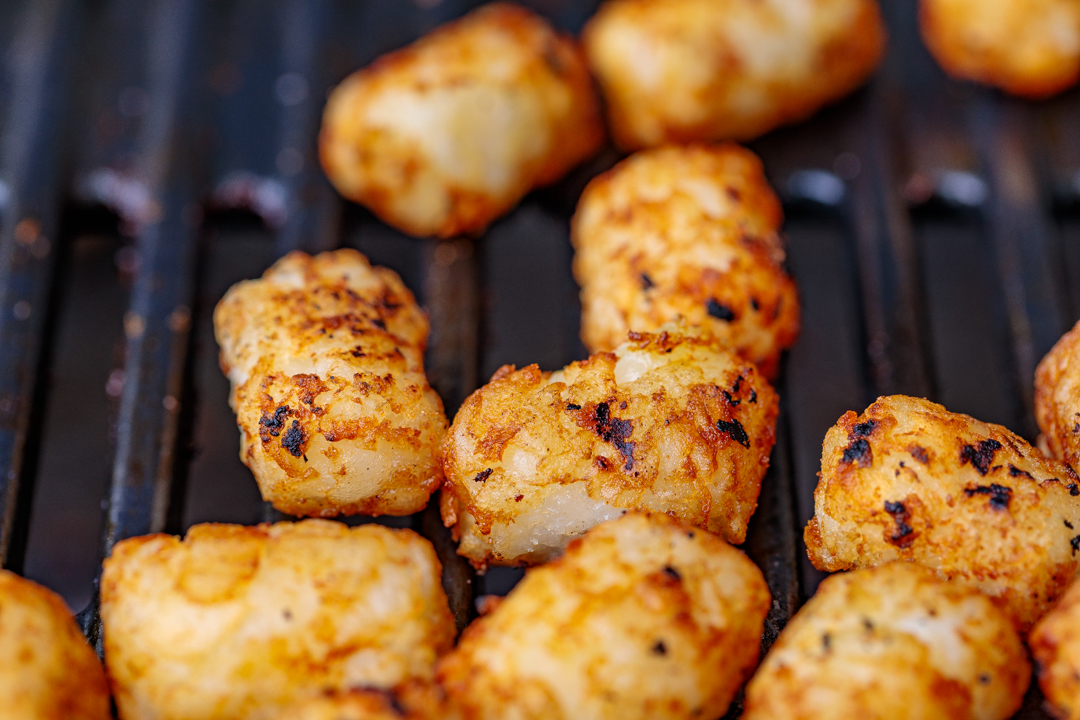 My original plan for this slider setup was a combination of a burger that I had in OKC, along with an all-time favorite side for some local go-to burgers – tots. Let me just tell y'all… I may forever grill my tots from here on out. Full honesty, I threw them on the grill because I didn't want to do more dishes or heat up my kitchen with a hot oven in the middle of summer when I was already lighting up my Weber grill for the sliders. I wasn't even sure it would work out, but why wouldn't it?
The consistent heat from the Weber gas grill, the well-seasoned griddle kept them from sticking… it was a perfect pairing. Wanting a super crispy element for the burger, I smashed 'em directly on the grill with a spatula and let them get nice and char-grilled. They flipped without any issue and gave this beautiful hashbrown-esque finish to the sliders. I've converted nearly everyone I know to Weber grills. I'm on my 4th Q-Series Weber Grill, and that is only because I kept upgrading in size as I've moved around and have more room for the larger size. The shape of these grills allows for some serious heat delivery, and they are so solid. Honestly, I can't say enough about how wonderful these grills are.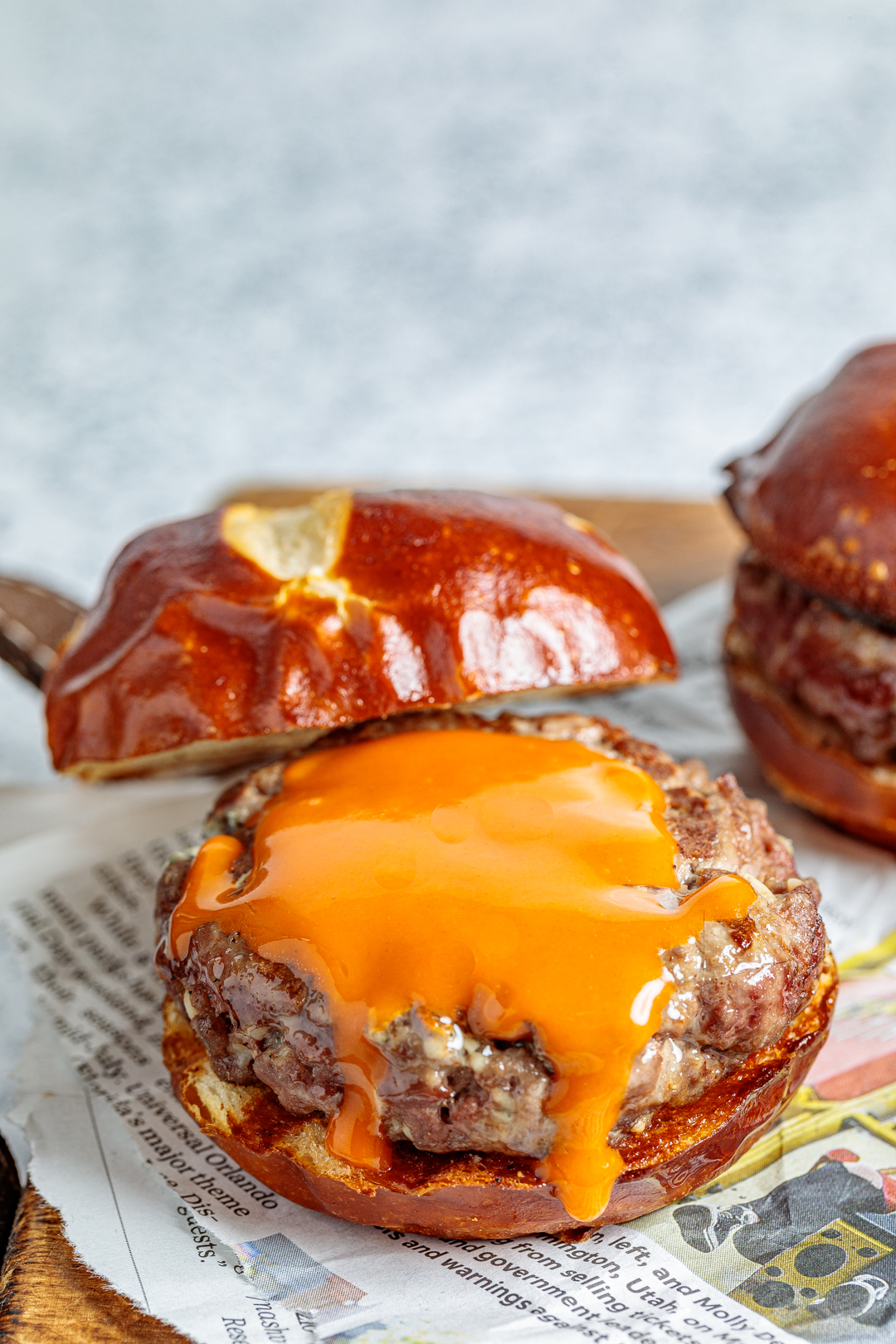 With the tots situation in check, my focus is on the sliders. With as much food as I cook at home, I should be embarrassed to tell you all how insanely often I burn the food that I prepare. I am beyond forgetful sometimes and get distracted at the worst times. When I saw the Weber Connect Smart Grilling Hub, not only did the tech nerd in me get excited, the burn-nearly-everything-on-the-first-try in me was even more excited. This device allows you to plug in a probe that measures the temperature of your grill, and another probe for what you are cooking. It even has room for four probes in total, making it simple for a poor multi-tasker like myself to perfect the timing with multiple items.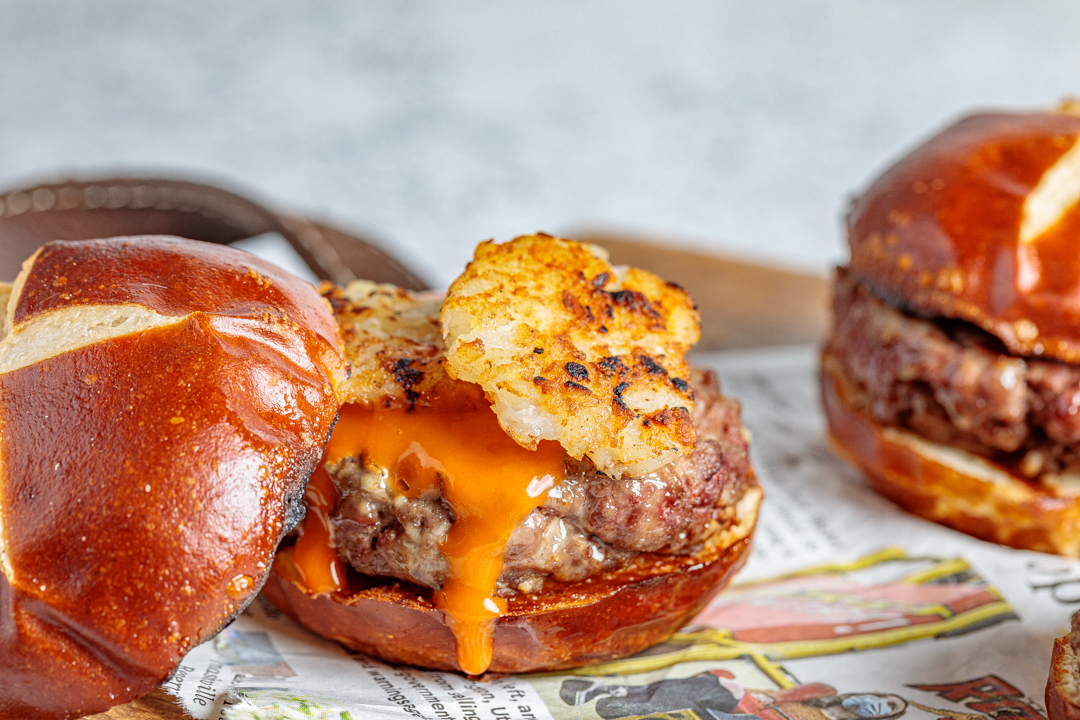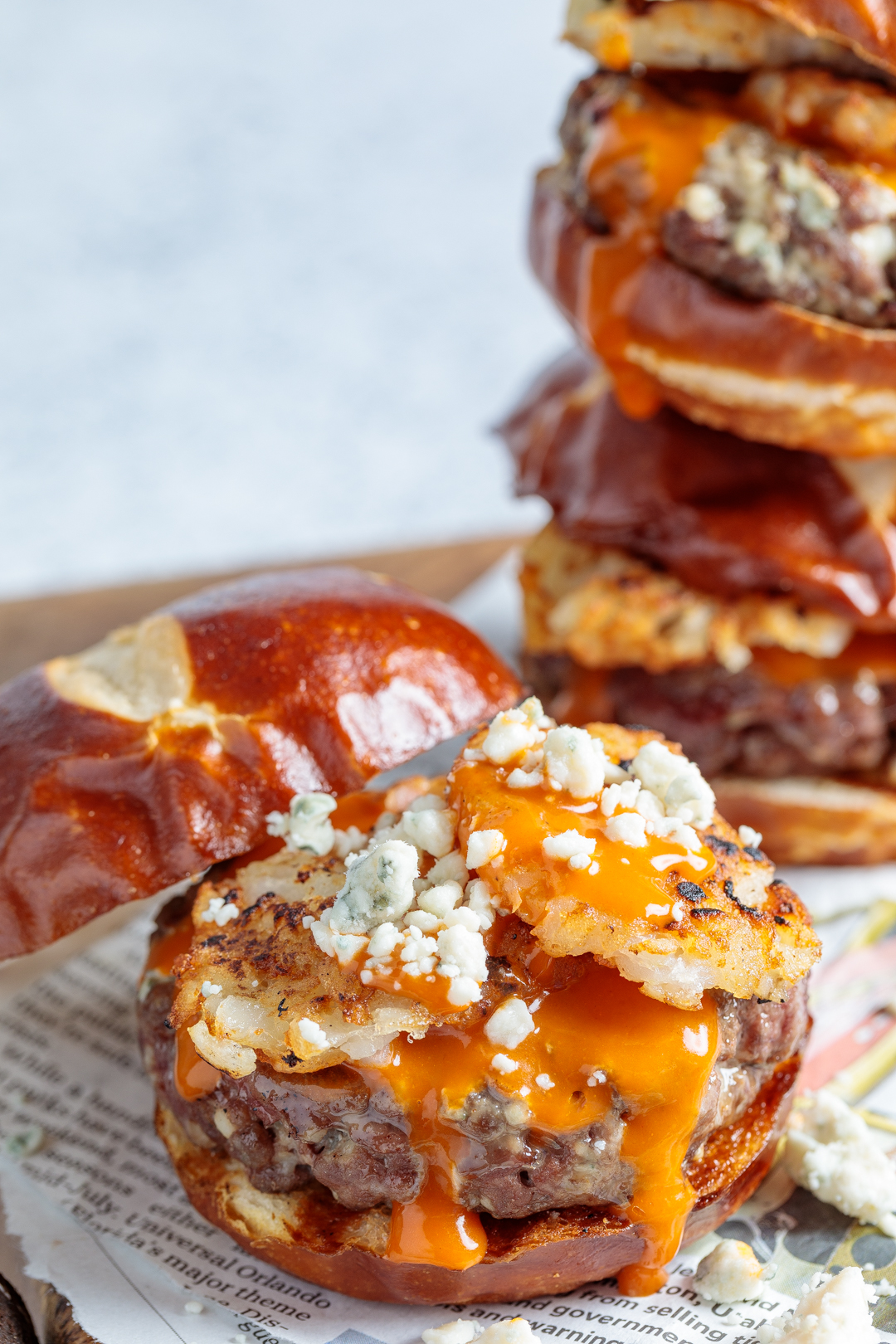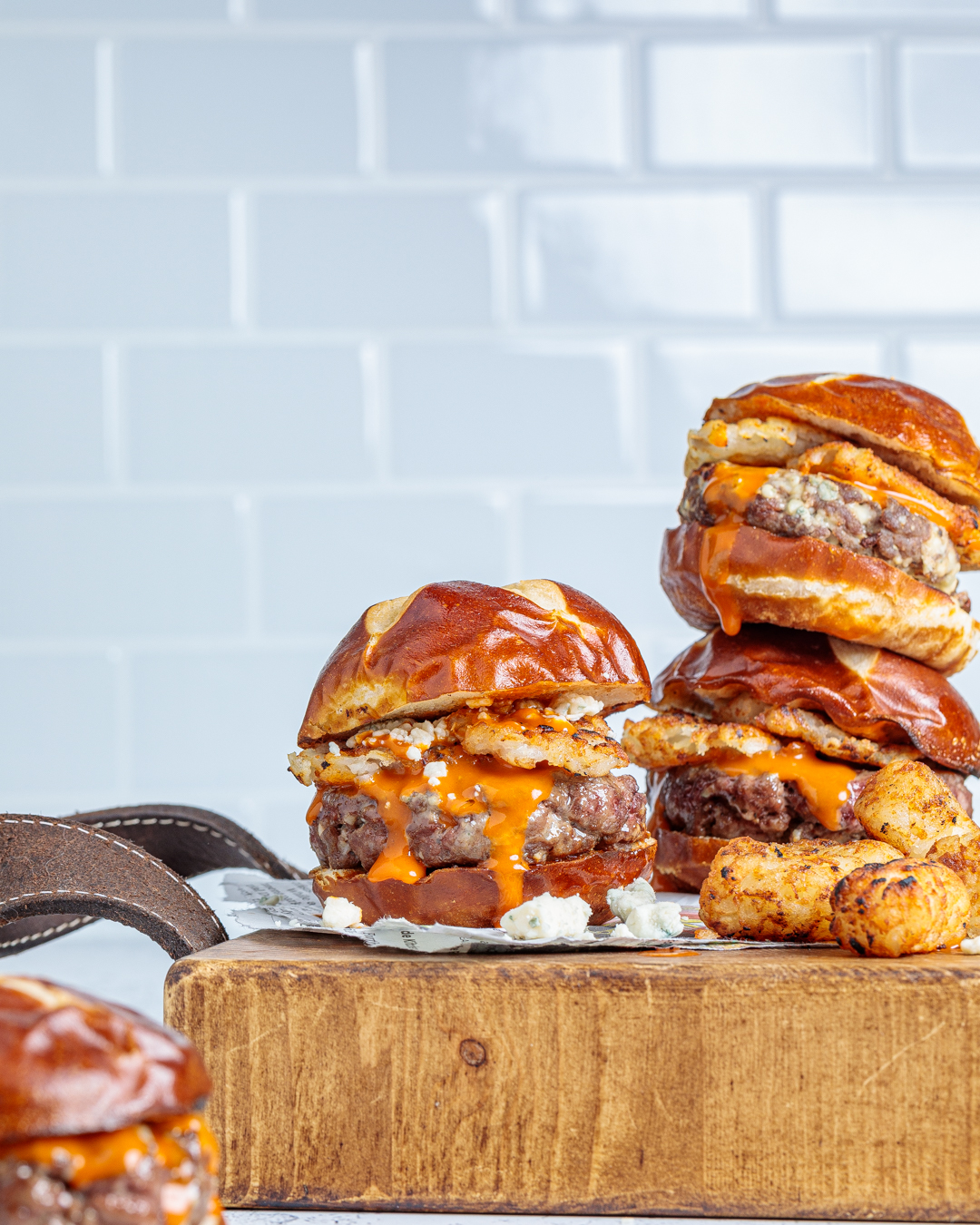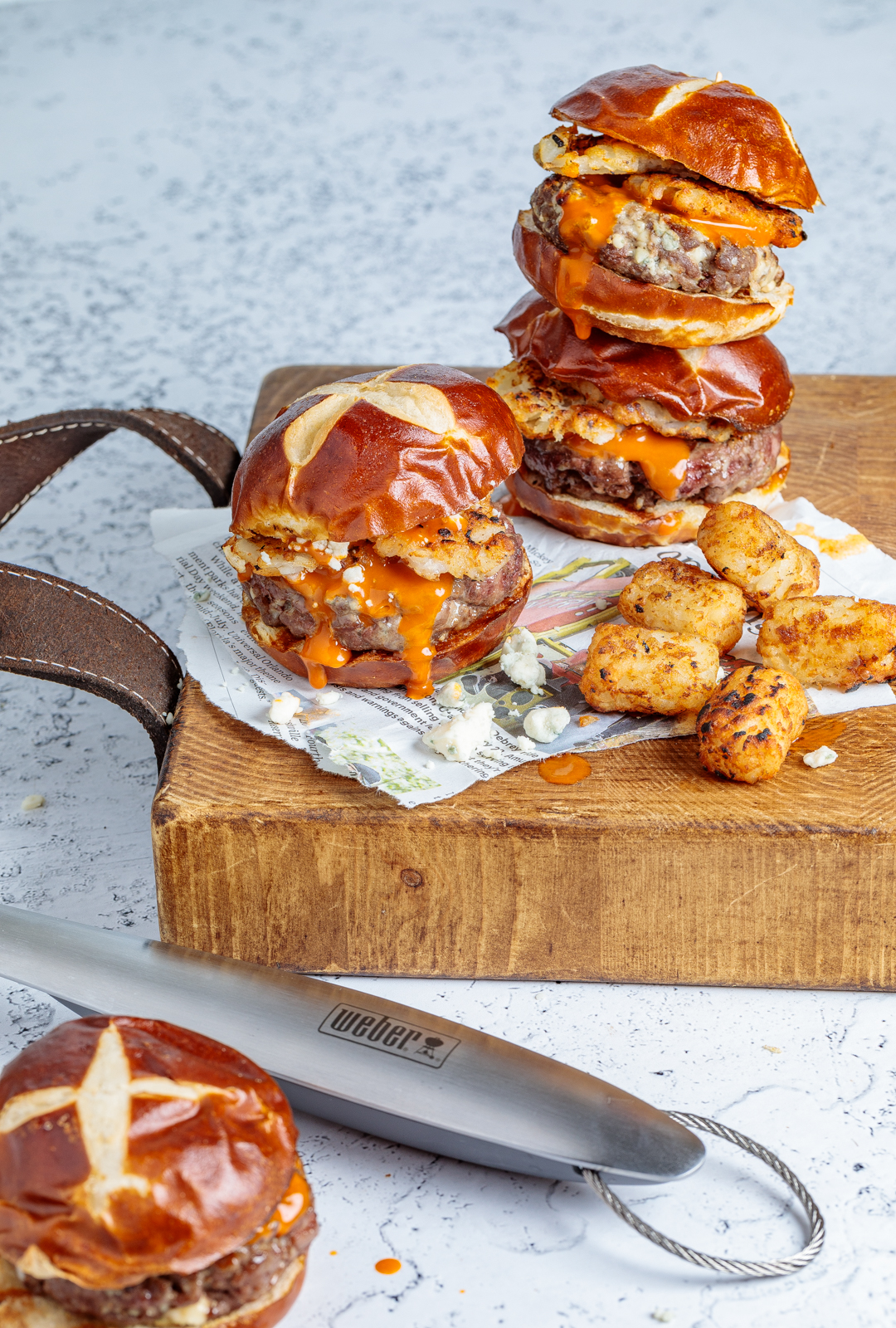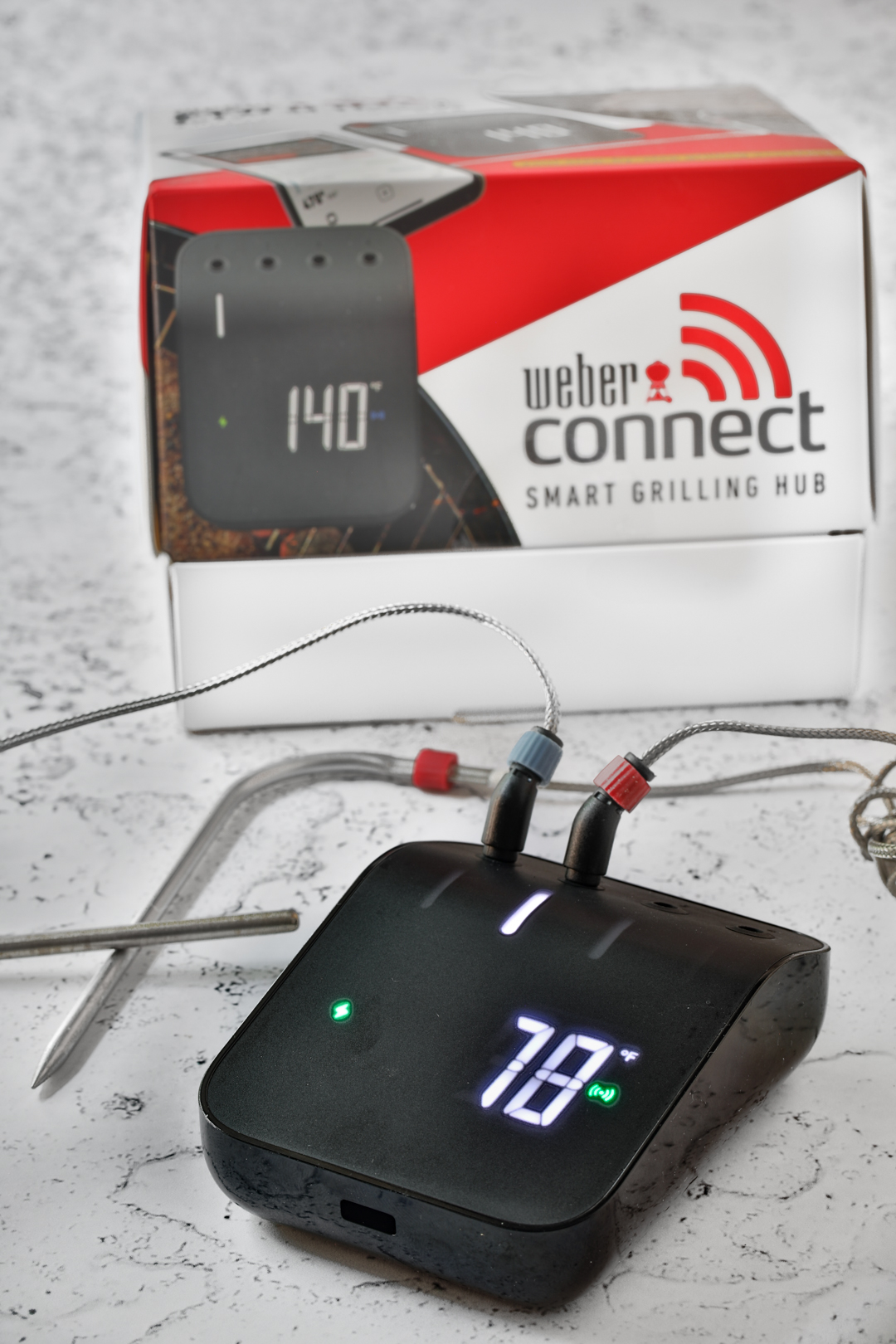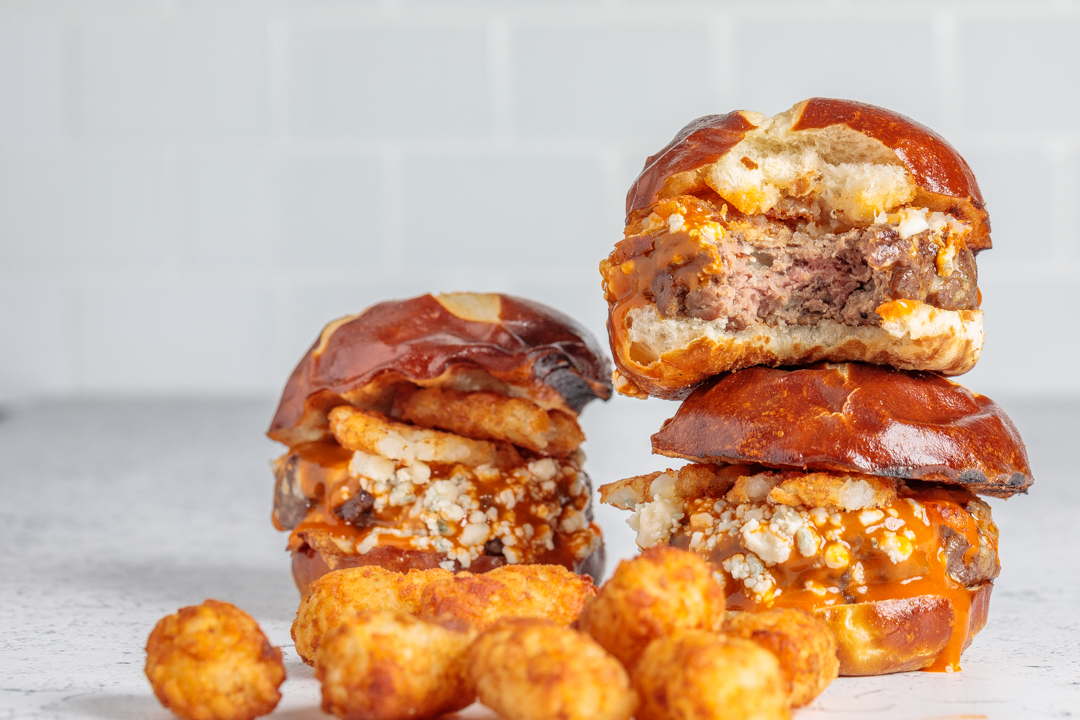 The Weber Connect lets you select pre-populated options for the cut of meat and level of doneness that you prefer. The app that the Connect wirelessly sends data to also hosts videos of the entire process, from prep to rest. Alerts are sent to your phone to tell you when to flip and remove to enjoy. This thing is sooo sleek and clever. The screen displays the live probe temperatures (helpful for quick checks or if you can't find your phone – not that something like that happens to me multiple times a day or anything…). I've used the Weber Connect with my grill and my oven bakes both and absolutely love it.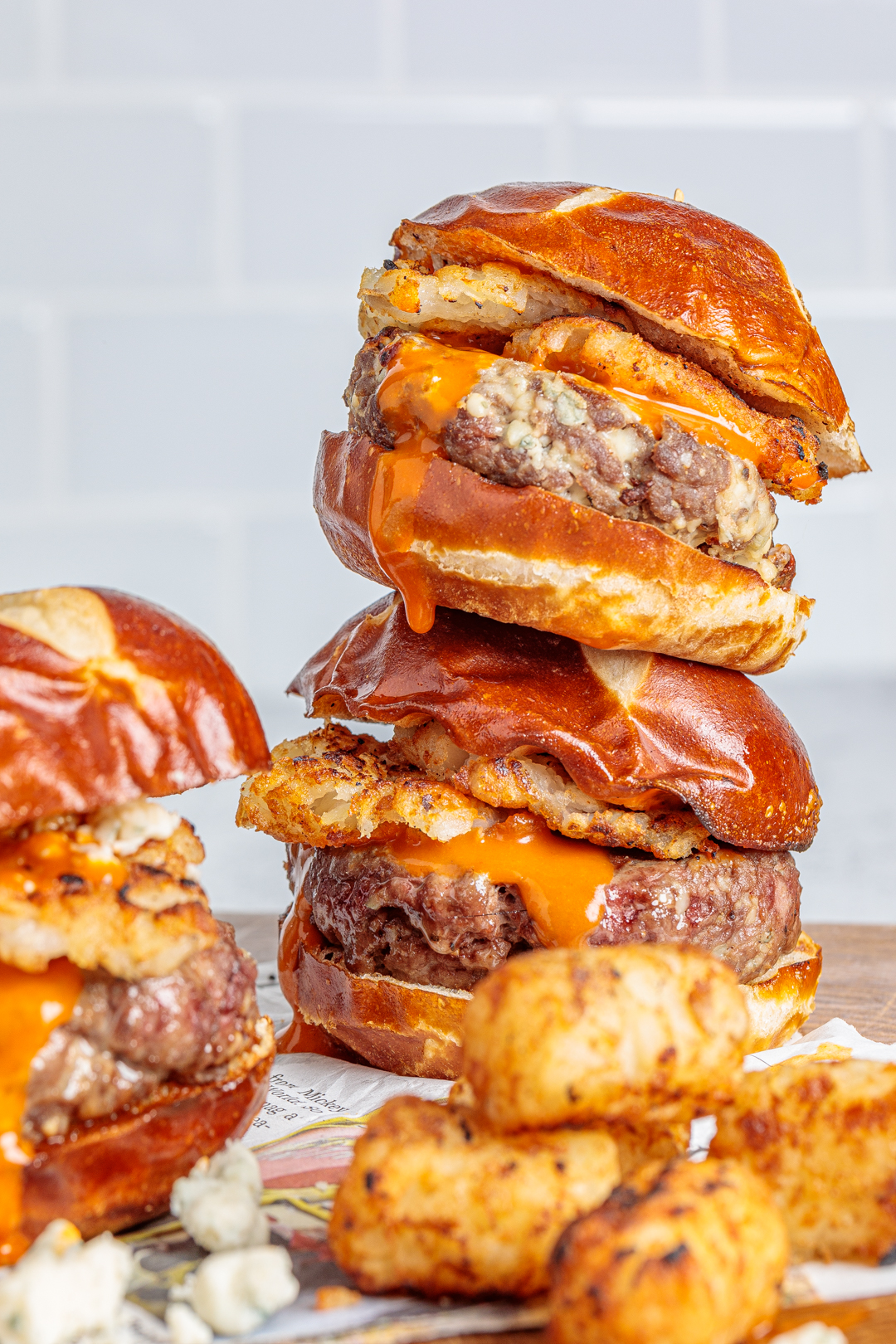 Flawlessly grilled sliders, with pockets of melted blue cheese crumbles, topped with crispy grilled tots and plenty of zingy buffalo sauce was such a great backyard staycation summer bite. Savory memories from travels along with some sweet tech makes for a staycation summer that I can enjoy with every bite.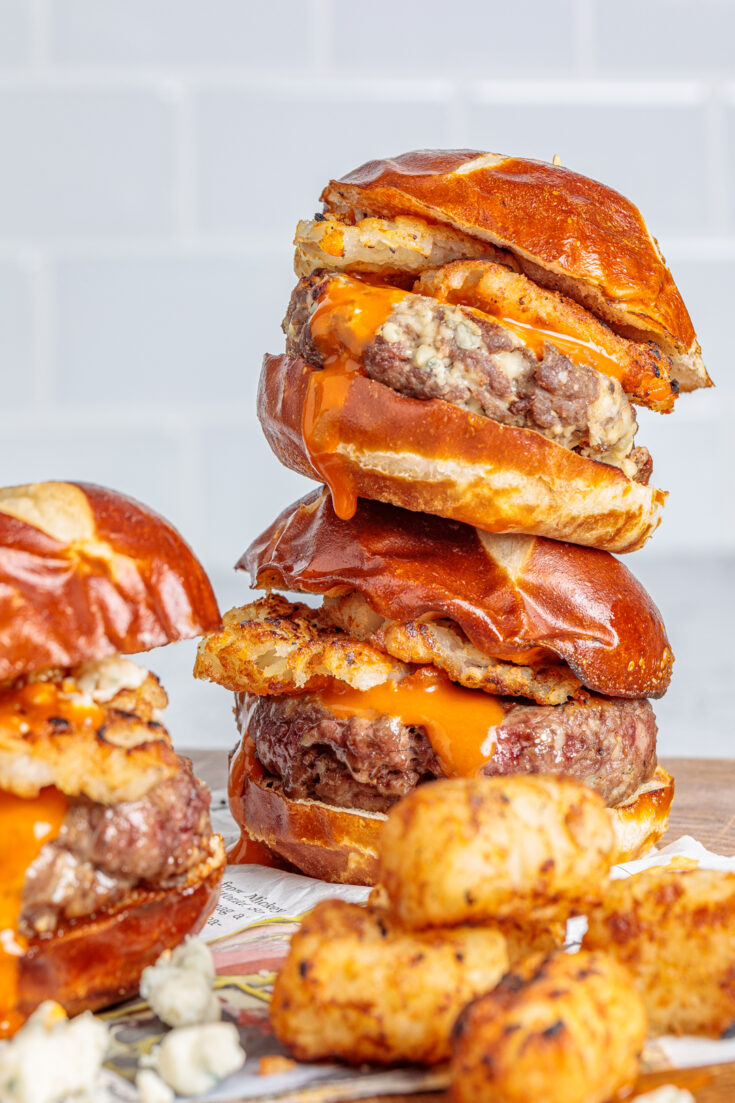 Yield:

8
Buffalo Blue Crispy Tot Sliders
Ingredients
1 pound ground beef, preferably sirloin
1/2 teaspoon smoked paprika
1/2 teaspoon salt
1/4 teaspoon pepper
1/4 teaspoon cayenne pepper
1/2 cup blue cheese crumbles, to mix into burgers
1/2 cup blue cheese crumbles, to top burgers
1/2 cup buffalo sauce
16 frozen potato tater tots
8 slider buns (I prefer pretzel buns for these)
Instructions
Begin by gently, but thoroughly, mixing the ground beef with the seasoning dry spices.
When mixed well, fold in the 1/2 cup blue cheeswe crumbles without breaking them apart too much.
Portion the beef into 2 oz. patties and set aside.
Heat grill to medium-high heat.
When hot, grill sliders to preferred temperature, about 3 minutes per side for medium to medium-well.
Place cooked burgers to rest while cooking the crispy tots.
Tots do not need to be thawed prior to grilling.
Place tots on hot grill, still on medium-high heat.
Cook until softened and nicely charred.
Press tots into grill grate (best on a side area that has less open area to risk losing parts). Flip and cook until both sides have grill marks and are crispy.
Remove and toast buns, if desired.
Assemble sliders with buffalo sauce, additional blue cheese crumbles, and crispy grilled tots.
Enjoy! Find more recipes on SouthernFatty.com. Share your pictures with us by tagging @southernfatty on social media.
Nutrition Information:
Yield:
8
Serving Size:
1
Amount Per Serving:
Calories:

267
Total Fat:

8g
Saturated Fat:

4g
Trans Fat:

0g
Unsaturated Fat:

4g
Cholesterol:

9mg
Sodium:

240mg
Carbohydrates:

24g
Fiber:

3g
Sugar:

2g
Protein:

14g