This post is sponsored by Beefitarian™ but the content and opinions expressed here are my own.
Spunky and savory; short and sizzlin'. Inspired by Nashville's-own Dolly Parton, along with a splash of Nashville heat, this beef short rib burger is packed with smoked paprika, garlic, and a pinch of Nashville hot cayenne pepper. Topped with spicy pimento cheese, onion rings, comeback and hot sauces.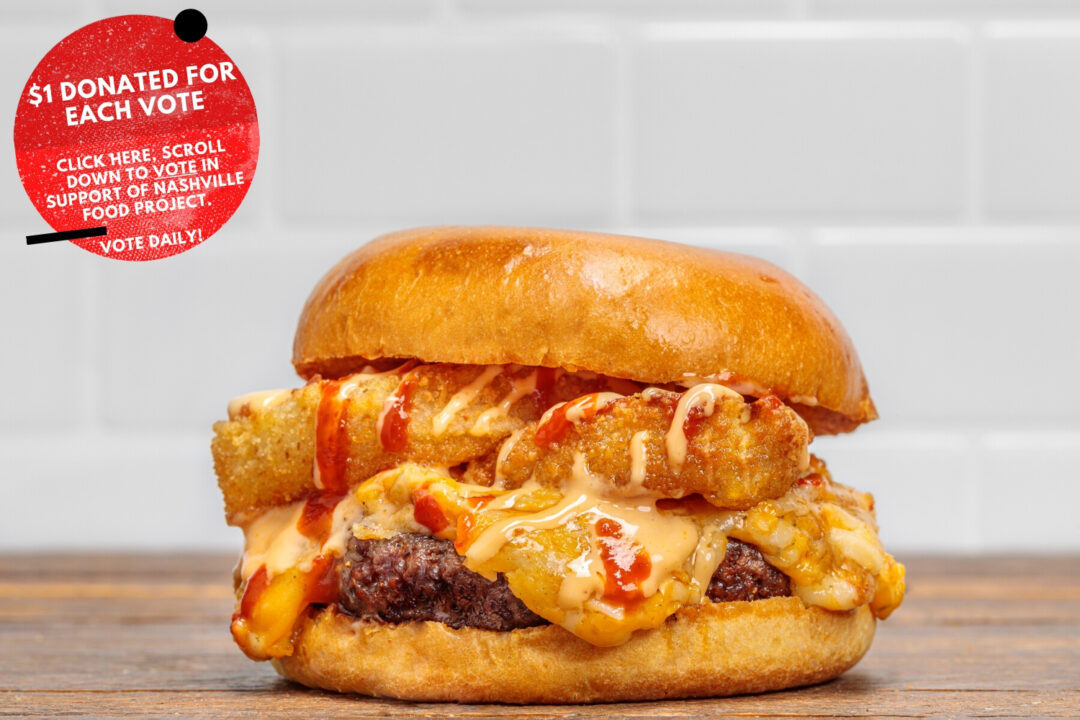 It's just one of those things. Every restaurant that I visit, I immediately jump to see what burgers they have on the menu. I am totally guilty of judging an establishment by the quality of their burgers. There is nothing like a juicy, savory bite that a burger delivers. I've put bourbon on burgers, made some buttery brioche buns, and have eaten my fair share of BBQ burgers this summer. The Beefitarian™ in me loves to experiment with my own creations for unique blends to step away from the typical ground beef go-to. – Inspired by good ol' Nashville hot everything and Tennessee's-own spunky shorty, Dolly Parton, this Short Rib Burger brings all of the flavor, plenty of zing, and doesn't disappoint in the designer burger department.
As part of the Beefitarian outreach, a donation to my favorite local charity, The Nashville Food Project, is being made when you vote for your favorite burger on their website. (hint, hint – it's this one.)
Using new cuts of beef for your at-home burgers is such a great way to wow the family and friends and introduce TONS of flavor into dinner. You can mix and match sirloin with ribeye, brisket with strip, or go all in on short ribs like I have done in this recipe.
Short ribs have gone through a bit of an evolution in the home kitchen world. Beef short ribs actually come from the chuck portion. You'll see them braised and boneless in a lot of restaurant menus (get it. immediately.), which is called English-style, and then you can find them flanken, or BBQ, style with the bone still present. I prefer to buy bone-in. Beef short ribs are usually quite easy to find at your grocery and doesn't disappoint in flexibility and flavor.
It's almost hard to describe how delicious a properly-cooked short rib is. Packed with protein, B12, minerals, and super rich, incredibly savory, deeply indulgent flavor, they really don't need much in terms of seasoning. I do like to add a bit of smokiness with paprika to balance out a good toss of cayenne pepper (sincere homage to Nashville hot chicken, y'all). A pinch of salt and pink (Dolly style, y'all) peppercorn to add a bit of sweet simple flare.
Preparing new cuts of beef for burgers isn't hard. At all. – I have a little attachment to grind meat that hooks into my stand mixer, but there have been plenty of times when I just don't want to clean it so I just chill the beef cuts and then go to town with a kitchen knife. That's it! Don't let gadgets and gizmos keep you from elevating your burger game.
With summer in full swing, it's the perfect time to get on that grilling game with some new burgers in the backyard.
Wanna see more seriously good recipes? Head over to the Beefitarian website and vote on your favorite.
For every vote, Beefitarian will provide an additional donation back to The Nashville Food Project, a local Nashville community food pantry that is very near to the community's heart here in Music City.
Voting period is 7/20/20 — 7/30/20.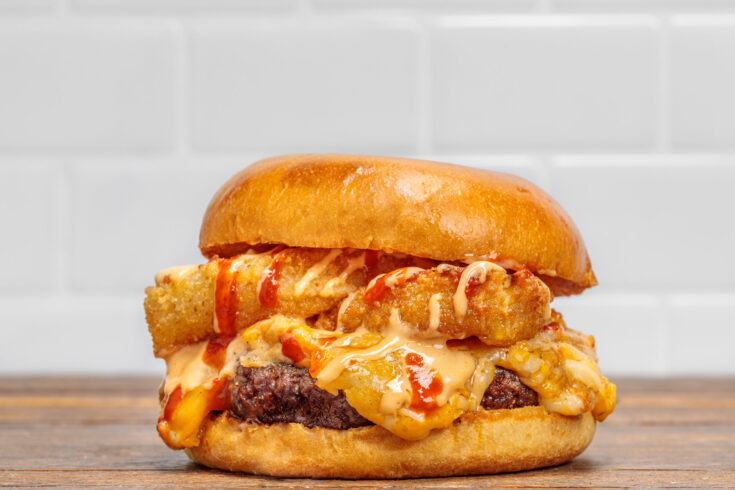 Yield:

2 burgers
Spicy Short Rib Burger
Seriously good short rib burger blended with smokey spices, a bit of Nashville heat, and topped with crispy onion rings, comeback sauce, and a bit of Sriracha. Recipe from SouthernFatty.com.
Ingredients
12 ounces beef short rib (removed from bones)
1/2 tablespoon smoked paprika
1 teaspoon garlic powder
1 teaspoon cayenne pepper
1/2 teaspoon salt
1/2 teaspoon pink peppercorn, ground
1/4 cup pimento cheese
1 tablespoon comeback sauce
1 tablespoon hot sauce
4 onion rings, cooked
2 burger buns
Instructions
Heat grill to medium/medium-high heat.
Remove 12 ounces of beef short rib meat and cut into rough cubes. Chill in freezer briefly while preparing seasoning spices, about 5 minutes.
Combine all spices and seasoning in a small bowl.
Remove the short rib beef from the freezer and either chop finely or grind with meat grinder.
Gently mix in seasonings. Do not overwork.
Divide equally into two burgers.
Grill until cooked to desired doneness (about 5 minutes per side for a good medium burger).
Turn off heat and add pimento cheese to burger on the grill. Allow cheese to melt.
Move burger to rest for a few minutes before placing it on a toasted bun.
Finish with two crispy onion rings, comeback & hot sauce.
Find more recipes on SouthernFatty.com and tage @southernfatty / #southernfatty on social with your images so we can see.
Recommended Products
As an Amazon Associate and member of other affiliate programs, I earn from qualifying purchases.