Sweet and sprinkled! This twist on a classic baked cheesecake combines a birthday cake cookie crust with a thin layer of white chocolate and sprinkles, topped with cookie cream filling frosting… and more sprinkles,. obviously.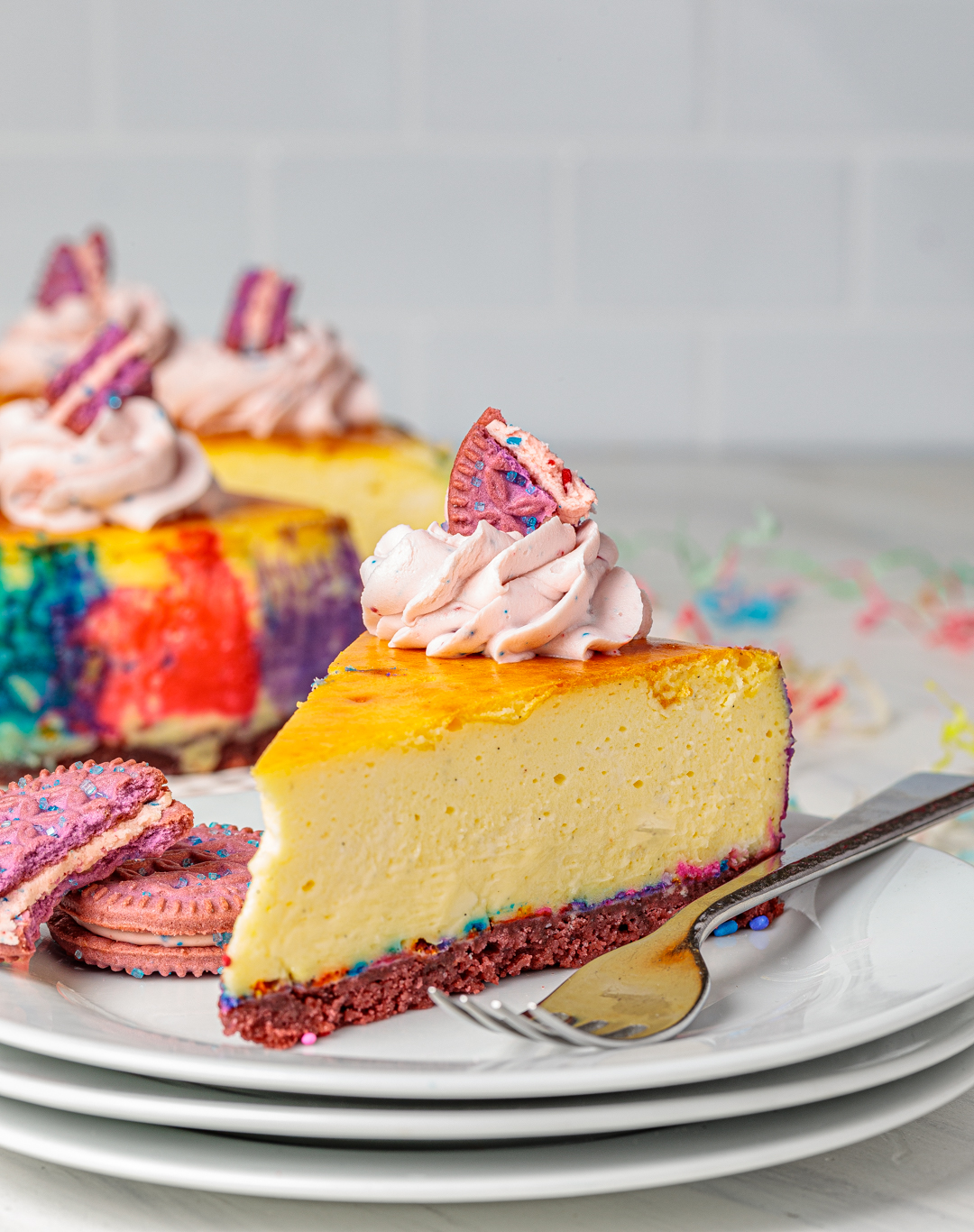 Anytime I am walking around the grocery store… or in this case, scrolling through the pages of the weekly online grocery ad, and I see sprinkles, cookies, birthday-flavored-anything, it is an immediate add-to-cart situation. An hour later and I am at home looking at about 3 packs of cookies on my counter that I needed to find an excuse to use before I sat on my couch and just ate them all from the package. I love using unique cookies for the crust of classic desserts to twist things up a bit. It's a great way to make something old shine (or sprinkle in this case) a bit.
Using my favorite cheesecake recipe, I decided to spit up the cookies to use the cookies for the crust and then whip the funfetti birthday cake flavored cream into a seriously stellar frosting.
Keep reading for all of my cheesecake tips and tricks.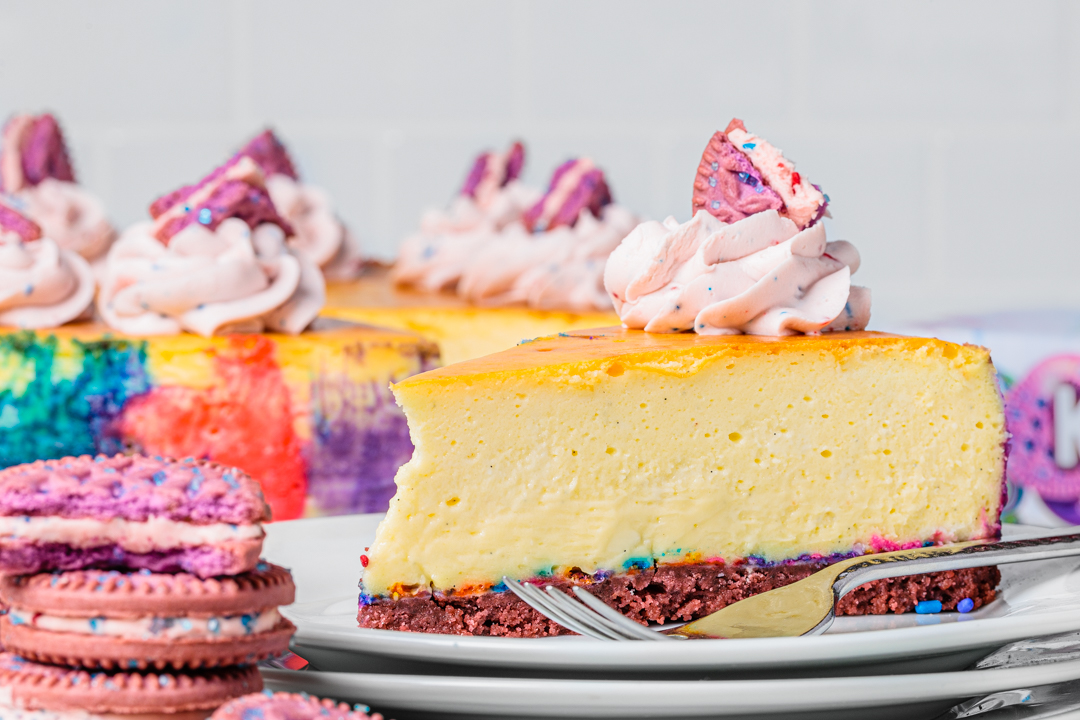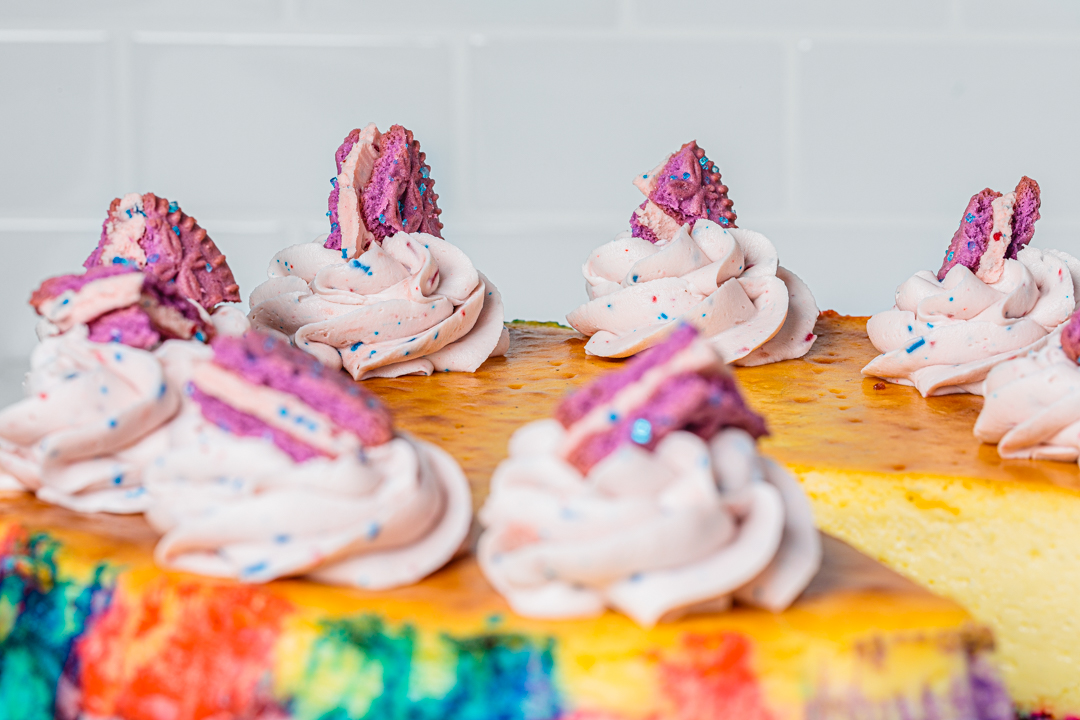 Cheesecake may be my all-time favorite dessert. With that said, and the constant stream of Golden Girls playing in the background of my kitchen (seriously… constant), it's no surprise that I've made quite a few cheesecakes in my time. With that has come plenty of failures and frustrations. Hopefully, I can help y'all avoid the cracks and soggy bottoms with a few tips and tricks that I've learned through my bakes.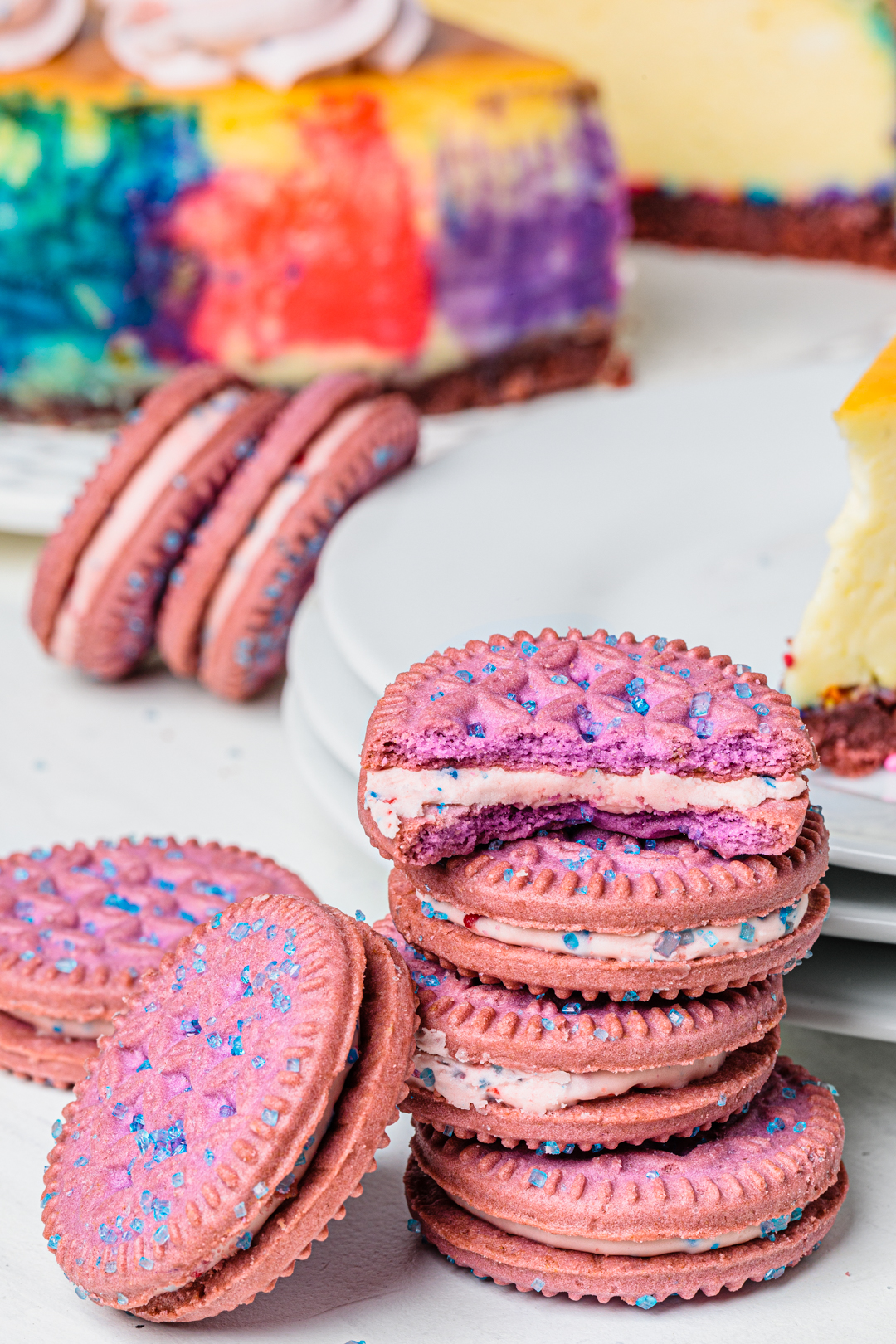 My 2 cents is that a baked cheesecake will always win over a no-bake version. It's worth the extra time and can be done pretty simply. Having proclaimed my love for baking the cakes, I can also admit that I have totally ruined plenty of crusts while trying to get that perfectly contrasted crunchy bottom with rich, creamy filling. Baking cheesecake needs a slower, more evenly distributed bake to avoid cracking and to ensure it isn't over-baked. A baine marie (bahn-mah-REE) is the answer. Sounds fancy, but isn't. It's baking in a bit of water. This insulates the pan and allows for a slower, more even bake. Think about it… heat from the oven will more stably pass through the water surrounding the pan than through air alone. This even heat transfers to the cream filling and I promise you can taste the difference. Think of the oven as an ingredient in your recipe, because it is.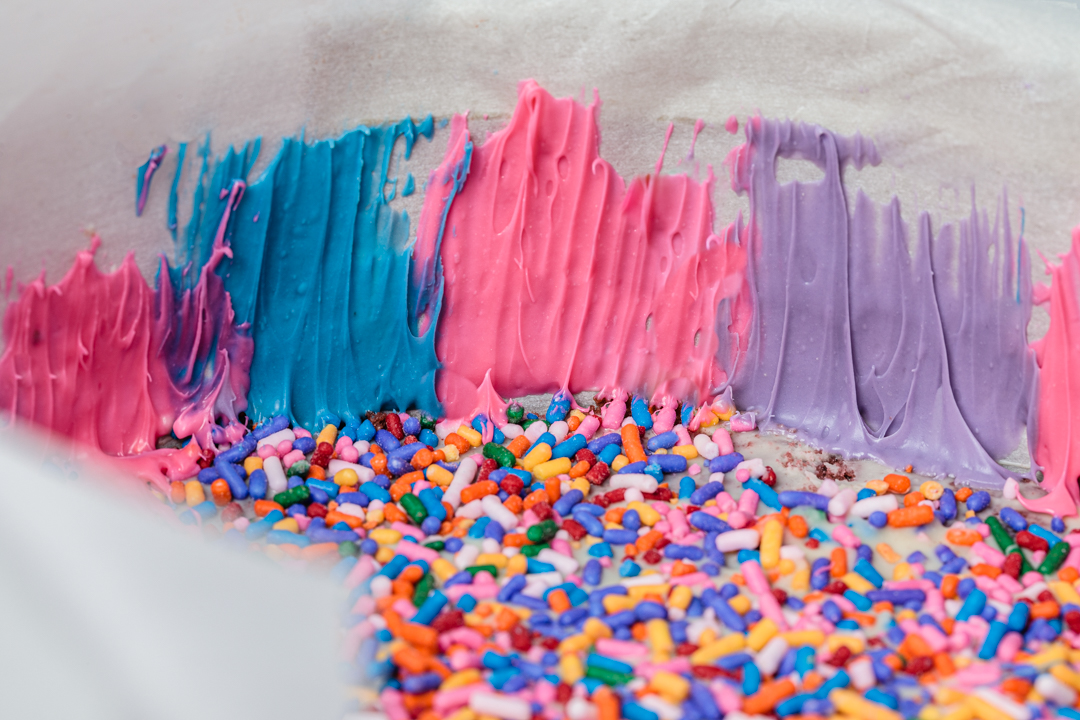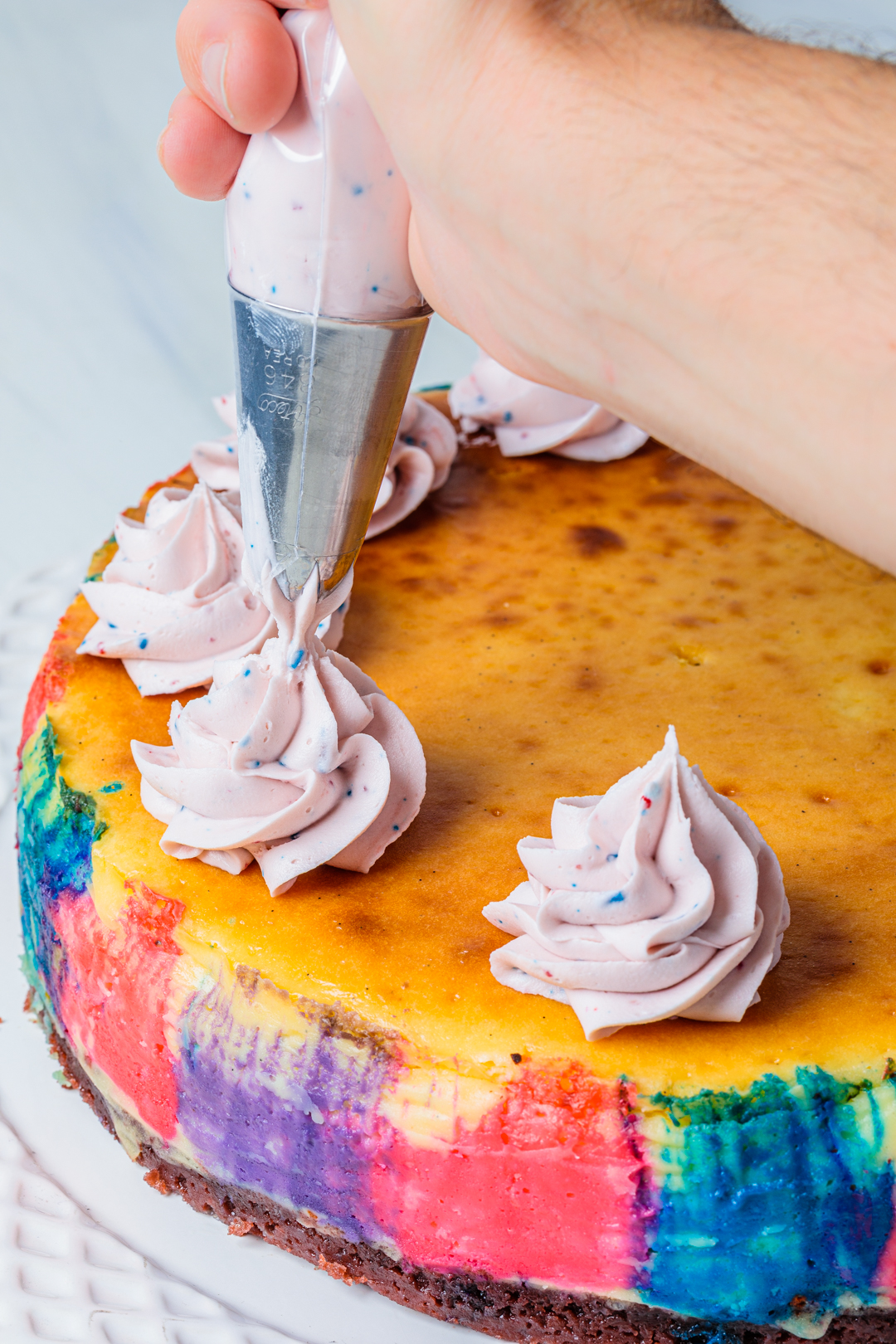 If you are going to drop your bake into a pan of water, you better be prepared properly for it. The last thing you want is to go to pull our a perfectly golden cheesecake and end up with the crust soaked and soggy with water. You just need an inch or so of water, so grab a large pan (I use a roasting pan) that fits your cheesecake pan easily. If you are using a pan for your cake that is one solid piece, you don't need much else. If you are going to use a springform pan, which I prefer since you can pop it open to easily remove and slice, then you have something else to consider. Don't assume that your pan will be water-tight. Trust me… it wont. Wet crust is not a good look.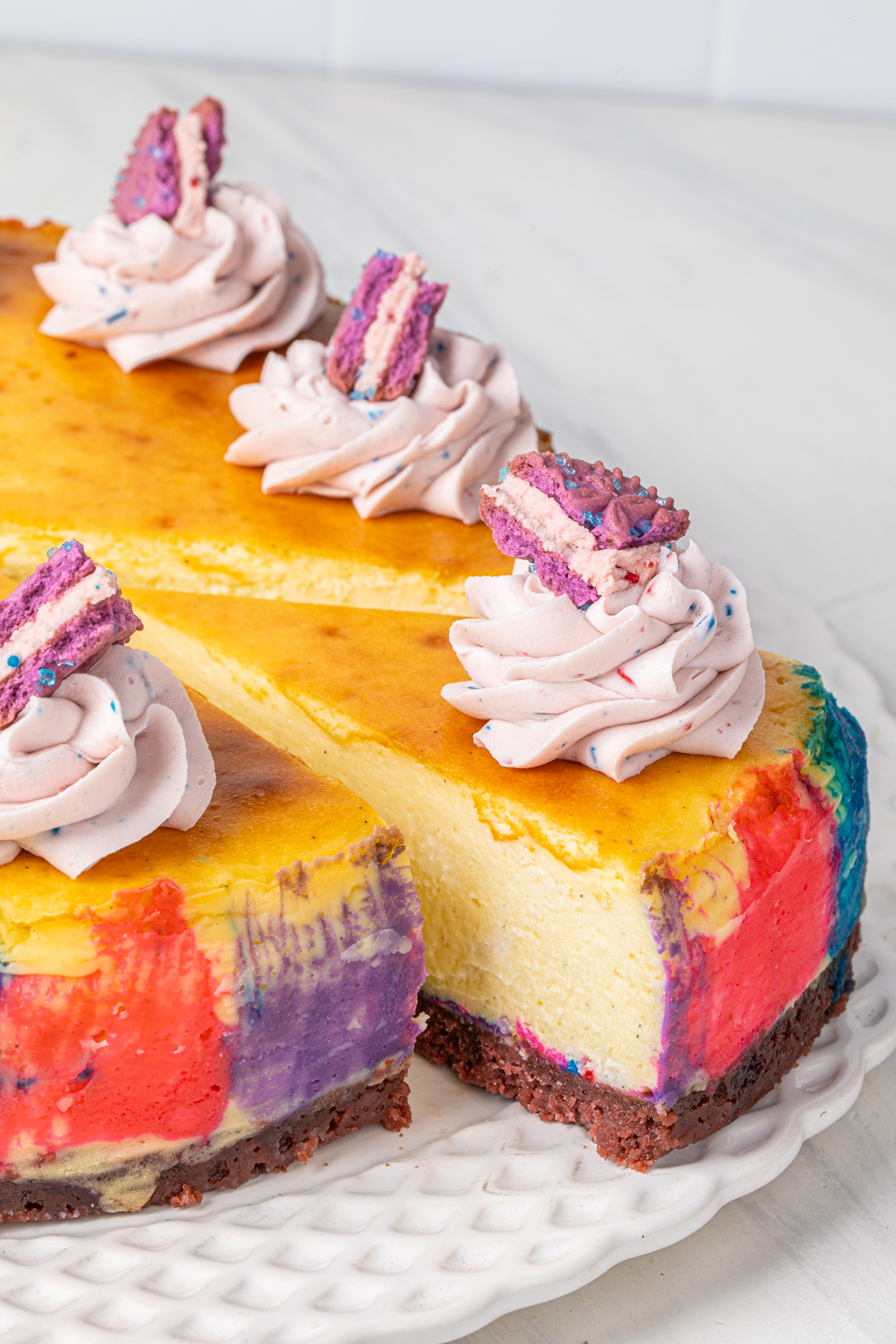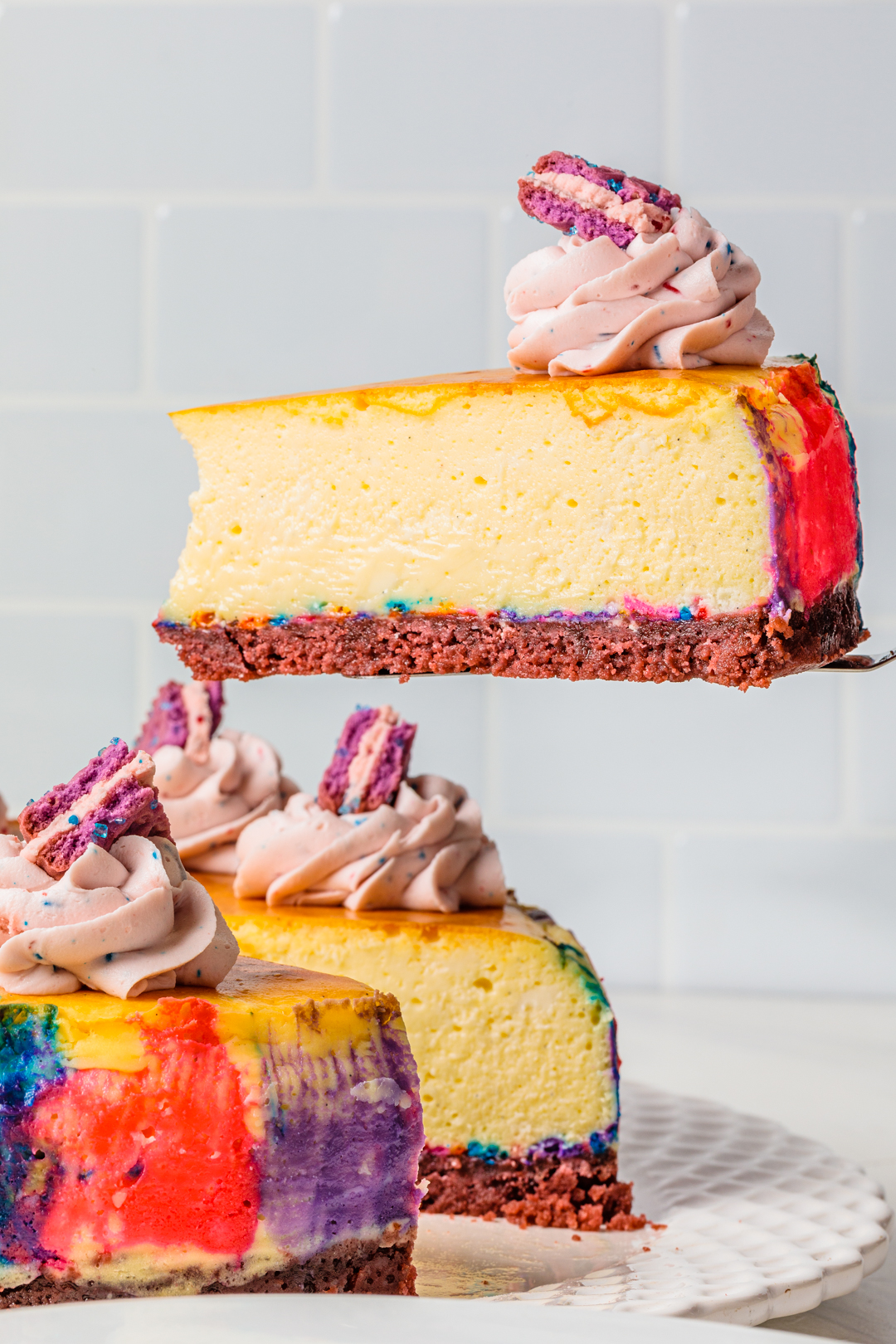 Two options that I prefer are 1) wide sheet foil that will wrap under and up the sides of your springform pan without ANY seam exposed to the water (I usually double up on the layers to be safe) and about an inch above, and 2) slow cooker liner bags. Most liners made for the Crock Pot are large, BPA-free, nylon resin bags that are food and heat safe to 400 F. Toss that puppy around your springform and secure with some metal binder clips and you are good to go. Best office supplies meets kitchen hack ever? I think so.
One last tip before we bake this baby…
Use. A. Thermometer.

You can poke it in to check randomly, or grab a super-handy leave-in thermometer that will beep when it hits the perfect temperature. This is where most people go wrong. Cheesecakes will wobble a bit before they cool. The perfect internal temp (at least to my liking) is around 155 F. Cheesecakes typically crack when over baked. Using a thermometer is a no-fail way to prevent that and end up with a soft, creamy bite.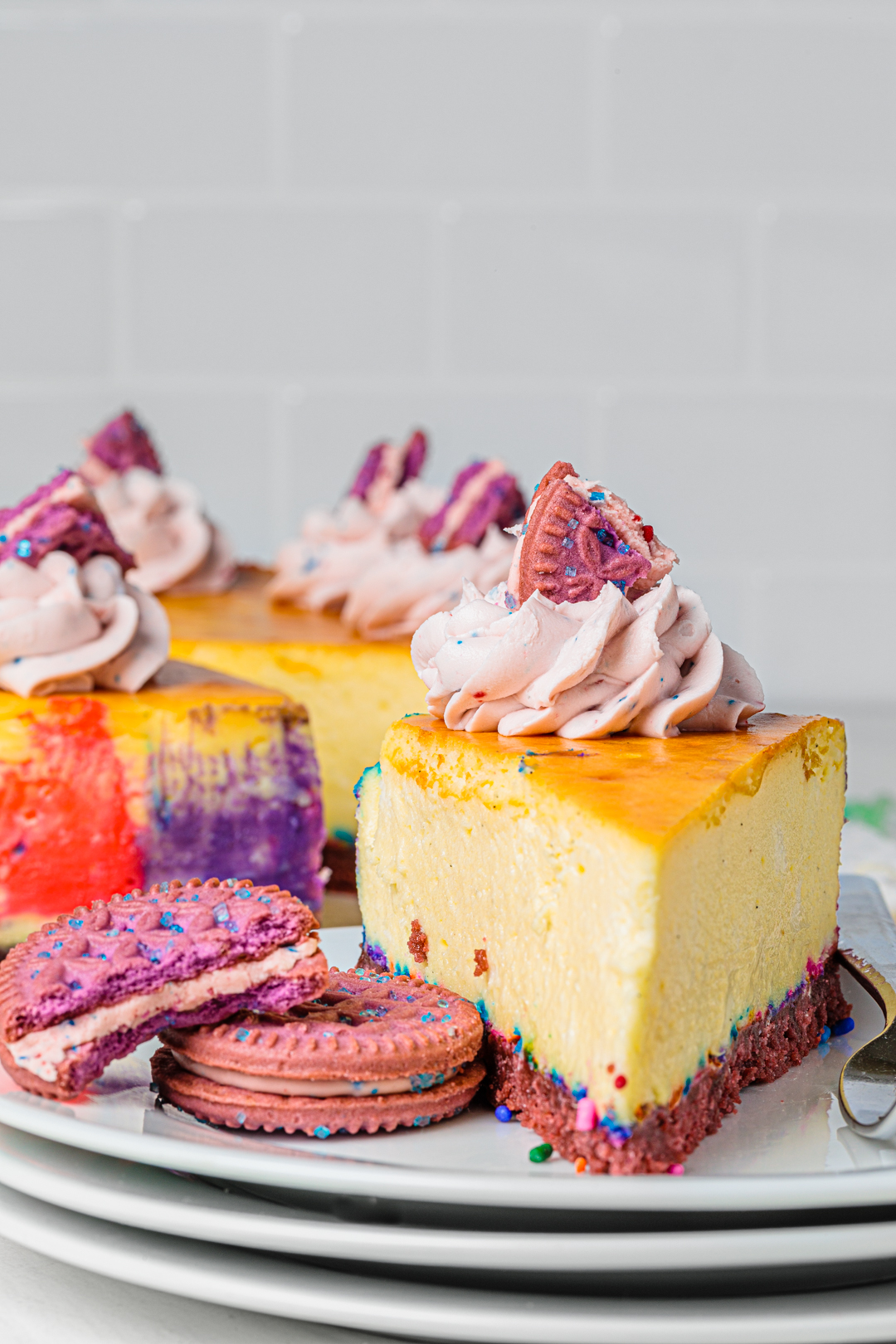 Oh! Before you dunk the pan into the water bath, I always recommend blind baking cheesecake crusts. This simply means pressing your crust into your pan, baking for 10-12 minutes to set and crisp it a bit, cool and then fill before baking in the water bath. This ensures a crunchy crust. That texture makes all the difference when making a prize-wining cake. Something else that I have picked up recently is to add a thin layer of melted chocolate on top of the blind baked crust after it has cooled. This is especially useful when you might be concerned about the filling making the crust soggy. As the British baking queen herself says,
"Nobody likes a soggy bottom."

Mary Berry
For this cheesecake recipe, a layer of melted white chocolate just screamed sprinkle canvas after brushing it on. Anywhere you can add more sprinkles, you should.
Filled with a simple but seriously delicious cream cheese mix, this cheesecake, with the birthday cake cookie crunch of a crust, is ready to be topped with a whipped funfetti cream frosting. Some cookie crumbles, because why not? — Oh. Did I mention that it isn't my birthday? It isn't even anyones. Nothing wrong with that, y'all. Birthday cake is for anytime in this house!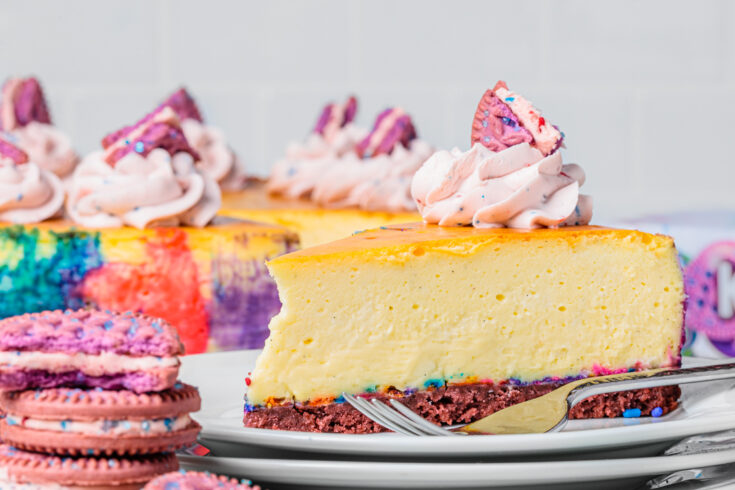 Yield:

8-12 servings
Funfetti Birthday Cookie Cheesecake
This twist on a classic baked cheesecake combines a birthday cake cookie crust with a thin layer of white chocolate and sprinkles, topped with cookie cream filling frosting. From SouthernFatty.com.
Ingredients
Cookie Crust
12 oz birthday cake cream-filled COOKIES only (eg: Kroger Kaleidos, Oreos, etc.), from separated cookies
4 tablespoons butter, unsalted, melted
2-4 oz. white chocolate, melted
1/2 cup sprinkles
Cheesecake Filling
4 (8 oz.) packages cream cheese, room temperature
1 cup sugar
1/2 cup sour cream
5 eggs
1 teaspoon​ vanilla bean paste or extract
Cake Frosting
1 cup vanilla frosting (any will do - even store-bought if you have it)
12 oz birthday cake cream-filled CREAM only (eg: Kroger Kaleidos, Oreos, etc.), from separated cookies
Instructions
Preheat oven to 350 F.
In a food processor, blend cookies (after you have split and reserved the cream filling) until fine.
Add butter and blend until mixture is combined.
Press tightly into desired pan (I used a springform pan).
Bake for 10-12 minutes and remove to cool while preparing the filling.
When crust is completely cool, brush melted chocolate on top to cover. Add sprinkles on top. Allow to harden for a few minutes. You can pop it in the fridge to speed this up if you'd like.
In a mixing bowl, combine cream cheese, sugar, sour cream until smooth. Beat in eggs and vanilla until mixed. No not overmix.
Optionally, let this batter rest in fridge for an hour or more to reduce air bubbles in cheesecake.
Preheat oven to 450 F.
Optionally, you can brush the sides of the pan with colored chocolate as I have here. Allow to set before filling, if so.
Pour filling into pan over the prepared crust.
Prepare a larger pan with about an inch of water. Wrap the cheesecake pan in either heavy duty foil or in a slow cooker bag (read the blog post for details and tips on this step).
Bake for 10 minutes at 450 F and then reduce oven temperature to 325 F.
For best results, use a thermomter and bake until the internal temperature is 155 F.
If no thermometer, bake time is around 45-60 minutes.
If baked properly with the article suggested tips, you should not see cracks and cheesecake will remain creamy and soft.
After baking, allow to cool COMPLETELY. This may take a couple hours. Best to cool at room temperature and then move cake to fridge overnight before serving.
Whip frosting with the cream filling that was split from the cookies.
Top with additional cookies as desired.
Enjoy! Find more recipes on SouthernFatty.com.
Tag us at @southernfatty if you make this and post any delicious photos!
Recommended Products
As an Amazon Associate and member of other affiliate programs, I earn from qualifying purchases.
Nutrition Information:
Yield:
12
Serving Size:
1
Amount Per Serving:
Calories:

473
Total Fat:

23g
Saturated Fat:

6g
Trans Fat:

0g
Unsaturated Fat:

11g
Cholesterol:

40mg
Sodium:

13mg
Carbohydrates:

36g
Fiber:

0g
Sugar:

40g
Protein:

4g