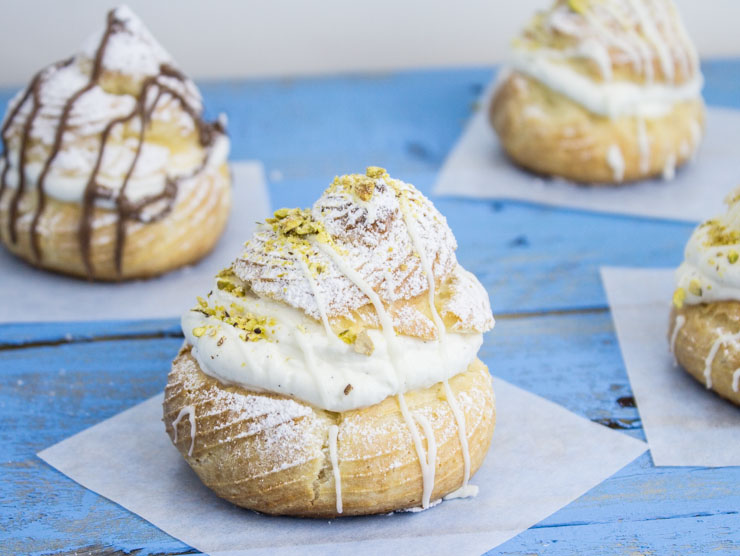 It's a Saturday morning(ish) and you manage to crawl out of bed and stumble into your favorite Chinese buffet for lunch. What is better than plates of beige fried food and unlimited sushi for $7.49? The cream puffs at the end, that's what. I'm going to show you one of the easiest, best tasting pastry recipes ever. Your thighs will thank me later!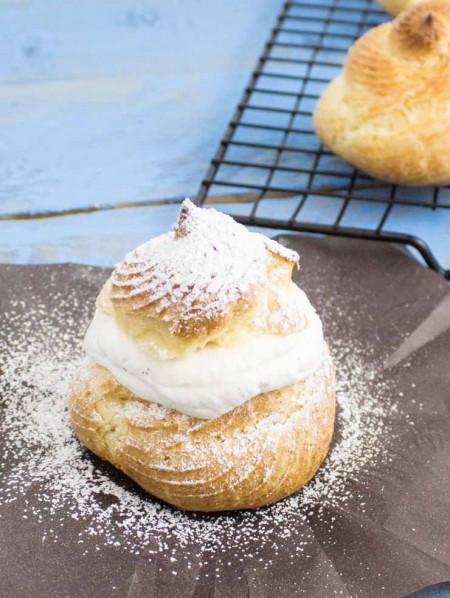 French pastry can be super-intense to create. Think macarons, croissants, mille-feuilles/Napoleons… This stuff isn't child's play. It involves a marriage of scientific detail in a perfectly choreographed dance with proper tools and technique. Something that can be is very intimidating and time-consuming to master. Luckily for y'all, this pastry isn't really any of those things! It's quite simple (and just as delicious!).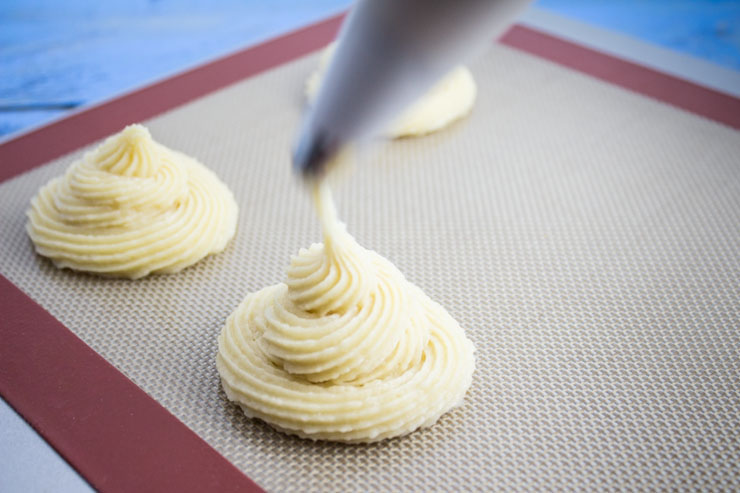 Pâte à Choux (paht – ah – shoe) is the technical term for this pastry dough. It is a very soft (pipeable) dough that is made very quickly, leaving behind a ton of moisture in the flour mixture that will cause the dough to puff by the resulting steam released while baking. This puff is what make a perfect little cave in the pastry for the filling. It's quite easy to make for this recipe. You just boil some water and (literally) dump all of the flour in and stir it into a ball. Voilà!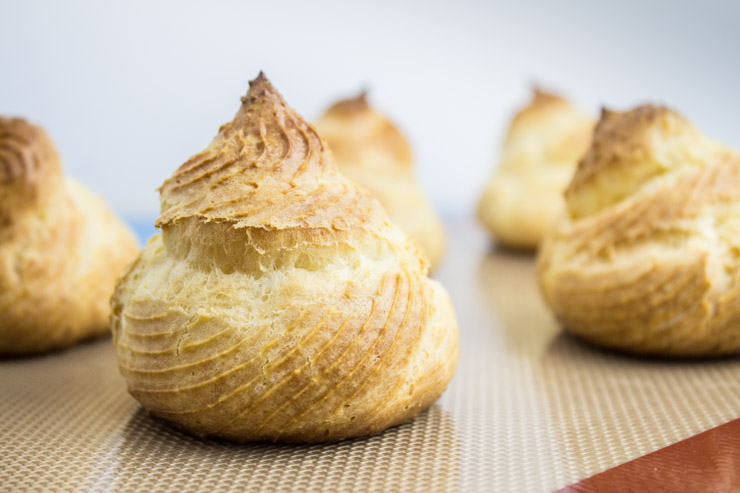 While this base dough can be used for both savory or sweet creations, I (of course) will go for sweet this time. Once the puffs are baked and golden, you just let them cool and remove the top half. These can also be made into balls by scooping the dough onto the pan and giving the tip a little tap back down before baking. I enjoy the little ski-slope mountain look myself.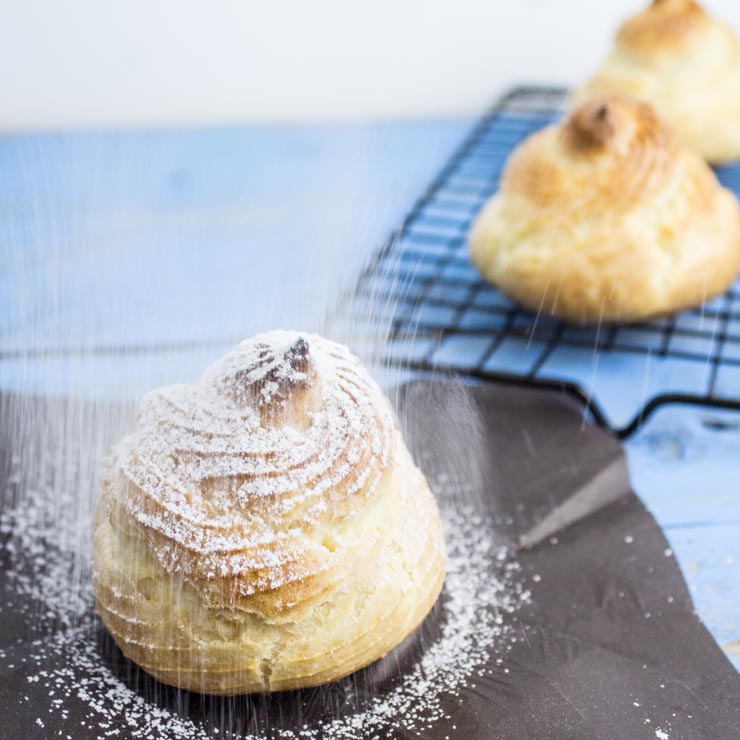 To go with the black diamond ski slope that we have created, you have to add a bit of snow! Powdered sugar makes everything better. You could eat these without it… although, I'm not sure why you would want to.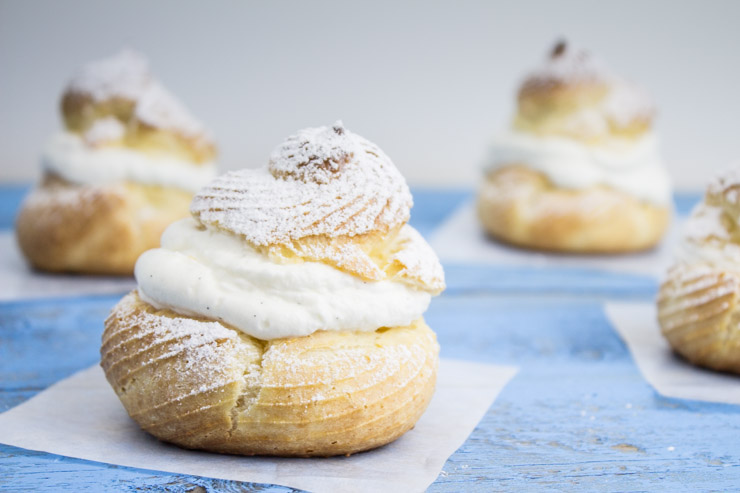 Pipe your filling straight into the puffs, or split them and pipe between. I went with between so you could see the deliciousness that is the vanilla bean cream filling. I even added a swig or two of amaretto. The sweet almond flavor goes perfectly with the vanilla bean.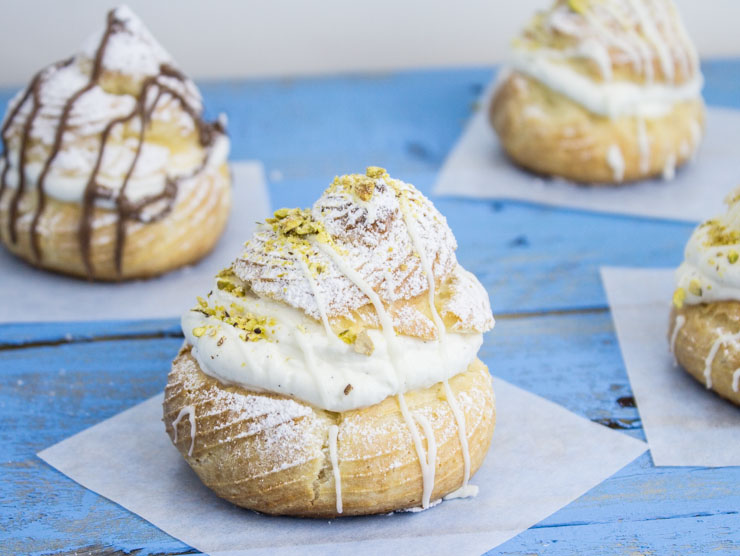 I gave these a quick melted chocolate drizzle with some crushed (salted) pistachios. The salt and chocolate was a great choice! Oh… and the amaretto cream was obviously an even better choice!
Cream Puffs / Pâte à Choux
Ingredients
Pâte à Choux / Pastry Dough
1 cup flour
1 cup water
1 stick (113 g ; 8 T) butter, unsalted
salt, pinch
1 cup eggs (about 4 large)
Pastry Cream
1 cup heavy cream
1 cup mascarpone cheese
½ cup powdered sugar
2 teaspoons vanilla extract or 1 vanilla bean pulp
1-2 tablespoons amaretto, optional
Instructions
Puffs
Preheat oven to 425 F.
Line baking sheet with silicone mat or parchment paper.
In a medium saucepan, combine butter and water. Bring to low boil over medium high heat.
Dump in all flour and salt at once.
Stir with wooden spoon until flour comes together in ball.
Transfer ball of dough to food processor or mixer with Beater Blade (really works best instead of traditional mixer wisk or paddle).
Let cool for 4-5 minutes. Mix in eggs one at a time.
Pulse/mix until combined. It will look like thick batter/paste.
Transfer mix to piping bag (or Ziplock with corner cut).
Pipe desired shape onto silicone mat or paper. If you don't want a point after baked, lightly press down top point of dough.
Bake until golden, about 20-25 minutes.
Let cool completely before filling.
Cream Filling
Place cream in mixer with Beater Blade. Begin to beat at medium-high speed until soft peaks form.
Slowly add powdered sugar. Continue to mix at medium-high speed until stiff peaks form.
Mix in mascarpone and beat. Add vanilla and combine.
Pipe into puffs.
Top with powdered sugar and desired toppings.
Enjoy! Visit SouthernFATTY.com for more.
I topped my puffs with pistachios. What is your favorite topping? Leave us some love below!