Brown Sugar Cinnamon Whiskey Cream Eclairs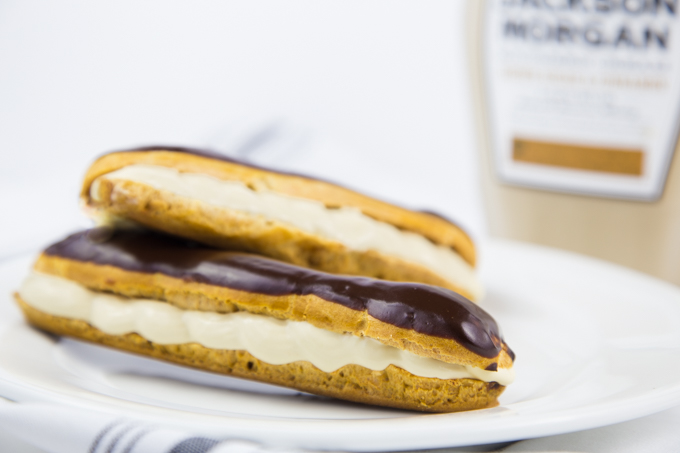 Author:
Phillip | SouthernFATTY.com
1 cup water
1 stick butter (113g or 8 tablespoons) butter, unsalted
1 pinch salt
1 cup flour (AP works, or mix 50/50 bread/AP)
1 cup eggs (about 4 large)
1-2 eggs with a splash of milk, for egg wash
½ cup milk, whole
3 egg (54g) yolks
¼ cup (50g) sugar, white granulated
3 tablespoons (23g) flour
8 ounces good chocolate (I prefer 60% cacao for this, but choose by personal preference), chopped
¾ cup heavy cream
pinch salt
Pre-heat oven to 375 F / 190 C.
In a medium heavy-bottomed saucepan (for best results, don't use a non-stick coated), heat water, butter and salt over medium heat.
While heating, measure out flour and eggs.
Once the water/butter mix reaches a slight boil, remove from the heat (leave the burner on) and dump all of the flour into the mix at once.
Stir quickly with a wooden spoon.
Return to the heat and stir CONTINUOUSLY. You will start to see the dough pull away from the pan after a few minutes. Keep stirring vigorously, cooking for 2 minutes.
You should be left with a slight film on the bottom of the pan. Remove the pan from the heat.
Transfer the dough to a mixer with a paddle attachment. I prefer a Beater Blade type paddle for this.
With the mixer on low-medium speed (about a 4 on a KitchenAid), add one egg at a time from the cup o' eggs that you have ready.
Do not add another egg until the one you have just added is completely incorporated.
Continue to mix until eggs are mixed well and dough is glossy and smooth. It will remain somewhat thick for piping. The dough should ribbon when it falls back on itself when finished.
Transfer to a piping bag with an open or large tip. Alternatively, you can use a large star tip to cut down on possibly cracks, which allows the dough to expand easily.
Prepare a baking sheet with parchment or a silicone baking mat (my top choice).
Pipe long, thin éclairs on the baking sheet. Press down any points on the end with a damp finger.
Beat egg wash together well and brush on top carefully with a pastry brush. Try to avoid egg on the baking sheet.
Optionally, mist the tops of the eclairs with water. This will help with ensuring they puff well.
Bake for about 25 minutes, or until golden brown. Do NOT open the oven until you are sure they are golden and set in shape.
When golden, prop oven door very slightly with a wooden spoon and lower temperature to 325.
Cook for an additional 20-25 minutes to dry the puffs out. You can also just turn the oven off after about 20 minutes and allow the éclairs to finish and cool in the oven before removing. This is my preferred method if time permits.
While cooling, prepare the pastry cream filling:
Combine egg yolks and sugar in a bowl and whisk until light, fluffy, smooth.
Add flour to egg mixture and whisk well to combine. Set aside.
In a clean medium saucepan, combine milk and Jackson Morgan Southern Cream.
Bring milk and cream to a boil and remove from heat.
Whisking while adding, stream about ¼ cup of the hot milk/cream mixture into the egg mix.
Place milk/cream back on medium heat and slowly add all of the tempered egg mix, continuing to mix throughout.
Bring mixture to a slow boil, stirring and cooking for an additional 2-3 minutes to thicken.
Remove to a bowl and cover with wrap, pressing down directly on top of the cream to prevent a film from forming. Chill well before using (preferably a couple hours).
When ready to serve éclairs, fill shell with piping bag or cut in half and pipe directly inside.
Heat ganache cream in a small saucepan until simmering.
Pour cream over chocolate and allow to sit for 2 minutes. Stir after 2 minutes until very smooth and glossy.
Dip the tops of the éclairs and let rest to harden ganache slightly.
Top with anything you want! I used cinnamon chips from our strawberry scones and extra raw brown sugar. Almonds are great as well.
Serve with a chilled glass of Jackson Morgan Southern Cream! #SipAndBeSocial, y'all.
Enjoy-- More recipes on SouthernFATTY.com
Recipe by
Southern FATTY
at https://www.southernfatty.com/brown-sugar-cinnamon-whiskey-cream-eclairs/