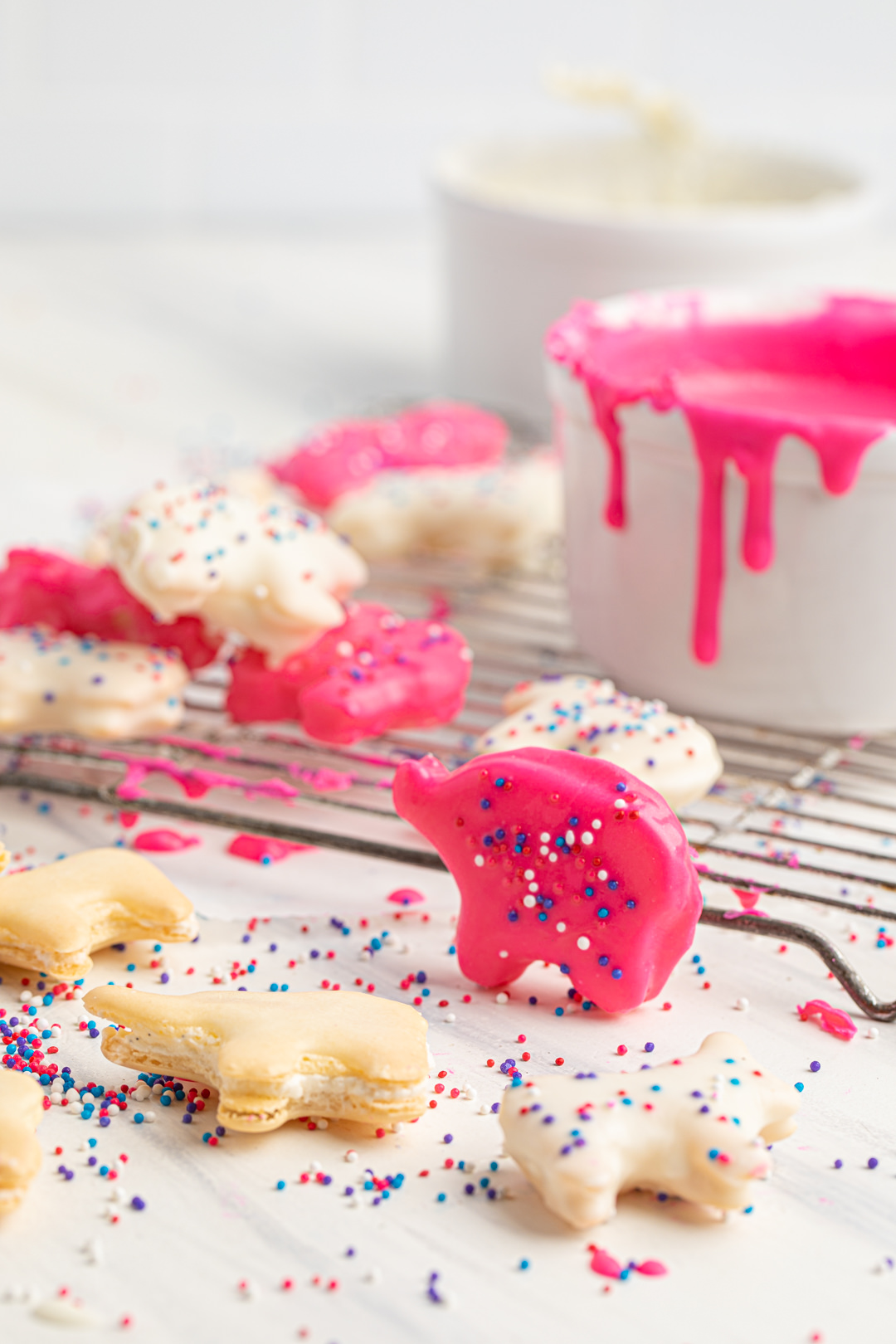 By now, y'all know how much I love to take a nostalgic favorite sweet and, well…. make it sweeter. I can remember being slightly obsessed with animal crackers. The plain ones are ehhhh fine and all, but the ones that are frosted with sprinkles?! Yes, ma'am! That is most definitely where it's at. — Inspired by those magical frosted lions, tigers, and bears, I've transformed frosted animal cookies into much needed macarons.
Continue reading below for a free downloadable piping template!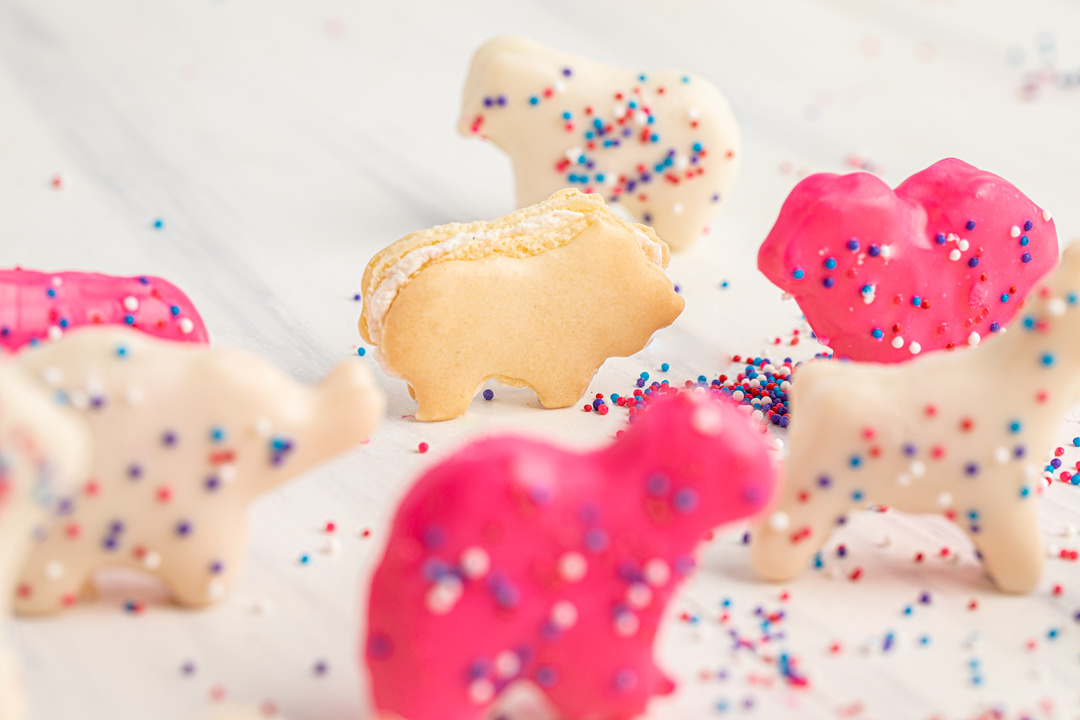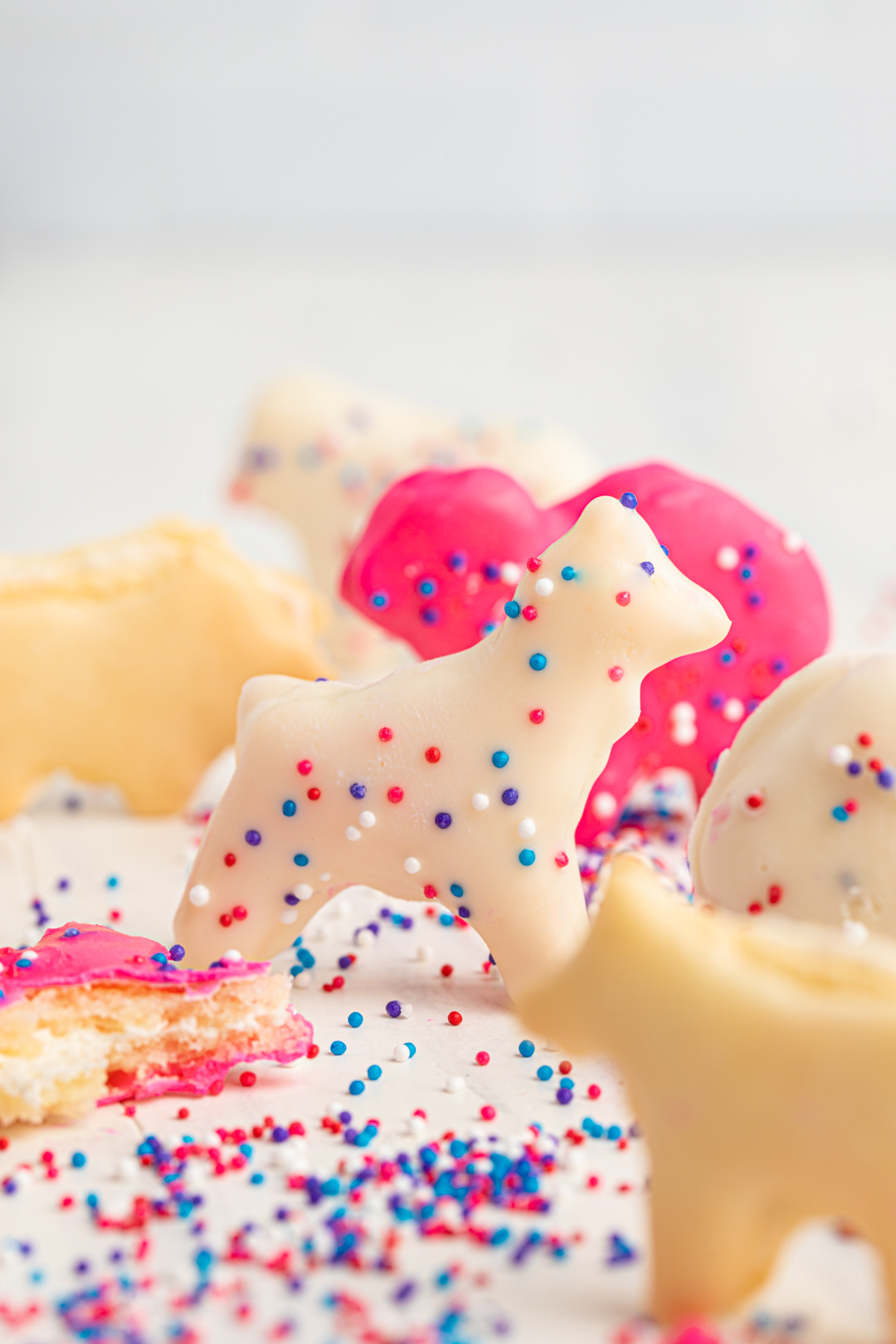 There are two types of people in the world. Those that know the right kind of frosted animal cookies and those that are wrong. The ones that have a layer of frosting on one side, so thin that you can see through it, are, as they would say in Kentucky, as useless as tits on a boar hog. The real deal is with the ones that are completely drowned in pink and white candy coating chocolate and tiny little ball sprinkles. I'm partial to the elephant, and couldn't tell you what all of the other animal shapes actually are, but that's part of the fun, I guess.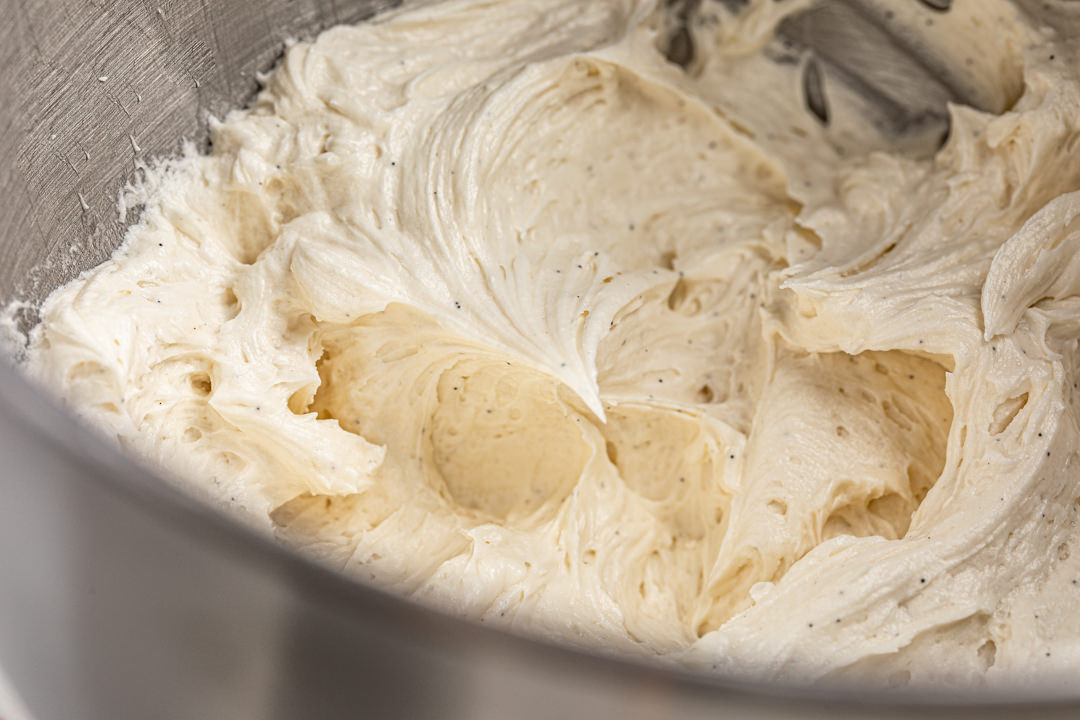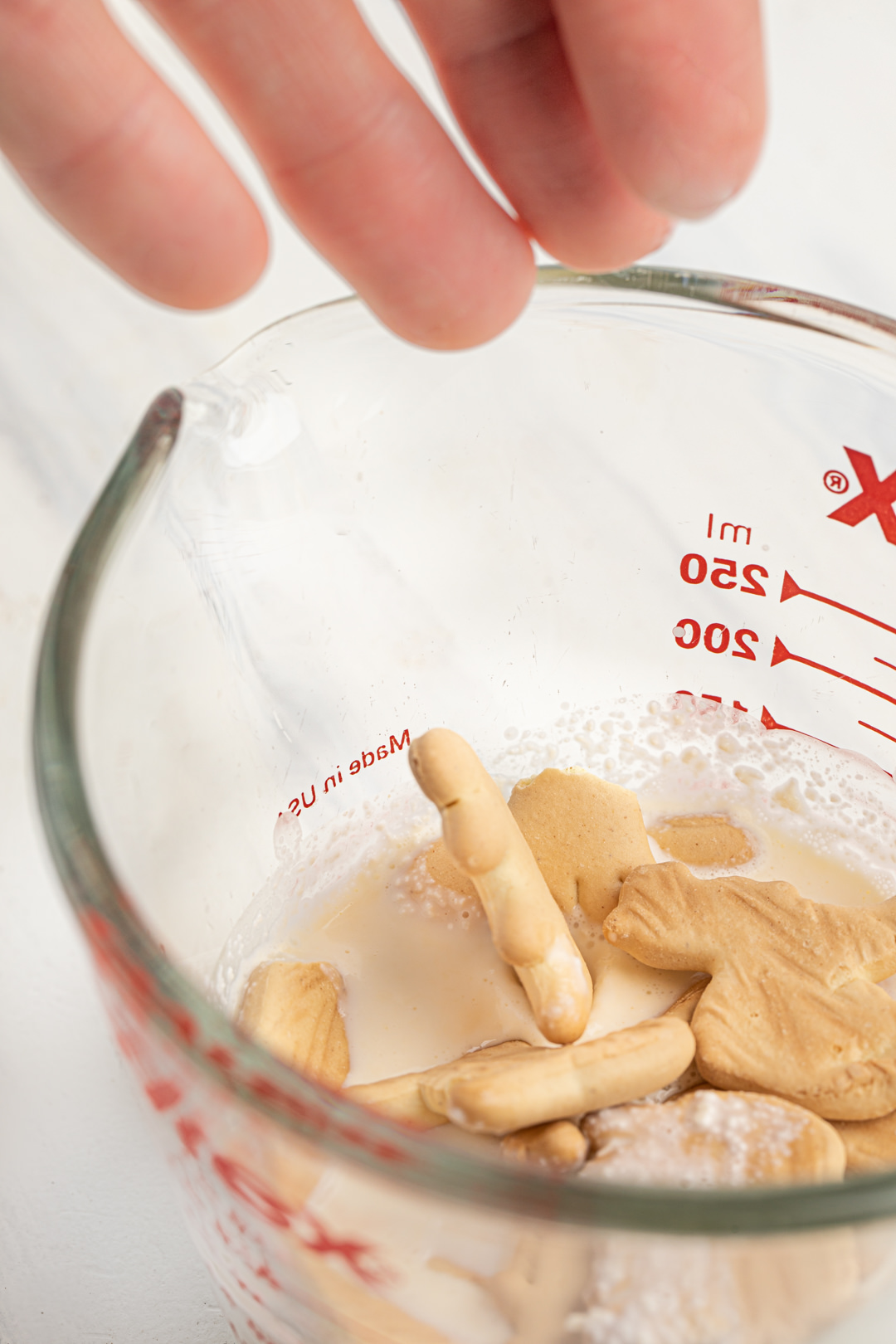 There are few things in life that are as good as one of those massive plastic bear containers full of them. Sure…. I made myself sick because they are nearly impossible to stop eating, but it was almost worth the shakes that it would give you from the sugar rush. Don't even act like you wouldn't turn that bear upside down at the end and down the cup of loose sprinkles. This is a safe space. I won't judge ya.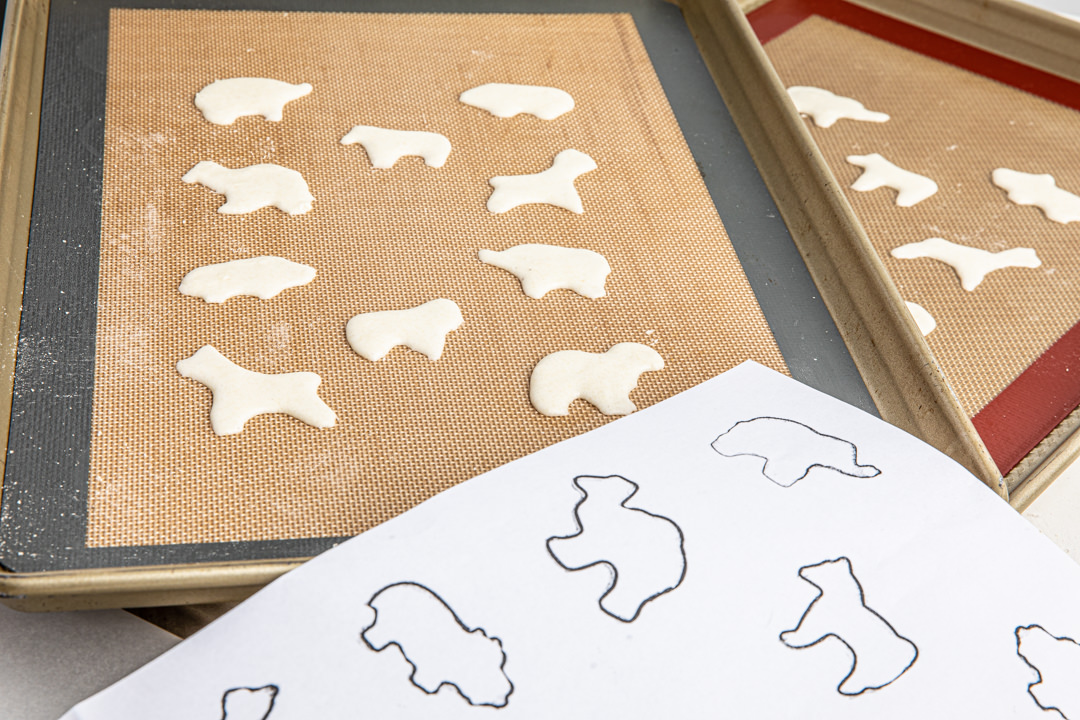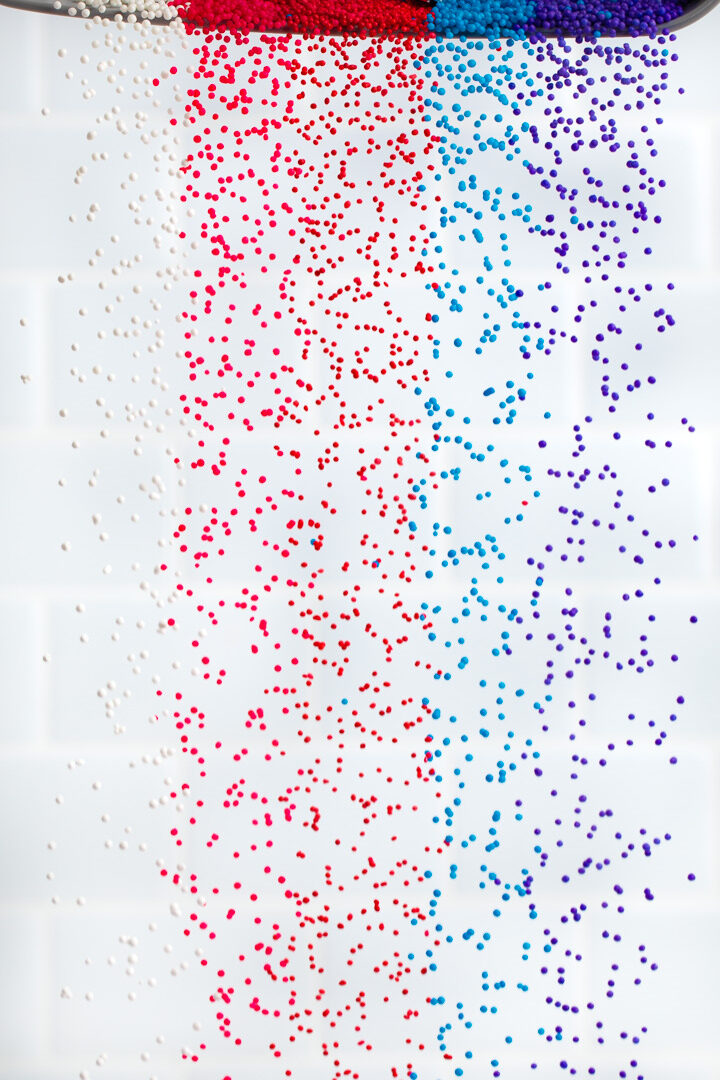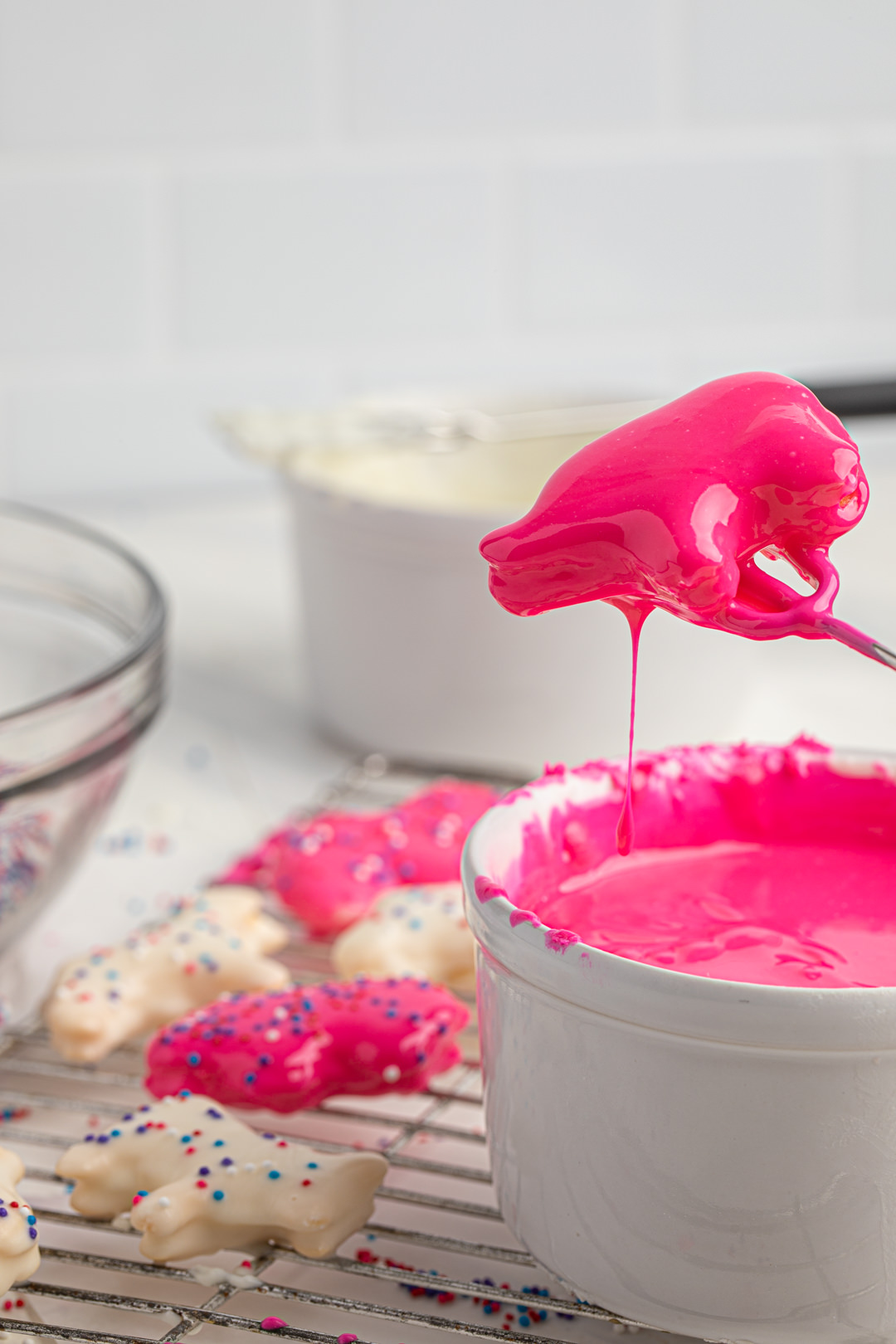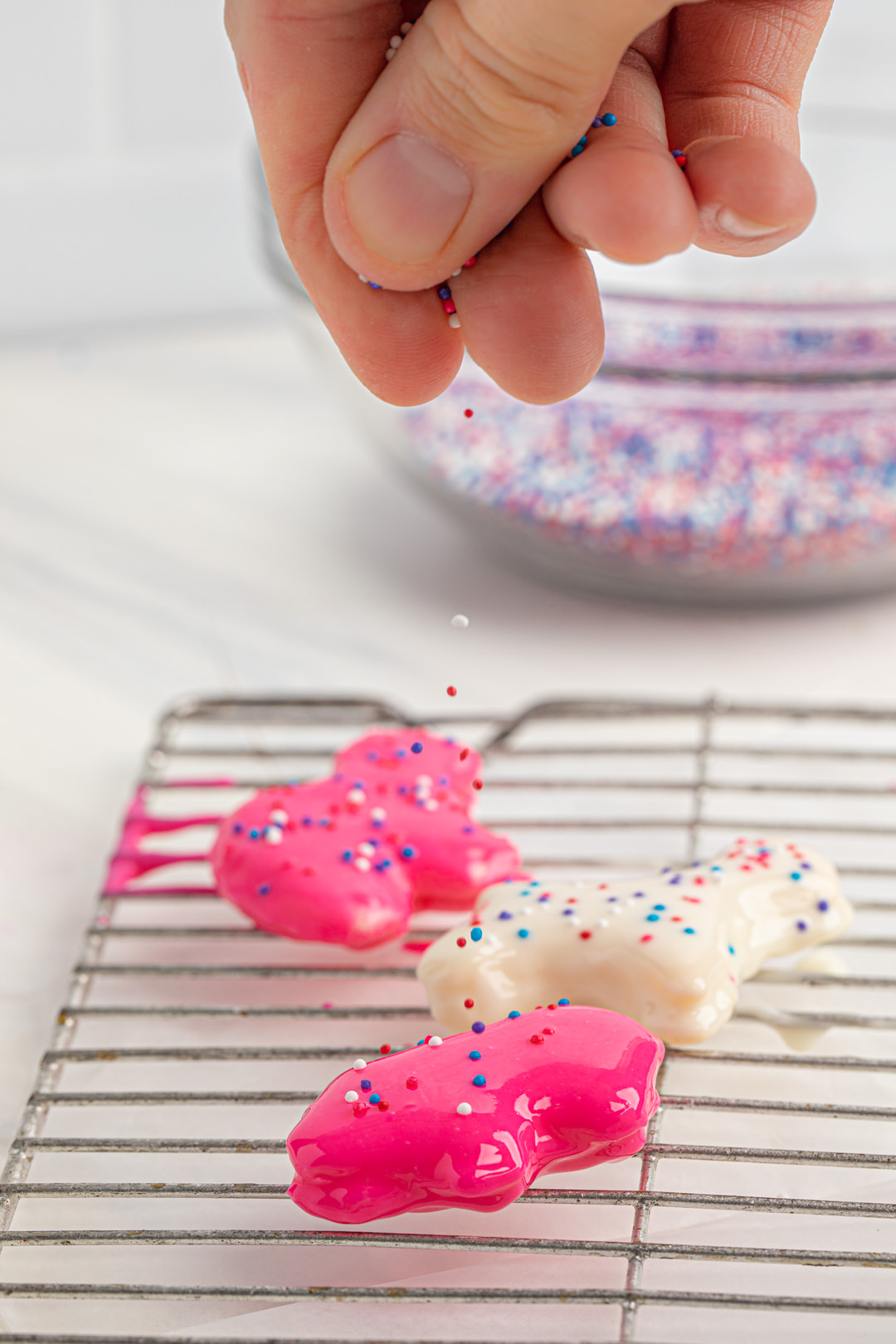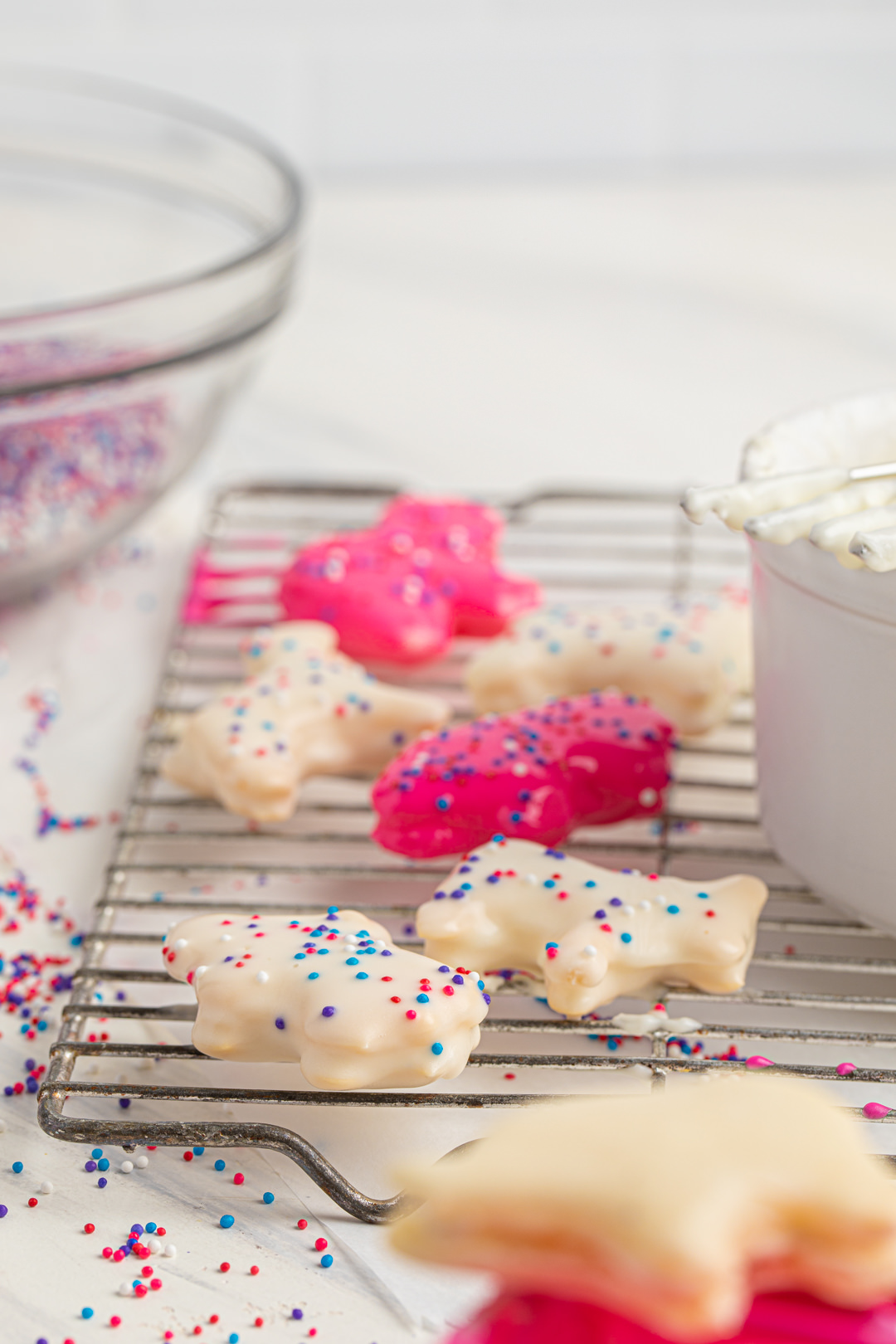 In trying to recreate these, there were a few characteristics that I knew I had to nail for it to be worthy of the comparison. The frosting layer had to be thick enough that it carried through the entire experience, while being thin enough to completely cover an entire macaron sandwich (that is already pretty sweet) without sending you straight to the dentist with sugar overload. A mixture of great white chocolate and good ol' candy coating chocolate was the answer. They even feel like the OG cookies in your hand.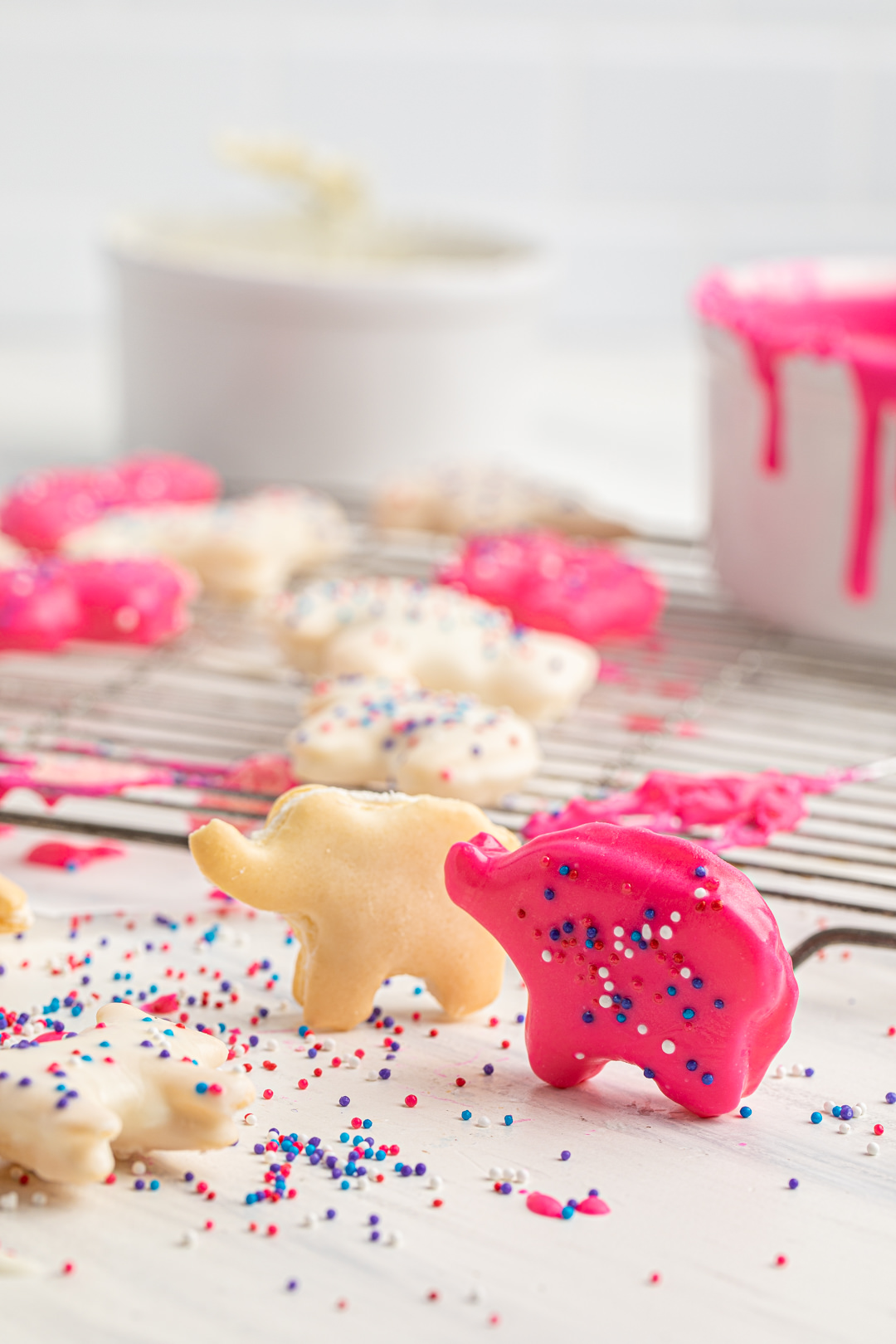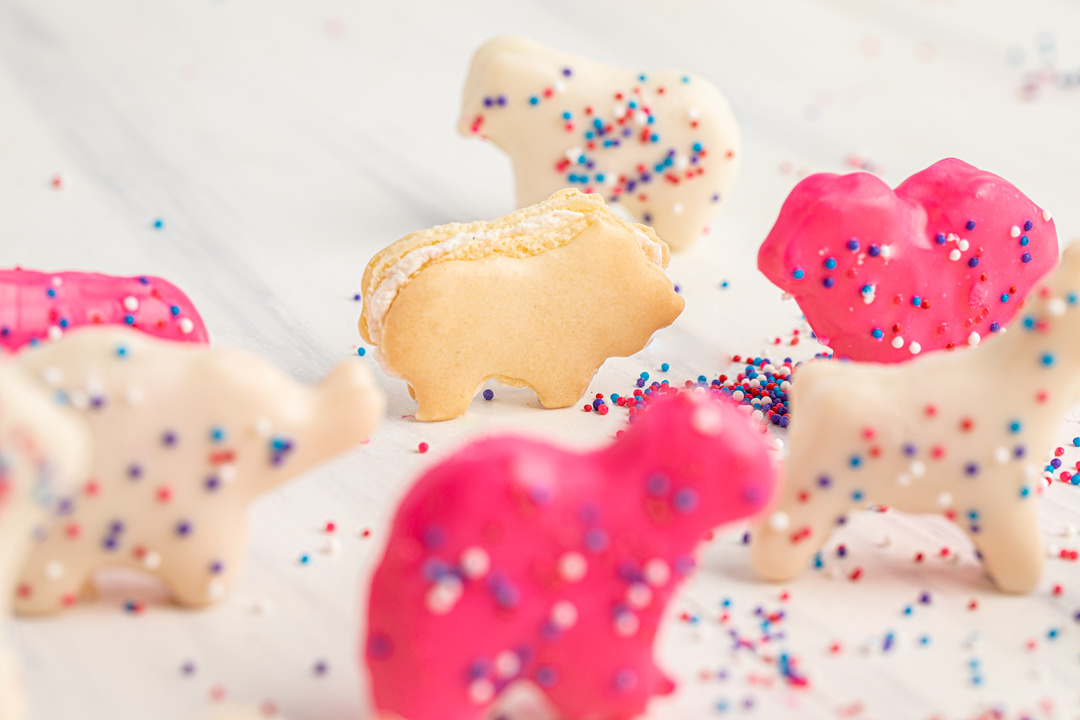 I struggled w bit with how to incorporate the flavor of the cookie base into these. Macarons are made with almond instead of conventional wheat-based flour. Although there is a great flavor and sweetness in the macaron cookie bedrock, it comes with a distinct almond flavor.
You can make macarons with any nut flours, but I wanted to stick to my tried and true Macarons 101 instructions (check it out if you haven't nailed macarons yet). Instead of flavoring the cookies, I went with the version with an infused whipped buttercream. I've used this same method for some other pastry recipes and it never fails to deliver on the flavor matching ability. Soaking those plain ass, boring, non-frosted (gasp) animal crackers in some cream is all it takes to get the best result. Whipped with some vanilla to bring the flavor out a bit more and it's dead on.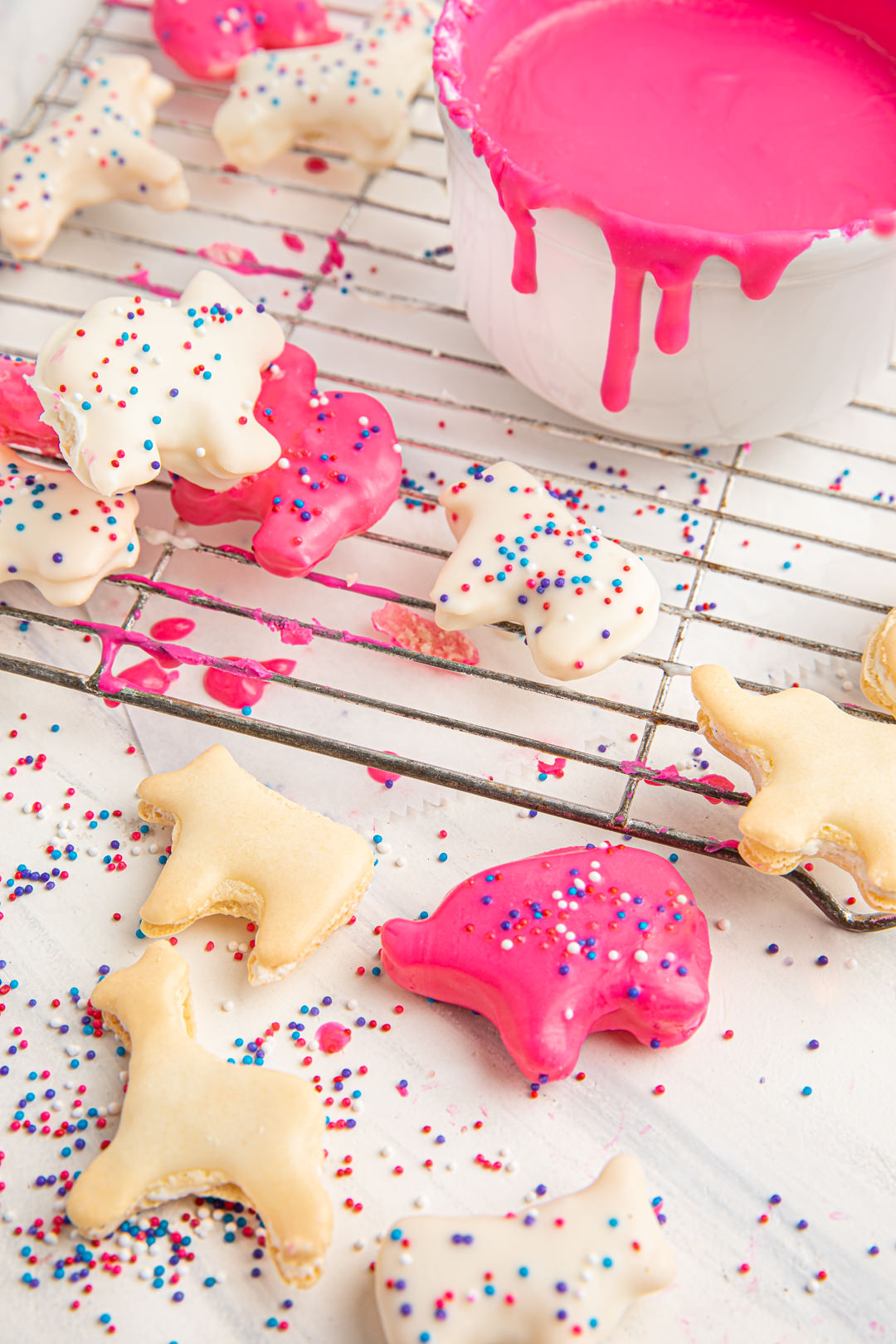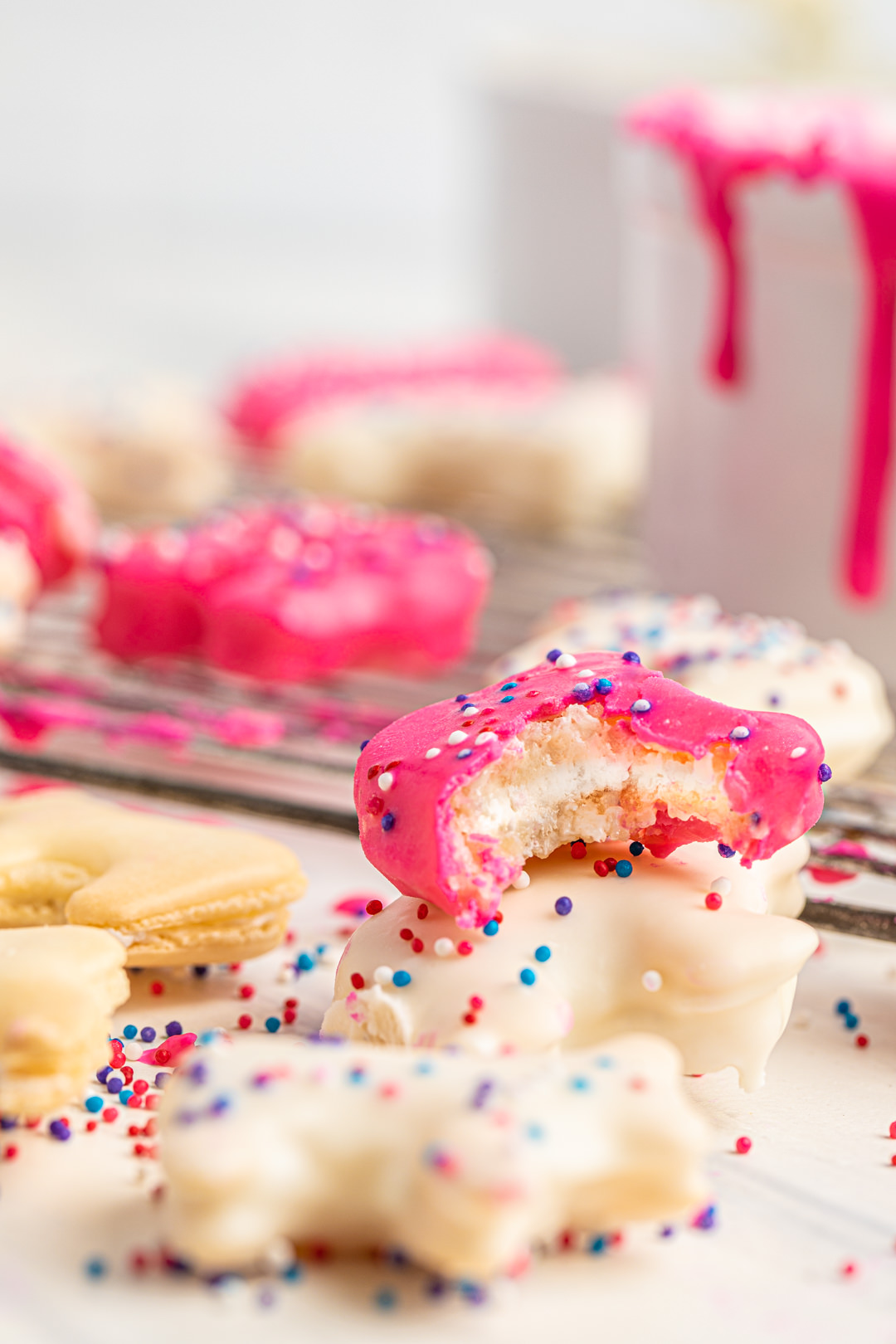 Combine all of these elements and you've basically made a flashback sprinkles safari. Block off a full day, because you'll end up wanting to make enough of these to fill your own plastic animal container.
Need a bit of piping help? Download a free animal cookie macarons piping template to slide under your parchment paper by clicking the blue button below.
Download "Animal Cookie Macaron Piping Template"

Southern-Fatty-Animal-Macarons-Piping-Template4.pdf – Downloaded 1805 times – 1.75 MB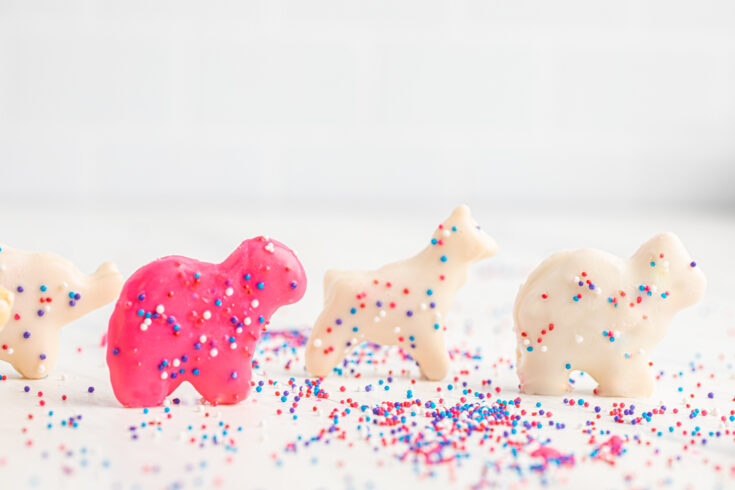 Yield:

24 macarons
Frosted Animal Cookie Macarons
Frosted animal cookies meets macarons! Dipped macarons with an animal cracker filloing and sprinkles. From SouthernFatty.com.
Ingredients
Macaron Shells
100 grams egg whites (3 large egg whites), room temperature
50 grams (1/4 cup) superfine sugar (granulated sugar in food processor until fine)
200 grams (1 and ⅔ cup) confectioner's sugar
110 grams (1 cup) almond flour
¼ teaspoon cream of tartar
pinch salt
Animal Cookie Buttercream Filling
6 animal crackers, plain, not frosted
1/2 cup heavy cream
1 teaspoon vanilla bean paste or extract
115 (8 tablespoons) grams butter, unsalted, room temperature
240 grams (2 cups) powdered sugar, sifted
Finishing Glaze
115 grams (4 ounces) white chocolate, chopped or chips
115 grams (4 ounces) vanilla candy coating chocolate
1/4 cup sprinkles
Instructions
Macaron Shells
Please visit our Macarons 101 post before making the macaron shells.
Place room temperature egg whites in mixer bowl.
With whisk attachment, whisk at medium speed until foamy, about a minute.
Add superfine granulated sugar and cream of tartar. Mix until stiff peaks just start to form.
In different bowl, sift together almond flour and confectioner's sugar. Repeat and sift a couple times, removing any large pieces left behind after each sift.
Add almond flour mix to stiffened egg whites.
Using proper folding technique (see Macarons 101 blog post for an explanation of this), fold until you can ribbon an "8" that holds into the batter. This may take about 30-40 proper strokes, depending on your folding style. THIS is the most important step in proper macarons.
Pipe macaron circles onto paper-lined baking sheets using the macaron template available for free download from this blog post page.
Let the shells rest for at least 30 minutes to form a skin on tp to provide more stability.
Bake at 300 F for about 16 minutes. Be sure your oven temperature is exact by checking with an oven thermometer.
Remove and let cool completely before transferring from baking sheets.
Animal Cookie Buttercream Filling
Crush animal crackers into heavy cream and allow to sit for 30 minutes.
Strain heavy cream to remove animal crackers.
Combine heavy cream with butter, vanilla, and powdered sugar.
Carefully combine on low mixing speed to combine.
Increase speed to medium-high and whisk briskly until fluffy and light.
Transfer to a piping bag.
Pipe filling between shells and gently combine with a matching top cookie.
Glaze and Sprinkles
Gently melt chocolate and candy coating in a heat-safe bowl over simmering water or by microwaving 15-30 seconds at a time, mixing after each cycle.
Mix well. Seperate into two bowls, if desired. Add pink candy coloring (NOT water-based food coloring or chocolate will seize) to one bowl and mix. Optionally, add white candy coloring to the other bowl to brighten.
Dip macaron sandwich to warmed glaze (15 second reheat in microwave if needed).
Transfer to a cooling rack or parchment paper.
Top with sprinkles.
Cool completely and enjoy!
Find more recipes on SouthernFatty.com
Share your bakes with us by tagging @southernfatty / #southernfatty on social media.
Recommended Products
As an Amazon Associate and member of other affiliate programs, I earn from qualifying purchases.
Nutrition Information:
Yield:
24
Serving Size:
1
Amount Per Serving:
Calories:

140
Total Fat:

4g
Saturated Fat:

1g
Trans Fat:

0g
Unsaturated Fat:

0g
Cholesterol:

0mg
Sodium:

5mg
Carbohydrates:

6g
Net Carbohydrates:

4g
Fiber:

1g
Sugar:

4g
Protein:

1g