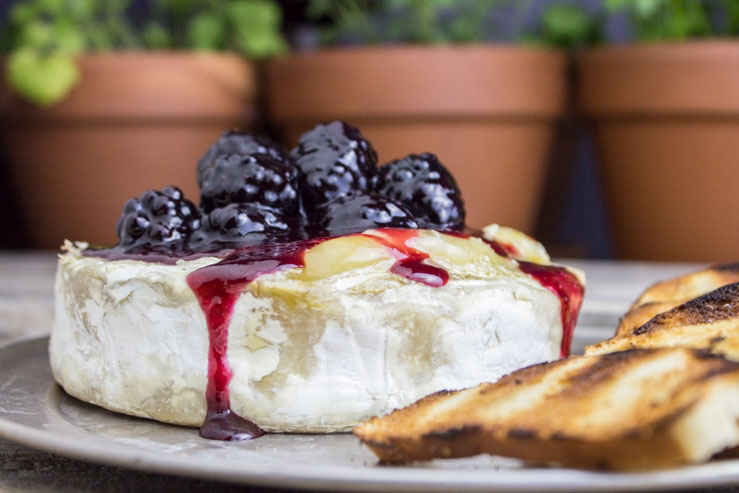 I recently grabbed a wheel of brie on my last big grocery haul, having zero clue what I would really end up doing with it. I thought it would be nice to use at some point. It sat in my fridge for a while. I didn't want to just cut it up and eat it. That seemed too boring.
I happened to have some blackberries around and a few day-old homemade buns that I tend to always make too many of (because they are SO good!). I decided to go with a Baked Blackberry Brie with some crispy toast points made from those leftover buns.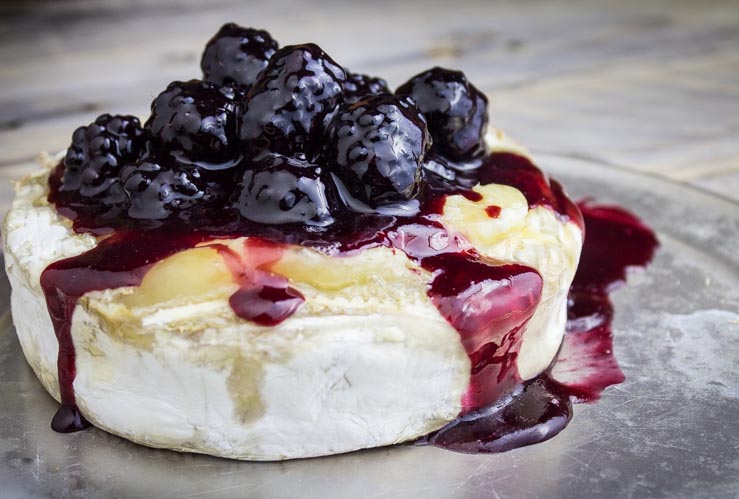 Pretty simple, really. Make a blackberry & honey reduction, bake the brie and pour the sweet sauce on top. Voila! I will certainly make this again when I need a quick snack for myself or friends.
The blackberry honey sweet reduction really adds a great level to the baked, creamy brie. I could see this going really well with any berry or fruit. I'll probably try it with fresh Georgia peaches next! Whatever you may have around would probably taste great.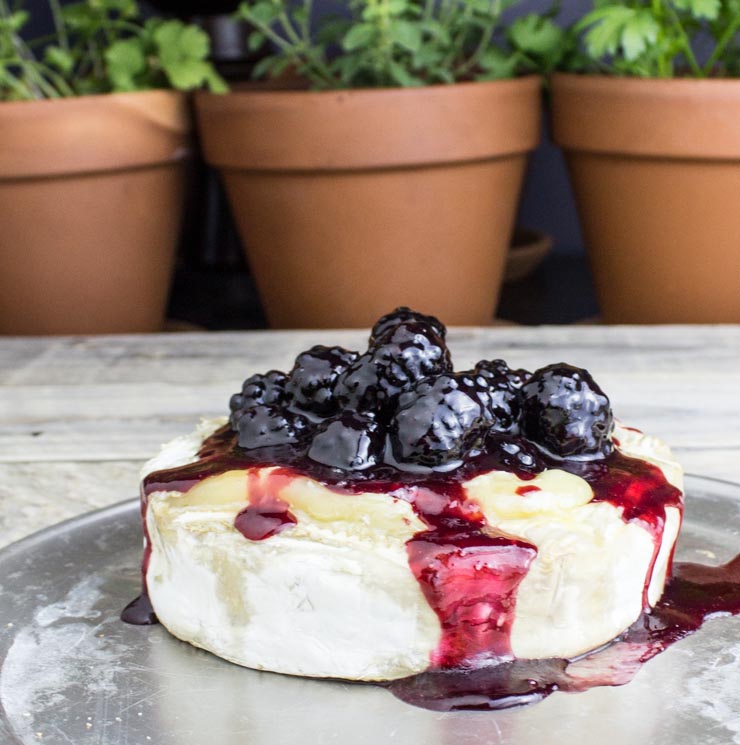 Fresh berries and local honey should be available at your local Farmer's Market and certainly give this treat a boost. I used local Nashville honey and can certainly taste the depth of flavor when compared to commercially available options. Either way, it will be delicious!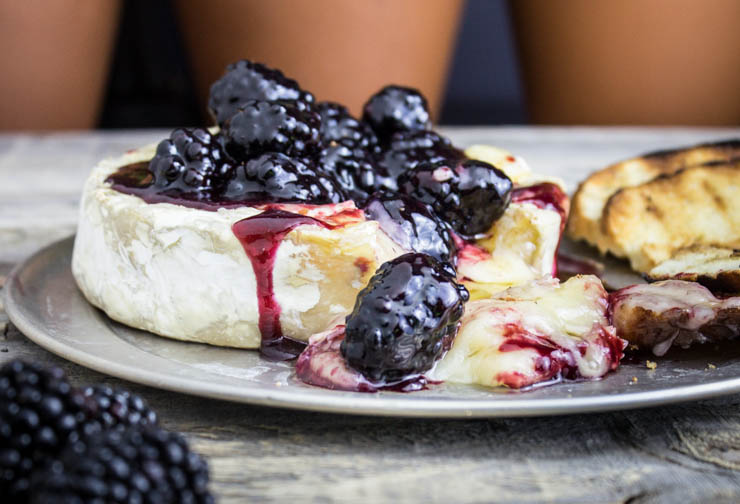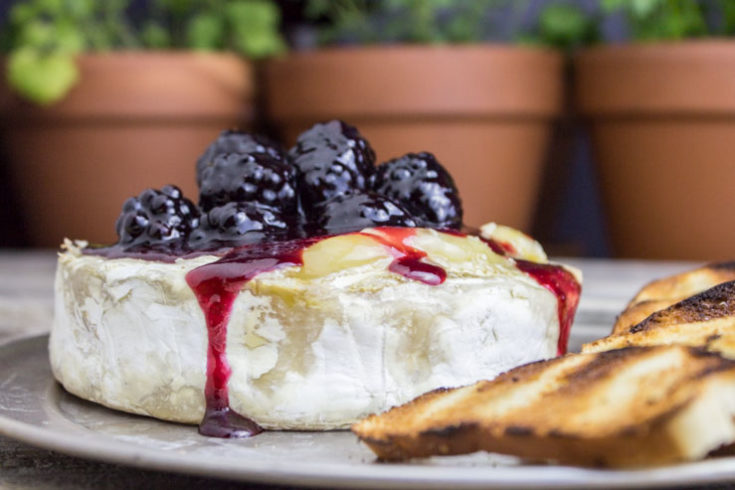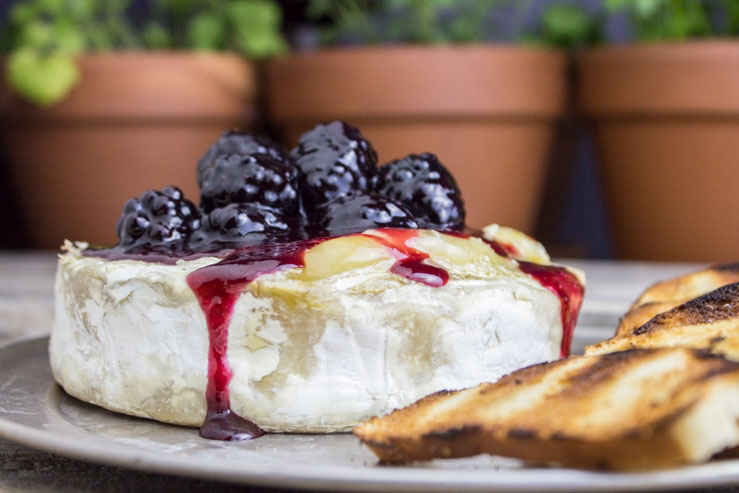 Yield: 4-6
Baked Blackberry Brie
Prep Time: 5 minutes

Cook Time: 10 minutes

Total Time: 15 minutes

Baked Blackberry Brie - Honey Blackberry Reduction with Homemade Toast Points
Ingredients
Brie Cheese Wheel
6 oz blackberries
2 tablespoons honey
1 tablespoon water
[url ref="https://www.southernfatty.com/best-buns/"]homemade buns/bread[/url], best as day-old
salt & pepper, to taste
Instructions
Pre-heat oven to 350 F.
Slice bread diagonally to create toast points.
Place on lined cookie sheet and spray with cooking spray.
Sprinkle with salt & pepper to taste.
Prepare the brie by shaving off some of the top rind roughly.
Place on cookie sheet (split bread and brie).
Bake for ~10 minutes, until bread is golden and brie is soft.
While baking, heat water, honey and half of blackberries in a small saucepan on medium heat.
Heat until reduced and thick. Blackberries will start to break open.
Remove and strain mixture well. Discard seeds.
Mix fresh blackberries with the reduced sauce.
Remove brie and toast. Top brie with blackberry reduction and enjoy over toast points.
Visit SouthernFATTY.com for more and to leave us a comment!
Notes
®2014 SouthernFATTY.com - Sharing encouraged only with proper linked credit.
Nutrition Information:
Yield:
16
Serving Size:
1
Amount Per Serving: Calories: 102Total Fat: 1gSaturated Fat: 0gTrans Fat: 0gUnsaturated Fat: 0gCholesterol: 2mgSodium: 43mgCarbohydrates: 5gFiber: 1gSugar: 3gProtein: 1g



What are some of your favorite go-to appetizers? Let us know below!