Fall flavors meet up with delicious bananas. Whiskey banana cream layers on top of a fresh banana base for this pie recipe.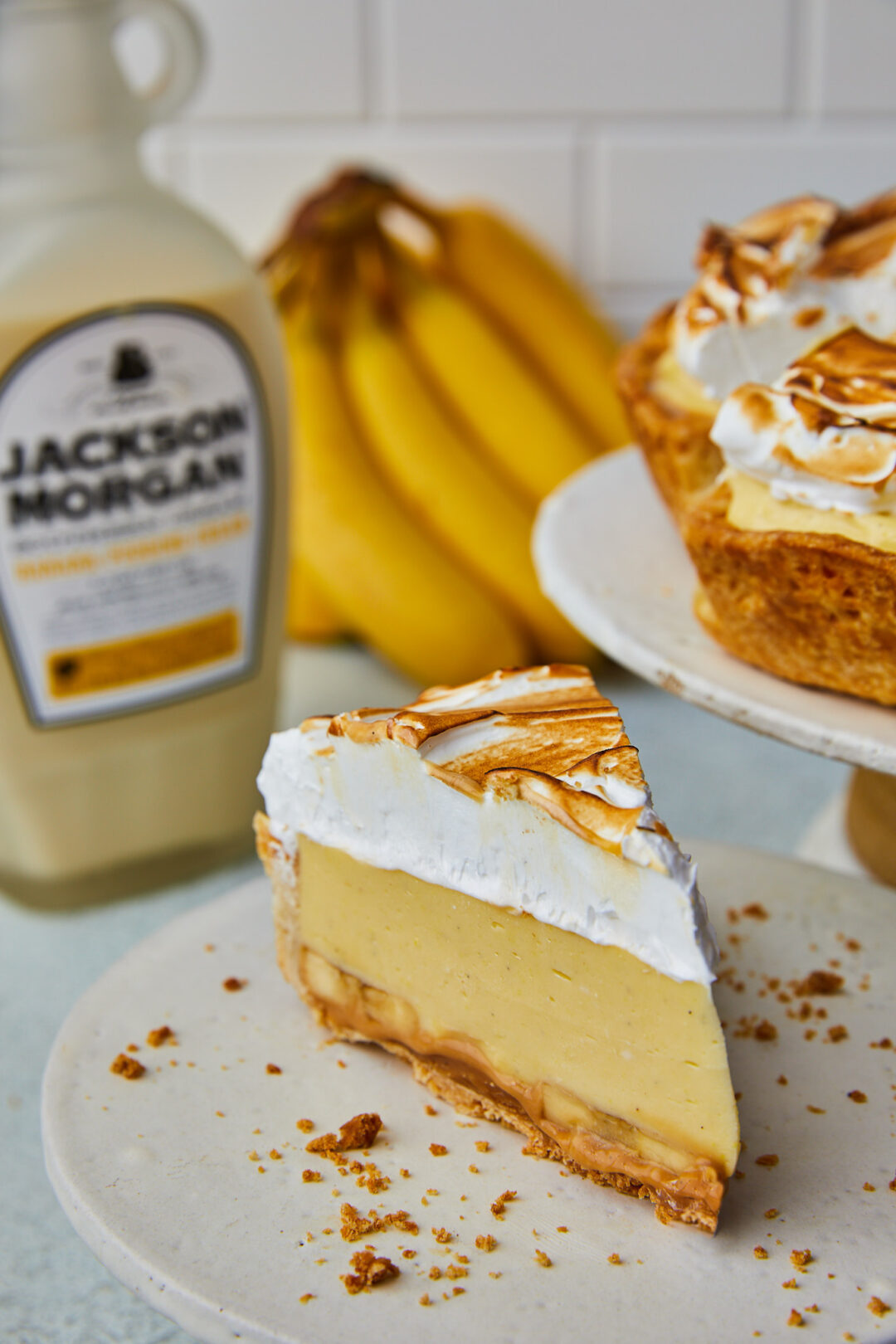 Finally! Fall is rolling in and the only sticky mess is going to be from the caramel in this delicious pie. It's funny how recipes find their way to my table. I'm a very seasonal eater, knowingly and unknowingly both. The moment it becomes a bit warm out, all of the berries, fruits, and spritzes come out. When one leaf falls from the massive oak tree in my back yard, its full on caramel, cinnamon, and sage. This banana whiskey caramel cream pie is the perfect fade-to-fall flavor with the vibrance of bananas and the warm solace of caramel. Add a splash of Jackson Morgan Whiskey Cream, and you've got yourself one absolutely amazing bite.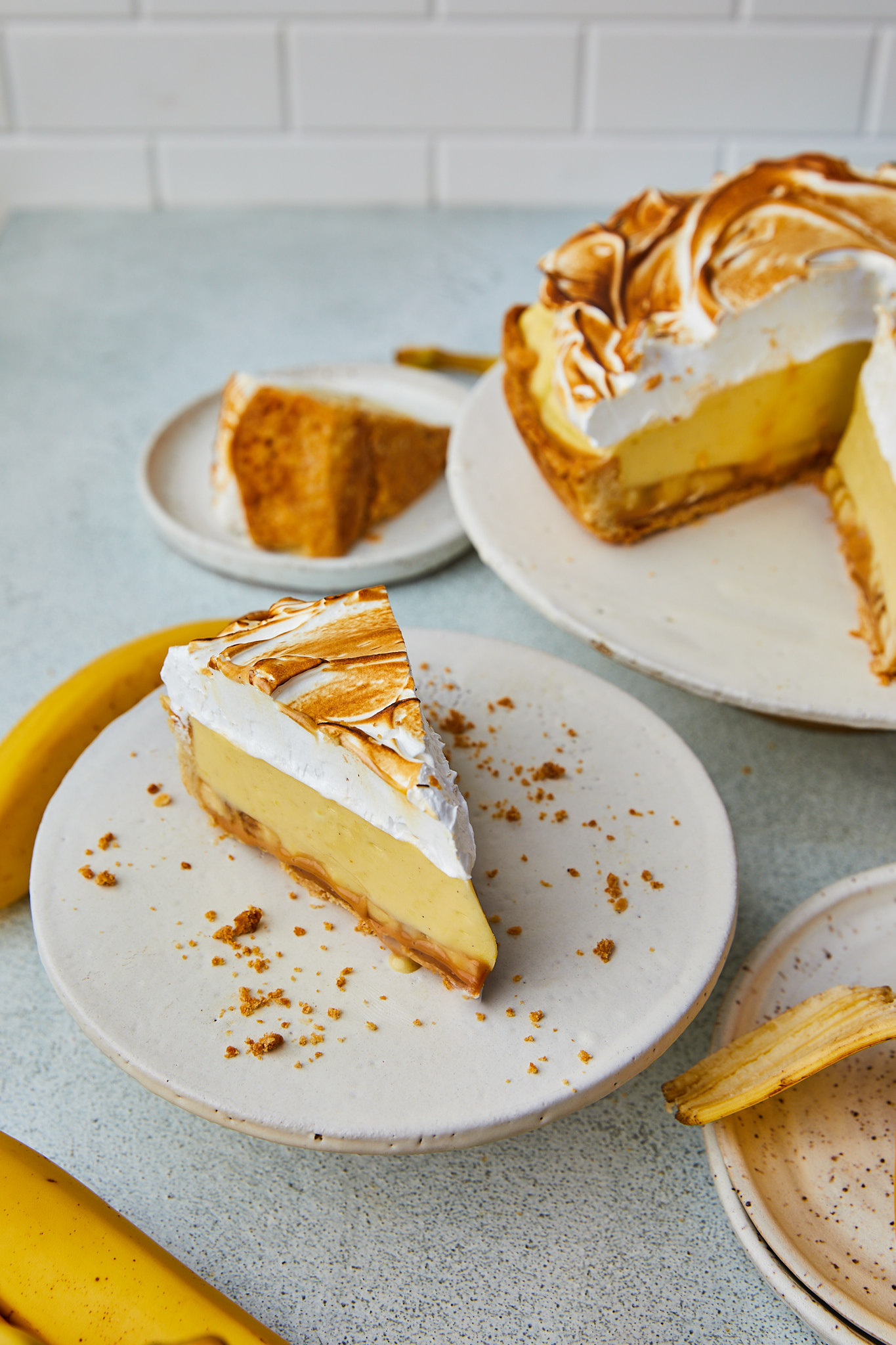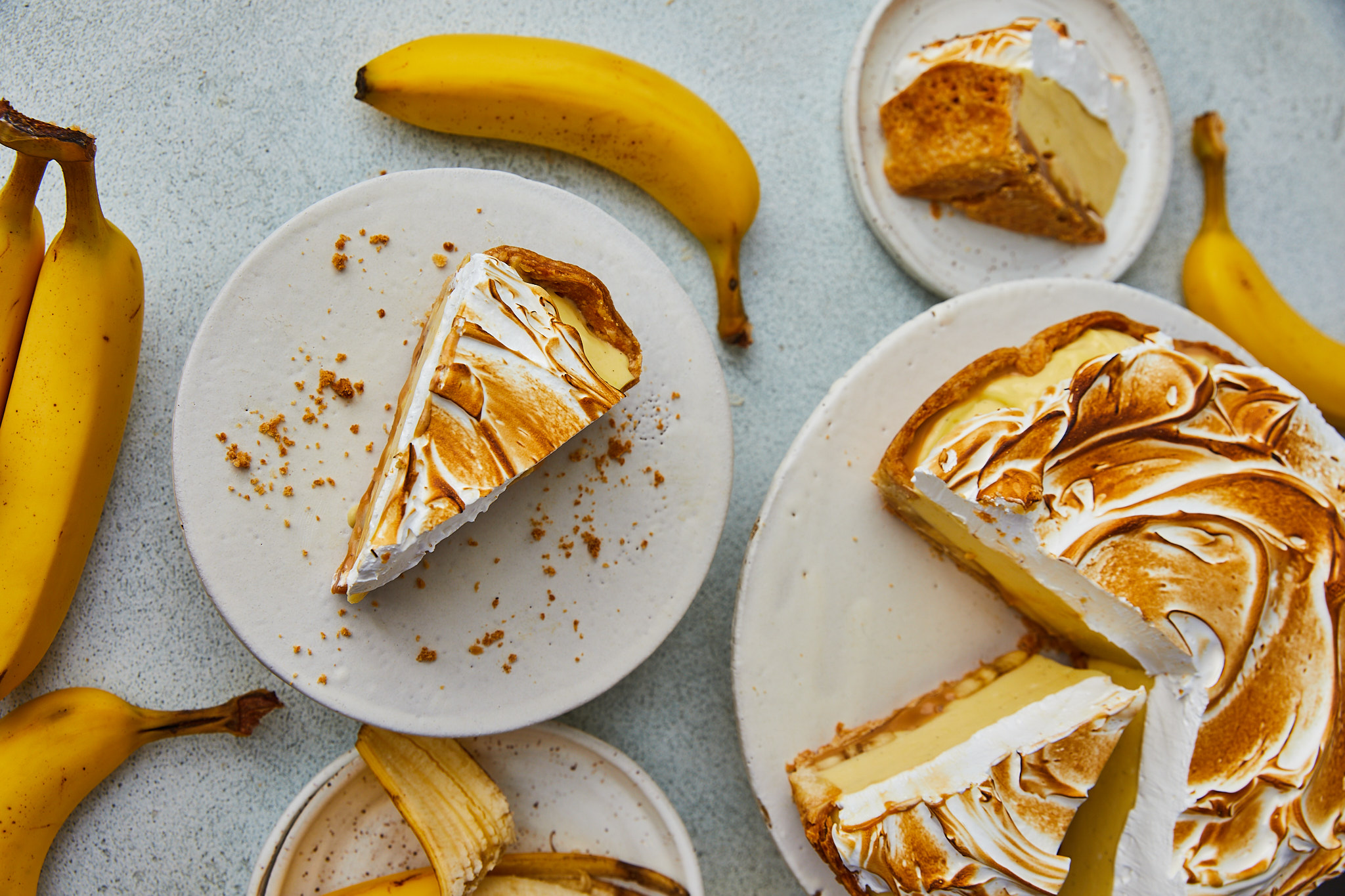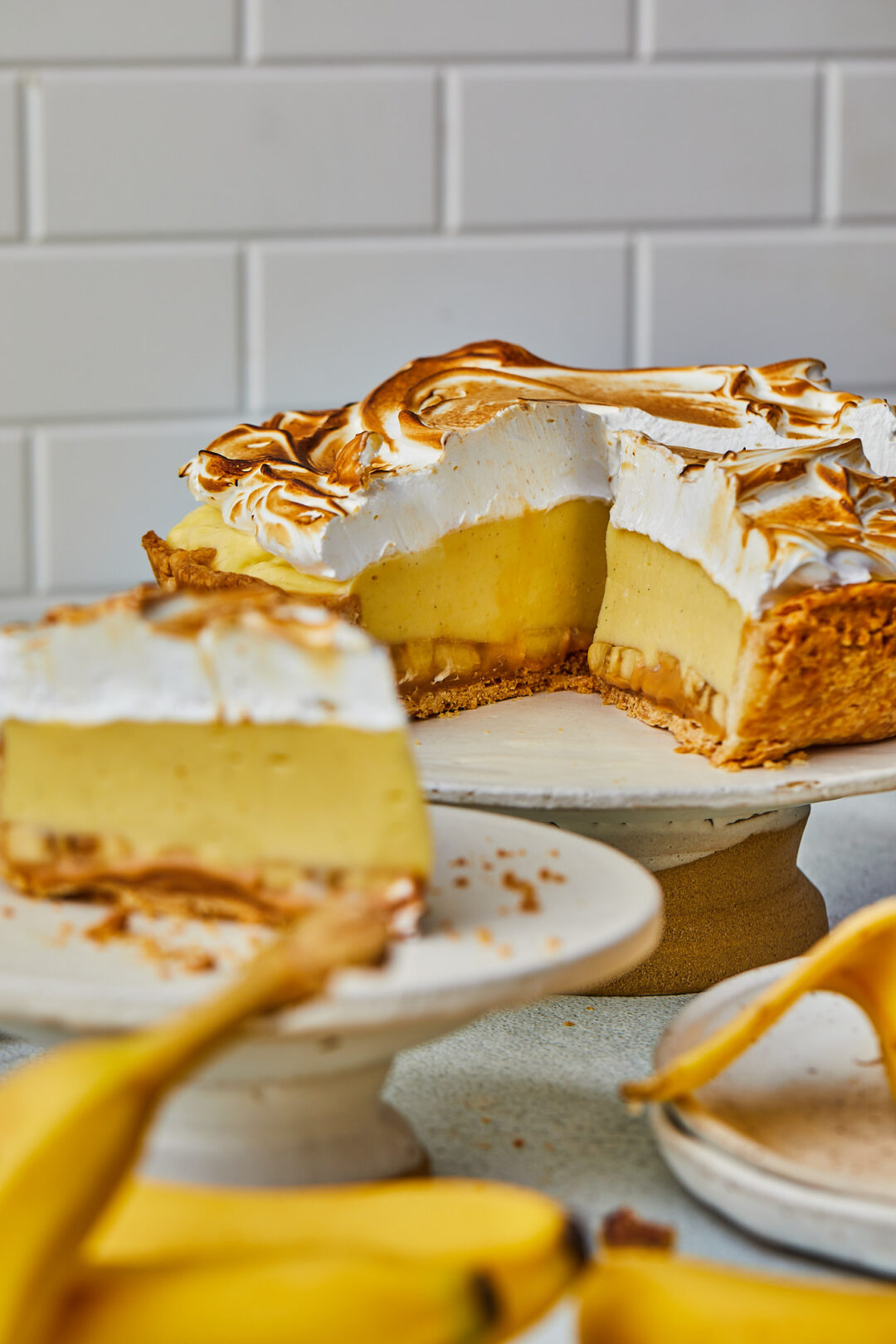 A Better Cream Pie!
I have to say… cream pies, when I am out and about, are not my go-to selection when exploring the dessert menu of a restaurant. I would much rather lean into a fruit-forward pick. Cream pies just usually get my hopes up and then end up arriving to seem…. meh.
A crust with what reminds me of flavored whipped cream. If you are lucky, you might get a little chocolate or caramel drizzle. They just seem to usually disappoint and leave me wondering if they forgot to add another layer of something or had an abundance of whipped cream to use up that weekend. Just not the end-the-meal-with-a-bang kinda dessert that I get excited about. THIS pie, if I do say so myself, is not that pie. Layers of flavor and textures. Banana whiskey cream. It's got it all, y'all.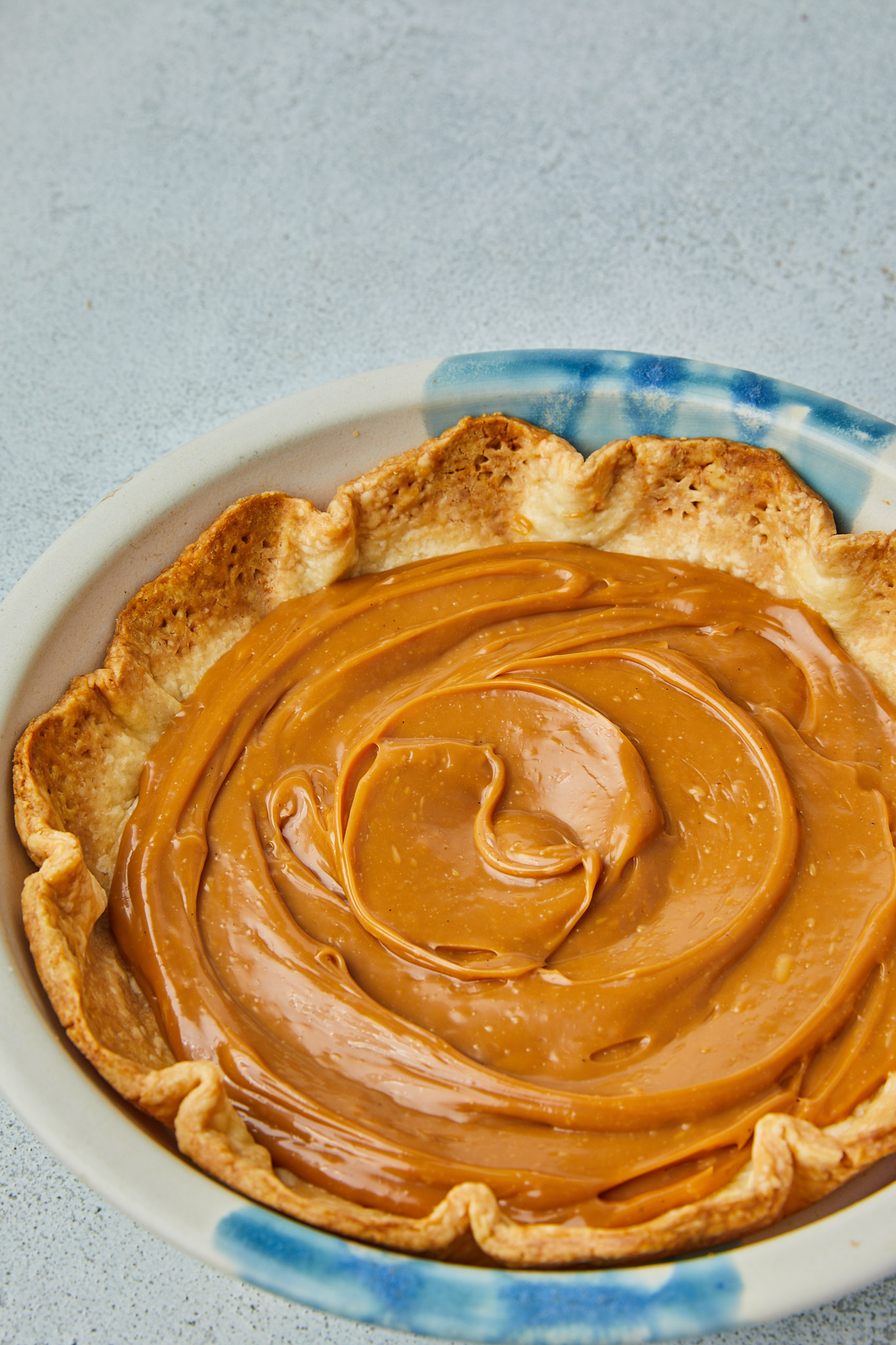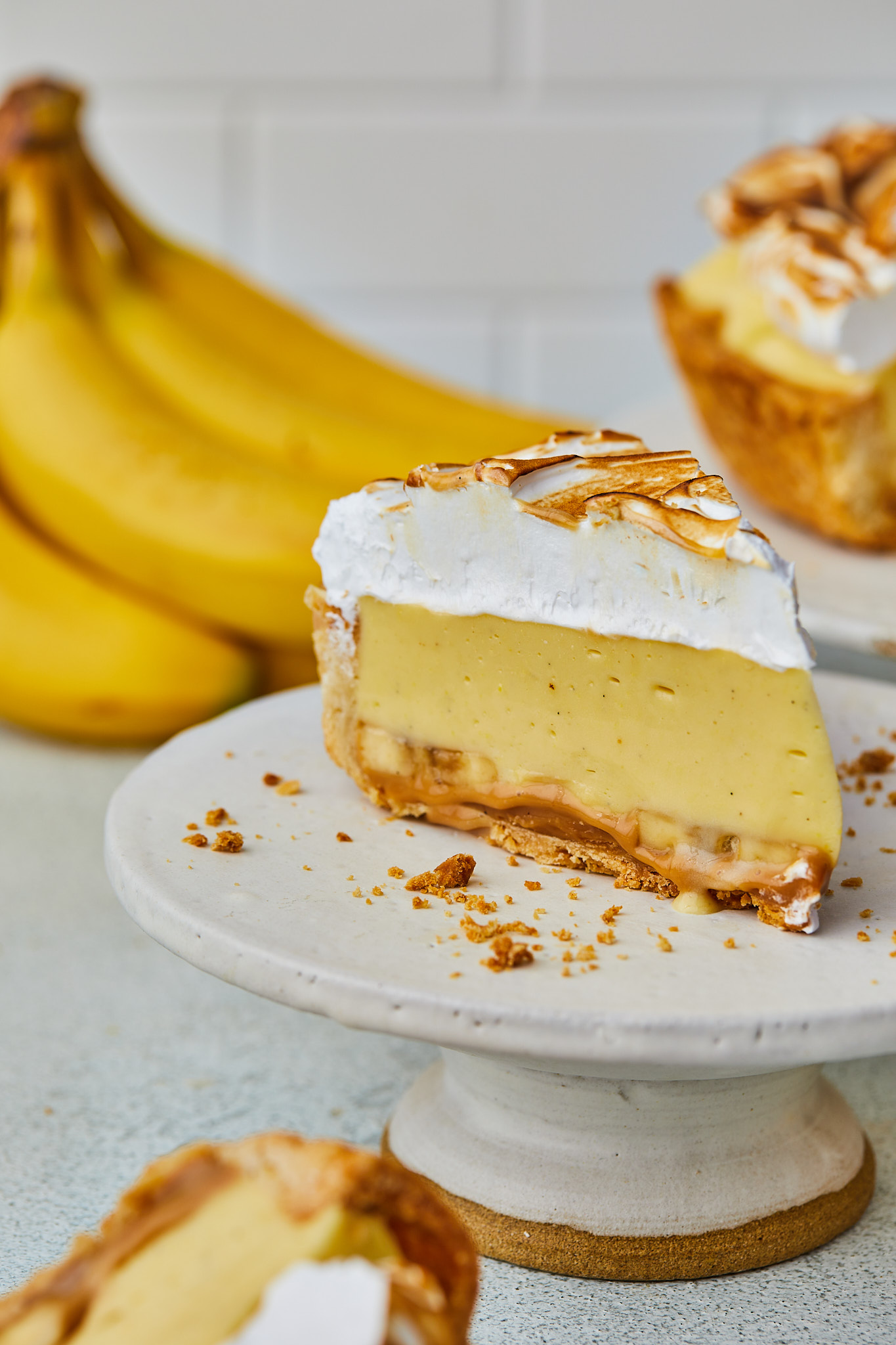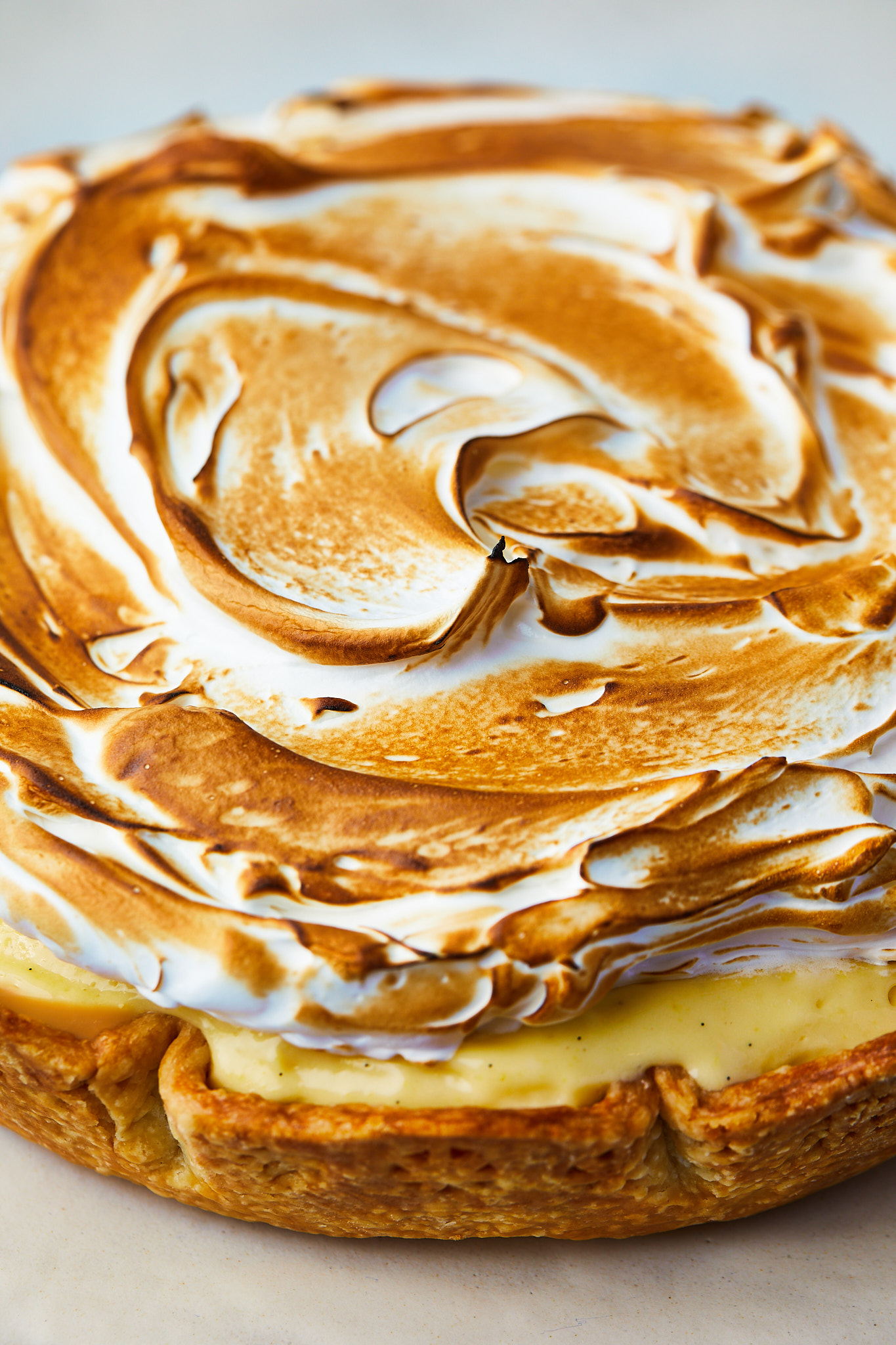 The real crème de la crème of this recipe is in the cream. Whiskey cream, that is. Banana whiskey cream. A splash of Jackson Morgan Banana Pudding Cream makes this pastry cream a true nod to the south's most iconic dessert. I've made tons of recipes using Jackson Morgan Creams, but this is on the top of my bake-with list. Imagine fresh banana (legit fruit flavor), warm vanilla, and delicious sugar cookies blended with good ol' Tennessee whiskey. Seriously, y'all. This mixed into pancakes, in an iced latte, or straight from the bottle chilled will change your life.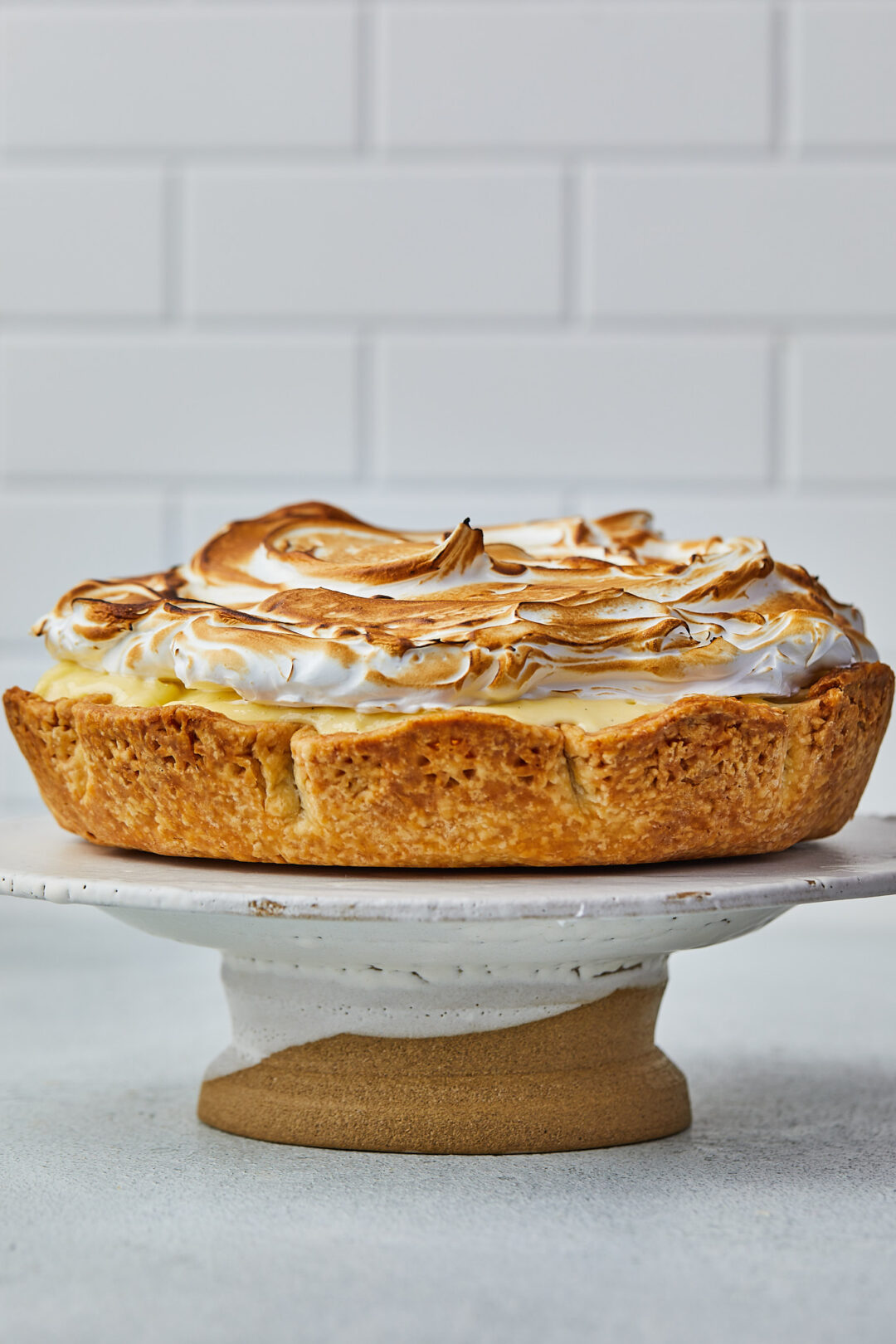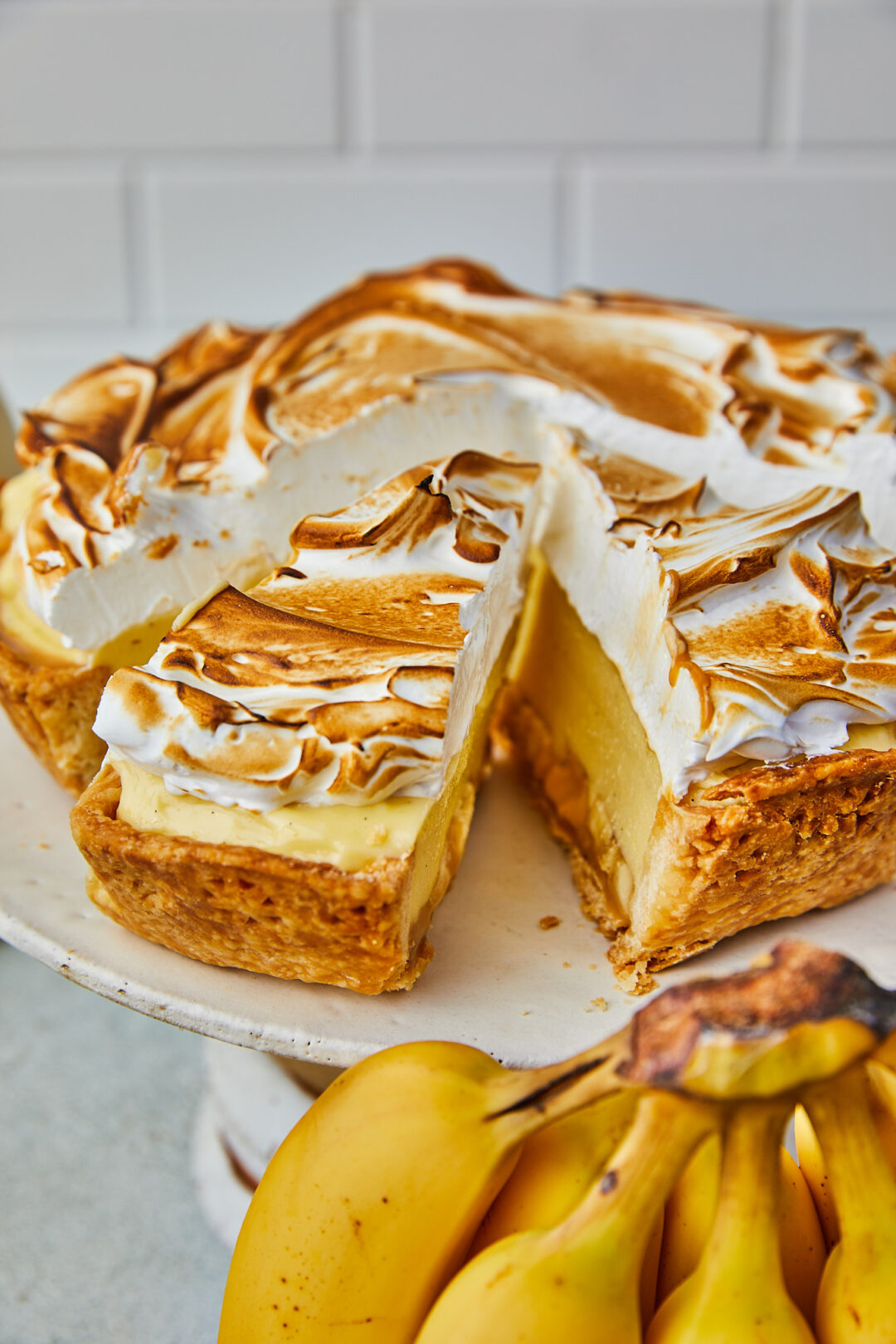 🔥 Toast the Top
You could absolutely go the easy route with some whipped cream on top, but I felt like the pie itself was already over-the-top and just deserved to have a real crown. Meringue takes just a few minutes to whip up (quite literally) and adds the immediate oohhs and aahhs that all of us home bakers dream of when it is brought to the table. Plus, who doesn't like to light their food on fire?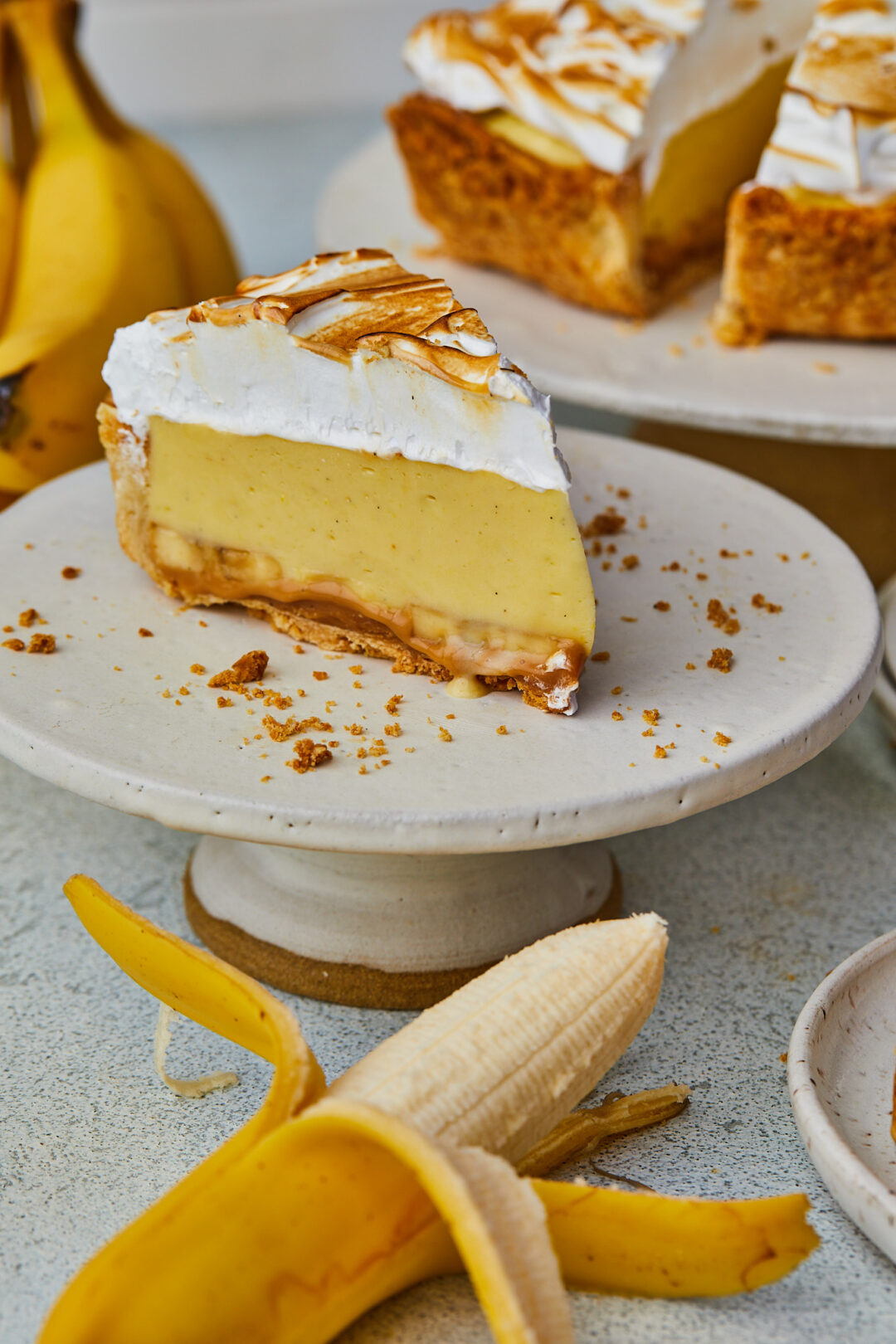 Toasted tipsy pies are indubitably going to become their own group of recipes on the blog.
Give this one a try and let me know what you think. — Cheers!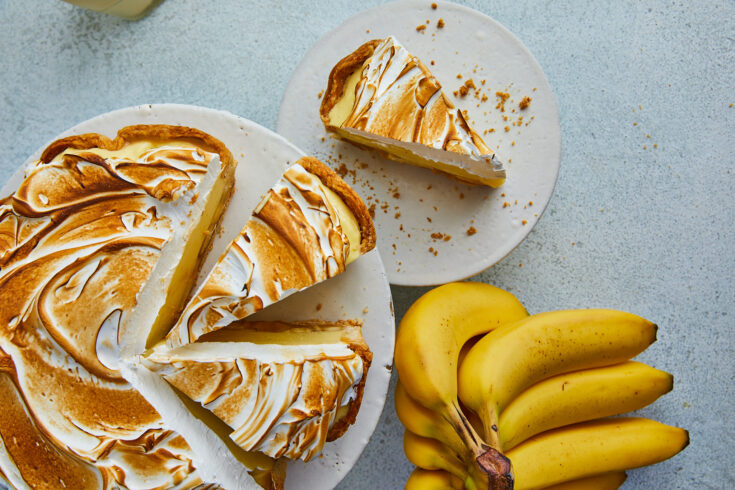 Yield:

8 servings
Banana Whiskey Cream Pie
Additional Time:
45 minutes
Total Time:
1 hour
30 minutes
Banana whiskey cream pie. Fall flavors meet up with delicious bananas. Whiskey banana cream layers on top of a fresh banana base for this pie recipe. -- From SouthernFatty.com.
Ingredients
1 recipe pastry crust (or store-bought pie crust)
1 recipe caramel (or store-bought caramel sauce)
1 recipe meringue, to top (or whipped cream if desired)
3-4 large bananas, just ripe (best if slightly firm)
Banana Whiskey Cream Filling
1 1/2 cups (300 g) whole milk
1/2 cup (125 g) Jackson Morgan Banana Pudding Cream (linked below)
3/4 cup (150 g) sugar
3 tablespoons (25 g) cornstarch
1/2 teaspoon salt
6 each (120 g) egg yolks
1 teaspoon vanilla bean paste or extract
Instructions
Pre-bake pie crust as directed and cool completely. Find my favorite pie crust for pastry recipe here.
Prepare caramel sauce if making at home. Recipe for caramel sauce can be found here.
Slice bananas (approx 1/4") and place in a single layer onto the cooled crust.
Cover with caramel just until the caramel just cover the banana slices. This will keep the banans from browning. Chill while preparing the pastry cream.
Whisk together sugar, egg yolks, cornstarch until just lightened and thoroughly combined.
In a medium saucepan, combine milk, Jackson Morgan Banana Pudding Cream, salt, vanilla.
Warm over medium heat, stirring constantly, until just bubbling on sides. Do not allow to fully boil.
Once hot as described, remove from heat. Transfer about 1/2 cup or so of hot milk mixture to the egg and sugar mix while whisking. This will temper the eggs to prevent scrambling.
While whisking remaining hot milk in saucepan constantly, transfer the egg mix to the hot milk and continue to stir.
Return to medium heat and stir constantly using a rubber spatula, scraping the bottom to prevent any scrambling or burning.
Continue to stir vigorously until thickened, about 3 minutes.
Remove from heat and transfer to clean bowl. Press plastic wrap onto top to prevent a skin from forming and chill until at least room temperature to touch.
When cold, whisk the pastry cream to loosen slightly. Spread over chilled caramel in pie crust.
Top with toasted meringue or whipped cream and enjoy!
Find more recipes on SouthernFatty.com. Be sure to tag your bakes with @southernfatty on social media so we can see your creation!
Recommended Products
As an Amazon Associate and member of other affiliate programs, I earn from qualifying purchases.
Nutrition Information:
Yield:
8
Serving Size:
1
Amount Per Serving:
Calories:

212
Total Fat:

8g
Saturated Fat:

4g
Trans Fat:

0g
Unsaturated Fat:

4g
Cholesterol:

152mg
Sodium:

241mg
Carbohydrates:

30g
Fiber:

2g
Sugar:

19g
Protein:

5g