Smooth homemade ice cream recipe with peach jam swirls dipped in shortbread and peach crumbles.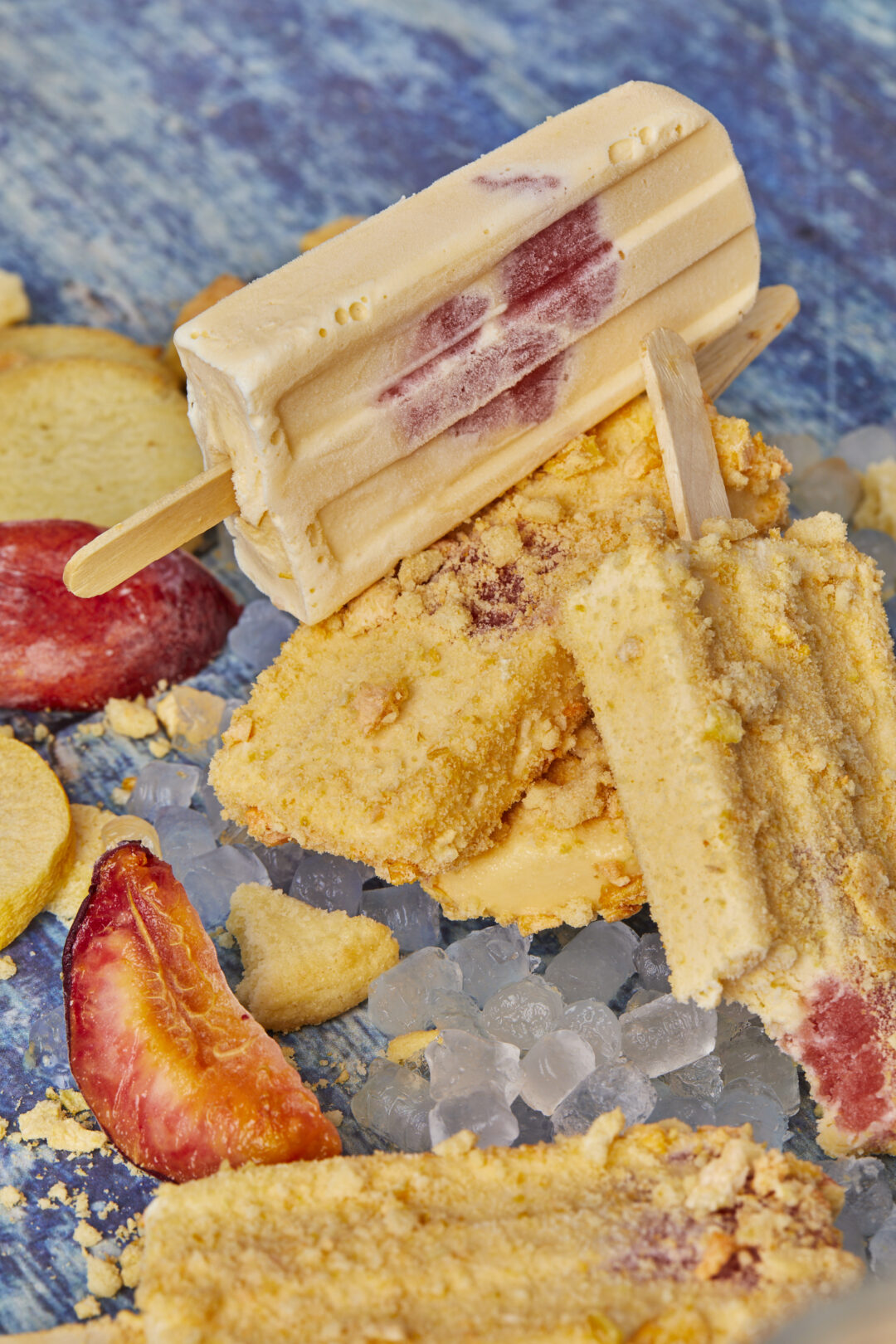 Do y'all remember those Strawberry Shortcake ice cream bars? They were the treat of choice for any summer pool day when I was a kid. Ice cream with a strawberry center covered in bits of shortbread crumbles and strawberry flavored pebbles. I loved 'em! If you've read about my obsession with delicious peaches, you won't be all that shocked to see that I decided to create my own homemade twist on the favorite pool pick.
Using delicious dairy from just down the road from Nashville (from a farm I have visited myself, actually…), I am sharing one of my best ice cream recipe that becomes the base for these peach shortbread ice cream bars while we celebrate National Ice Cream Month in July!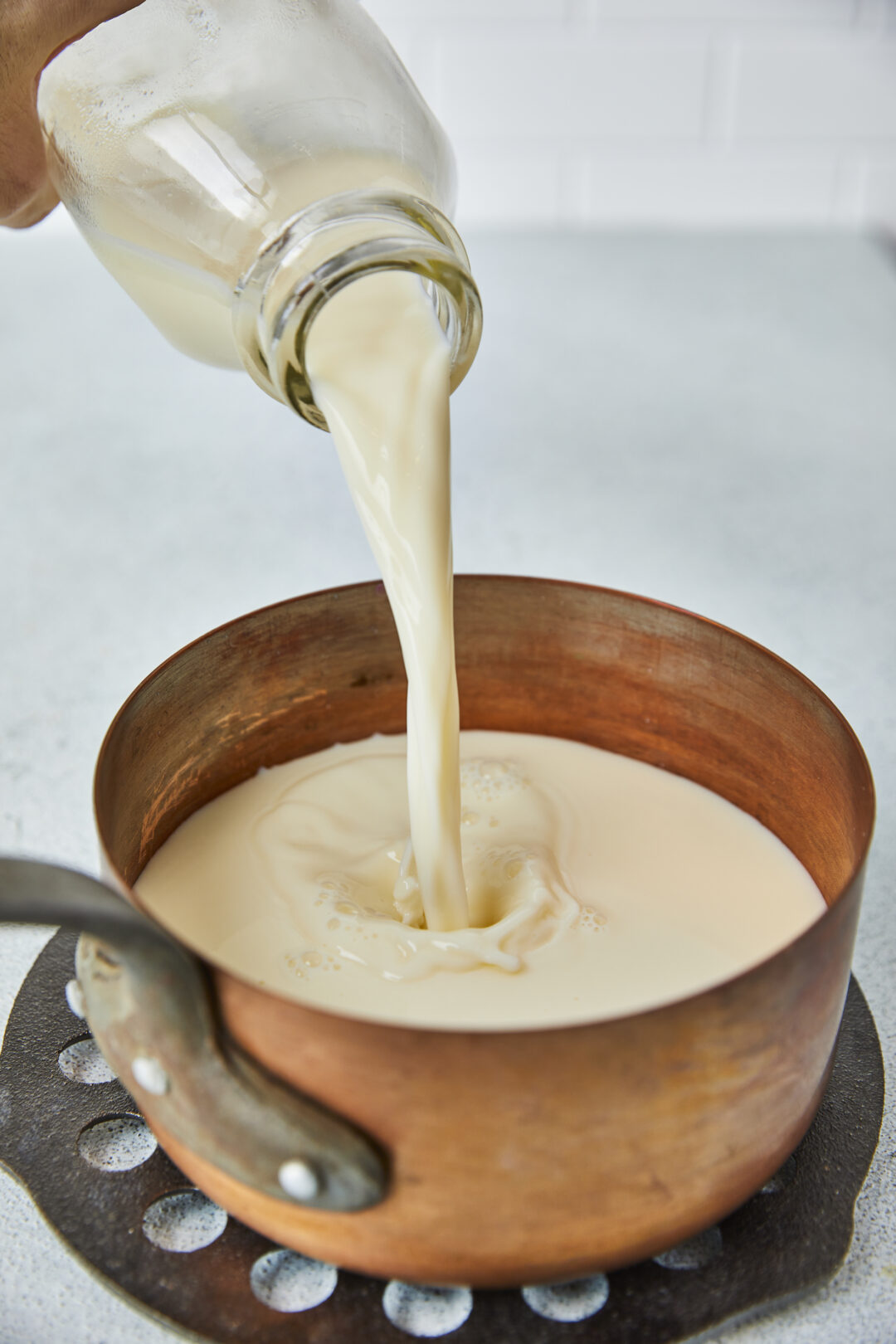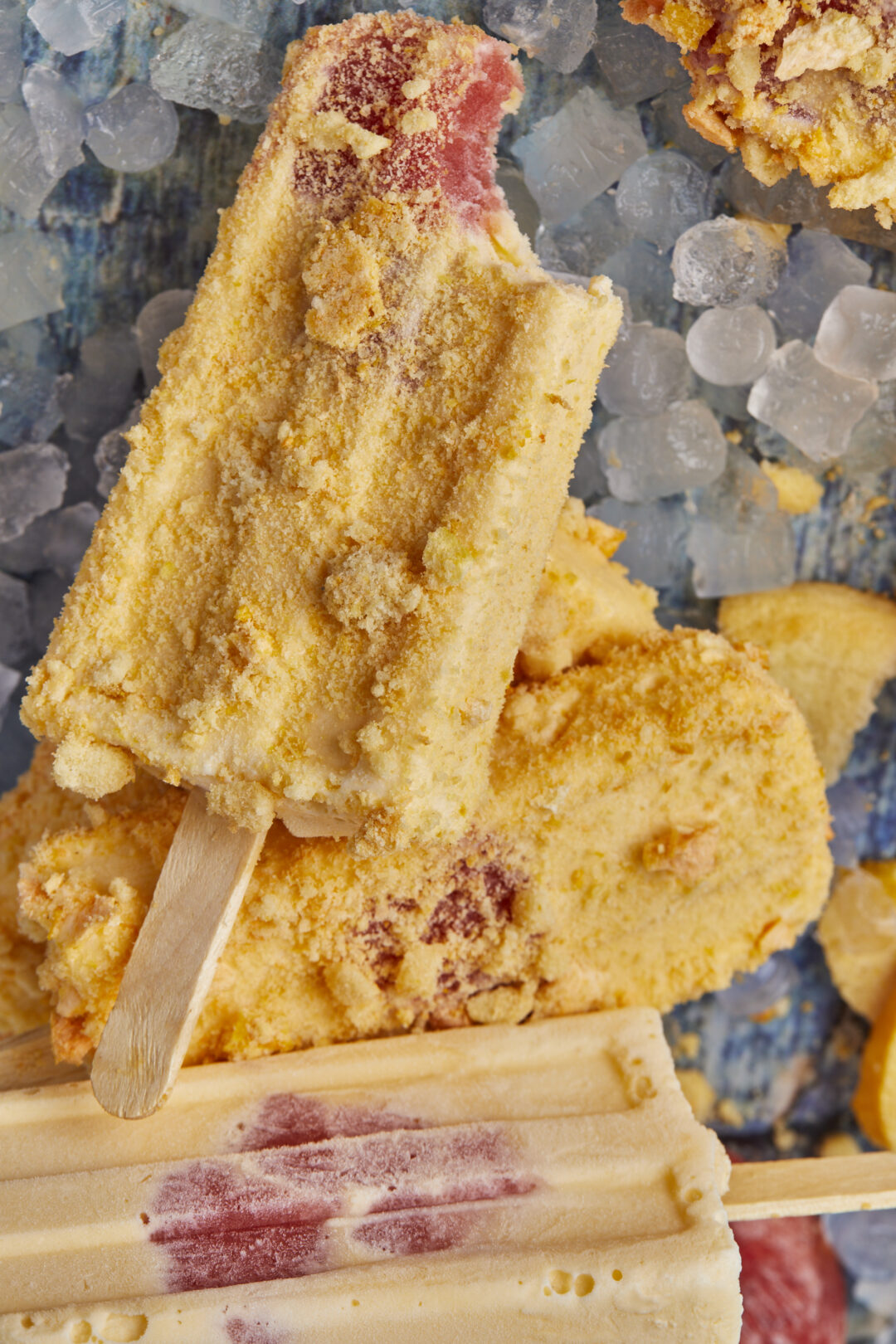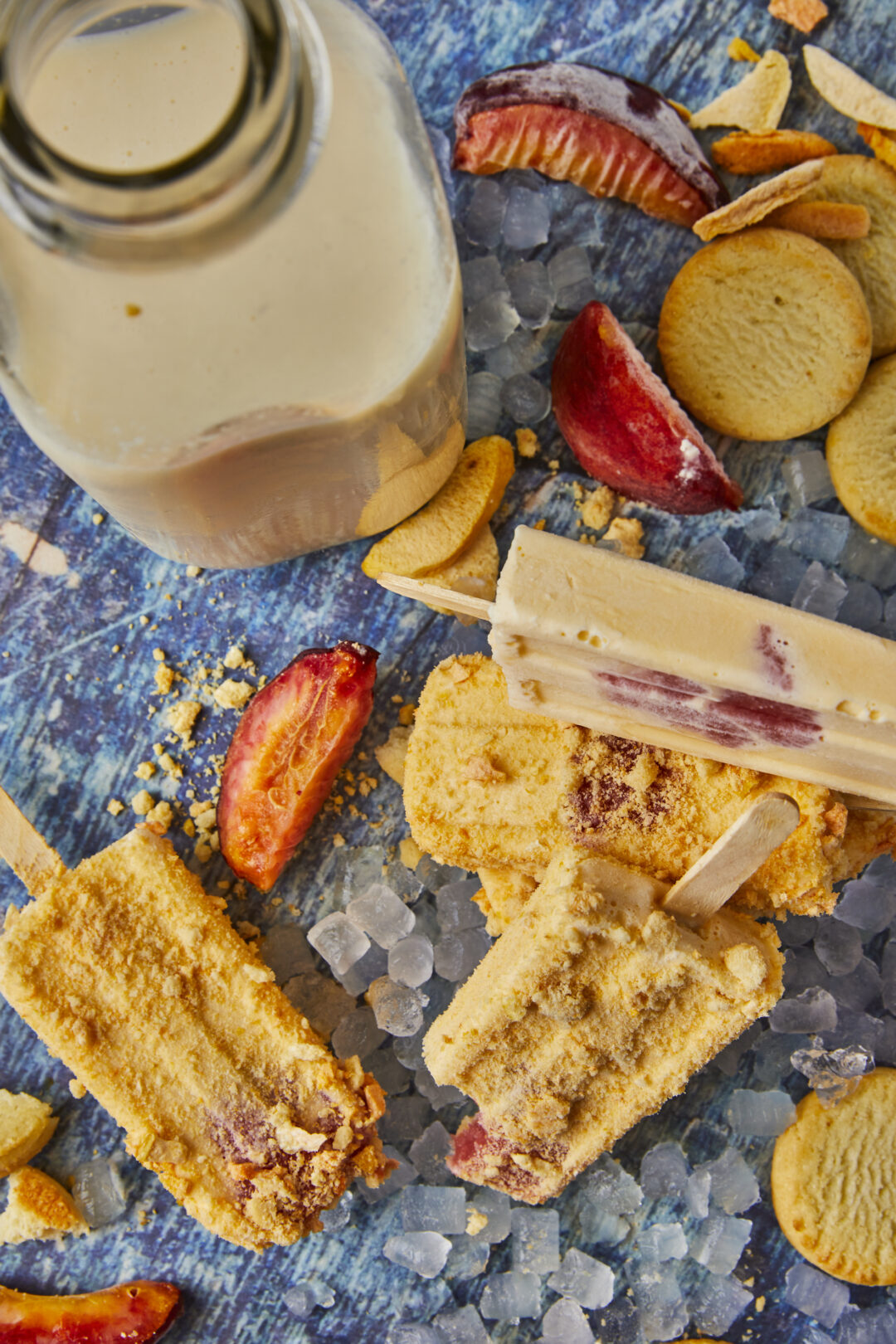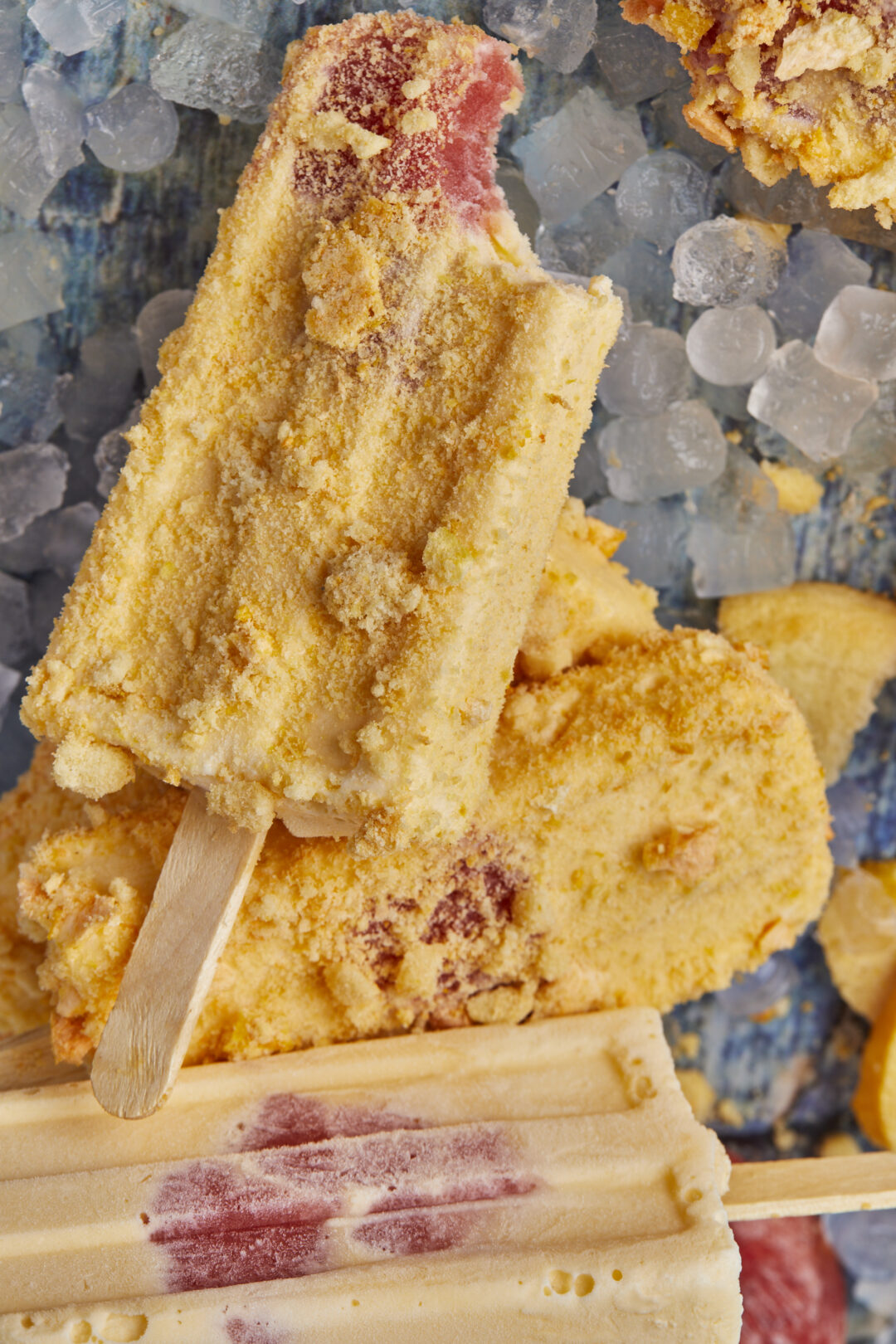 Millions of Peaches…
Peach ice cream is one of those super nostalgic flavors. Every year, my family would all meet at Folly Beach just outside of Charleston. Just as predictable as having fried shrimp that my grandmother would make one night was the guarantee that there would be peach ice cream. Simple vanilla ice cream with perfectly ripe Georgia peaches.
Maybe I am a bit biased with family from Georgia, but there is nothing like a peach in its prime. Chopped up and tossed into the base after spinning in one of those spinning machines that you would keep throwing ice and rock salt around, it is perfect for summer.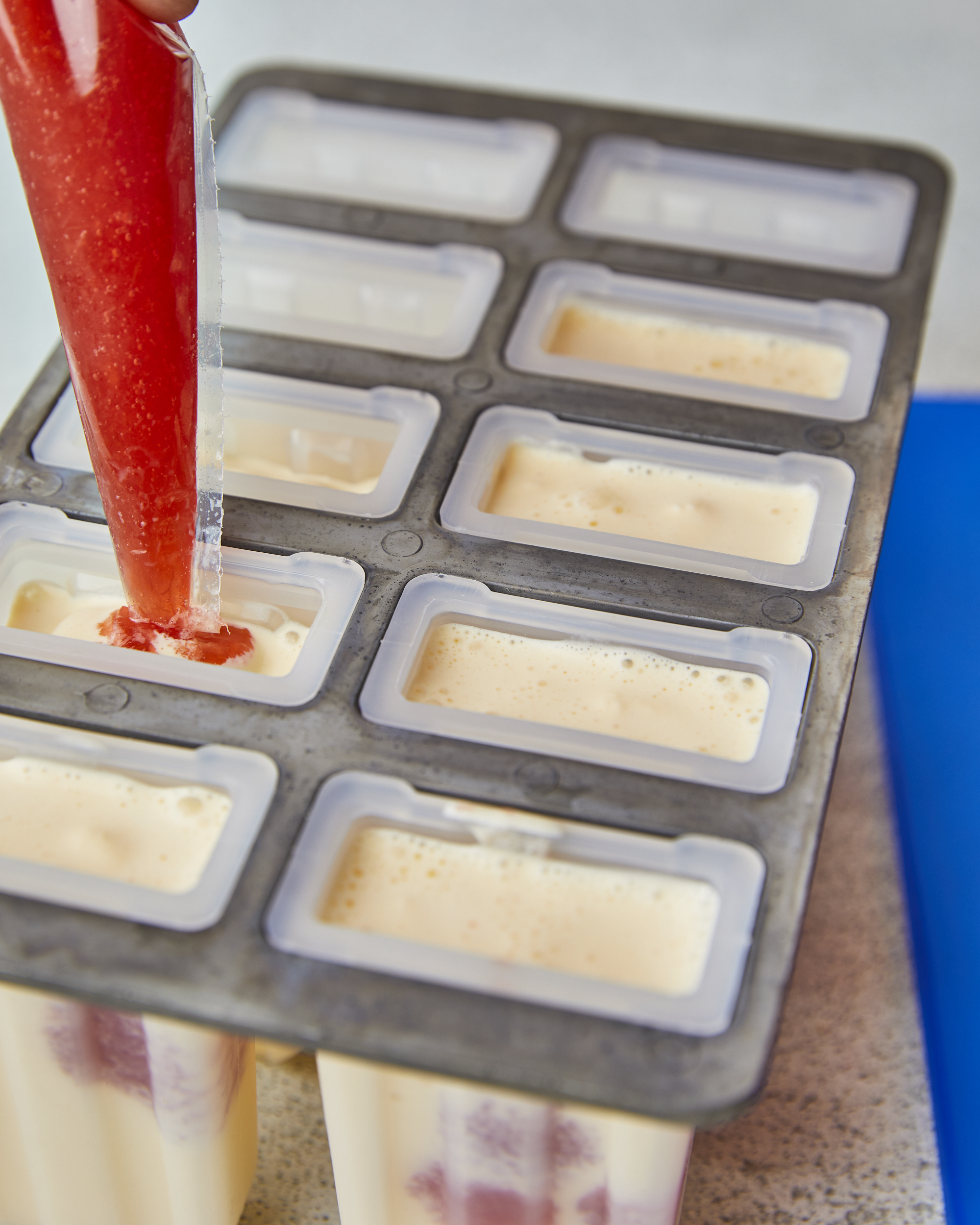 Even though I am not on Folly right now, it sure feels like it with it in Nashville with temperatures near 100 every day. If there is anything that is perfectly blended to beat the heat, it is homemade ice cream. I had planned on just sharing my peach ice cream recipe that was inspired by the annual visit to the beach when I kept driving by the pool of my neighborhood clubhouse. That's when those Strawberry Shortcake bars came to mind. I grabbed a box of the treats I remembered and well…. eh. They were ok. BUT, I knew I could improve with a simple swap. That homemade ice cream from the beach? Perfect!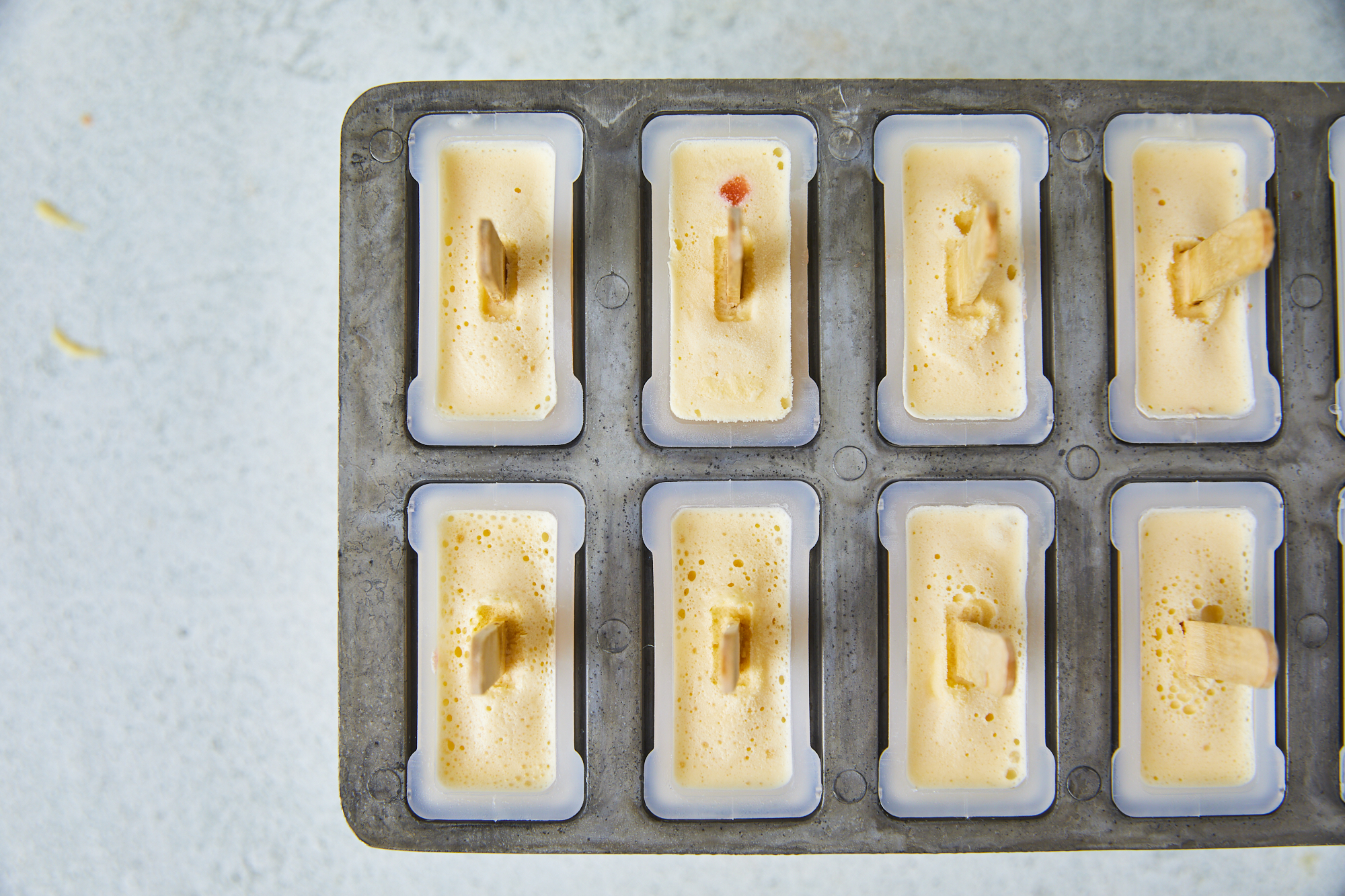 What makes the best ice cream??
The key to this ice cream is in the milk and cream. It's ice cream, so I am not playing around with anything but whole milk and heavy cream. Milk from your big box grocery will work the same, but I love to grab Tennessee dairy when I can. Flashback to a few weeks ago when I visited a farm for a live-streamed tour with The Dairy Alliance.
This was actually the second visit to a dairy farm and honestly was so much fun. Dairy farmers have to be some of the most dedicated, hard-working people I have had the pleasure to meet. It doesn't hurt that the baby calves are SO cute!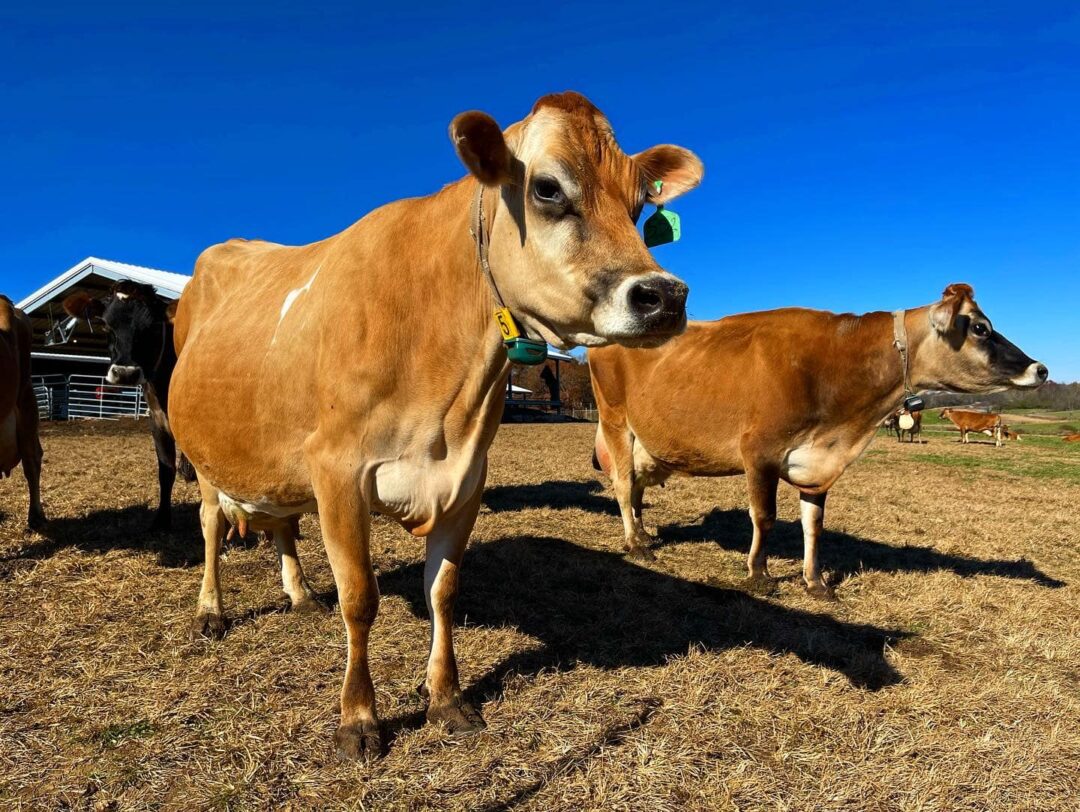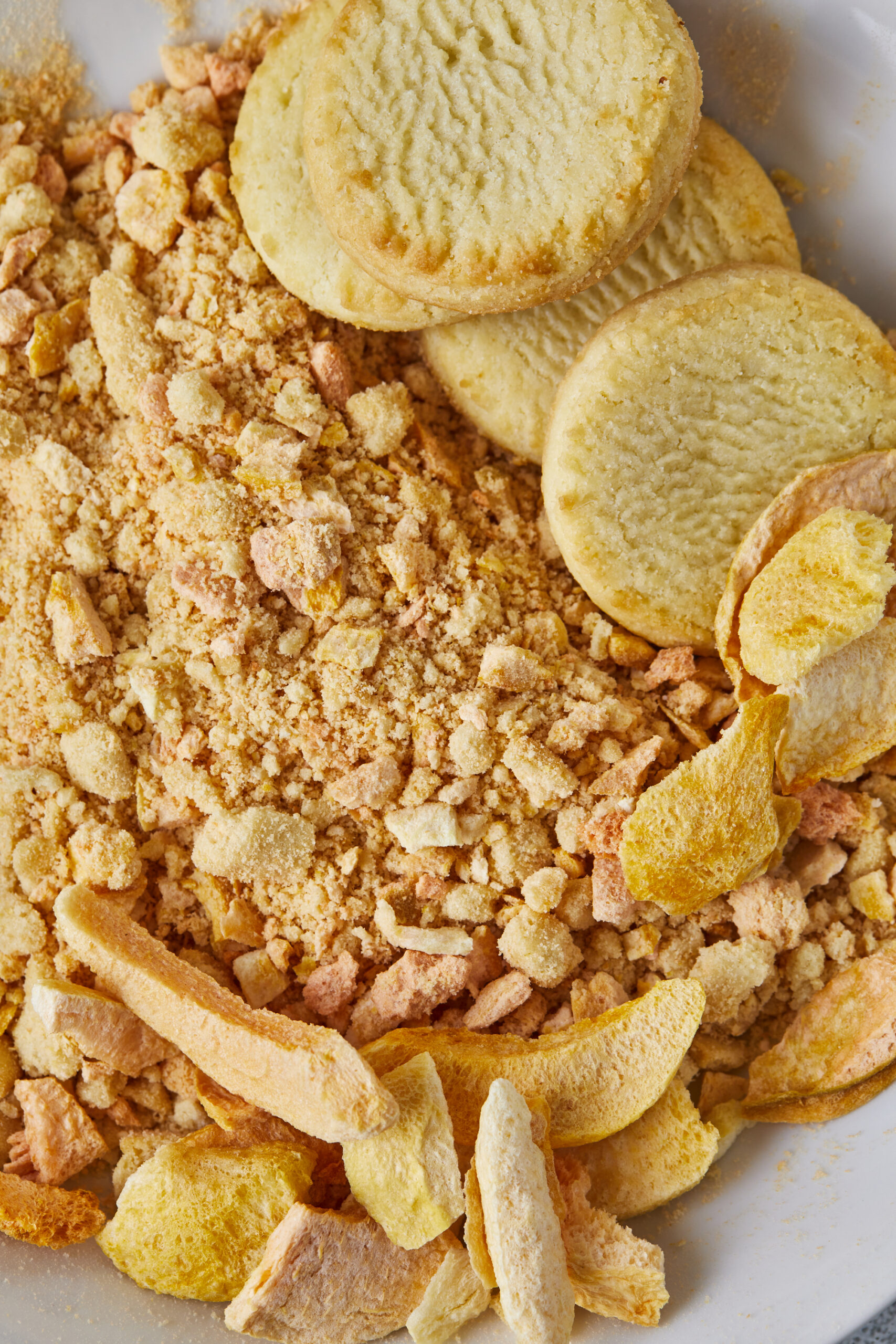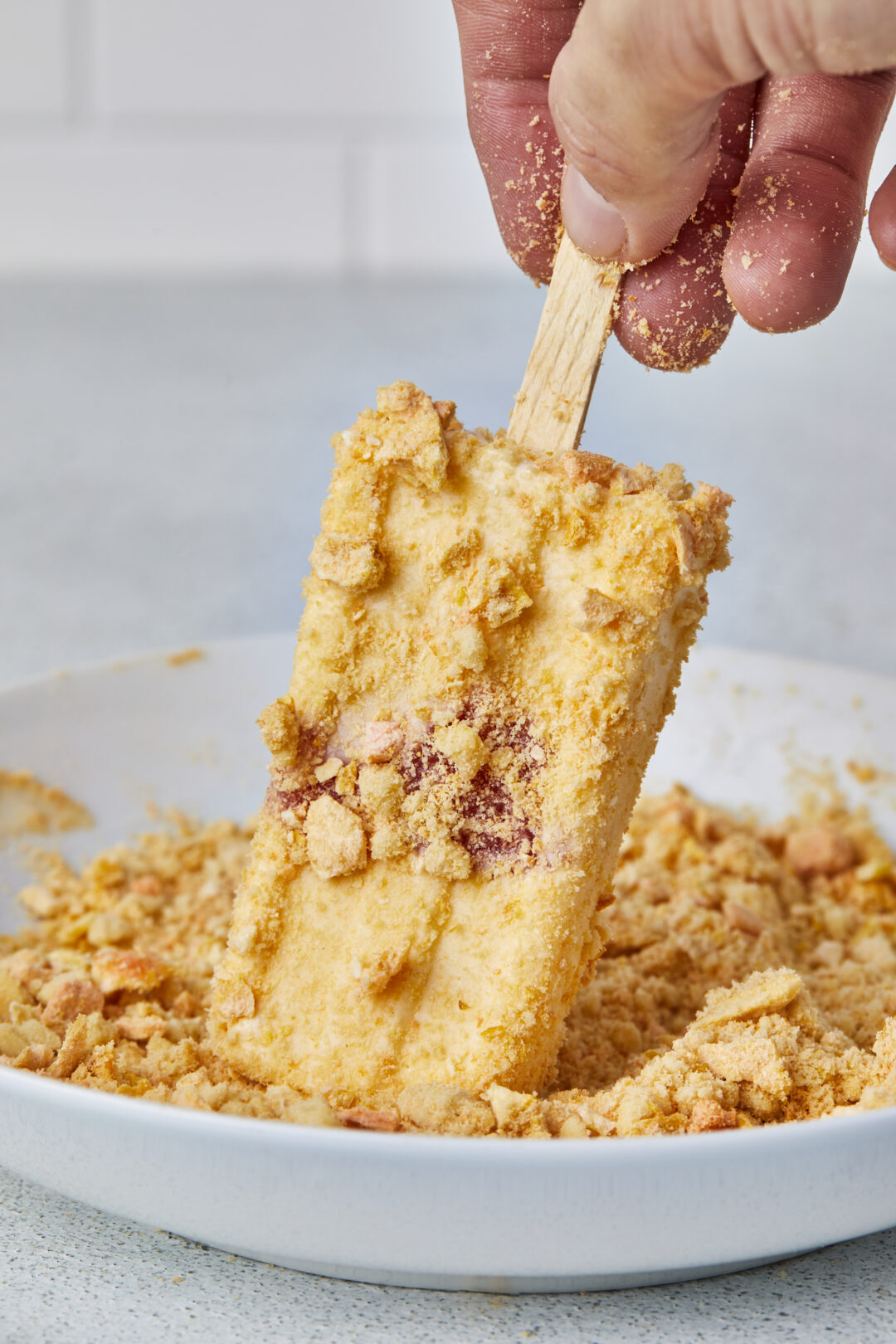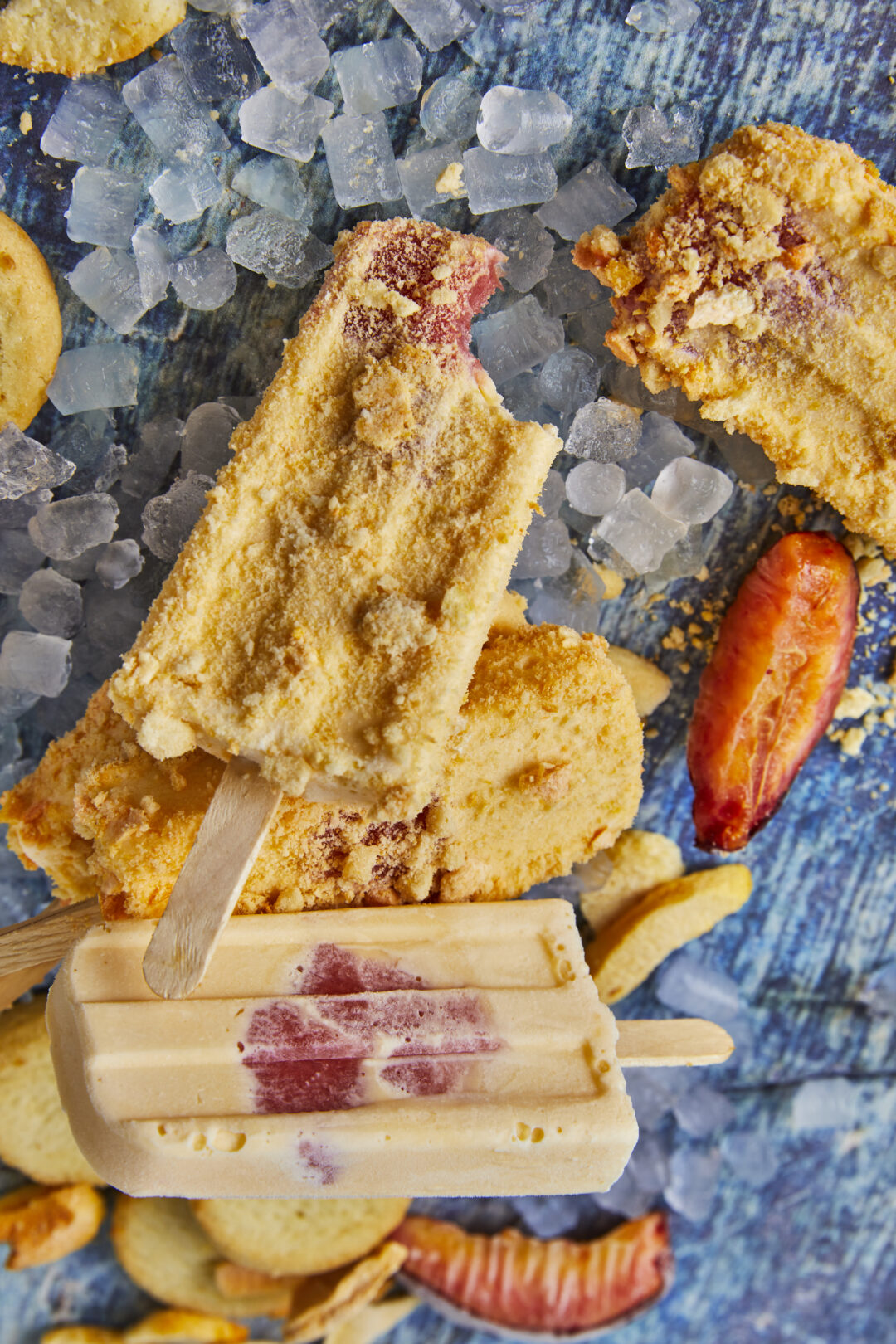 Enjoy!
With the best dairy in hand, homemade ice cream is much easier than most people realize. The flavor is incredible, and with just a few additions that you probably already have around, this peach shortcake ice cream bar is on its way to becoming your summer go-to.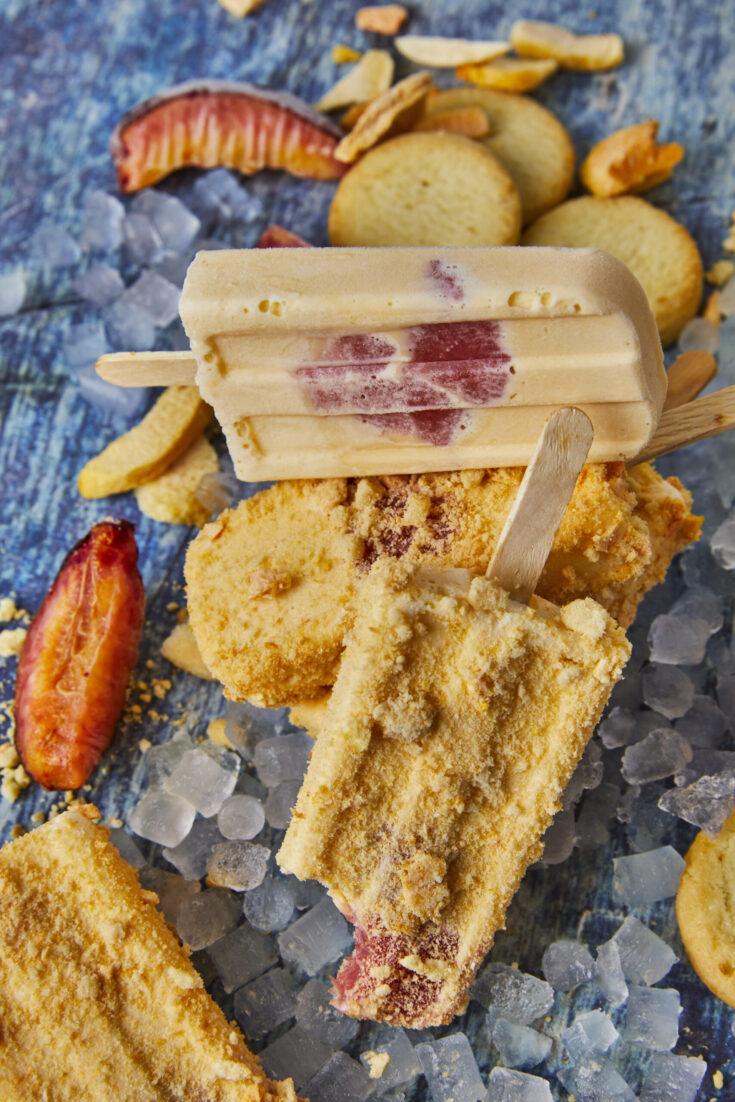 Yield:

8
Peach Shortbread Ice Cream Bars
Homemade ice cream with peach jam swirls dipped in shortbread and peach crumbles. Recipe from SouthernFatty.com.
Ingredients
2 cups (480 g) milk, whole
2 cups (480 g) heavy cream
1/2 cup (65 g) milk powder
4 large (70 g) egg yolks
1/2 cup (100 g) granulated sugar
2 tablespoons (40 g) corn syrup
1 tablespoon vanilla bean paste or extract
1/2 teaspoon salt
1/4 teaspoons xanthan gum powder
1 tablespoon bourbon or vodka (optional, but helps to keep creamy)
1/2 cup (160 g) peach jam
1/4 cup (8 g) freeze-dried peaches, crushed
6 pieces (85 g) shortbread cookies, crushed
Instructions
Preparation of your ice cream maker will vary. Adapt to your machine as needed (eg: freeze bowl for KitchenAid mixer maker or freezer models, etc.) prior to starting. My preferred top quality machine is listed below.
In a BLENDER (preferably high speed like a Vitamix, but use what you have), add: milk, cream, milk powder, sugar, corn syrup, vanilla, bourbon/vodka.
Blend for 1 full minute on high speed. This is important to emulsify properly.
Sprinkle xanthan gum powder and blend for an additional 30 seconds.
Add egg yolks and blend for another 15 seconds to incorporate fully. Scrape the blender throughout these mixes as needed.
Add the mix to a saucepan over low heat. Stir well until it reached 170 F.
Remove from the heat and return mixture to your blender.
CAREFULLY (it will be hot) blend on high speed (start at slow and increased with a towel covering top / hold top to ensure it doesn't come off) for 1 full minute.
Transfer to a container and place plastic wrap to prevent a film from forming. Alternatively, transfer to a gallon bag, seal closed.
Place this container or bag in ice water, mixing as needed to chill cream mixture. You want it to chill as quickly as possible.
Once cold, you have two choices: spin it in your ice cream maker, or rest it overnight first and then spin it in your mnachine. Resting it makes a huge difference and I highly suggest it if you have the available time.
Once you spin per your maker instructions, it should be soft enough to fill ice pop molds about 3/4 of the heights.
Pipe or spoon in peach jam. I like to pip it with a bag so it stays mostly in the center of the pop.
Freeze until completely solid.
When ready, combine shortbread and peach crush and press into pops.
Enjoy! Find more recipes on SouthernFatty.com.
Tag @southernfatty with your creations on social media!
Notes
Post made in partnership with The Dairy Alliance.
Nutrition Information:
Yield:
8
Serving Size:
1
Amount Per Serving:
Calories:

262
Total Fat:

11g
Saturated Fat:

5g
Trans Fat:

0g
Unsaturated Fat:

6g
Cholesterol:

15mg
Sodium:

20mg
Carbohydrates:

35g
Fiber:

1g
Sugar:

20g
Protein:

3g