Whiskey Salted Caramel Ice Cream Sandwich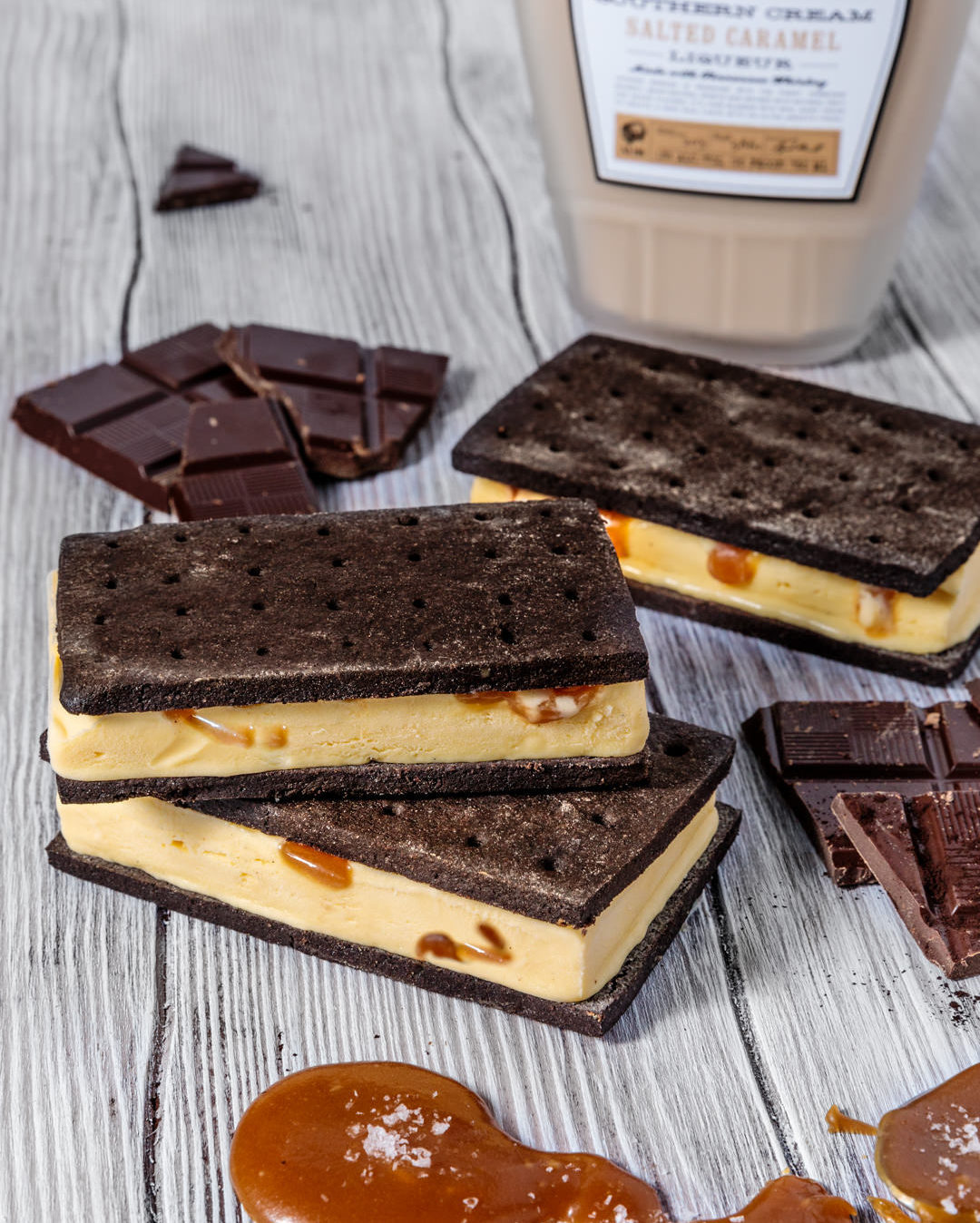 Author:
Phillip Fryman | SouthernFATTY.com
Serves:
6 to 8 ice cream sandwiches
1 cup whole milk
½ cup granulated sugar
1 cup heavy cream
¼ cup Jackson Morgan Salted Caramel
5 egg yolks
1 teaspoon vanilla bean paste or extract
½ teaspoon sea salt
1 cup granulated sugar
½ cup (8 tablespoons or 1 stick) unsalted butter, softened
½ cup all-purpose flour
½ cup cocoa powder (I used half of THIS dark cocoa and half of THIS cocoa powder, but you can use any)
½ teaspoon salt
1 teaspoons vanilla bean paste or extract
1 egg yolk
Keep ice cream maker bowl frozen (be sure this is done the night before using). I used this one by Kitchen-Aid.
In a saucepan, heat milk and sugar over medium heat until sugar is fully dissolved, about 5 minutes.
Remove from heat and set aside.
In a large bowl, whisk the egg yolks, salt, and vanilla well.
While continuing to whisk, slowly stream in warm milk into the yolks. Be sure to mix well.
Pour this back into the saucepan and return to medium heat.
You will heat this mixture until it has thickened slightly. Be sure to constantly stir this. I prefer to use a spatula to be sure nothing on the bottom burns.
Heat and mix until this just starts to bubble. Do not let it boil. It should coat a spoon well when finished. Expect to heat and stir for about 5 minutes or so.
Remove from heat and whisk in Jackson Morgan Salted Caramel Cream and heavy cream. Be sure it is fully mixed.
Chill this mixture completely before transferring to ice cream maker.
Freeze per ice cream maker instructions.
Transfer to a 9-inch square dish, swirling caramel into semi-frozen ice cream.
Freeze completely, preferably overnight, until very hard.
Cream softened butter and sugar until light, 1-2 minutes on medium speed in mixer.
Sift all of the dry ingredients together.
Add half of the dry mix slowly to the creamed butter and sugar. Mix well.
Mix vanilla and egg yolk.
Finish with the remaining dry mix.
Remove and roll dough on a lightly floured surface into a rectangle, 8" x 12".
Optionally, but for more clean cookies, freeze dough before cutting into desired size cookies.
For the ice cream mix above, the cookies will need to be 2" x 4".
Remember that you will need two cookies for each ice cream section. The cookies should be slightly larger than the ice cream.
Poke holes/indentations in cookies.
Bake cookies at 350 F for 10 minutes. Remove and (optionally) use a flat surface (ruler or spatula) to press sides in slightly to straighten.
Cool completely.
Cut ice cream into 2" x 4" rectangles.
Sandwich between cookies.
Keep frozen and enjoy!
Find more recipes on SouthernFatty.com.
Recipe by
Southern FATTY
at https://www.southernfatty.com/whiskey-salted-caramel-ice-cream-sandwich/