Orange Cream Whiskey Push Pops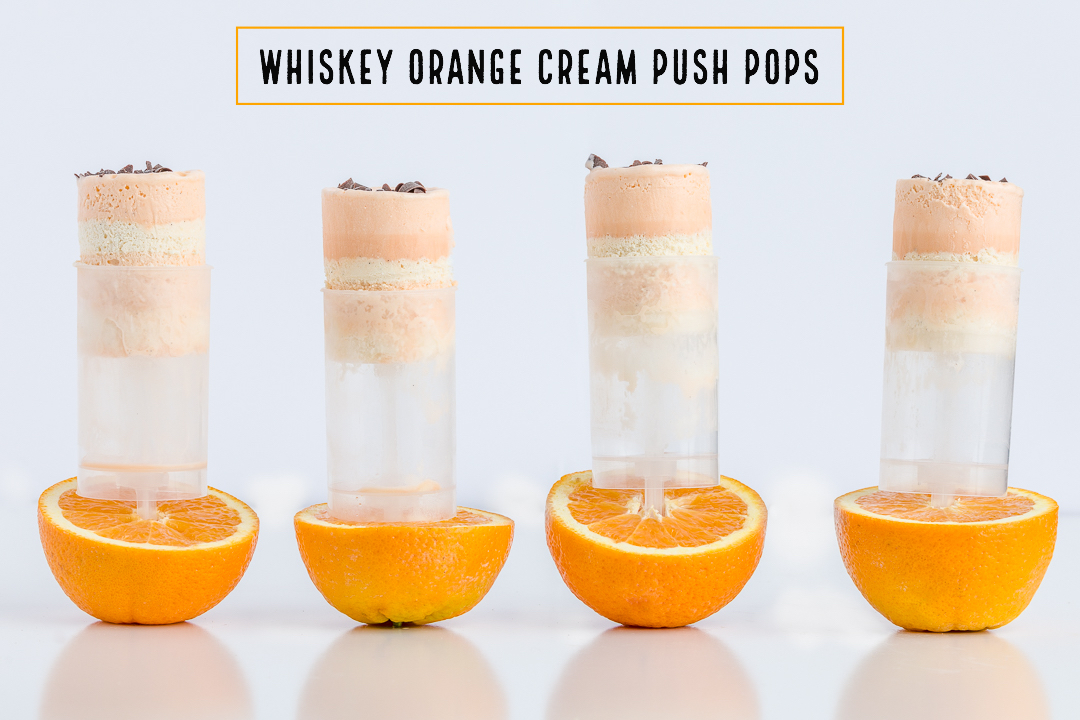 Author:
Phillip Fryman | SouthernFATTY.com
¾ cup (170g) heavy cream, cold
6 (300g) eggs, whole
1 cup (200g) sugar, granulated
½ tablespoon vanilla bean paste (or extract)
¼ teaspoon (2g) salt
With a stand mixer or hand mixer, place cold cream and whip to just stiff peaks.
Slowly add the orange whiskey cream and mix until just combined. If the mixture deflates some, don't worry about it.
Transfer to a bowl, cover, and chill.
Repeat the same process for the plain whipped cream -- Whip to stiff peaks and transfer to bowl, cover, and chill.
You will need two pots for this. One medium saucepan and one large mixer bowl (I use my KitchenAid bowl) that will sit on top of the saucepan.
If the mixer bowl touches the bottom of the saucepan, place some foil in the bottom of the saucepan to elevate it slightly.
Place an inch or two of water in the saucepan over medium heat.
While the water is heating, whisk the eggs, sugar, and salt until well-combined.
When water is steaming well, place mixer bowl on top.
You do not want the bowl to touch the water directly. The steam will gently warm the mixture. Adjust accordingly.
Stirring constantly with a spatula to scrape the entire bowl bottom the entire time, heat the egg mixture until it reaches 165 F (I prefer to use this thermometer). This will take about 5-7 minutes.
Remove from the heat and place on the mixer with a whisk attachment (or handheld is fine).
Whip on high speed until lightened and increased in volume. This will take about 6-8 minutes on most mixers at high speed.
Divide this custard mix in half into each of the two whipped cream bowls.
Carefully fold the mixtures.
Fill the molds as desired.
Top with chocolate curls.
Freeze upright (I used a roasting pan with a cooling rack on top to prop them upright) for several hours, preferably overnight.
Yabba, dabba, booze! Enjoy.
Find more recipes on SouthernFatty.com.
Recipe adapted from
Serious Eats
No-Churn Vanilla Ice Cream, Stella Parks.
Recipe by
Southern FATTY
at https://www.southernfatty.com/whiskey-orange-cream-push-pops/