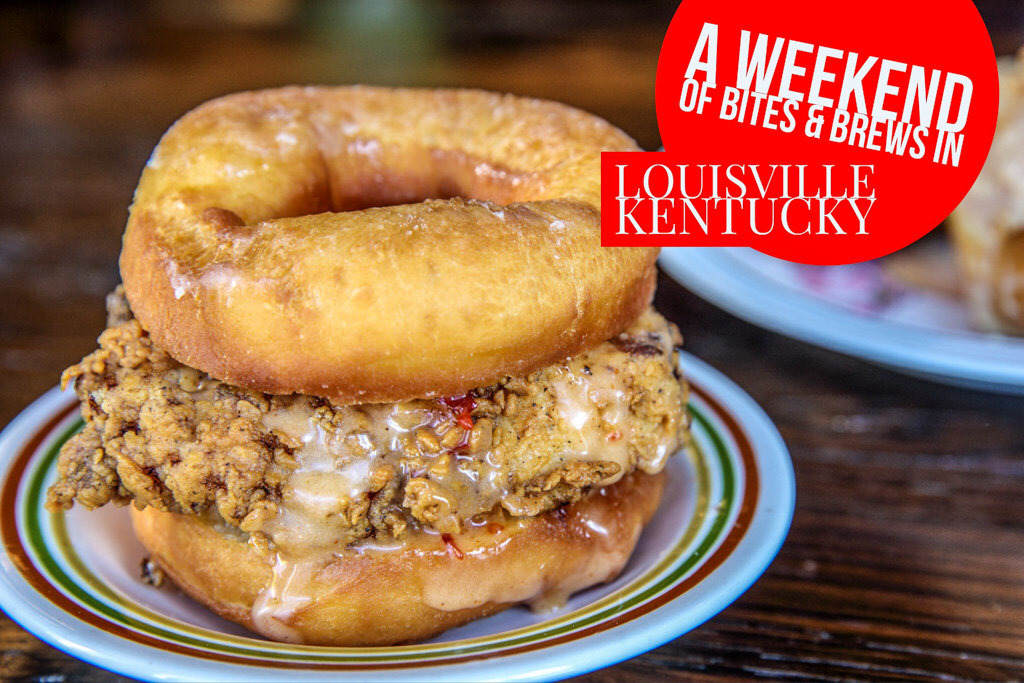 I'm a homebody, y'all. Most weekends (or days, really), I'd rather keep my flannel pajamas on at home than deal with going anywhere. Maybe that's why I bake so much. I can just sit in my little kitchen, with my cats, and make cookies and go to bed. That is a successful day to me. BUT, with that said, I have been trying to get out a bit more. This is the year for traveling! There are so many wonderful places close to Nashville that I haven't really explored. Waterfalls, farms, distilleries, amazing food.
With Kentucky being just a stone's throw away, and having grown up there, you'd think I would have exhausted all of the options there by now. Nope! — During college, I spent a summer semester in Louisville completing a research internship in surgical oncology. I guess I was too much of a nerd, because I didn't really explore the city beyond the few blocks around me on Bardstown Road (basically a bunch of restaurants).
I packed up and took off for a quick weekend in Louisville just a couple weeks ago. It was totally worth missing out on that batch of pajama cookies at home.
Louisville is just a couple hours away from Nashville.  That's basically the same as waiting in line for hot chicken here, so no big deal. I left after working, and made it just in time for a little meet and greet pre-party for a food conference that was in town. I said heya to a bunch of lovely blogging buddies and snuck out to check into my hotel. Homebody away from home, I guess.
Put your bifocals on. This one has a

lot

of pictures!
FYI — If you want to sound like a local, we call it "Loo-a-vul". Don't believe these other people that say otherwise.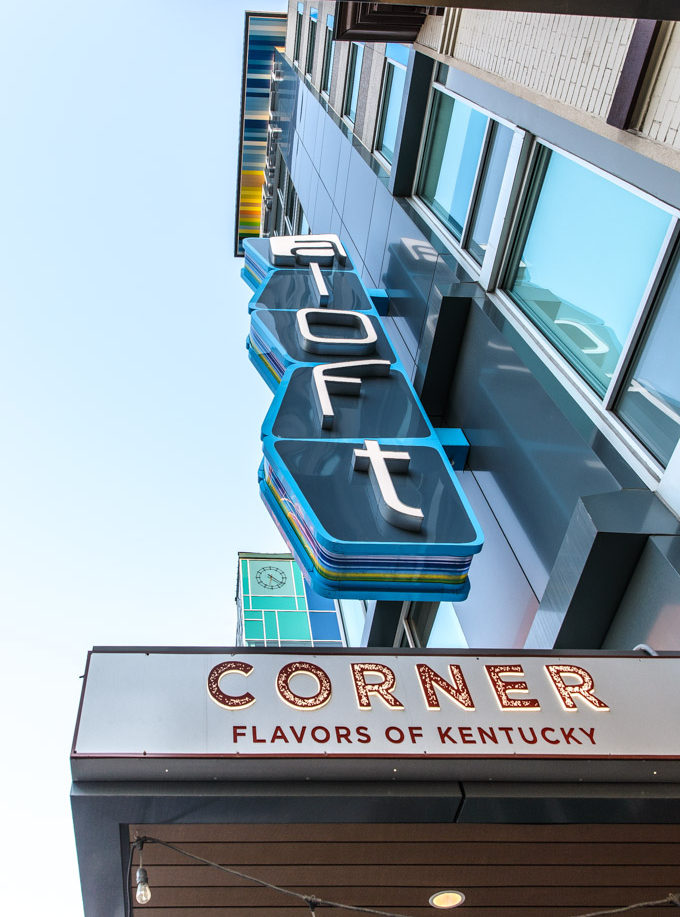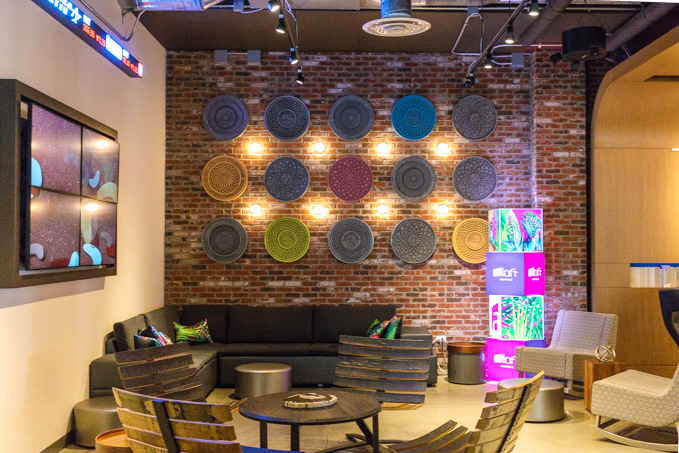 Sleeps and Eats
I stayed at the Aloft Louisville Downtown hotel because it was pretty much in the middle of everything I wanted to see and do while browsing around town. The entire weekend, we walked everywhere we wanted to see. Our goal was to eat and drink everything in sight, and just have a relaxing couple days. It's very contemporary, clean, with a beautiful downtown view. There's a candy bar in the lobby. What more do I need to say?!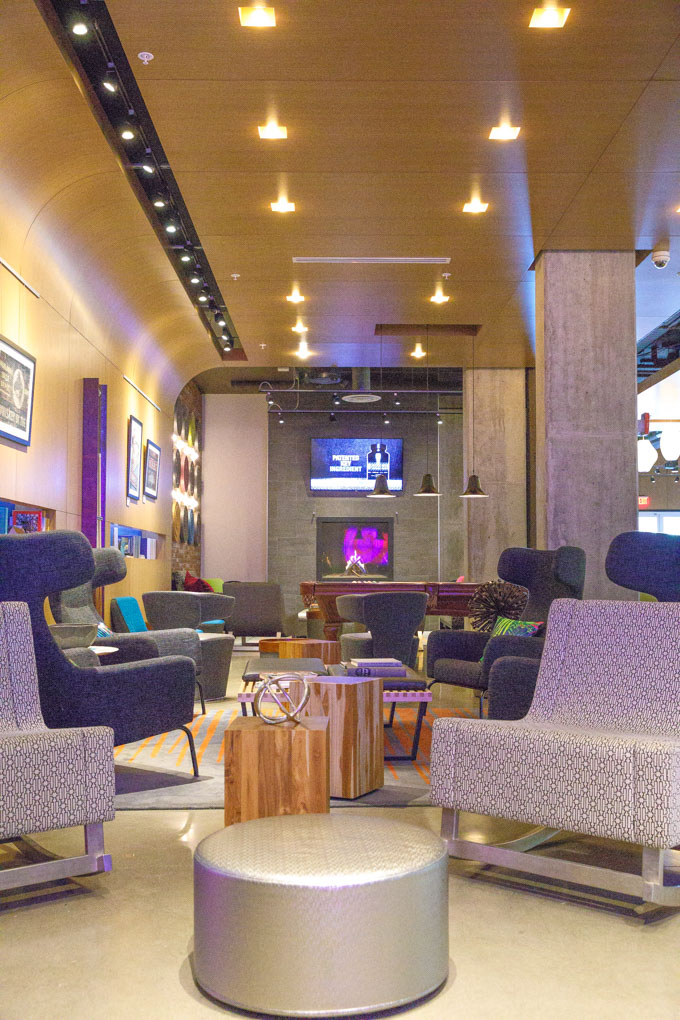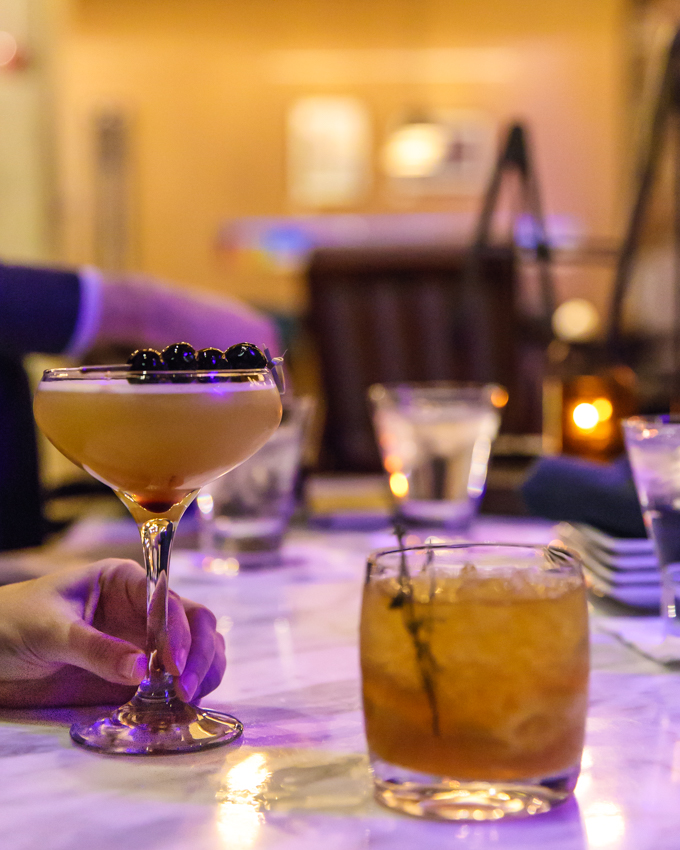 Along with Lindsay and Taylor of Love & Olive Oil, we tossed our luggage into our rooms and met downstairs for dinner in the hotel restaurant, Corner. I had a burger, as I always do, with my favorite — a couple of drinks. The bartender, Chris, was fantastic. They had an amazing cocktail program at the bar, and a cozy seating area that we decided to have our late-night dinner in. It doesn't hurt to be able to get a burger, some cheesecake, or killer smoked old fashioned until midnight without leaving the building, right?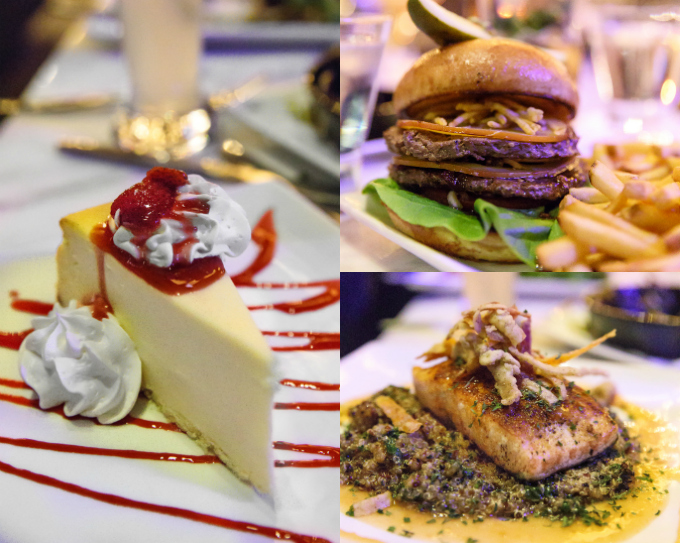 Doughnuts. Donuts.
If any of y'all know me, you'll know that I am not a morning person. At. All. — We had made plans to meet up with Anna's smiling face (of Venture & Eat) bright and early for donuts. If anything will get my ass out of the insanely comfortable bed I had, it would be donuts (and good company. that too.).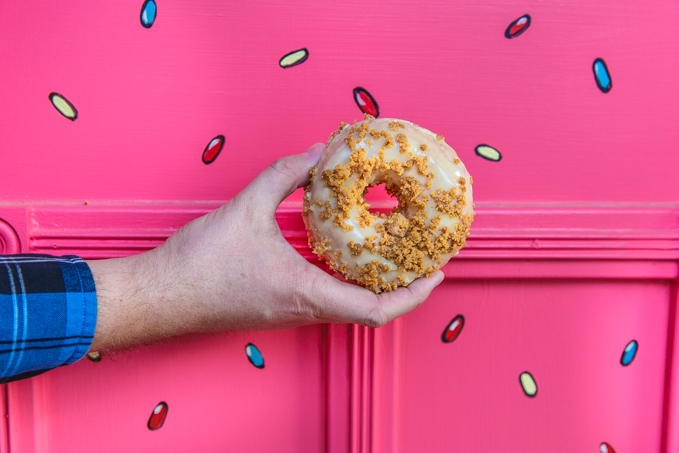 I've really spent a lot of time in Louisville in the past, but things had changed so much since I lived in Kentucky. Everyone kept telling me about this new donut place that started as a food truck in town. From my experience, food trucks turned brick and mortars are always a slam dunk (Hellooooo, Grilled Cheeserie and Funk Seoul Brother in Nashville). I managed to roll out of bed and make coffee, head downstairs to the (super cute) lobby and grab a second coffee. It was going to be a long day of walking. My body isn't used to these things, y'all.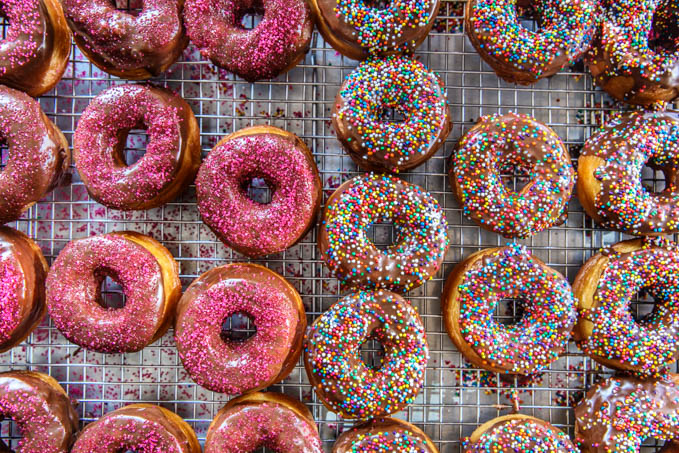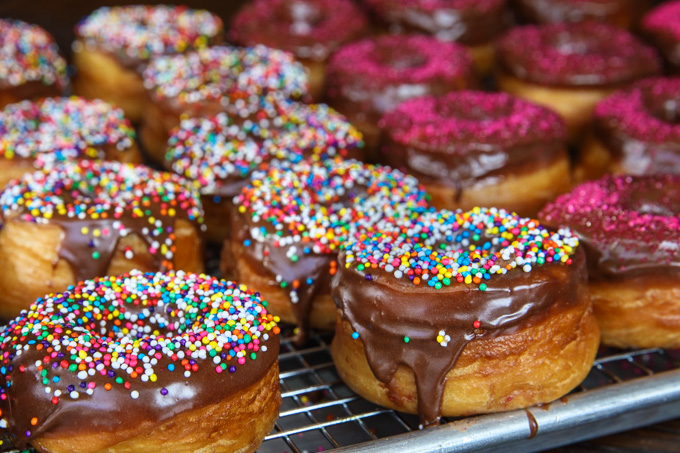 Hi-Five is Louisville's first all-female owned truck and now storefront. These ladies of the morning were absolutely amazing. The gaggle of food bloggers isn't an easy crowd, but they were incredibly gracious with my ridiculous requests for pictures and questions to answer. There is just this sense of glee in this place that many stops don't have. There is even a book about how they worked their way to success: Breaking the Glaze Ceiling by Dr Lyle Sussman.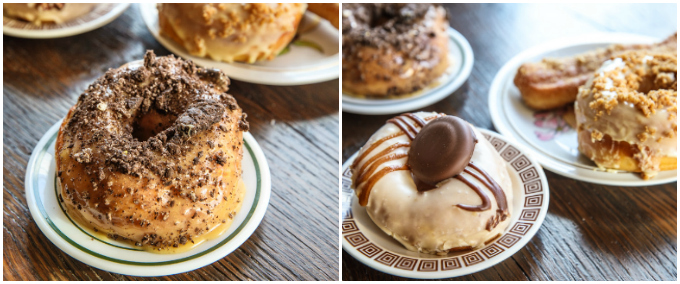 Maybe it's the make-your-own doughnut option, or the Girl Scout cookies you can put on top (y'all know how I love my GS cookie recipes). Could be the pink walls with sprinkles and endless coffee (because we all know I needed more). Along with the smiling faces of people that you can obviously tell absolutely love what they are doing (and doing it well), it's just a great place to start a day.
PS – YES. That is a fried chicken doughnut at the top of the post. You're welcome.

Coffee Shops + Chocolate Chip Cookies
Across the street, we grabbed a to-go coffee at Please & Thank You. This is a small coffee house with warm, gooey chocolate chip cookies alongside some great take-home baking mixes in case you didn't manage to stumble out of bed that day in time to grab some.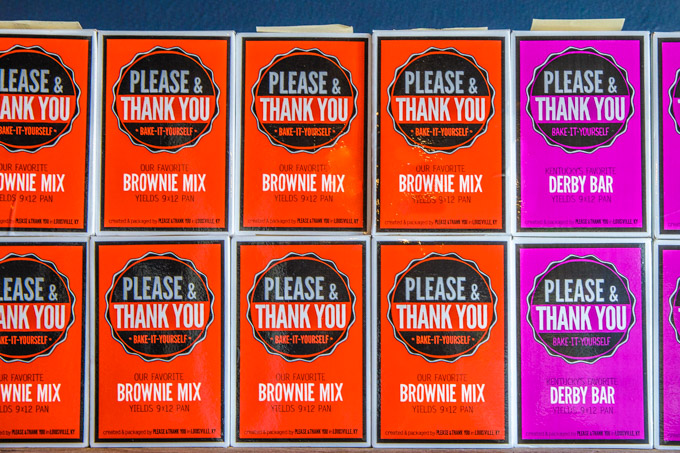 Pedestrian Bridge to Indiana
Mornings are a bit slow around town, so if you want to kill a few minutes, you can walk to another state. Why not? The pedestrian bridge is just behind Butchertown, and a simple walk across the Ohio River. Great views and you can add another state to the ol' pin board.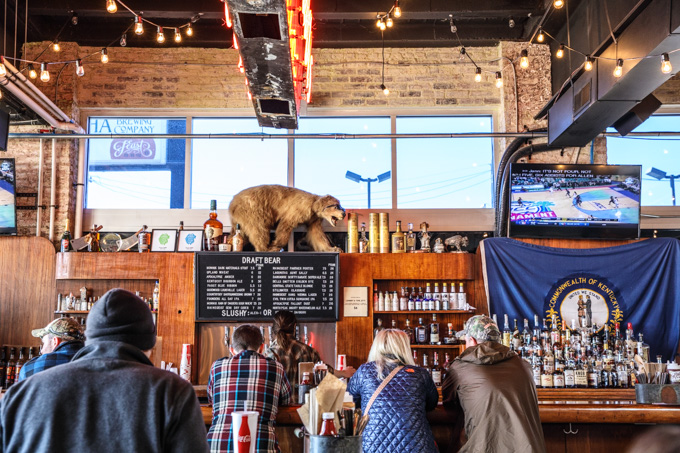 BBQ and BOURBON Slushies
From the Butchertown area into NuLu (or the East Market District), just a few blocks long and a couple wide, is packed with some great stops. The majority of our day was spent walking around here checking things out.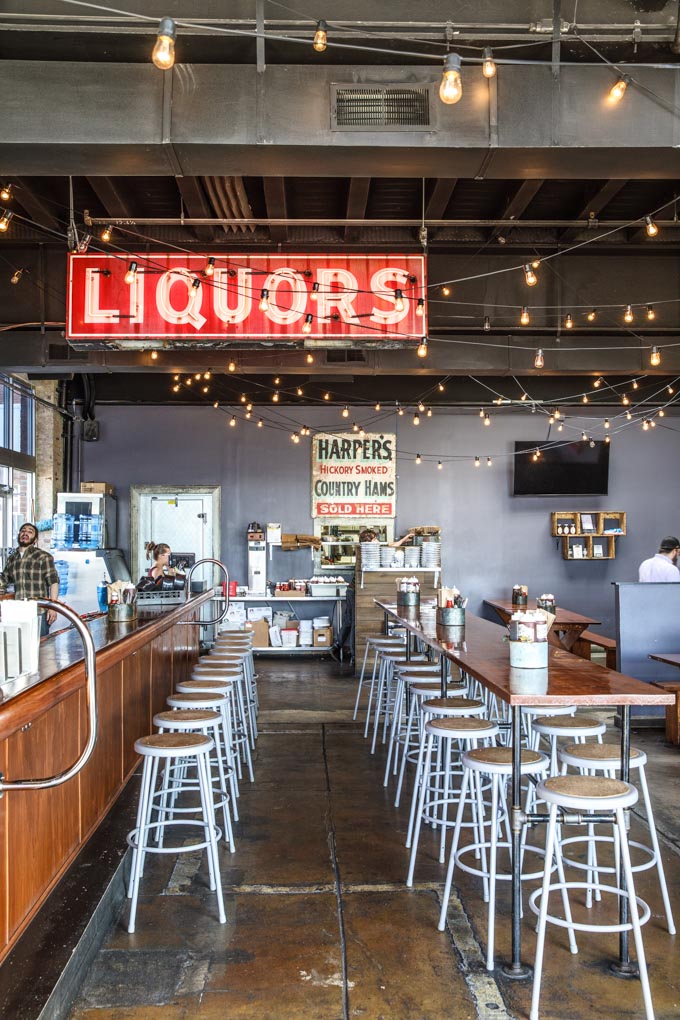 It was still a bit early when we started walking off the doughnuts, but we spotted a few places that we wanted to check out. Feast BBQ caught my eye when I was taking some pictures. It has a fun vibe, and my eyes immediately locked onto the menu listing for bourbon slushies. You heard me. This was going to be lunch. Or pre-lunch. We do a lot of pre-gaming with food here in the South. It's totally acceptable.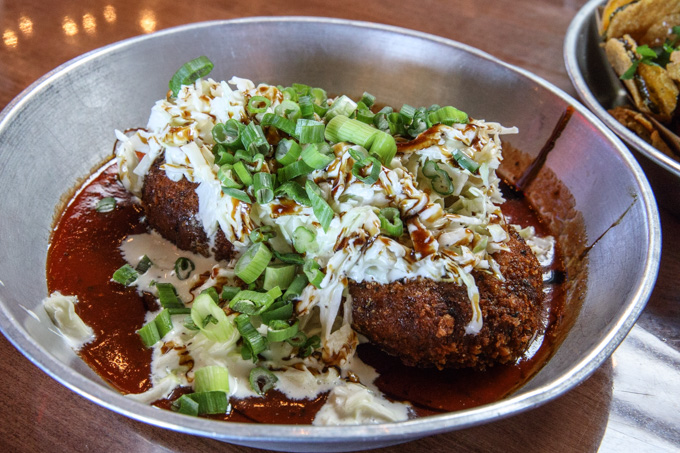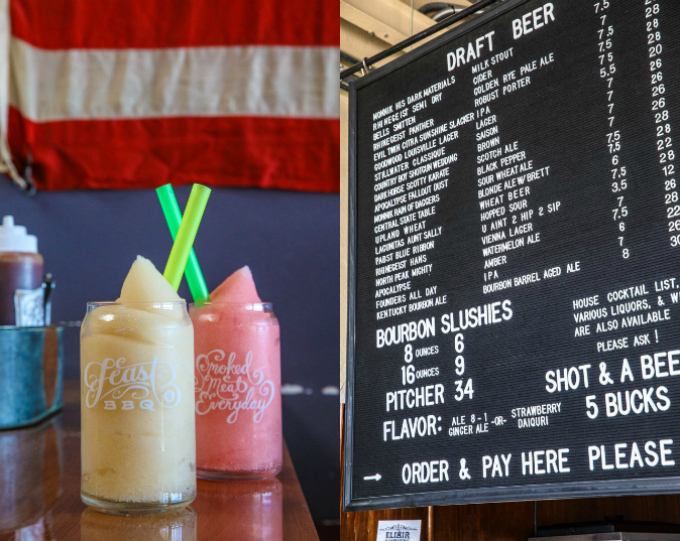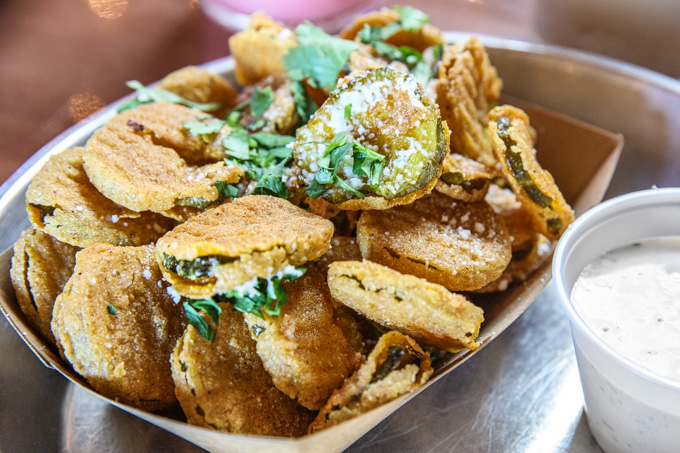 Pizza, Ping Pong, and Cocktails
It was lunch time, after the pre-lunch, and pizza was screaming our names. You can't help but notice the welcoming, kinda bro-tastic vibes of Garage Bar. Outside, there is a large area with ping-pong tables, hacky sack… basically the perfect place to have a beer with friends. The wood-fired oven inside the former auto garage puts out some killer pizzas. The bar serves up plenty of bourbon and craft cocktails. I had a few, and they were all fantastic. I definitely recommend hitting this one up for lunch, as it gets a bit busy once the sun starts to go down (along with the cocktails).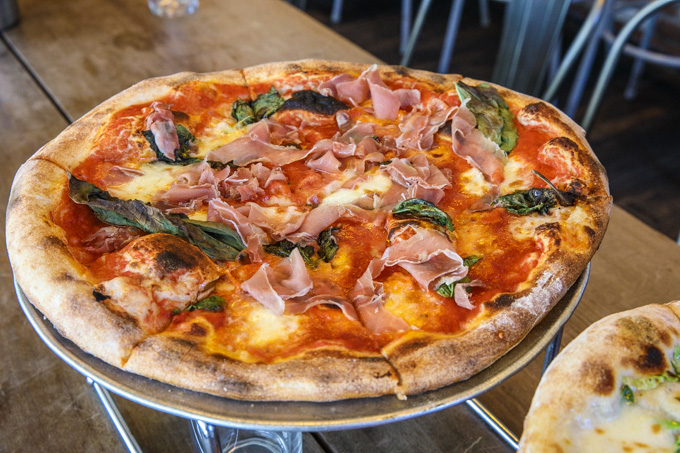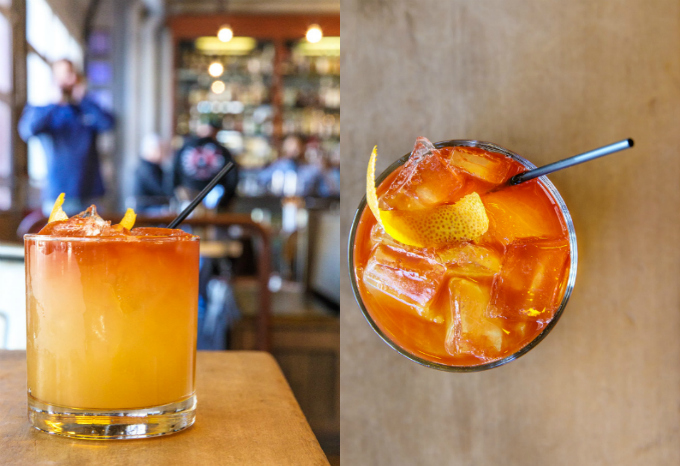 Antique Shops on Market
Once we recovered from lunch, we kept heading west on Market. There are a ton of small shops and stops along the way that are filled with smiling faces and unique, handmade gifts. Some really beautiful art galleries. You'll start to find some antique shops. You'll know you are there when you see this fine lady waving at you in the window…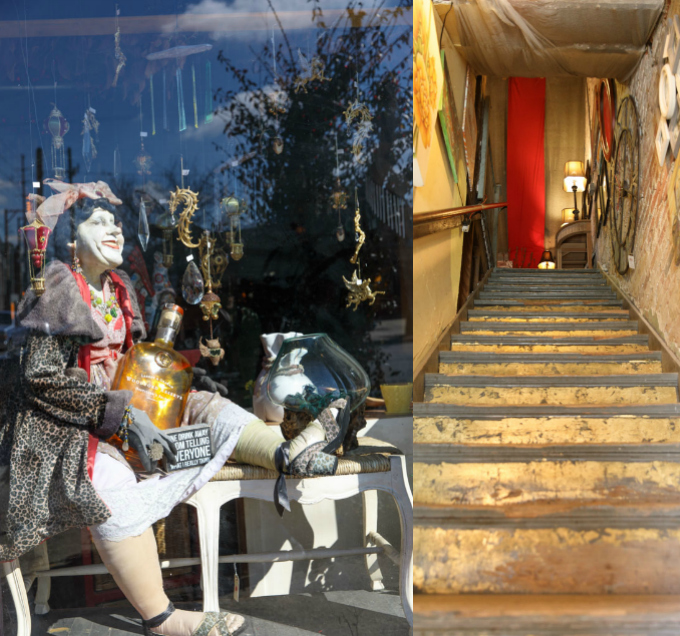 Old houses make up the majority of these shops, and they end up just being a lot of fun to roam around in. You'll find some very… interesting finds, for sure.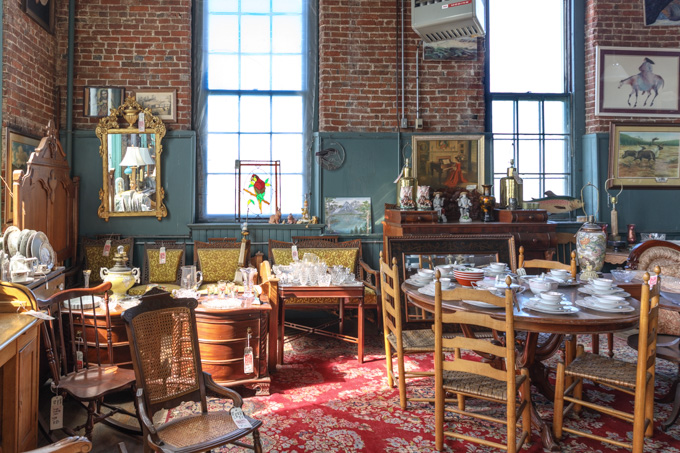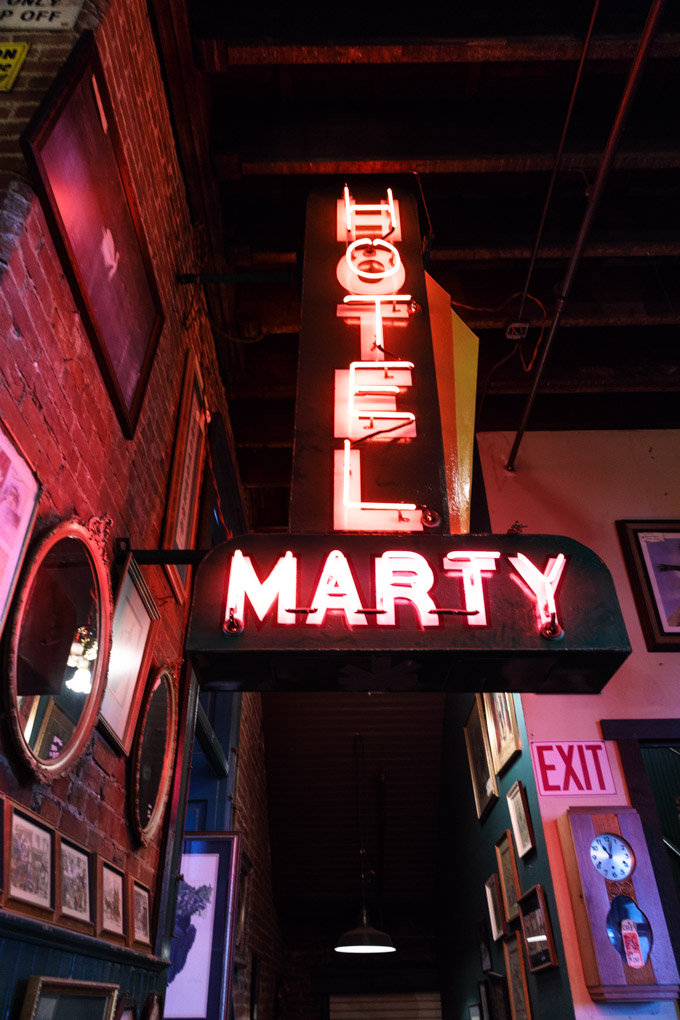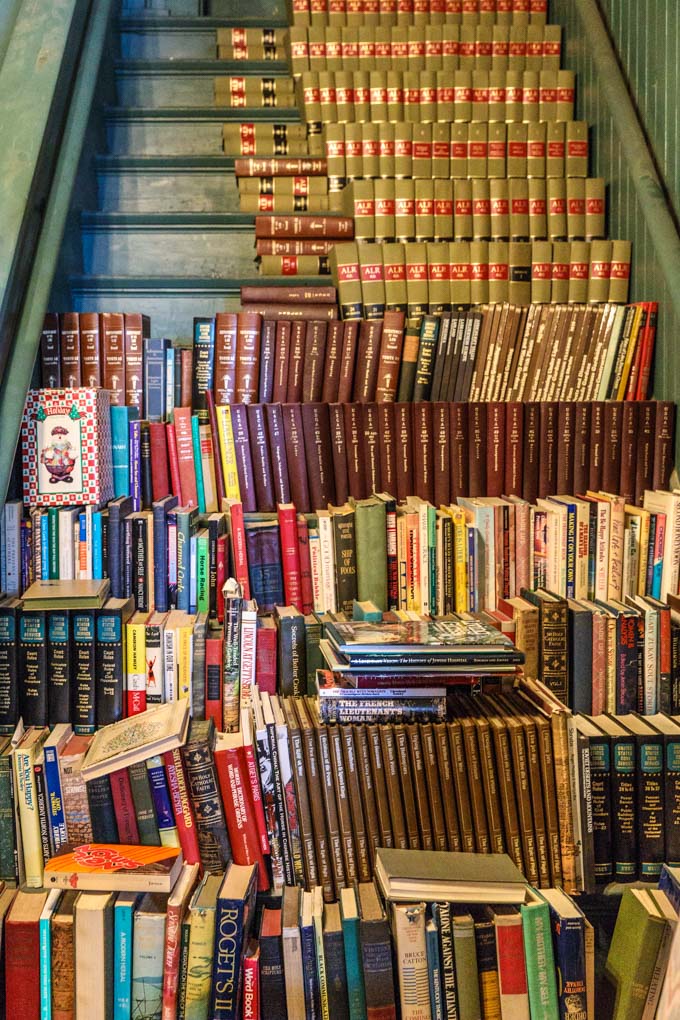 Joe Ley is by far my favorite. You could seriously spend days in this place and not see everything (over 2 acres). It's a bit particular to say the least. There is this super bizarre pricing labeling system with letters and codes. As much as it drives me absolutely crazy, it just sort of fits the place. It took everything I had to not bring home a few clown antiques to put in a dark corner of my house. — Next time, Pennywise. Next time.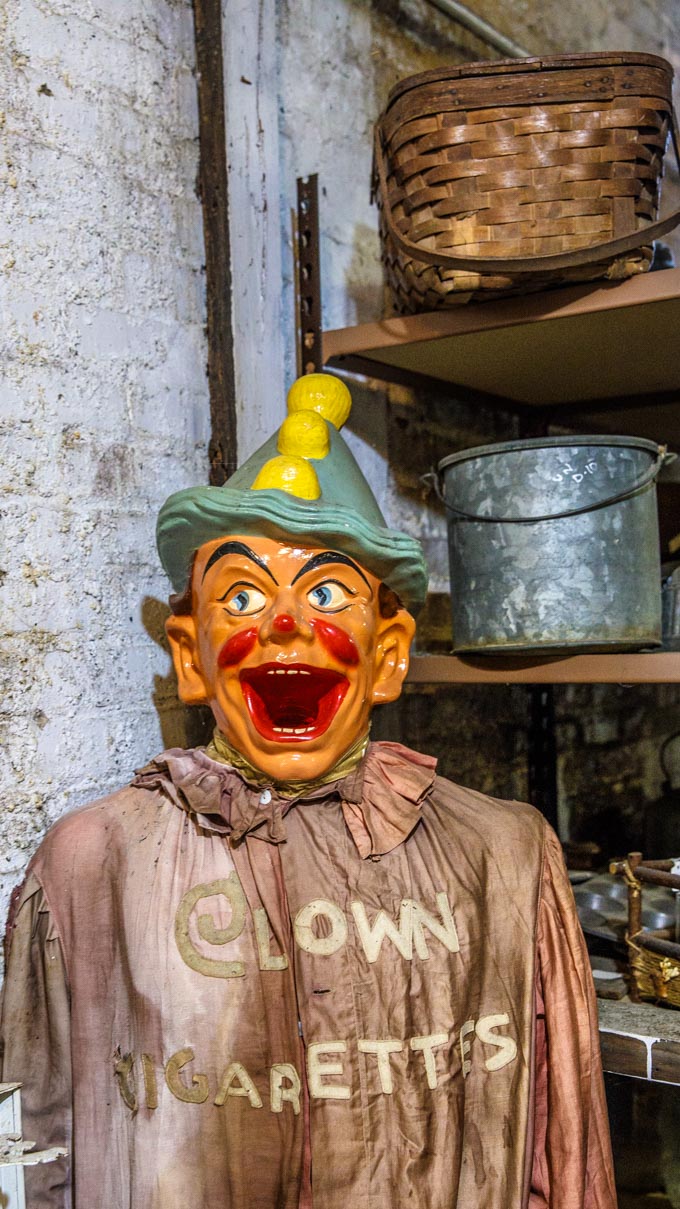 Candy is dandy… No, really. It's the best.
As someone with the curse of a severe sweet tooth, I have this magical obsession with old-school candy shops. I was beyond excited to wonder up to Muth's Candies across the street from some of the antique shops. This place is the real deal. You can smell the caramel when you hit the door. Plan to spend a few minutes in this shop. Not just to look around at the candy, but for the company. The owners of this family business are a handful. You will be treated like family, jokes and all.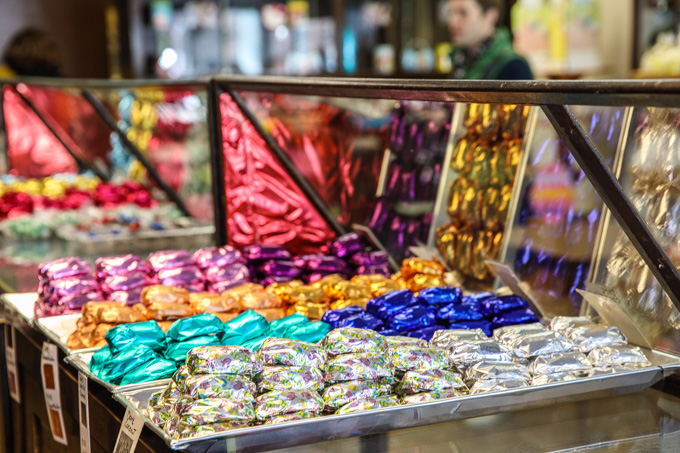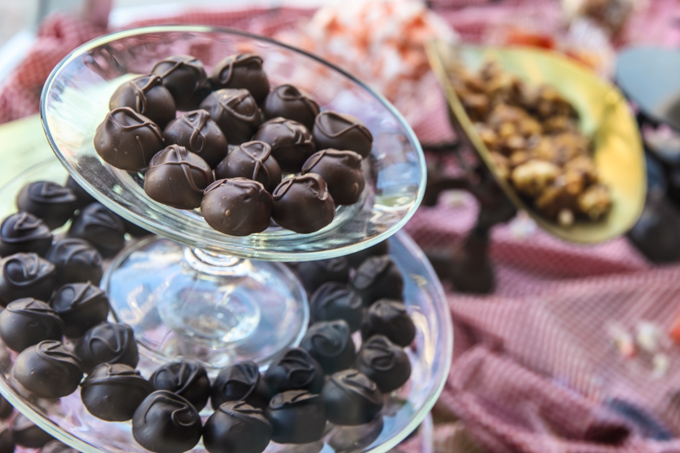 The rich history behind this Louisville staple is fascinating. It began in 1921, in the very location it is still in today, after Rudy returned from WWI. The families third and fourth generations are still in the back making their famous Modjeska caramels to this day. It's like walking into a family reunion. I walked out with not only bags of candy, but the warmest of feelings seeing a place be so friendly and delicious.
Breweries and Distilleries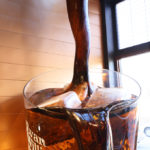 Ahhhhh, Kentucky. Even if you are from here, you can't leave without some sort of bourbon and beer experience in the books. It's baffling how many new spots are showing up. If beer is your thing, you will not be disappointed. Every corner and random street that you venture down will probably have a small craft brewery that you can tour and taste. If bourbon is more your cup of… bourbon, you are home.
This trip, I visited the folks at Evan Williams for their speakeasy tour. I've seen quite a few distilleries, so it was nice to experience something a bit different. You are taken back in time and into the basement of the "Whiskey Row" area distillery speakeasy bar, secret codeword and all (send bourbon and I may share it), to taste four different bourbons and hear about prohibition-era history.
We finished things off with a tip of the in-character bartender's hat and a 23-year old Kentucky Straight Bourbon (that sells for nearly $300 a bottle).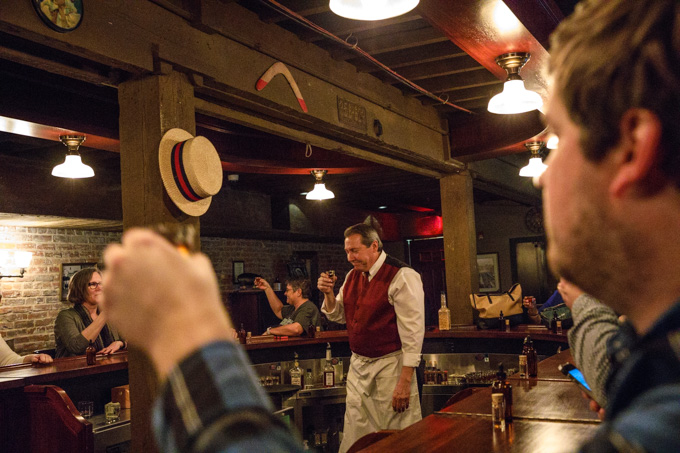 Angel's Envy is a newer distillery tour in town that has had a lot of bourbon buzz around town. While I wasn't able to stop in without a reservation ahead of time, it is on my list to pre-plan for my next visit. Also available are Bulleit, Copper & Kings, Jim Beam, Peerless, Jefferson's Reserve where they distill several small batches of bourbon for locals , and several new venues opening in the near future. It's basically bourbon paradise. — If that isn't enough, you can surely find more of Kentucky's liquid gold on the Kentucky Bourbon Trail just outside of the city.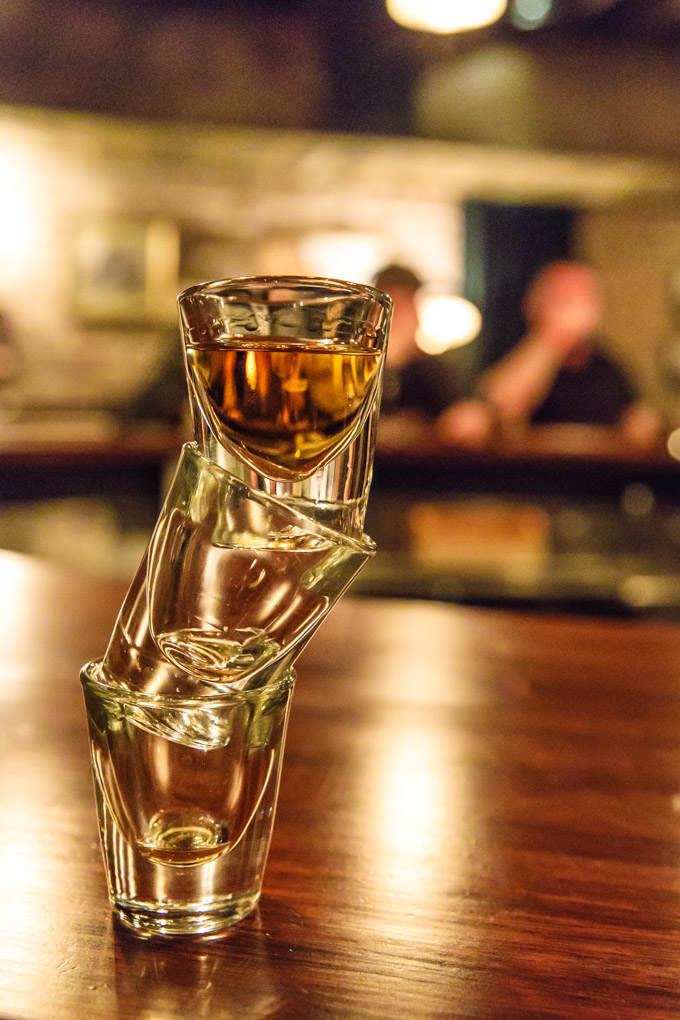 Bites, more brews, and buildings.
Dinner on the second night was at 8Up. We picked this spot because of the gorgeous open-air rooftop view with bar. Dinner was great inside, but they also have a full bar food menu that you can enjoy while looking over the whole downtown cityscape. A drink on the roof was the perfect way to end the day.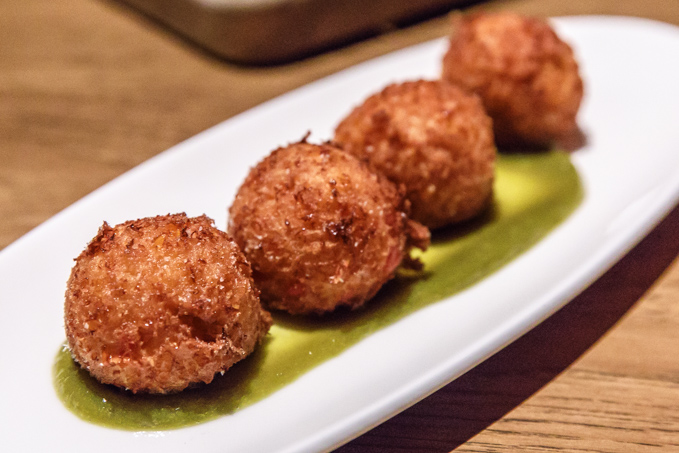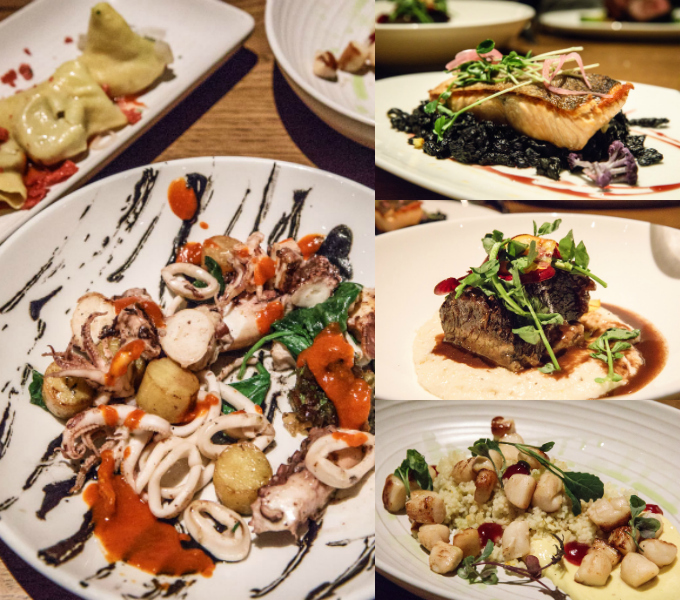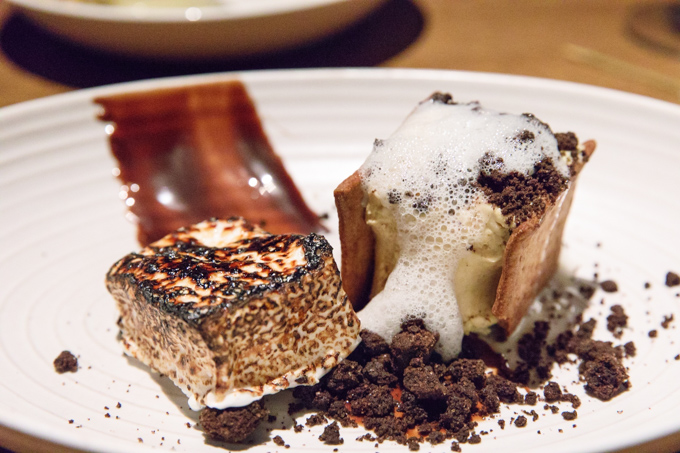 Since I pretty much always have a camera in my hands, I like to look around while walking around the streets to see what I can find to shoot. The buildings in L'ville don't disappoint. So many gorgeous old churches, warehouses, buildings. Take a few moments to look around and see what you can find. I never noticed the clocktowers around the city until this trip when I took a few moments to look up a bit.
Check out our recent Nashville Classics post.
Nashville's own Ryman Auditorium is a gorgeous old church with tons of history.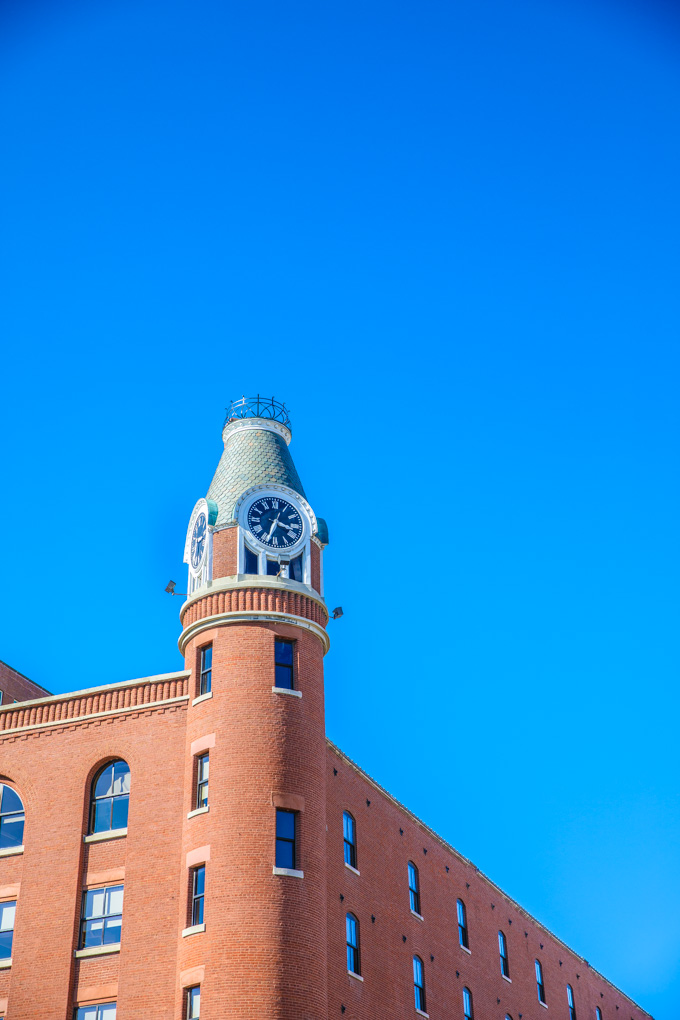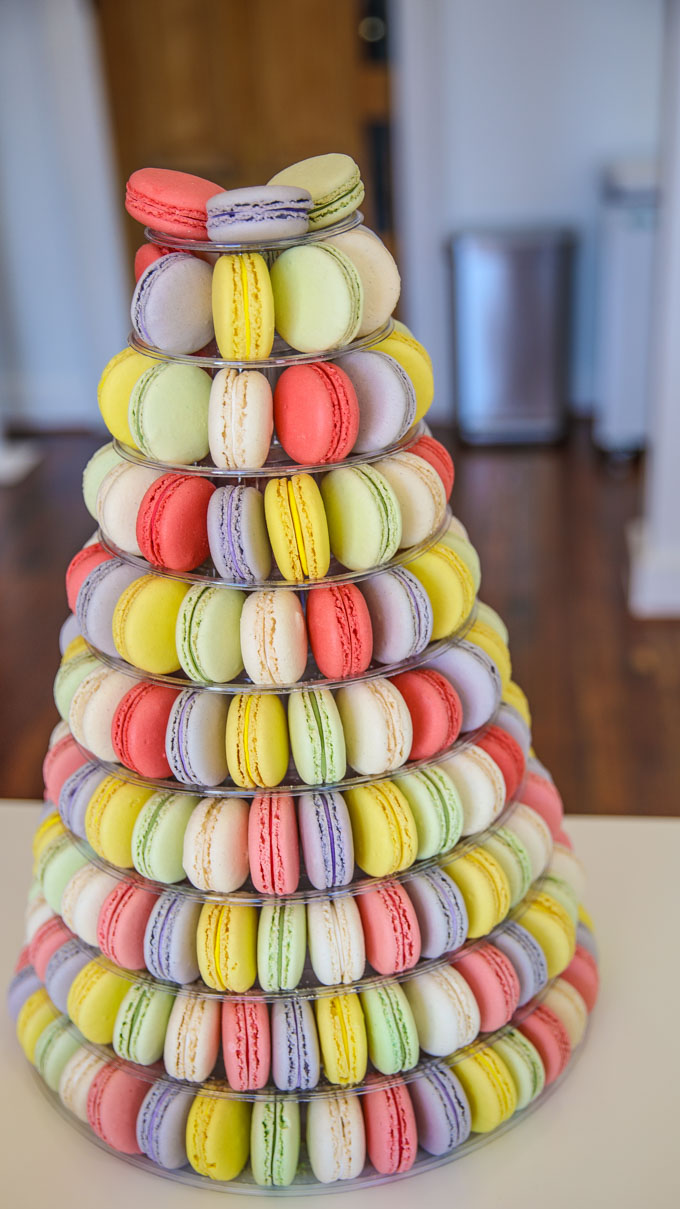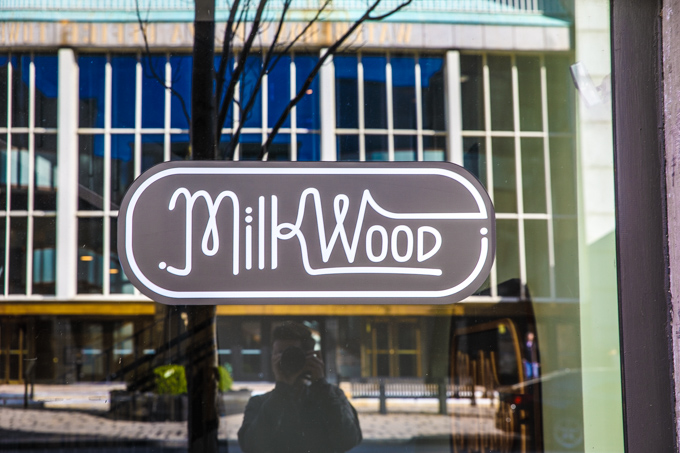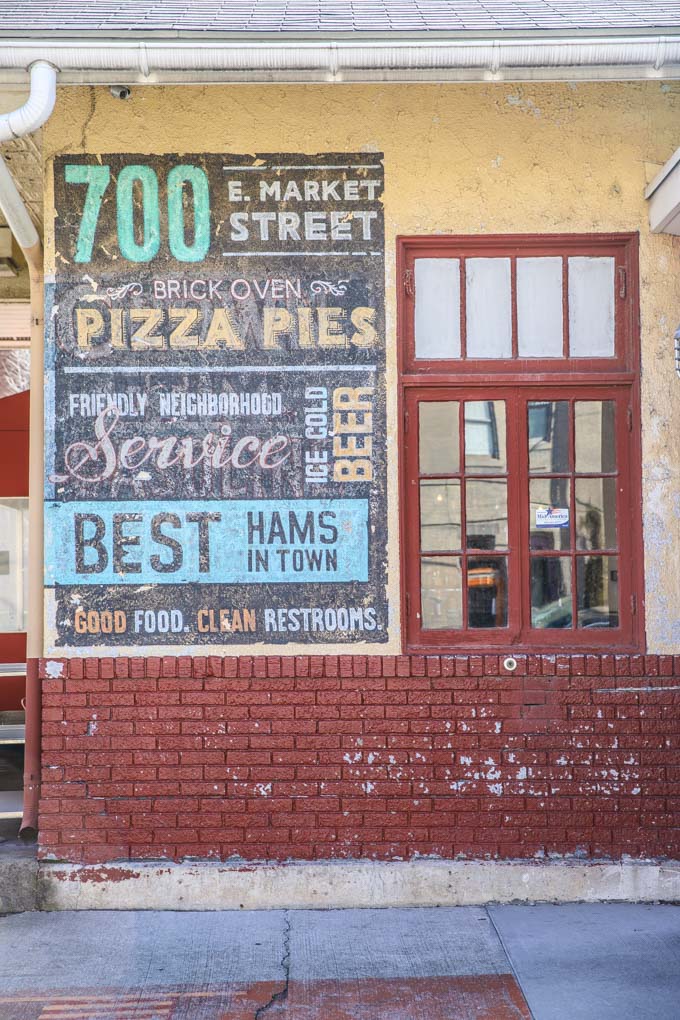 Brunch at Le Moo on the way out, and this was a total success of a foodie trip. I'll be back in town in just a couple weeks for the Kentucky Derby. Until then, I'll be dreaming of doughnuts and creepy clowns.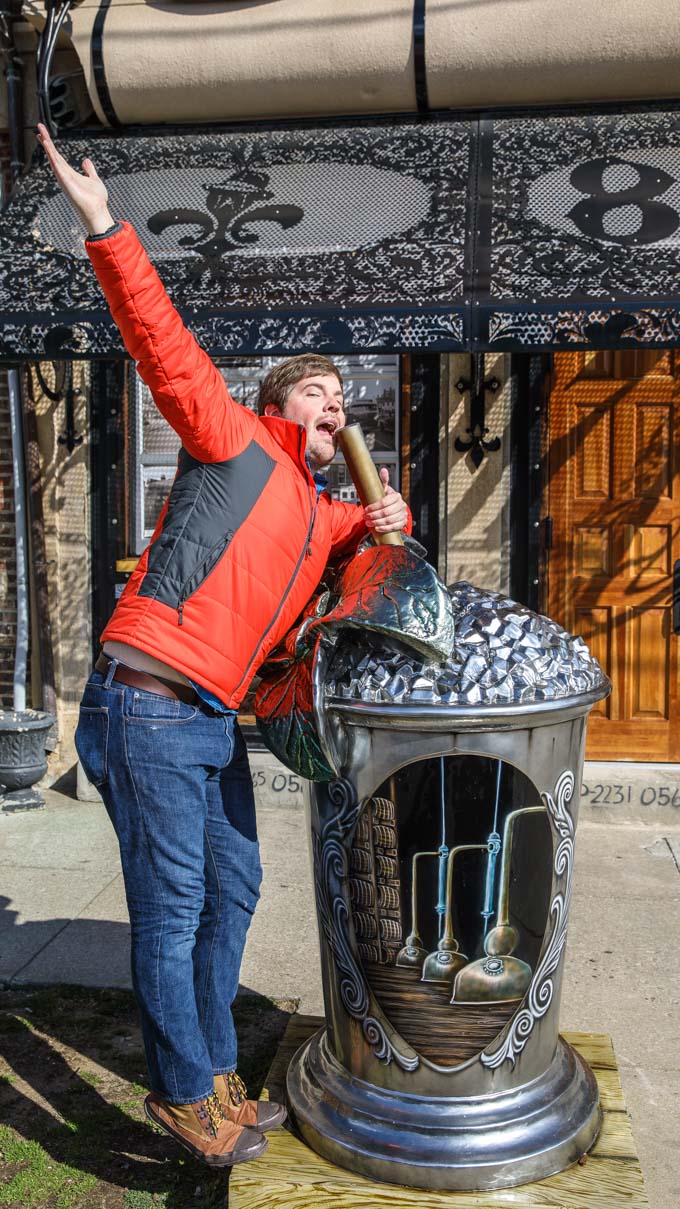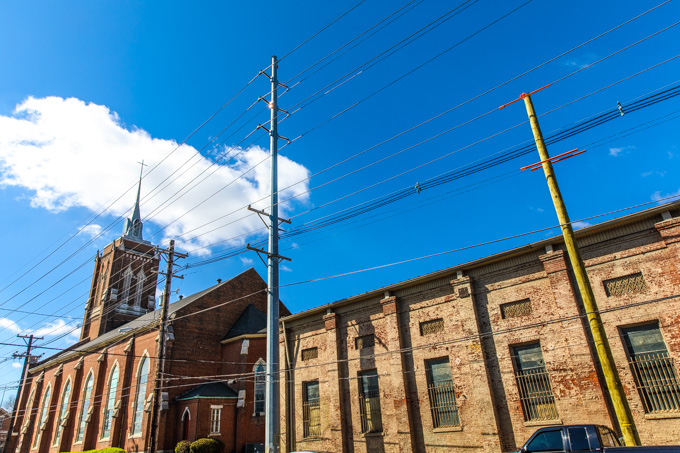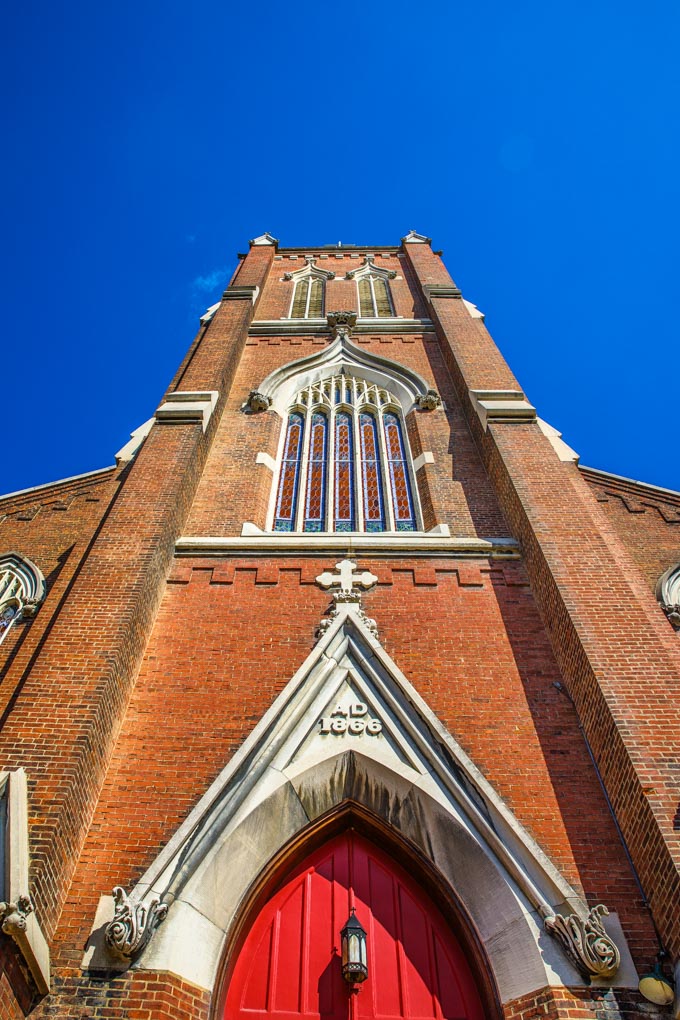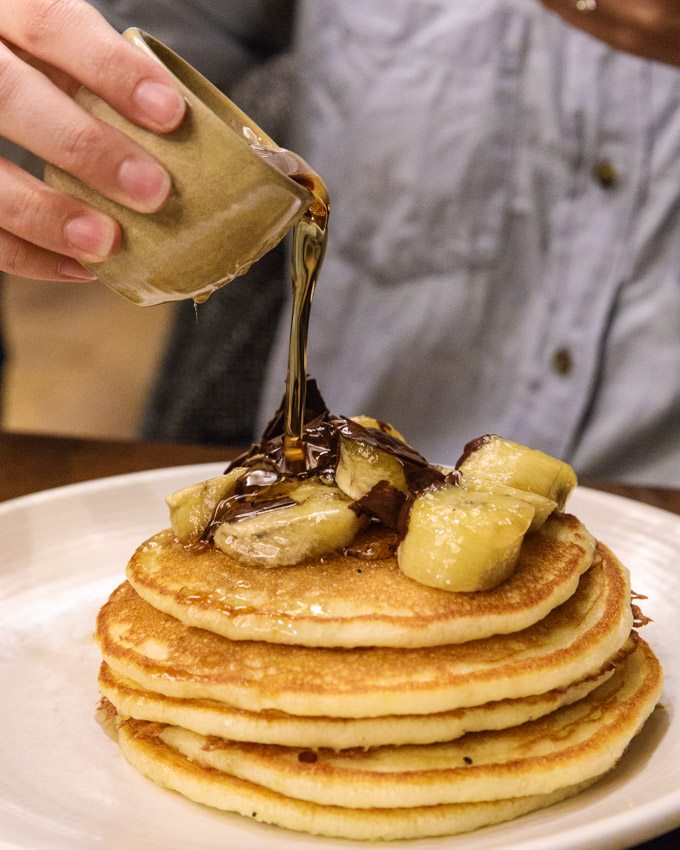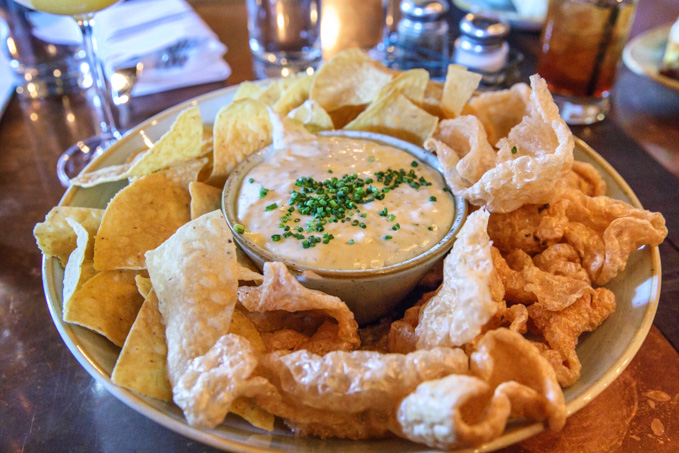 Thanks for the love, Louisville. You never disappoint. I'll definitely be seeing you again soon.
Have you been to Louisville? What are your favorite spots?
Leave some love in the comments below.