Disclosure: Compensation by Collective Bias, Inc. and/or its' advertiser was made for this sponsored post.
All opinions are mine alone. #SpringIntoFlavor #CollectiveBias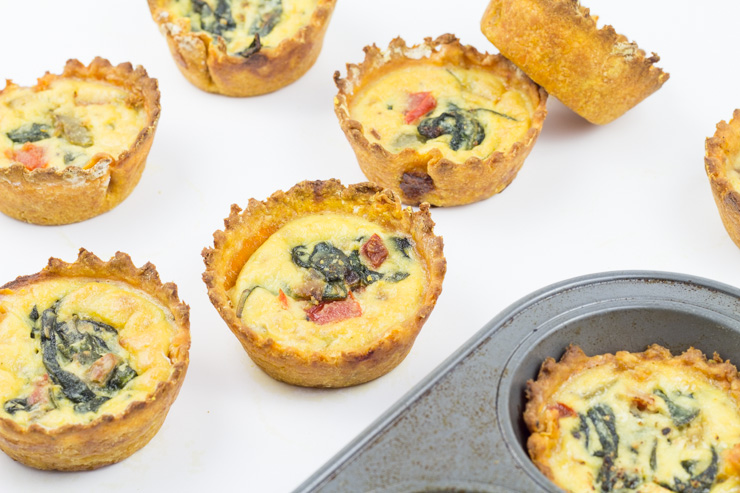 It may completely shock some of you that I get lazy at times… I know. It's hard to image that someone that named their blog something with the word 'fatty' in it would ever do such a thing. The benefit of this is that sometimes you end up figuring out some really, really tasty tricks as a result.
Sweet Potato Crusted Mini Quiche was the delicious result of my laziness this past weekend. A bag of my favorite frozen fries, some fresh fillings, and the absolute shortest bit of attention possible is all that was needed to create these masterpieces.
I was pretty excited when Alexia reached out to me for their Spring Into Flavor campaign. I'm almost embarrassed to admit how many Alexia fries that I've probably consumed in the past few years… I cook at home as much as I can, but sometimes really just need a break or don't want to cook every single little part of dinner. These things happen to be delicious. That helps with the decision.
These are my go-to side. Completely all natural (Non-GMO Project Certified), completely delicious, and completely ridiculously easy to prepare. This isn't one of those crazy sales pitches. I really do use these all the time. (I was pretty excited to see Rosemary Sea Salt Fries added to the all-start lineup recently.)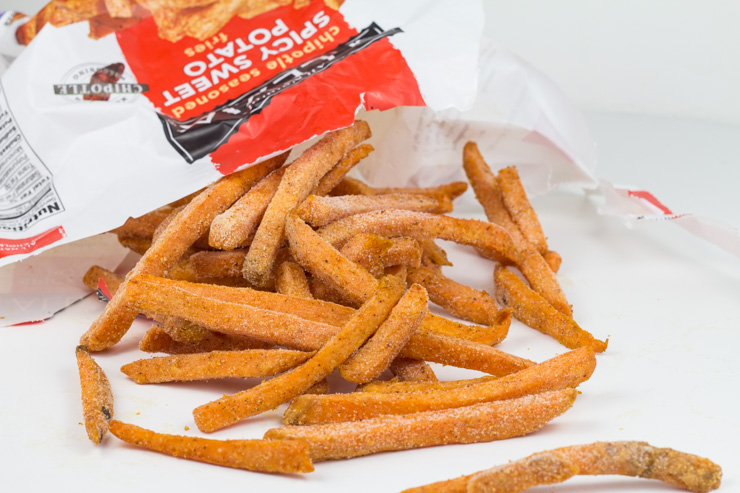 Although you could use any of the fry varieties for this crust, I opted for the Chipotle Seasoned Spicy Sweet Potato Fries. Slightly spicy and sweet potato is always a winning combo in my book.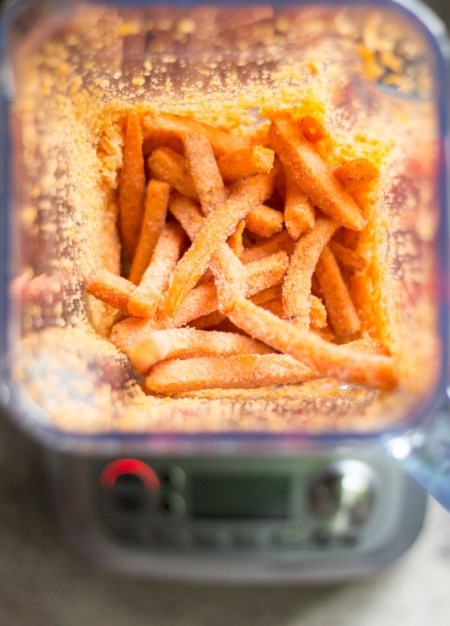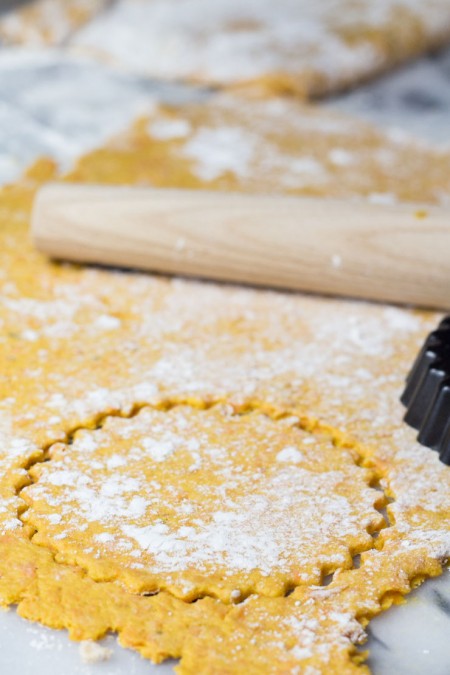 The star of this recipe is conveniently the easiest part. Perfect, right? Right.
Literally toss some fries in a blender or food processor and take out all of your day-job frustrations. Add a bit of flour, roll it out, cut it. Voila!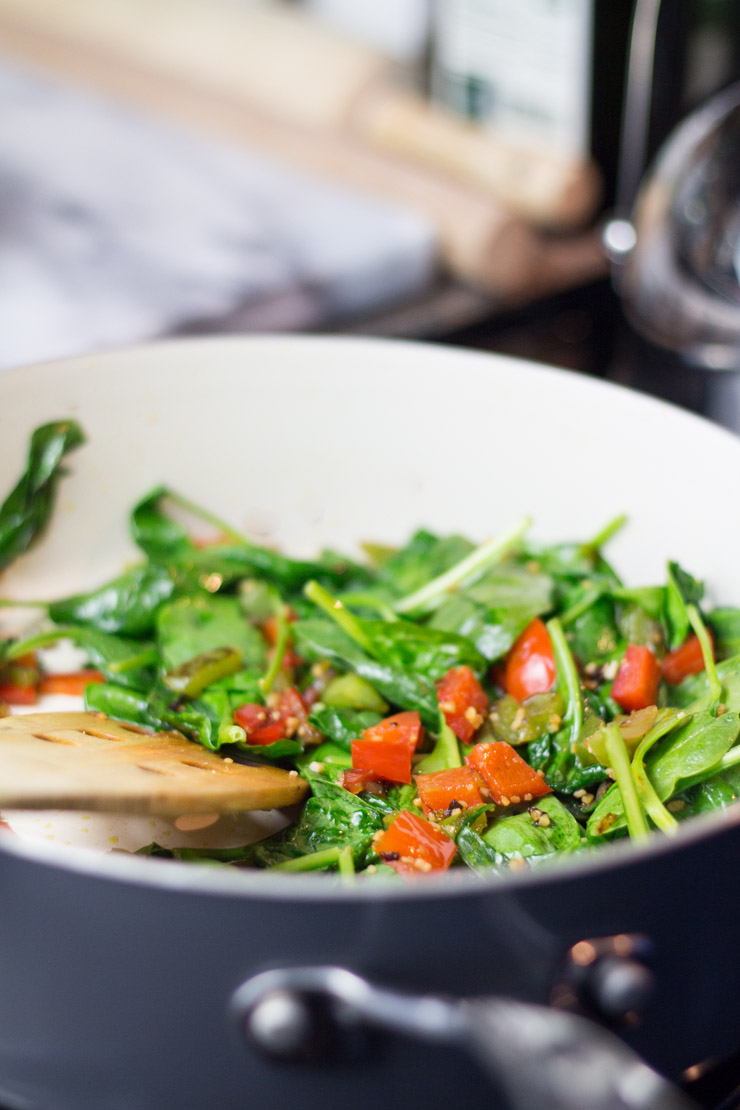 The filling for our mini quiche is a spinach, red pepper, garlic, shallot sauté mix. Super simple and pretty tasty. Who knew green food tasted so good?? Southern SKINNY here I come….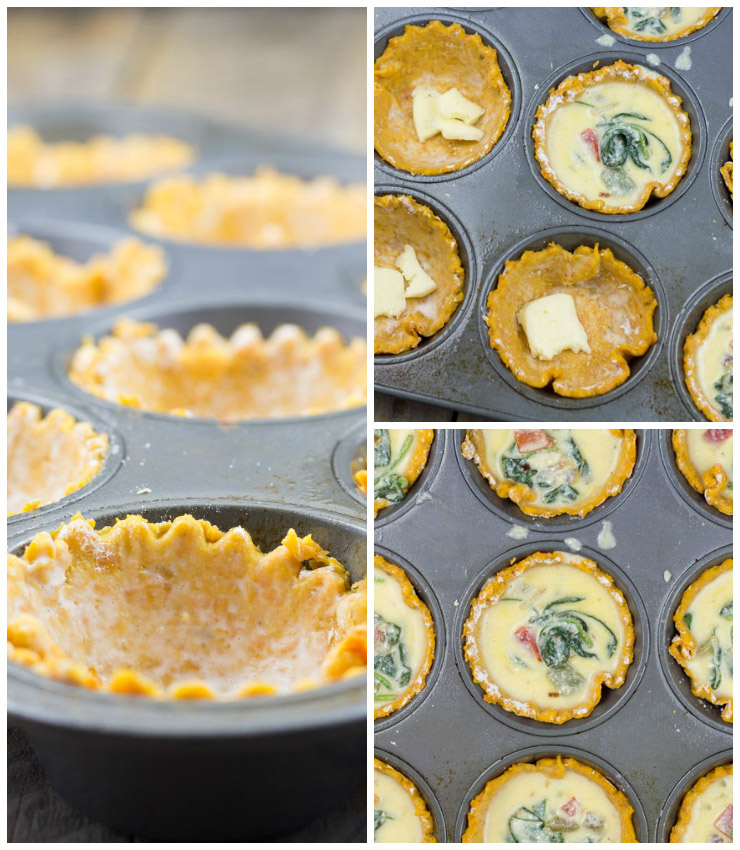 Filled and ready, these cute lil' pups go straight into the oven. Put them in and let them run free. Just like you're sending your kids off to college. Every once and a while, show up unexpectedly and check in on them (read: give them money for more fries).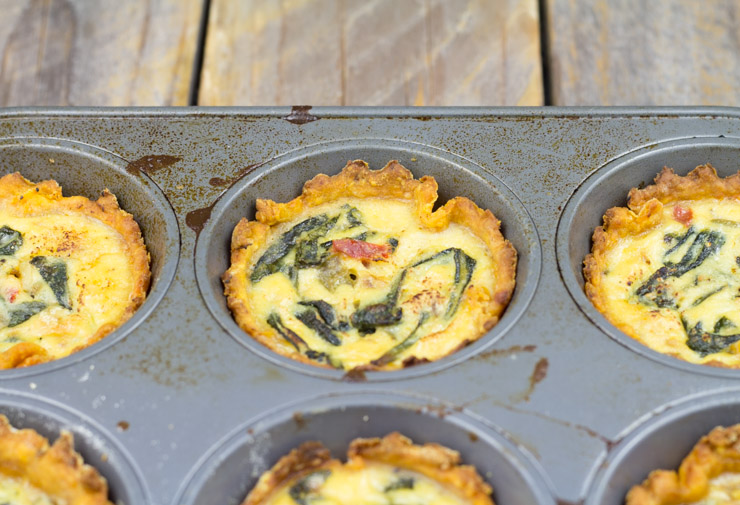 Handheld quiche? Yes ma'am!  I've said it before, and I'll say it again. Mini food is just better. You can eat three times as much and can even hide it in your pocket to sneak into the movie theater along with your grocery store candy.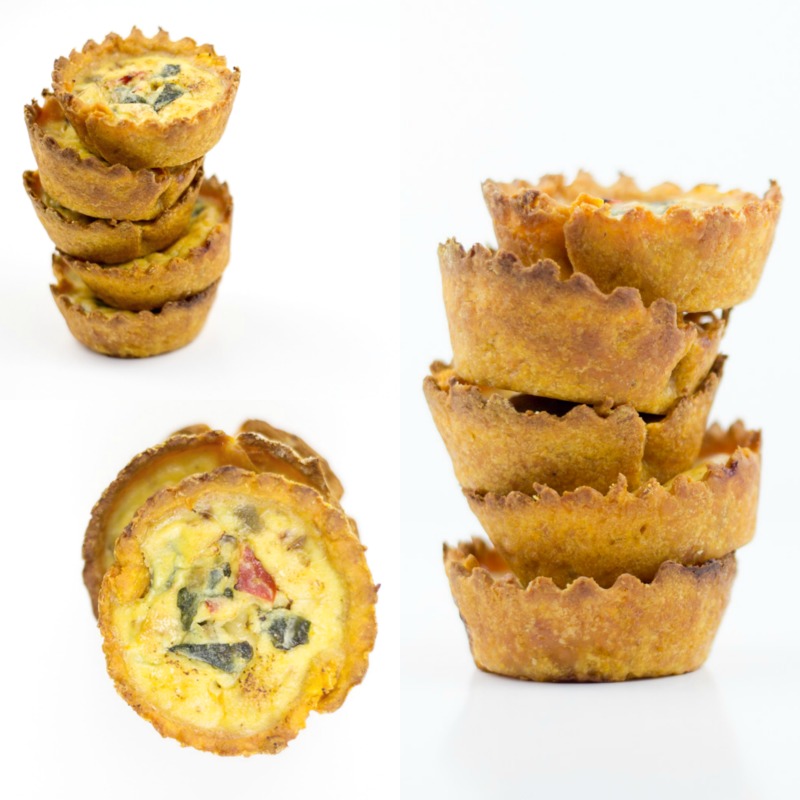 Spicy, savory sweet potato crust, perfectly created by a quick twist on a freezer fav. Creamy havarti custard filling with seasoned spinach and colorful peppers. This would make for the best party grab. I've been enjoying them after a quick pop in the microwave in the mornings for breakfast. I was even able to grab one (ok… 2) on my way out of the door for work this morning.
I'm excited to try these out with some different fillings. Chorizo is up on the menu for the next round.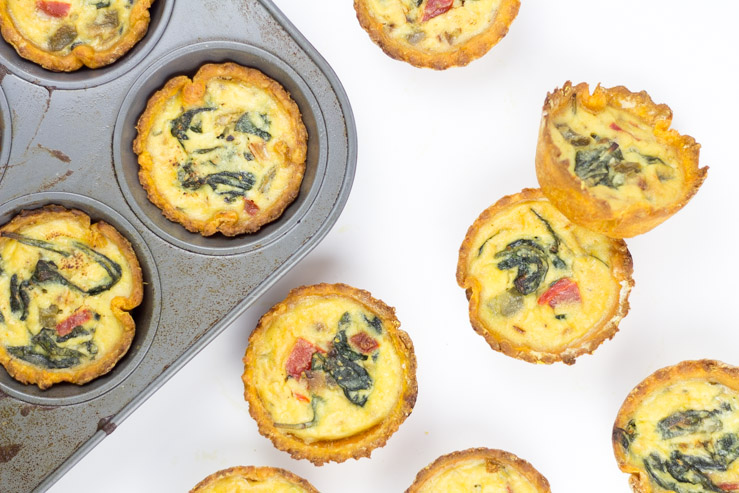 Go grab a bag and get to it! You can thank me later. By thank me, I mean invite me over to eat every. single. one.
Bon appétite, y'all.
Sweet Potato Crusted Mini Quiche
Spicy chipotle seasoned sweet potato fries transformed into a delicious savory quiche crust filled with spinach custard. Recipe by SouthernFATTY.com.
Ingredients
Sweet Potato Fry Crust
1 bag Alexia french fries (any variety works - I used Spicy Sweet Potato)
2 teaspoons cornstarch
1 plus ½ teaspoons baking powder
1 teaspoon salt
1 and ½ cup flour
Quiche Custard Filling
2 tablespoons olive oil
¼ cup shallots, diced
½ cup peppers, diced (red/green/etc.)
1 tablespoon garlic, minced
10 oz spinach, fresh
4 large eggs
¾ cup ricotta cheese (whole milk)
1 teaspoon salt
½ teaspoon papper, freshly ground
havarti cheese, small cube for each cup
Instructions
Make Crust
Pulse fries in blender or food processor in small batches with a light sprinkle of the cornstarch on each batch until entire bag is cornmeal/rough flower consistency. Transfer to bowl or clean work surface.
Sift flower, baking powder and salt together. Knead into "fry flour".
Knead until stickiness fades. Add more flower as needed to just relieve the sticky texture.
Roll dough on lightly floured surface to approx. ¼" thickness.
Cut or punch out circles slightly larger than muffin pan diameter.
Brush off excess flour with pastry brush.
Transfer each cut dough circle carefully into muffin tin, pressing lightly into molds.
Pre-heat oven to 350 F.
Filling
Heat olive oil in large sauté pan over medium heat.
Cook shallots and peppers for 2-3 minutes. Add garlic and spinach.
Sauté mix until spinach has wilted. Remove from heat to cool.
Combine eggs, ricotta, salt, pepper in bowl. Wisk until well-combined.
Add cooled spinach blend to egg mixture and stir.
Finishing
Drop small havarti cube into each dough cup.
Fill each dough-lined cup approx. ¾ height with egg/spinach mixture.
Bake until egg mixture is set and crust is browned on peaks, about 25-30 minutes.
Serve with a splash of Sriracha and enjoy!
Visit SouthernFATTY.com for more recipes and great eye candy photos.
Tag @SouthernFATTY on social media with your own version of this recipe!
Notes
2015 - SouthernFATTY.com
Nutrition Information
Serving size:
1 Mini Quiche
Disclosure: Compensation by Collective Bias, Inc. and/or its' advertiser was made for this sponsored post.
All opinions are mine alone. #SpringIntoFlavor #CollectiveBias
What will you fill yours with at home? Comment below and let us know!
Give Alexia a visit on Pinterest and Facebook for more recipe twist inspiration.