Sweet Potato Crusted Mini Quiche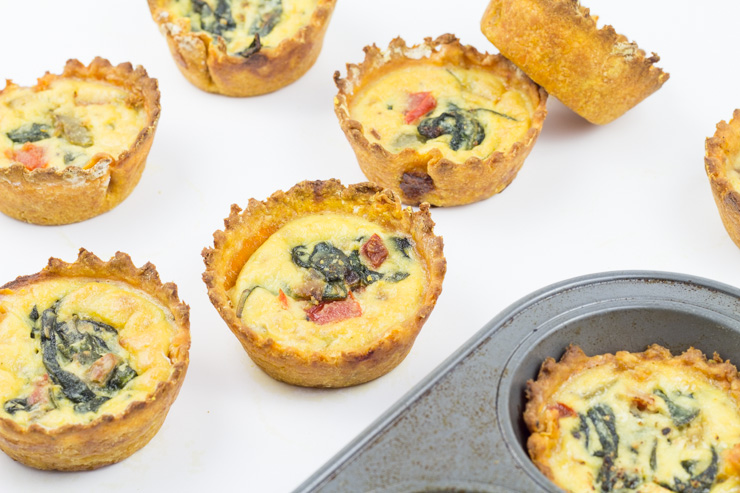 1 bag Alexia french fries (any variety works - I used Spicy Sweet Potato)
2 teaspoons cornstarch
1 plus ½ teaspoons baking powder
1 teaspoon salt
1 and ½ cup flour
2 tablespoons olive oil
¼ cup shallots, diced
½ cup peppers, diced (red/green/etc.)
1 tablespoon garlic, minced
10 oz spinach, fresh
4 large eggs
¾ cup ricotta cheese (whole milk)
1 teaspoon salt
½ teaspoon papper, freshly ground
havarti cheese, small cube for each cup
Pulse fries in blender or food processor in small batches with a light sprinkle of the cornstarch on each batch until entire bag is cornmeal/rough flower consistency. Transfer to bowl or clean work surface.
Sift flower, baking powder and salt together. Knead into "fry flour".
Knead until stickiness fades. Add more flower as needed to just relieve the sticky texture.
Roll dough on lightly floured surface to approx. ¼" thickness.
Cut or punch out circles slightly larger than muffin pan diameter.
Brush off excess flour with pastry brush.
Transfer each cut dough circle carefully into muffin tin, pressing lightly into molds.
Pre-heat oven to 350 F.
Heat olive oil in large sauté pan over medium heat.
Cook shallots and peppers for 2-3 minutes. Add garlic and spinach.
Sauté mix until spinach has wilted. Remove from heat to cool.
Combine eggs, ricotta, salt, pepper in bowl. Wisk until well-combined.
Add cooled spinach blend to egg mixture and stir.
Drop small havarti cube into each dough cup.
Fill each dough-lined cup approx. ¾ height with egg/spinach mixture.
Bake until egg mixture is set and crust is browned on peaks, about 25-30 minutes.
Serve with a splash of Sriracha and enjoy!
Visit SouthernFATTY.com for more recipes and great eye candy photos.
Tag @SouthernFATTY on social media with your own version of this recipe!
Serving size:
1 Mini Quiche
Recipe by
Southern FATTY
at https://www.southernfatty.com/sweet-potato-crusted-mini-quiche/