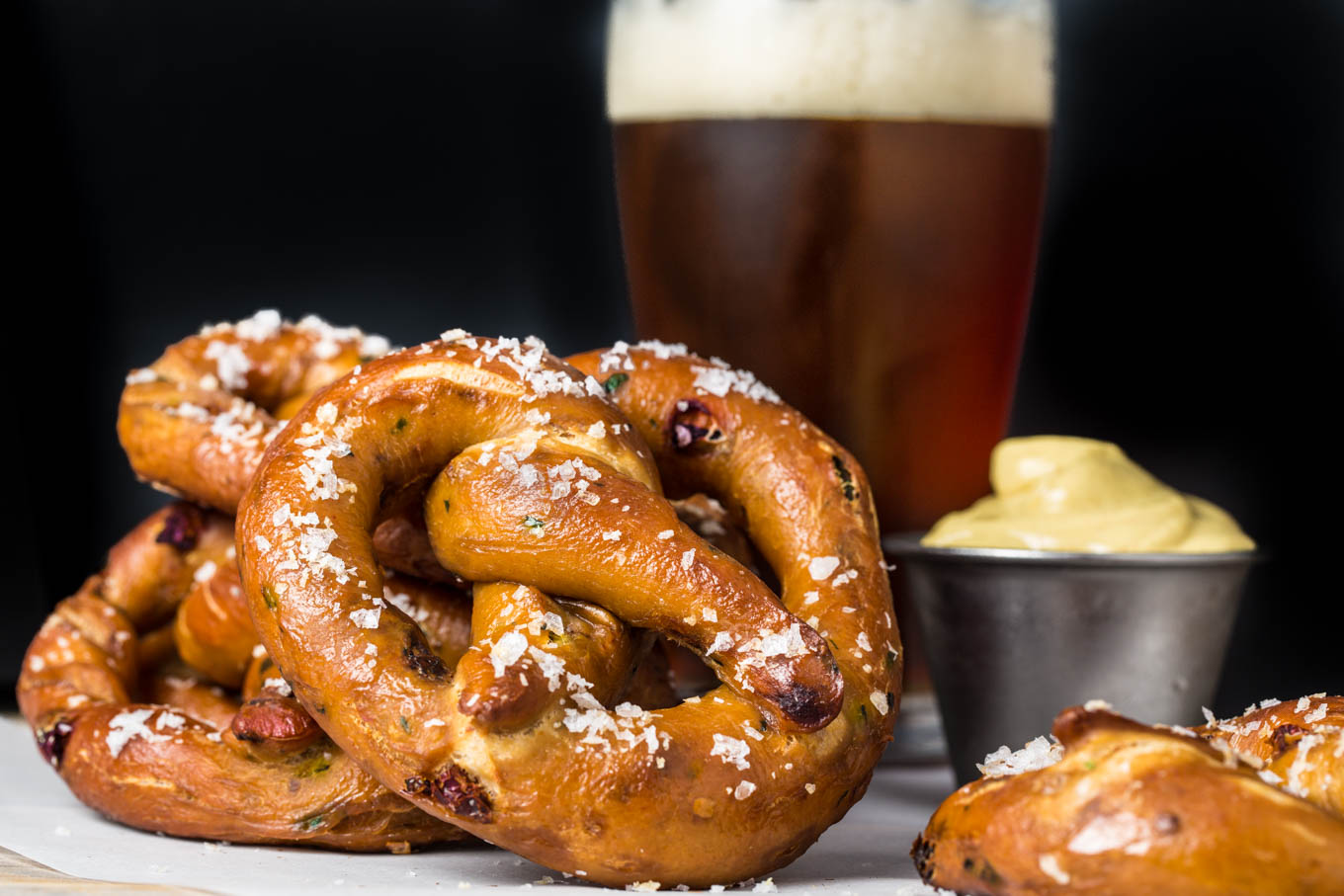 With September finally creeping in, everything fall is on my mind already. Summer is dandy and all, but fall is really where it's at. I may be jumping the gun a bit, but when I think of fall foods, soft pretzels are one of the bites that comes to mind.
I've loaded up my favorite classic soft pretzel recipe with sun-dried tomatoes and basil, topping it with flaked salt, for the perfect twist on the classic chew.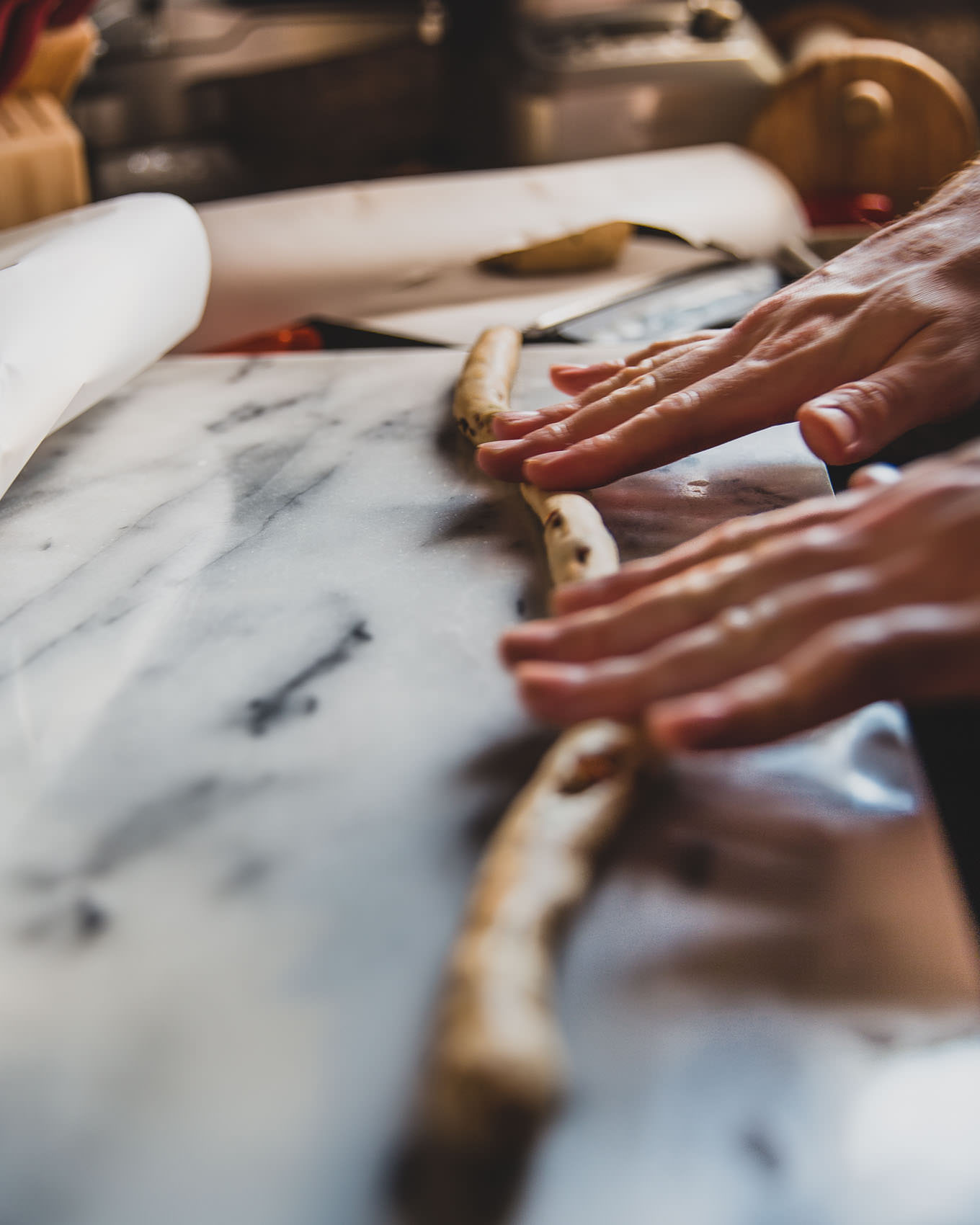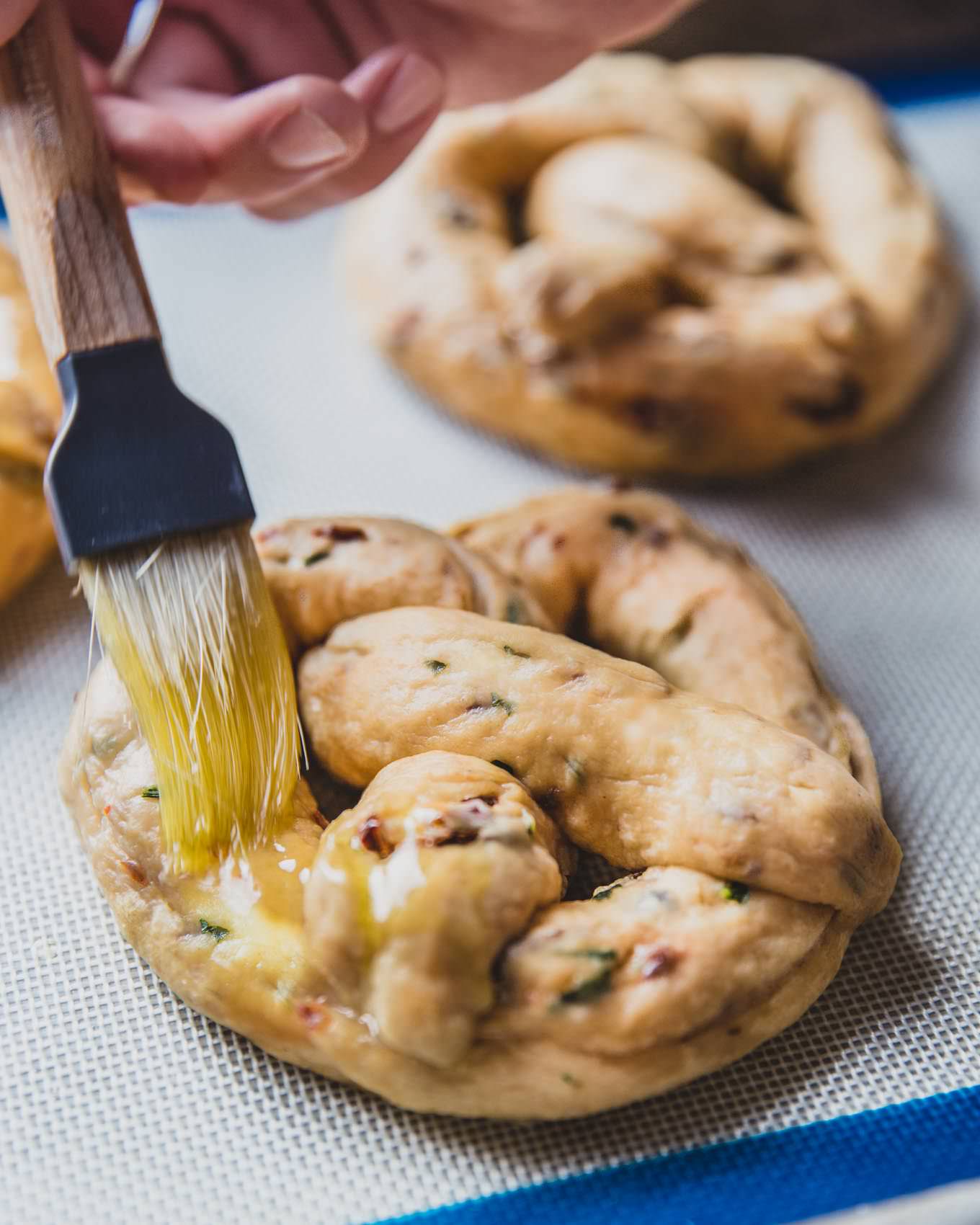 Maybe it's those famous warm pretzels that I'm absolutely certain are the exact reason that so many mall-walking mommas put on their sweatpants to head out and burn off a couple calories. Perhaps they lace them with something addictive. Whatever the reason, there is no denying how amazing a warm soft pretzel is.
Since savory is the new skinny, I mixed in some sunny tomatoes (that's what the cool kids call sun-dried tomatoes, I think). Since I had red in the snacks, I figured I might as well toss in some green. Christmas much? Maybe. I blame taking too many pictures of monotoned food. Turns out, that splash of color was the perfect addition.
Since I'm a total nerd when it comes to researching the roots of the foods that have managed to stick around for decades, I decided to put some effort into finding out what makes that perfect pretz. Lye. I'm sure you've heard of it before, even if you don't know what or why it does what it does. — That glossy brown coat that the best pretzels wear is from a combination of sources. One of the main ones being this weird thing called a Maillard reaction. It's basically nerd talk for why things brown and taste amazing. Lye helps with this process, due to it's very high pH. Now… do y'all have a tub o' lye sitting in your kitchen at home? No?? Oh, wait. I don't either (surprisingly). Lots of people swap out this bath with a solution of baking soda and water. It does work. BUT, it's just not the same. It's missing that zing that a true twist has.
In comes the magic of Google. I managed to find an older article in the New York Times that says you can bake out some of the moisture in your run-of-the-mill baking soda to concentrate that pretzel power. Makes sense to me! I gave it a go and will never turn back again. It fits right into the time table of waiting for the dough to puff up, so why not? It's as easy as dumping some baking soda on a pan and putting it in the oven. You'll be left with that perfectly brown, chewy crust hugging the perfectly soft interior.
Grab a beer and cheers a pretzel. Summer is almost behind us, and I'm all about celebrating for a nice cool breeze and an overload of carbs. Hear, hear!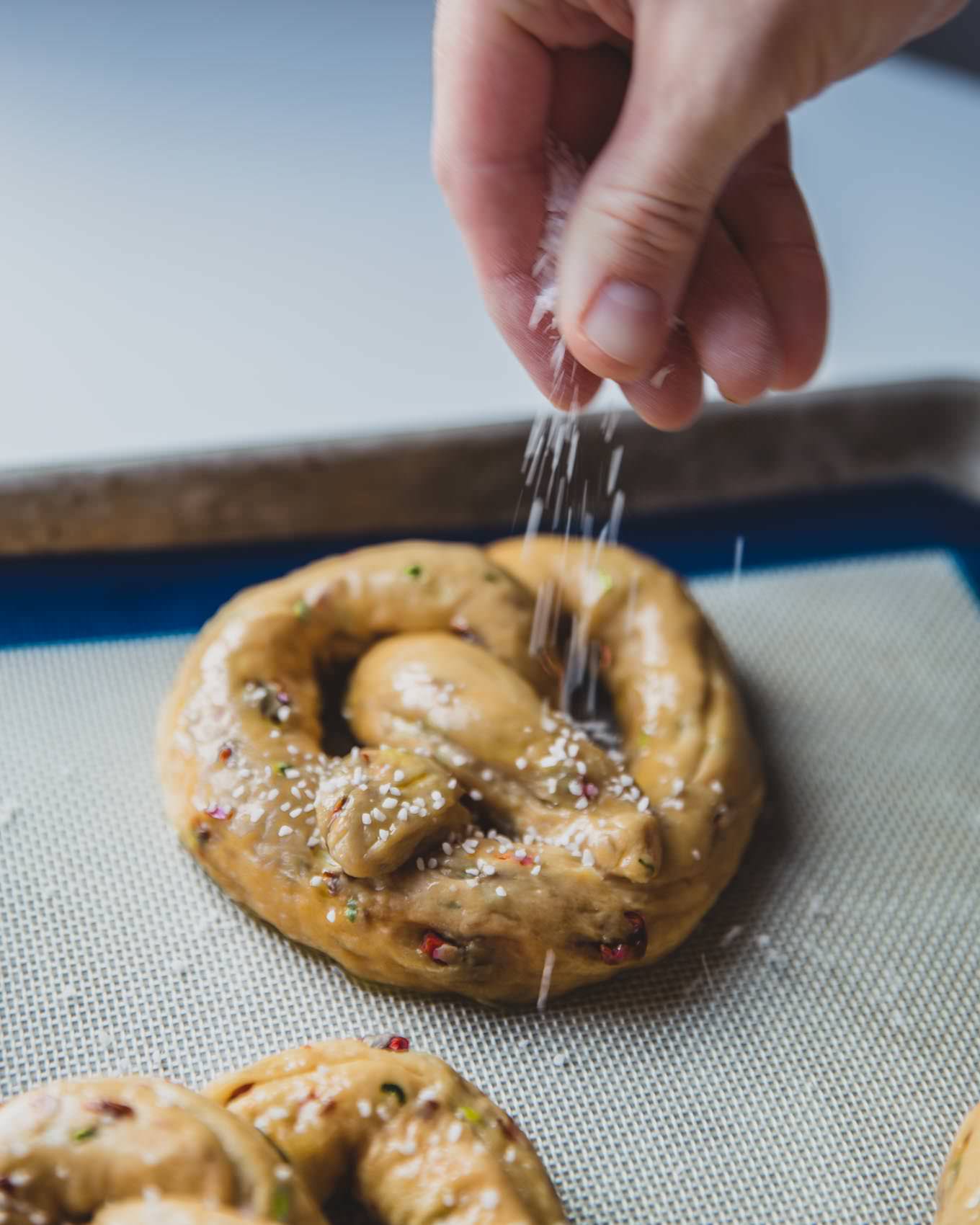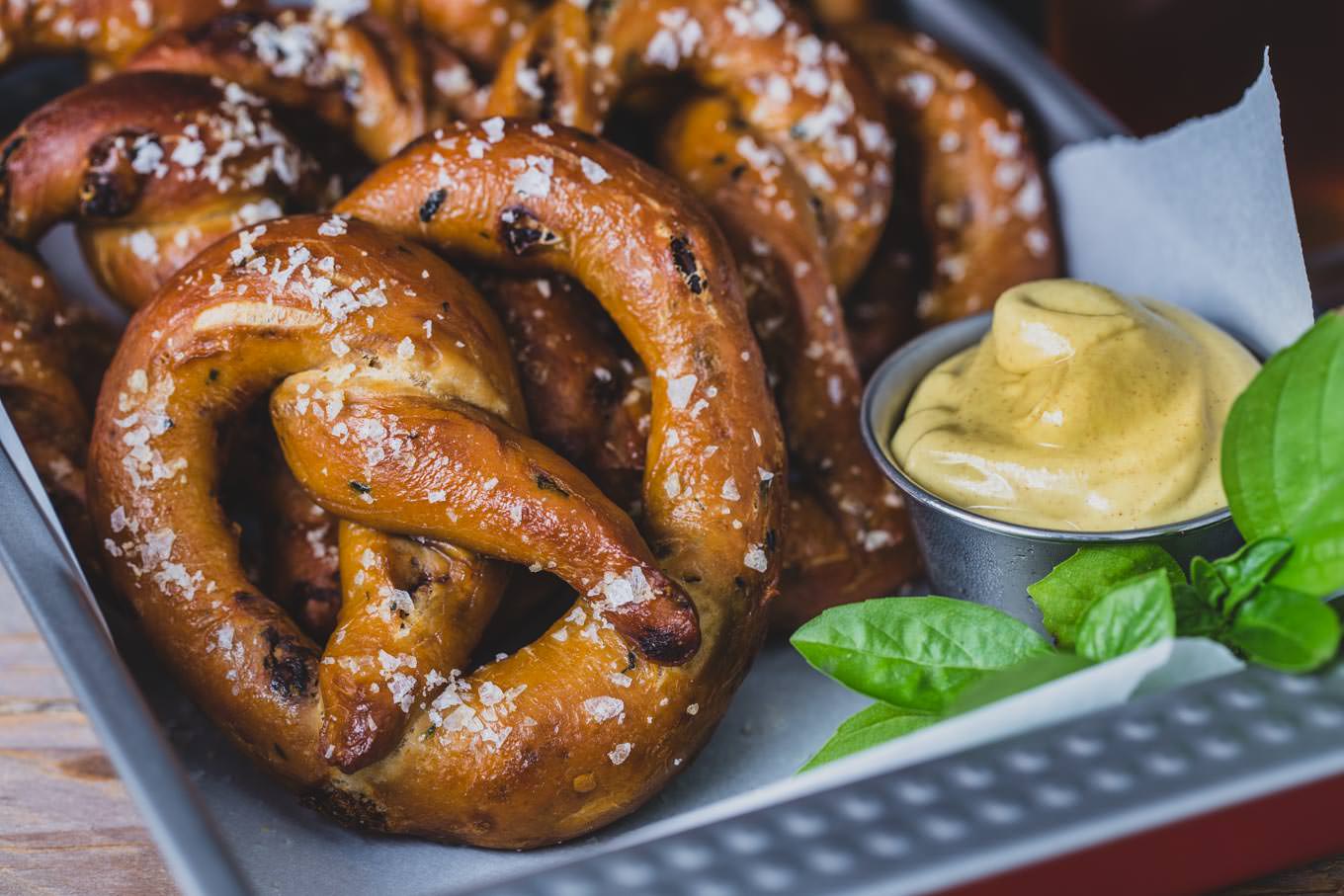 Sun-dried Tomato & Basil Soft Pretzels
Classic soft pretzels with sun-dried tomato and basil. From SouthernFATTY.com.
Author:
Phillip Fryman | SouthernFATTY.com
Ingredients
Starter
1½ cup (350 ml)warm water (ideally 110F temp)
1 tablespoon barley malt syrup (or brown sugar)
2 1/14 teaspoons active dry yeast (1 packet US)
Baking Soda Bath
⅔ cup (140 g) baking soda
Pretzel Dough
4½ cups (20 ounces) flour, AP
2 teaspoons salt
⅓ cup (50 g) sun-dried tomatoes, chopped
¼ cup fresh basil, chopped
Finishing
1 egg
1 tablespoon water
2 quarts water
flake salt, to finish
Instructions
Pre-heat oven to 250 F.
Place water in microwave safe dish and heat for 20 seconds. Remove to cool slightly.
When water is around 110F, add syrup/sugar and yeast. Stir well and allow to sit 10 minutes until foamy.
While waiting, combine flour, salt, chopped tomato and basil in large mixer bowl with dough hook.
After yeast is rested, add to flour mixture and combine until comes together on low speed, scraping bowl when needed.
Increase speed to medium and knead until smooth and pulls away from sides, about 5 minutes.
Remove dough, wipe clean, lightly oil or spray bowl with cooking spray. Return dough.
Cover with damp kitchen towel or plastic wrap.
Let rest in a warm place.
While waiting, place baking soda on foil-lined baking sheet. Place in 250F oven.
Set timer for one hour. After this time, remove baking soda and transfer to dutch oven or large pot with the 2 quarts of water over high heat.
Increase oven temperature to 450F.
Remove dough. It should be doubled in size now.
Split into 8 (or 10 for slightly smaller) even pieces.
Roll each piece on a clean surface into 24" rolls (see blog post image). They should be quite thin.
Shape each by creating a "U" with the bend facing towards you. Twist ends and press tips into the bottom for pretzel shape.
Set aside and cover with damp towel or plastic wrap between rollings.
When all are ready and water is boiling, carefully place 2-3 pretzels into the water at a time. Leave in baking soda water for 45 seconds. Drain and remove to the baking sheet.
When all have been dipped, whisk egg and water together for wash.
Brush on tops of pretzels. Sprinkle with flake salt.
Bake pretzels until golden, about 15 minutes. Remove to cool and enjoy.
Find more recipes on SouthernFATTY.com.