Sun-dried Tomato & Basil Soft Pretzels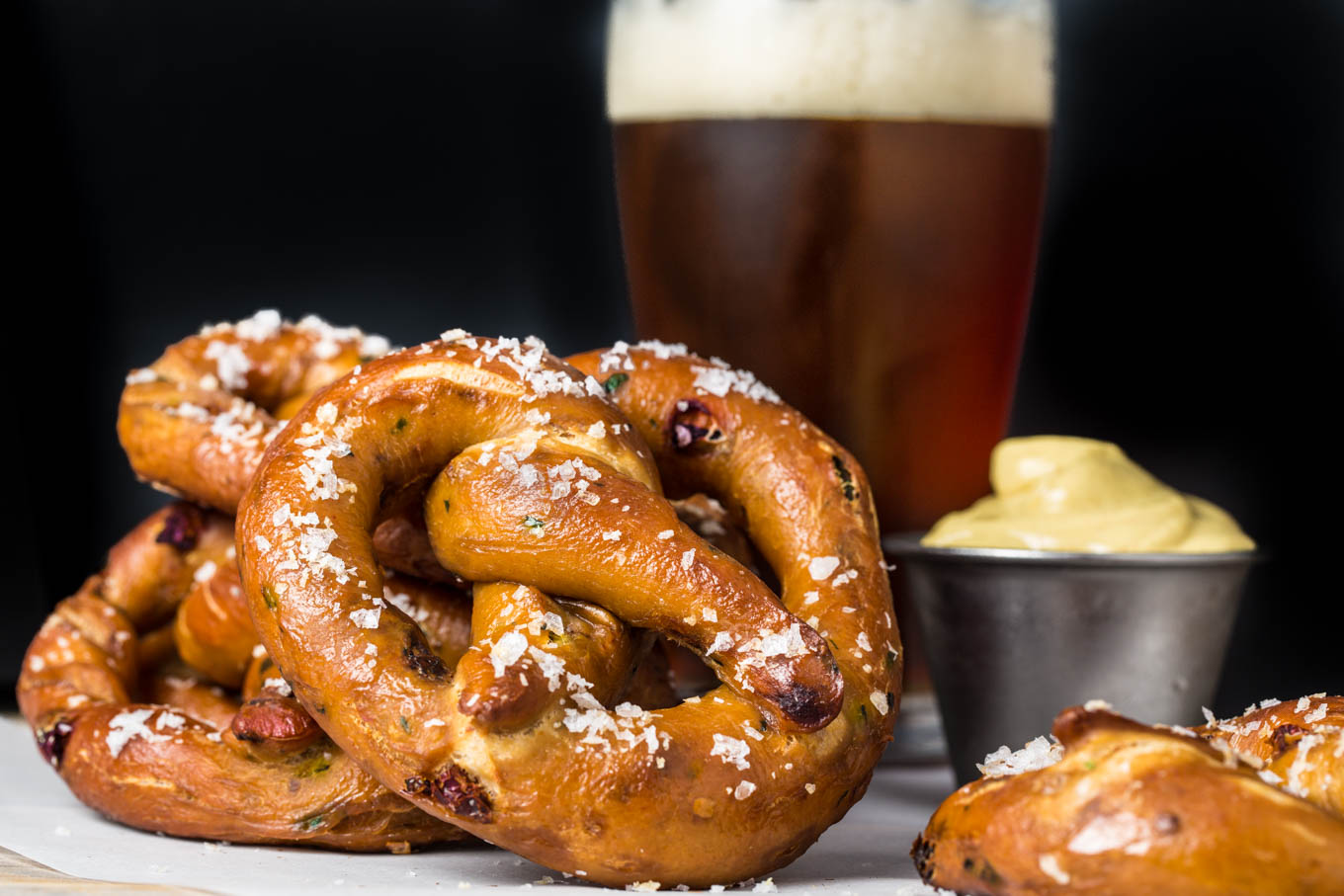 Author:
Phillip Fryman | SouthernFATTY.com
1½ cup (350 ml)warm water (ideally 110F temp)
1 tablespoon barley malt syrup (or brown sugar)
2 1/14 teaspoons active dry yeast (1 packet US)
⅔ cup (140 g) baking soda
4½ cups (20 ounces) flour, AP
2 teaspoons salt
⅓ cup (50 g) sun-dried tomatoes, chopped
¼ cup fresh basil, chopped
1 egg
1 tablespoon water
2 quarts water
flake salt, to finish
Pre-heat oven to 250 F.
Place water in microwave safe dish and heat for 20 seconds. Remove to cool slightly.
When water is around 110F, add syrup/sugar and yeast. Stir well and allow to sit 10 minutes until foamy.
While waiting, combine flour, salt, chopped tomato and basil in large mixer bowl with dough hook.
After yeast is rested, add to flour mixture and combine until comes together on low speed, scraping bowl when needed.
Increase speed to medium and knead until smooth and pulls away from sides, about 5 minutes.
Remove dough, wipe clean, lightly oil or spray bowl with cooking spray. Return dough.
Cover with damp kitchen towel or plastic wrap.
Let rest in a warm place.
While waiting, place baking soda on foil-lined baking sheet. Place in 250F oven.
Set timer for one hour. After this time, remove baking soda and transfer to dutch oven or large pot with the 2 quarts of water over high heat.
Increase oven temperature to 450F.
Remove dough. It should be doubled in size now.
Split into 8 (or 10 for slightly smaller) even pieces.
Roll each piece on a clean surface into 24" rolls (see blog post image). They should be quite thin.
Shape each by creating a "U" with the bend facing towards you. Twist ends and press tips into the bottom for pretzel shape.
Set aside and cover with damp towel or plastic wrap between rollings.
When all are ready and water is boiling, carefully place 2-3 pretzels into the water at a time. Leave in baking soda water for 45 seconds. Drain and remove to the baking sheet.
When all have been dipped, whisk egg and water together for wash.
Brush on tops of pretzels. Sprinkle with flake salt.
Bake pretzels until golden, about 15 minutes. Remove to cool and enjoy.
Find more recipes on SouthernFATTY.com.
Recipe by
Southern FATTY
at https://www.southernfatty.com/sun-dried-tomato-basil-soft-pretzels/