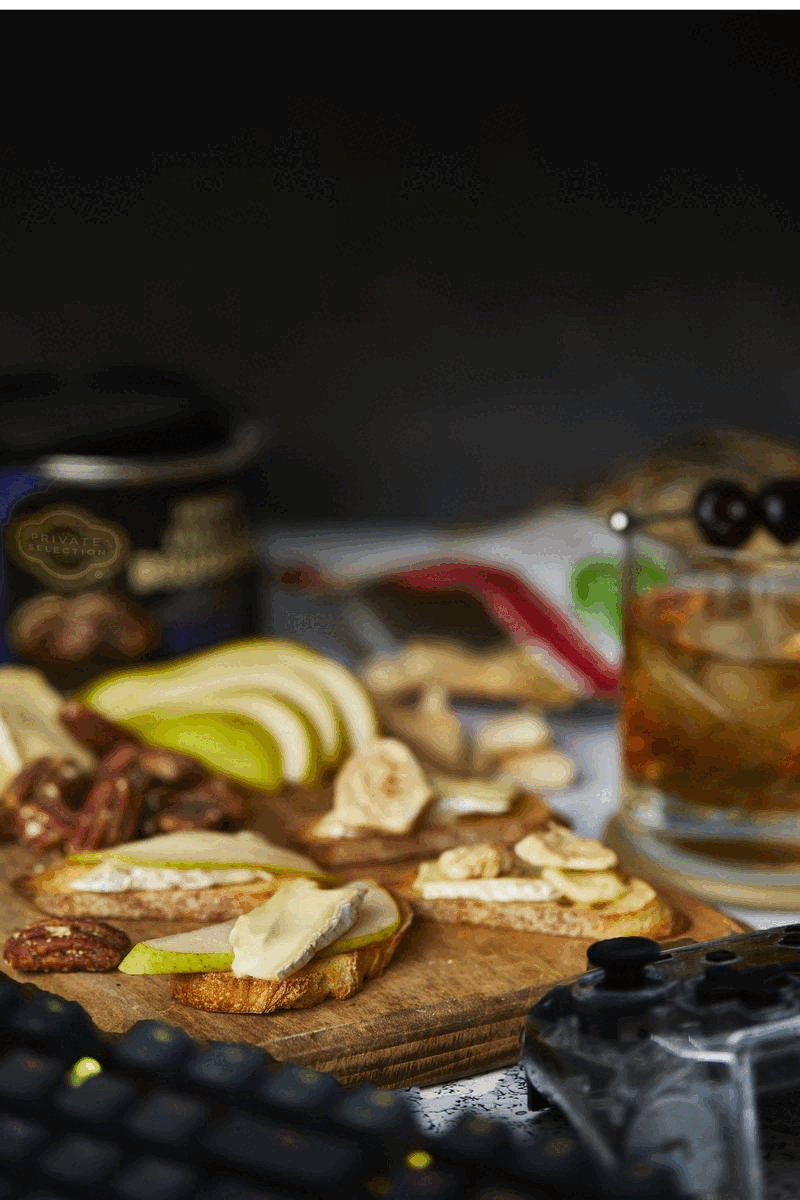 We all know that this past year or two has been crazy. Even being the homebody that I am, not being able to have dinner with friends and hang out with other bloggers and people in the Nashville food scene at new openings, etc. has been rough. I really missed the times with friends and chatting about new bites. This frustration quickly led to an almost weekly online hangout with good friends.
We launch a conference video call with everyone and all jump on different games to play against each other. There is just no other way to play games with friends except with tons and tons of snacks. I'm sharing some of my favorites as well as my latest favorites after deciding to step it up past the chips.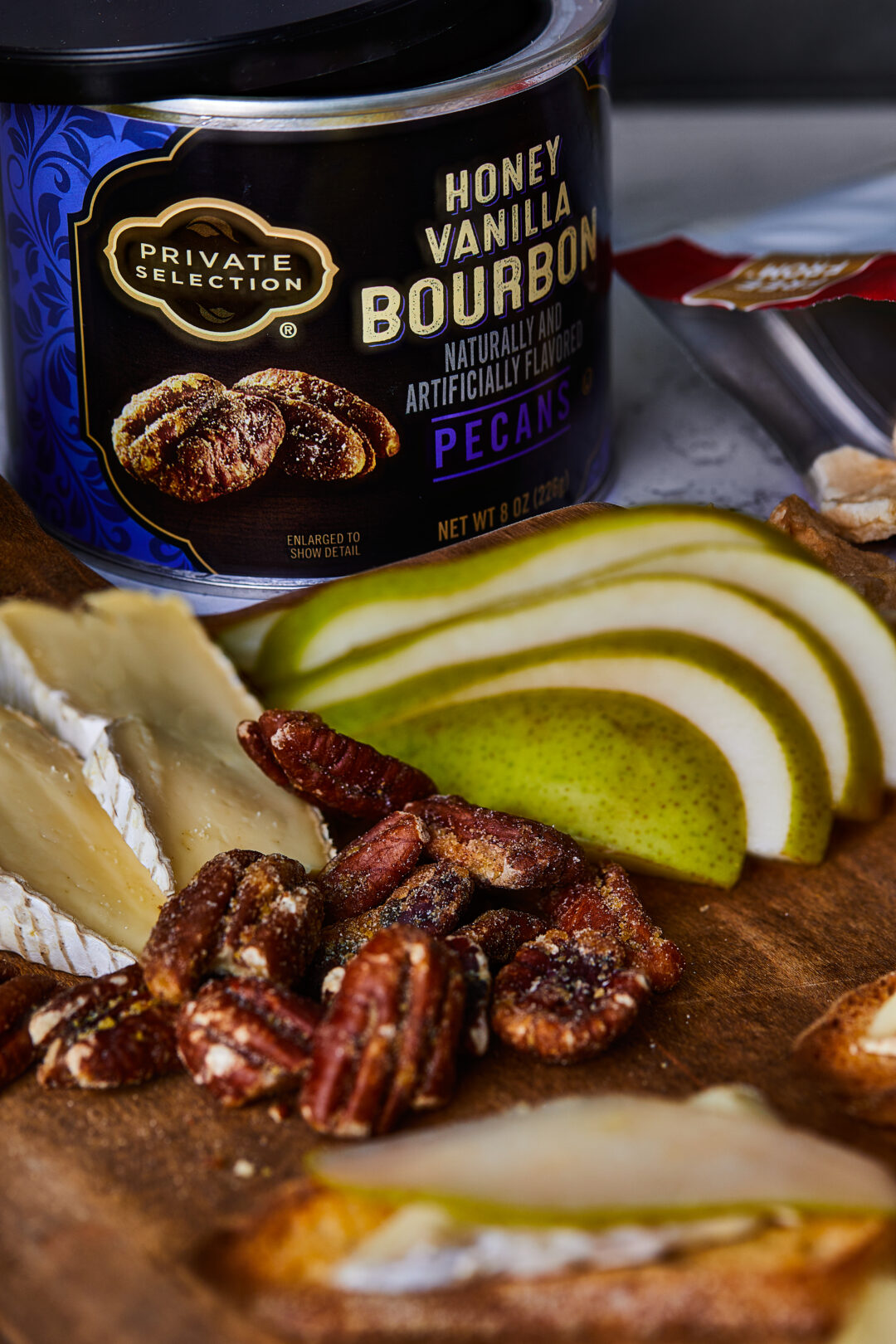 Snack night…. errr.. I mean, game night, started with everyone (some food bloggers, some not) pulling out what new bites they found. Toasted cheese crackers, new cocktails. You know — the usual. As the months went on, some really fun snacks popped up. As food bloggers do, new recipe test sneak peeks worked in with classic favorites. Since I just finished building a new house in October, I have taken full advantage of being at home so much. I have not been to the grocery myself since moving. Not once. It sounds kinda crazy since I am a food blogger and go through quite a bit each week to test and shoot new recipes. Solution? DELIVERY. I am such an avid Kroger Delivery fan now and cannot begin to tell you how many hours it has saved me. Not to mention, I can stay in my PJs all day while shopping for groceries… hah!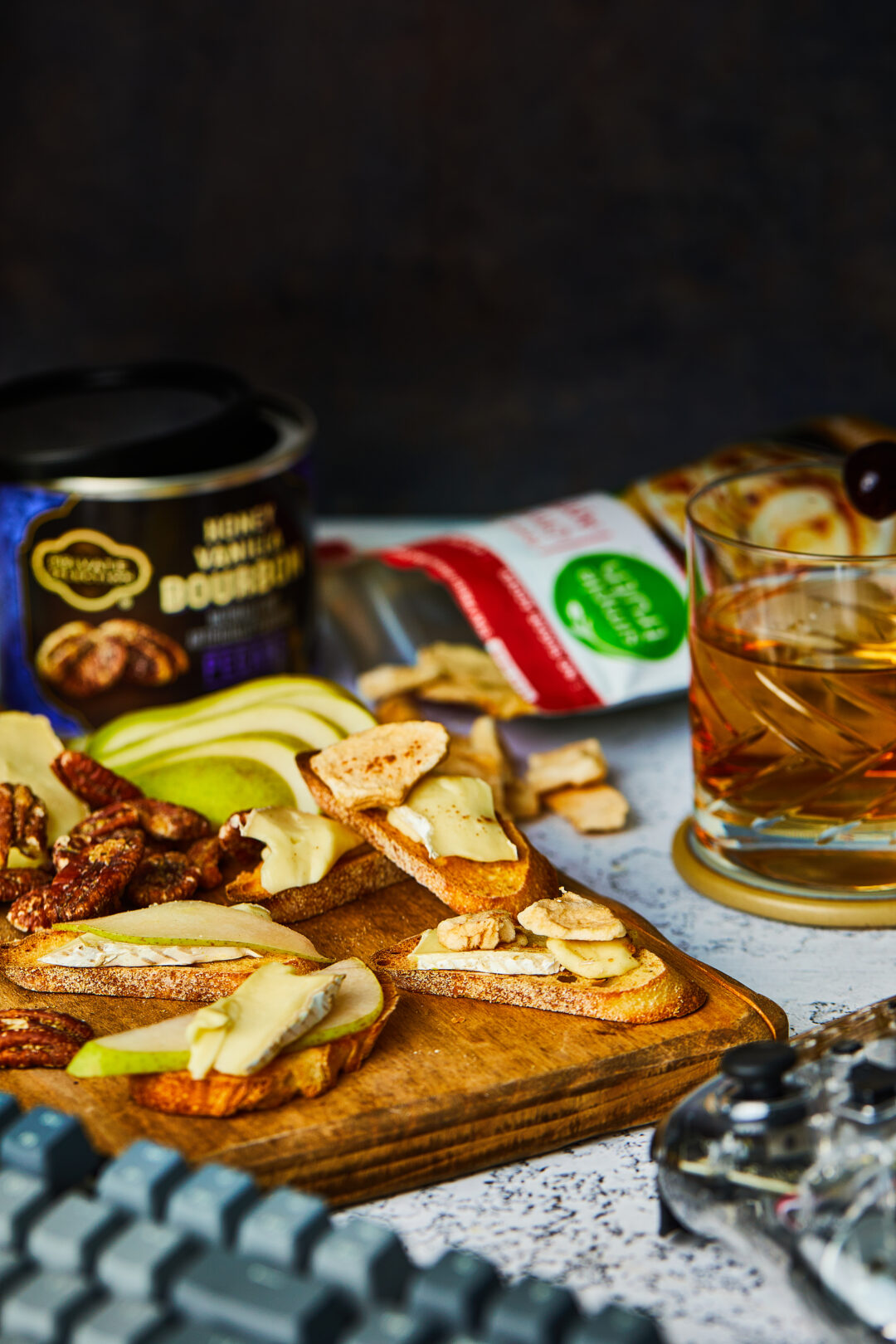 I usually start my cart with the usuals. Fruit, fresh produce, some always around snacks for game night. After that, the fun begins. I sit on the couch trying to get Blanche (my cat that I adopted last year before moving) to actually sit with me (still working on it…) while I browse the sale items, recommended new picks, and roaming the online aisles as if I were walking around Kroger with real clothes on. It's become such a fun part of my week, y'all. No joke. I have found so many fun items that are dropped off at my door just an hour or two later.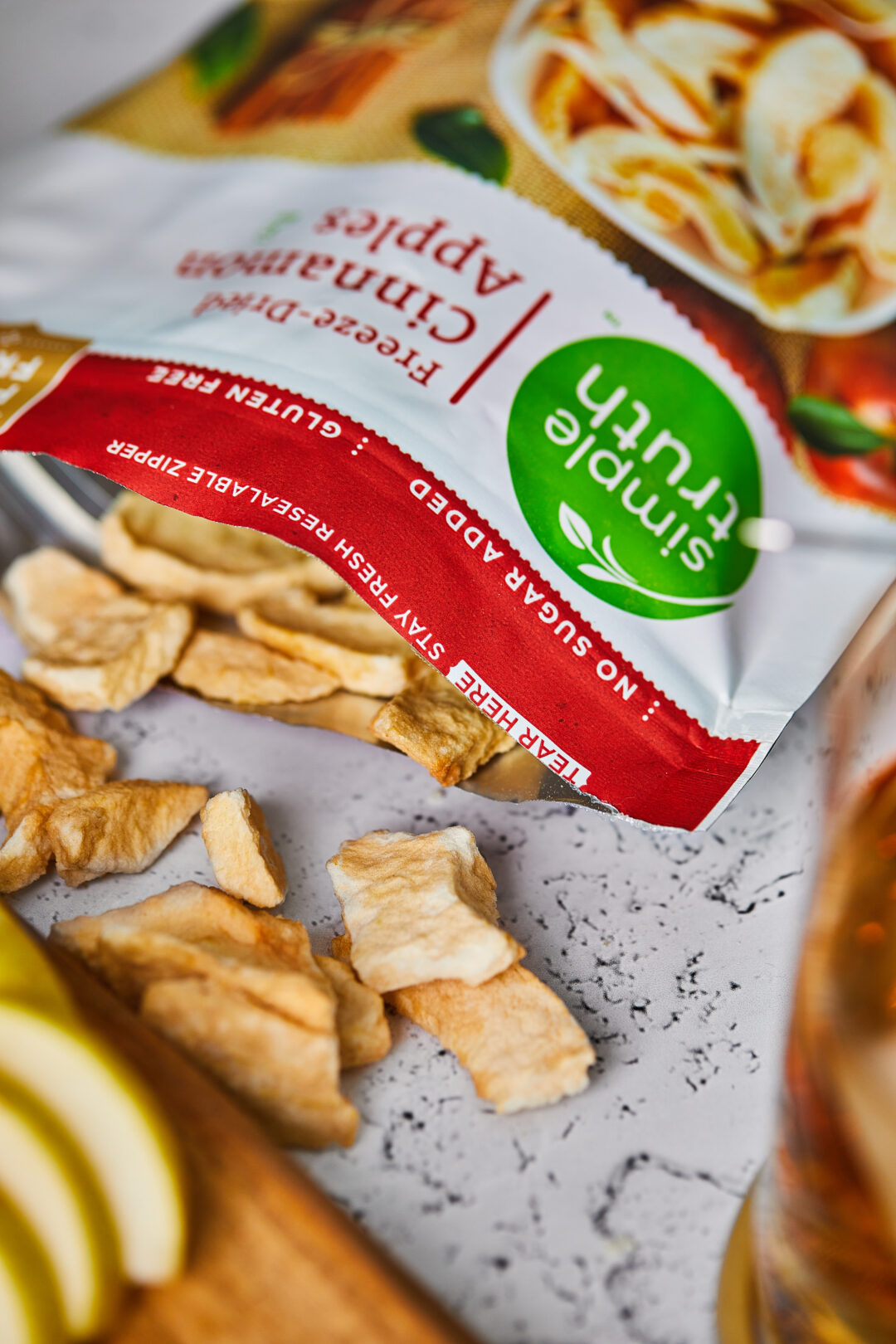 My latest Kroger Delivery adventure started with fresh in-season pears, bake-at-home baguettes from the bakery, and coffee creamer. With a bunch of basics in my bag, I started the virtual browsing and added freeze dried Simple Truth cinnamon apples, Murray's brie, Private Selection praline pecans (the absolute best partner to an Old Fashioned cocktail), and Kroger Kaleidos Unicorn Sandwich Creme Cookies (quite possibly one of my all-time favorite cookies. I even made a cheesecake with once.) — SO GOOD. An hour later and bam! Everything was at my doorstep.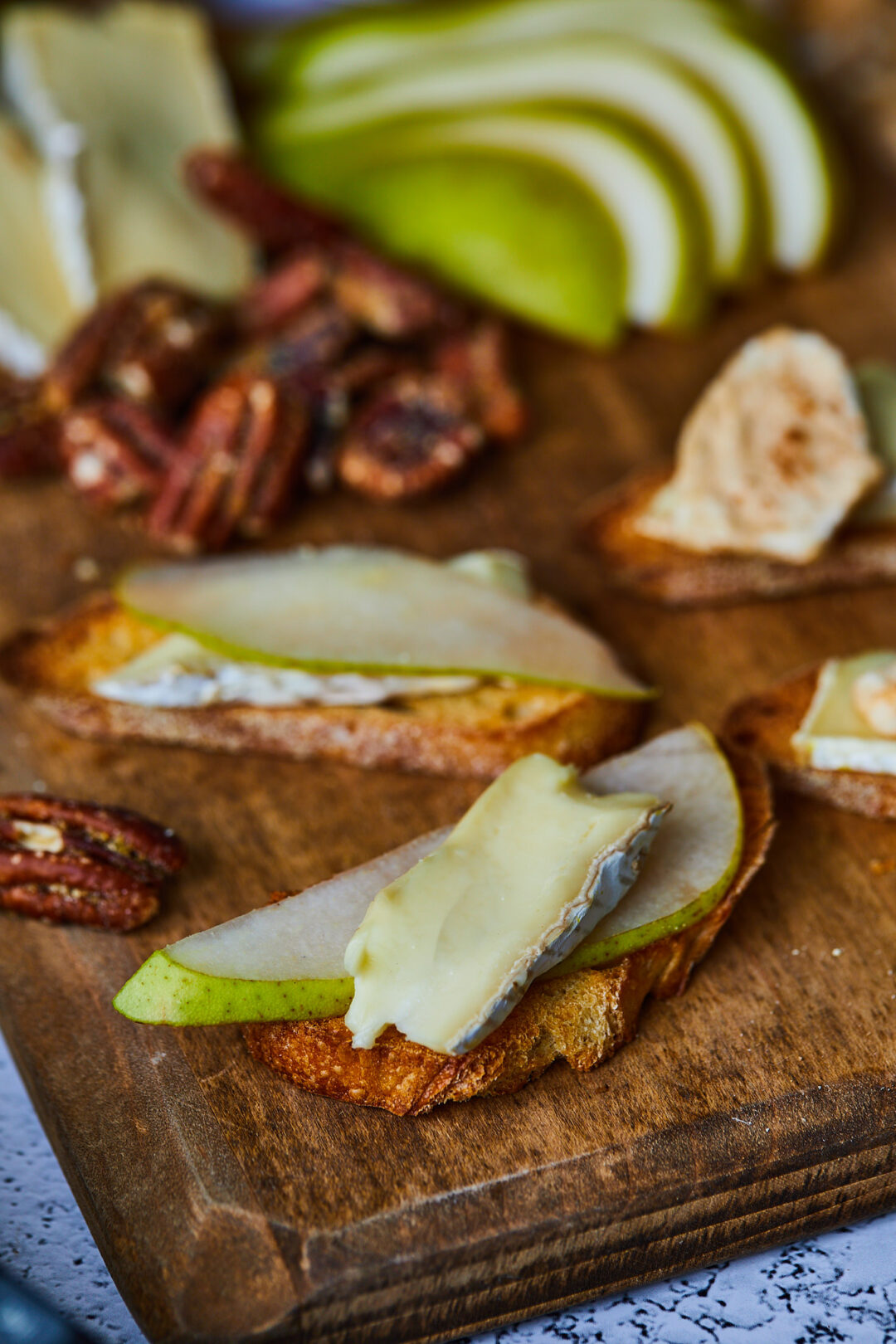 Mario Kart isn't going to know what hit it when I bake the baguette slices, top them with Murray's brie, and slices of fresh pears. Some of them get the cinnamon apples. I will most definitely not win the next race (Love & Olive Oil's Lindsay always wins, y'all), but I will absolutely be sporting the best in show for my snack game.
Start your cart and check out some of my favorite snack recipes below. — See you all on the (video game) track!
---