Stuffing the classic southern favorite, red velvet cake, into a delicate pastry macaron. Chocolate cocoa red velvet macaron shells filled with cream cheese buttercream. Free downloadable printable PDF piping template included.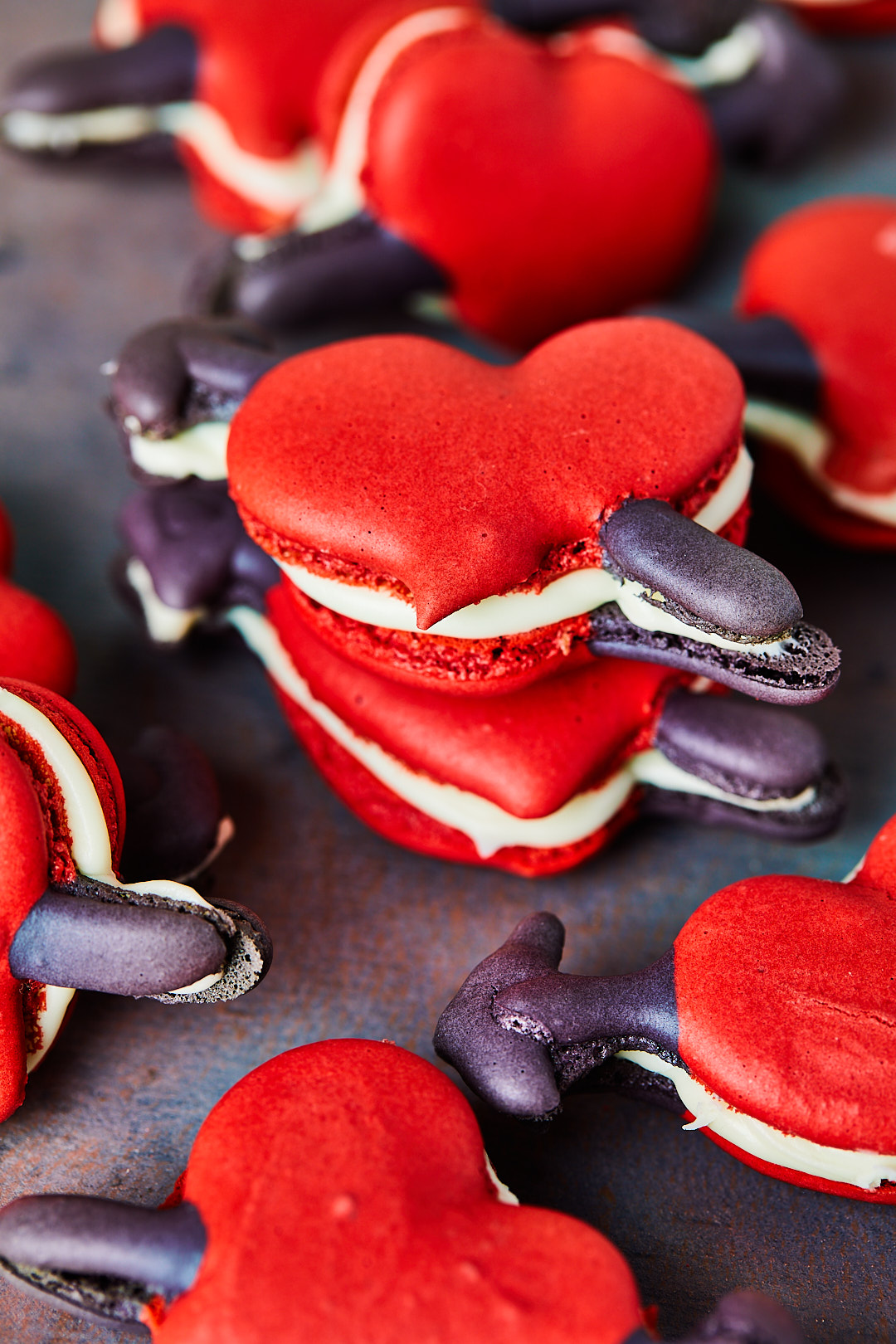 Oh la la! Queue the flirty music and armfuls of chocolate. It's that time of year, y'all. Love is in… the oven. It's been a bit since I've made some macarons, so I thought I would combine two favs for this red velvet macaron with cream cheese buttercream recipe. Some of you may know that red velvet is one of, if not the most, famous southern dessert. It's basically chocolate cake with red color, layered with delicious cream cheese buttercream icing. Something about that red color just makes this otherwise bit common cake bases shine.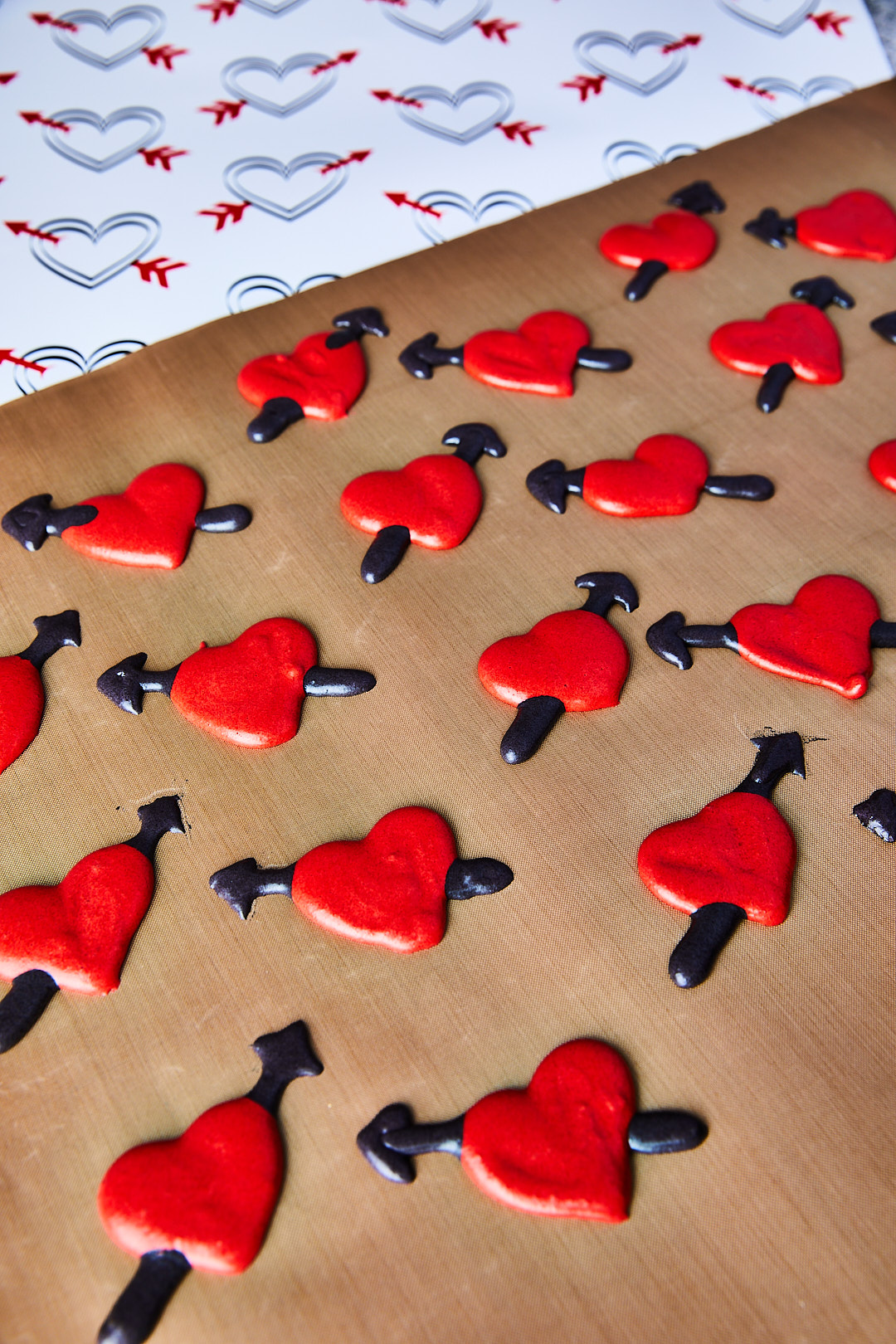 Macarons are my most popular recipes on the site. If you haven't checked out my Macarons 101 post, that's a great place to start. I know they can be a bit daunting at first. When you start adding things to the recipe, like cocoa powder and lots of coloring like this one, you are best suited to have a few rounds of the classics under your belt.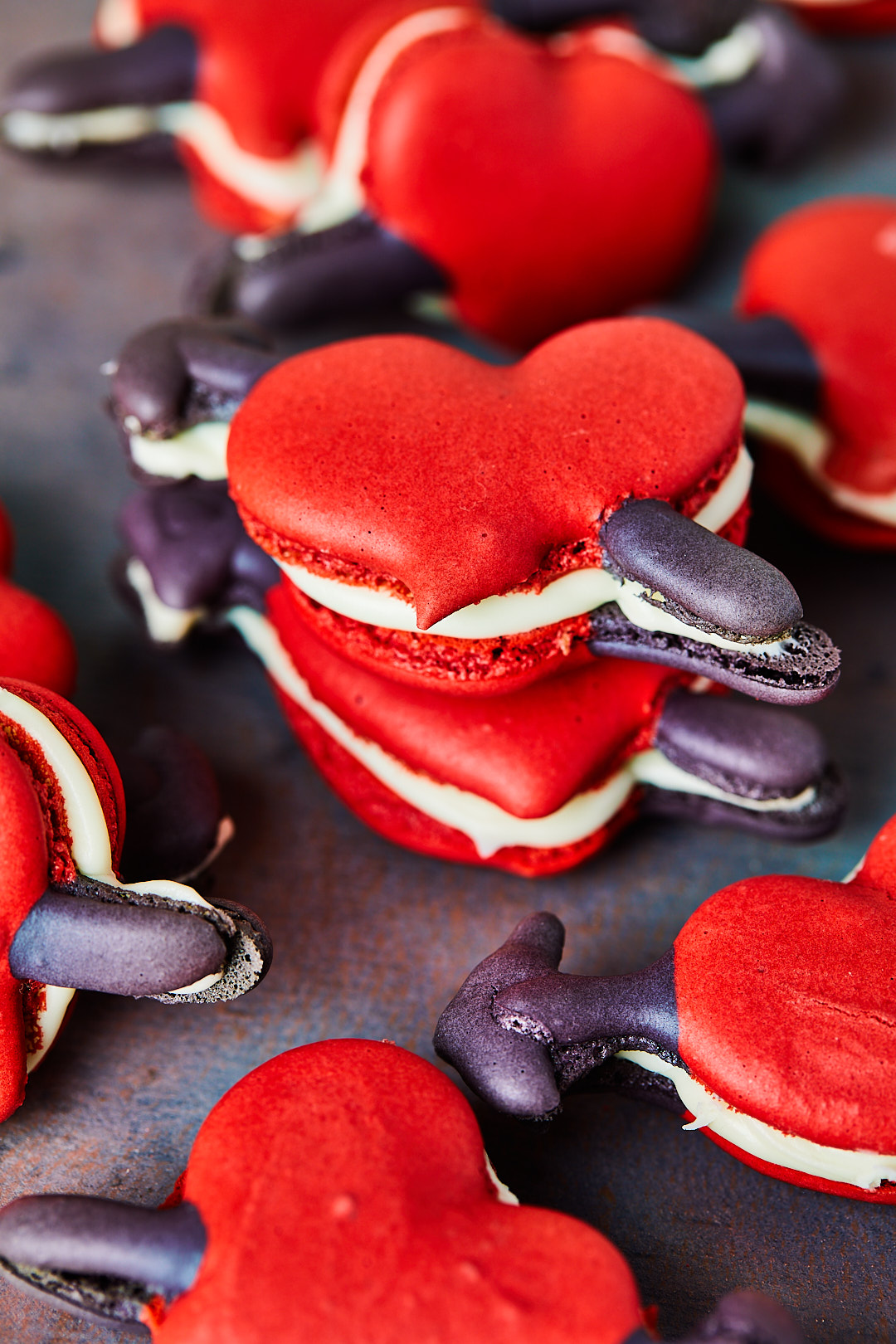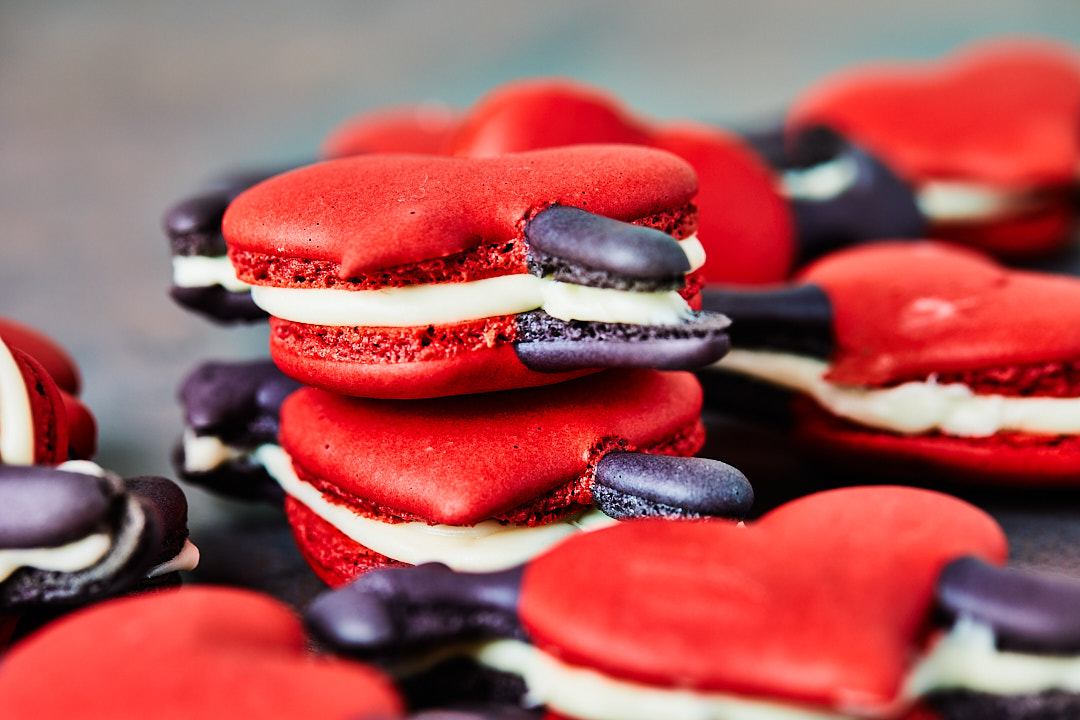 This recipe uses a more stable Swiss meringue. I typically use a French macaron method because, although a bit less consistent and more difficult to learn, they produce the best looking, shiny shell macarons. Any meringue method can be used to make these famous cookies. Italian, Swiss, French. Italian meringue would be the most stable, as the sugar syrup is heated to a very high temperature and then whisked into the egg whites. Swiss falls in the middle, stability-wise, above French. I think it's a bit easier for learning as well, not needing a candy thermometer. Coming from someone that has had those flip and splatter boiling sugar on himself multiple times — it's nice to avoid it from time to time.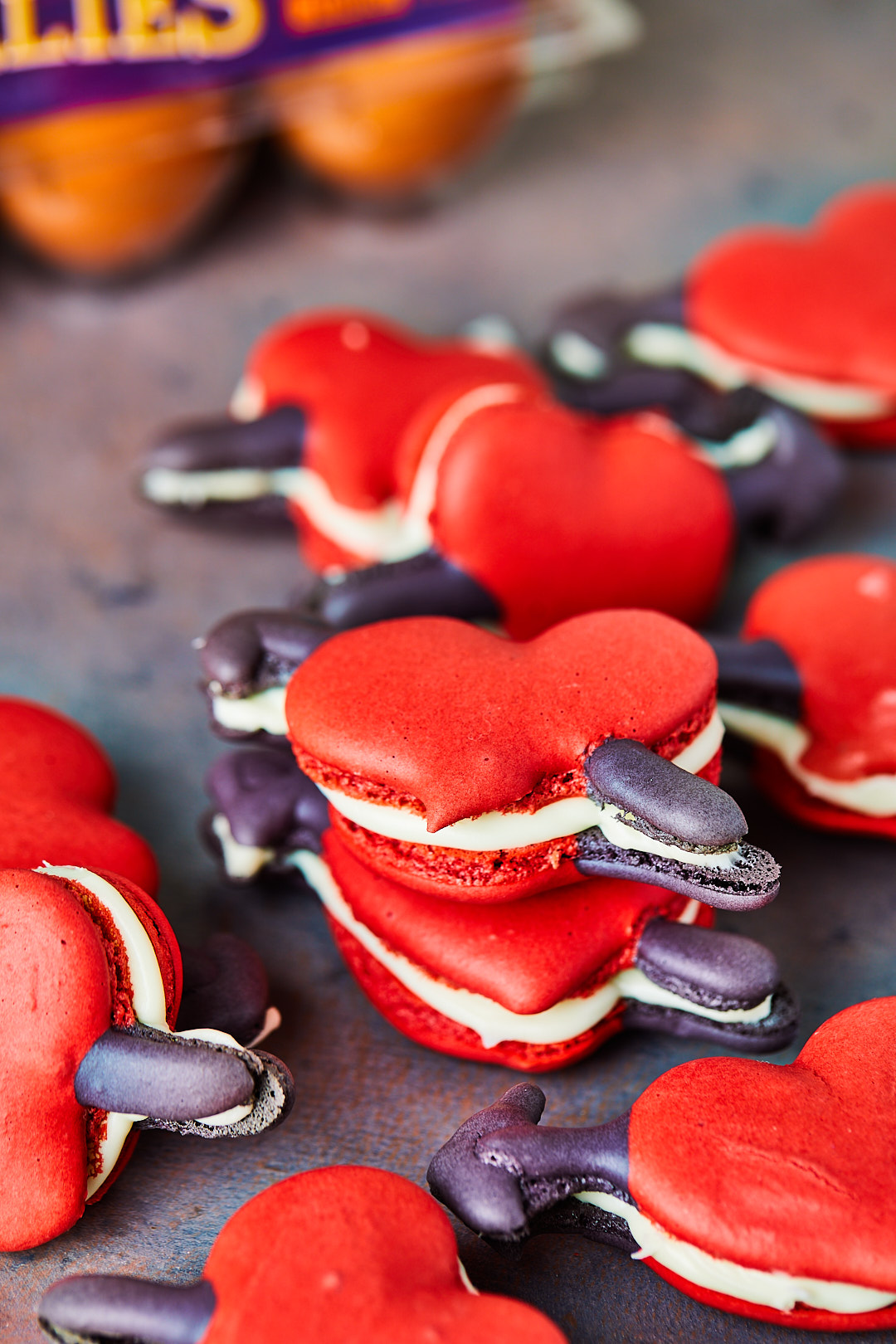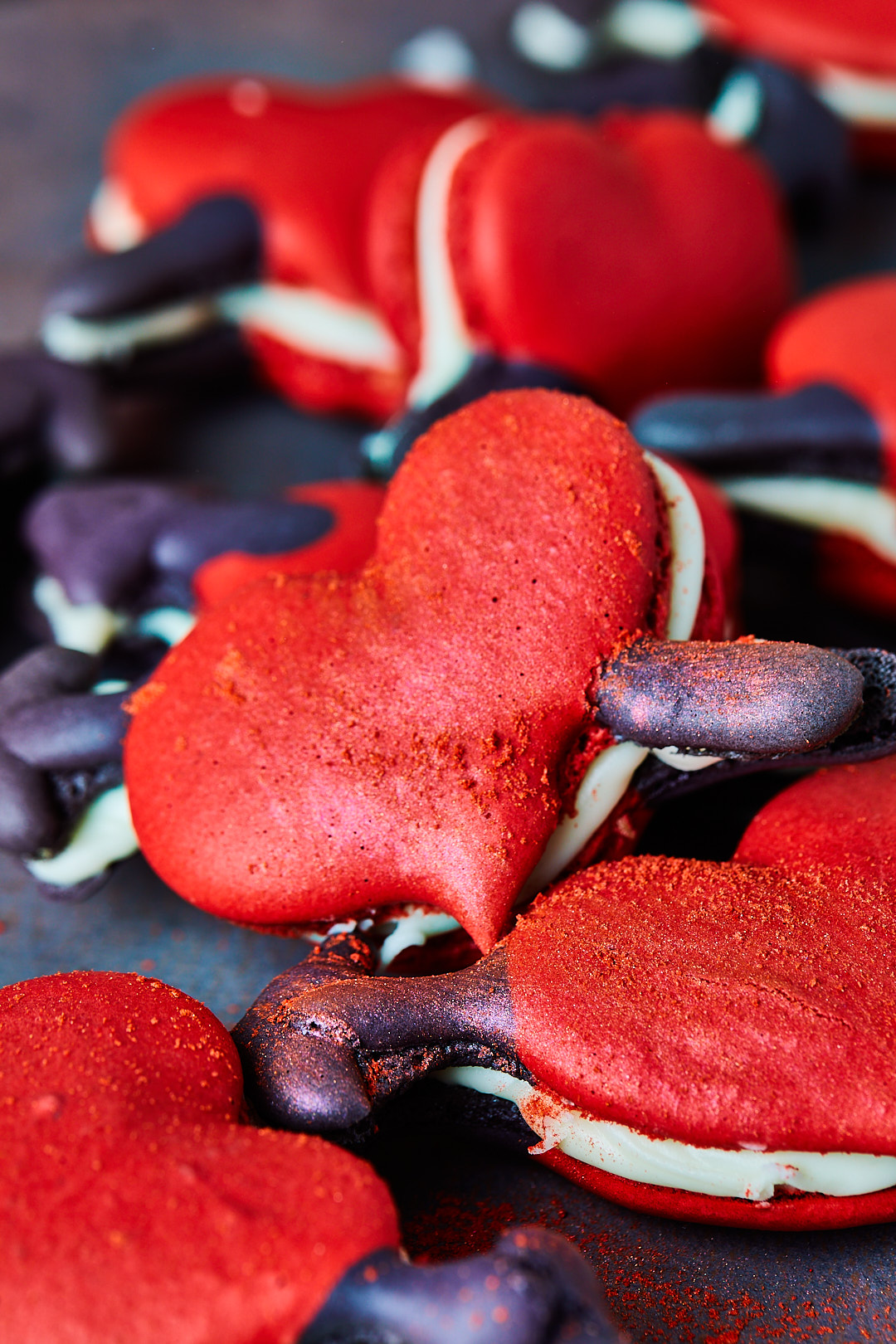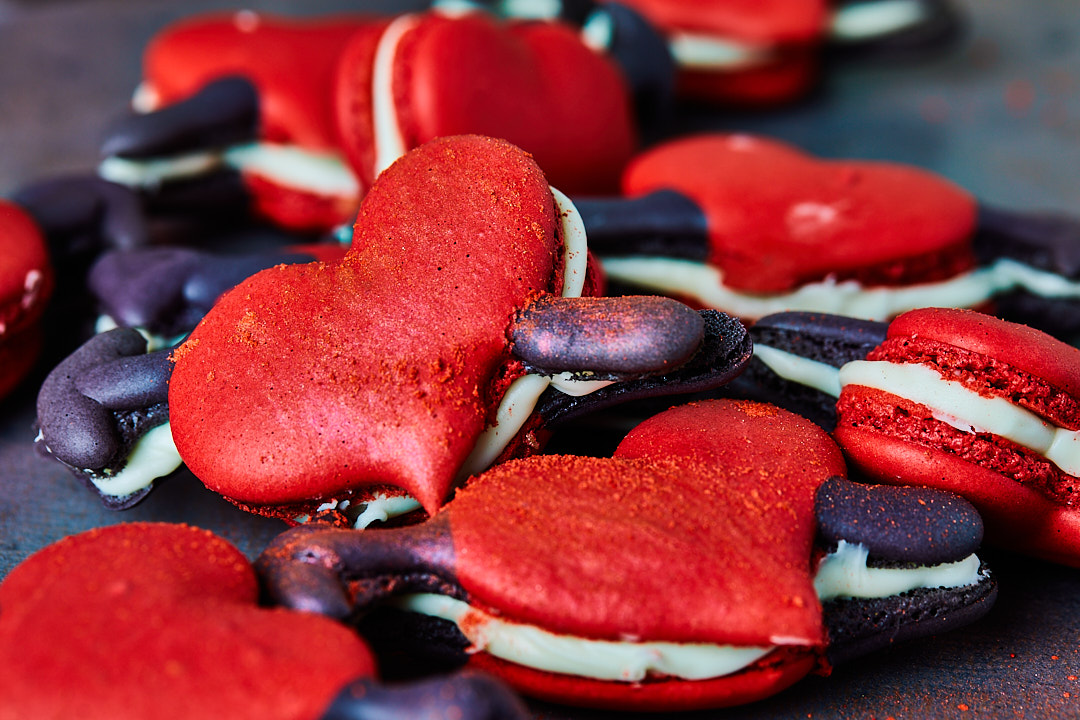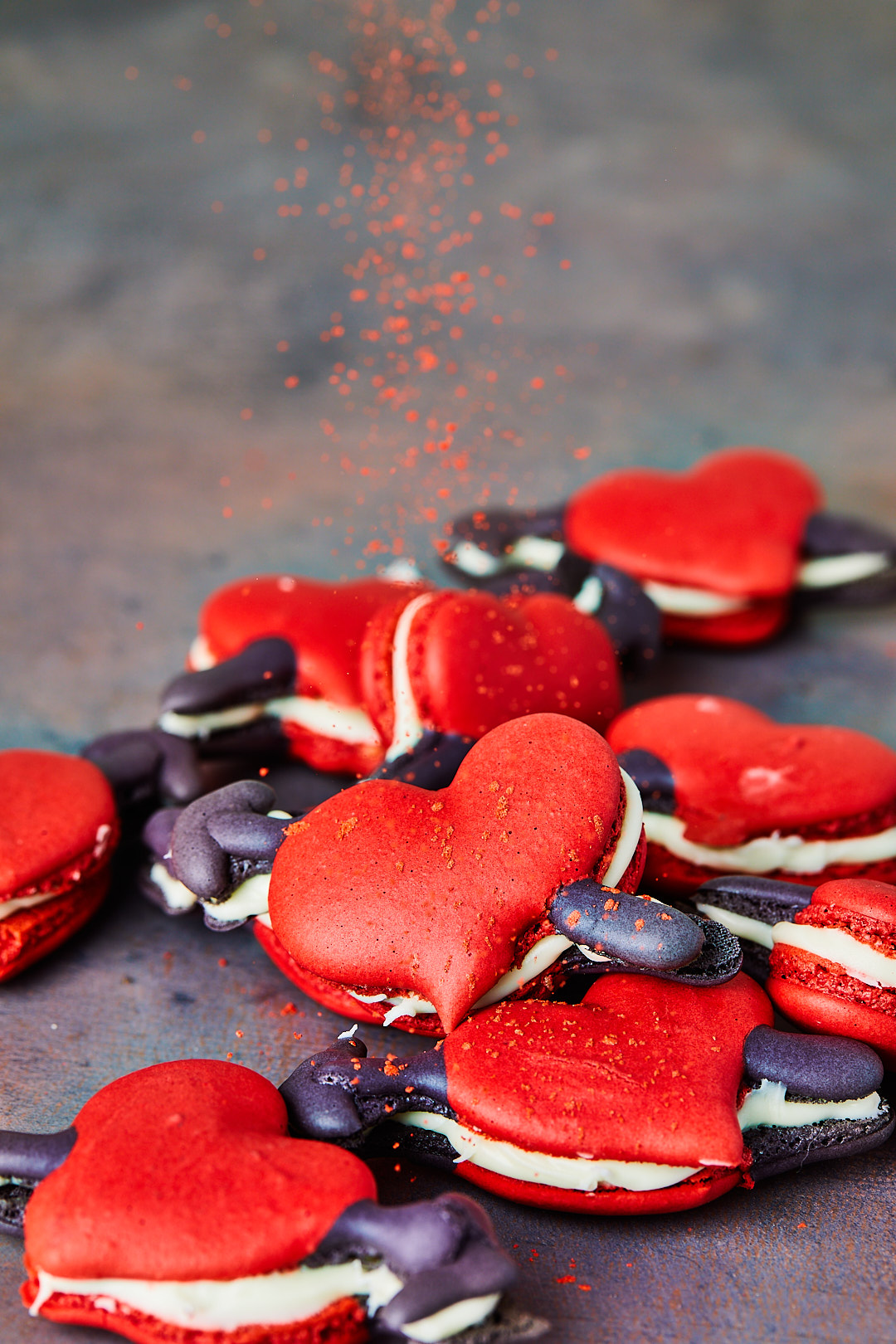 Most of the Macarons 101 tips will still apply to this meringue base. Folding in the meringue with the almond flour, looking for the perfect consistency, not over-mixing. Those are where most people go wrong. This is a fun one to try with a valentine, galantine, or bestie. Especially if neither you you has attempted it before. A couple of glasses of wine and the piping template printed (I have made a PDF that you can print below!). Fun night!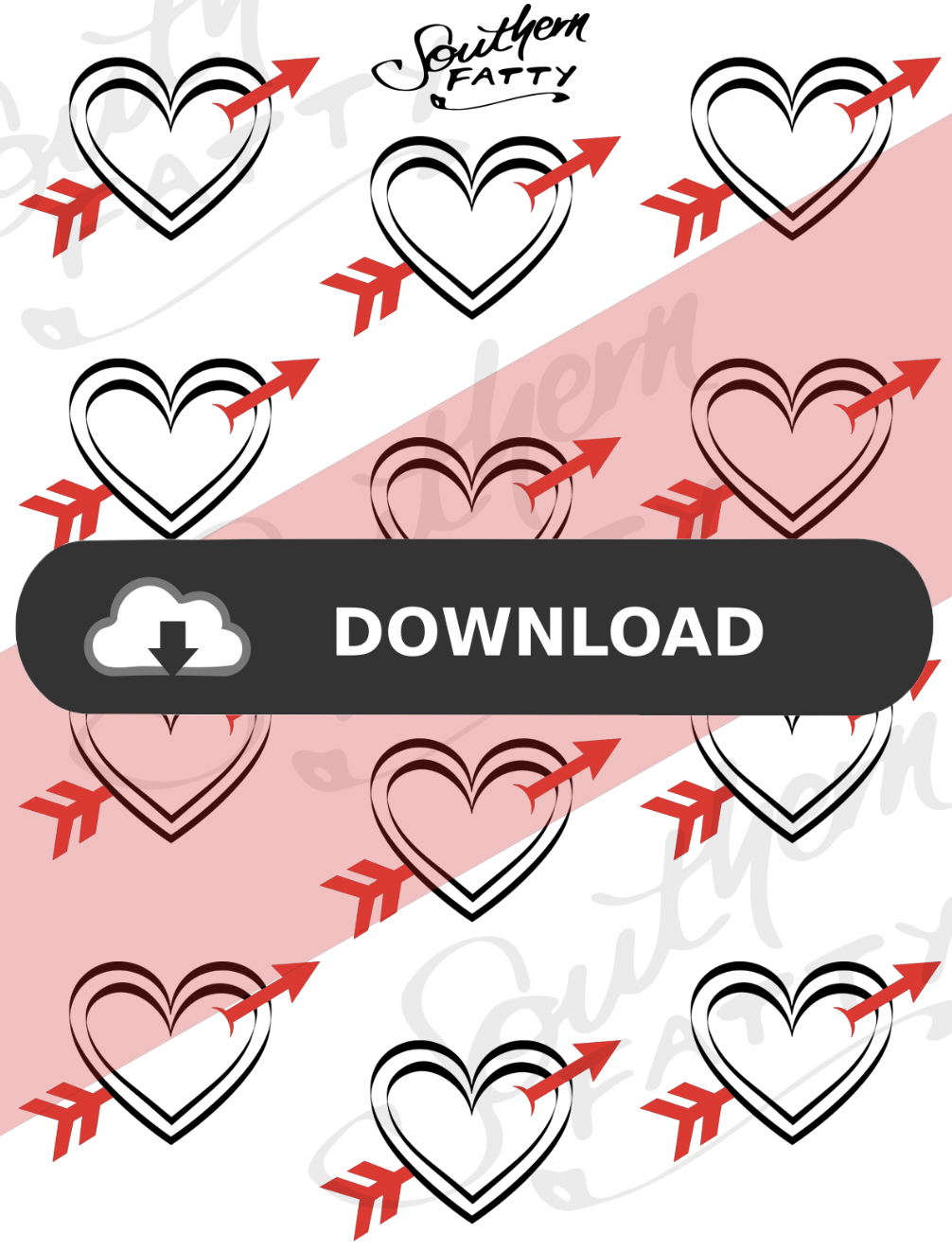 Download "Heart Macaron Piping Template PDF – Southern Fatty"

Southern-Fatty-Macaron-Heart-Stencil-8×10-1.pdf – Downloaded 1026 times – 5.52 MB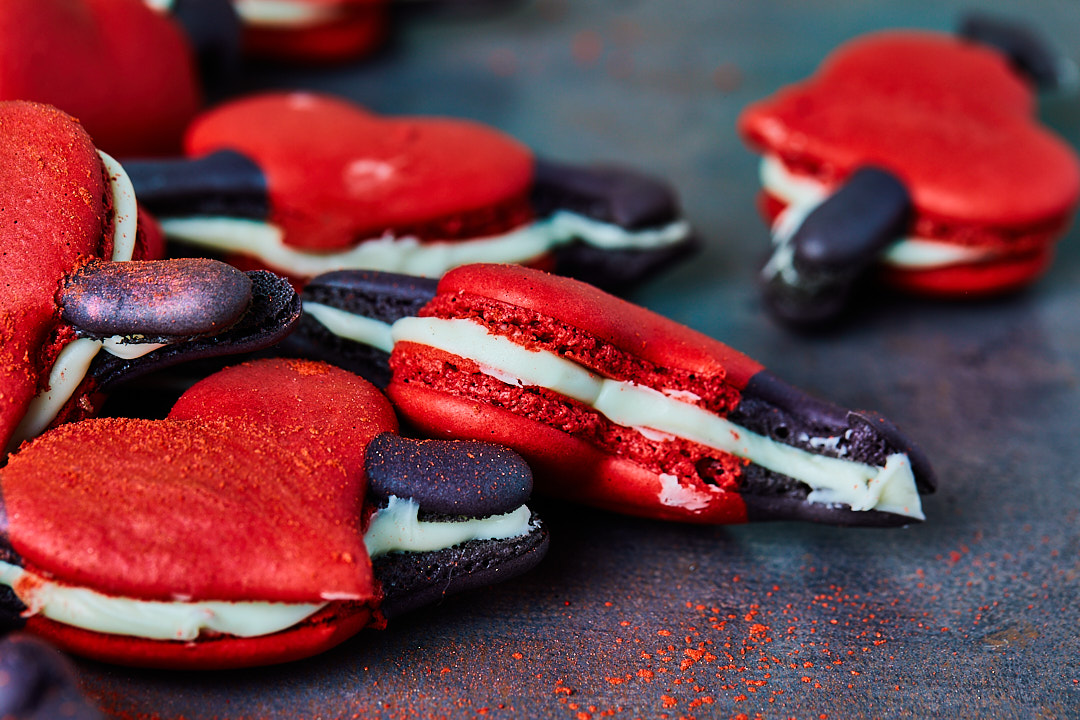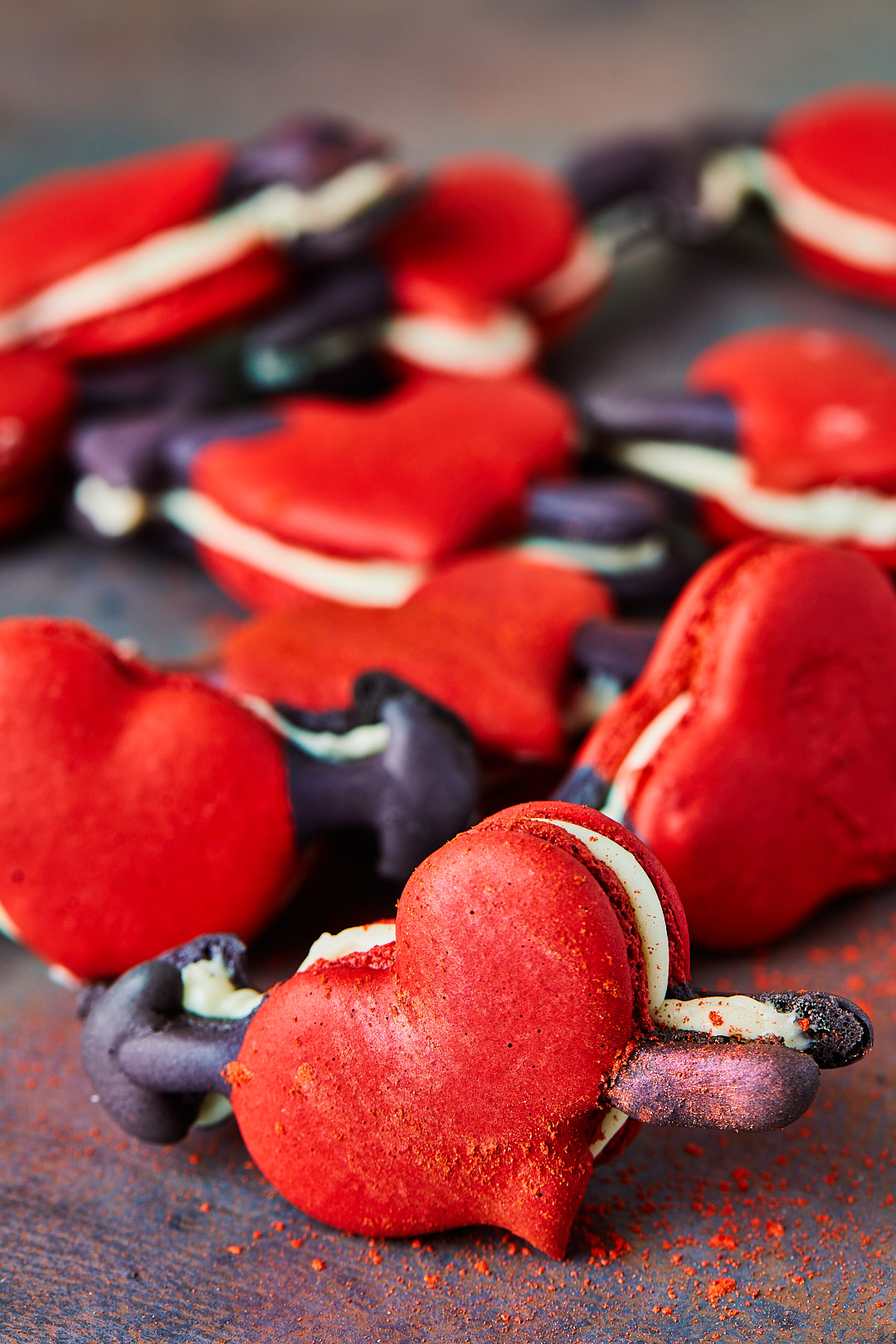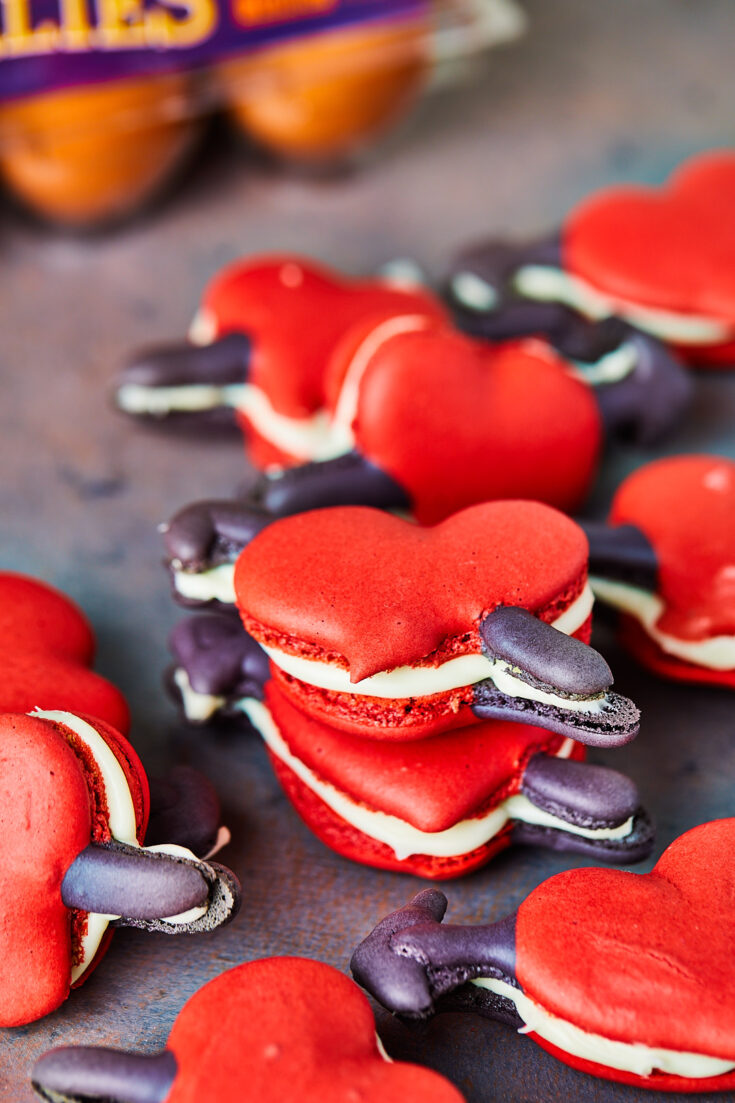 Yield:

24
Red Velvet Macarons
Total Time:
1 hour
30 minutes
Red velvet cake inspired macarons. Cocoa red almond shells with cream cheese buttercream filling. Pintable piping template for heart shapes. From SouthernFatty.com.
Ingredients
Red Velvet Macaron Shells
210 grams (1 3/4 cups) almond flour
200 grams (1 3/4 cups) confectioner's sugar
3 tablespoons powdered cocoa
170 grams (1/2 cup) egg whites, DIVIDED
1 teaspoon vanilla bean paste or extract
235 grams (1 1/4 cup) sugar, granulated
150 grams (1 cup) water
1/2 tablespoon red food coloring GEL (NOT water-based - see suggestions below)
Cream Cheese Buttercream
8 ounces (225 g) cream cheese, room temperature
8 tablespoons (115 g) unsalted butter, room temperature
1 cup (115 g) confectioners' sugar, sifted
1 teaspoon vanilla bean paste or extract
Instructions
Red Velvet Macarons
Before starting, have all ingredients ready, two baking sheets lined with silicone mats or parchment, and review the post Macarons 101 for tips.
Place 75 grams of egg whites (about 1/3 cup) into a heat-safe bowl that can easily fit on top of a small saucepan.
Add 150 grams sugar and whisk well to combine.
Add an inch of water to the small saucepan and place on low heat to simmer.
Add the bowl of whites and sugar on top of the pan to gently warm. Whisk often.
Cook gently over the steam until sugar is dissolved, about 3-4 minutes.
Remove from heat and transfer to clean mixing bowl with whisk attached.
Whisk on medium speed for 2-3 minutes.
Increase the speed to medium-high (6-7 on KitchenAid) and mix an additional 12-15 minutes until stiff peaks form. If you are not sure what this means, review the Macarons 101 post.
Add sifted powdered sugar, almond flour, cocoa and coloring to the meringue that you just made.
Using a spatula, gently fold mixture until you can stream an "8". Again... See the Macarons 101 post if you do not understand this.
When properly mixed, transfer to piping bag with ~1/2 inch tip.
Pipe as desired (heart template aboe) shape on prepared baking sheets.
Let these rest for at least 30 minutes, preferably an hour, before baking.
Pre-heat oven to 300 F.
Bake one tray at a time, rotating halfway through, for approx. 15 minutes total. This may vary with your oven. Do not overcook. The shell should very slightly move when poked.
Remove and cool completely.
Prepare buttercream by whipping ingredients together well.
Pipe between and enjoy!
Find more recipes on SouthernFatty.com. Share your bakes by tagging @southernfatty on social media.
Recommended Products
As an Amazon Associate and member of other affiliate programs, I earn from qualifying purchases.
Nutrition Information:
Serving Size:
1
Amount Per Serving:
Calories:

144
Total Fat:

1g
Saturated Fat:

0g
Trans Fat:

0g
Unsaturated Fat:

0g
Cholesterol:

1mg
Sodium:

4mg
Carbohydrates:

12g
Fiber:

1g
Sugar:

1g
Protein:

2g