Milk and cookies becomes actual milk cookies! This recipe for chocolate milk, chewy, brownie-like cookies topped with Oreo cookie crumble and a milk icing glaze.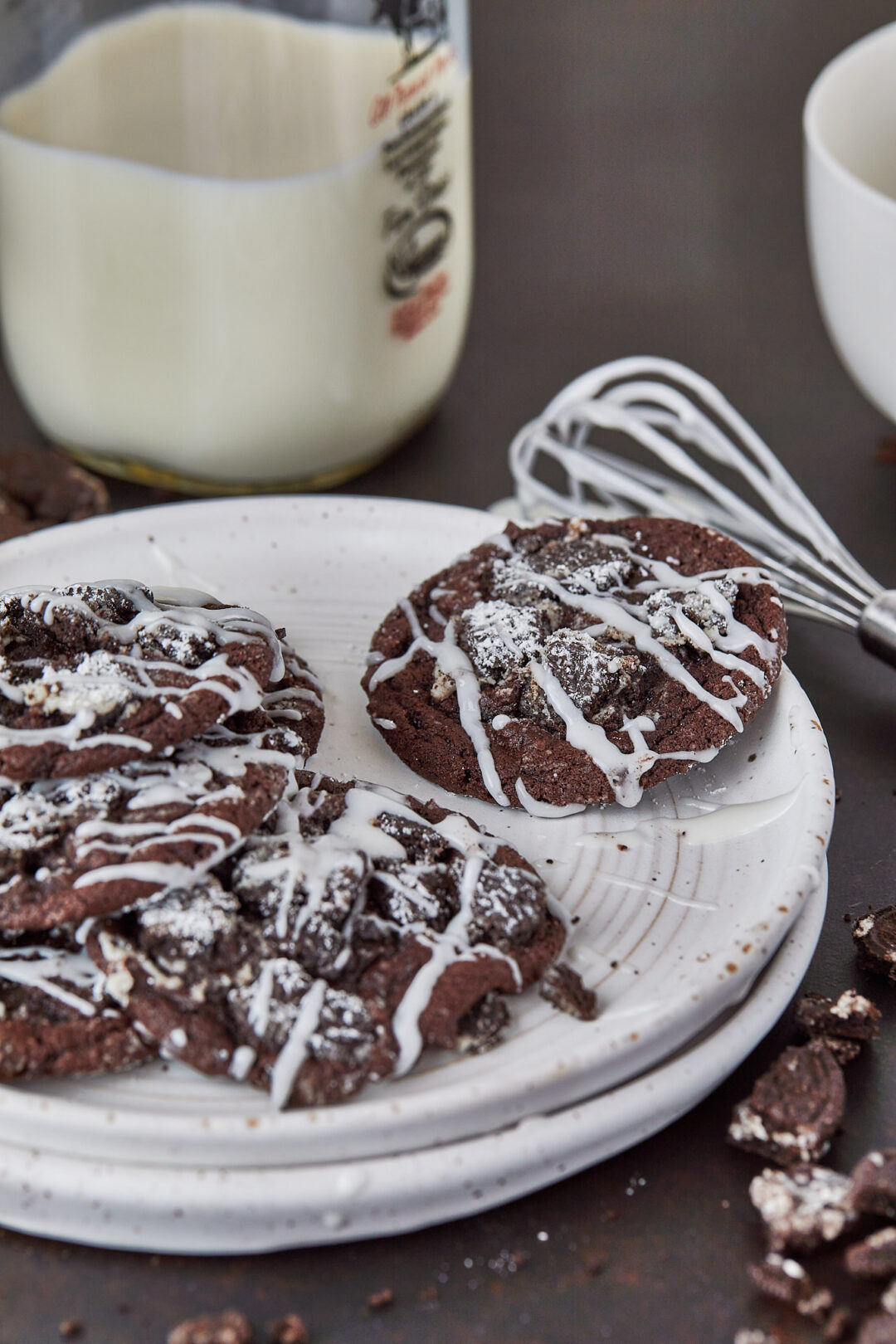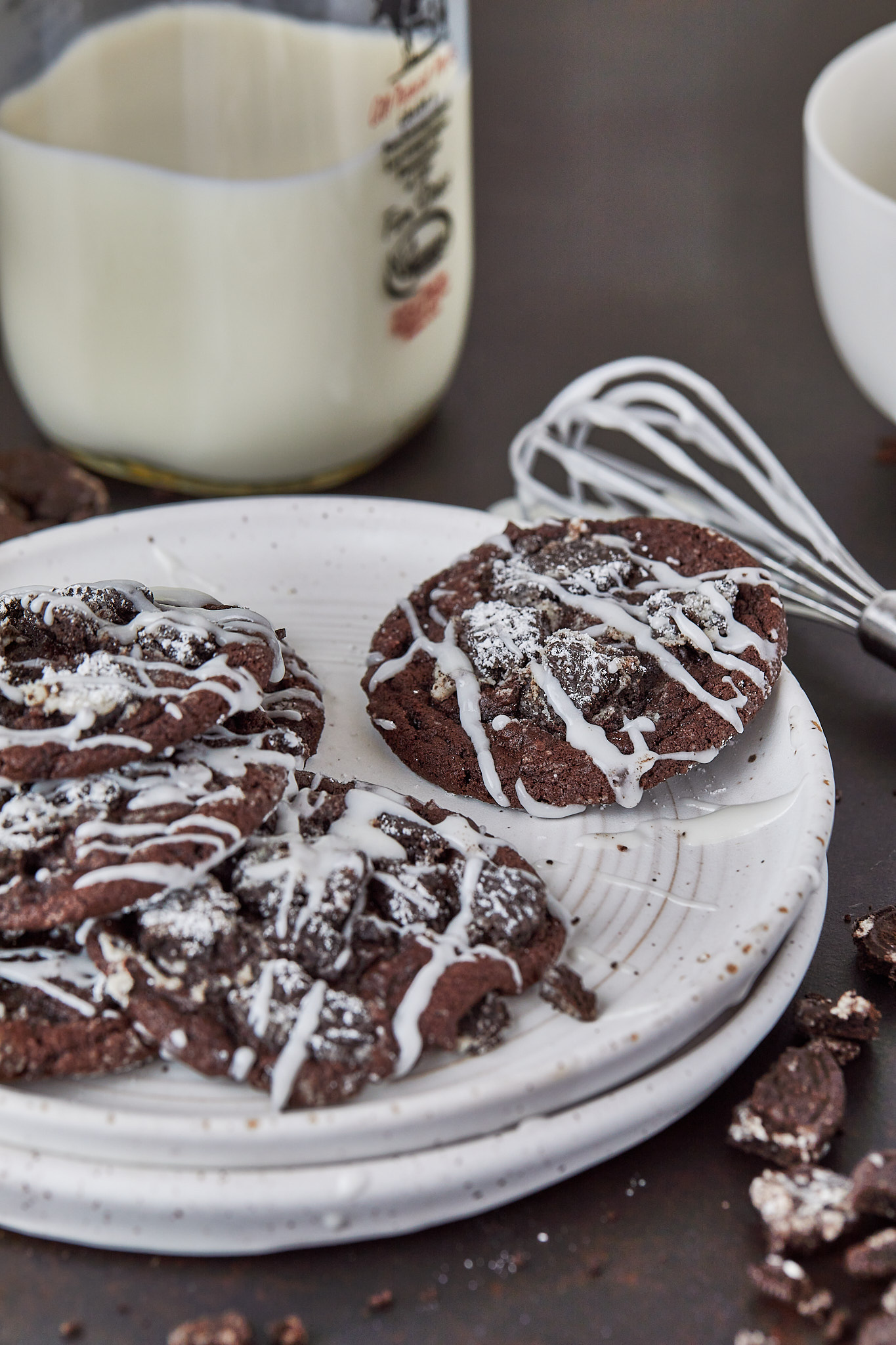 Move over, Santa. This plate of milk and cookies is all mine! — Holiday cookies are basically a food group of their own when winter rolls in. Dozens and dozens of cookie-mania recipes that families make every single year. When I was thinking about what new batches I should add to my repertoire, I immediately thought of the usual cookies and milk. I'm not so sure that the cookies for Santa have a guideline as to what type is his favorite, but it made me think a bit more about it. Why not make a milk and cookies cookie? This recipe for chocolate milk cookies with cookie crumbles is my take on exactly that. — Developed with my parters at The Dairy Alliance.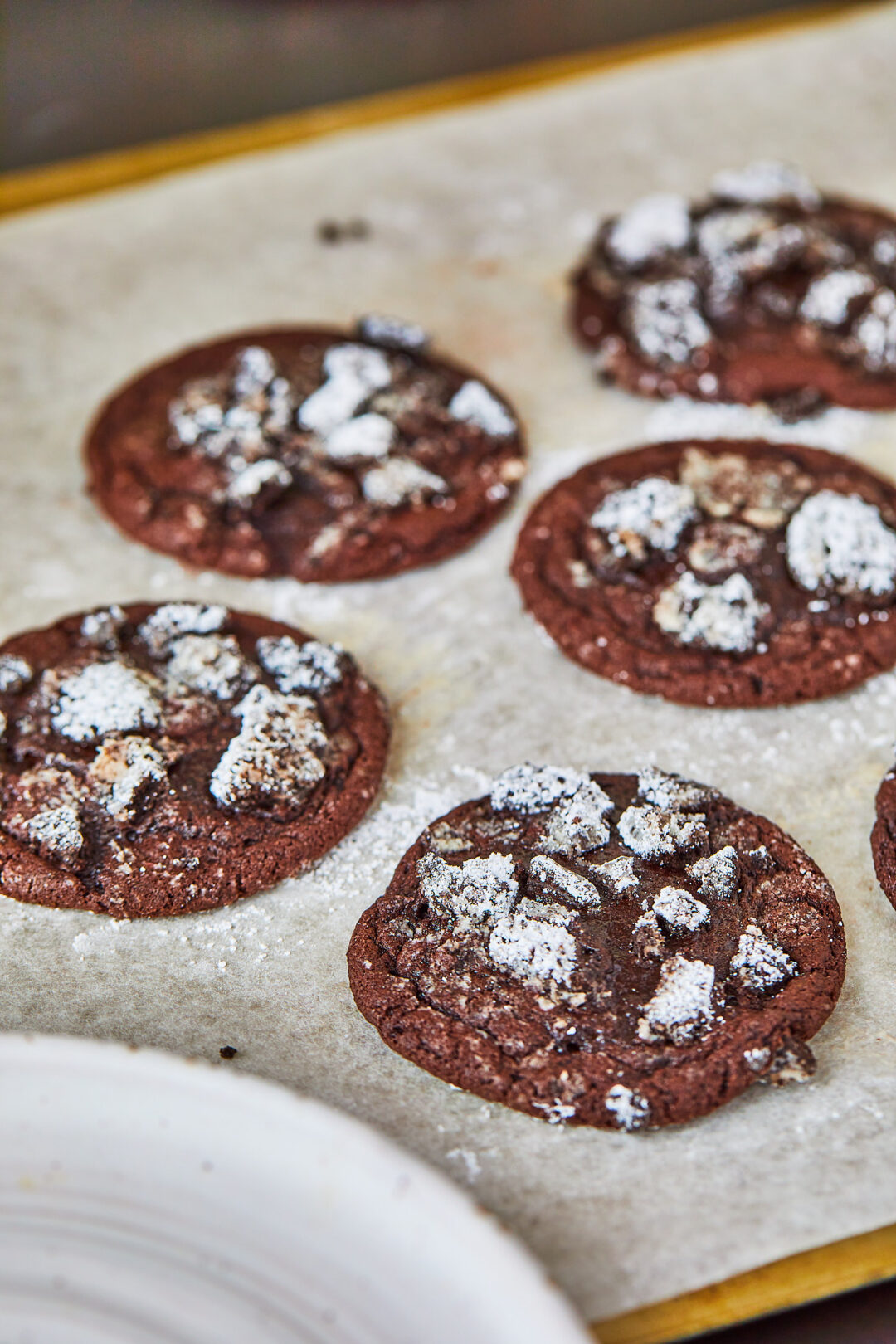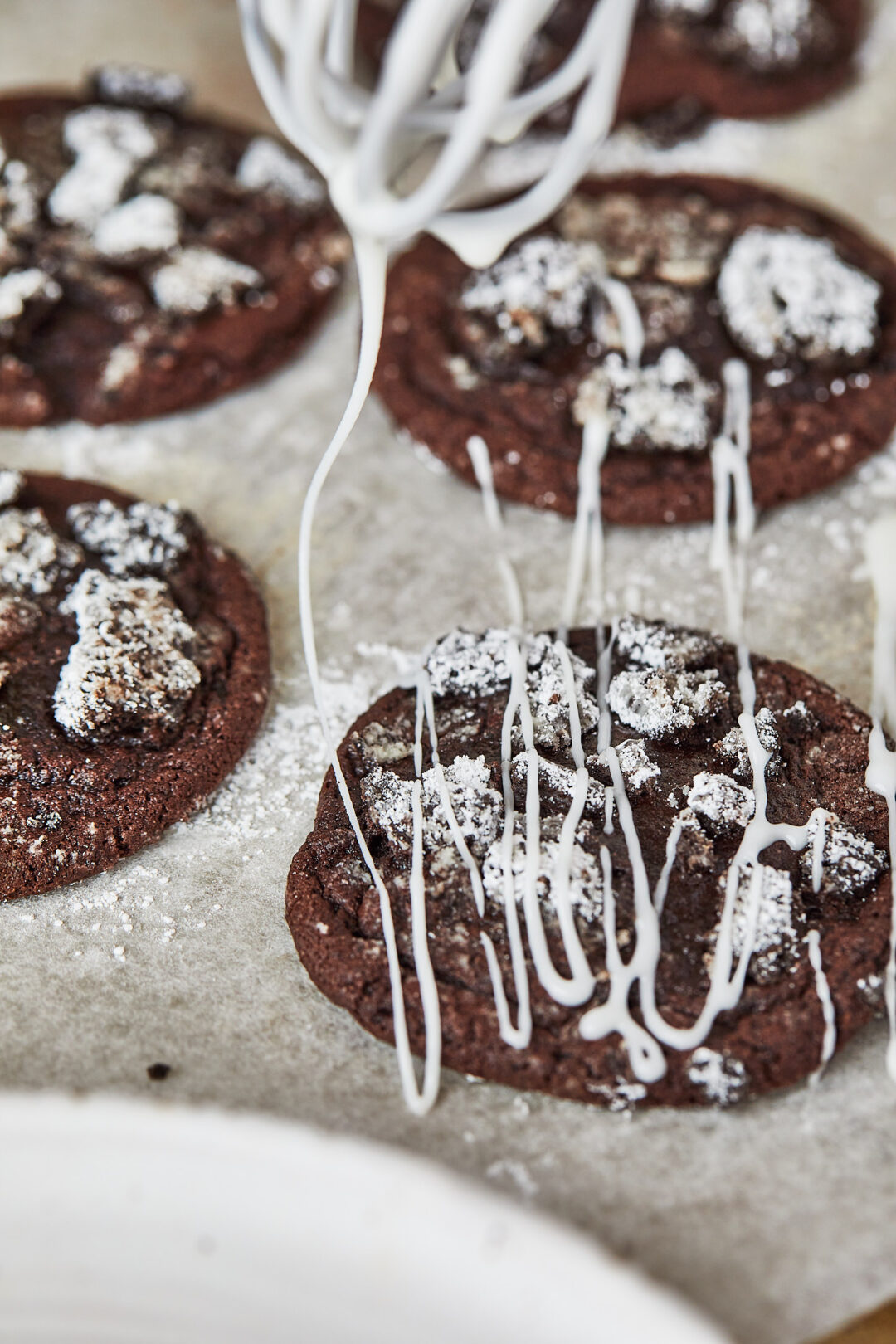 I think if I were Santa, I would request something more than the usual chocolate chip. Don't get me wrong… Chocolate chip is legendary and certainly deserves its place as the most famous cookie (no hate mail, plz thx). With that said, I'm a big fan of the popularity of cookie exploration that has become popular during the holiday season. Some of y'all are just nuts, making 10-20 different cookie recipes like some sort of kitchen Ninja Warrior episode.
Originally, I was going to remake a favorite recipe of mine, Whiskey Glazed Brownie Cookies, but decided instead to go for brownie-ish texture without the crinkly top. Since I wanted to toss some Oreo crumbles on top anyway, and the method of making brownie cookies is super finicky, it was just the better choice. One day I'll give it a go. Maybe in January when you are all meal prepping salads and whatnot 😉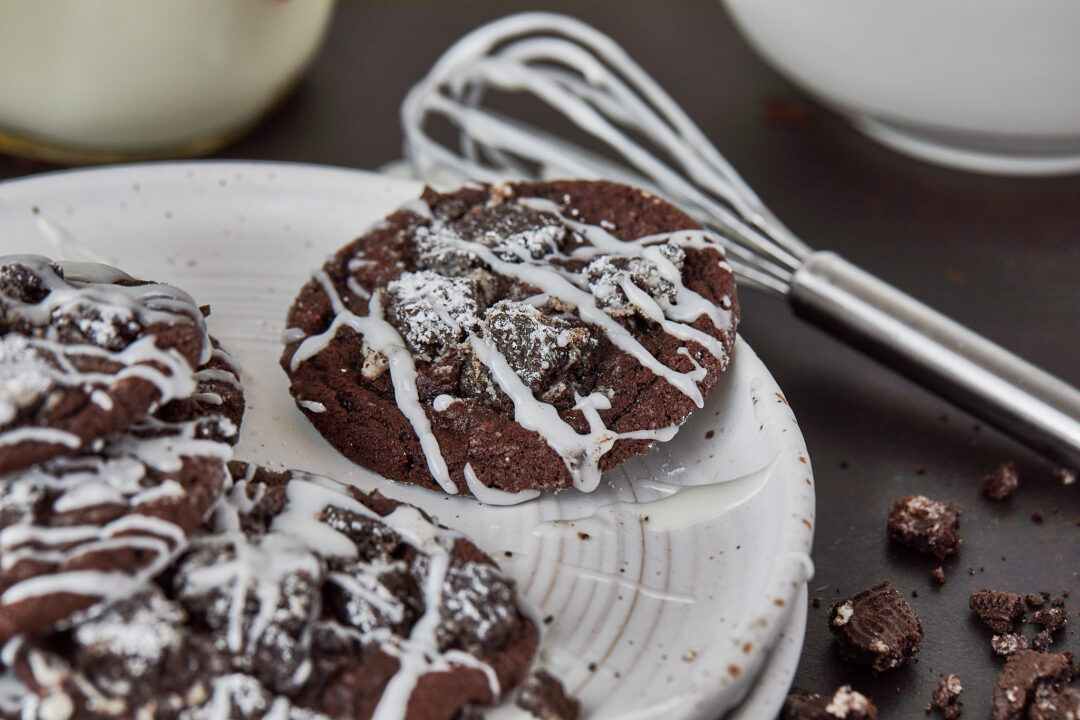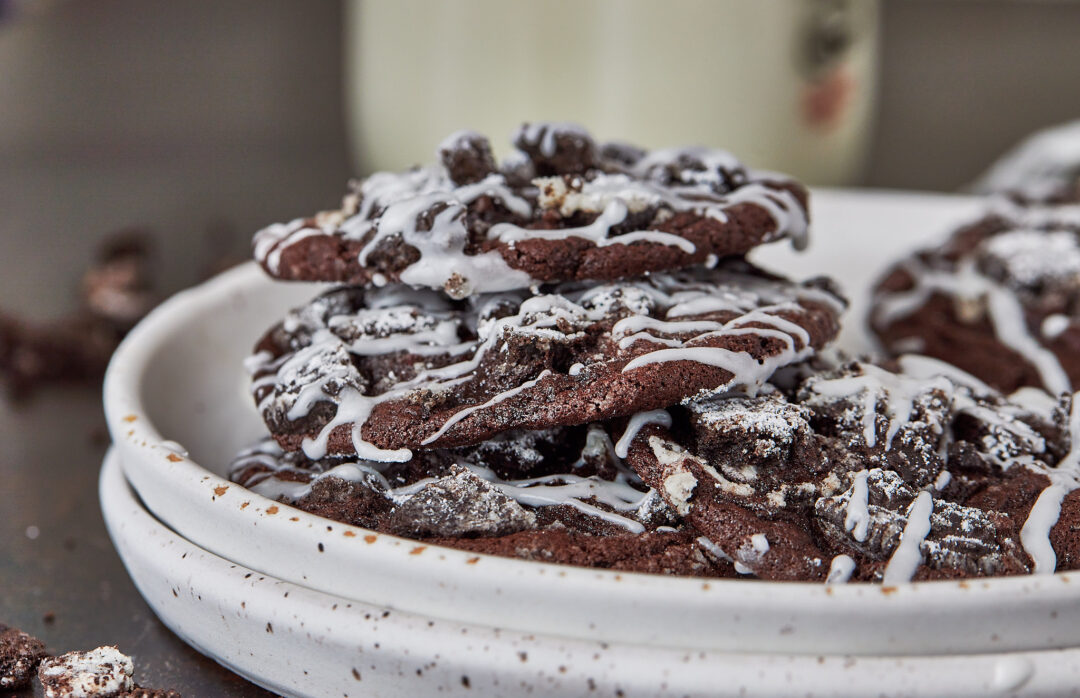 This cookie, just like the tree topper, has a finishing shimmer of absolutely delicious glaze icing. It's simple, but make all the difference in the world. Whole milk from a local farm, confectioner's sugar, a pinch of fine salt, and a dash of really good vanilla. It's not an uncommon glaze base, but when you use great milk it transforms every bite. With this cookie, it reminds me of cereal milk. Bits of cookie crumble, soft chewy chocolate cookie, and a milk glaze. It's pretty much the best chocolate milk and cereal you could ever have in cookie form.
Leave one or two of these for Santa, but the rest you'll want to tuck away in the kitchen for yourself. Happy holidays!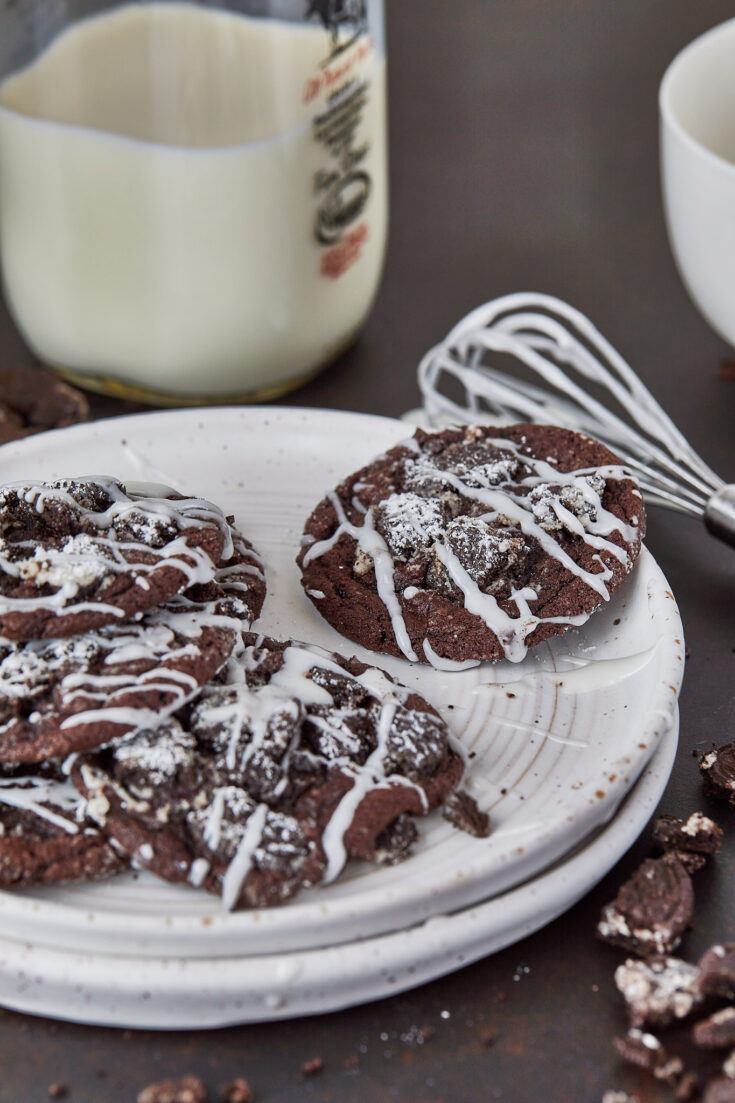 Yield:

14
Chocolate Milk Cookies with Cookie Crumbles
Additional Time:
30 minutes
Milk and cookies becomes actual milk cookies! This recipe for chocolate milk, chewy, brownie-like cookies topped with Oreo cookie crumble and a milk icing glaze. -- From SouthernFatty.com
Ingredients
Cookies
1 2/3 cups flour, all-purpose
1/4 cup cocoa powder, unsweetened
1 teaspoon baking soda
1/4 teaspoon salt
3/4 cup light brown sugar
1/2 cup granulated sugar
1/2 cup butter, unsalted
1 egg, whole
3 tablespoons whole milk
1 teaspoon vanilla bean paste or extract
Topping
1 cup crushed Oreo cookies
Milk Icing Glaze
1 cup confectioners sugar
2 tablespoons whole milk
1/2 teaspoon vanilla bean paste or extract
1/4 teaspoon salt, fine
Instructions
Combine flour, cocoa powder, baking soda, salt together. Whisk well and set aside.
In a mixer bowl, add butter with both sugars.
Cream on medium speed until smooth, 3-4 minutes.
Add egg, milk, vanilla and mix an additional 2-3 minutes. Scrape bowl as needed.
Scoop portions onto a baking sheet lined with parchment. I used the below scoop size (portions 3 tablespoons per scoop).
Press cookie crumbles into tops of dough. Don't smash the dough flat, but make sure cookies are stuck into the dough.
Place cookie dough in freezer for 30 minutes (or fridge for an hour or two). This is important to keeping their shape when baked.
Pre-heat oven to 350 F.
Bake cold cookies until set, 10-12 minutes, to remain soft when cooled.
Cool completely before glazing.
Whisk glaze ingredients well. Drizzle and let sit. Enjoy!
Find more recipes on SouthernFatty.com. ag me @southernfatty on social media if you share your bakes.
Notes
Made in partnership with The Daiiry Alliance. Thanks for supporting your local dairy farmers!
Recommended Products
As an Amazon Associate and member of other affiliate programs, I earn from qualifying purchases.
Nutrition Information:
Yield:
14
Serving Size:
1
Amount Per Serving:
Calories:

298
Total Fat:

10g
Saturated Fat:

5g
Trans Fat:

0g
Unsaturated Fat:

5g
Cholesterol:

31mg
Sodium:

240mg
Carbohydrates:

49g
Fiber:

1g
Sugar:

31g
Protein:

3g