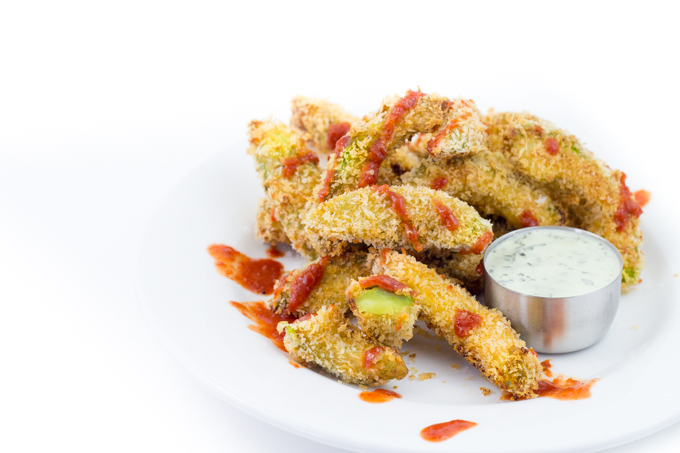 Fries are my favorite food group. Something about that crispy shell with the light, fluffy center. Handheld comfort at it's best. I can't say that I ever get tired of eating fries, but sometimes I want that familiar comfort in a slightly different form.
Baked Sriracha Avocado Fries fits the bill perfectly. Crispy outside, super-creamy inside. Add a bit of sriracha flare, a creamy sauce, and you've got a slightly less guilty, but absolutely delicious meal. What? You don't eat fries as your meal?…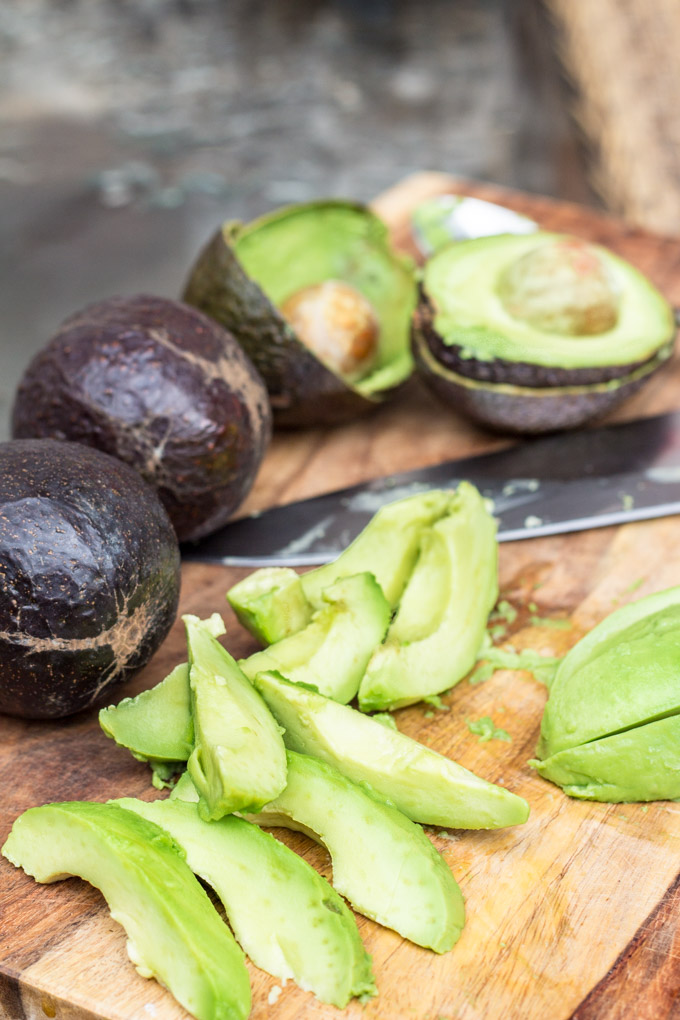 I've made these fries a few different ways in the past. Baked and fried. Honestly, they're both pretty damn good. I opted for the baked this time, because that summer diet never really exactly happened. Baking them automatically means that you are being healthy and can call it diet food if you want. Don't mind the fact that you are going to dunk these green beauties in carbs. They're avocados! It's all fine.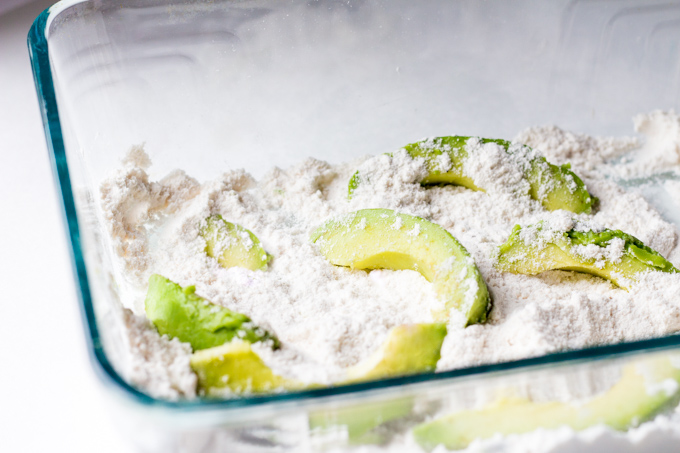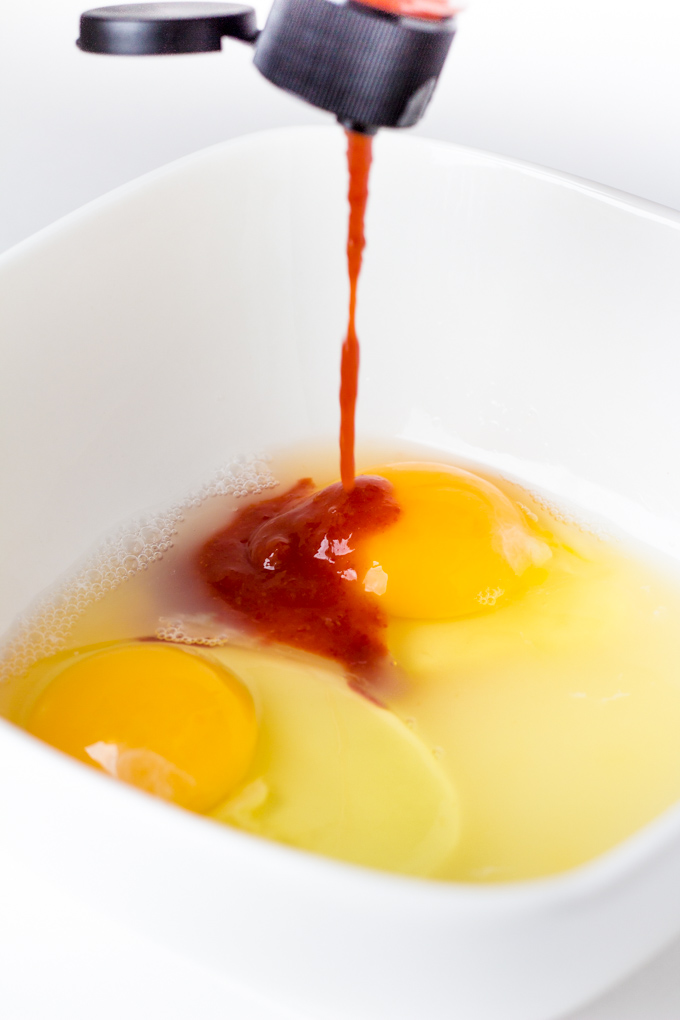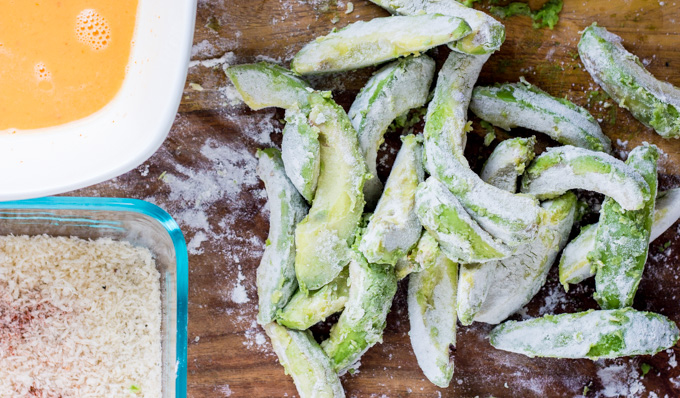 Avocado alone would be enough of a reason to celebrate with these, BUT…. get ready for it… SRIRACHA.
I'm a bit late on the sriracha train (like most things I figure out, really), but I'm juuuuust starting to finally get into the spicy spirit. I've never been much on spicy food. A spice pansy, you could fairly claim. I toyed around with how to infuse the flavor and slap of heat into the avocado. PS- Marinating an avocado does basically absolutely nothing. I assumed as much, since it's mostly (healthy) fat, but had to try to test my curiosity. The answer had to be in the breading process.
The best place I could find for incorporating it was in the middle stage of the ancient coveted Southern breading process. The egg wash. It's pretty complicated, y'all. You just dump a shit ton of sriracha (Yes, that's an actual unit of measurement. Metric, I think.) into the eggs with a splash of water and beat it like a ketchup bottle with juuuuust enough left for your fries.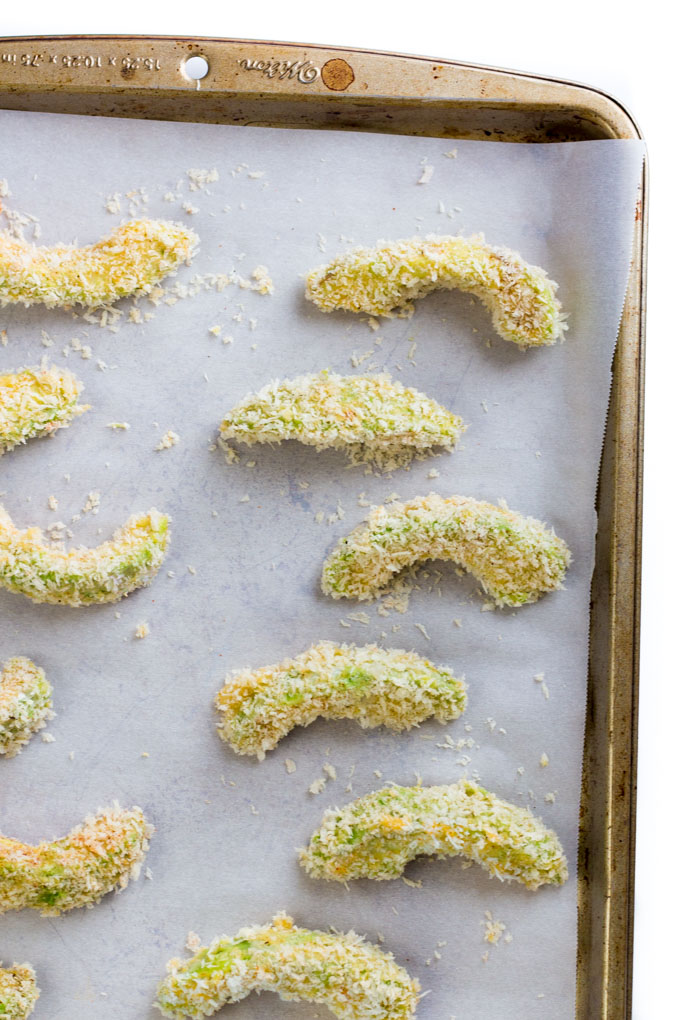 Breaded, sealed, and ready to be delivered. Like I said… You (of course) could fry these if you are feeling frisky. While the fries are baking, whip up your favorite dipping sauce. PS- These are amazingly good with classic hibachi-style yum yum sauce. But then again, what isn't?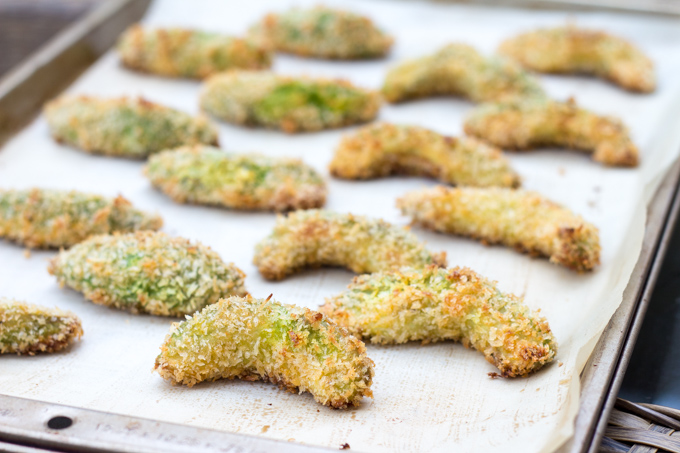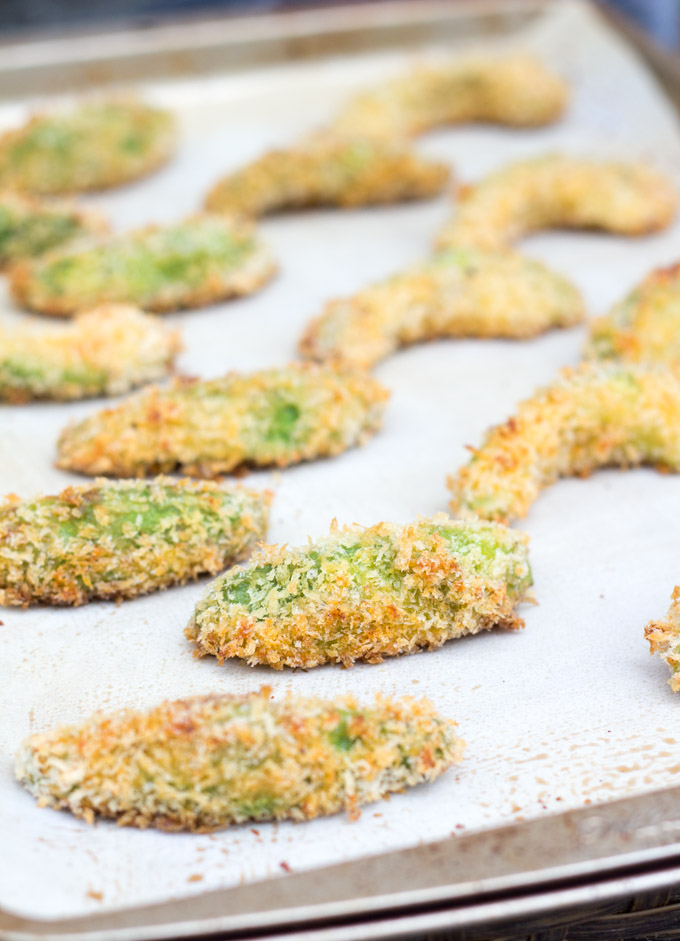 Since we don't want the percy avocado to just melt away, we'll bake these at a fairy high temp for a short amount of time. About one and a fourth glasses of wine, to be precise. Perk– They are ready in no time.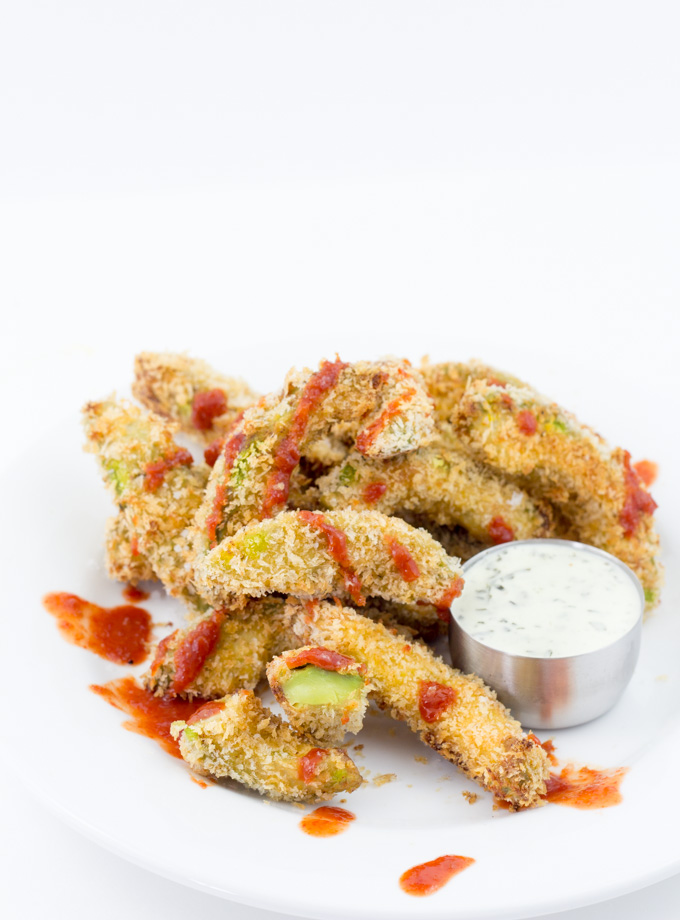 Crunchy, creamy, and guiltless. What more could you ask for? I imagine these would be a great swap for parents to trick their kids into eating something green. (Yes. It counts as a green still!)
Enjoy!
Sriracha Baked Avocado Fries
Cruncy, creamy baked avocado fries with a sriracha kick. Simple side recipe from SouthernFATTY.com.
Ingredients
2 avocados (medium to large)
Base Flour
½ cup flour, AP
½ teaspoon salt
½ teaspoon cajun seasoning
¼ teaspoon pepper
¼ teaspoon garlic powder
¼ teaspoon cayenne pepper
Wet Mix
2 eggs, large
¼ cup sriracha
1 tablespoon water
Final Breading
1 cup breadcrumbs, panko-style
1 teaspoon cajun seasoning
½ teaspoon paprika
cooking spray
dipping sauce, for serving by taste
Instructions
Pre-heat oven to 460 F.
Prepare baking sheet with parchment paper.
Slice avocados in half, removing pits.
Place each half cut side down, slicing each half into 4 wedges.
In three shallow dishes, combine each of the three mixes into a dish.
Carefully coat the avocado slices in the mixed flour until well-coated.
Take each slice individually and coat it in the beaten egg/sriracha wash.
Make the final coating with the panko mix and press into the avocado to ensure a thick coating.
Place the slices on baking sheet.
Spray all slices well with cooking spray.
Bake until golden, about 10-12 minutes.
Remove, drizzle with additional sriracha, enjoy with favorite dipping sauce.
Find more at Southern FATTY.com
Notes
2015 - SouthernFATTY.com