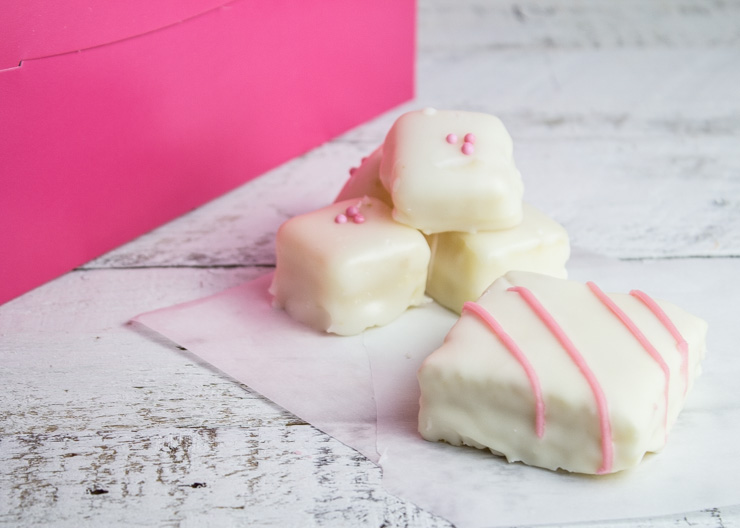 Once you start taking in Funfetti Whoopie Pies and Homemade Creme Puffs to work, everyone will know that you are a Julie clone and will start asking for some of the goodies. This is a good opportunity to start stocking up on IOUs with friends! Nothing says come take me to the airport at 5am than "Hey… Remember when I made you those cakes…".
It is actually nice to be able to give some love in the form of baked goods to friends. I recently was able to pass on some sweets for a friend's baby shower to welcome her baby girl into the world. I decided to go with the classic Petit Fours and add a few larger snack cakes in the mix. We'll show you how to make a simple poured fondant to get that smooth, sweet icing on the cakes. I'll also remind you how we made our simple dipping glaze for the larger cakes.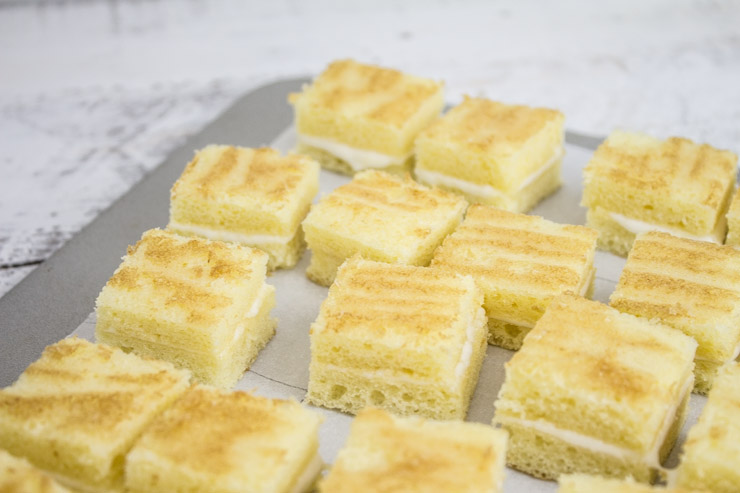 I started with my favorite simple white cake recipe. Nothing fancy. I cooked it in very thin layers in sheet pans. Some marshmallow-based cream filling between two layers and a bit of slicing and dicing. Perfect glazed icing. Petit Fours. Dainty little cute cakes that I think are just perfect for an event with lots of people mingling. You don't have to worry about a large piece of cake tipping over onto your Aunt's shoes. You can grab these and keep eating them and nobody will even notice that you've had 10 of them.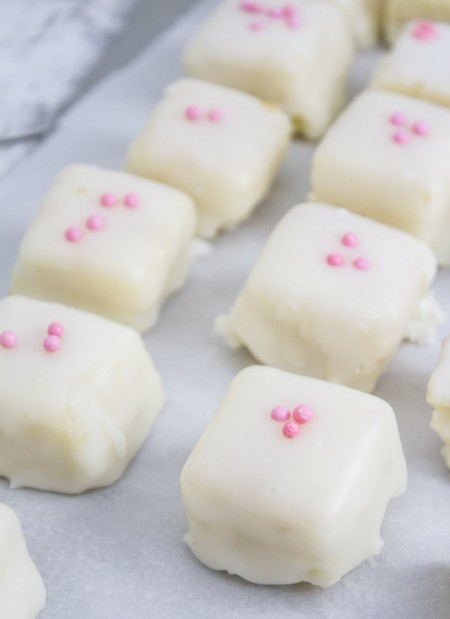 I have a love-hate relationship with fondant. I love the smooth look it gives, but really don't care for the massive amount of icing that can sometimes overwhelm you and leave you forgetting the cake element completely. I rarely ever top a full cake with fondant. I'd much rather have fluffy buttercream.
With that said, the small size of Petit Fours (As if they couldn't get any cuter– petit four means "small ovens" in french) seems to pair well with the thicker fondant-style icing. Heating the fondant will allow you to dip the cakes, leaving you with nothing except smooth tiny bits of heaven and compliments.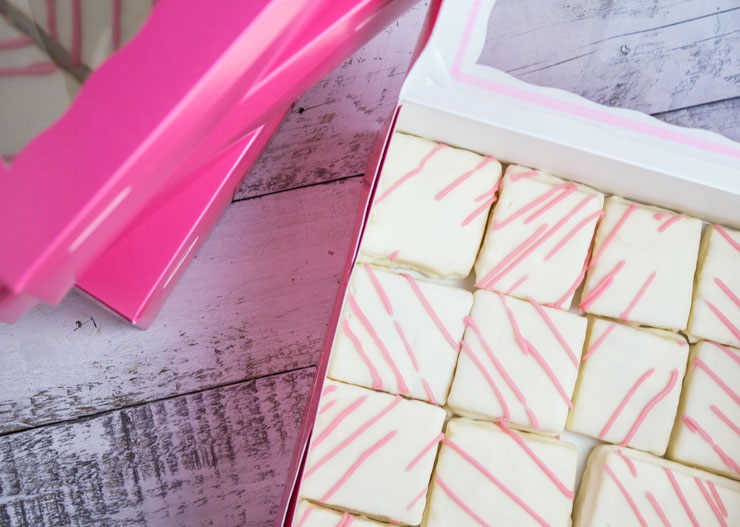 The larger snack cakes are just an altered version of our very first full post, Christmas Tree Snack Cakes. Having a slight addiction to those boxed snack cakes, I decided to make my own. And it worked! These are my go-to recipe for any party or event. Delicious and simple! Be sure to check that post out if you want a slightly thinner, snack cake icing glaze.
Side note: I would recommend using clear vanilla extract to keep the icing white.
Poured Fondant Icing
Simple, quick poured fondant. Perfect for petit fours or snack cakes! From SouthernFATTY.com
Serves:
Covers ~2-3 dozen cakes, depending on size.
Ingredients
1 cup (5 oz) almond/vanilla bark (alternatively use chocolate, if desired)
4 cups powdered sugar
¼ cup very hot water
¼ cup light corn syrup
1 teaspoon vanilla, I prefer clear vanilla extract to keep the icing white
food coloring, optional
Instructions
Melt chocolate/bark in microwave using 30 seconds bursts. Heat for 30 seconds, stir well, repeat as needed to melt. Usually complete in only 2-3 cycles for me.
Add powdered sugar, hot water (heat in mug in microwave covered w plastic wrap!), corn syrup, vanilla and stir until well combined and smooth.
Let cool enough to handle.
Quickly dip cakes with a fork/spatula or spoon over cakes and allow to cool.
If icing gets too thick while sitting, heat 30 seconds and stir.
Recipe from SouthernFATTY.com - Come say hello!
Notes
SouthernFATTY.com 2014