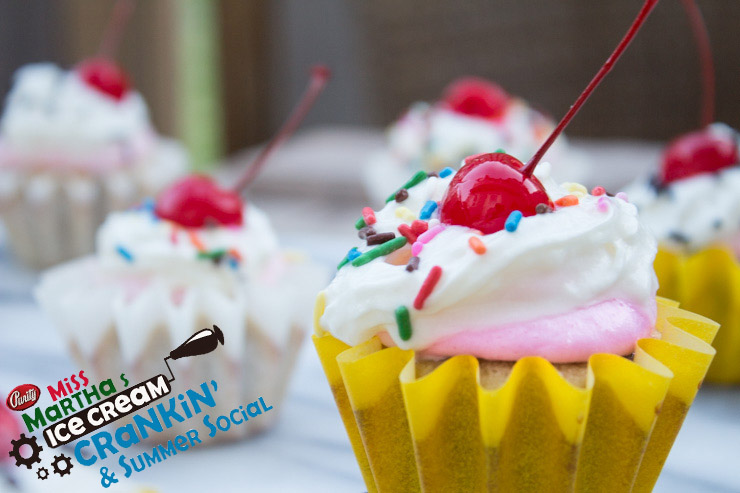 Growing up going to church ice cream socials a couple times a year was so tough… Gallons on gallons of homemade ice cream, tables lined with fruit and candy toppings, endless jars of sprinkles. Basically a sweet train ride straight to diabetes. It was perfect.
We throw those memories into a Banana Split Cupcake– a vanilla bean & banana infused cake, strawberry whipped frosting, whipped cream, sprinkles and of course, a bright red maraschino cherry to top it off.
Be sure to check out the end of the post for a highlight of the 2014 Martha O'Bryan Crankin' Ice Cream Social event in Nashville!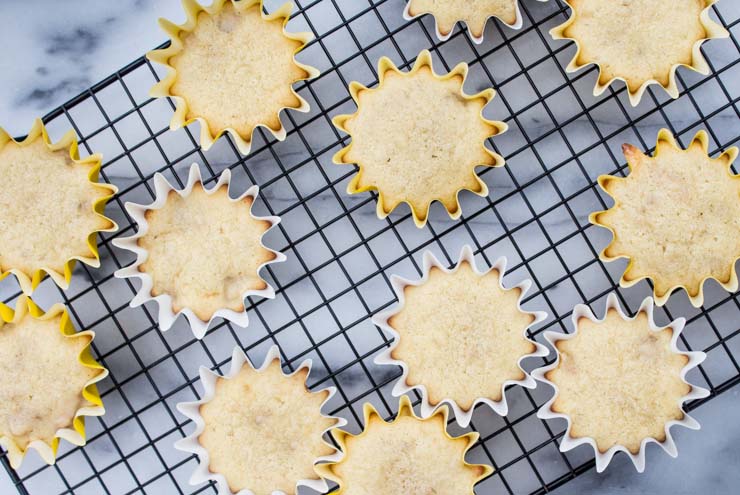 For the base of the cupcake, I wanted to include bananas, but not make it taste like banana flavoring. I wanted a bit more vanilla to imitate the ice cream in a split with fresh bananas. I used one of my favorite baking [not so secret] secrets, vanilla bean paste. Using the paste will leave you with a delicious vanilla flavor along with those recognizable vanilla bean bits. Add a few chopped bananas and you have your cupcake foundation.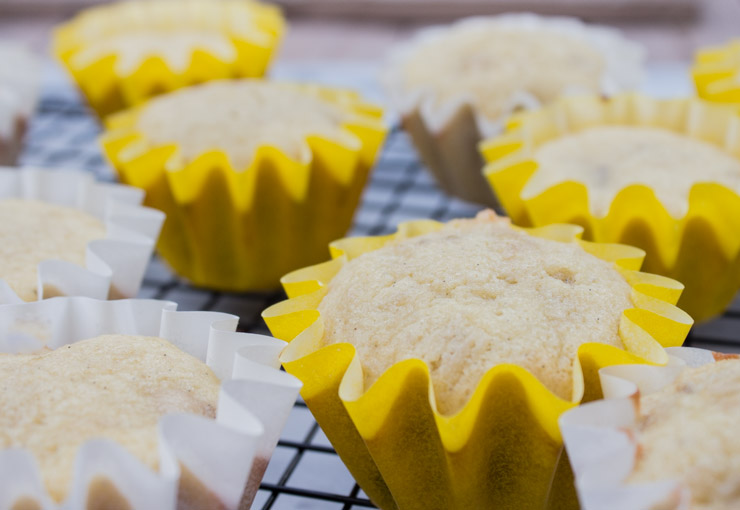 For the next layer, I decided to go strawberry. Locally, the strawberries are perfect right now. Mixed with a lighter, fluffy whipped cream cheese frosting, you'll have a great accent to top the cupcakes with. Since it was memorial day, I may have added a bit of local strawberry whiskey that I just discovered. Sorry, Mom!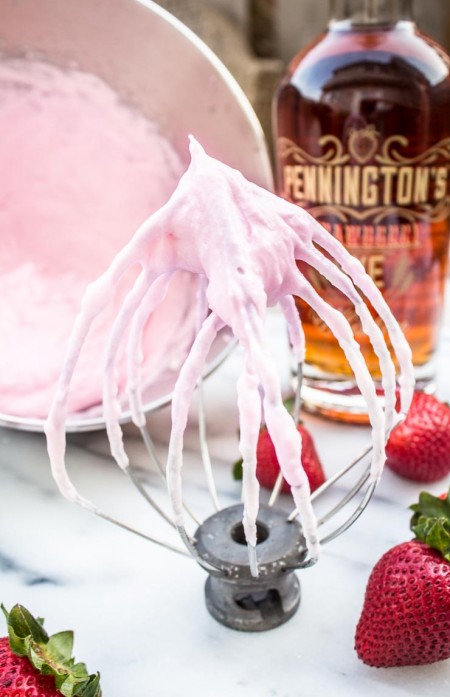 You can't have a respectable banana split with good ol' canned whipped cream. From experience…. leave the strawberry-frosted cupcakes until you are ready to serve them to add the whipped cream and toppings. The perkiness span is low on the canned whipped cream.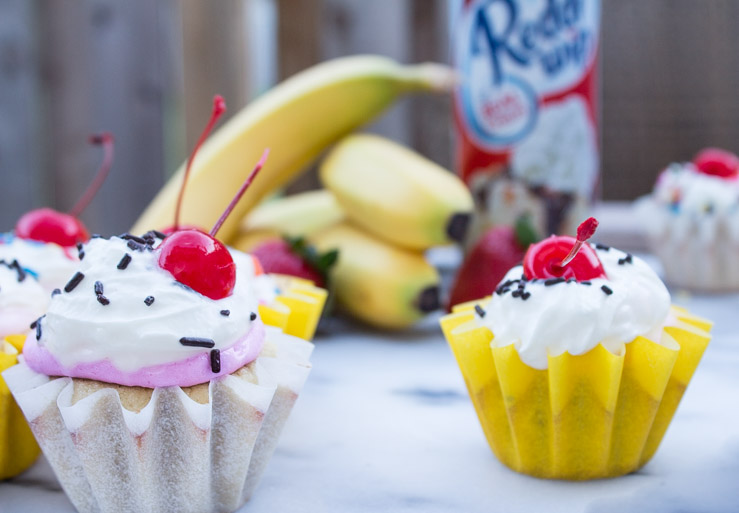 If chocolate is your thing, add some of that. Sprinkles are a must, and certainly make sure you throw a cherry on top. The fluffy cupcake with the hints of ice cream toppings on top will have you winning the blue ribbon!
Speaking of winning the blue ribbon– There is a HUGE ice cream event coming up in Nashville. The Martha O'Bryan Center is a local staple foundation in Nashville that has been empowering and assisting those in poverty since 1894. I had a chance to visit the Center and was blown away by the span of services that they offer to the Nashville community.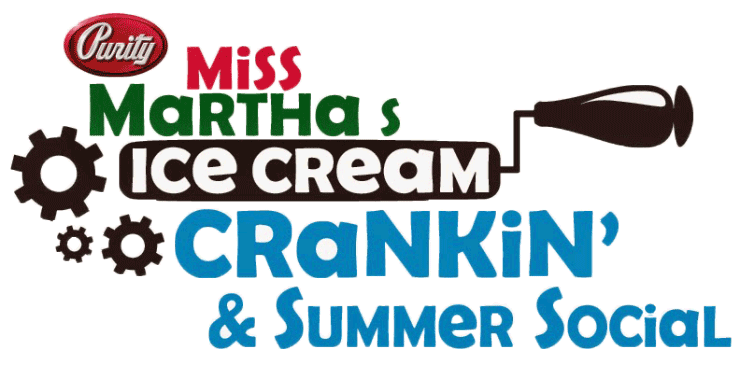 Not only do they provide daily after-school services, but even operate their own Charter schools, in-house education, pre-birth services that continue all the way through adulthood. It is truly a place of love and learning for thousands.
Join us with the other thousands of attendees on June 8th, 2014 for the 29th Purity Miss Martha's Ice Cream Crankin' and Summer Social from 3-5pm. Tickets can be purchased in advance at the Martha O'Bryan Center website for $10 or at the door on the day of the event. Come support an amazing organization and eat your weight in homemade ice cream!
Be sure you come say hello to yours truly. I am honored to be one of the judges for the event. I know… I know. Tasting tons and tons of delicious ice cream is a tough job. I'm taking one for the team here. The winner will have their flavor produced by Purity for at least the next year! I'll be sure to let you out-of-towners know what wins so you can go try it for yourself.
Banana Split Cupcakes
Banana Split Cupcakes from SouthernFATTY.com
Ingredients
Cupcakes
1 and ½ cup flour, AP
1 teaspoon baking powder
½ teaspoon salt
1 cup sugar
8 tablespoons butter, softened
3 eggs
¾ cup milk
1 tablespoon vanilla bean paste
2-3 bananas (3 smaller is what I used); 1 smashed and other chopped
Strawberry Frosting (stabilized)
8 oz cream cheese, softened
½ cup sugar
½ cup powdered sugar
1 and ½ cup heavy cream
1 tablespoon strawberry whiskey
½ teaspoon vanilla bean paste
5-6 strawberries, mashed or pureed
1 packet gelatin
Finishing Touches, optional as desired
Canned whipped cream
Sprinkles
Chocolate, Caramel, Strawberry Syrup as desired
Nuts
Maraschino Cherries
Instructions
Cupcakes
Pre-heat oven to 350 F.
Fill cupcake pan with paper liners.
Cream butter and sugar in mixer.
Add eggs, one at a time, mixing between each.
In a bowl, sift flour, baking powder, salt together. Sifting helps prevent clumping.
Add flour mixture to butter/egg mix slowly, about ⅓ of flour at first. Add half of milk. Another ⅓ of the flour, the other half of milk, and end with the last ⅓ of flour. Mix well after each addition. Mix in smashed banana and combine well.
Add vanilla paste (extract alternatively).
Add chopped banana and roughly combine.
Fill molds about ¾ of the way. Bake for ~20 minutes.
Let cool.
Strawberry Frosting
In mixer bowl, combine cream cheese, granulated sugar and vanilla. Cream well with whisk attachment.
Add strawberry whiskey, if using.
While mixing, slowly add cream until combined.
Mix on medium speed until fluffy.
Mix in strawberries.
Optional-- Sprinkle packet of gelatin and mix well. This will allow the frosting the hold shape longer if that is needed. I prefer adding it.
Cool until needed for piping.
Finished Cupcakes
Pipe frosting to cooled cupcakes.
Top with desired toppings: whipped cream, sprinkles, syrups, cherries, etc.
Enjoy! Visit SouthernFATTY.com for more.
What is your favorite homemade ice cream flavor? Let us know by commenting below!