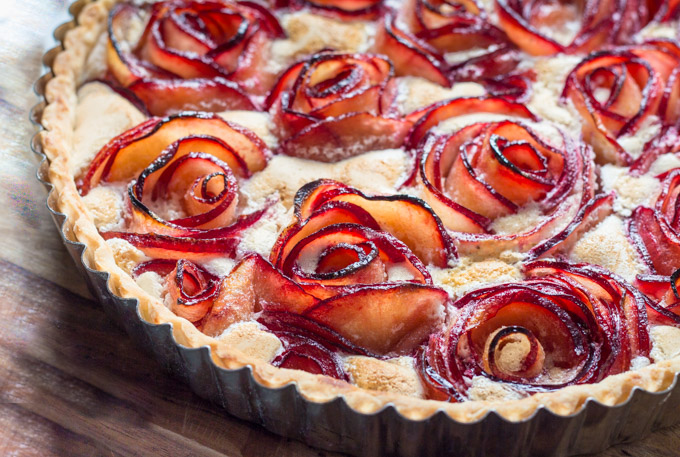 With summer creeping towards fall, it's the perfect chance to grab your favorite fruits for a last hoo-rah in the kitchen. What better way to do that than with some crazy science-experiment hybrid fruit that happens to taste like heaven itself??
I'm obviously referring to the pluot. The what?? Pluot! Think plum + apricot. Now spin that beauty into a meringue filled sugar shell and you've got it.
– Keep reading to find out what these things are, and how to make this simple sweet. –
Let's go ahead and tackle this whole odd fruit thing first. A pluot is a fruit that was produced by crossing a plum with an apricot. I know plums. We used to have trees of them in our front yard when I was growing up (although, I was always scared to eat them for some reason). Apricots are something I use in a ton of my kitchen. Mostly classic pastry, as it's sorta the french go-to for glazing and sealing sensitive doughs. Both together? Sure! Why not?!
The day-job scientist and total nerd in me got super curious, as I hadn't really thought about how this process works in this specific case. Some digging led me to discover that they are not only called plots, but also plumcots, apriums, apriplums, and even dinosaur eggs (my personal favorite, having grown up in the Jurassic Park era).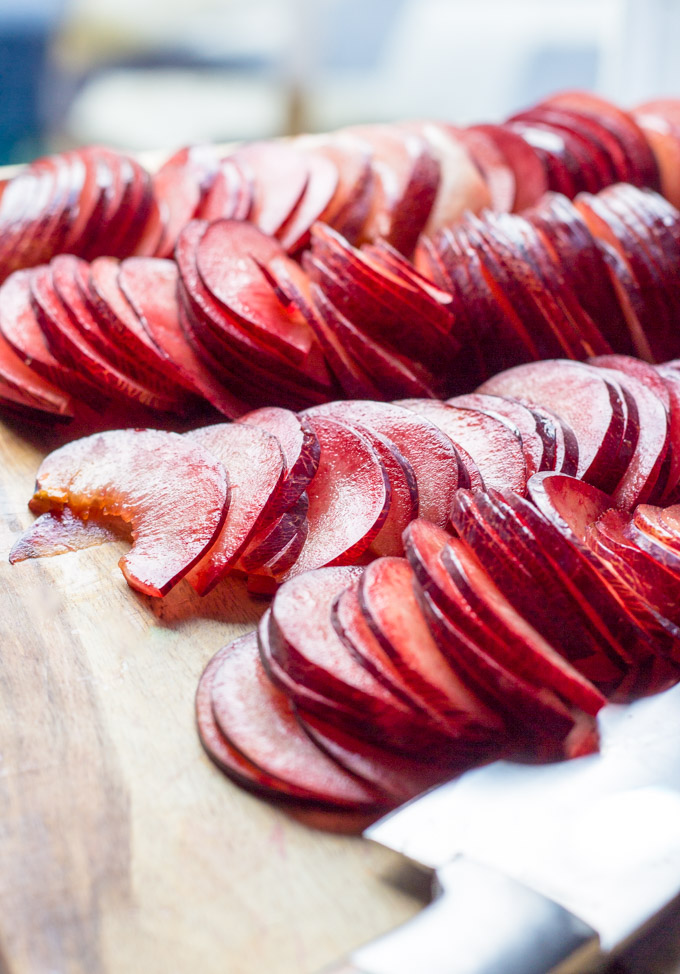 A nice side-note– You may think that these twisted sisters are obviously GMO produce. They actually aren't. These were developed the old school. way. You know… you put a mommy plum with a daddy apricot, turn on some Marvin.
The original cross of the fruit are technically referred to as plumcots. These are 50/50 plum:apricot, first crossed by a horticulturist nearly a century ago. Following the plumcot's arrival, a 25/75 plum:apricot breed was established. This is the more common ratio that you are about to enjoy when you make this tart. Punnet's square flashback from middle school, anyone? I know you miss it.
If you're up for some geeking out, you might enjoy this book about the life of Luther Burbank, the father of like a million interesting fruits and vegetables, and how garden favorites were developed back in the day before all of the chemicals and genetic alterations commonly used now. Really, pretty interesting.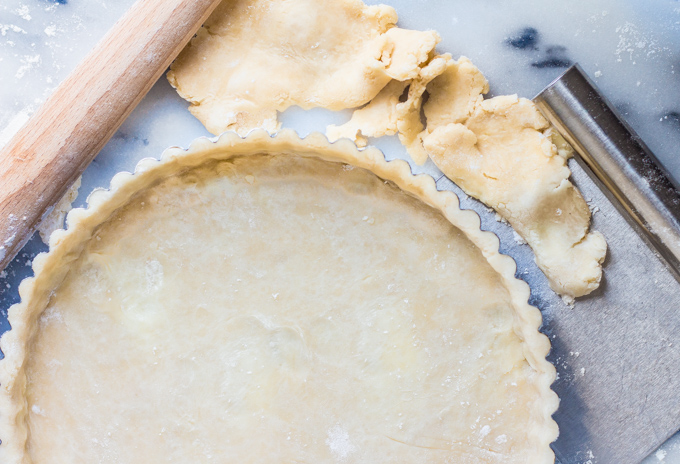 The base for this Frankenstein tart is a basic French pastry shortcrust. Butter, flour, a pinch of sugar. Shortcrust don't include any leaving ingredients, so the crust will stay pretty flat. Plain and simply delicious.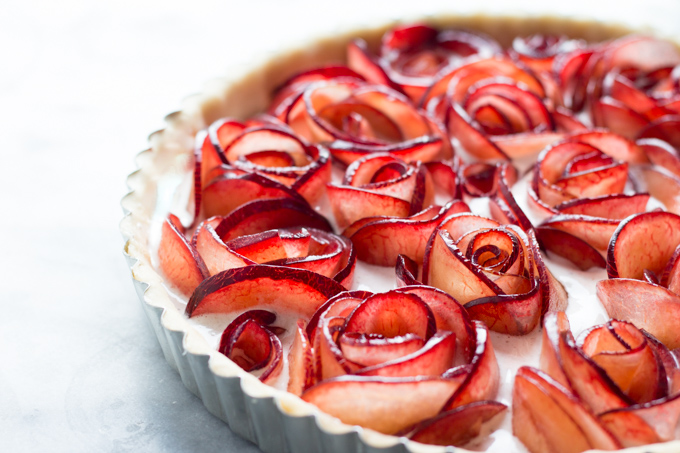 If you have a spare hour or so on your hands, you can spin the pluots into these little rosettes. I was taking this tart to a little get-together with friends, so I put in the effort. Next time, they're getting one with the fruit flat on its back ("On my baaaack?" -Lea Black, RHOM) with a slight overlap. I figure since they've seen it once, I can stop making any additional efforts after that. It all tastes the same, right?
If you love your friends more than I do, be sure you slice the pluots as thinly as possible. Otherwise, you won't be able to retain the curves as you overlap the pieces to make the flower shapes.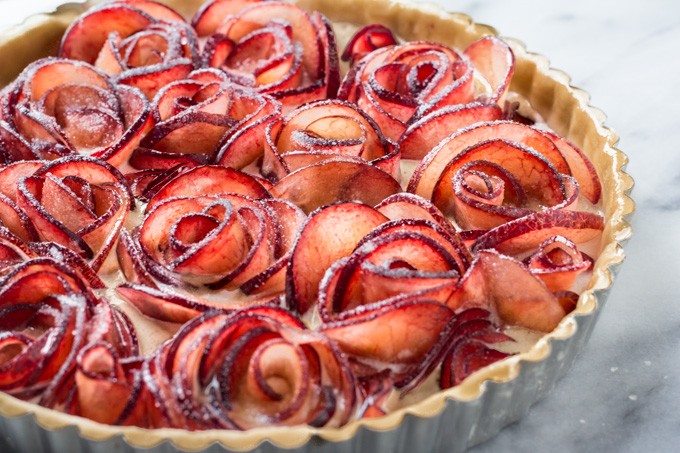 I glazed the tart with a bit of warmed apricot jam before sprinkling (covering, if we are honest) some granulated sugar on top to give some nice immediate sweetness when you first hit the fruit. Because we mix the slices up with some lemon juice, this sugar layer really helps to balance everything out.
The filling for the dessert is a simple meringue. This is sorta the same as the type of meringue that you would bake low and slow into the puffs that dissolve in your mouth. We'll bake it a bit more quickly and just allow the top to crisp slightly with some color. You're left with a sweet cream-like filling surrounding the fruit. Works beautifully, I think.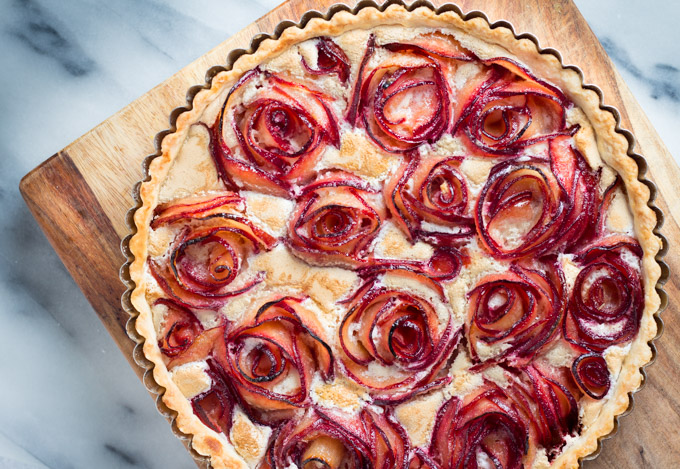 Ta daaaaa! Frankentart is ready to mingle and impress at your next party. The unique fruit isn't overly sweet, but gives a great amount of fresh sweetness with a splash of tart. The meringue ties everything together. We don't really even need to discuss the buttery tart shell. Classic technique and style, unique ingredients. Enjoy!
Pluot Meringue Tart
A classic meringue filled dessert tart with a unique pluot (plum + apricot cross) fruit addition. From SouthernFATTY.com.
Ingredients
Tart Crust
1 plus ½ cup (187 g) flour, AP
1 tablespoon (12.5 g) sugar
¼ teaspoon (1.5 g) salt
1 stick (113 g) butter, very cold
4 tablespoons (60 ml) water, ice cold
Fruit Filling
5 pluots (or plumcots, etc.)
1 tablespoon (15 ml) lemon juice, fresh
½ tablespoon (6 g) sugar
Meringue Filling
1 egg white, room temperature
4 plus ½ tablespoons (56 g) sugar
4 tablespoons (25 g) almond meal
Finishing
Apricot jam, to glaze
Sugar, to top
Instructions
Tart Crust
Combine flour, sugar, salt in food processor. Pulse a couple times to combine.
Cube cold butter and add to flour mix in processor.
Pulse 10 times to result in a cornmeal-similiar mix.
Remove to a bowl. Add water and mix by hand gently just until dough comes together.
Flatten to a disc and wrap in plastic wrap to chill for an hour.
Fruit
Remove crust dough from chill and place on counter while preparing fruit (10 minutes).
Slice pluots as thinly as possible. Carefully using a mandoline may help.
Place sliced fruit in a bowl with lemon juice and sugar. Allow to rest while rolling out crust.
On a floured surface, roll dough into circle larger than 9" tart pan, about ¼ inch thickness.
Carefully transfer dough to pan and press gently into creases. Trim top.
Place crust back in refrigerator to chill while preparing meringue.
Meringue
In a dry mixing bowl, add room temperature egg white.
Beat on medium speed until frothy.
Add sugar a tablespoon at a time and continue to beat.
Whisk well until stiff peaks form, just a few minutes.
Fold in almond meal.
Finishing and Baking
Pre-heat oven to 425 F / 218 C.
Remove crust from chill and top with meringue mixture.
Apply pluots in pattern desired. For the rosettes shown on the blog post pictures, drain fruit well from juice and roll. Work outward from the center of each rosette, securing the base in the meringue carefully.
You may need to pop the tart in the refrigerator every 5-10 minutes if you are making an intricate design, to keep the dough and meringue from being too soft.
Once you have the fruit placed, warm the apricot jam in the microwave and apply it to the fruit only with a pastry brush.
Sprinkle (or dump a lot in my case) sugar over fruit.
Bake for 15 minutes.
Reduce heat to 385 F and bake until meringue is golden, about 25 minutes.
Cool and enjoy! I prefer this at room temperature.
-- Find more recipe on SouthernFATTY.com --
Notes
2015 - SouthernFATTY.com