Pluot Meringue Tart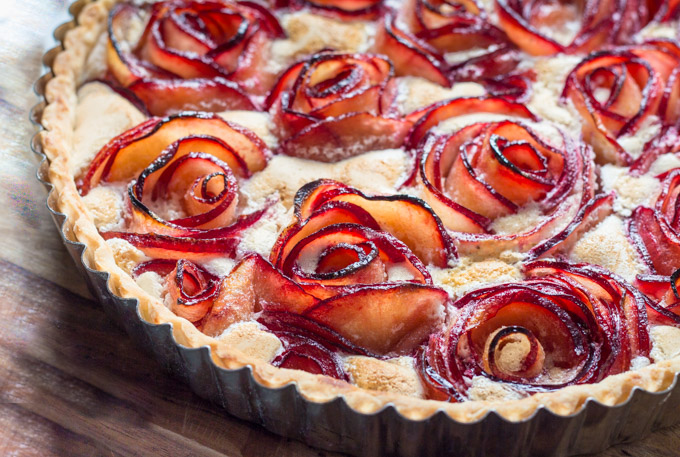 1 plus ½ cup (187 g) flour, AP
1 tablespoon (12.5 g) sugar
¼ teaspoon (1.5 g) salt
1 stick (113 g) butter, very cold
4 tablespoons (60 ml) water, ice cold
5 pluots (or plumcots, etc.)
1 tablespoon (15 ml) lemon juice, fresh
½ tablespoon (6 g) sugar
1 egg white, room temperature
4 plus ½ tablespoons (56 g) sugar
4 tablespoons (25 g) almond meal
Apricot jam, to glaze
Sugar, to top
Combine flour, sugar, salt in food processor. Pulse a couple times to combine.
Cube cold butter and add to flour mix in processor.
Pulse 10 times to result in a cornmeal-similiar mix.
Remove to a bowl. Add water and mix by hand gently just until dough comes together.
Flatten to a disc and wrap in plastic wrap to chill for an hour.
Remove crust dough from chill and place on counter while preparing fruit (10 minutes).
Slice pluots as thinly as possible. Carefully using a mandoline may help.
Place sliced fruit in a bowl with lemon juice and sugar. Allow to rest while rolling out crust.
On a floured surface, roll dough into circle larger than 9" tart pan, about ¼ inch thickness.
Carefully transfer dough to pan and press gently into creases. Trim top.
Place crust back in refrigerator to chill while preparing meringue.
In a dry mixing bowl, add room temperature egg white.
Beat on medium speed until frothy.
Add sugar a tablespoon at a time and continue to beat.
Whisk well until stiff peaks form, just a few minutes.
Fold in almond meal.
Pre-heat oven to 425 F / 218 C.
Remove crust from chill and top with meringue mixture.
Apply pluots in pattern desired. For the rosettes shown on the blog post pictures, drain fruit well from juice and roll. Work outward from the center of each rosette, securing the base in the meringue carefully.
You may need to pop the tart in the refrigerator every 5-10 minutes if you are making an intricate design, to keep the dough and meringue from being too soft.
Once you have the fruit placed, warm the apricot jam in the microwave and apply it to the fruit only with a pastry brush.
Sprinkle (or dump a lot in my case) sugar over fruit.
Bake for 15 minutes.
Reduce heat to 385 F and bake until meringue is golden, about 25 minutes.
Cool and enjoy! I prefer this at room temperature.
-- Find more recipe on SouthernFATTY.com --