The fluffiest of fluffy homemade marshmallow recipes. Vanilla bean and peppermint layered marshmallows topped with soft peppermint crushed candy, white chocolate, and crushed cookies and cream cookies.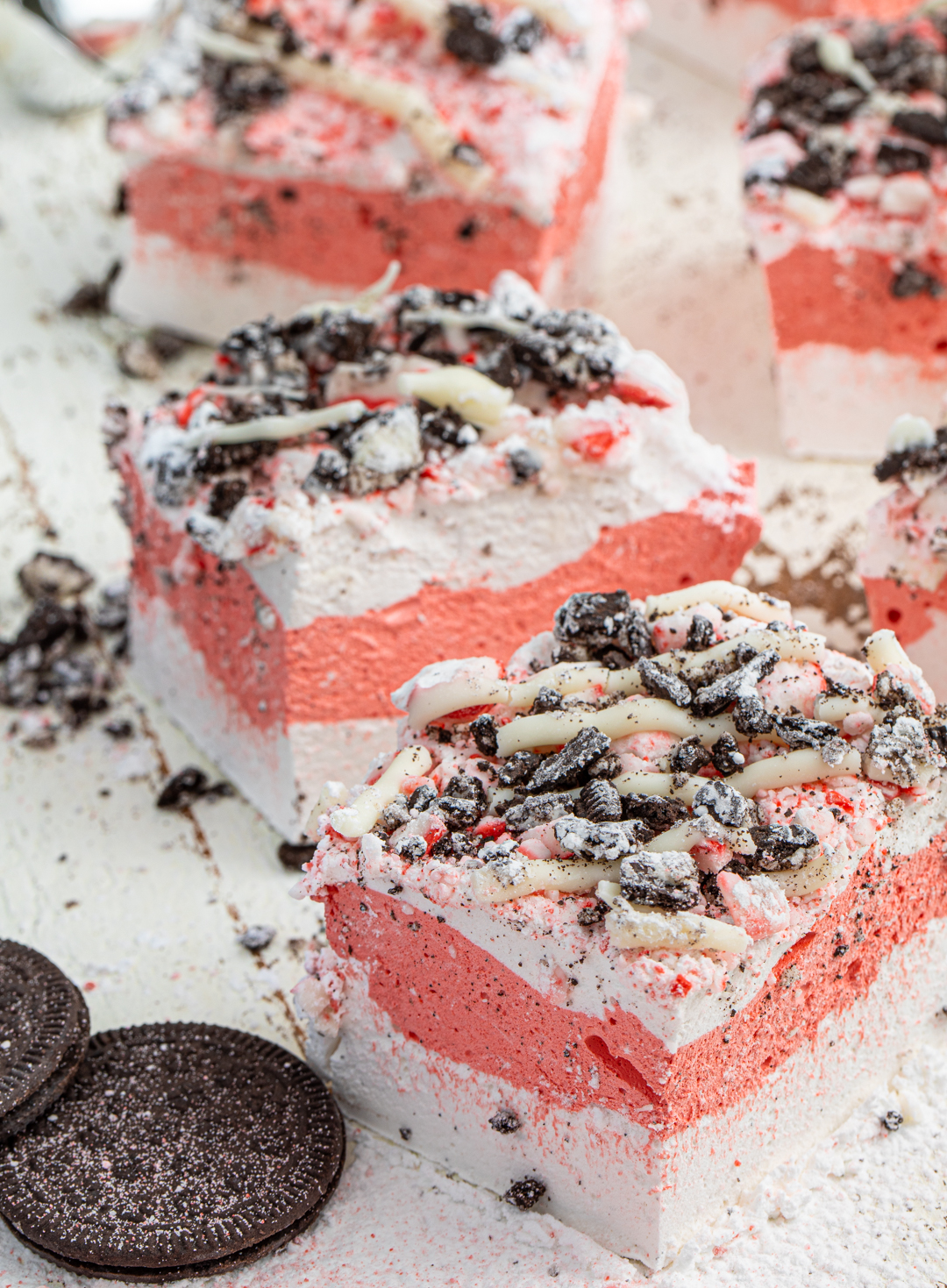 This post is sponsored by Kroger.
Over the years (years, y'all… it's still a bit cray to think that I've had this blog thing going since December of 2013), I've made sooooo many marshmallow-based recipes. Everything from pumpkin to homemade sugar-coated peeps, cereal marshmallow treats to s'mores cake. Maybe growing up loving marshmallow cream is the culprit of my love of all things 'mallow. Along with creating all of these fluffy favorites, I've quickly figured out that while bagged marshmallows are pretty good, homemade are just irreplaceable. Stocked up with my Kroger® grocery grabs, these homemade marshmallows have layers of vanilla bean and peppermint, topped with soft buttery, peppermint candy, white chocolate drizzle, and Kroger Kaleidos Original Chocolate Sandwich Cookies.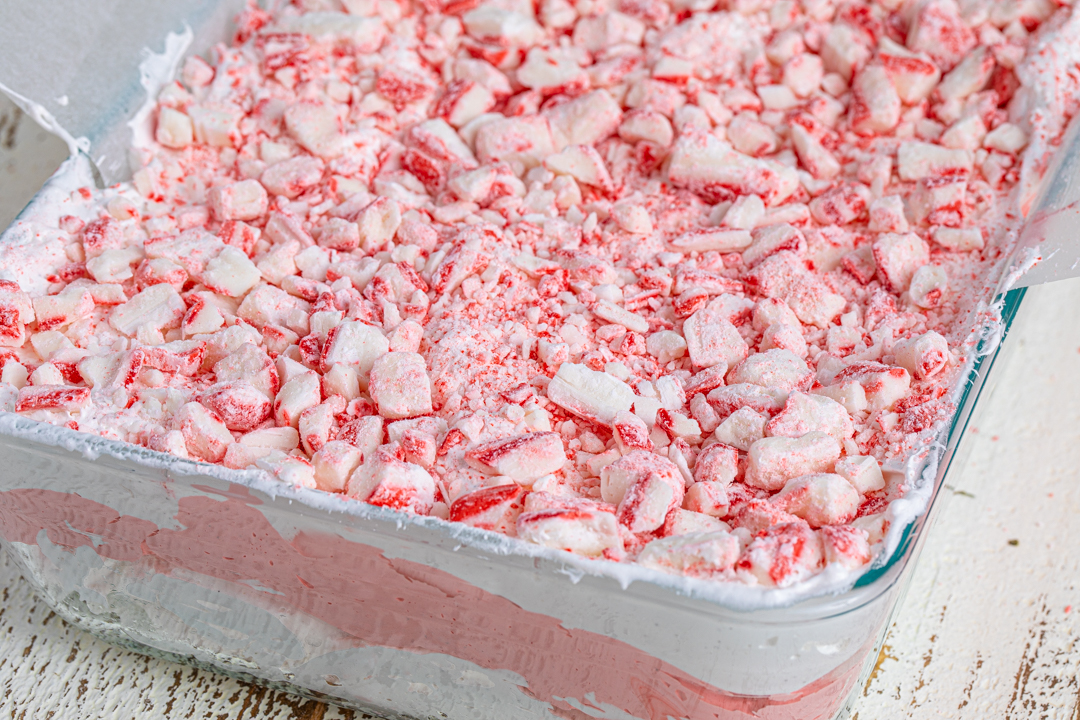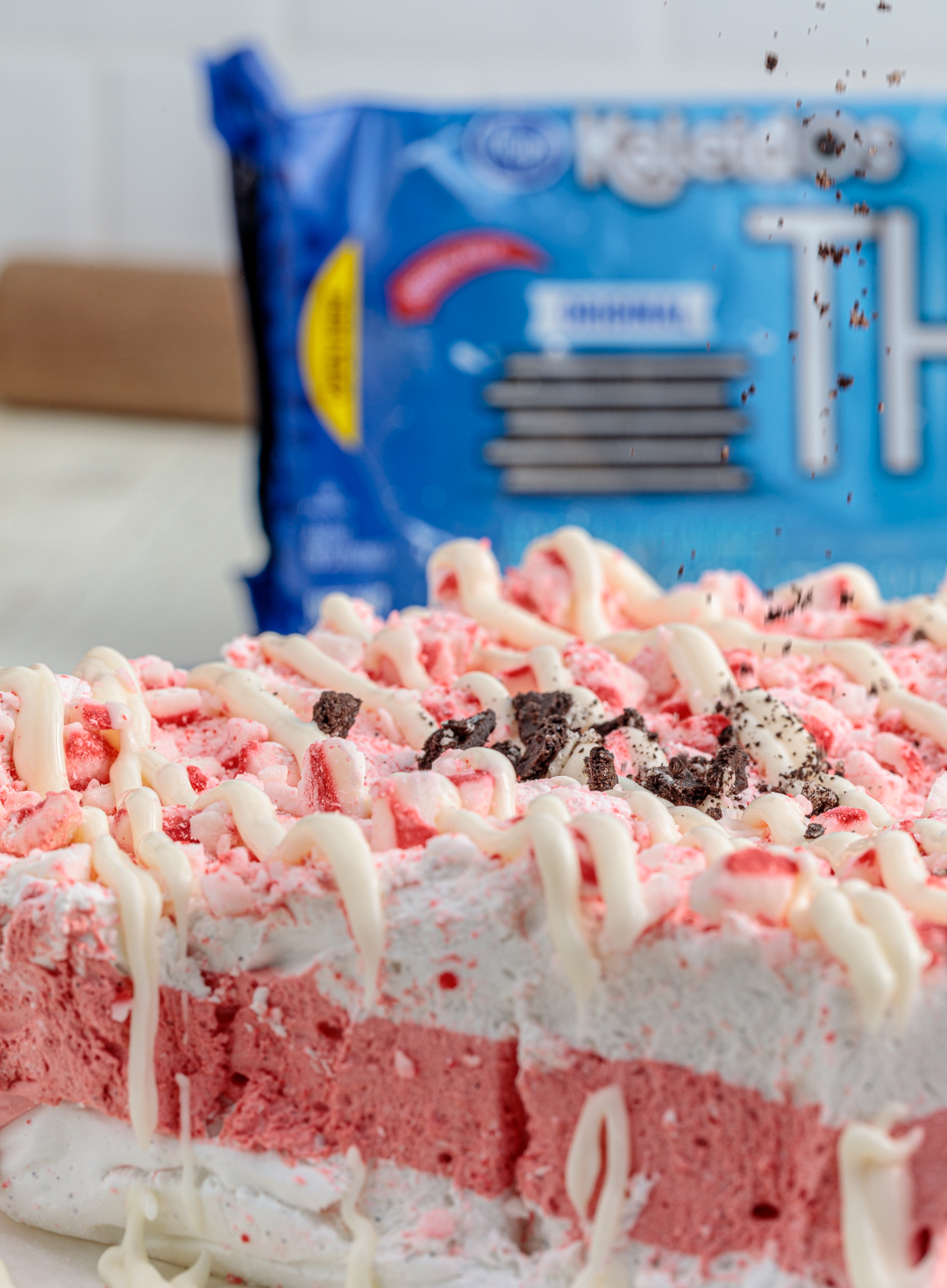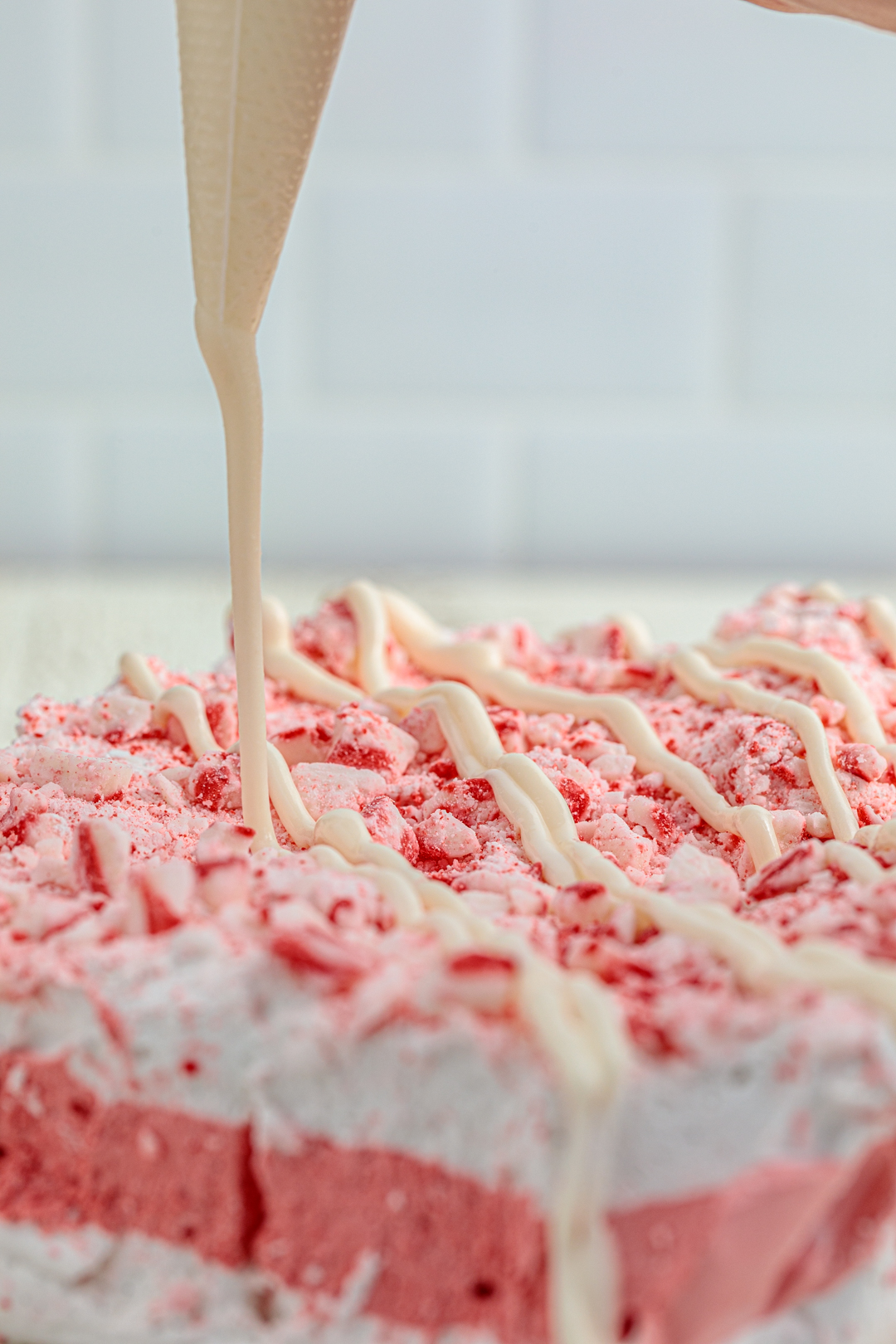 Peppermint always brings me right back to the holidays. My grandmother always had peppermint ice cream in the freezer. These marshmallows remind me a lot of that same flavor combination. Creamy vanilla base with splashes of vibrant peppermint mixed in, candy pieces on top. I love how mint gives such a burst of flavor. It's like bringing the snow flurries (we had a day full of snow last week in Nashville!) into your hands, but topped with chocolate cookies. I'll take that taste of winter any day.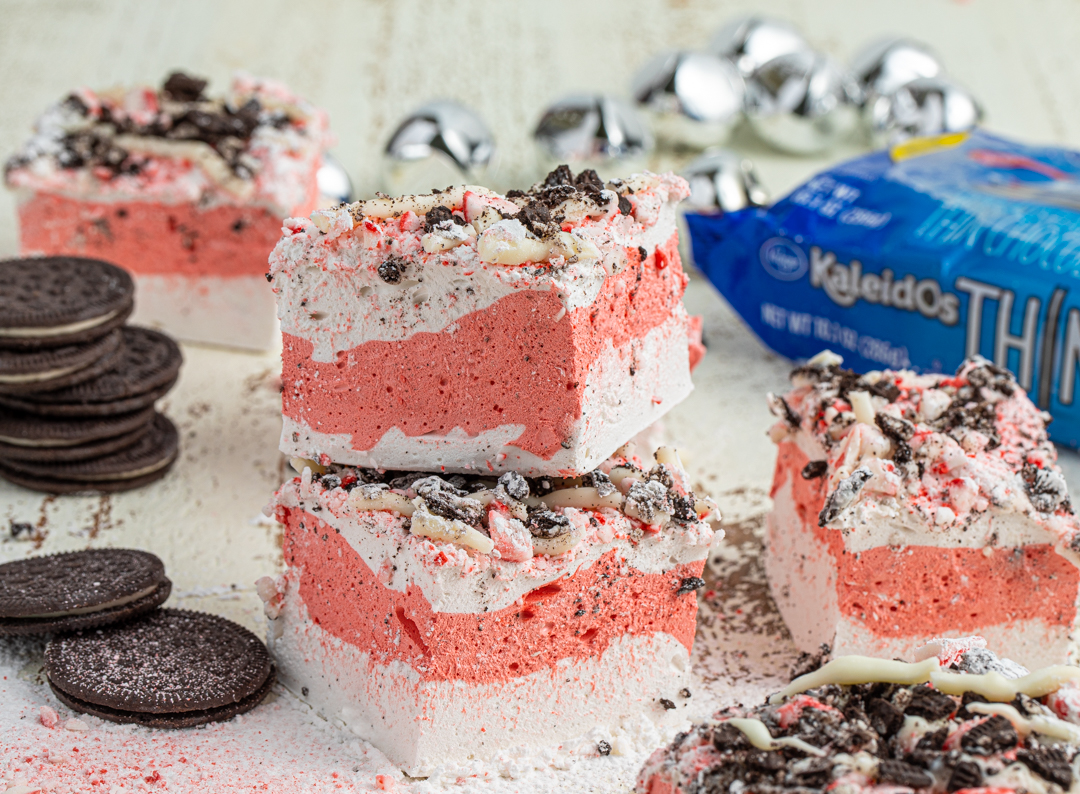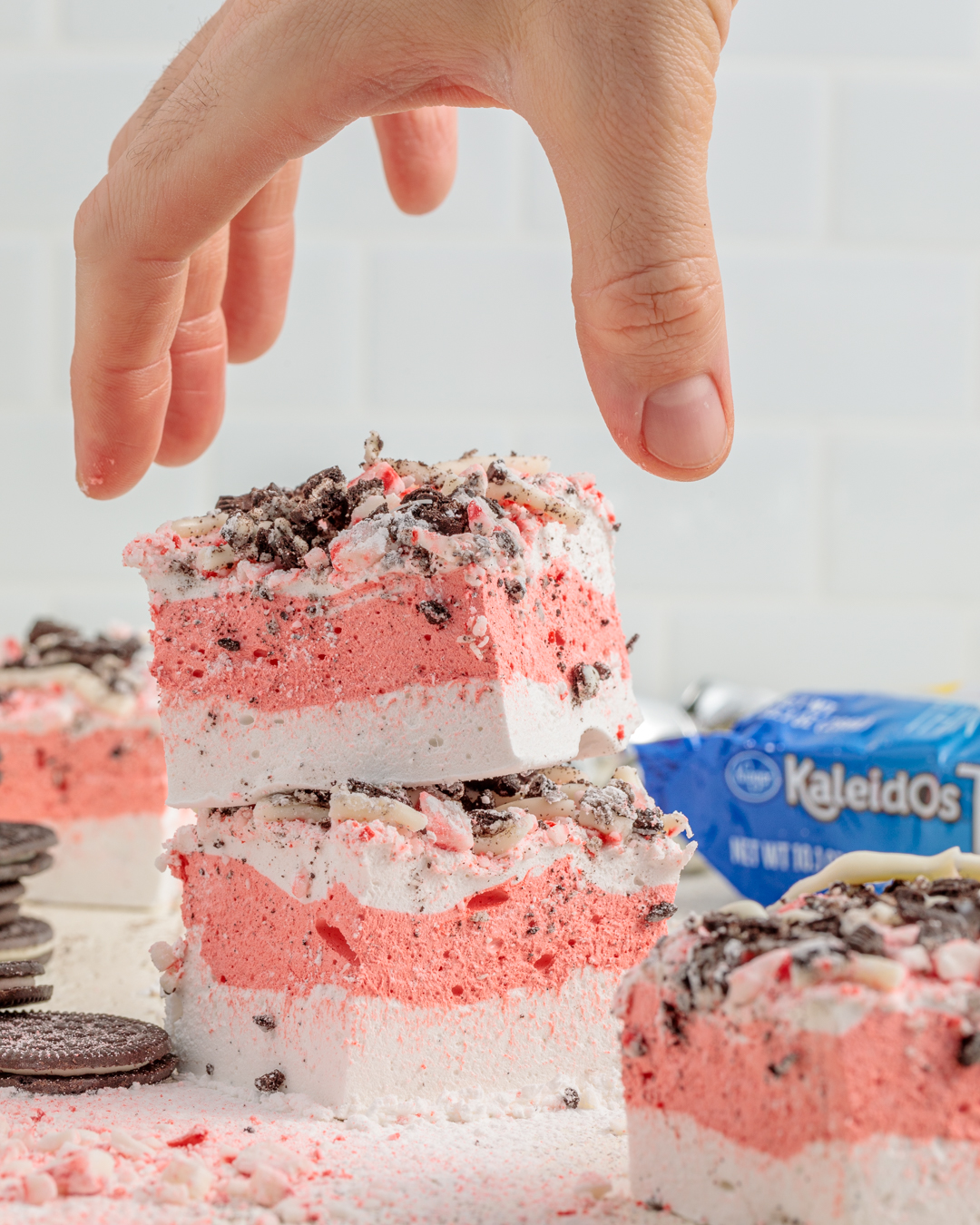 Speaking of cookies. I've posted several recipes using the variety of Kroger Kaleidos, including Funfetti Cookie Crusted Cheesecake. I have big plans to use the Key Lime Kaleidos for another cheesecake this next summer. Kroger Kaleidos Thin Chocolate Sandwich Cookies were my pick for this recipe, although you could use the Originals just as easily. I love the Thin variation because they are so simple to crush. Super crisp with the perfect cookie to filling ratio, I think.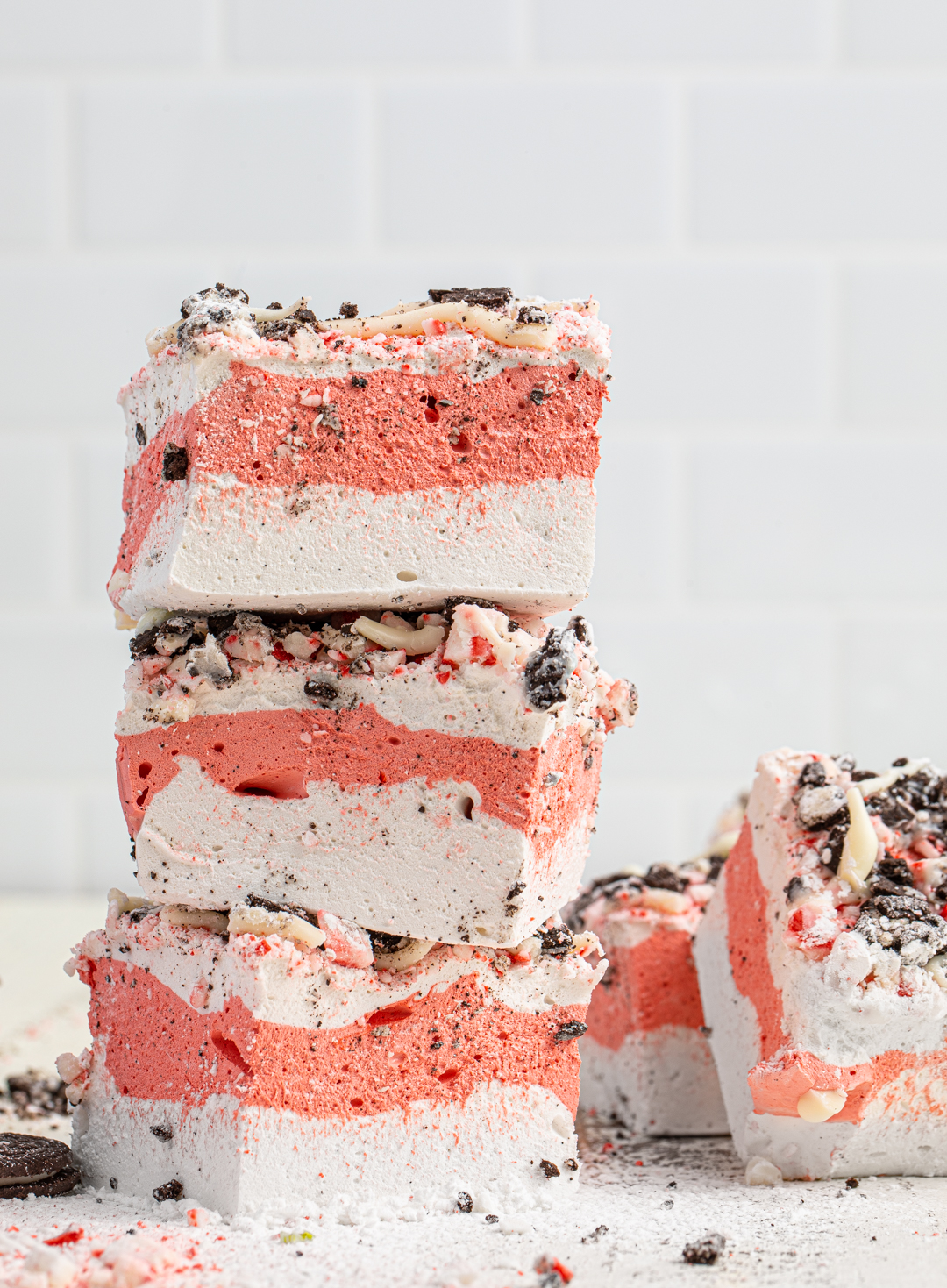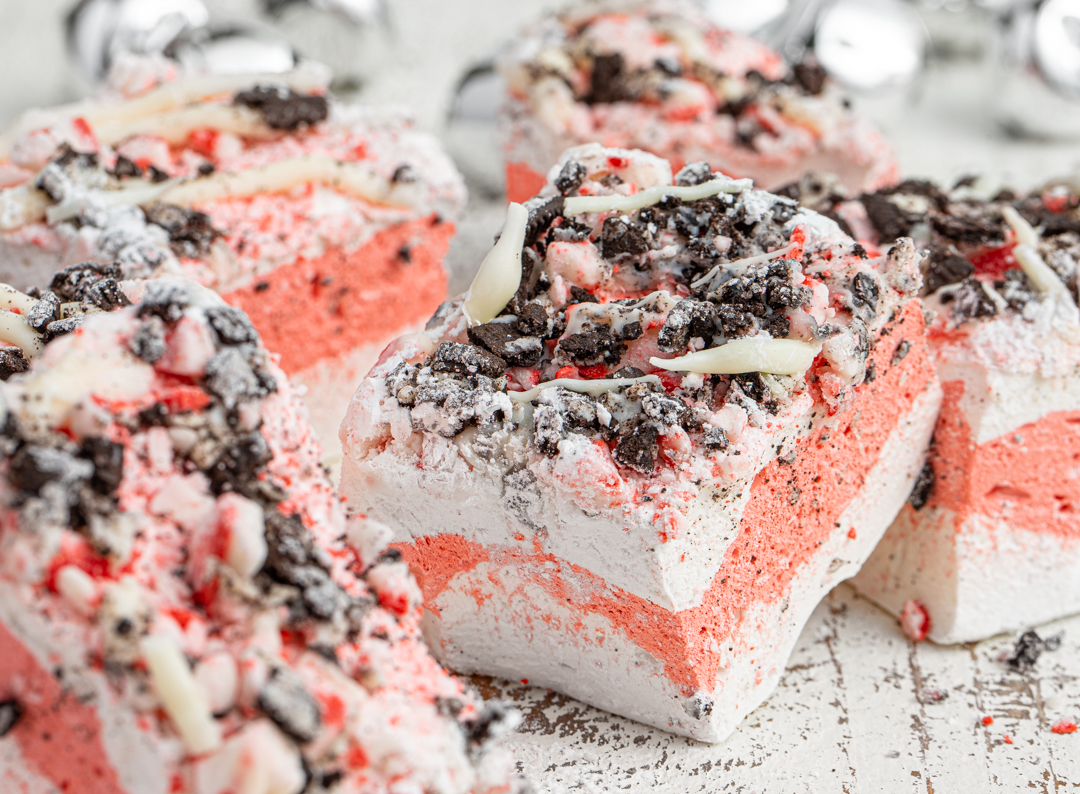 Marshmallows seem like a daunting task to some. They are shockingly simple to make. Some sugar, corn syrup, gelatin, and a fast spinning mixer. Add in some vanilla and Kroger Pure Peppermint, layer each when you pour the whipped marshmallow into a pan and you have the perfect base to a simple sweet.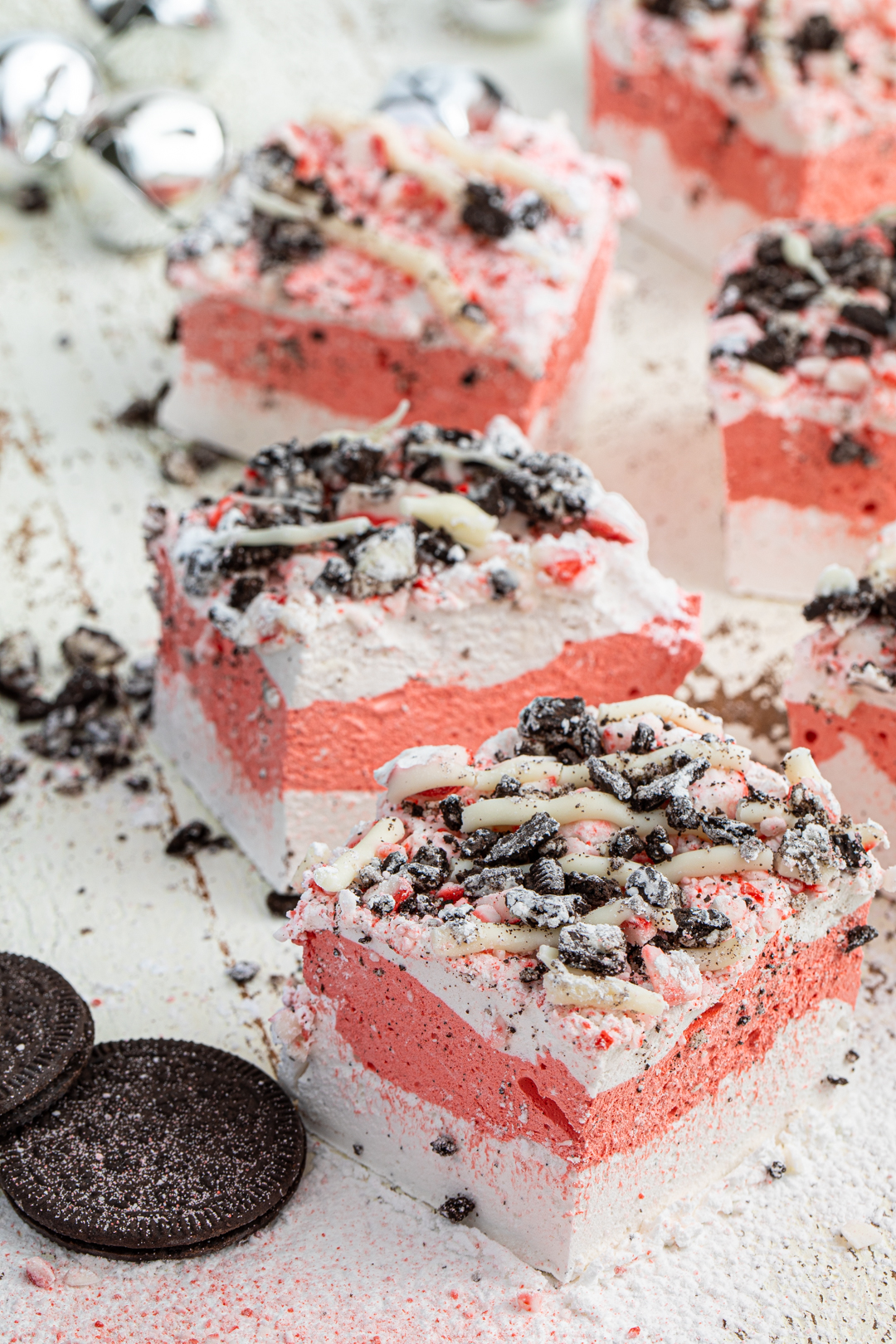 These treats are a great gift for friends and family, too. Wrap them in some parchment or wrap with a little bow and watch everyone who is lucky enough to have them under their tree smile and ask how people can make their own marshmallows with such flair. — Happy Holidays, y'all!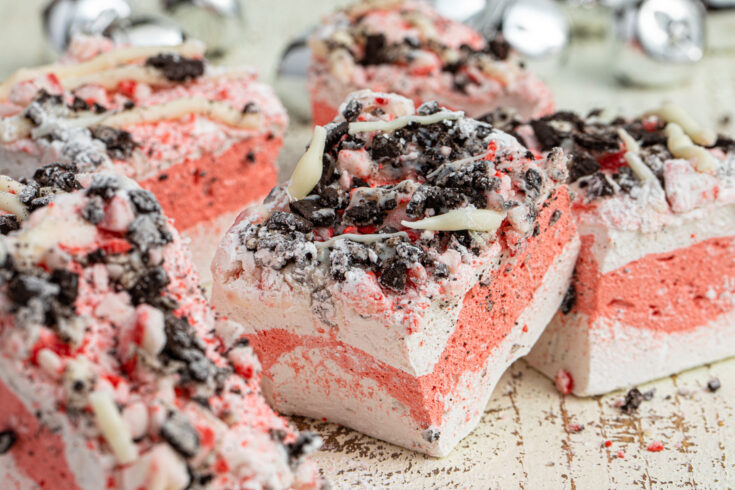 Yield:

16 squares
Peppermint Cookies & Cream Marshmallows
Additional Time:
3 minutes
Vanilla bean and peppermint layered marshmallows topped with soft peppermint crushed candy, white chocolate, and crushed cookies and cream cookies. From SouthernFatty.com.
Ingredients
21 grams (3 packets or 3/4 ounce) unflavored gelatin powder
115 grams (1/2 cup) COLD water
115 grams (1/2 cup) water
200 grams (1/3 cup) light corn syrup
400 grams (2 cups) sugar
1 pinch salt
1 teaspoon Kroger Pure Vanilla Extract or vanilla bean paste
1/4 teaspoon Kroger Pure Peppermint Extract
1 cup peppermint soft candy, crushed
1 cup melted white chocolate
1 cup Kroger Kaleidos Chocolate Sandwich Cookies, crushed
1 red food coloring
Instructions
Hydrate gelatin powder in the COLD water in small bowl. Set aside.
In a medium to large saucepan, combine the additional water, sugar, corn syrup over medium to medium-high heat.
Place a candy thermometer into the sugar mixture and cook without stirring until 250 F.
When the syrup reaches this temperature, immediately remove, stir in gelatin, and pour into a mixer bowl.
Transfer the thermometer to the mixing bowl and let syrup sit until it reaches 212 F. Watch closely!
When it reaches this temperature, whisk at medium speed for 10 minutes.
Add the vanilla and mix to combine.
Remove a third of the mixture to another bowl and quickly stir in peppermint extract and red food coloring to this portion.
Pour the vanilla marshmallow into an 8x8 pan, top with peppermint layer, and finish with the remaining vanilla marshmallow. Even the top with a greased spatula and sprinkle the crushed peppermint on top. Press lightly to set.
Drizzle melted white chocolate and finish with the crushed Kroger Kaleidos Chocolate Sandwich Cookies.
Enjoy! Find more recipes on SouthernFatty.com.