Sticky, sweet pecan pie filled waffle pizzelle cookies with chopped pecans. Smooth caramel pecan pie filling between two waffle cookies makes the perfect holiday cookie recipe.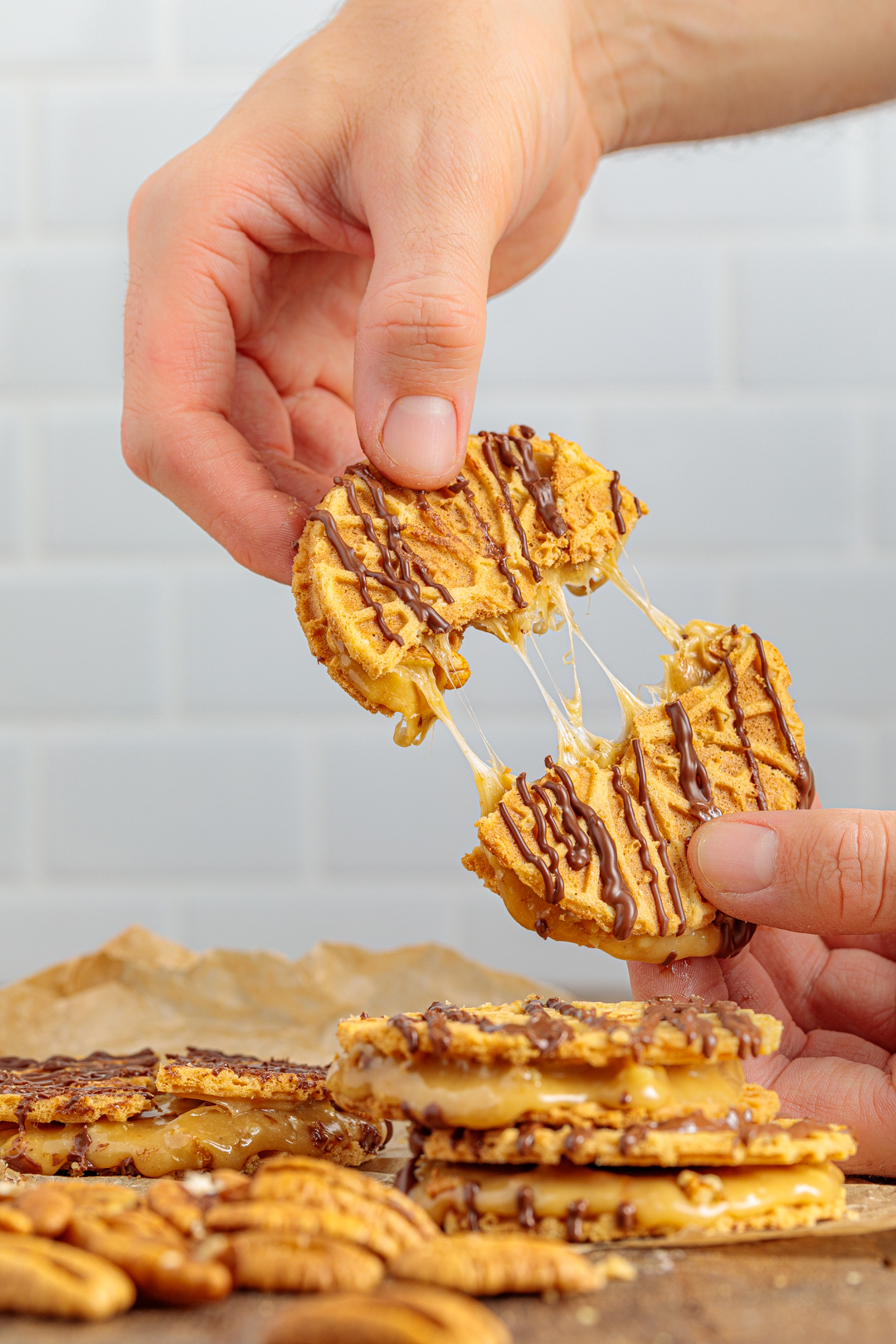 Pecan pie ov er pumpkin pie ANY. DAY. Y'ALL. And dare I say it… Pecan pie filling in a cookie sandwich may be higher on my dessert favs list after I made these. Not only do you get two super-thin, golden pizzelle waffle cookies drizzled in chocolate, but you also get the exact (and I seriously mean exact) flavors of a perfect pecan pie. Here in the south, that means something pretty serious when it comes to sweets.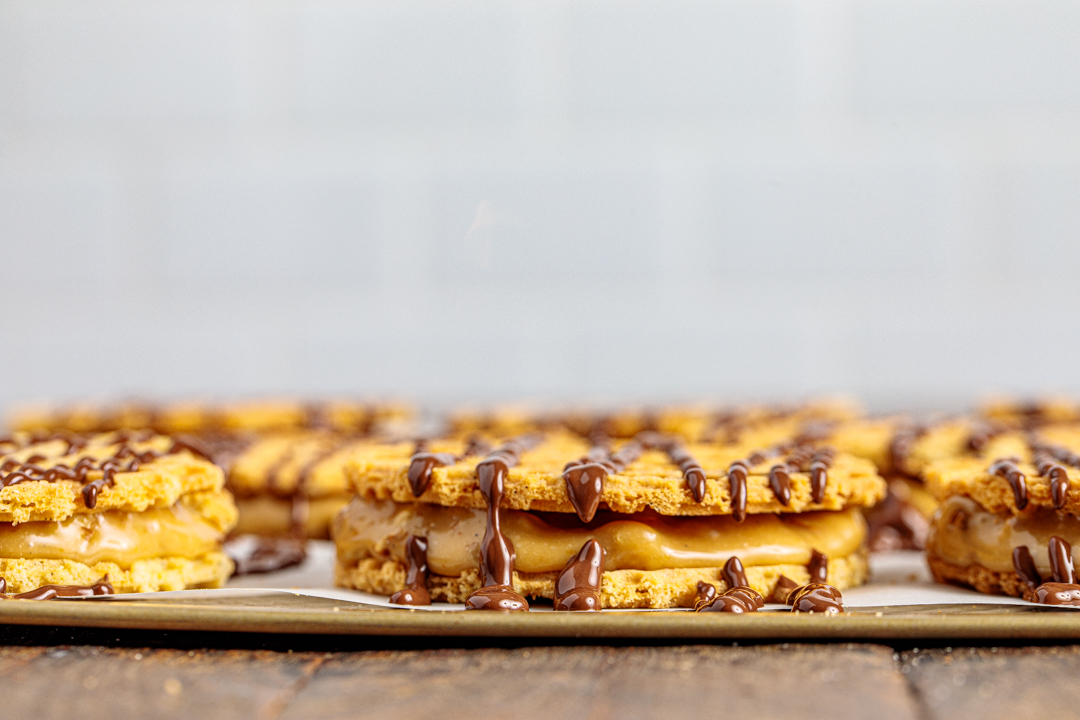 I feel like I've referenced pecans as part of my childhood a million times on the blog by now. Who knew a nut would play such a big part in this nut's culinary inspiration? Moving on to sweeter things… In making this pecan pie filling, I had a bit of a dilemma to sort out. Pecan pie is typically made as a fairly thin batter that is baked until set. Since I was filling cookies, I needed to to happen without baking the filling.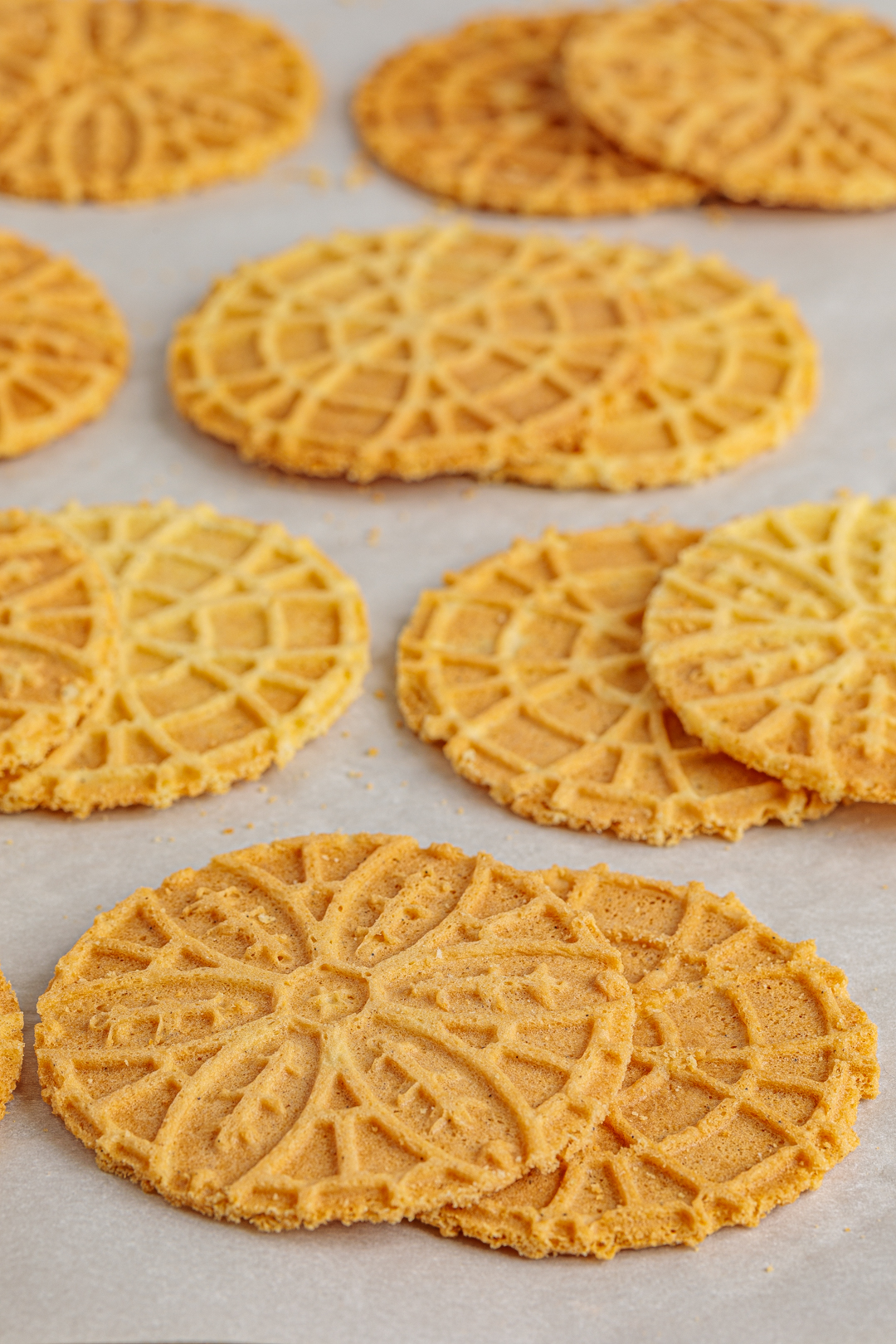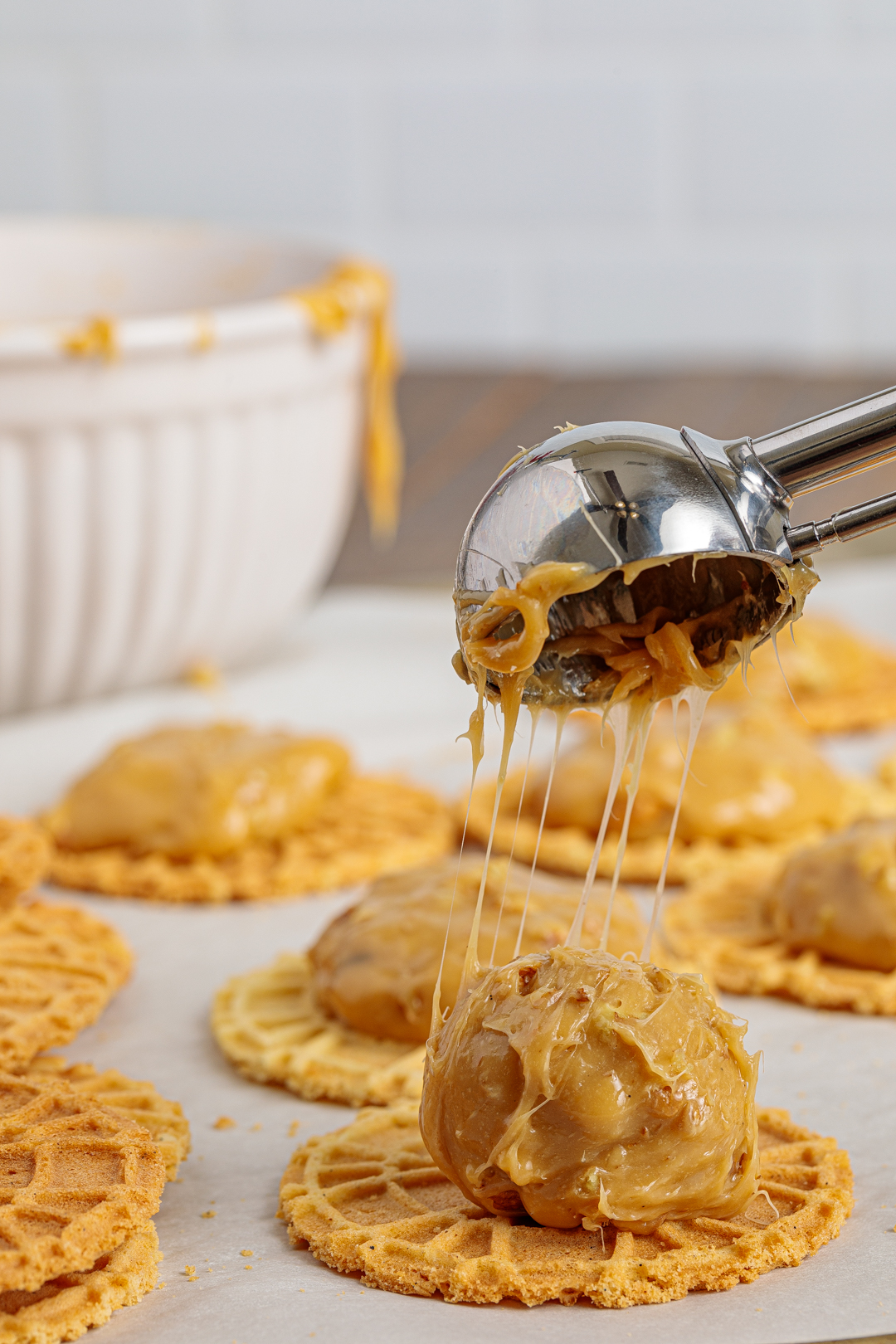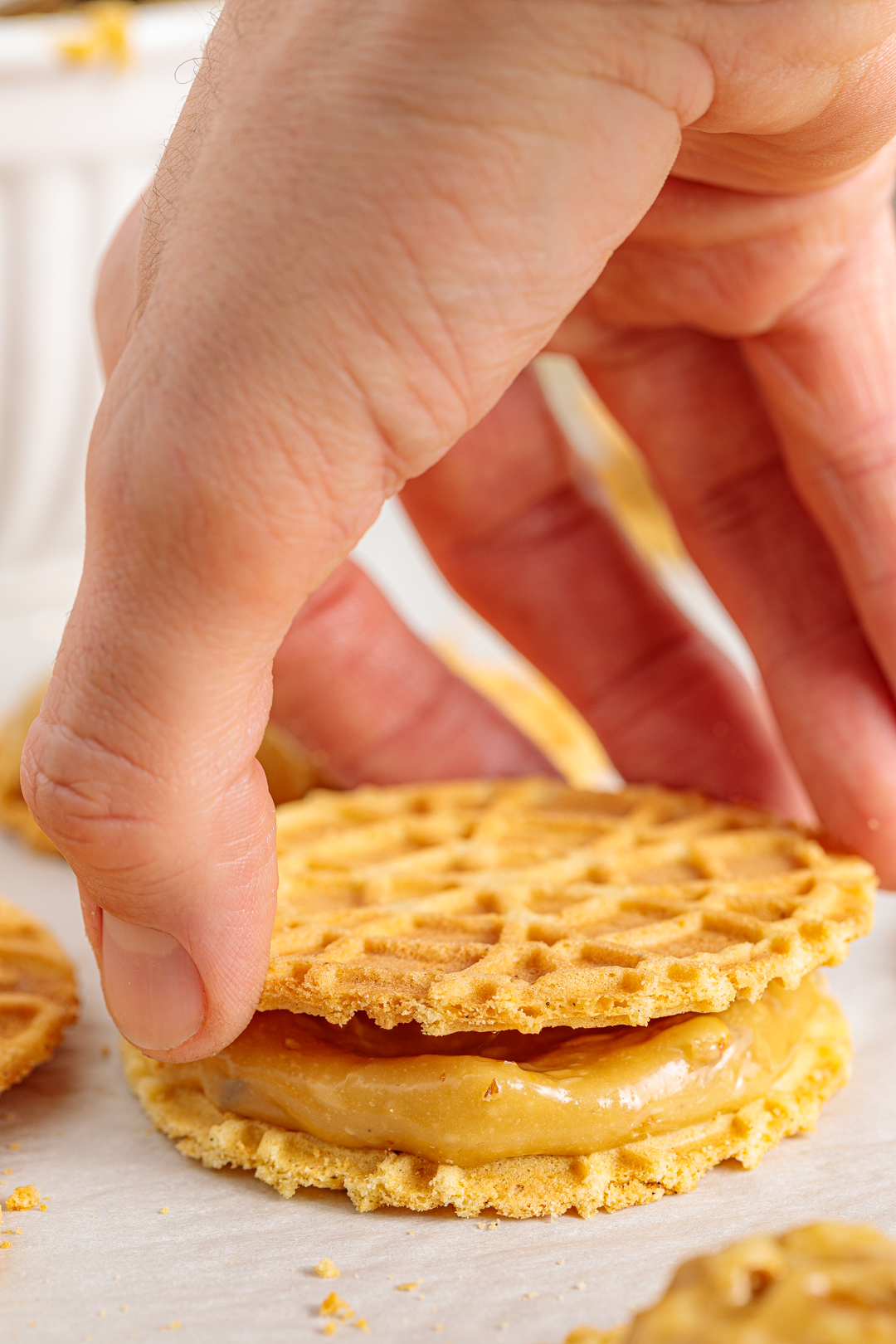 What resulted was a rich, buttery caramel-like filling with every single flavor of pecan pie. It. Is. Incredible. No joke. Think slightly chewy, melts in your mouth, whipped caramel kinda feature. It's maybe one of the best sweet treats I've made this year. Three cheers for something positive in 2020, right?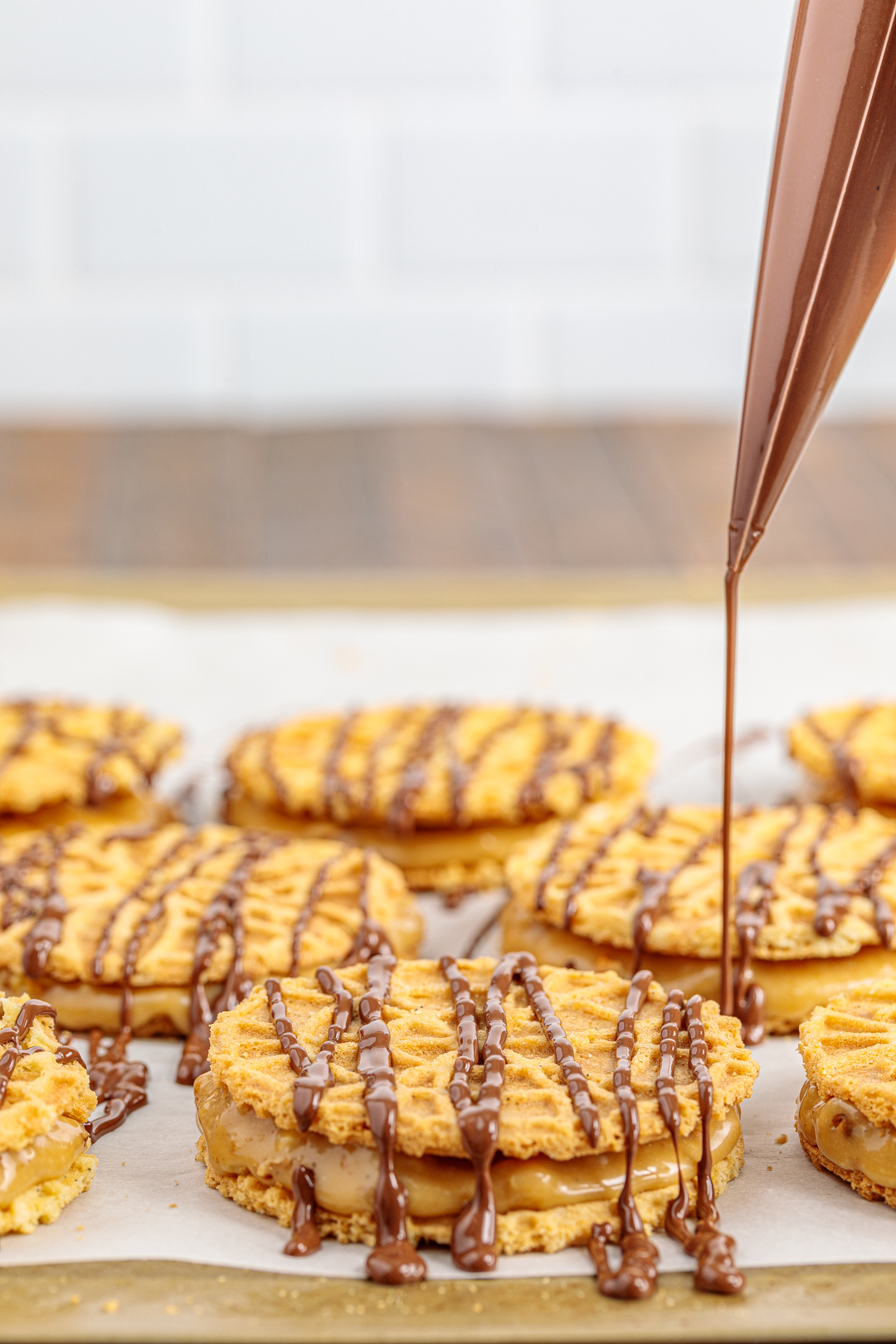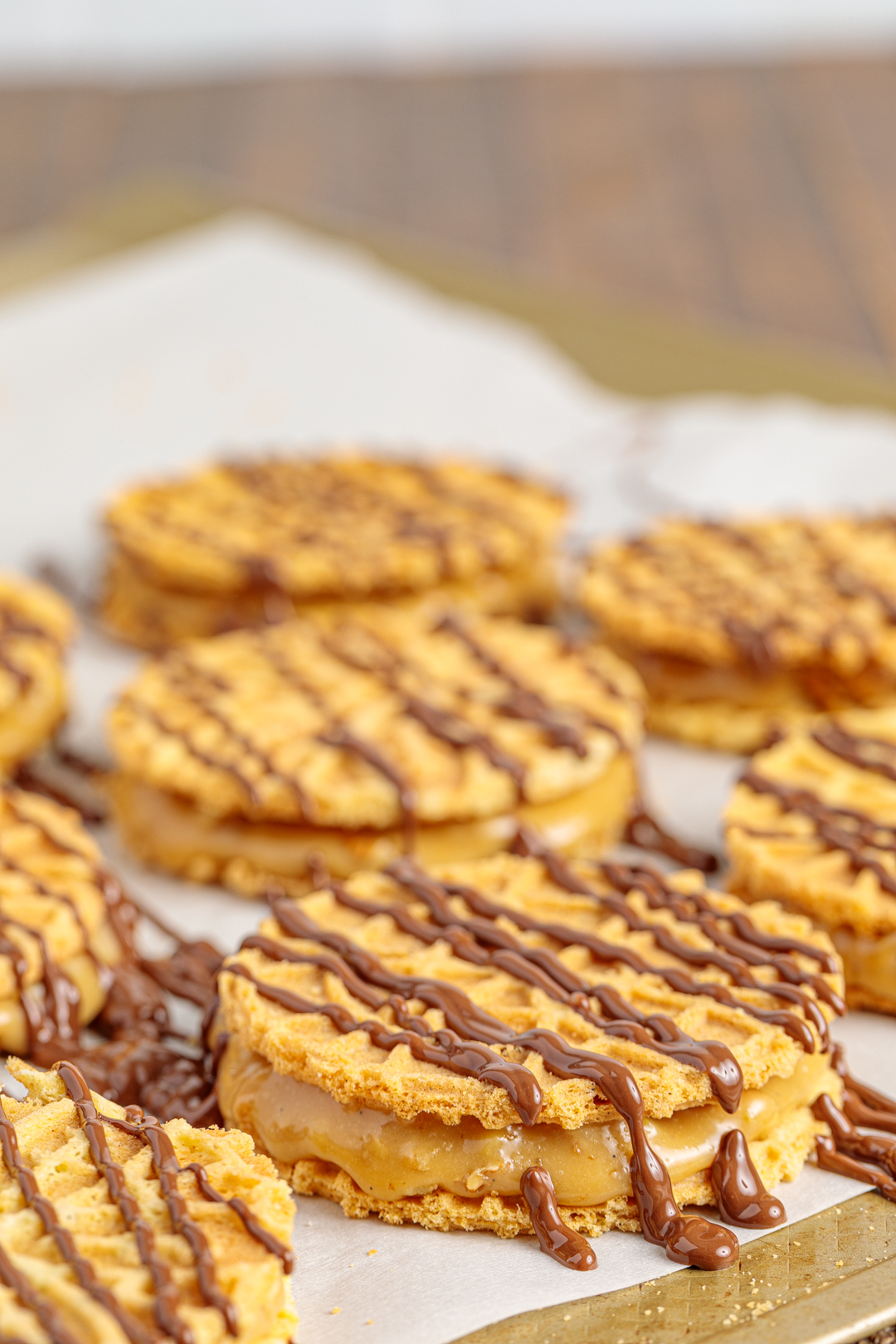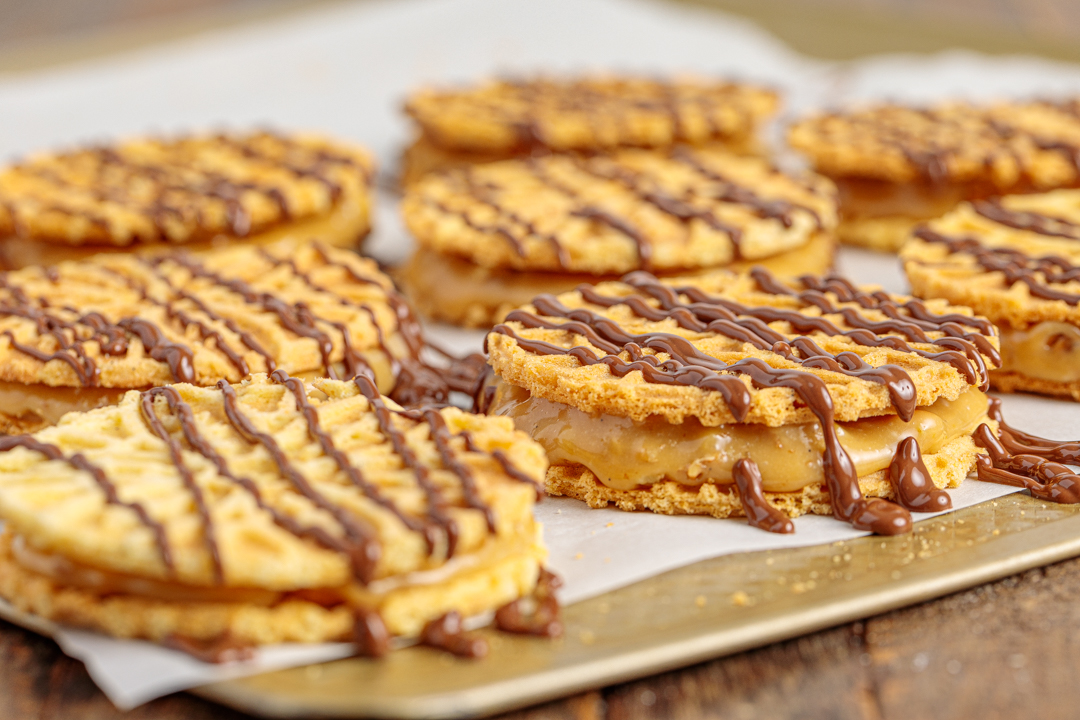 I've talked all about my love for everything pecan but completely forgot to mention the pizzelle cookies. Waffled anything is always better, and cookies are no exception. Pizzelle cookies are just super thin buttery wafer cookies. I may have had a tiny bit too much bourbon one evening last week and randomly ordered a pizzelle maker. I'm not going to say it was the most terrible tipsy purchase I've made… It was actually wonderful and I decided to keep it.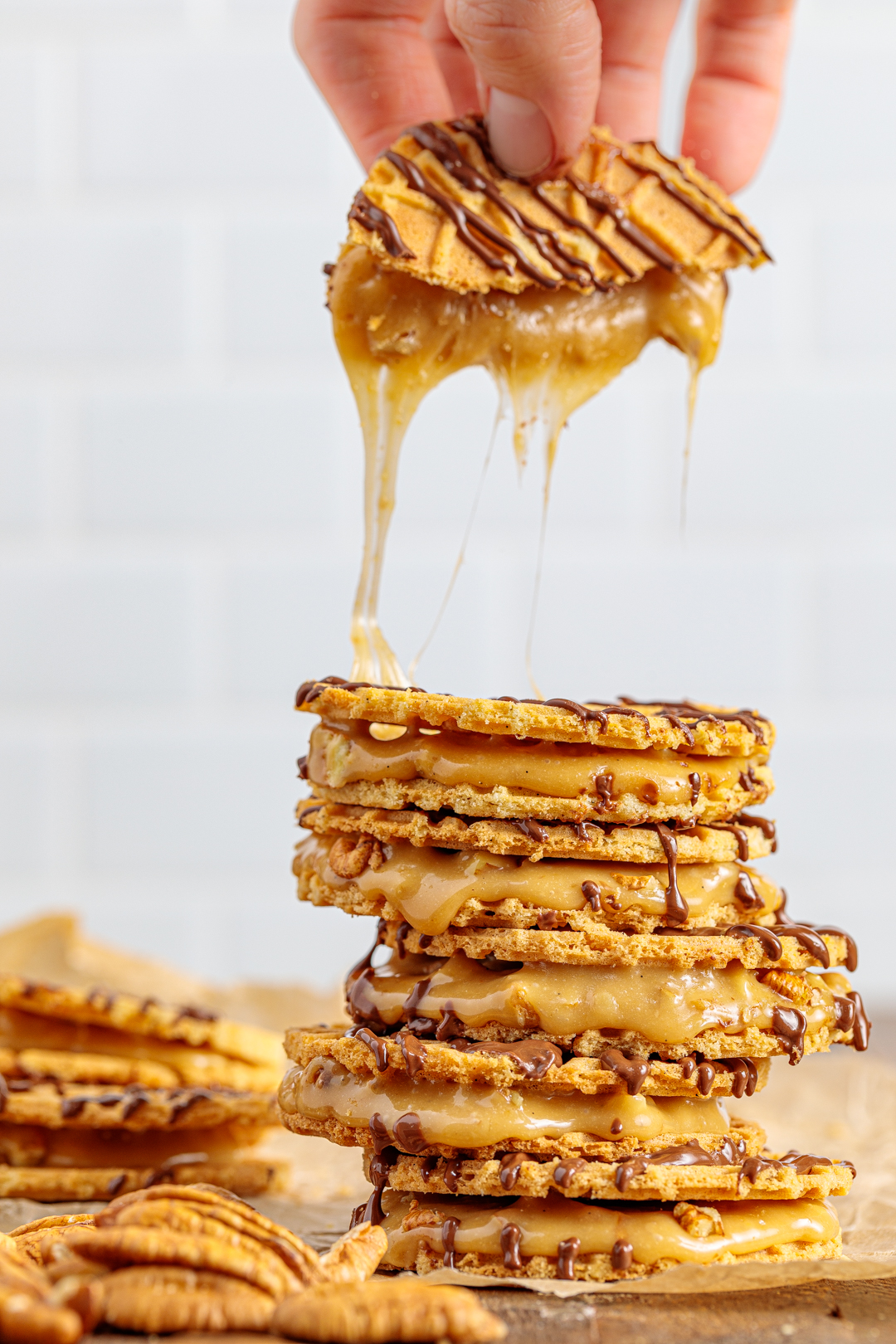 You don't have to drink a bit too much and order a waffle iron to make these yourself (although I would highly recommend all of that). You can grab these cookies as pizzelle cookies, also Belgian waffle cookies, in most grocery stores these days. Kroger has them in the cookie aisle and they are pretty tasty.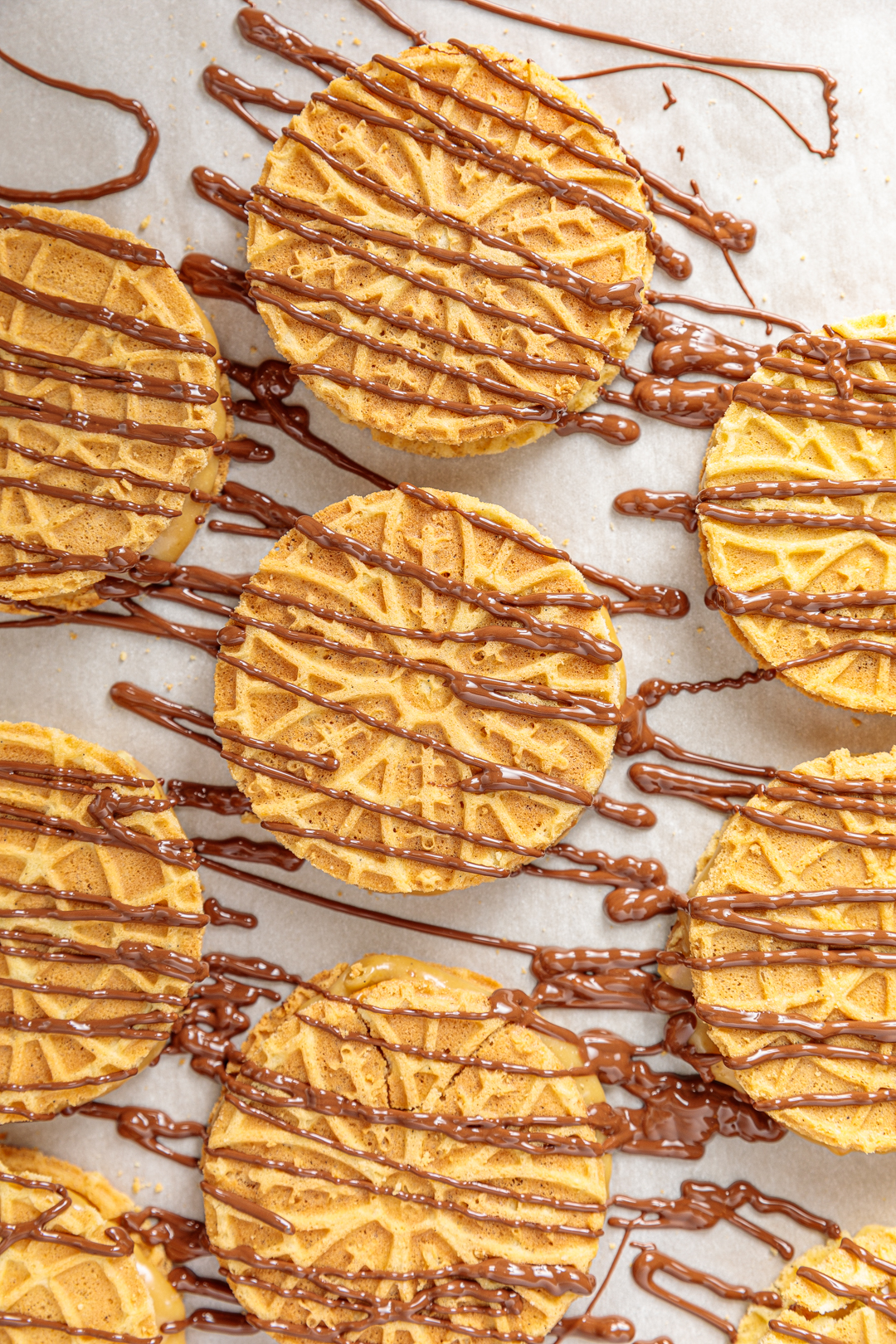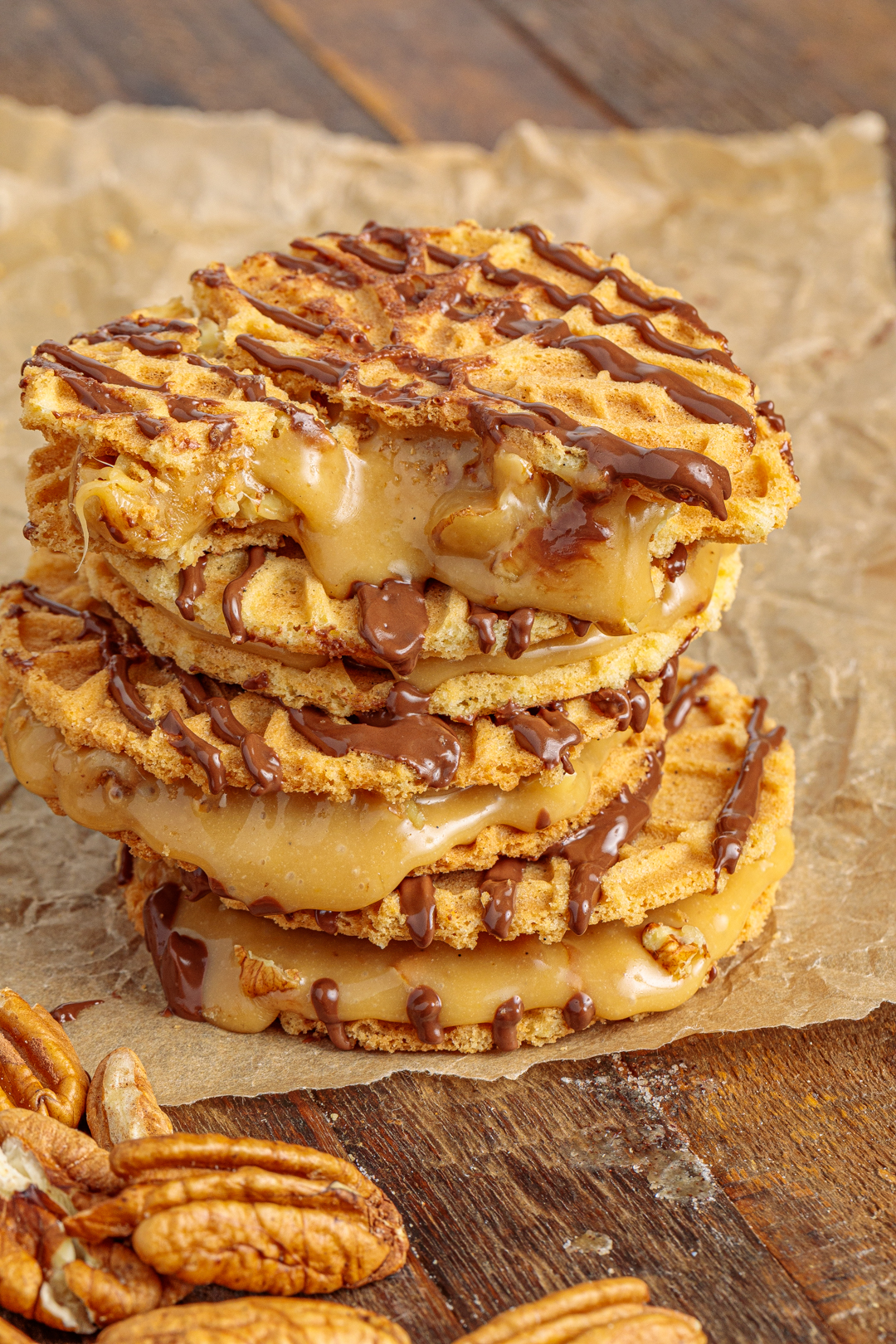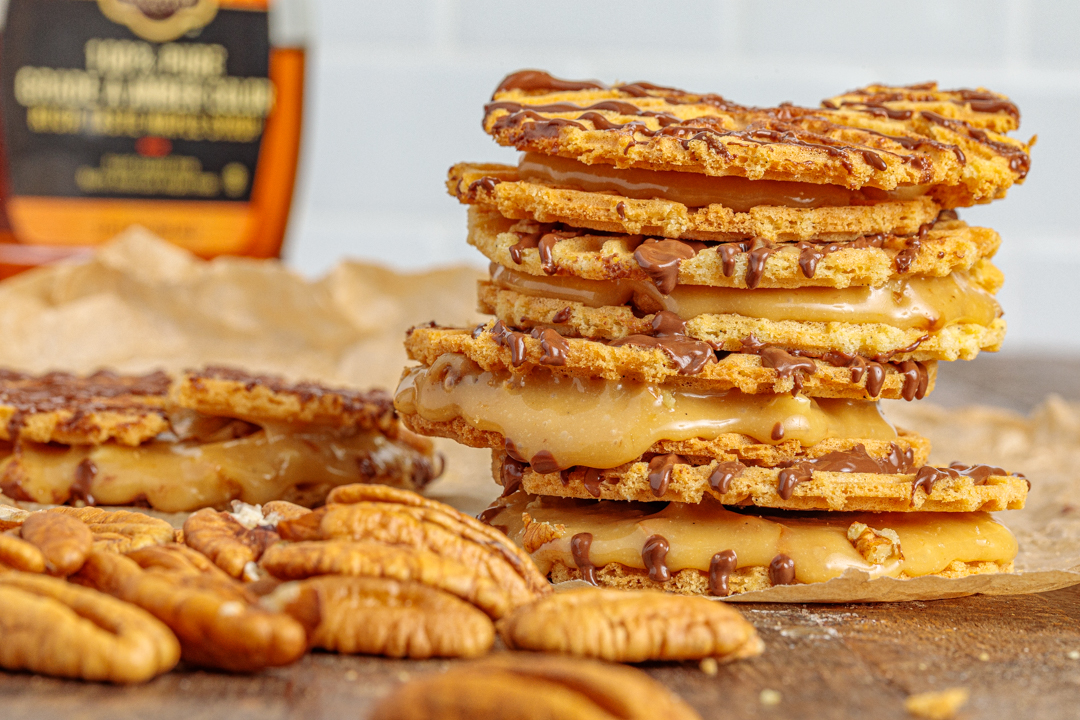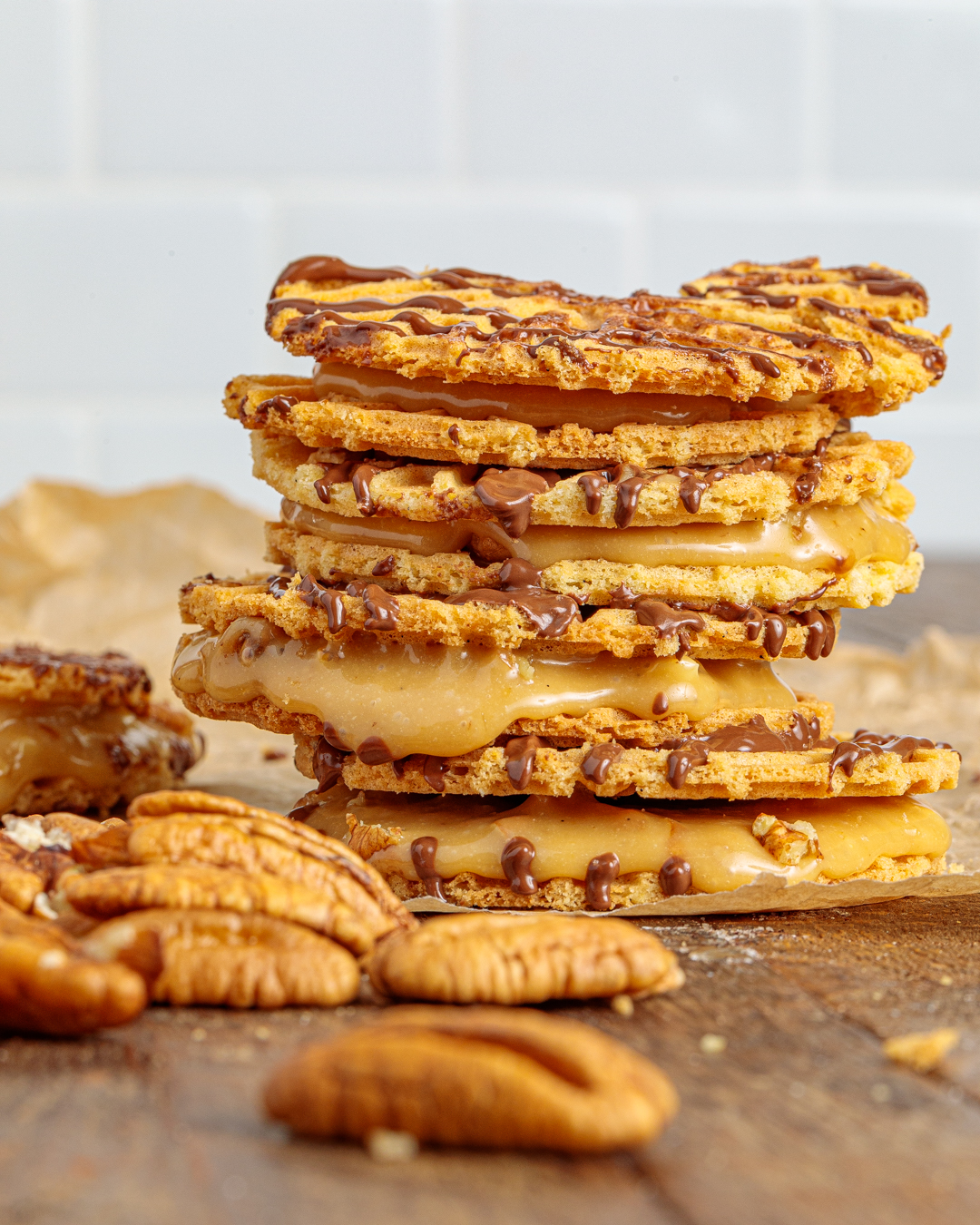 Now that I have this pizzelle iron in my kitchen, you better believe you'll be seeing a lot of them in the near future! Hah… Maybe cheesecake filling next. Who knows.
— Enjoy and have a safe, safe, safe holiday season.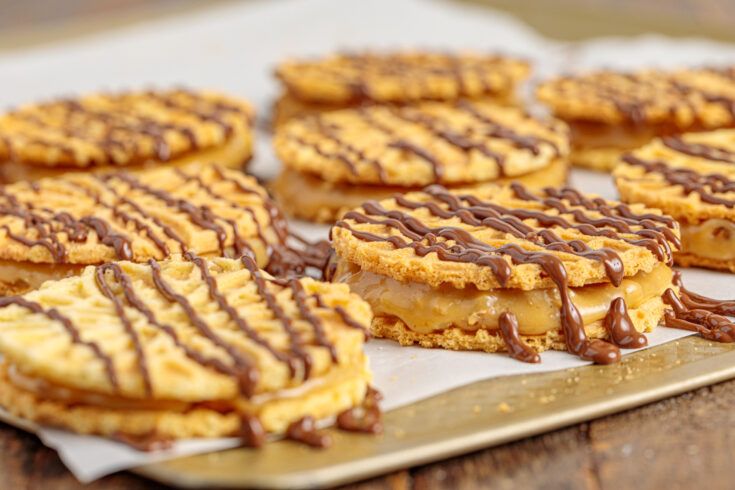 Yield:

12 sandwiches
Pecan Pie Pizzelle Cookie Sandwiches
Ingredients
200 grams / 1 cup granulated sugar
160 grams / 1/2 cup light corn syrup
100 grams / 1/4 cup maple syrup
4 tablespoons unsalted butter
2 tablespoons bourbon (or vanilla extract)
1/2 teaspoon salt
2 egg yolks, lightly beaten
1 1/2 cups pecans, chopped finely
24 Pizzelle or Belgian waffle wafer cookies
1/4 cup melted chocolate to drizzle
Instructions
Combine the butter, sugar, corn syrup, and maple syrup with bourbon and salt in a saucepan over medium heat.
Heat to boil and allow to cook for 3-4 minutes.
Remove from heat to cool completely.
To speed this up, you can place over a bowl of cold water. Whisk well as it cools.
Place egg yolks in a mixer bowl with whisk attached.
Whisk on medium speed for 3 minutes until lightened.
Transfer cooled filling mixture to the mixer bowl and whisk on medium high speed for 5 minutes, until fluffy.
Add finely chopped pecan pieces and combine.
Remove and scoop between cookies.
Drizzle with chocolate and enjoy!
Recommended Products
As an Amazon Associate and member of other affiliate programs, I earn from qualifying purchases.