Old fashioned cocktail meets good ol' Southern apple butter in this simple spread recipe. Seriously good apple butter with the added kick of bourbon, bitters, and maraschino cherry.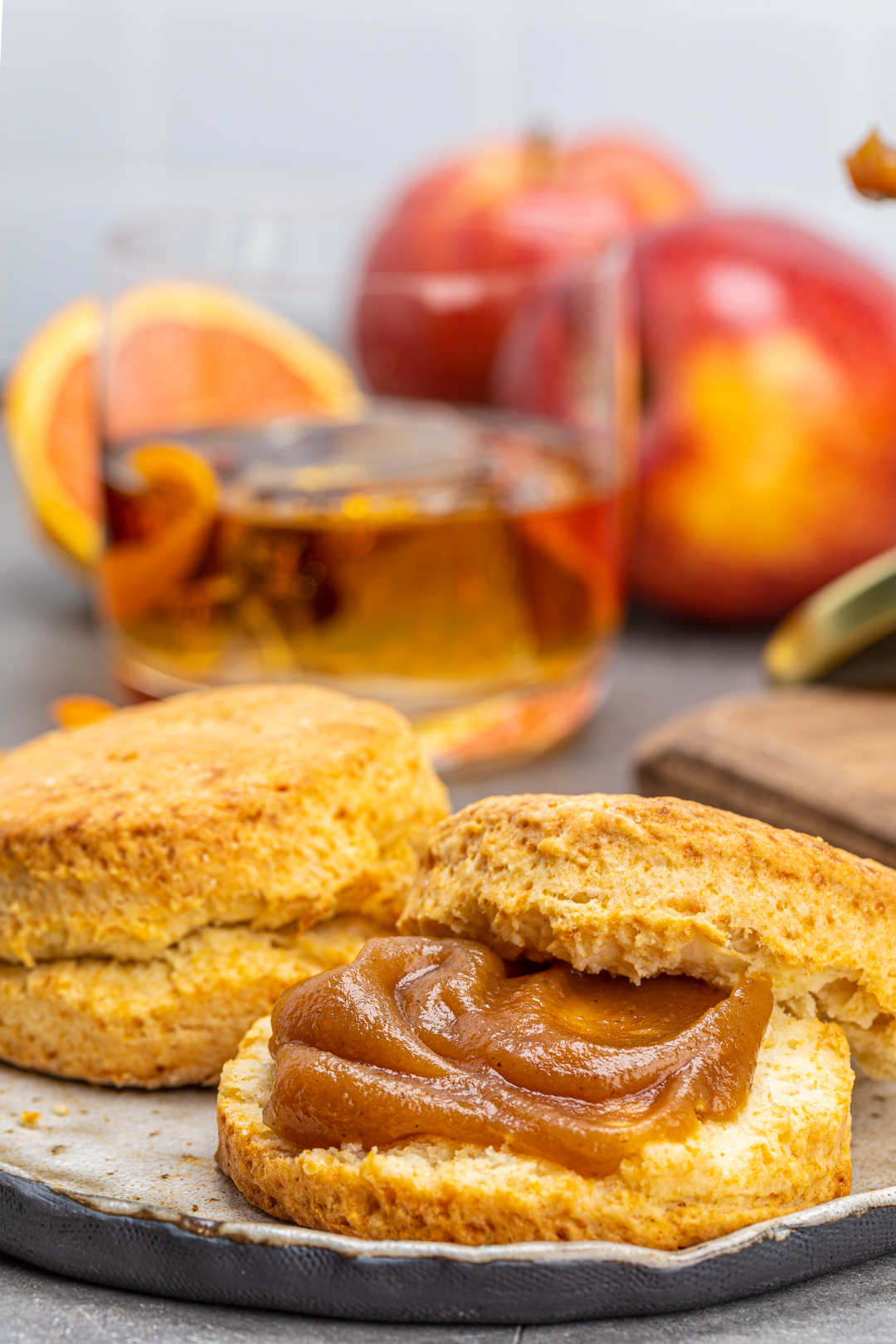 When I was a kid, applesauce was one of my favorite lunch sides. It's kinda weird that as an adult I don't really love cooked apple things. Apple pie is fine and all, but I'd take pecan over it any day. The exception? Apple butter. Sweet, rich, creamy, and basically anything that you can put on warm biscuits is a big ol' bonus.
I'm sure you will be absolutely shocked, but I do happen to enjoy an old fashioned cocktail or three in the evenings. We have some snow flurries (even if as thin and pitiful as they may be here in Nashville), and I have a new favorite brunch munch to go with my coffee and heated blanket morning ritual. The recipe for this Old Fashioned Cocktail Apple Butter is ready with little effort and lots of flavor.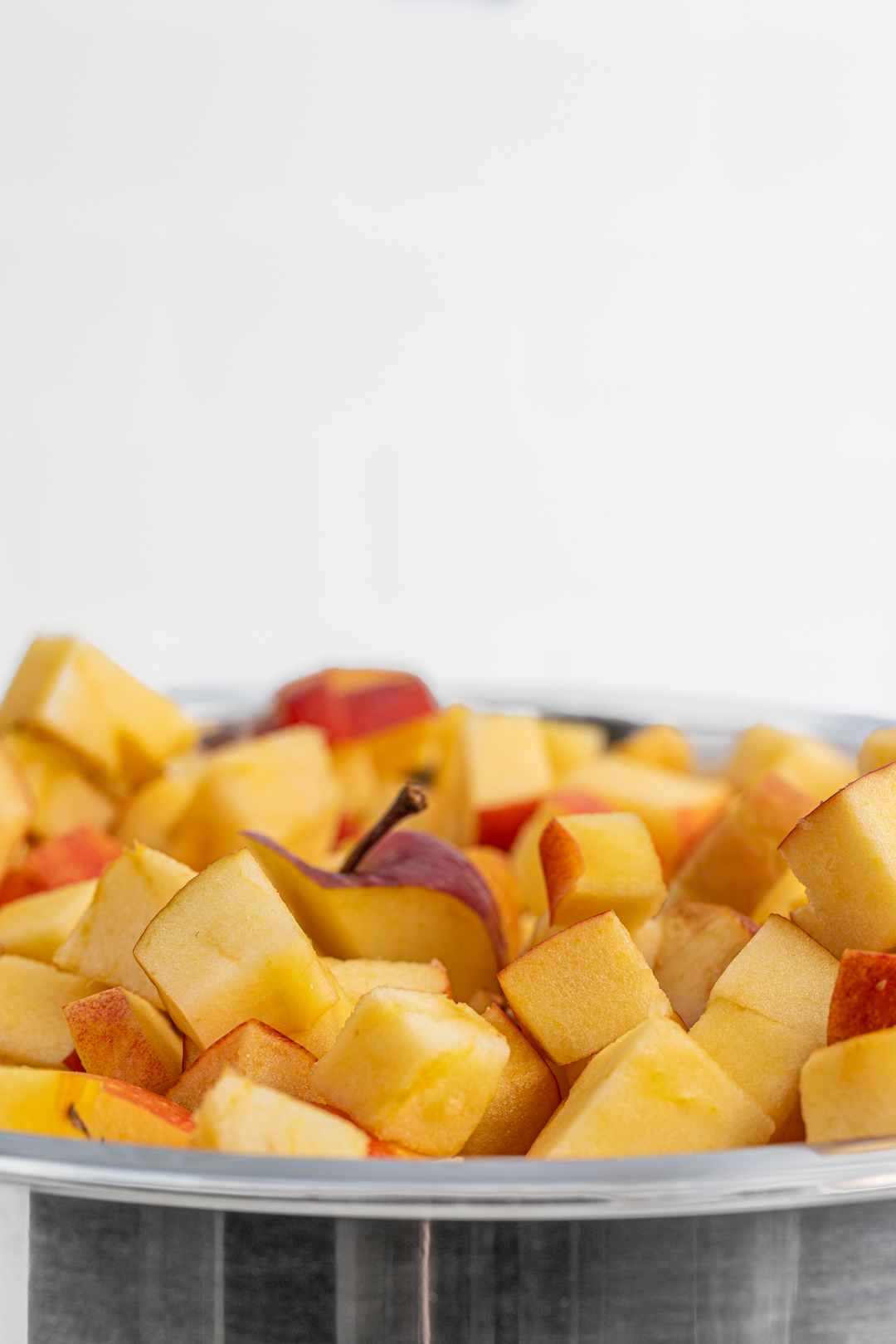 Being inside for most of the past year (ugh!), I've been able to perfect my Old Fashioned cocktail skills. It's a simple drink at first glance, with few ingredients, but the charm is all in the attention and technique. With all of this oh so painful testing 😉 I've become quite keen on the individual flavor notes of the drink. I prefer mine with a bit of orange, cherry, black walnut bitters, and juuuust the right amount of sweetness to compliment a smooth Kentucky bourbon.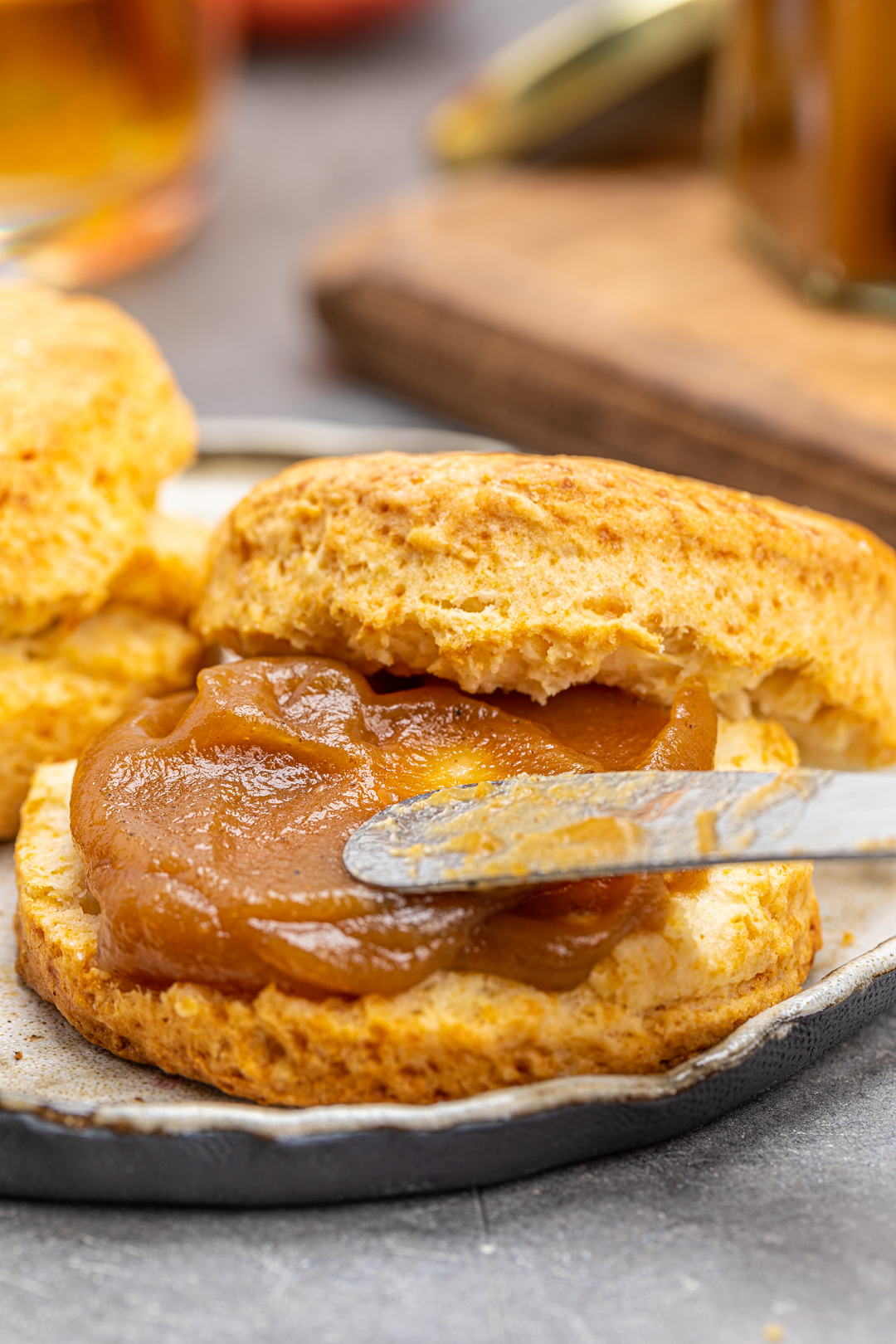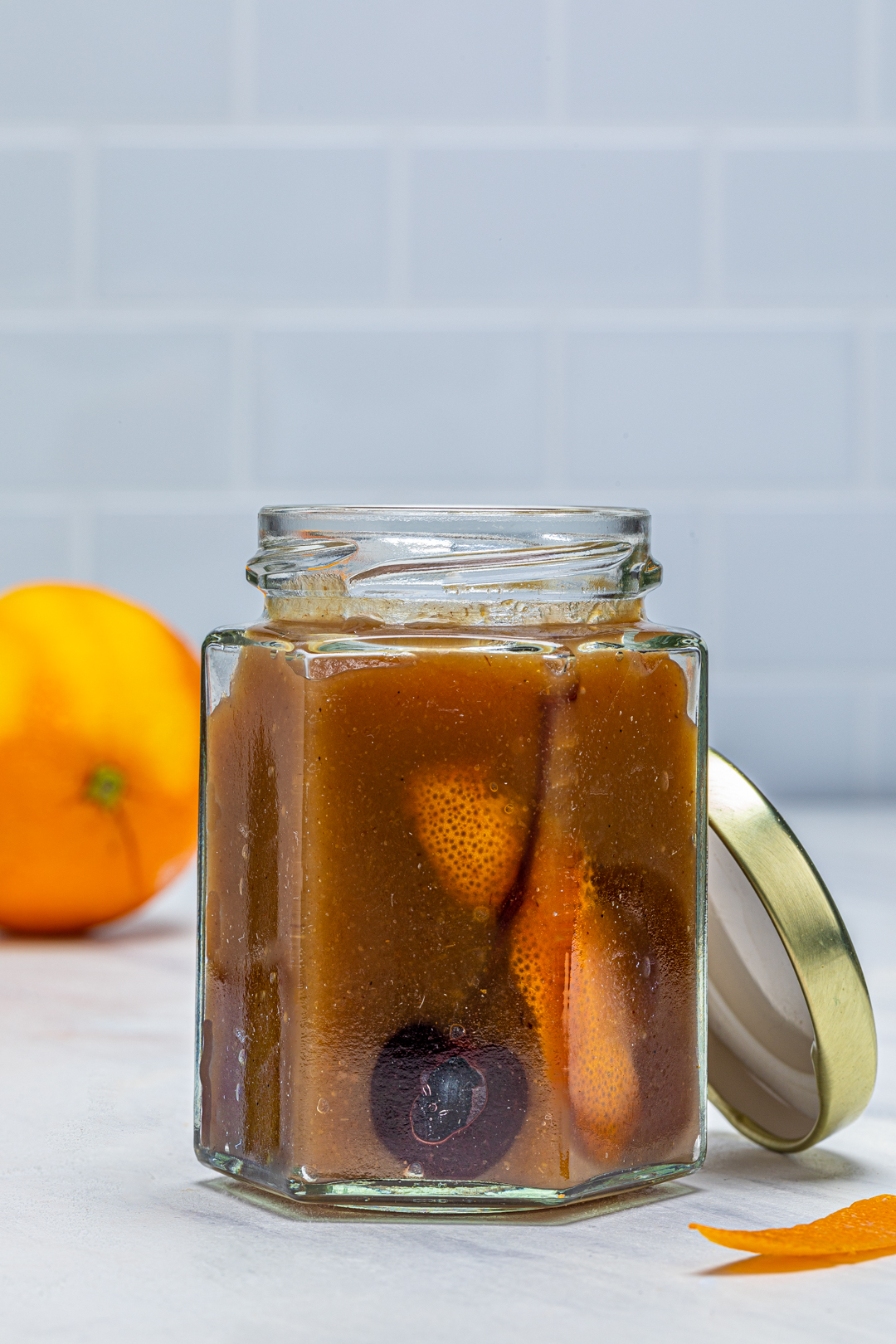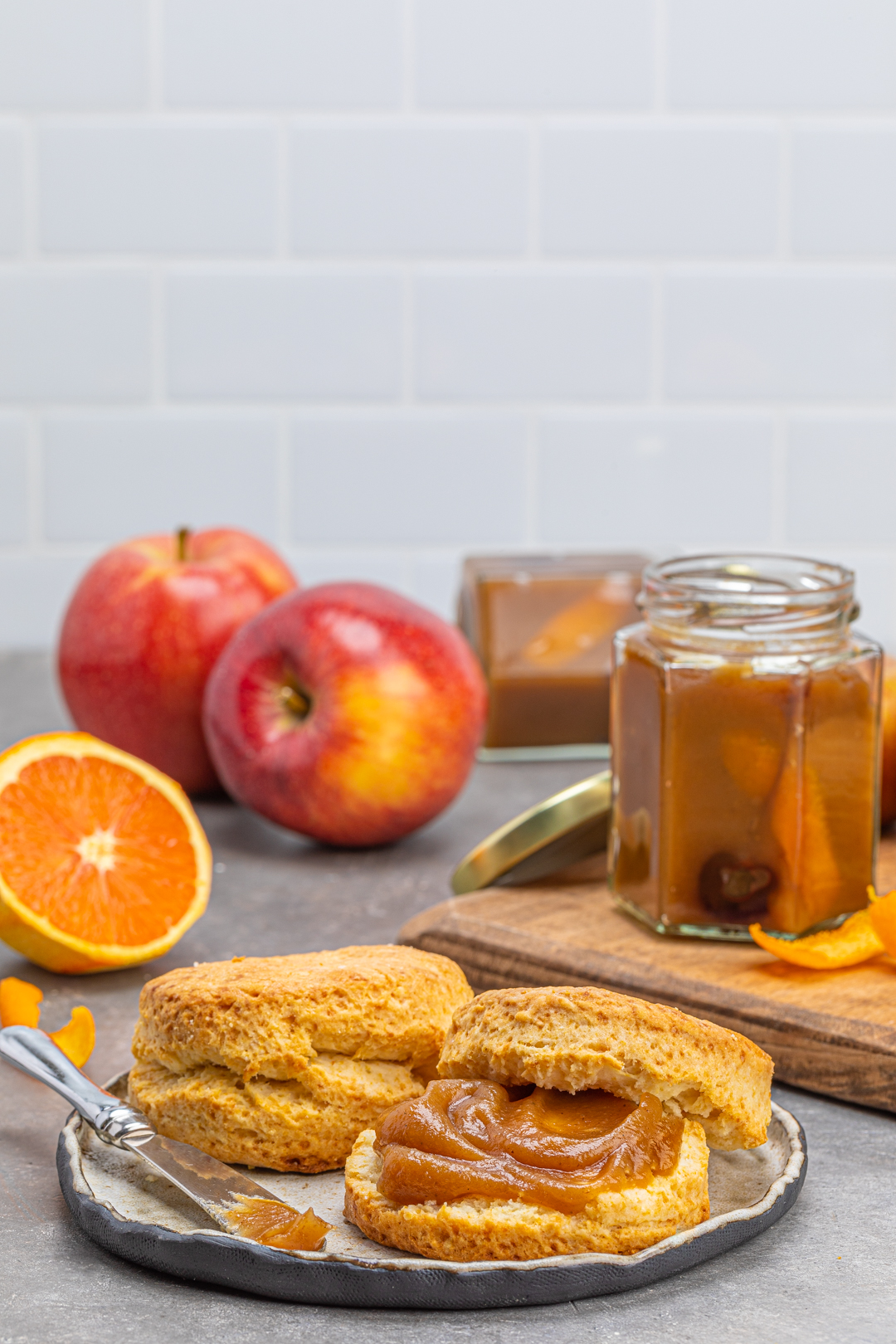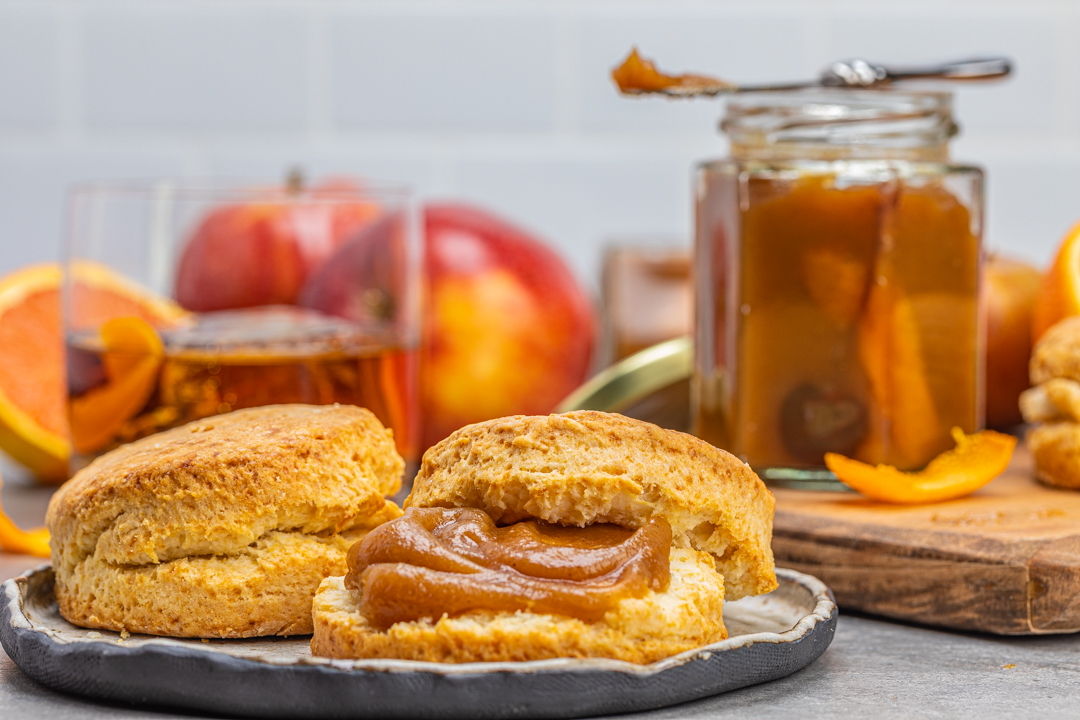 Turns out that these flavors are absolutely perfection when you mix them with apples and turn on the ol' Crock-Pot or Instant Pot. I've made this recipe on the stovetop, but why not set it and forget it?
The splash of bitters, oranges, cherries, sweet and slightly tart apples. Oh… the cherries! You have to have the cherries. I may or may not (I am) be guilty of buying Luxardo cherries in a 6.6 lb tin and putting them into jars. Something about knowing there are backups of those lil jewels in my pantry just makes life better.
PS — The juice from those cherries is GOLD, y'all.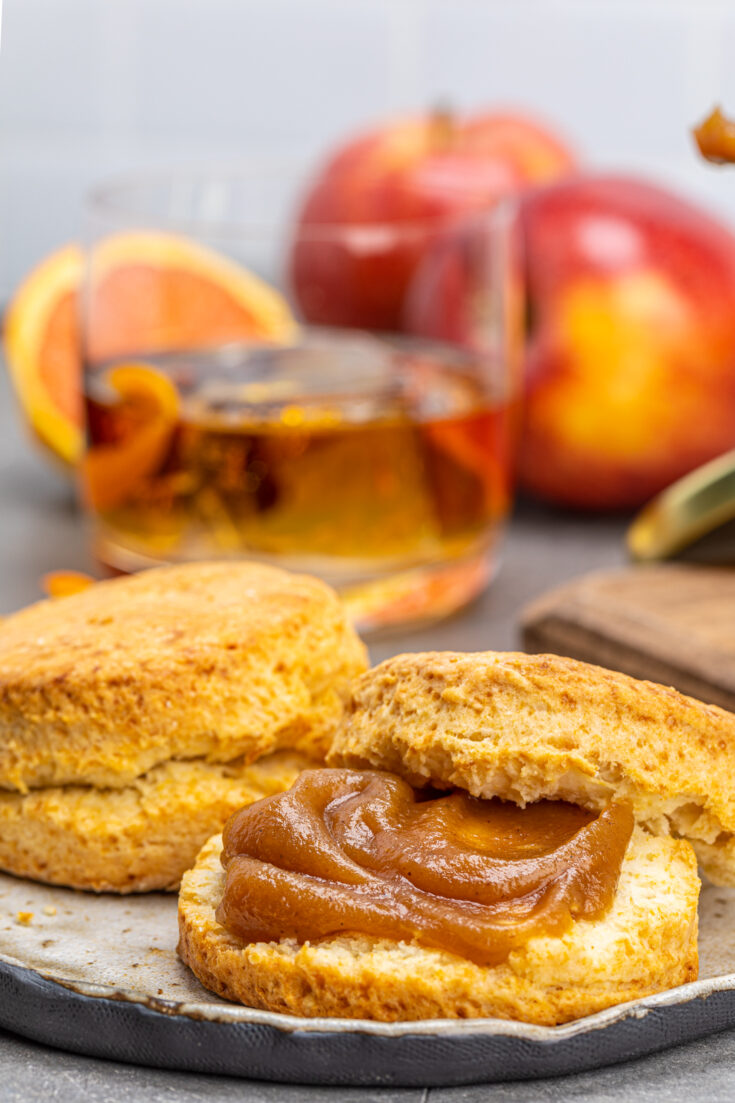 Yield:

5-6 cups
Old Fashioned Cocktail Apple Butter
Total Time:
6 hours
20 minutes
Southern-style apple butter with a twist of Old Fashioned cocktail. From SouthernFatty.com.
Ingredients
First
3 lbs (1350 g) whole apples, roughly chopped
1 cup water
1/2 cup bourbon or whiskey
1/3 cup cider vinegar
Second
1 cup sugar
1/2 cup bourbon or whiskey (yup... another one)
1/2 teaspoon salt
2 tablespoons lemon juice (about half of a large lemon)
1 tablespoon lemon zest (from half of a large lemon)
3 tablespoons orange juice, fresh (half of an orange)
1 tablespoon orange zest (from half of an orange)
2 tablespoons maraschino cherry juice (preferably Luxardo - see products below)
1 cinnamon stick, about 2 inches in length
3 cardamom pods, whole
1/2 teaspoon vanilla bean paste (or extract)
4 dashes orange bitters
4 dashes black walnut bitters (or original/classic bitters alternatively)
Instructions
Note that this recipes requires a very long cook to reduce (~6 hours). You may use a Crock Pot, Instant Pot, or stovetop for the final cooking step.
Clean and chop apples. Leave cores and whole apples. These will be filtered out later and the cores will help in thickening the mixture when cooking.
Combine the first set of ingredients in a medium saucepan.
Cook over medium heat on stovetop until at a boil.
Boil apple mixture for 15-20 minutes, stirring as needed.
Transfer mixture to a blender or food processor.
Blend until smooth. Bbe careful if blending while hot! Start slowly and cover with a towel.
Filter through a mesh seive/strainer to keep smooth portion only. Discard the seeds, etc.
Measure puree. I had 4 cups at this point. Adjust the second ingredient amounts appropriately if needed for your amount of puree.
Add second set of ingredients to the puree in your Crock Pot, Instant Pot, or stovetop pan.
Cook on low heat settings or lowest stovetop setting until thickened and aromatic, about 6 hours. Stir as needed if stovetop.
Remove to jars and enjoy! I finished mine with a cherry and orange zest piece in each jar.
Find more recipes on SouthernFatty.com.
Share pictures of the recipe by tagging @southernfatty on social media.
Recommended Products
As an Amazon Associate and member of other affiliate programs, I earn from qualifying purchases.