Hot Chicken Waffle Sliders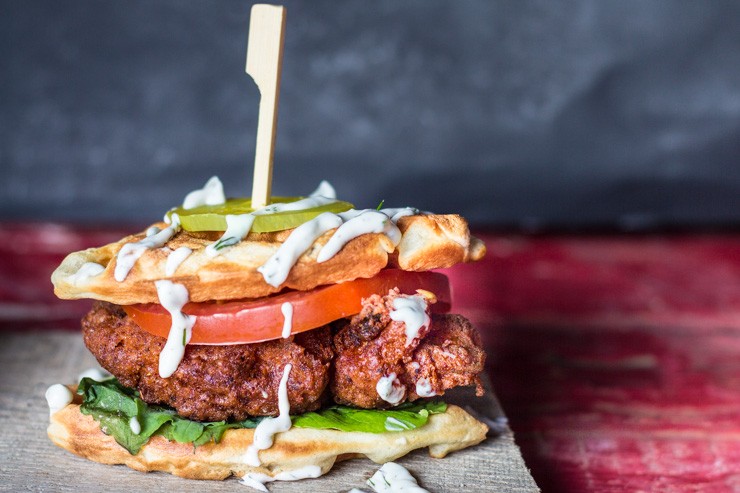 4 chicken breasts, halved (or tenderloins)
1 tablespoon salt
½ tablespoon pepper
½ tablespoon paprika
1 cup flour
½ tablespoon garlic powder
1 plus ½ teaspoon salt
½ teaspoon pepper, ground
½ teaspoon oregano, dried
½ teaspoon chili powder
¼ teaspoon Old Bay seasoning
1 egg
1 cup buttermilk
1 tablespoons water
1 tablespoon Sriracha
2-3 tablespoons cayenne, ground (Yes, 2-3 TABLESPOONS.)
1 tablespoon brown sugar
½ tablespoon paprika, ground
1 teaspoon garlic powder
1 teaspoon pepper, ground
1 teaspoon salt
Waffles (use your fav recipe)
Condiments (tomato, lettuce, pickle)
Plain yogurt + salt, garlic, dill
Combine salt, pepper, paprika of dry brine and sprinkle over chicken.
Cover and refrigerate sprinkled chicken for 1-2 hours.
Combine dry breading ingredients in bowl.
Whisk egg, milk, water and Frank's in separate bowl.
In a heat-proof bowl, add glaze ingredients, whisk, and set aside.
Coat chicken in flour mix. Transfer to egg/milk wash. Return to flour mix and press flour into chicken for a thick coating.
Set chicken to rest for 15 minutes to ensure crispier coating.
Heat oil to 325 F while waiting.
Fry chicken until crispy, about 10-15 minutes. (160 F temp check doneness)
Remove ½ cup of the HOT frying oil CAREFULLY and mix with the glaze seasoning to combine.
Toss chicken in the glaze mix to cover completely. Remove to rest on paper towel covered pan until cool enough to enjoy.
Place hot chicken between two waffle quarters.
Top with condiments, sauce, etc. as desired.
Enjoy! -- More on SouthernFATTY.com.
Recipe by
Southern FATTY
at https://www.southernfatty.com/hot-chicken-waffle-sliders/