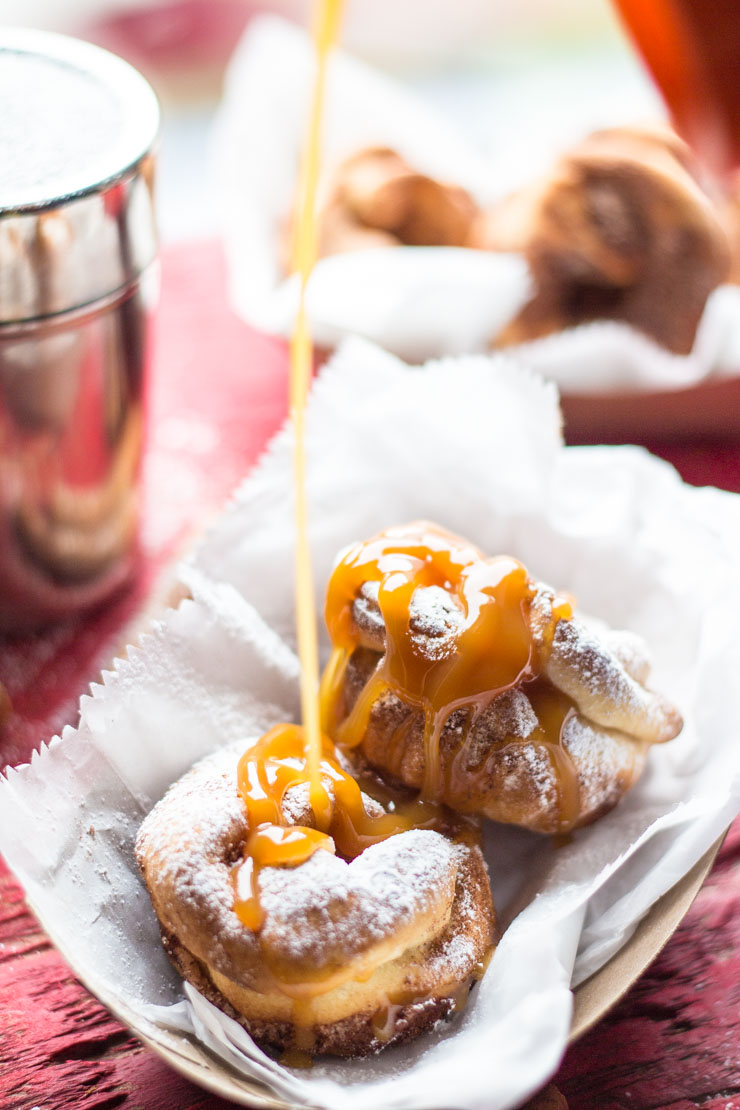 We're going to have a bit of a come-to-Jesus moment here right now. Baking can be one of the most frustrating hobbies to take up. There will be times when everything works out beautifully, the results look flawless, those danishes taste just like you walked them out of a bakery with your wooden shoes clanking a little Disney song along the way.
And then… there are going to be tons of times when that homemade candy looks like something the dog left behind for you. Y'all know what I'm talking about. With a handful of flour and frustration, I usually just dump out whatever I screwed up and start over once the steam all escapes from my head. I'm here to tell you all something that you probably already know, but sometimes forget– you can use that wonky dough for something delicious. I give to you evidence exhibit A–
Babka Cinnamon Sugar Twist Doughnuts.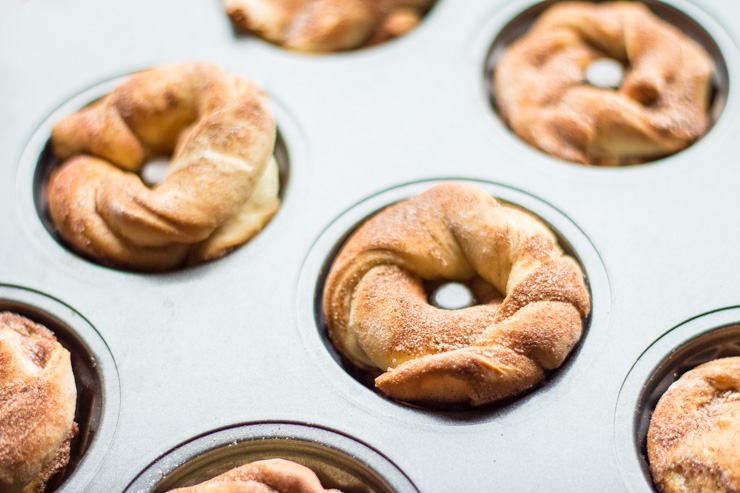 If you keep up with the blog (I know you are subscribed to our e-mail updates…. RIGHT?!), you will remember a very recent post where I made a Peaches and Cream Babka. This stuff was PERFECT. Ribbons of southern peaches and a sweetened cream running through a yeast-risen bread. All topped with my latest obsession, crunchy pearl sugar. Breakfast, lunch and dinner, please.
What I maaaaay have failed to mention in that post was the mind-blowing failure that I originally had with the dough during the first test batch. When I post recipes here, they have usually been made many, many times in my own kitchen by my very own chubby hands. I try to pride myself on developing recipes that really will work.
That's all great and all if you aren't the one trying to master the recipe. I royally screwed up the first round of babka dough. My best guess was that the yeast that I used didn't hydrate or activate properly. After 3 hours, that blob of dough looked like… well… a blob of dough. It hadn't gone anywhere except down. Right with my self-esteem.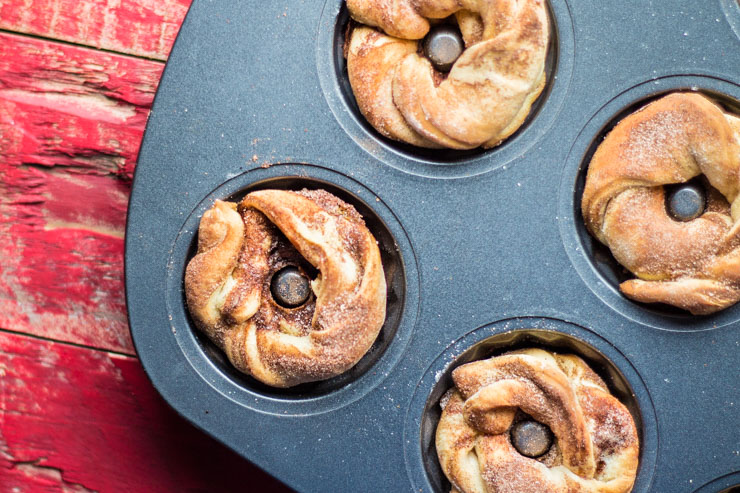 As I was doing the walk of shame to the trash bin to dump out all of my miserable failures, I thought that I would try to do something with it. I hate to waste anything. It had flour and sugar in it. You should never, ever, ever throw sugar away.
I thought for a moment about what I could try to make. Something quick, since I had already stared at the dough for hours. I wanted it in the oven. Revenge, ya know? I decided to just roll it out and cut it into strips. Sweetened dough, even if just in boring little sticks would taste pretty good anyway, I thought.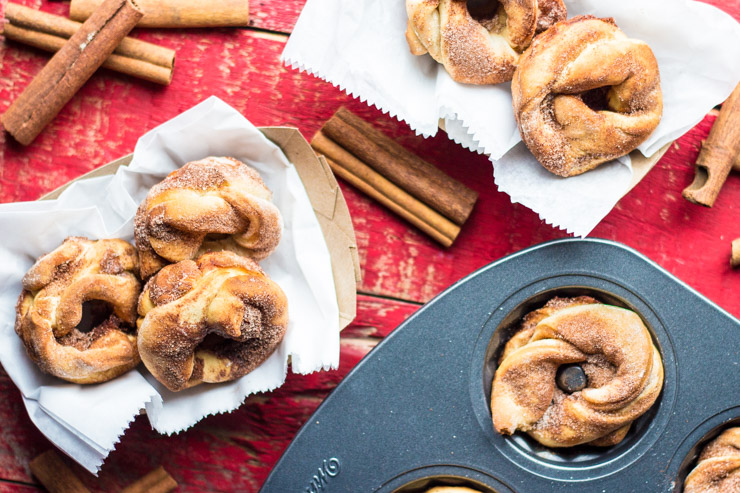 I pulled out a pan to bake the sticks on, and realized that I had accidentally grabbed a mini-bunt/doughnut-ish whatever style baking pan. What is this witchcraft?! Obviously the universe was telling me, as it often does weekly, to make doughnuts. Baked cinnamon-sugar twisted babka fail doughnuts. Yes, Universe. I shall listen to you.
A simple twist and swirl into the pan and this was the result. Beautifully sweet, handheld treats. They sorta reminded me of carnival food. Seemed only right to dump powdered sugar and caramel sauce on it.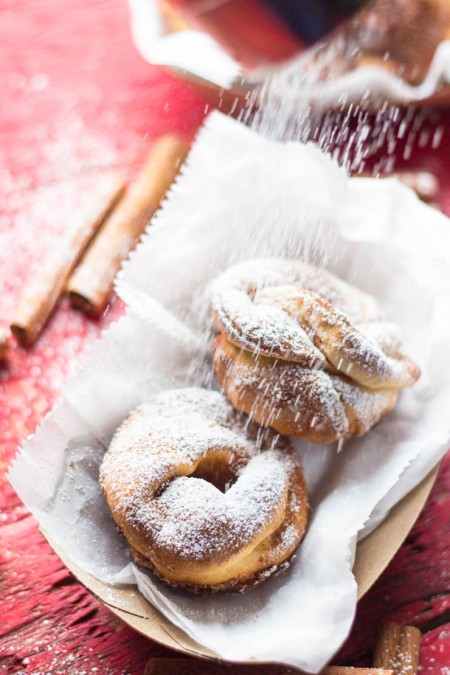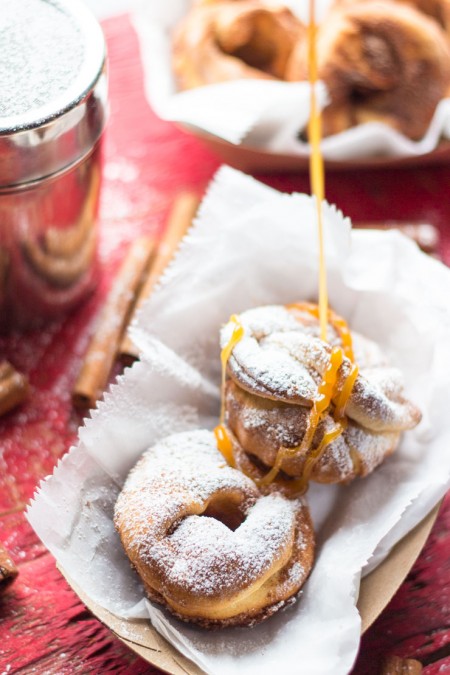 There ya have it. It's always nice when you can turn you failure into a success. I should end this by giving some sort of self-help-esque encouraging statement about how you should make the most of blah…blah…blah. Instead, I'm just going to say that this ended up giving me something sweet to eat more quickly than the original recipe. For that, my fat ass is thankful.
Enjoy, y'all!
Babka Cinnamon Twist Doughnuts
The best thing ever happened when I screwed up a babka dough-- Babka Twist Doughnuts! -- Cinnamon-sugar twisted sweet baked doughnuts. Super-quick and delicious! -- From SouthernFATTY.com
Ingredients
2 cups flour, sifted, AP
¼ cup sugar
2 teaspoons baking powder
½ teaspoon salt
1 egg
⅓ cup evaporated milk
½ teaspoon vanilla bean paste or extract
4 tablespoons butter, melted and slightly cooled
2 tablespoons cinnamon/sugar mix
cinnamon/sugar mix, to top
Instructions
Pre-heat oven to 350 F.
Combine the sugar, flour, baking powder, salt in a bowl and whisk together.
In mixer bowl, add egg, vanilla, butter, milk, 2 tablespoons cinnamon/sugar and fully mix.
Stir together wet and dry ingredients until just combined.
Roll out dough on well-floured surface to about ¼-1/2" thickness large rectangle.
Brush off excess flour.
Heavily sprinkle entire dough rectangle with cinnamon/sugar blend. The more the merrier!
Use pizza cutter to slice dough into strips, cutting horizontally from your left-right.
Take each strand and twist it carefully.
Wrap each strand into a lightly greased doughnut pan for baking. I prefer THIS fluted mini doughnut pan.
Note that the dough will overlap as it circles a couple times. This is what you want.
Bake until golden, about 15 minutes.
Cool, but serve warm for best results.
Top with caramel sauce and/or with coffee.
Enjoy! - More on SouthernFATTY.com.
Notes
2015 - SouthernFATTY.com
I wanna hear all about your failures gone terribly right.
Comment below and tell me all about it!