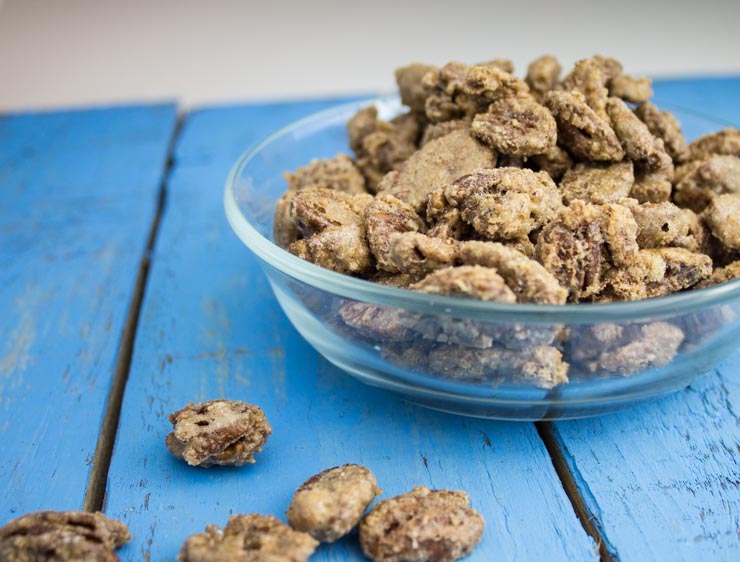 Short and sweet… and certainly addictive! With my family being from Georgia, I grew up on pecans. I can remember sitting in my grandmother's living room after family holidays with a nut sheller for hours. That was the deal. She would give us a couple boxes (yes… boxes.) of perfect Georgia pecans if we shelled them ourselves. Deal! After all, I could sneak a few [handfuls] in during the labor.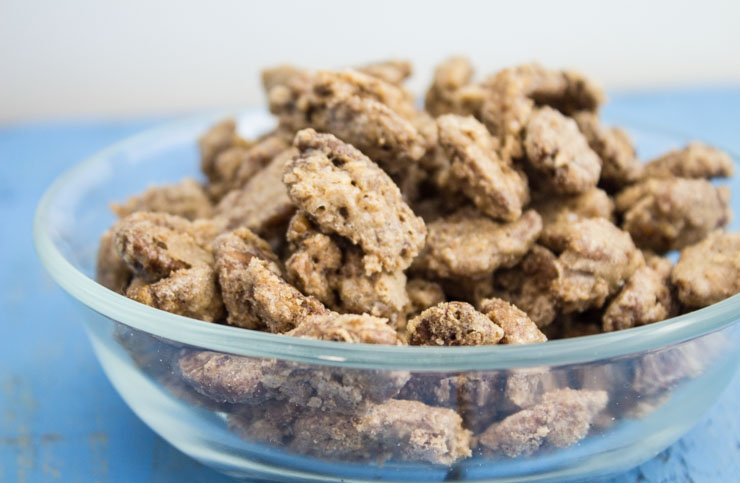 Having the sweet tooth that I do, I like to include pecans into a lot of my recipes that are candied. These are pretty common around Christmas time, but are sometimes ignored during the rest of the year. Candied nuts are a great accent for salads, sweet potato sides, or you can just shovel them into your mouth before they even cool completely when you make them. At least, that's what I hear from people…..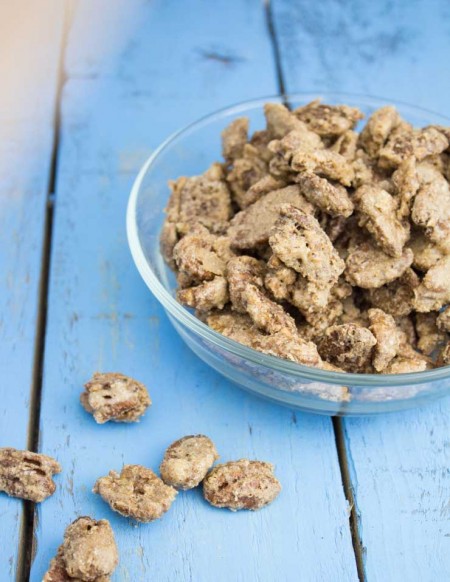 While you can make these on the stovetop with a candy thermometer, this way is so simple and equally delicious! I added a bit of cinnamon to the mix. You'll probably just want to go ahead and double the recipe to make a full pound. They're that good!
Recipe adapted from
Kevin & Amanda
.
Baked Candied Pecans
Baked Cinnamon Candied Pecans from SouthernFATTY.com
Ingredients
8 oz pecan halves
½ cup sugar
½ teaspoon cinnamon
½ teaspoon salt
1 egg, white only
1 tablespoon water
1 teaspoon vanilla extract
Instructions
Pre-heat oven to 250 F.
Combine sugar, salt, cinnamon in a sealable bag or container. Set aside.
Whisk egg white and water with vanilla.
Place pecans in egg white mixture and mix to coat all nuts.
Place coated pecans in bag with sugar mixture.
Transfer pecans to a lined baking sheet and bake for about 1 hour, stirring every 20 minutes.
Enjoy! Visit SouthernFATTY.com for more.
What are your favorite recipes to include candied nuts in? Let us know below!