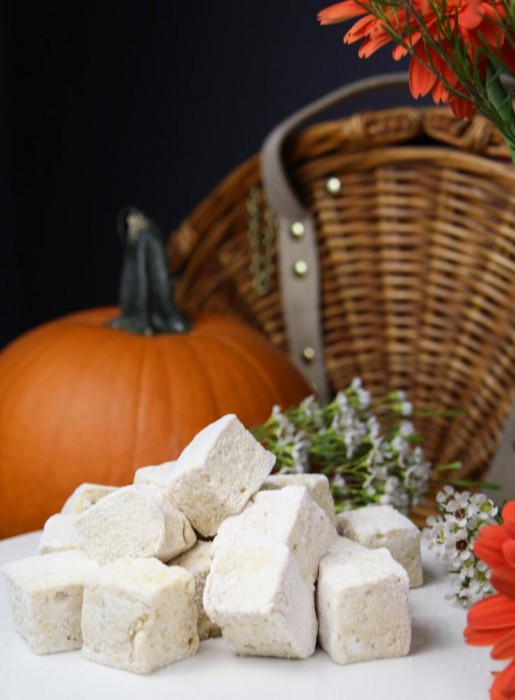 Pumpkin this, pumpkin that, pumpkin everything! The saga continues…
Homemade, fluffy Pumpkin Marshmallows for your fall feasting pleasure.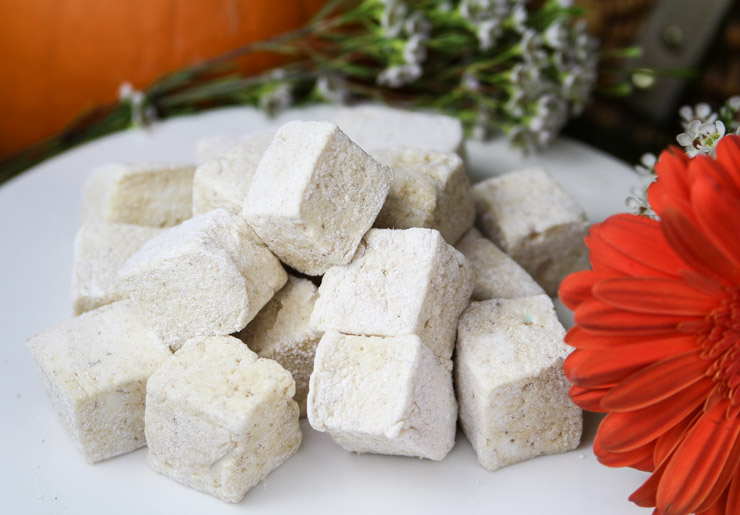 I contemplated with whether or not I should even post these. While homemade marshmallows are basically the best thing ever (see Homemade Peeps for case and point), I hate to be that guy jumping all over the pumpkin bandwagon. BUT, alas, I made these for some friends that are punkinsessed™ (that's pumpkin obsessed, y'all) and [get ready for it…] they were actually great.
Maybe that's where it's at for me and my conversion attempts. Homemade. I've said it before and I'll say it until the day I die– I hate pumpkin pie. It's just… so gross. Squishy texture (if you could even call it that…), blah taste. Just overrated. Don't even get me started on the latte craze. With that said, I've discovered that I have actually sorta almost maybe enjoyed the homemade items.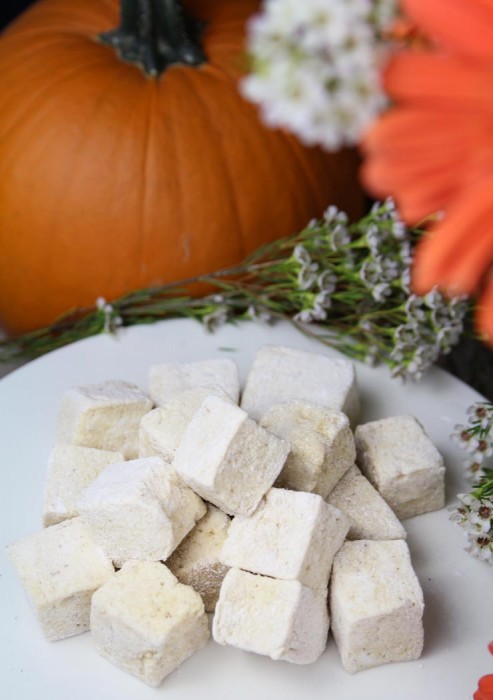 If you are pumpkin crazy, or like myself and are just slowly convincing yourself that it isn't as bad as you may think like a kid waiting for an allergy shot, give it a go. These are fluffy, super simple to make, and you may just love it!
Pumpkin Marshmallows
Homemade Pumpkin Spice Marshmallows - Perfect for fall treats!
Ingredients
3 packets gelatin, unflavored
1 cup ice water
2 cups sugar
1 cup corn syrup, light
1 teaspoon vanilla bean paste or extract
pinch salt
½ cup pumpkin, raw puree - canned is fine
1 tablespoon (scant) Pumpkin Spice Mix
½ cup cornstarch
½ cup powdered sugar
1 teaspoon Pumpkin Spice Mix
Instructions
In mixer bowl, add gelatin and half of the cold water.
Stir with a fork until gelatin is dissolved and there are no large lumps.
In saucepan over medium heat, combine sugar, corn syrup, salt and HALF of the ice water.
Cover and let heat for 4-5 minutes.
Add candy thermometer and heat until 240 F exactly.
Remove as soon as temp is reached and move to mixer.
While mixing on lowest speed, very slowly pour hot sugar mix down side of mixer in a steady stream.
Mix on high for 15 minutes. The mixture should have cooled and whipped.
While mixing, combine the pumpkin, vanilla and pumpkin spice.
Add to finished, mixed sugar and stir to combine.
Combine the cornstarch, powdered sugar and additional teaspoon of pumpkin spice mix. Mix well.
Spray a 9x13 pan and place a small amount of the cornstarch mixture in.
Move and tap the pan around to coat the pan with the cornstarch mix completely.
Pour marshmallow mixture into pan. Sprinkle additional powdered sugar/cornstarch mix on top generously.
Cover and sit at room temp overnight for best results.
Cut as desired and toss in additional powdered sugar mix.
Enjoy! Visit SouthernFATTY.com for more.
Notes
2014 - SouthernFATTY.com
What's your favorite fall pie? Comment below and let me know!