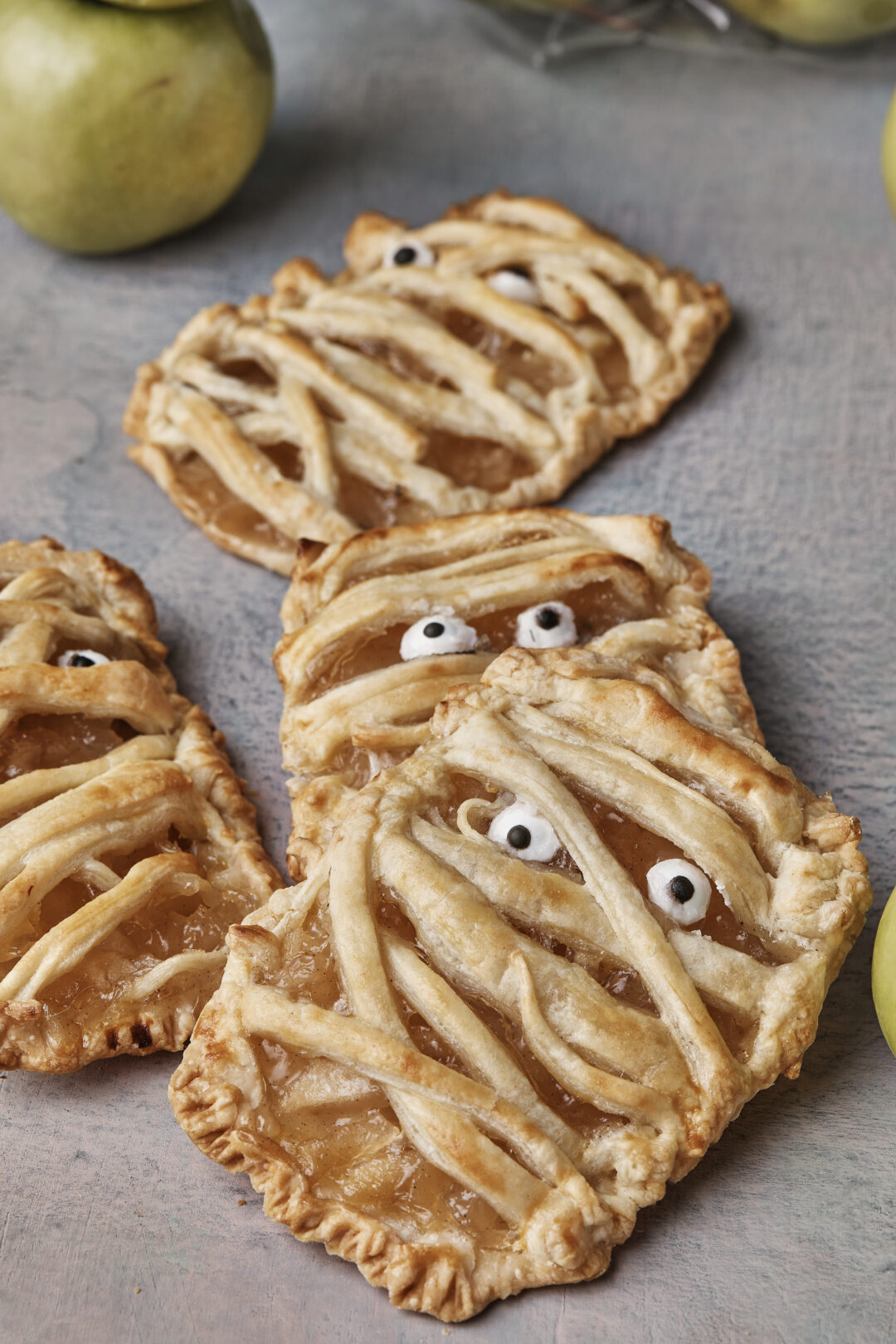 It was hard to keep this recipe under wraps until the Halloween season hit, but it is here! The best time of year. The best holiday, without a doubt. This twist on a classic apple pie uses pie crust as the base, puff pastry for the mummy wrap, and tart granny smith apples from my partners at Kroger. Candy eyes are optional, but make everything better.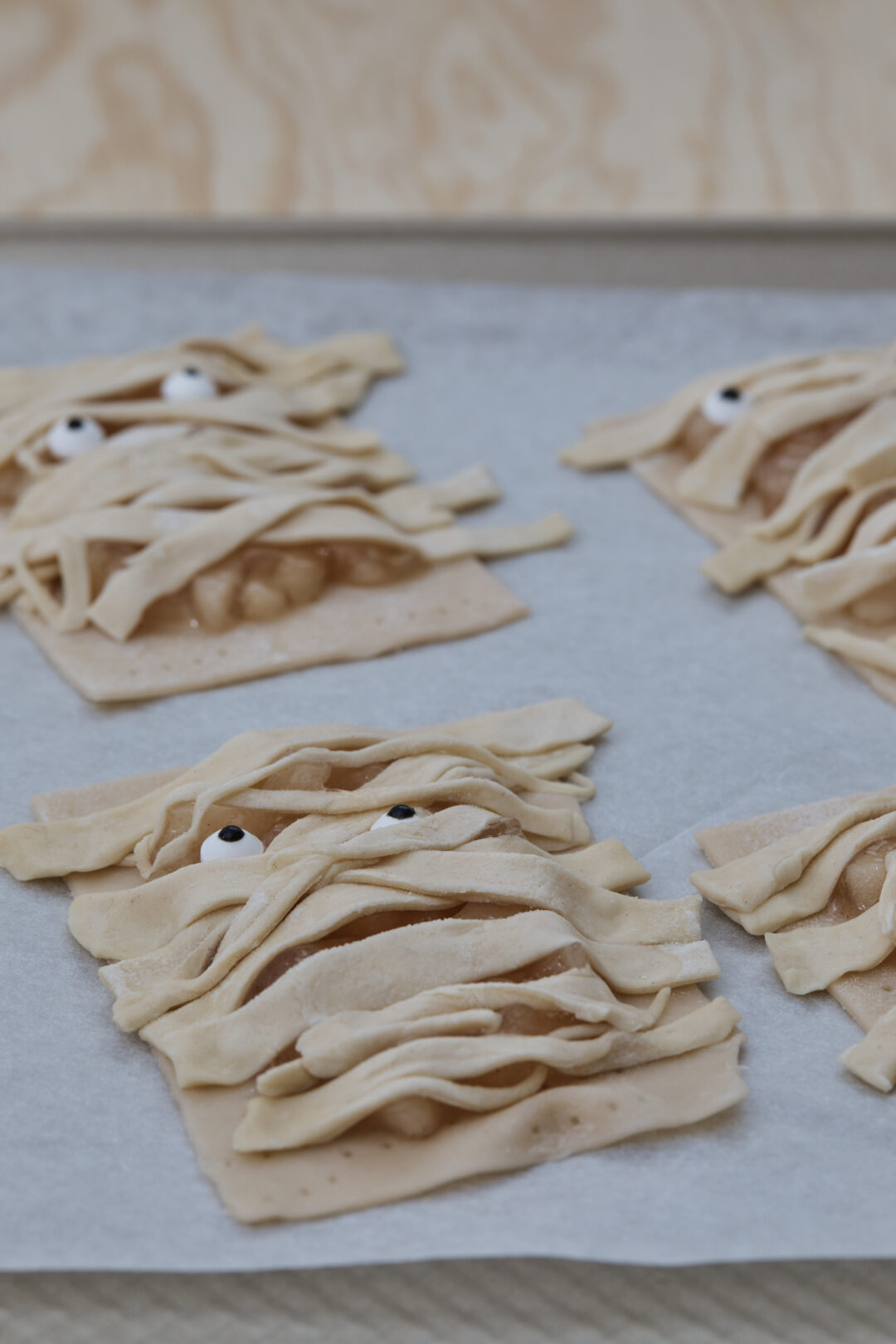 The second that that cold snap hits, the leaves start changing, and you can light up the fireplace you know that Halloween is just around the corner. I've been a bit Halloween obsessed since I was a kid. My dad and I started decorating the house, each year getting a bit more involved.
I'm not sure that I will make it with decorating my new house (just moved in this week!), but my neighbors have up decorations, so I think I am in the right place. Mummy-wrapped apple pies will hold me over until next year.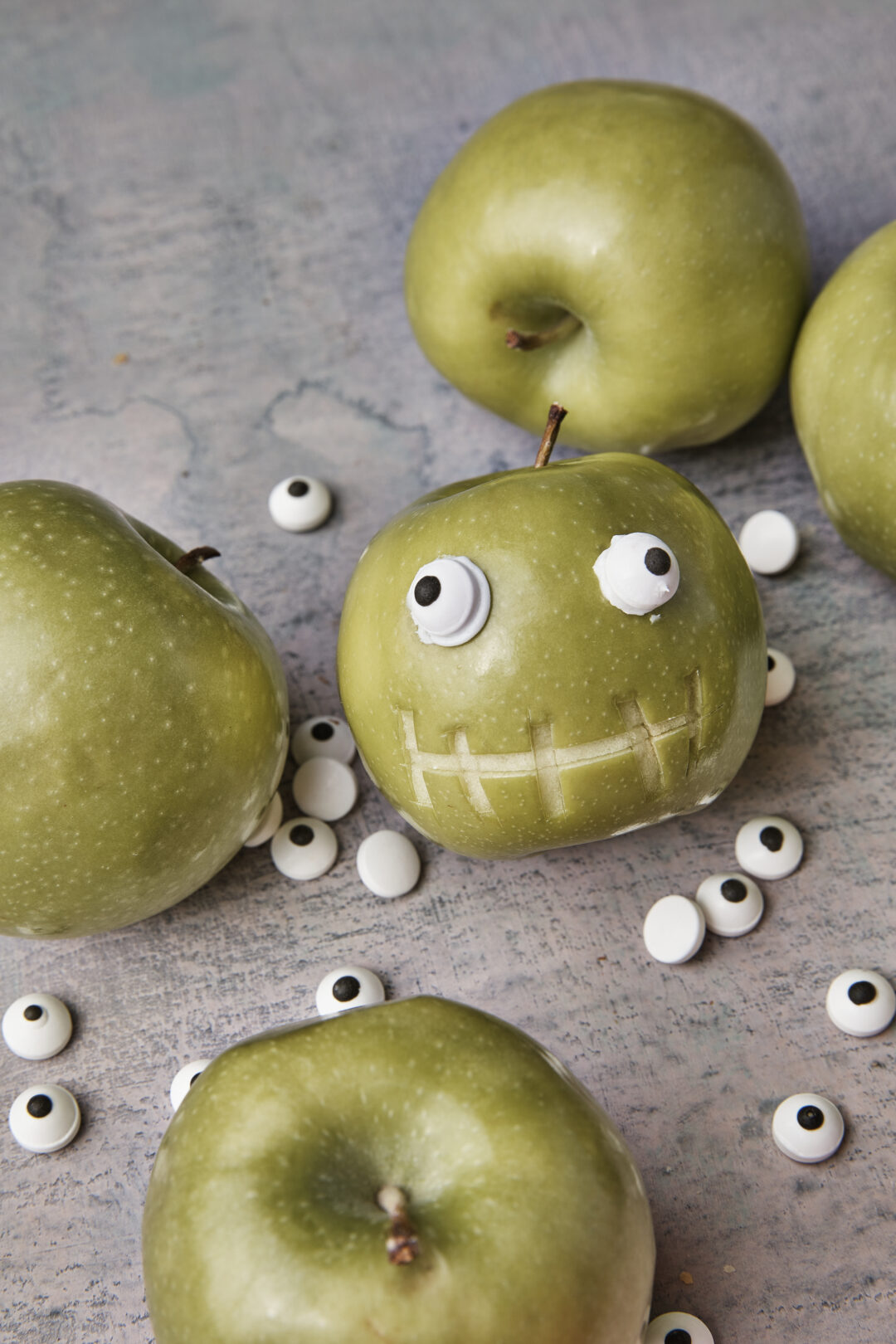 Fall must be packed with memories for me, because when I was making this recipe, I immediately thought of an annual apple festival in Owensboro, Kentucky that we used to go to. They would make anything and everything with apples. Apple fritters were what kept me coming back.
These hand pies remind me of those fritters, with a pastry wrap and warm apple and cinnamon filling, minus the ice cream that they threw on top. I wont judge you in the slightest if you decide to add a scoop on these (tag me on Instagram, kthx).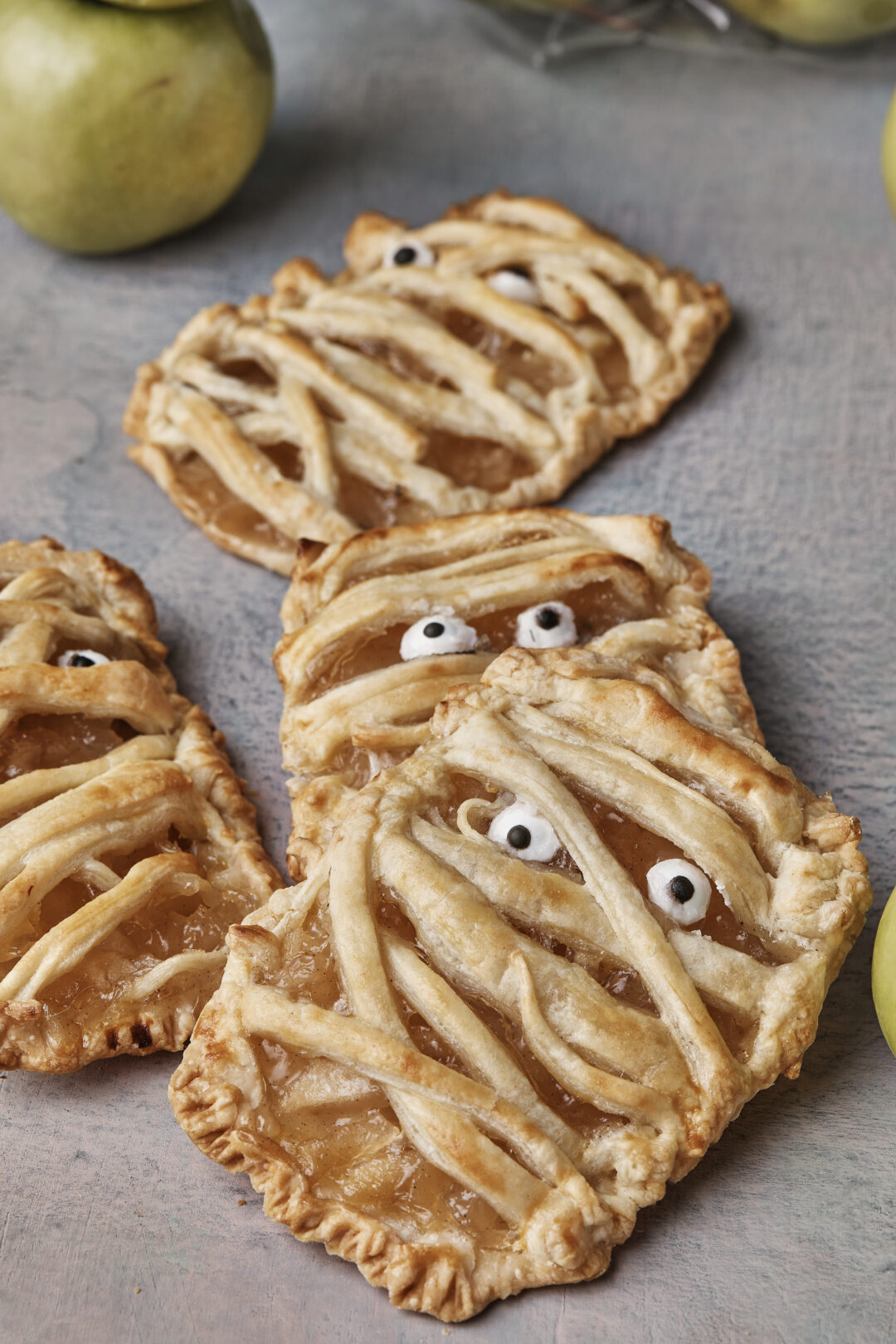 I know that a lot of people use pre-made apple pie filling for their fall desserts. I'm not going to secretly judge you for that (I am.), but I think that a lot of people just don't realize how simple the filling is to make with fresh apples. Granny Smith s the baker's choice for a lot of good reasons.
The tartness when combined with the sugar makes for a perfectly balanced taste, they hold their shape well, and are easy to find. You'll want vibrant, crisp apples. Kroger has USA grown, autumn-harvested apples in the produce section that are perfect for baking (and snacking if you are a fruit-addict like myself).
Grab a blanket, warm the cider, and pop these spooky pies into the oven. — Happy Halloween, y'all!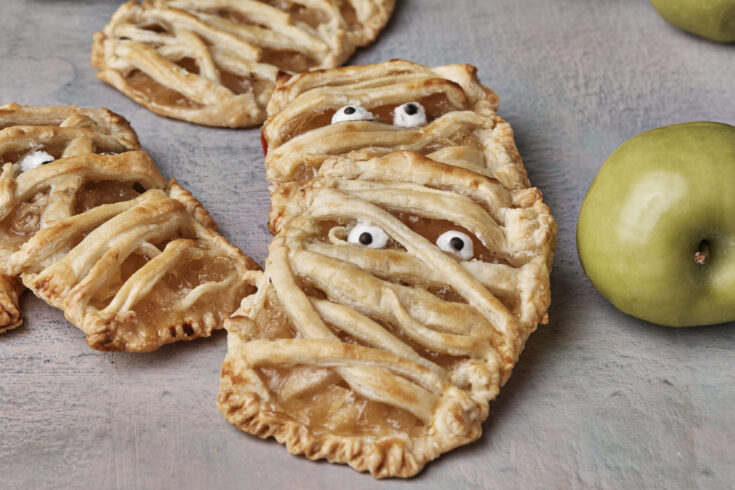 Yield:

8
Mummy's Apple Pie
Apple pie recipe with a mummy Halloween puff pastry twist. Pie crust filled with Granny Smith apples, wrapped in strips of puff pastry. From SouthernFatty.com.
Ingredients
6 Granny Smith apples from Kroger
1/4 cup butter, unsalted
1/2 cup brown sugar
1/2 cup white sugar
1/2 teaspoon salt
2 teaspoons cinnamon, ground
1/2 teaspoon vanilla extract
1/4 teaspoon nutmeg, ground
1 tablespoon cornstarch
1 tablespoon water
1 pie crust (homemade or purchased either is fine)
1 puff pastry sheet
Instructions
Apple Pie Filling

Peel and chop apples in bite-sized pieces. Keep all pieces equal in size for even cooking.
In a medium saucepan, heat butter over medium heat until lightly browned, about 1-2 minutes.
Add chopped apples to butter and cook for a minute.
Add sugars and salt. Cook for 5-10 minutes until apples are softened but still have some texture.
Add cinnamon, nutmeg, vanilla. Cook for an additional minute.
In a small bowl, combine water and cornstarch, mixing well. Add to hot apples.
The sauce will thicken. Cook for 3-4 minutes.
Allow to cool completely.
This can be prepared ahead of time, if desired.

Assembly & Finishing

Pre-heat oven to 400 F.
Roll out pie crust to about 1/8" thickness.
Cut rectangles for hand pie bottoms. Place on a parchment lined baking sheet with space between each for bakling.
Cut puff pastry sheet into irregular sized strips.
Place 1-2 tablespoons of apple pie filling on top of the pie crust rectangles.
Top with puff pastry strips.
Bake until golden, about 12-15 minutes.
Find more recipes on SouthernFatty.com. Enjoy!
Recommended Products
As an Amazon Associate and member of other affiliate programs, I earn from qualifying purchases.