Brûléed Cheddar Mac and Cheese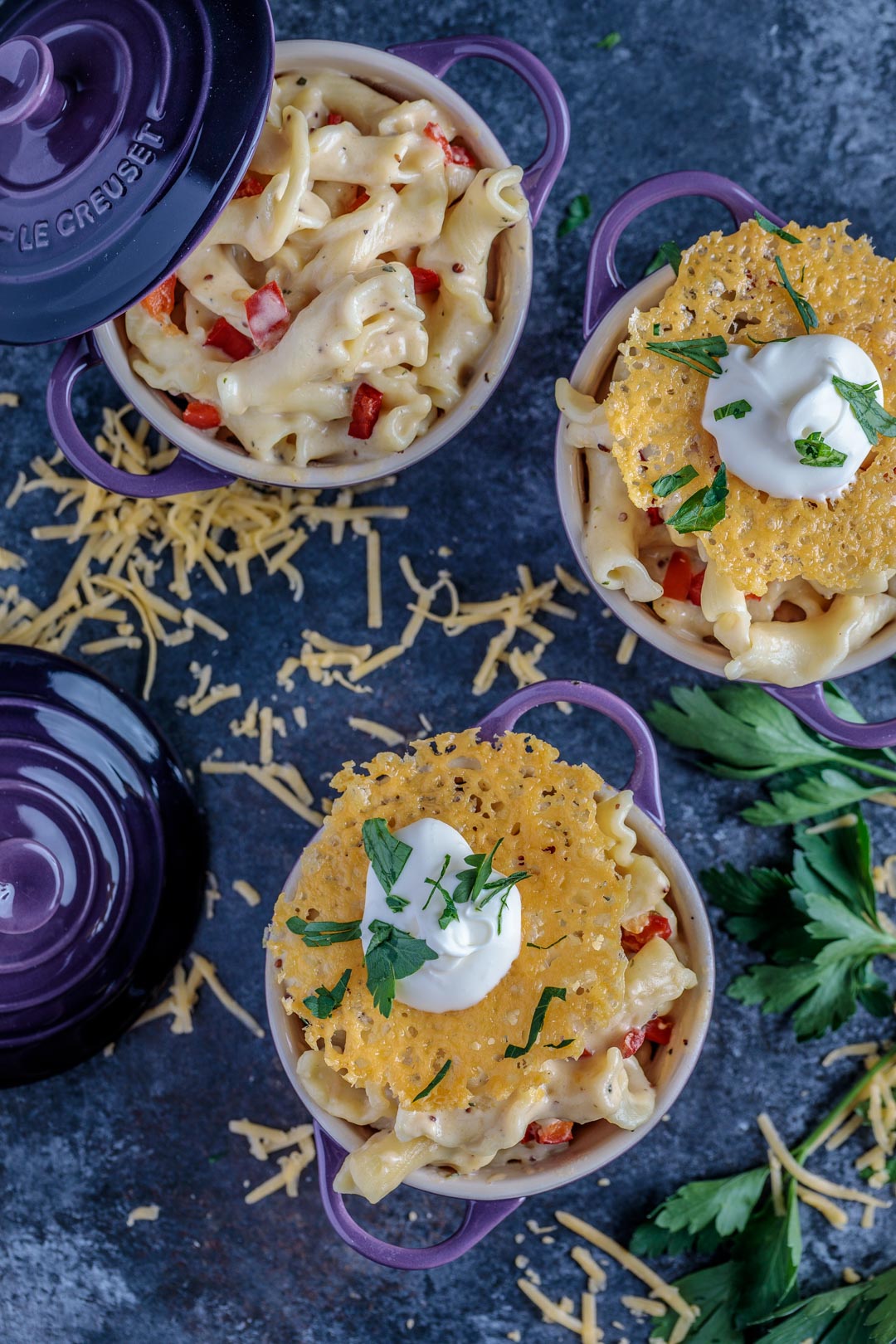 Author:
Phillip Fryman | SouthernFATTY.com
8 ounces macaroni pasta
3 tablespoons butter
3 tablespoons flour, all-purpose
2 cups milk, whole
1 tablespoon heavy cream, (optional)
8 ounces Tillamook Medium Cheddar cheese, grated
½ teaspoon salt and pepper, to taste
¼ teaspoon nutmeg, ground
¼ teaspoon paprika, ground
¼ cup creme fraiche, to top
¼ cup fresh parsley, chopped, to top
3 tablespoons chili peppers, diced, (optional)
Pre-heat oven to 425 F.
Prepare a baking sheet with parchment. Spray the parchment with non-stick spray or brush lightly with oil where the cheese will be placed.
If you want perfect circles, you can use metal ring molds (like THESE).
Sprinkle Tillamook Special Research Extra Sharp Cheddar cheese in a thin layer to match the size of the mac and cheese ramekins.
Bake until fully melted but not browned, about 8 minutes.
Remove to cool completely. Set crispy cooled wheels aside.
In a medium saucepan over medium heat, melt butter.
When bubbling, add flour and cook, stirring constantly, for about 2-3 minutes until lightly golden and nutty.
In a steady stream, add milk while constantly whisking to keep smooth.
Mix in cream is using.
Bring milk to boil and then reduce to low heat simmer.
Stir in nutmeg and paprika, along with the diced chilis.
Add Tillamook Medium Cheddar and stir until fully melted.
Be sure sauce stays on low heat so it does not separate.
Cook pasta according to package directions.
Combine pasta with sauce in warmed ramekins.
Top mac and cheese with crispy cheese wheel, creme fraiche, and fresh parsley.
Enjoy!
Find more recipes on SouthernFatty.com.
Partnership with Tillamook.
Recipe by
Southern FATTY
at https://www.southernfatty.com/bruleed-cheddar-mac-and-cheese/