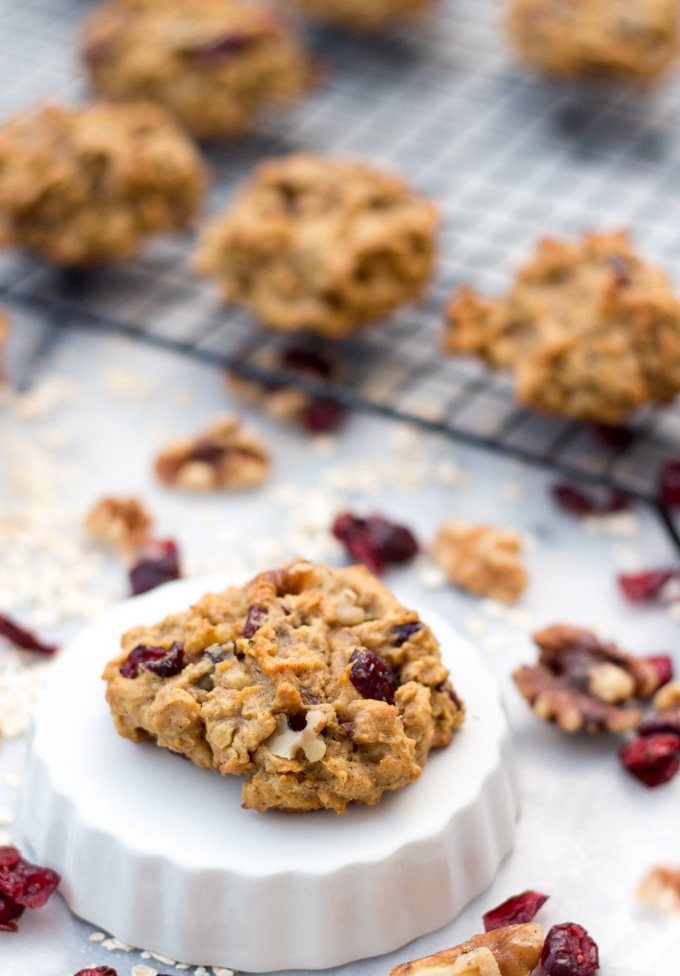 It's starting to get chillllay outside. FINALLY. Except for the couple 80 degree days randomly squeezed between the 50 degree vibes that we have been having, fall is almost full force here in Nashville. Those first few days of the season are my absolute favorite.
Keep reading for the best cozy comfort cookies.
If you follow my Instagram, you saw that on the very first day of October, I grabbed a pumpkin to carve. You'll also see that I didn't get any further than cutting the top off before I decided to take a break and fill it with ice for my bottle of wine. Win, win.
Since I had a half-ass fall pumpkin, I decided to go against everything that I have ever said about pumpkin this and pumpkin that and roast the thang to see what I could come up with.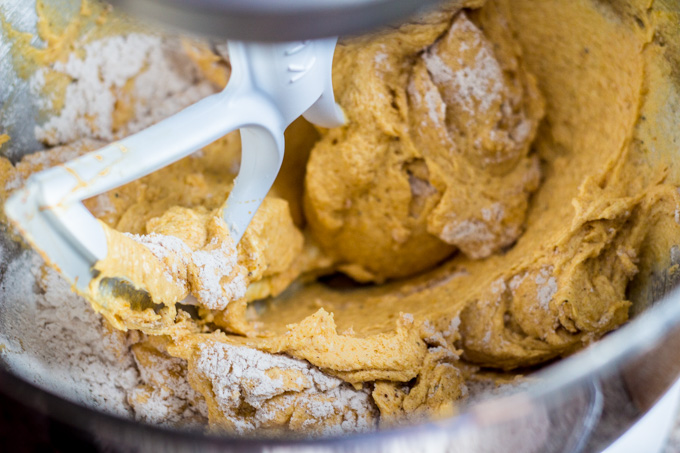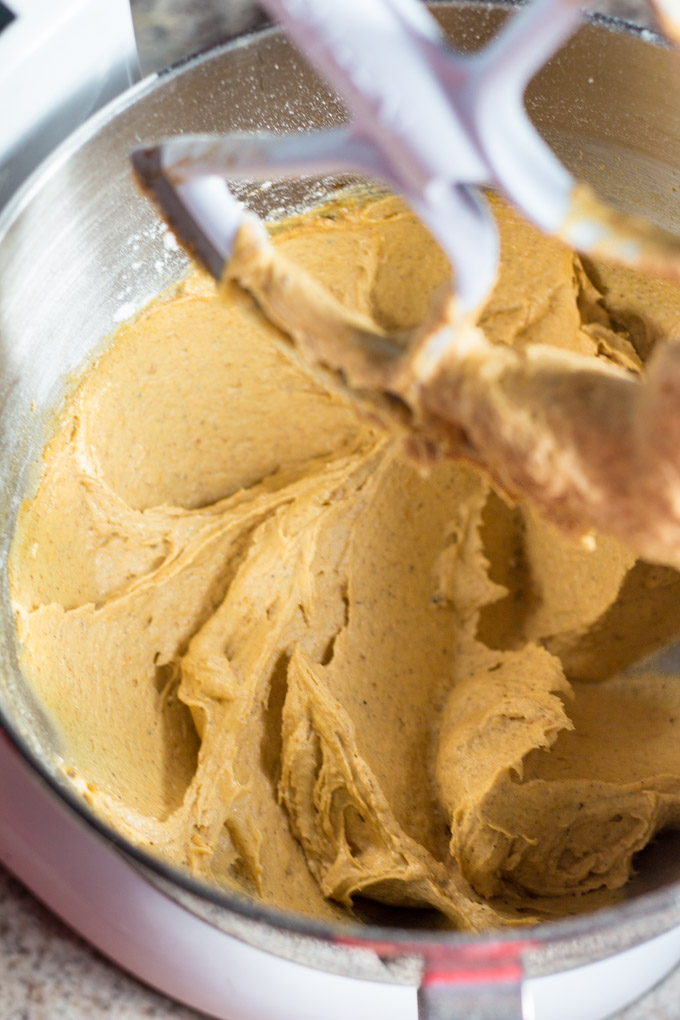 If I'm honest, I'd say just buy canned pumpkin if you are wanting to play around with fall flavors. If you happen to have a wine-bucket pumpkin sitting around, try roasting it yourself. It is shockingly simple to make your own pumpkin purée. Chop it in half, toss it on a sheet and bake for an hour or so. Blitz it up, strain it. Done.
My first idea was, of course, some sort of sweet. The possibilities for this are endless, but cookies were the first thing on my mind. Pumpkin cookies sound decent enough, but why not kick it up a notch or three?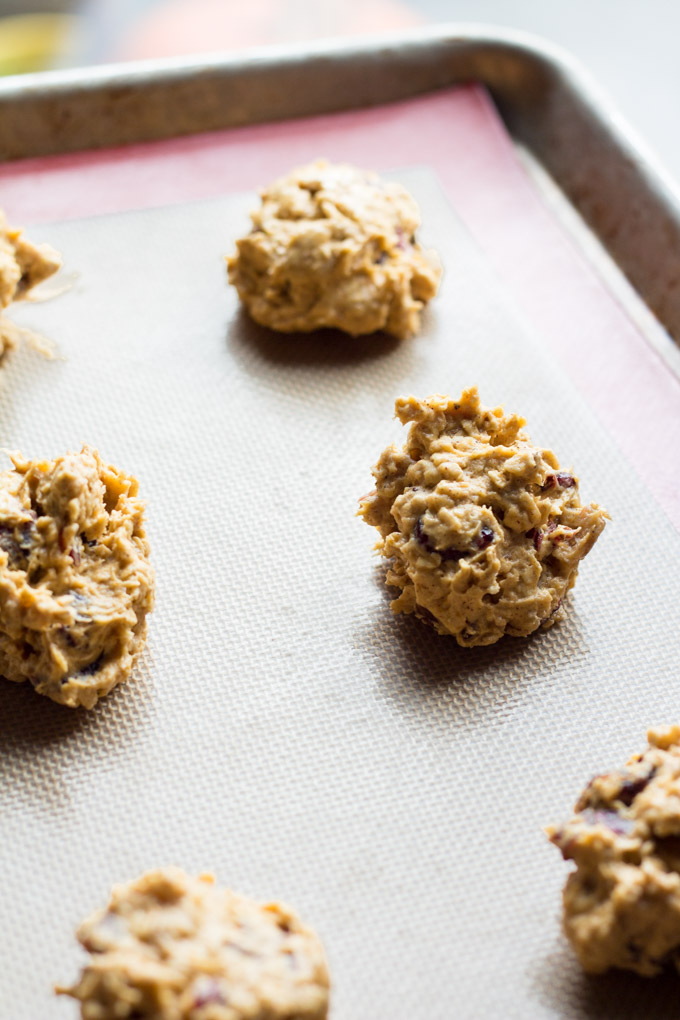 Cookies aren't cookies without butter. What makes butter better? Browwwwwning it. That's what! Brown butter and fall go together like gin and tonic. Like white girls in UGGs and pumpkin spice lattes. Like (good) food bloggers and cats. Y'all know I'm right.
Browning your butter (which sounds hilarious to me, for some reason) gives a rich, nutty flavor that lends perfectly to the sweater-wearing season. Combine that with some walnuts, cranberries and oatmeal and you've got yourself a winning combo.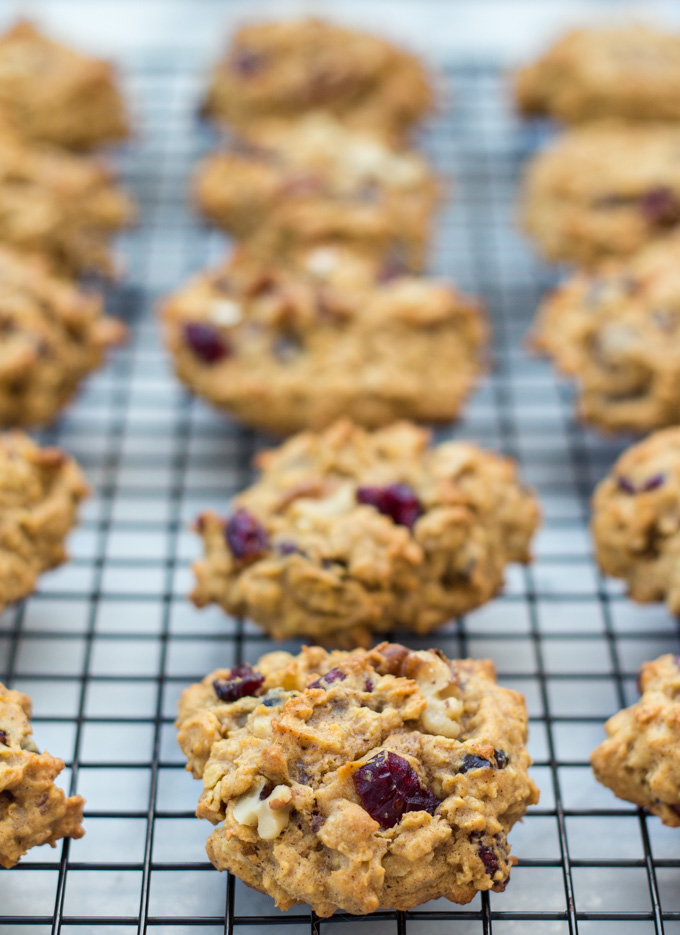 Creamed brown butter and all the fixins leave you with a perfect, warm, cozy, handheld treat. These end up being not all that sweet, and more flavorful. You can taste the distinct pumpkin, Thanksgiving-esque savor of these bites.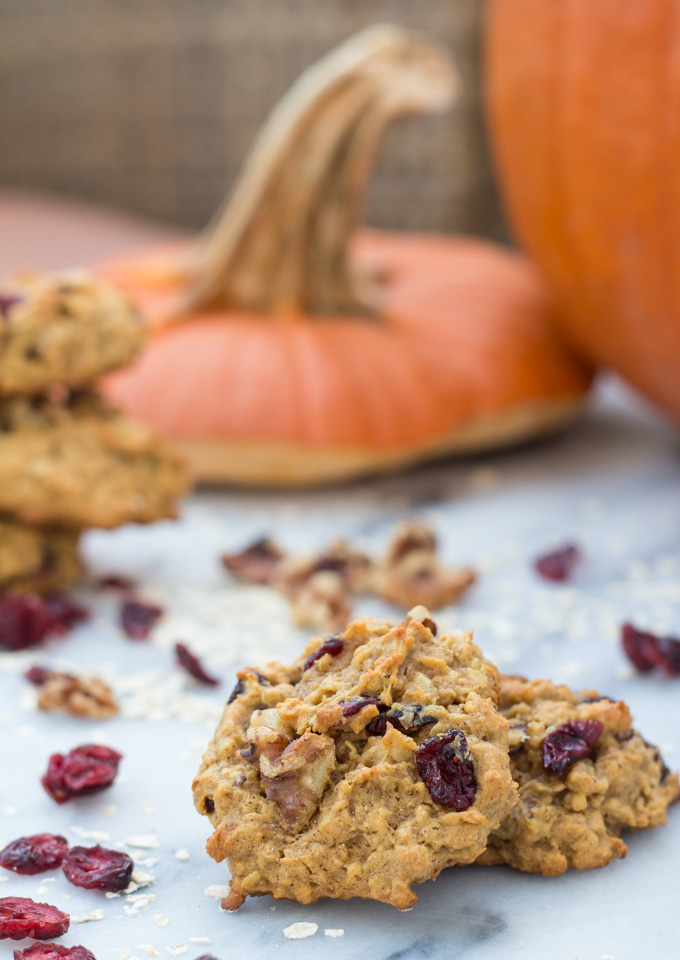 If you are going for a sweeter dessert cookie, I'm sure these would be ridiculously good with a drip, drop, dripttity drop (Empire, anyone??) of icing over top. I can personally attest that they go beautifully with a cup of coffee in the morning, as I am literally writing this post with exactly that in front of me.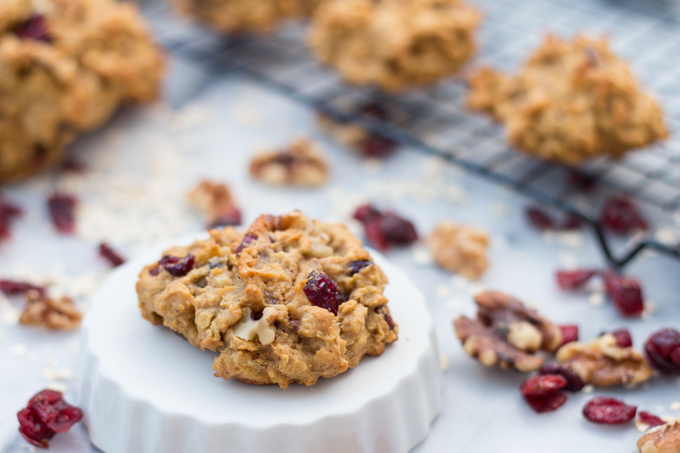 Chewy center, crunchy walnuts, tart cranberries and the savory, rich brown butter oatmeal cookie base makes this the perfect introduction to the best season of the year. Share these with some friends (or don't.), and you are sure to be kicking things off in true, warm and cozy fall style.
Enjoy y'all–
Brown Butter Pumpkin Oatmeal Cookies
Chewy, warm, pumpkin-packed oatmeal cookies with cranberries and sweetened brown butter base. From SouthernFATTY.com.
Ingredients
Brown Butter Base
8 tablespoons (115 g) butter, unsalted
1 cup white granulated sugar
1 tablespoon molasses
1 tablespoon whipped honey, (reg honey alternatively)
½ cup pumpkin purée (homemade or canned)
1 egg, beaten lightly
½ teaspoon vanilla bean paste (or extract)
Dry Mix
Finishing
1 cup quick rolled oats
½ cup walnuts, roughly chopped
½ cup sweetened dried cranberries
Instructions
Brown Butter
First off - Prepare the brown butter.
Over low heat in a light-colored sauce pan, melt butter.
Stirring occasionally, heat butter over low to medium-low heat until bubbles start to form.
As bubbles form, stir more often. The butter will start to bubble more vigorously.
You may want to place a splatter guard over the pan.
At around 212 F (you don't need to check this), the butter will be at a full bubble. This is the water in the butter cooking out.
Continue stirring very often to prevent burning. As foam forms, carefully strain it off with a spoon.
Stir the de-foamed butter continuously until the small bits in the bottom of the pan turn amber brown. The butter itself will NOT turn very brown. These bits are the milk fats. Look for the color change there.
Once browned, pour into a new bowl and allow to cool completely, about 30 minutes.
Cookies
Pre-heat oven to 350 F.
Place the cooled, now solid, room-temperature butter into a mixer bowl.
Add the sugar, molasses and honey.
Cream until light and fluffy, about 3-5 minutes.
Add pumpkin, egg, vanilla and combine.
Mix dry ingredients in a bowl and whisk together well.
Add to butter mix in batches and mix until smooth.
Add finishing ingredients and mix.
On a lined baking sheet, drop large tablespoon portions of the dough.
Bake until lightly golden, about 10-11 minutes.
Cool and enjoy!
--More on SouthernFATTY.com--
Notes
2015 - SouthernFATTY.com