Brown Butter Pumpkin Oatmeal Cookies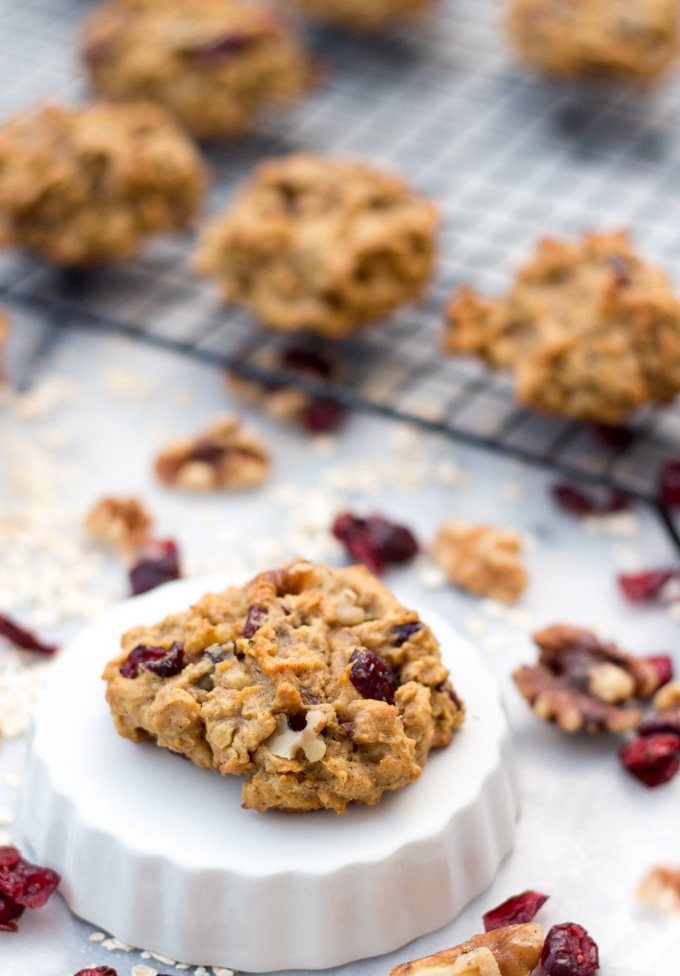 8 tablespoons (115 g) butter, unsalted
1 cup white granulated sugar
1 tablespoon molasses
1 tablespoon whipped honey, (reg honey alternatively)
½ cup pumpkin purée (homemade or canned)
1 egg, beaten lightly
½ teaspoon vanilla bean paste (or extract)
1 cup quick rolled oats
½ cup walnuts, roughly chopped
½ cup sweetened dried cranberries
First off - Prepare the brown butter.
Over low heat in a light-colored sauce pan, melt butter.
Stirring occasionally, heat butter over low to medium-low heat until bubbles start to form.
As bubbles form, stir more often. The butter will start to bubble more vigorously.
You may want to place a splatter guard over the pan.
At around 212 F (you don't need to check this), the butter will be at a full bubble. This is the water in the butter cooking out.
Continue stirring very often to prevent burning. As foam forms, carefully strain it off with a spoon.
Stir the de-foamed butter continuously until the small bits in the bottom of the pan turn amber brown. The butter itself will NOT turn very brown. These bits are the milk fats. Look for the color change there.
Once browned, pour into a new bowl and allow to cool completely, about 30 minutes.
Pre-heat oven to 350 F.
Place the cooled, now solid, room-temperature butter into a mixer bowl.
Add the sugar, molasses and honey.
Cream until light and fluffy, about 3-5 minutes.
Add pumpkin, egg, vanilla and combine.
Mix dry ingredients in a bowl and whisk together well.
Add to butter mix in batches and mix until smooth.
Add finishing ingredients and mix.
On a lined baking sheet, drop large tablespoon portions of the dough.
Bake until lightly golden, about 10-11 minutes.
Cool and enjoy!
--More on SouthernFATTY.com--
Recipe by
Southern FATTY
at https://www.southernfatty.com/brown-butter-pumpkin-oatmeal-cookies/