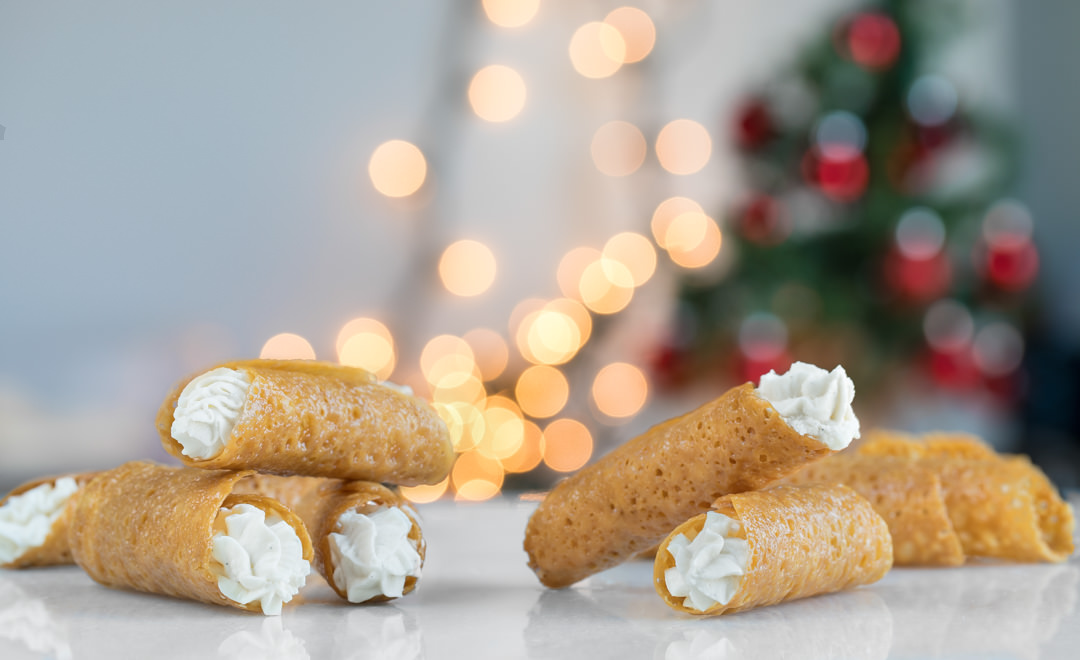 The most wonderful time of year. Holiday baking season! — I don't normally jump onto the winter holiday train so quickly, but I think there is a bit of wiggle room when it comes to baking. I'm definately judging you for putting up that tree before Thanksgiving has passed, but it is perfectly acceptable to start pushing out cookies and cakes during the fall season. If that reasoning isn't good enough, the fact that you can have an excuse to load up some whipped cream with brandy and call it a cookie is probably going to pass the test.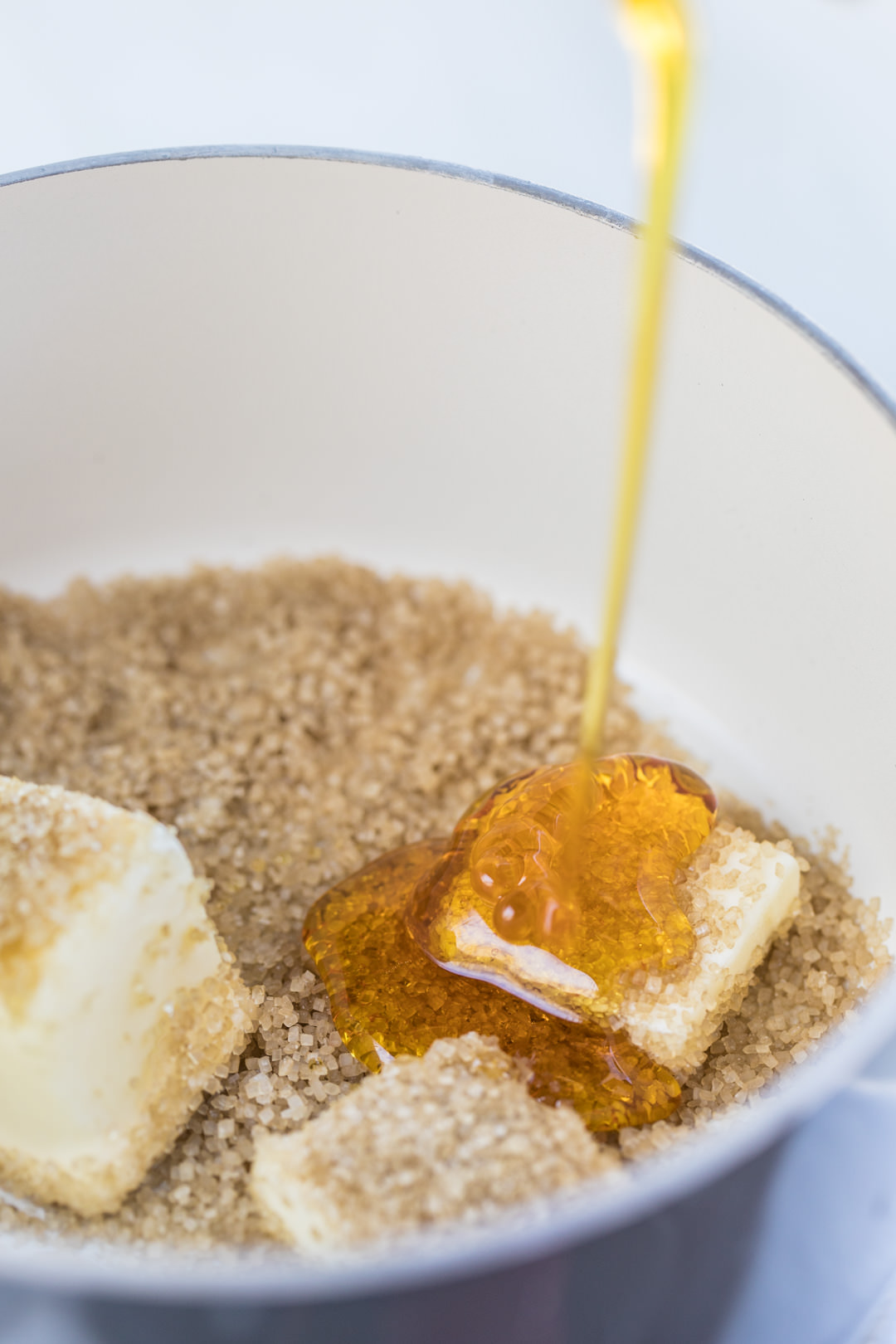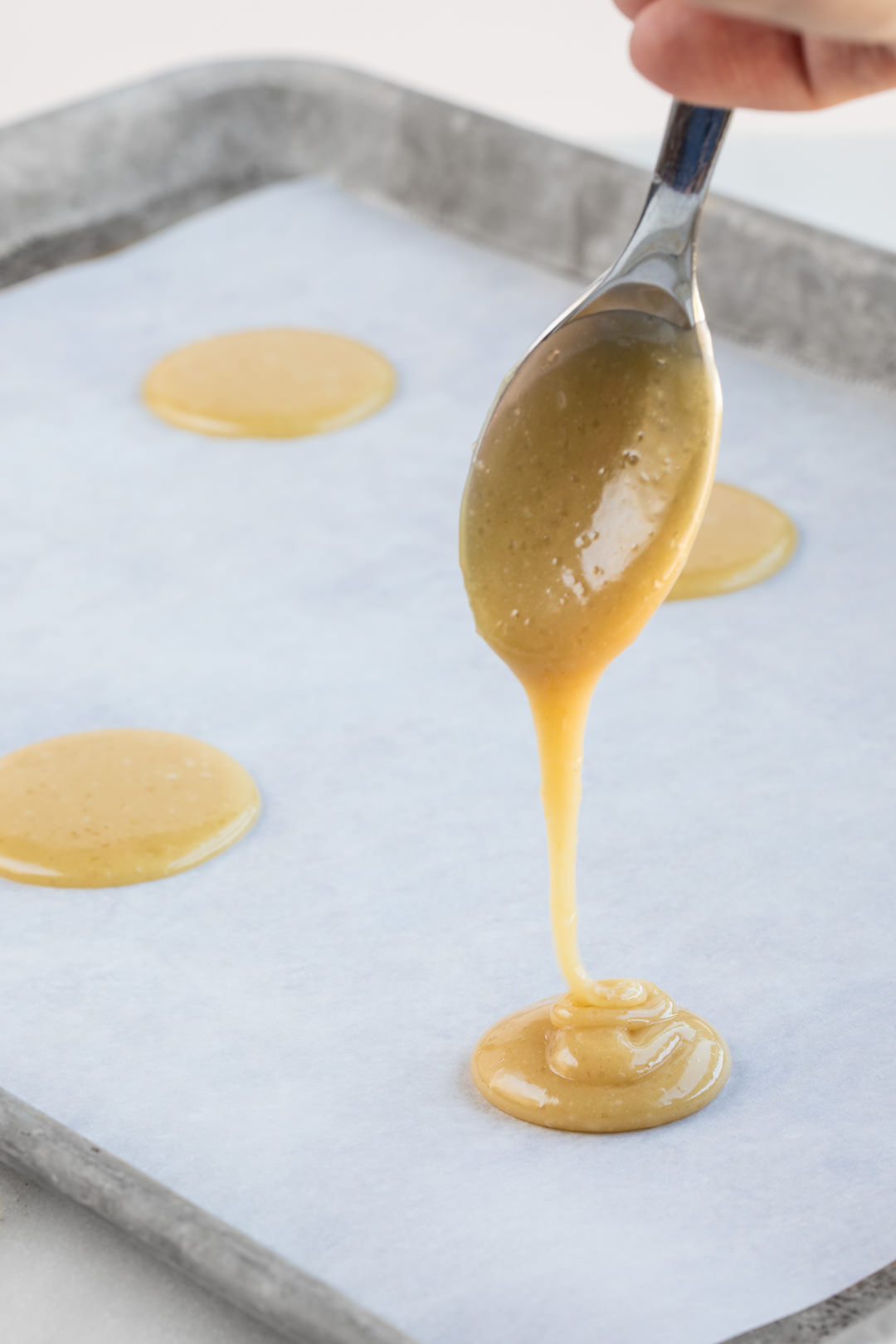 Brandy snaps aren't incredibly popular here in the States, but they are huge in most of England. Although I did know what they were, my memory was jogged while watching old episodes of The Great British Bake Off. I talked about this series in my Banans Foster Bundt Cakes recipe, but can't help but to mention it again. It's soooo so good, y'all. They have been playing the seasons in the States on PBS, so def make sure you catch them when they are back on soon. I managed to grab all of the old seasons when I was in London a couple months ago, and it has been game on every since.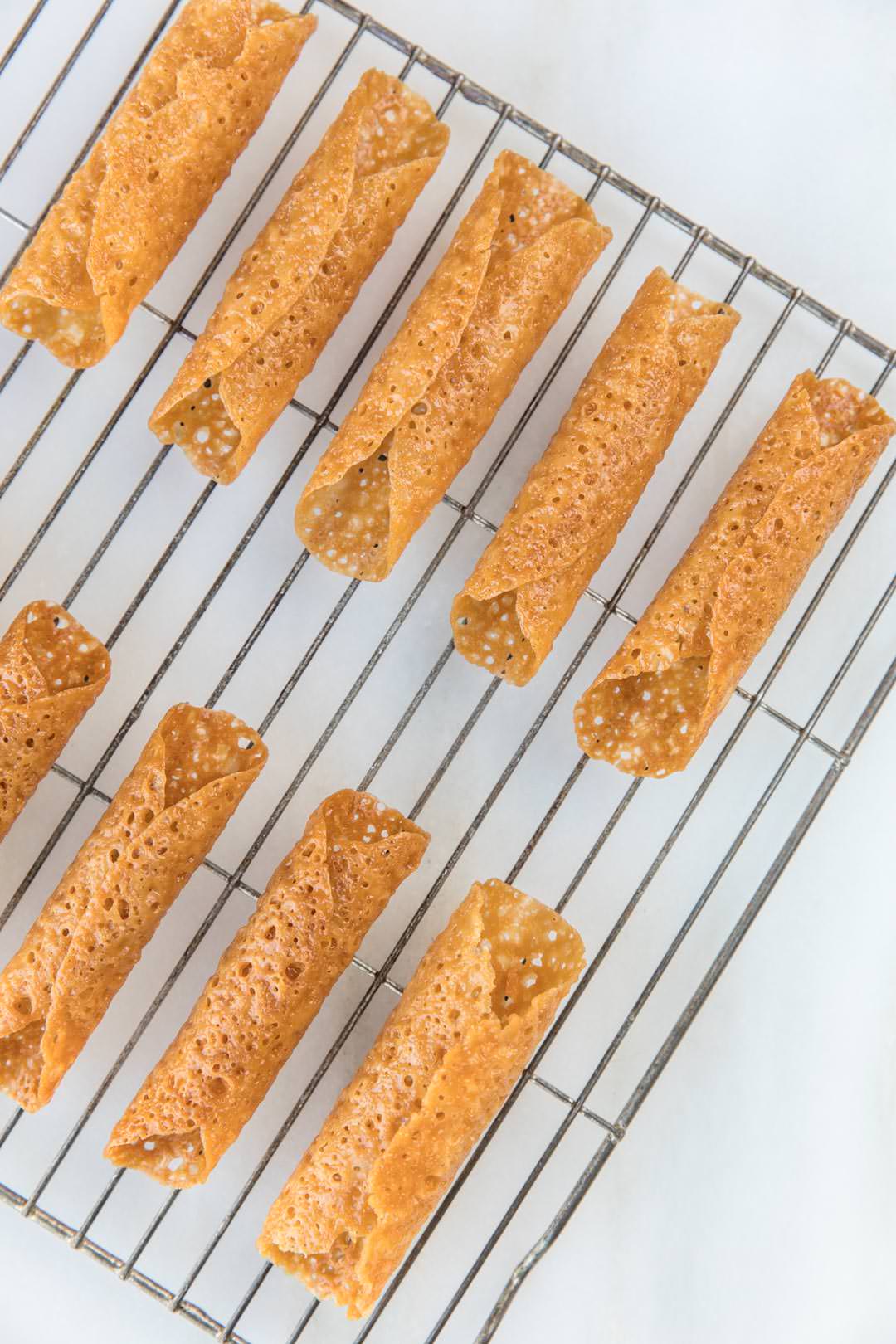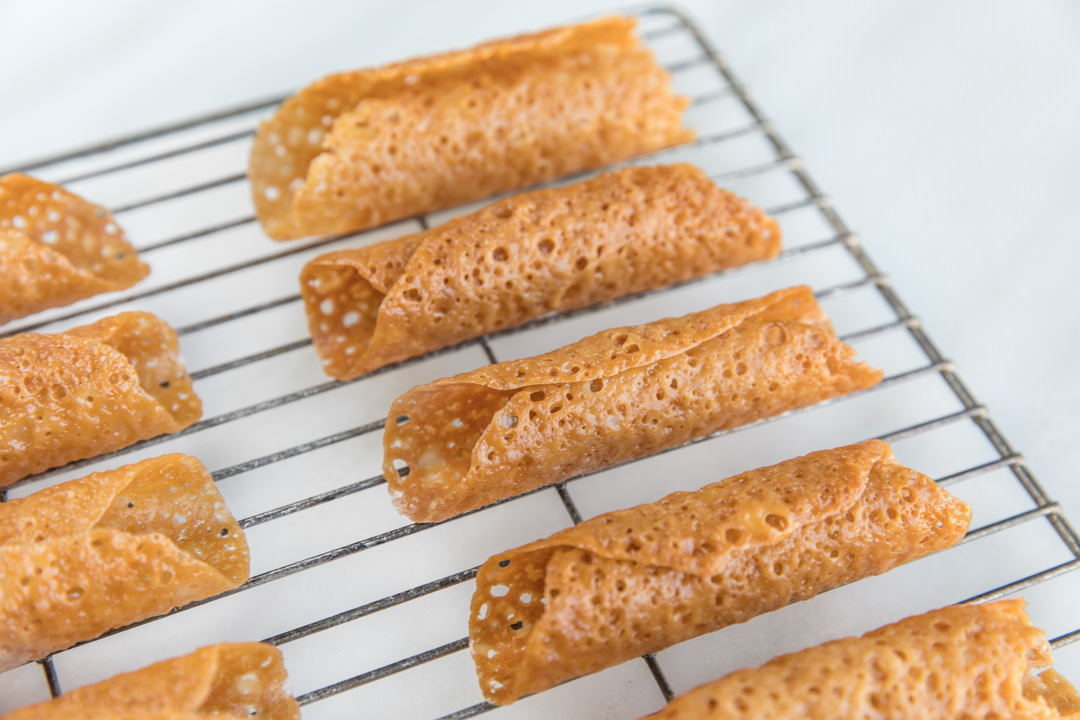 I think I saw these in Season 2, and they've been on my to-do list for a while since. Honestly you guys… these are incredibly simple to make. Possibly one of my all-time favorite handheld desserts, they are rich, crispy, and couldn't be more simple to bake.
I based my recipe off of one that I found in a cookbook by Mary Berry, one of the original judges on the GBBO. There are a couple of ingredients that you may not recognize, but I've included links in the recipe section to find those easily. It's worth the extra effort with the few total items that it takes to make these sweets. Thank the Lord baby Jesus and Santa's elves for Amazon, right!?
Brandy snaps are essentially equal parts (by weight… which you should be using anywayyyy, yo) sugar, syrup, flour, and butter. Recipes with perfectly equal rations make the obsessive compulsive numbers guy in me super happy. It's the same idea with choux pastry to create those lovely eclairs, cream puffs, etc. Knowing that I can whip up these base recipes without any additional thought or help is nice to have tucked away for a lazy baking day when you don't want to have to test too much.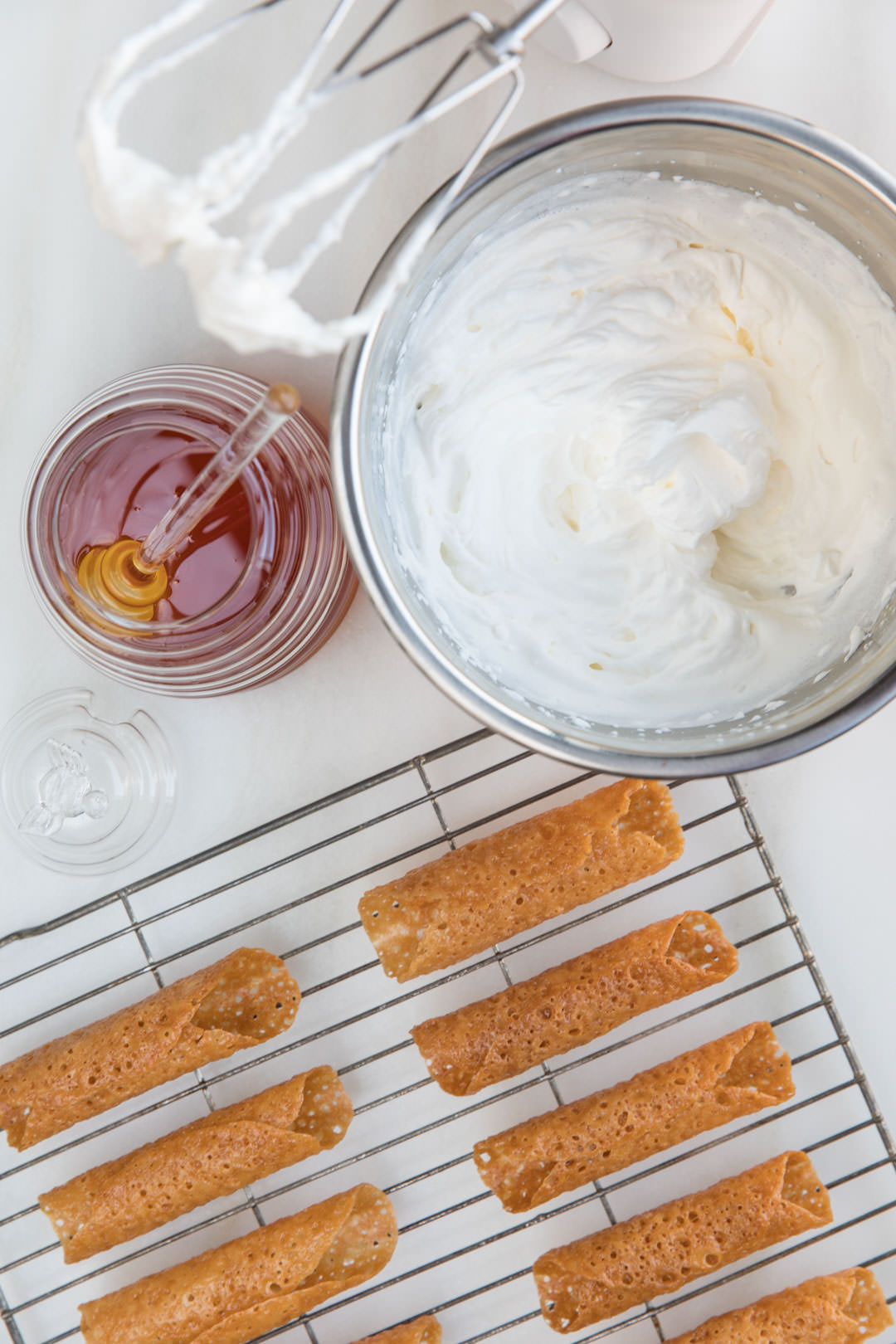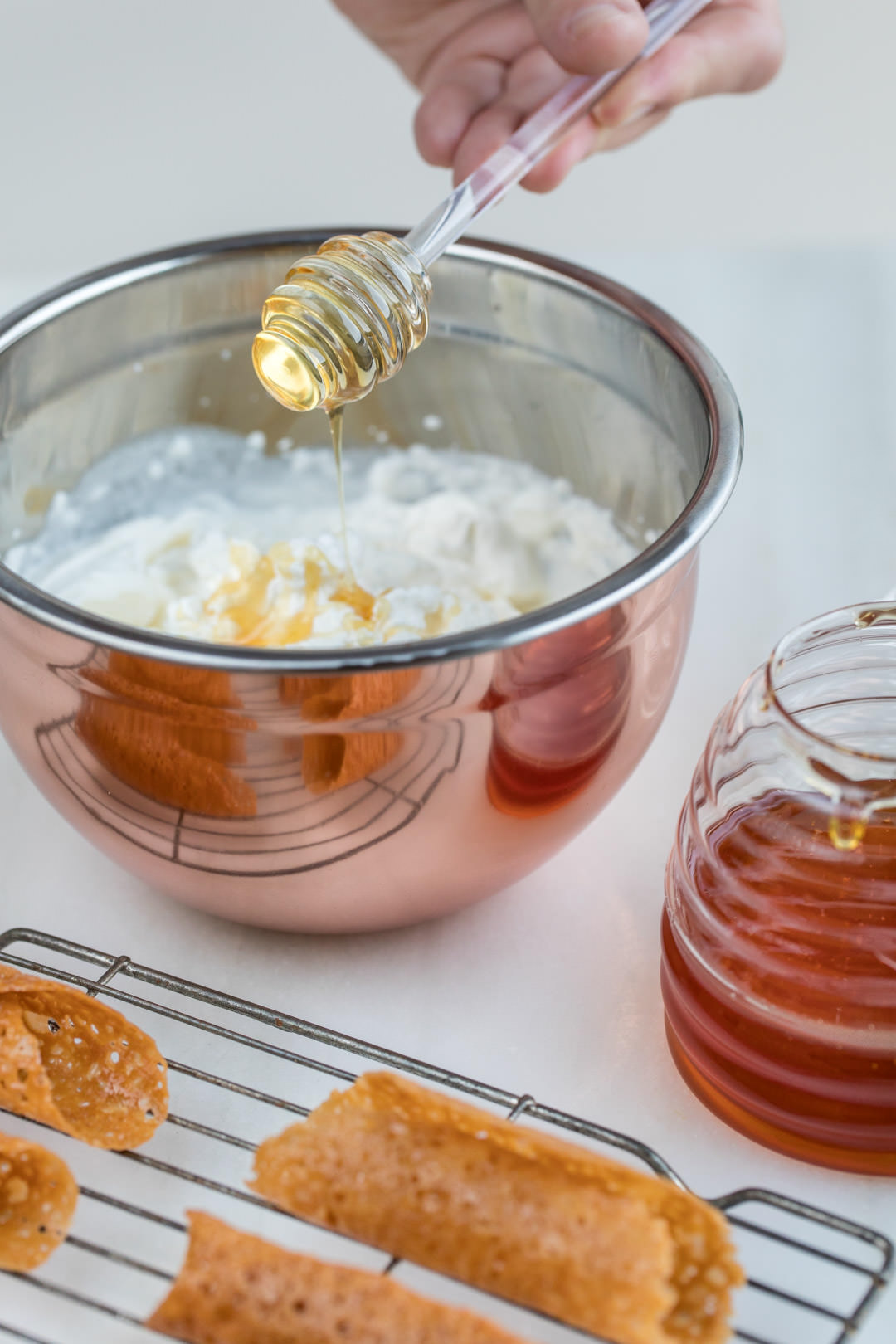 Oddly enough, historically speaking, brandy snaps don't seem to have actually contained any brandy. The name possibly comes from the fact that they are 'branded' or browned. Maybe they ate them with brandy on the side? Maybe whomever made them had a best friend named Brandy that was kinda rude and snappy. — I dunno why, but I went ahead and fixed the situation, adding brandy to the whipped cream filling anyway.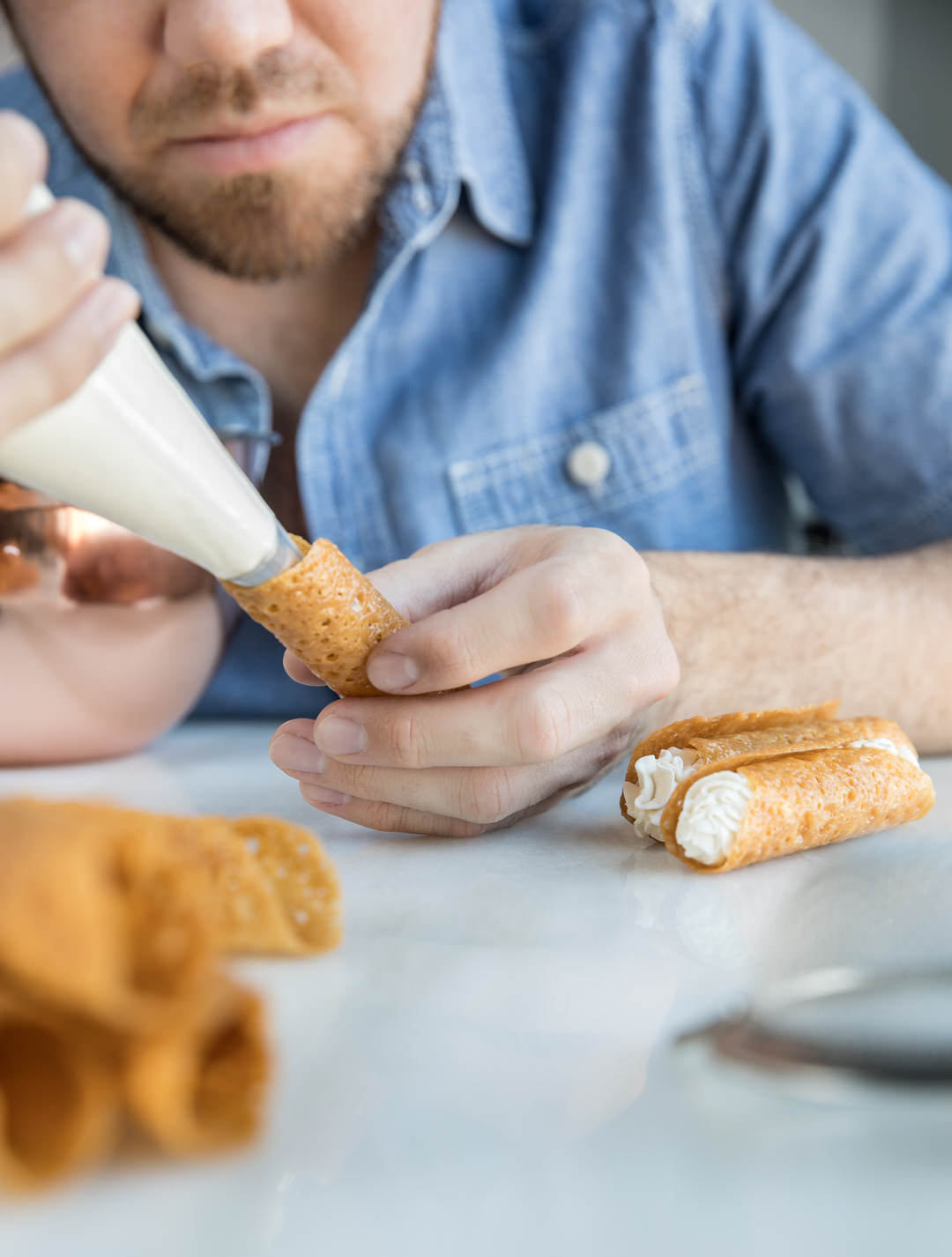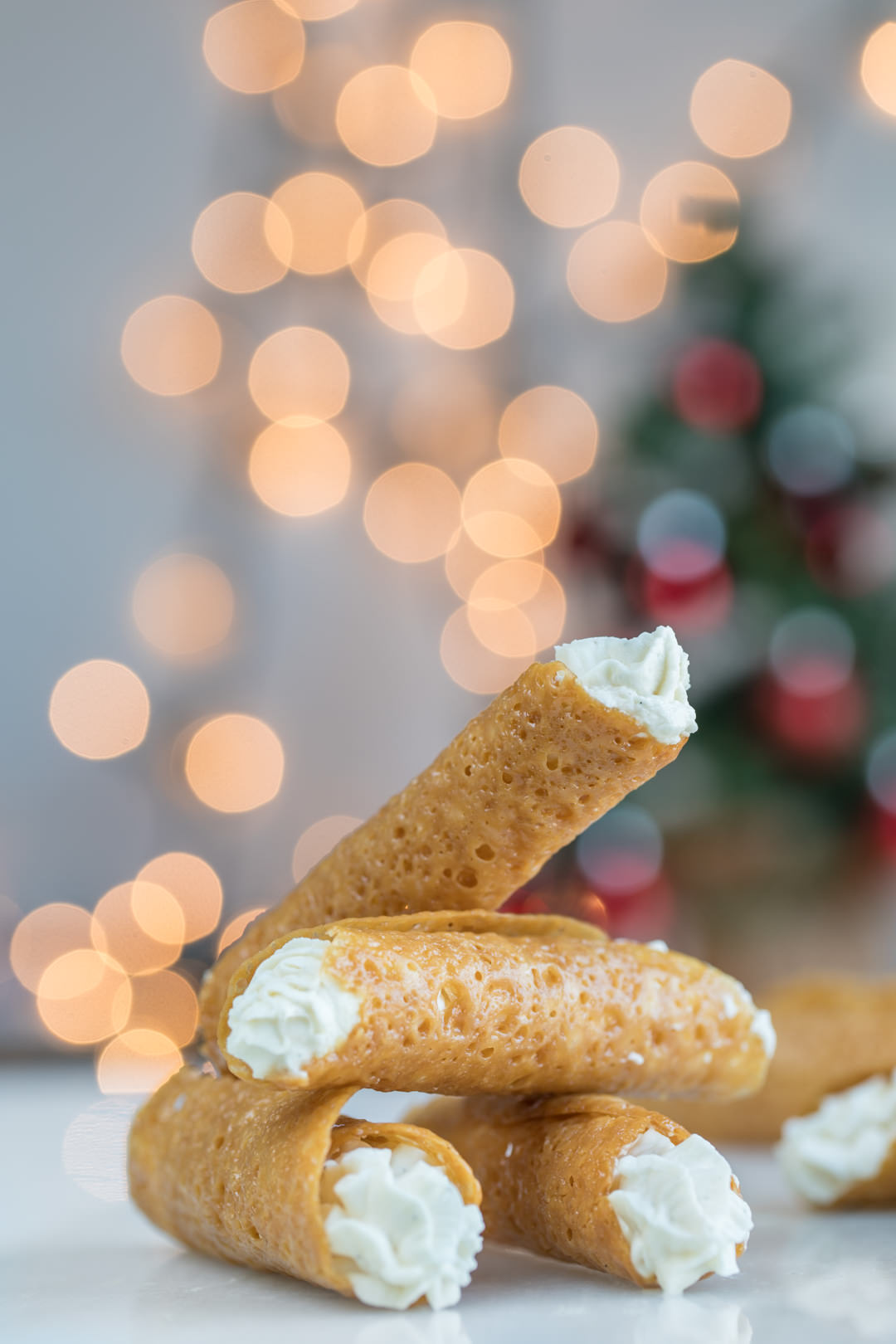 After I started making these snaps a few months ago, I was presented with a great opportunity to be part of a magazine packed full of recipes from fellow blogging buddies. Bake from Scratch is a print magazine that always has the most beautiful recipes throughout its pages. They partnered with FeedFeed, a culinary outlet that I have been an editor with for quite some time now, to feature blogger recipes for the holiday baking season. These brandy snaps made the cut, and are featured in the magazine recipes.
If you glance at the magazine section of your local stores, you'll probably see a copy or ten. Go ahead and lay them all out in a row, turned to page 93, thanks. (I'll send you a free copy myself if you actually do this and post it and tag me @southernfatty on social….. I dare you.)
If you want to order a copy online, you can do that here.
Over 100 pages of absolutely beautifully written and styled recipe for the holiday baking season.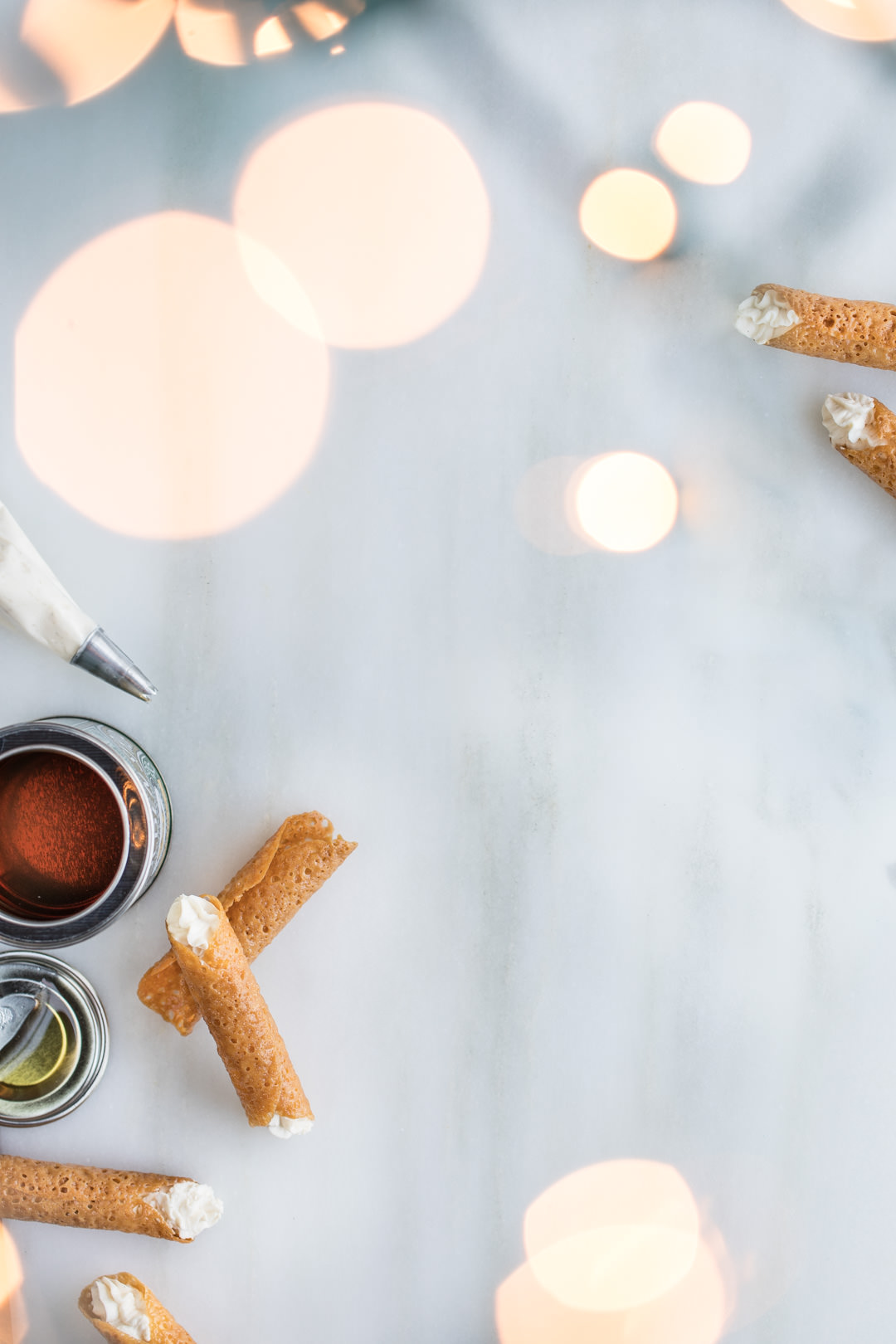 Brandy Snaps with Honey Whipped Cream
A popular UK treat, Brandy Snaps are a sweet, super crispy shell filled with a sweetened honey whipped cream. Incredibly simple, but absolutely perfect for holiday party handheld sweets. From SouthernFatty.com.
Author:
Phillip Fryman | SouthernFATTY.com
Ingredients
Brandy Snaps
5 tablespoons (70g) butter, unsalted
5 tablesoons (70g) demerara sugar
3 tablesoons (70g) golden syrup
9 tablespoons (70g) flour, all-purpose
½ teaspoon (1g) ginger, ground
1 teaspoon (5g) lemon juice, fresh
Brandy Honey Whipped Cream
1 cup (240g) heavy cream, cold
1 tablespoon (21g) honey
1 teaspoon (5g) brandy, optional but makes things frisky
Instructions
Brandy Snaps
Pre-heat oven to 350F/180C and line baking sheet with parchment or silicone baking mat.
Sift flour and ginger together into a small bowl.
Lightly oil wooden spoon handle and set aside.
In a small saucepan, add butter, sugar, syrup.
Place saucepan over low heat.
Heat until sugar has completely dissolved, stirring and pressing sugar with silicone spatula throughout until there is no grit remaining. This will take about 15 minutes.
Remove from heat, add in sifted flour and ginger mixture and lemon juice. Mix well.
Using a teaspoon, drop the hot mixture onto the prepared baking sheet. Allow for about 4-5 inches between each.
Bake for 12-15 minutes. The mixture will spread and form a lace. Allow to darken to a rich golden color.
Remove and allow to cool on pan for 2-3 minutes.
Carefully use a spatula to slide under each disc, transfer to the oiled spoon handle and carefully wrap, overlapping the ends to form a tube.
Remove to rack to cool.
Repeat as needed for additional sheets of cookies.
Brandy Honey Whipped Cream
In a cold, clean mixing bowl, add cold whipping cream.
Beat with hand mixer or whisk until it starts to thicken.
Add honey and continue to beat until firm.
Lightly mix in brandy (optional).
Transfer to piping bag and keep chilled.
Finishing
Fill snaps with whipped cream to serve. Chill shells unfilled. Good airtight for up to a week before using.
Enjoy! Find more recipes on SouthernFatty.com.
Notes
Pro Tip:
If the discs are too brittle to wrap, put the pan back in the oven for a minute to soften them back up. If the cookie mixture is too hard to spoon onto sheet, you may roll it into a ball and place on the baking pan and flatten lightly with the same result.
Store unfilled brandy snaps in airtight container in refrigerator for up to a week.
Recipe based on content from
Mary Berry's Baking Bible
.
If you want to order a copy of the Bake from Scratch Holiday Cookies magazine, you can do that here.
Over 100 pages of absolutely beautifully written and styled recipe for the holiday baking season.