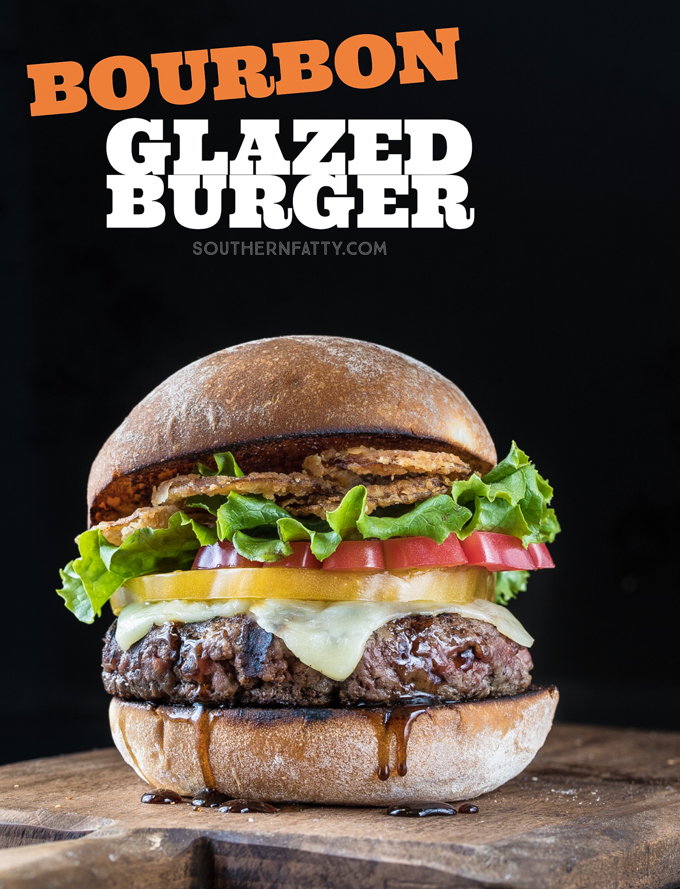 Beef and bourbon. Two southern staples that are held completely sacred around here. Put them together you say? Why, I think I just might! — A solid burger is probably my choice for my last meal (with killer fries, of course). I've been on a kick of grinding cuts of meat myself at home for burgers recently. It's so incredibly simple and tastes 1000x better than the stuff you may usually grab. BUT, after several nights in a row of the same classic burger, I decided that I wanted to kick things up a bit and try something a bit out of the box… or bottle, as it turns out.
That's where the bourbon came into the picture. Sitting right in front of me on my counter, amazingly enough, the bottle wasn't empty. If ever a bottle o' booze was screaming my name, this was it. I pulled out a little saucepan, some brown sugar, cumin, and made this rich, sweet (personal goals, anyone?) & smoky glaze for the win.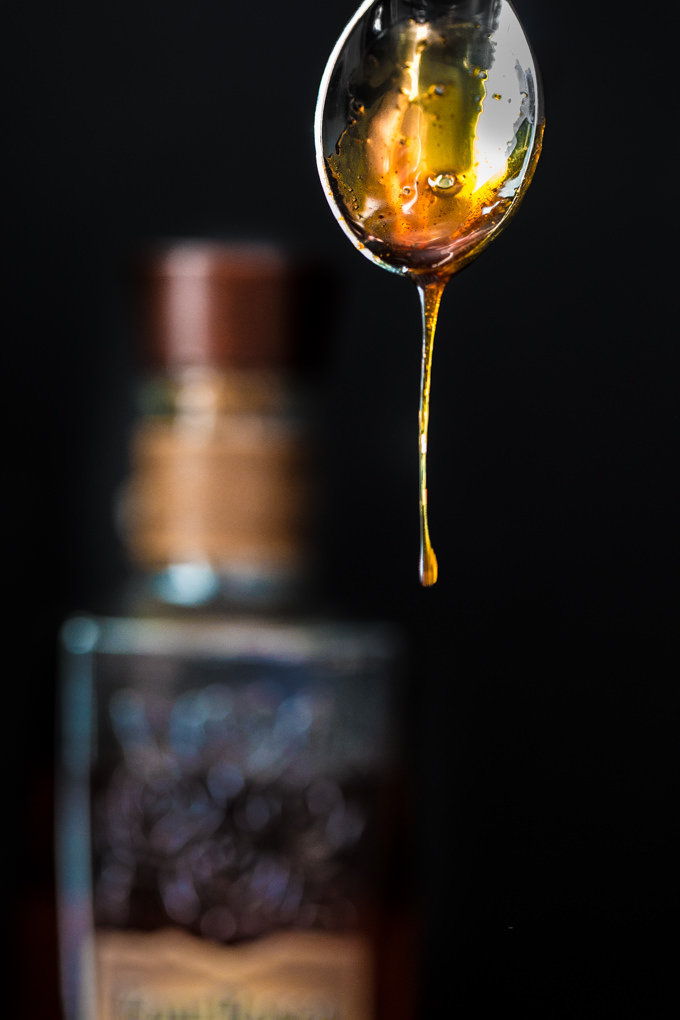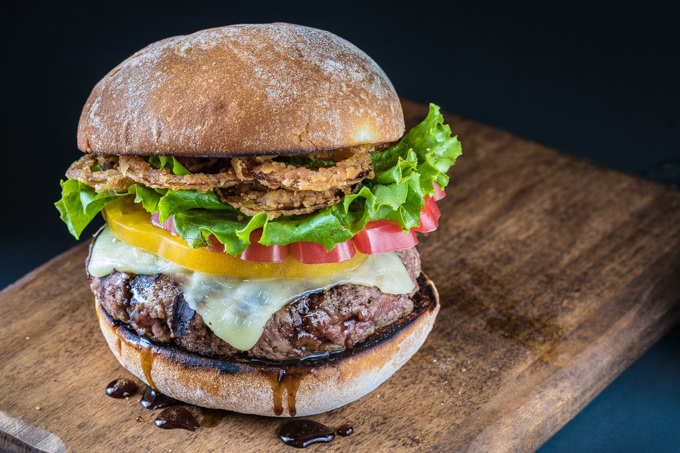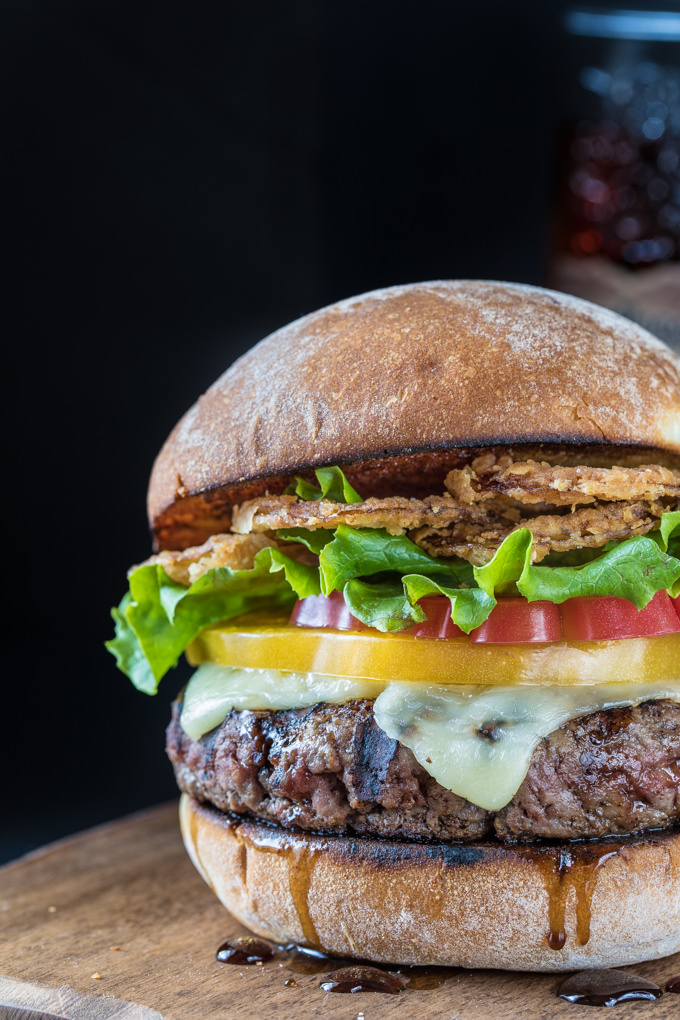 This stuff gives you a great excuse to make more burgers, open a few more bottles, maybe fire up that still you have been hiding in the basement. You know… the usual things. The brown sugar and cumin add a great smokiness to the rich, caramel bourbon. Use a decent (Kentucky, of course!) bourbon for this, as the flavor really comes through from the glaze.
Have a little sip for the Chef, and enjoy the Spring weather.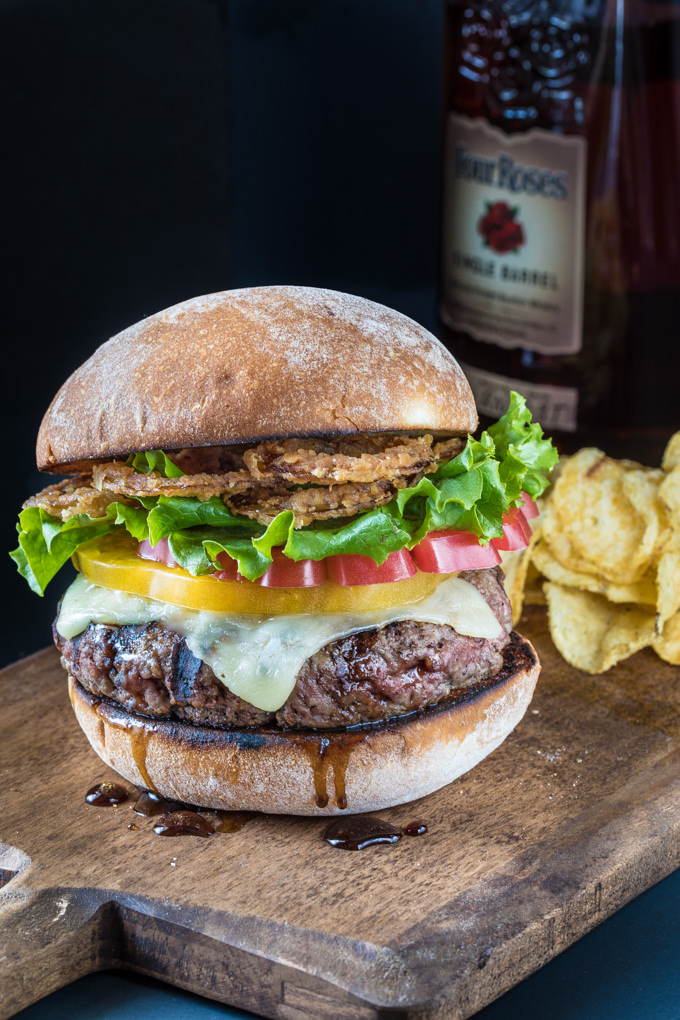 Bourbon bottoms up! This is going to be my backyard BBQ secret weapon this year.
Bourbon Glazed Burger
Classic backyard BBQ burgers with a bourbon boozy twist. Bourbon glazed burgers from Southern Fatty.
Author:
Phillip Fryman | SouthernFATTY.com
Ingredients
Burgers (for four, 6oz burgers)
24 ounces ground beef, grilled to taste
white cheddar cheese, sliced
buns, toasted
tomato
fried onion rings (I used our okra breading recipe)
Bourbon Glaze
2 tablespoons bourbon
2 tablespoons brown sugar
½ teaspoon cumin, ground
½ teaspoon salt
¼ teaspoon chili powder
⅛ cup water
Instructions
Make the glaze first...
Combine ingredients in a small saucepan over medium heat.
Cook until slightly thickened and simmering.
Remove to cool slightly.
Burgers
Toast buns and prepare toppings in advance.
Cook burgers as desired. Once you flip the burger, brush some of the glaze on top.
Finish cooking and top with cheese.
Remove to bun and apply more glaze to burger.
Top with toppings and enjoy!
Find more on SouthernFATTY.com.
Favorite backyard BBQ bite?
Leave a comment below!