Single bowl, quick recipe for deliciously creamy, hot spinach and artichoke cheese dip. Perfect feature for friends and family get-togethers, game day bites, and quick 30-minute meals.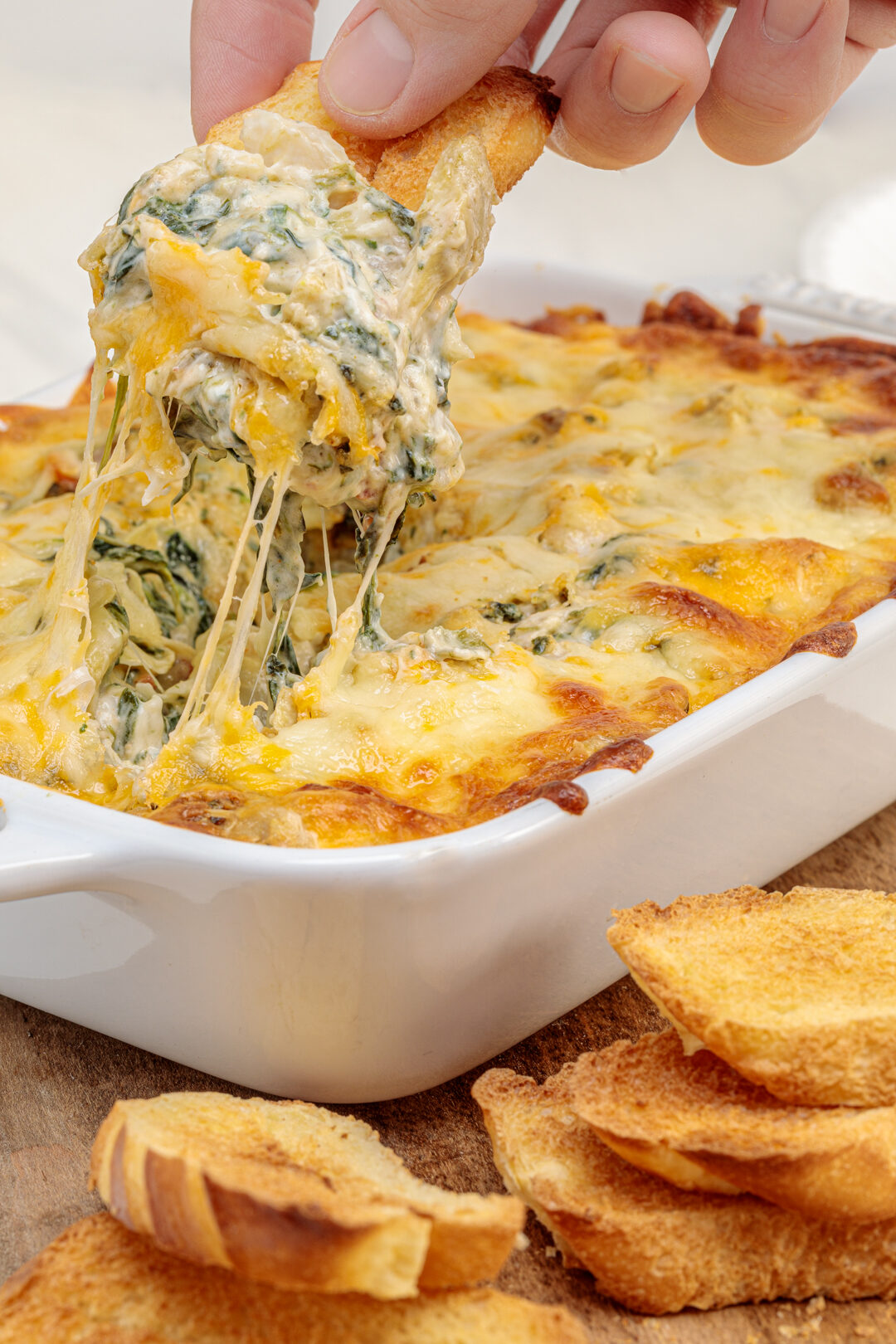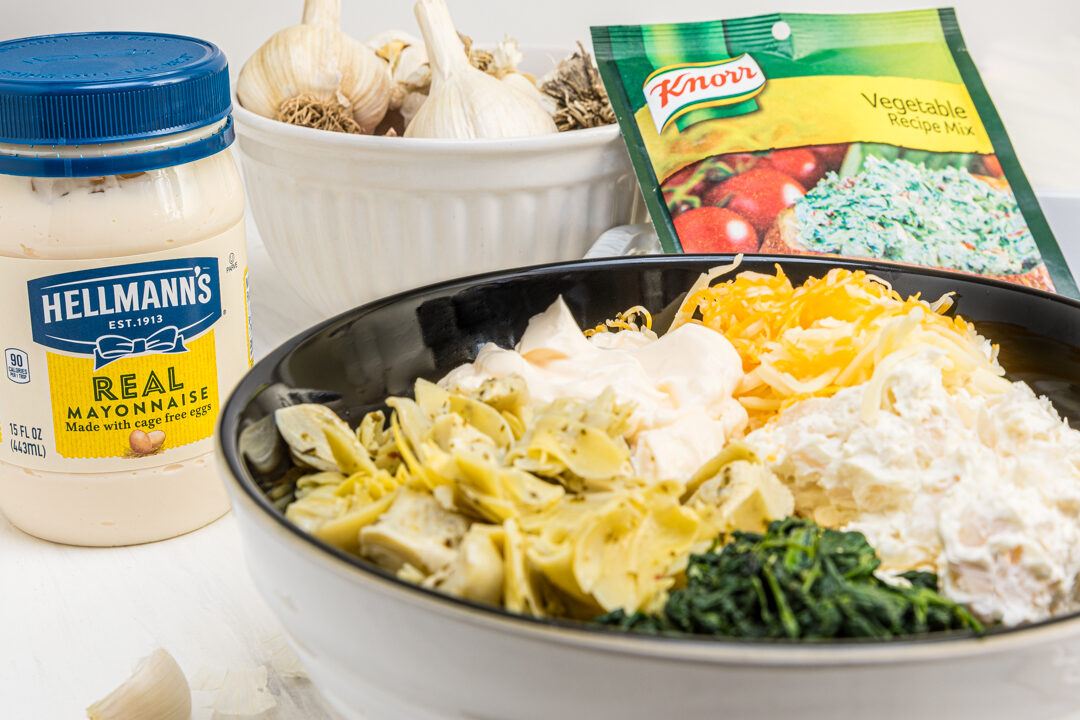 Do y'all have a favorite appetizer or side dish that you feel like you can only get a certain restaurant but can never seem to whip it up at home with the same glory that it has there? That's totally where I'm at with spinach and artichoke dip. I've made decent versions. But, this one is really something to celebrate. Just in time for you game-day tables. — #BigBitesBigGames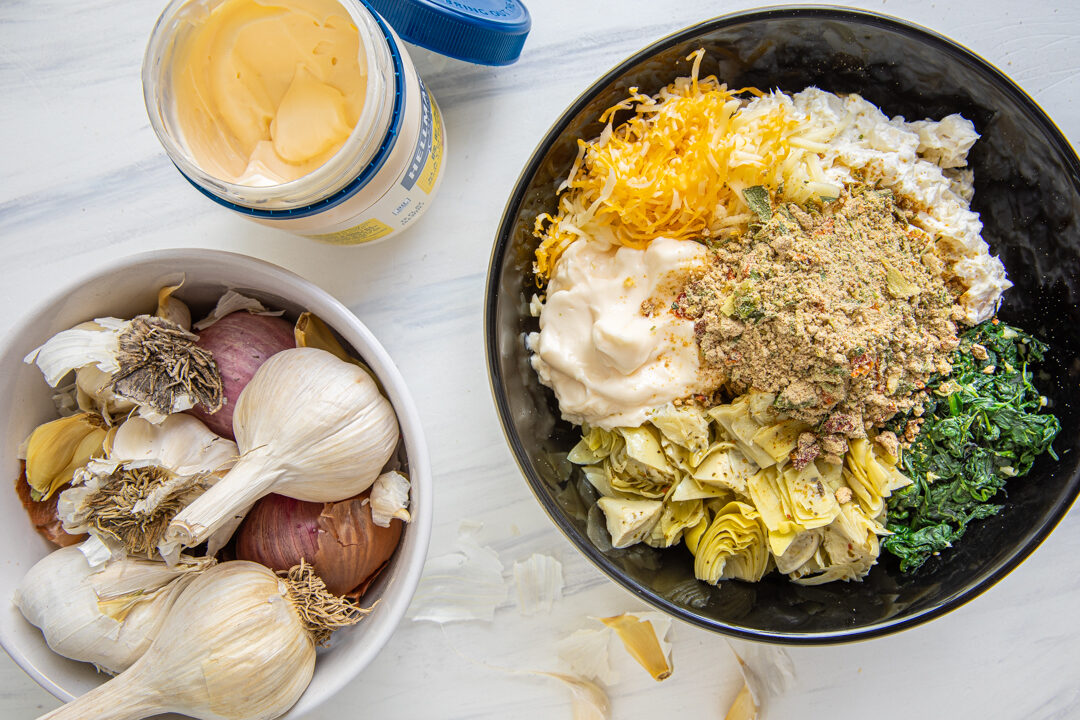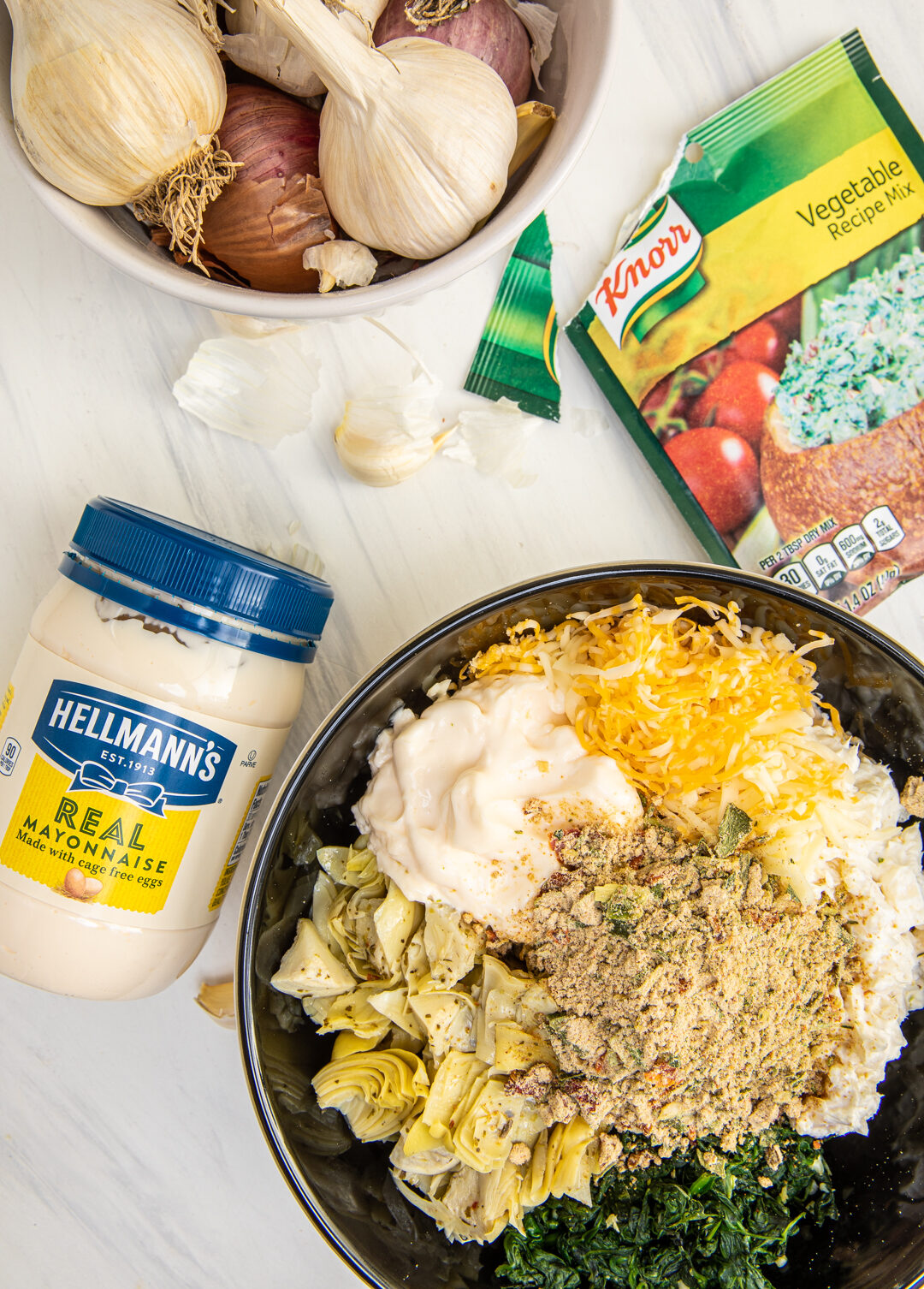 Luckily game days are pretty much perfect to feature a recipe like this. Not much work or effort really has to be given to this recipe, with one bowl and ingredients you can grab straight off the shelves at your local Publix (look below for some great offers, including some great BOGOs), 30 minutes later you have the best shareable dip bubbling out of the oven.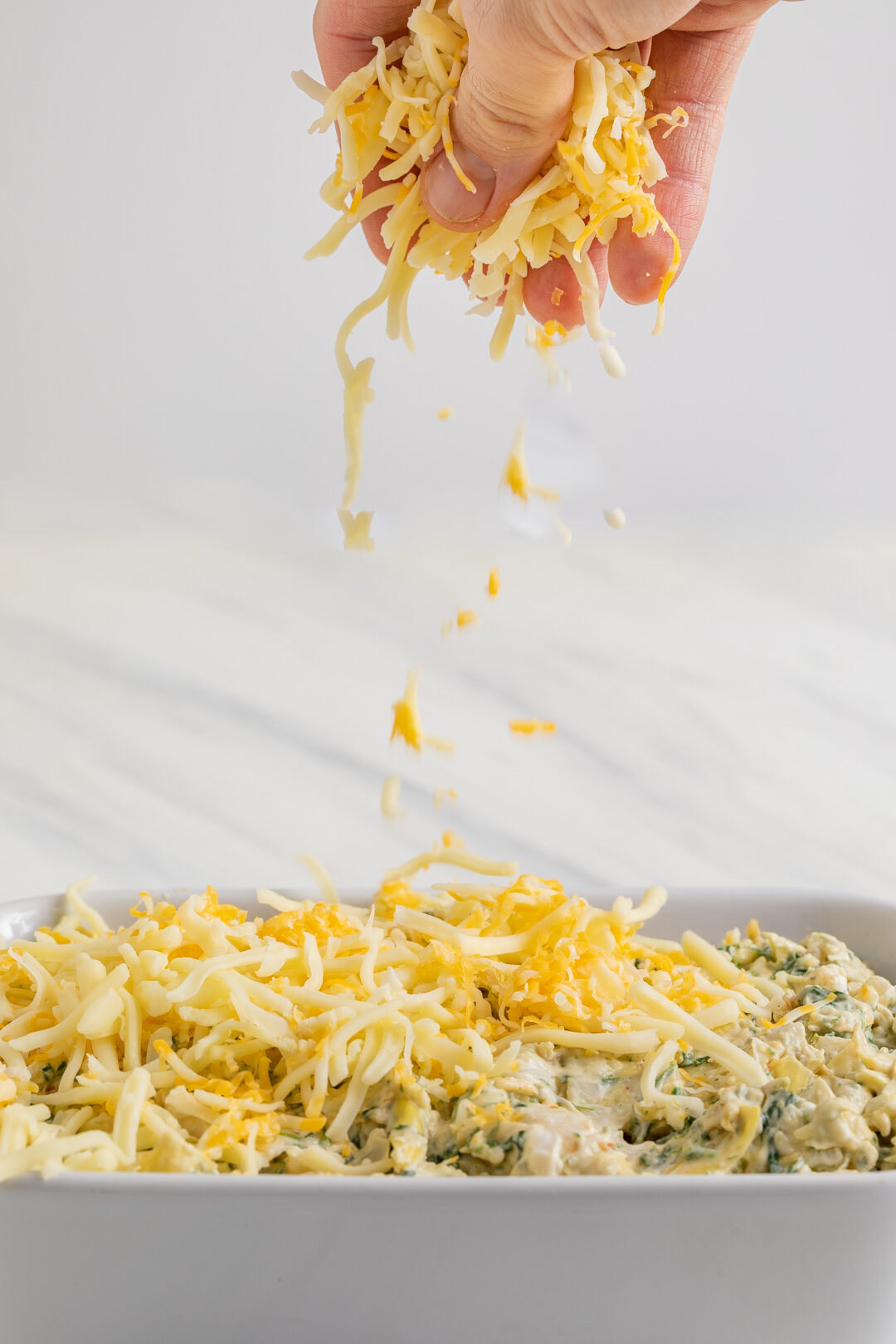 For me, hockey games are what draw me in during this time of year. I will, sometimes reluctantly, visit friends for Bowl games, but only after I know that the game-day bites are in play. If they aren't, this is what I offer to bring. Dips are obviously a go-to for an afternoon around friends and fans, and my vote is always going to be for the warm, cheese-melted options.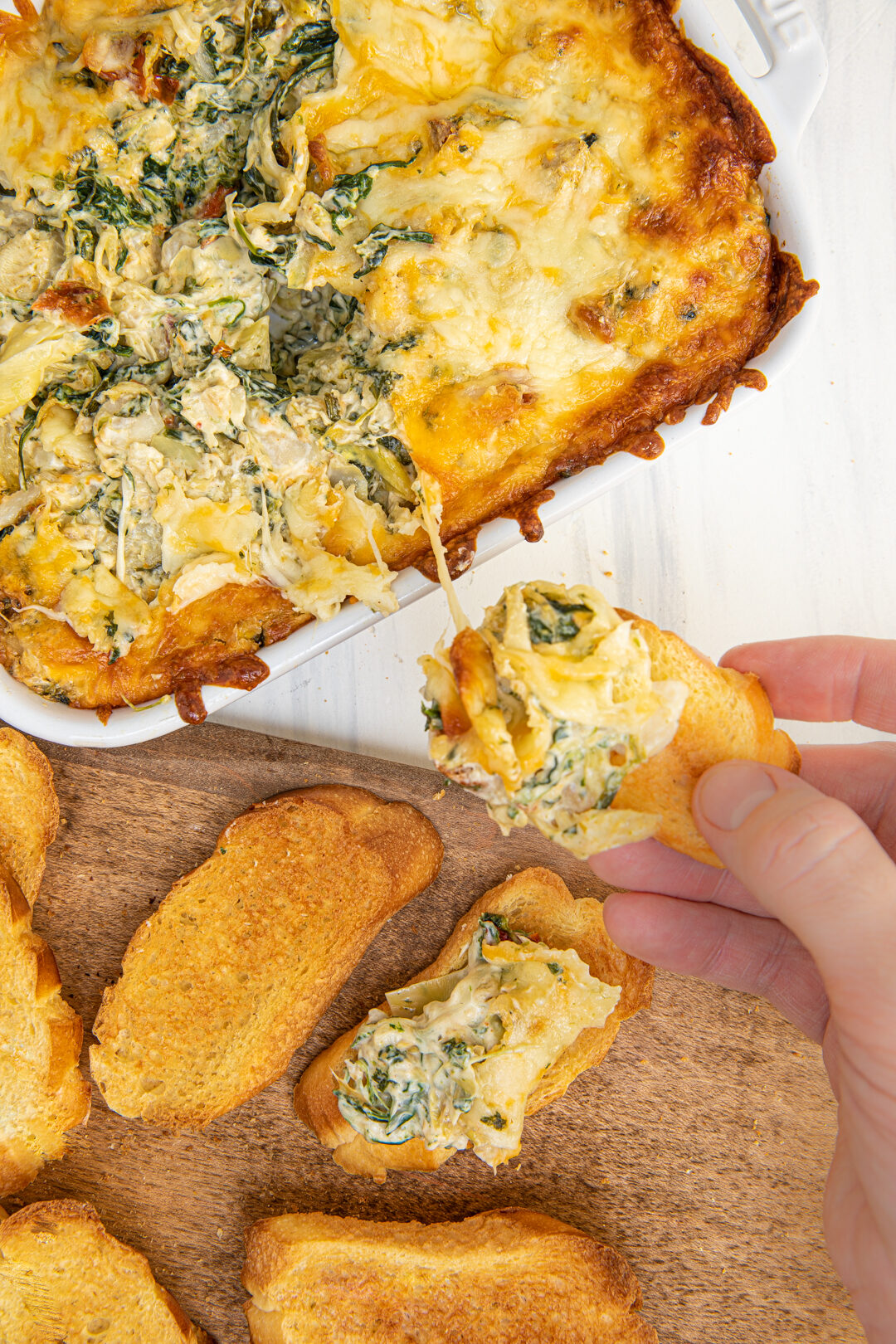 The great thing about a recipe like this is that you can easily stock up and keep all of the ingredients on hand for last minute plans, or lazy night dinners at home. I always have Hellmann's Real Mayonnaise in the fridge and Knorr Vegetable Mix in the cabinet.
Hellmann's Real Mayonnaise is a go-to in my kitchen for a lot of reasons. Made with simple, real ingredients (cage free eggs, oil, vinegar — no artificial flavors), I use it for sauces, marinades, and even as a secret ingredient for the best grilled-cheese evahhhh.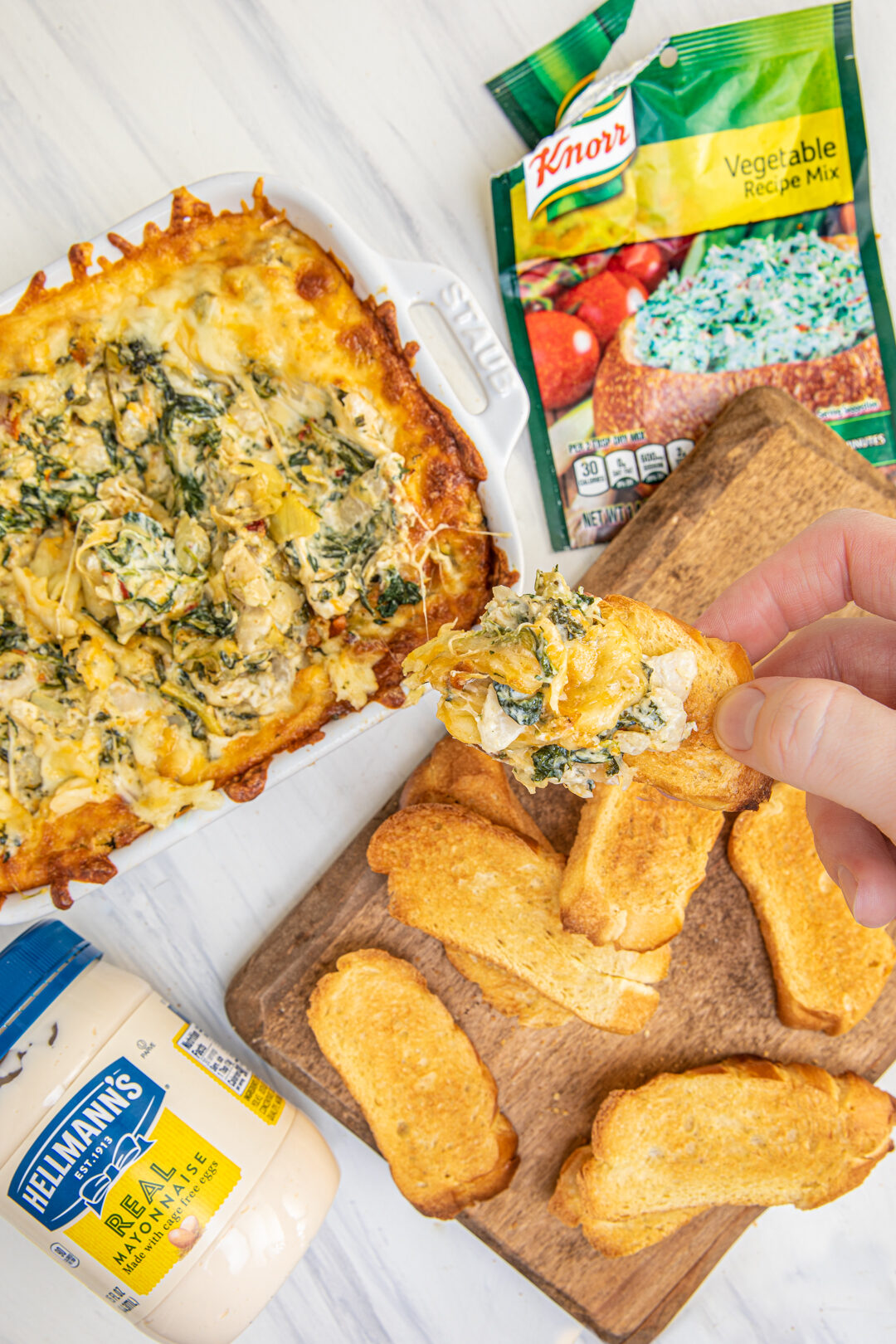 A packet of Knorr Vegetable Mix to season is the best choice for dips like this. The mix leaves all of the work of adding a handful of rich flavors to the mix. Carrots, onions, celery, pea, it's like adding a delicious reduced vegetable stock to season your bites. Just wayyyy more simple.
Along with some quick picks from Publix — spinach, artichokes, cream cheese, crunchy water chestnuts for a wonderful added bite, and plenty, plenty, plenty of cheese, all mixed up in a bowl, baked, and you are d-o-n-e.
No stress of staying in the kitchen while your favorite team is winning. Warm, creamy, well-seasoned dip can also console for an imminent loss. I know that from personal experience…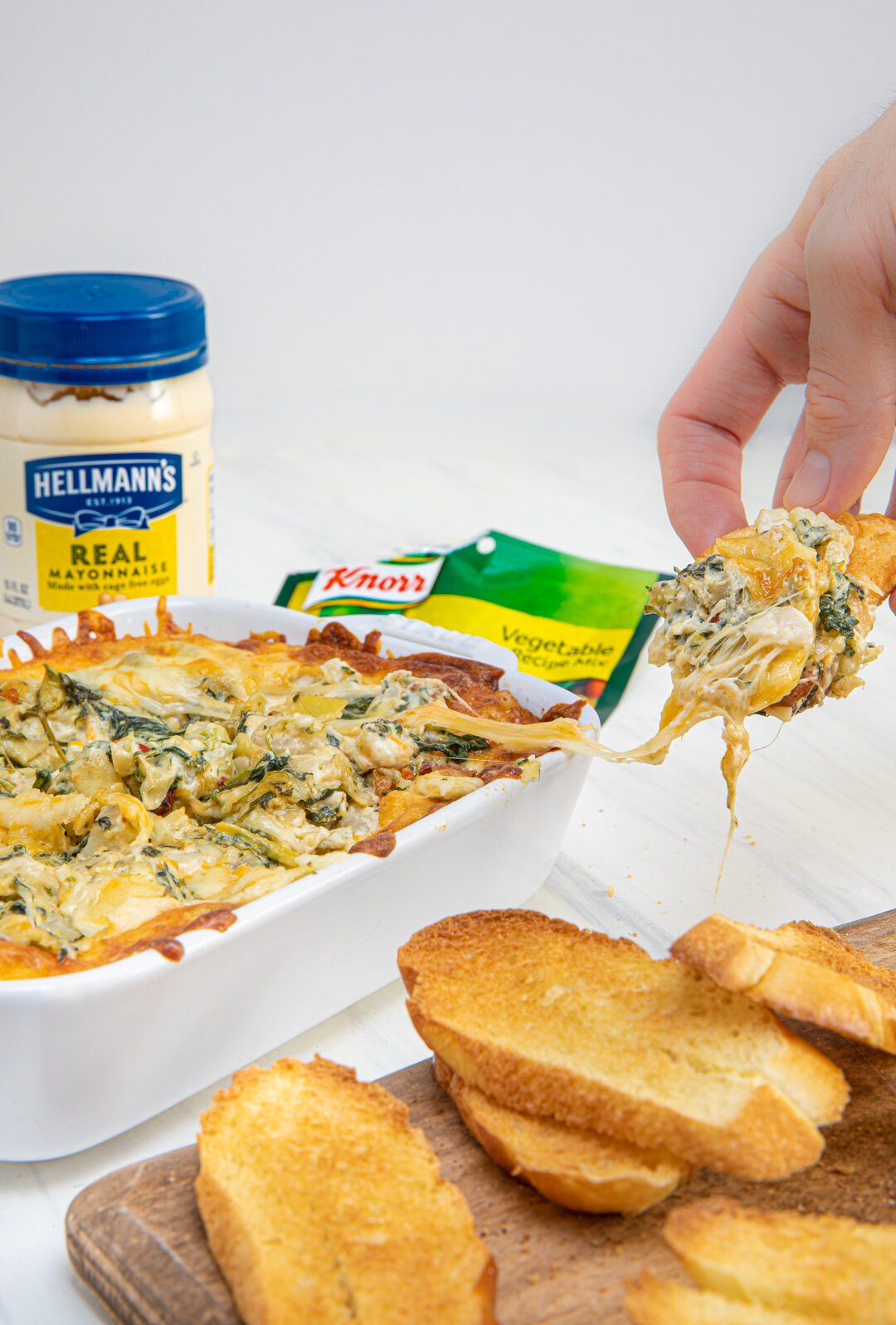 Whether you are in your own kitchen or hanging at your friend's for game day, you can make the #BestMealsHappenAtHome with this bite.
Publix currently has a few BOGO offers for these ingredients!
• Knorr: Buy 1 get 1 FREE Knorr Sides Selects or Ready to Heat 3.5-8.8 oz.
• Hellmann's: Buy 1 get 1 FREE Hellmann's Mayonnaise 15-20 oz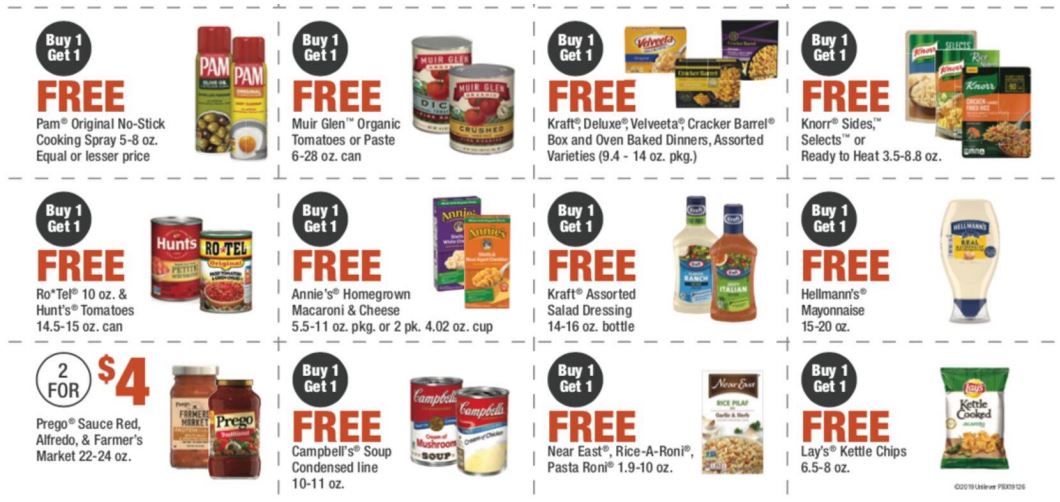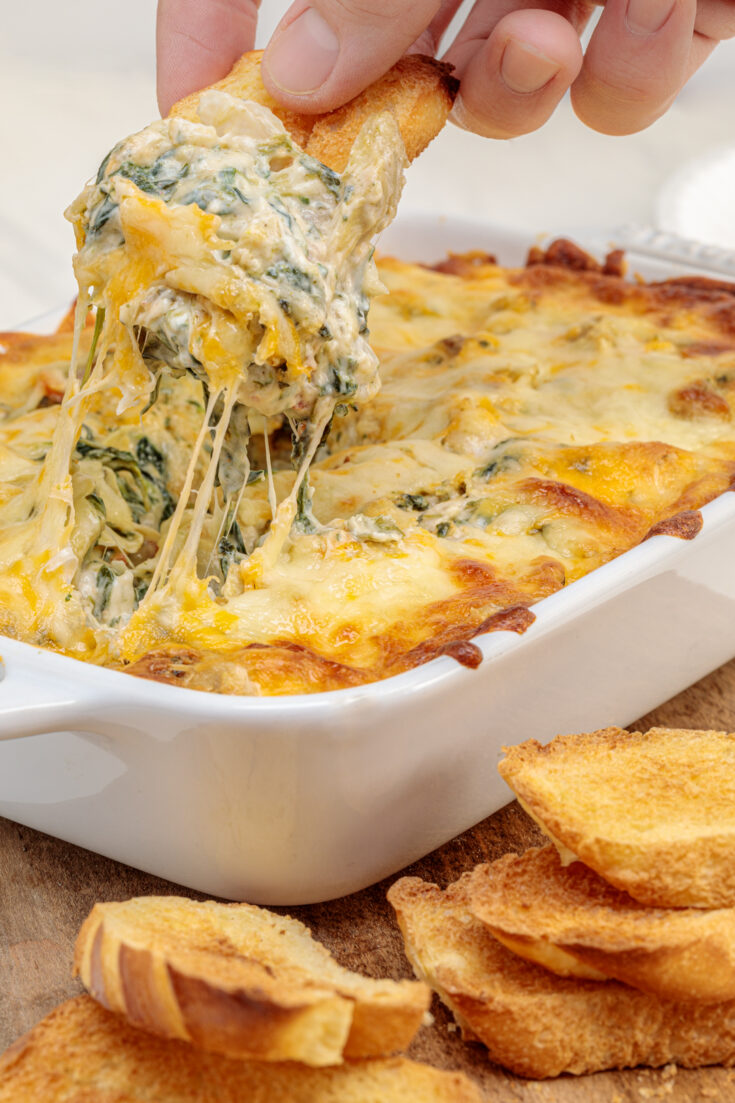 Yield:

12
Creamy Spinach & Artichoke Dip
Single bowl, quick recipe for deliciously creamy, hot spinach and artichoke cheese dip. Perfect feature for friends and family get-togethers, game day bites, and quick 30-minute meals. From SouthernFatty.com.
Ingredients
1 bag (9 oz.) baby spinach leaves or 1 box (10 oz.) frozen chopped spinach, cooked, cooled and squeezed dry
1 package (8 oz.) cream cheese, softened
3/4 cup Hellmann's® Real Mayonnaise
1 1/2 cups shredded Monterey Jack or cheddar or Swiss cheese, divided
1 package Knorr® Vegetable Mix
1 can (14 oz.) artichoke hearts, drained and chopped
1 can (8 oz.) water chestnuts, drained and chopped
2 cloves garlic, finely chopped
Instructions
Preheat oven to 350 degrees.
Combine all ingredients except ½ cup cheese. Spoon into a 2-quart casserole dish.
Top with remaining ½ cup of cheese.
Bake for 30-35 minutes until dip is hot and cheese on top is golden.
Enjoy! Find more recipes on SouthernFatty.com.
Notes
Content sponsored by Mirum.
Recommended Products
As an Amazon Associate and member of other affiliate programs, I earn from qualifying purchases.
Nutrition Information:
Yield:
12
Serving Size:
1
Amount Per Serving:
Calories:

90
Total Fat:

8g
Saturated Fat:

3g
Trans Fat:

0g
Cholesterol:

15mg
Sodium:

210mg
Carbohydrates:

4g
Fiber:

2g
Sugar:

1g
Protein:

3g