Possibly the best cookie that I've ever made, this blueberry oatmeal white chocolate chunk cookie is chewy inside and crispy on the outside. Taking it to a whole new level, I'm stuffing ice cream between two of them for the ultimate summer sweet treat. — Also included in this post is my experience visiting a local dairy farm for the ice cream!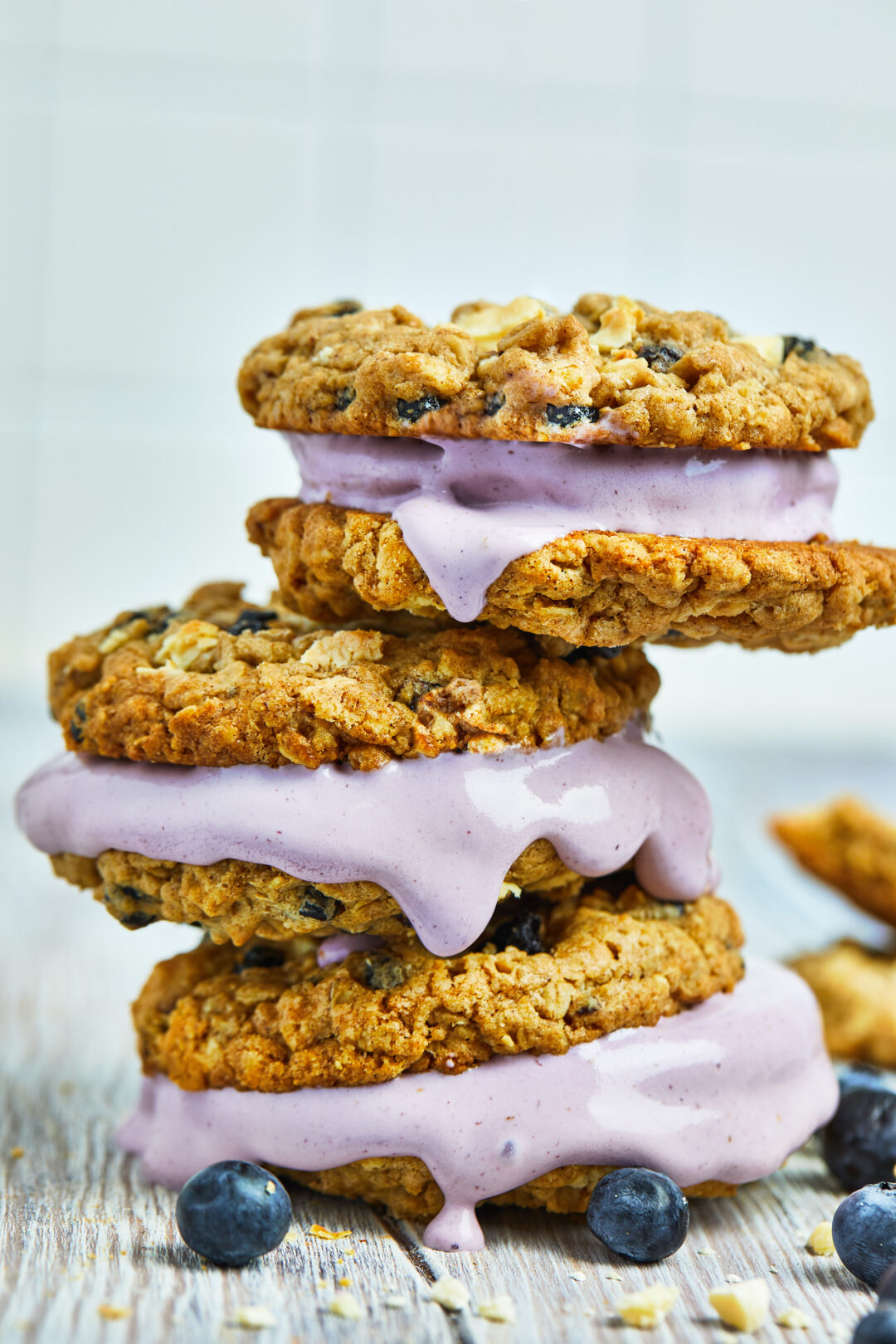 Do y'all know what is better than eating ice cream every week of National Ice Cream Month (Yes. It's a thing.)? Visiting the actual farm, petting the cows that made the milk that made that exact ice cream. I was lucky enough to partner with The Dairy Alliance and visit a local Tennessee dairy farm to do just that. Spoiler alert… I came home with tons of amazing ice cream along with a whole new appreciation of the commitment to excellence and community that these farmers exude.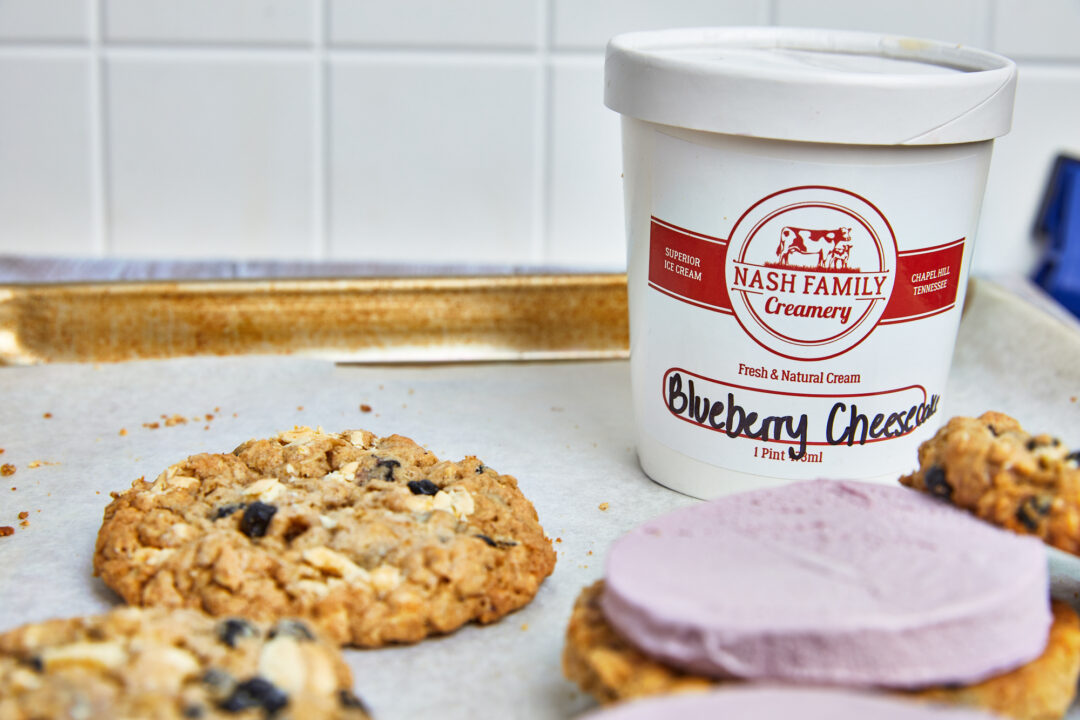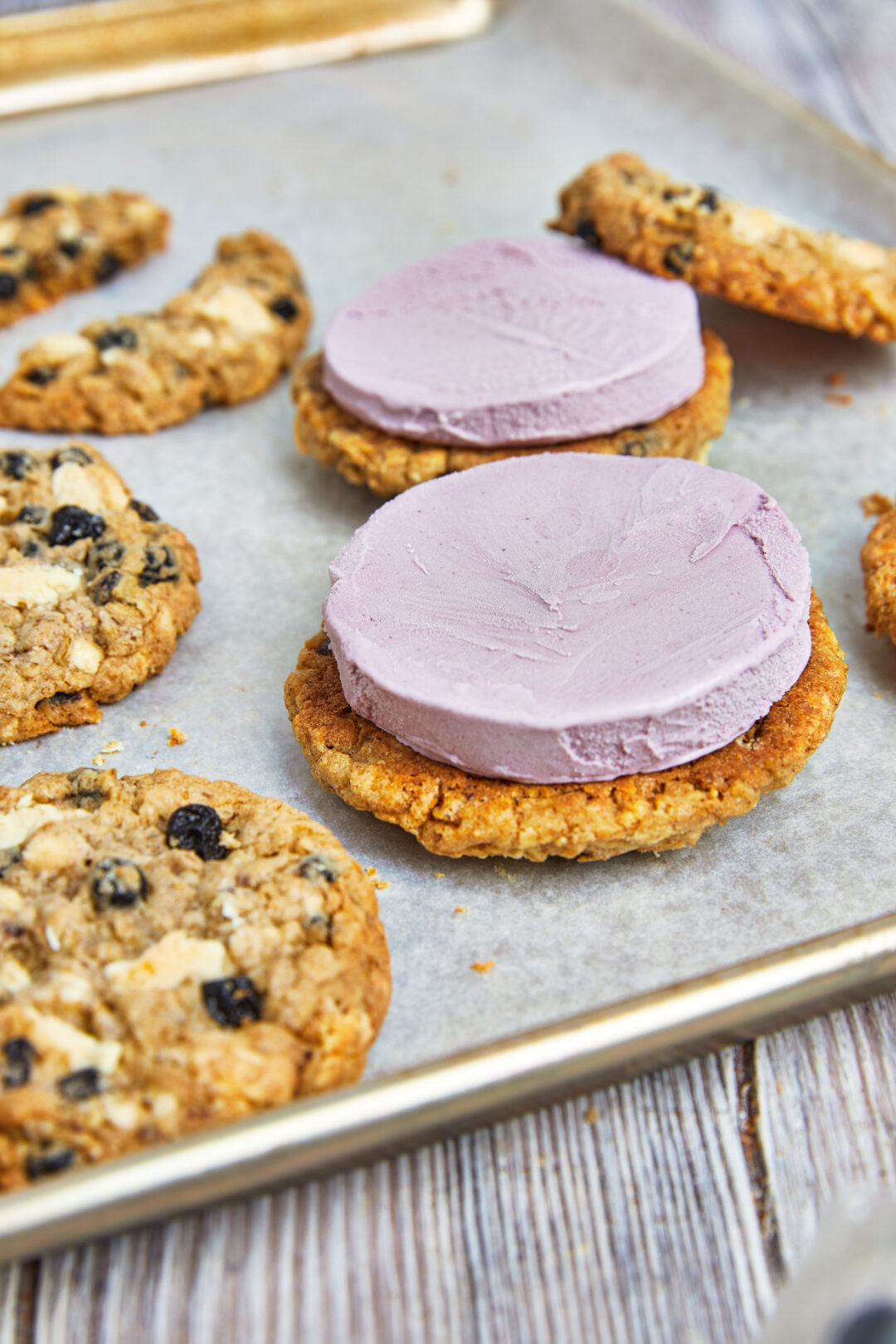 First up… the cookies. These cookies, y'all. Quite possibly the absolute best of the best cookie that I have ever made. Think chewy brown sugar based buttery oatmeal cookie with tons of flavor-packed blueberries and bites of melted white chocolate. Perfectly crispy on first bite and buttery soft inside with brown sugar rich chewy inside. Add in the oatmeal and splashes of blueberries with white chocolate. Honestly, you guys. Incredible! The only thing that coould possibly make it better…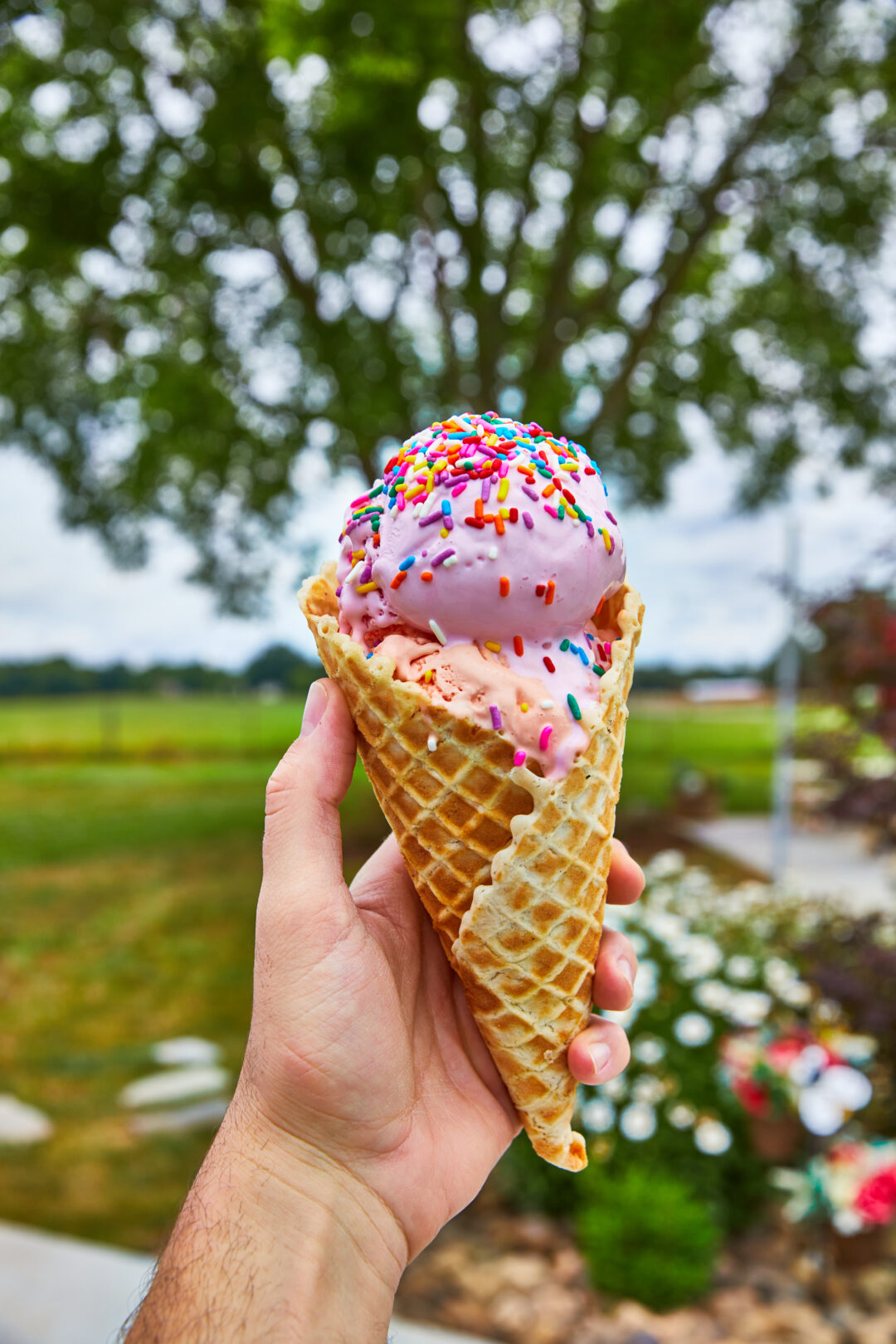 ICE CREAM! Aside from cheesecake, ice cream is one of those desserts that I just can't pass up. Ever. When I was given the chance to see a local dairy farm in action, I jumped on it. Just a little over 30 minutes southern of Nashville, down some beautiful country roads, is Nash Family Creamery. The Nash family moved their entire farm from California (including 40+ loads of cattle) to Tennessee to take advantage of the availability of large adjacent land, lots of water, and proximity to great areas, such as Nashville.
This farm, like most dairy farms, produces their own feed and grain, mixing everything on site with the help of a nutritionist. Six varieties of cattle are kept on this farm. Something that I immediately noticed was the vast amount of space that the cattle had available. Twice daily, the adults are milked. RFID ear tags, much like you may already use to make daily life easier (work ID, wallet, phone payments) keep track of every single cow, logging their production, when they come in and out of the spacious stalls. Being the total tech nerd that I am, it was really fascinating to see the classic generational skills of farming side-by-side with the latest in technology.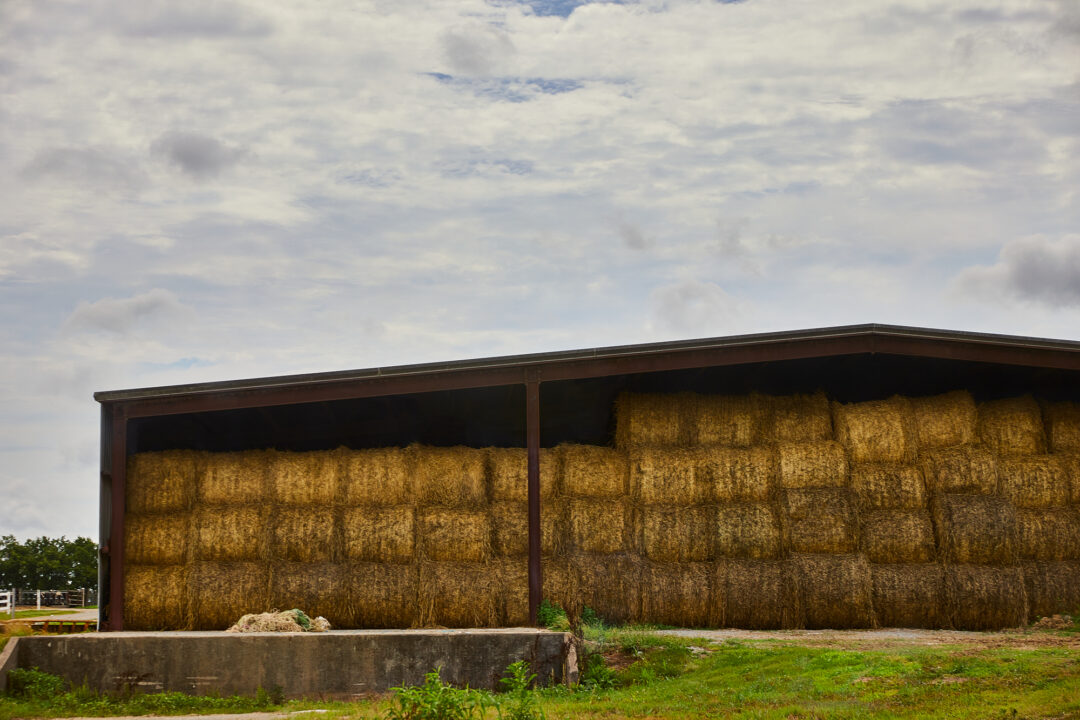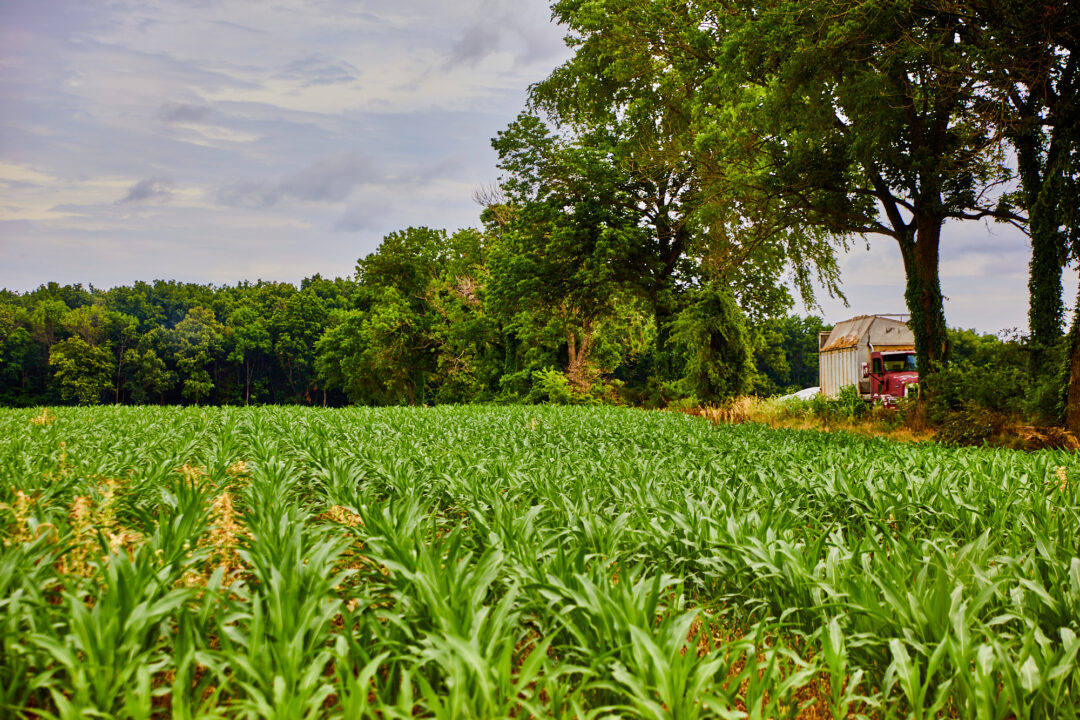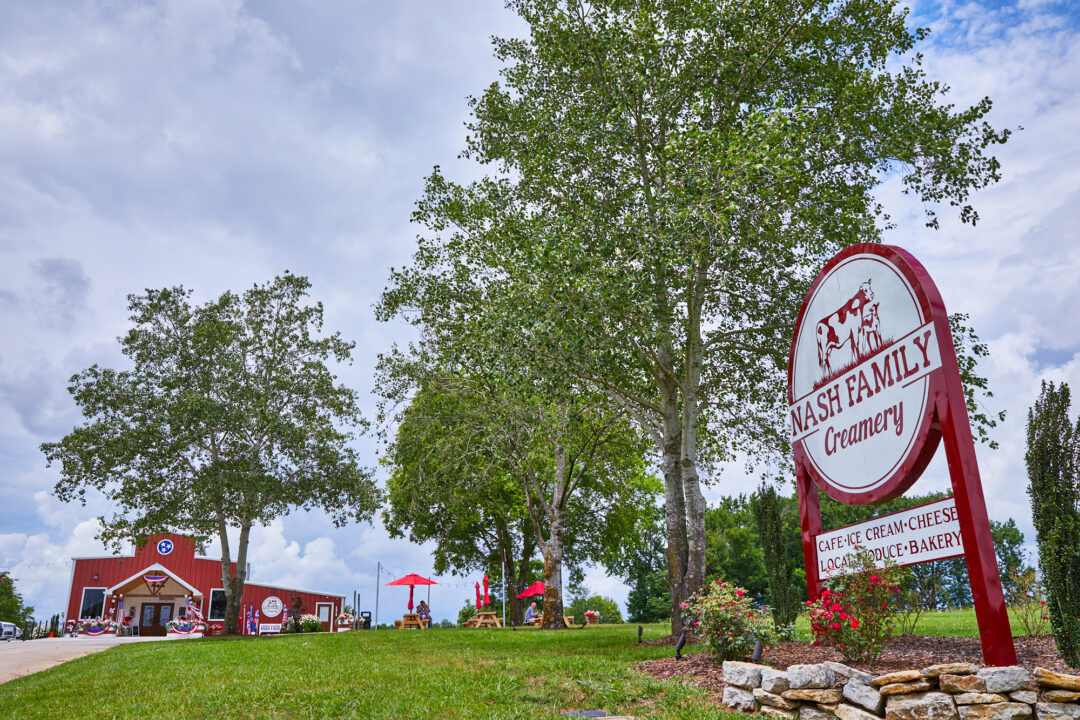 Not only does this tech make for better workflow, they help to maintain the highest standards that the dairy industry demands. Farmers are automatically notified if a cow's production average is abnormal, creating an immediate response with that cow being directed (again by the auto tag) into it's own pen to be examined. Food was mixed daily for each cow, keeping the best nutritional ratios on their plates…err, troughs each day.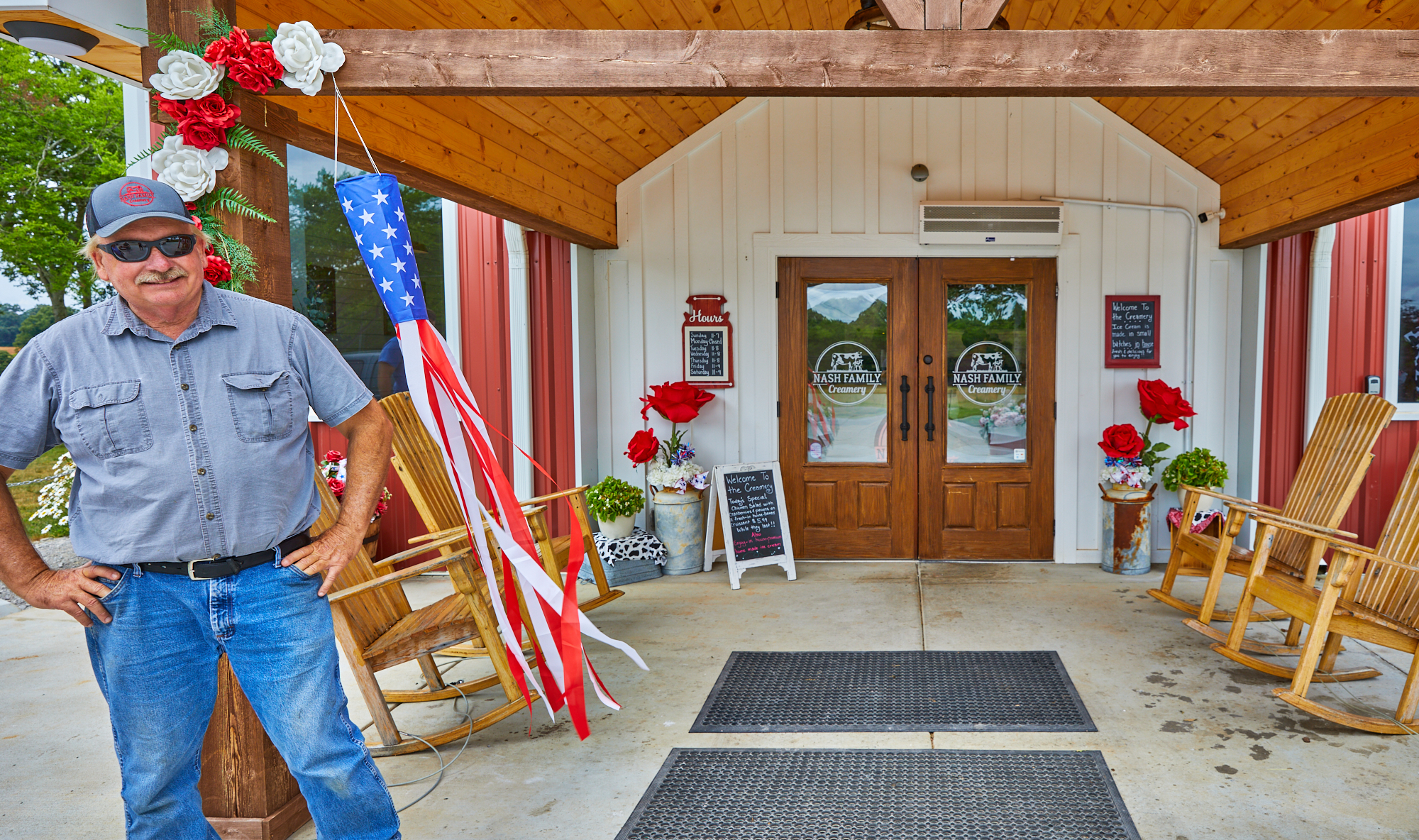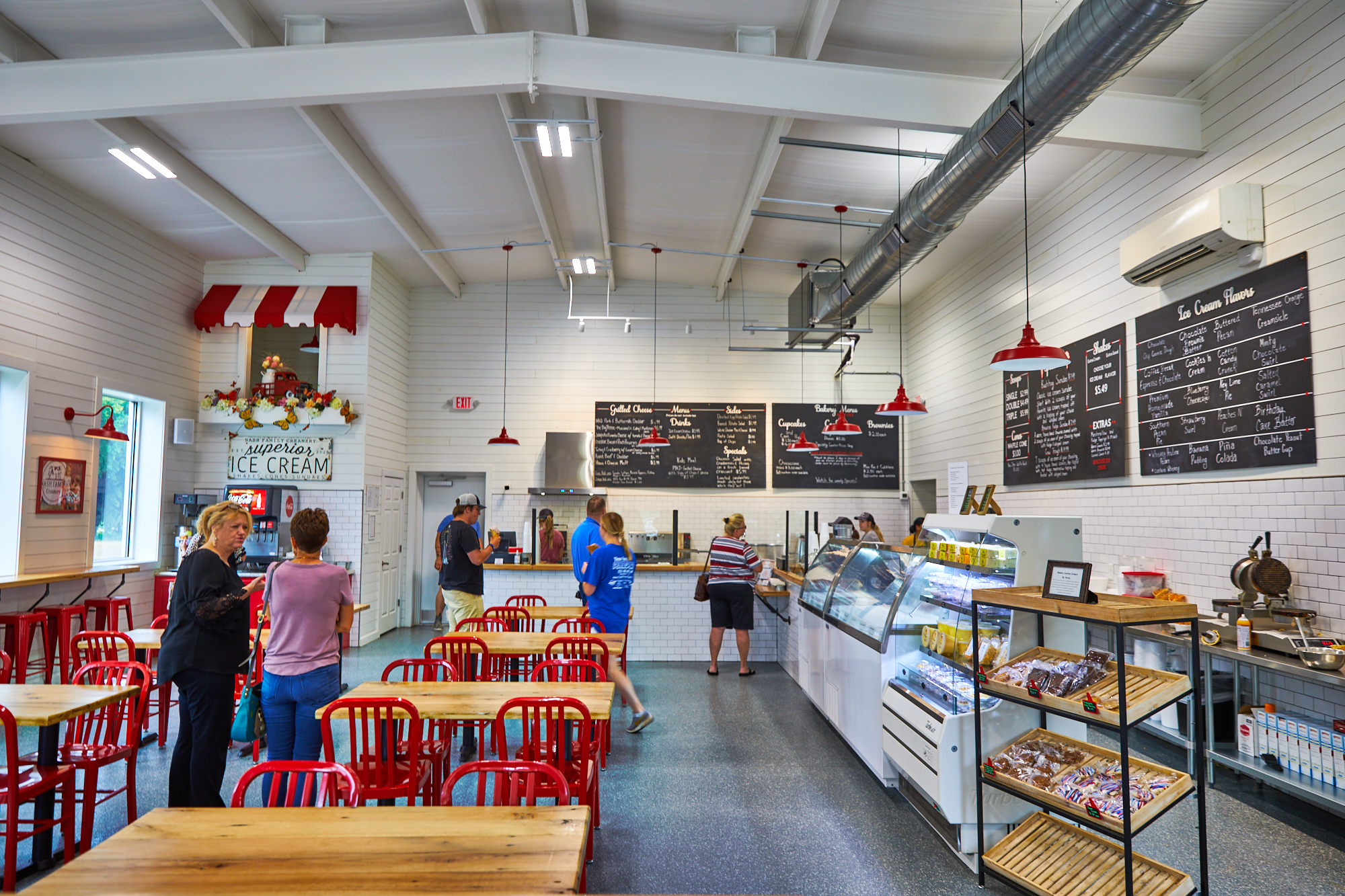 The attention to care and detail that is given by these incredible farmers to every single cow was obvious, with Farmer Steve's excitement in sharing with his community at the forefront of the visit. The farm had just opened the Creamery on-site, so I was lucky enough to get one of the first tastes of everything.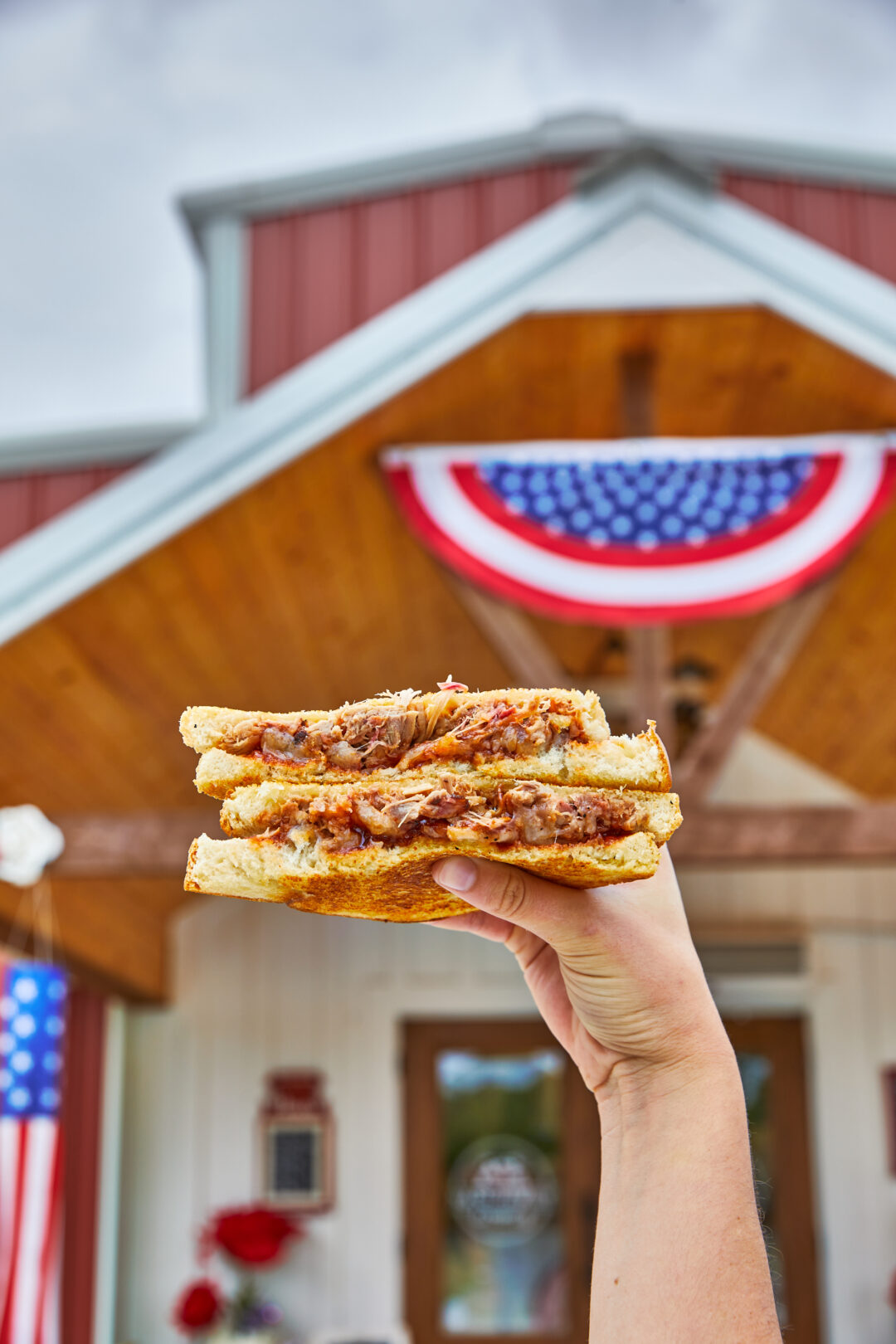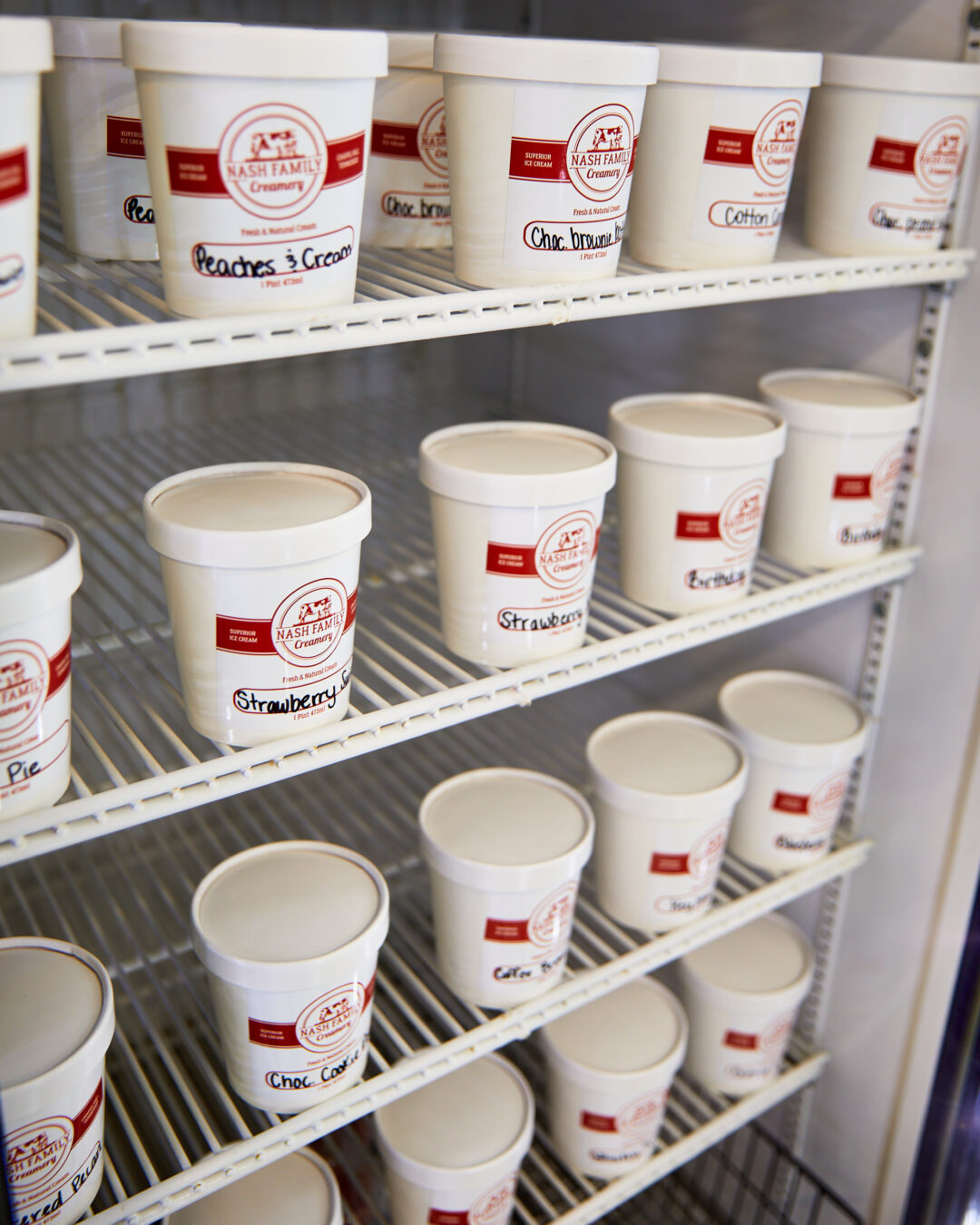 This ice cream, y'all. It is incredible. Made every day with the milk from their backyard, from the cows they have raised (which were SO cute) by hand. I couldn't believe how many flavors that they were offering already. I tried a few and immediately decided that blueberry cheesecake was going to be the one that I use with my cookies. Don't get it twisted. #GotMilk? You bet I did. I brought a cooler full of flavors back home to enjoy.
All in all, it has been a wonderful National Ice Cream month in my house. Good news is… you can keep celebrating and supporting your dairy farmers all year long.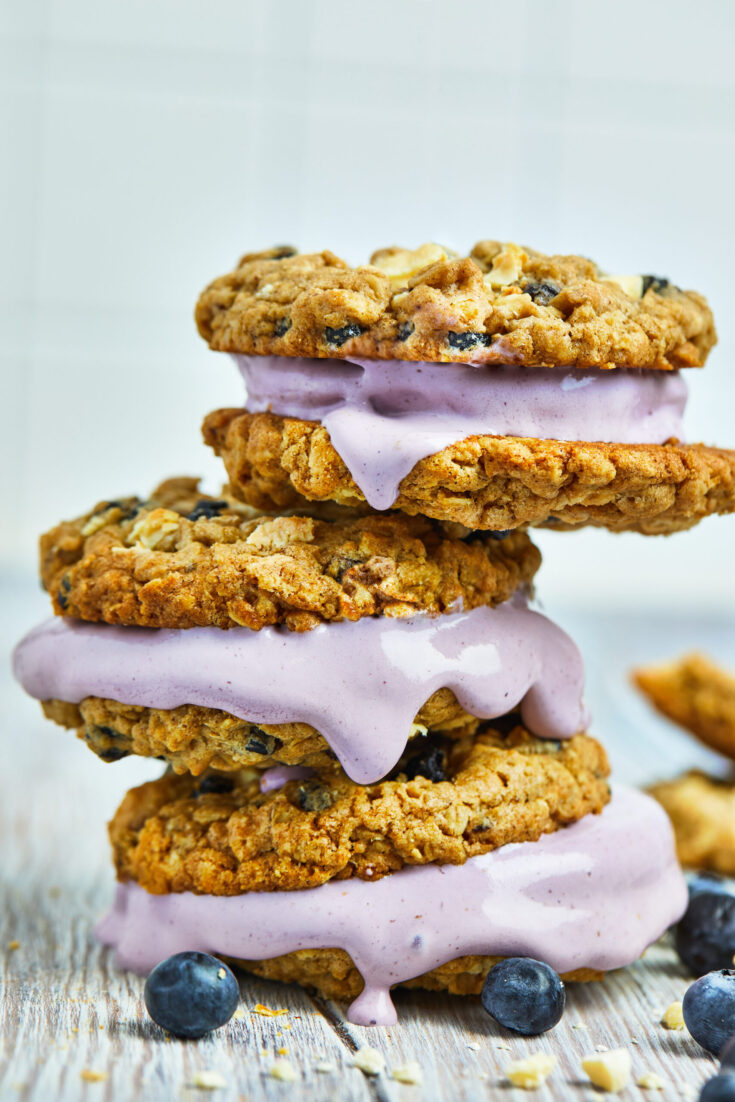 Yield:

12 cookies -or- 6 sandwiches
Blueberry Oatmeal Cookie Ice Cream Sandwiches
Blueberry oatmeal white chocolate chunk cookie recipe is chewy inside and crispy on the outside. Stuffed with ice cream for the ultimate summer sweet treat. From SouthernFatty.com.
Ingredients
1/2 cup butter, unsalted, room temp.
1/2 cup sugar, light brown
1/3 cup sugar, granulated white
1 egg, whole, lightly beaten
1 tablespoon honey
3/4 cup flour, all-purpose
1 1/2 tablespoons cornstarch
1/2 tsp salt
1/2 tsp baking soda
1 1/2 cup oats, rolled (NOT instant)
1/2 tsp cinnamon
1/4 teaspoon nutmeg
1 cup dried blueberries
1 cup chopped white chocolate
1-2 pints ice cream
Instructions
Pre-heat oven to 350 F.
Prepare a baking sheet with parchment paper and set aside.
Begin by combining the butter and sugars into a mixer with a paddle attachment. Mix at medium speed until well-creamed (light and smooth) for 5 minutes.
Add the egg and honey, mixiing briefly until combined.
In a bowl, whisk together the flour, cornstarch, salt, baking soda, oats, cinnamon, nutmeg.
Add a third of this dry mix to the creamed butter. Mix on low until just incorporated.
Add the remaining dry mix and mix until just combined. Do not overmix.
Add the dried blueberries and chocolate. Mix briefly.
For large cookies (as I made for the post), measure dough using a 1/3 measuring cup. For smaller cookies, measure a 1/4 measuring cup (baking time will vary depending on amount - this is listed for the 1/3 cup measurement).
Place dough portions on prepared baking sheet. Be sure to leave a large space between each. You may bake these in two batches if necessary.
Bake for 15 minutes, turning pan halfway through. Remove and allow to cool completely before removing from pan.
Scoop your favorite ice cream between two cookies for the best ice cream sandwich ever!
Pro tip: Buy ice cream individual pints and carefully use a large, sharp serrated knife to cut perfect ice cream rounds to use between cookies.
Enjoy! Fnd more recipes on SouthernFatty.com.
Notes
Made in partnership with The Dairy Alliance. Thank you for supporting my sponsors!
Recommended Products
As an Amazon Associate and member of other affiliate programs, I earn from qualifying purchases.
Nutrition Information:
Yield:
12
Serving Size:
1
Amount Per Serving:
Calories:

378
Total Fat:

18g
Saturated Fat:

11g
Trans Fat:

0g
Unsaturated Fat:

6g
Cholesterol:

58mg
Sodium:

205mg
Carbohydrates:

50g
Fiber:

2g
Sugar:

34g
Protein:

5g