That iconic warm banana bread flavors in a fluffy, light layer cake nestled between rich caramelized white chocolate buttercream. This cake recipe is a show-stopper that will be the highlight of the house.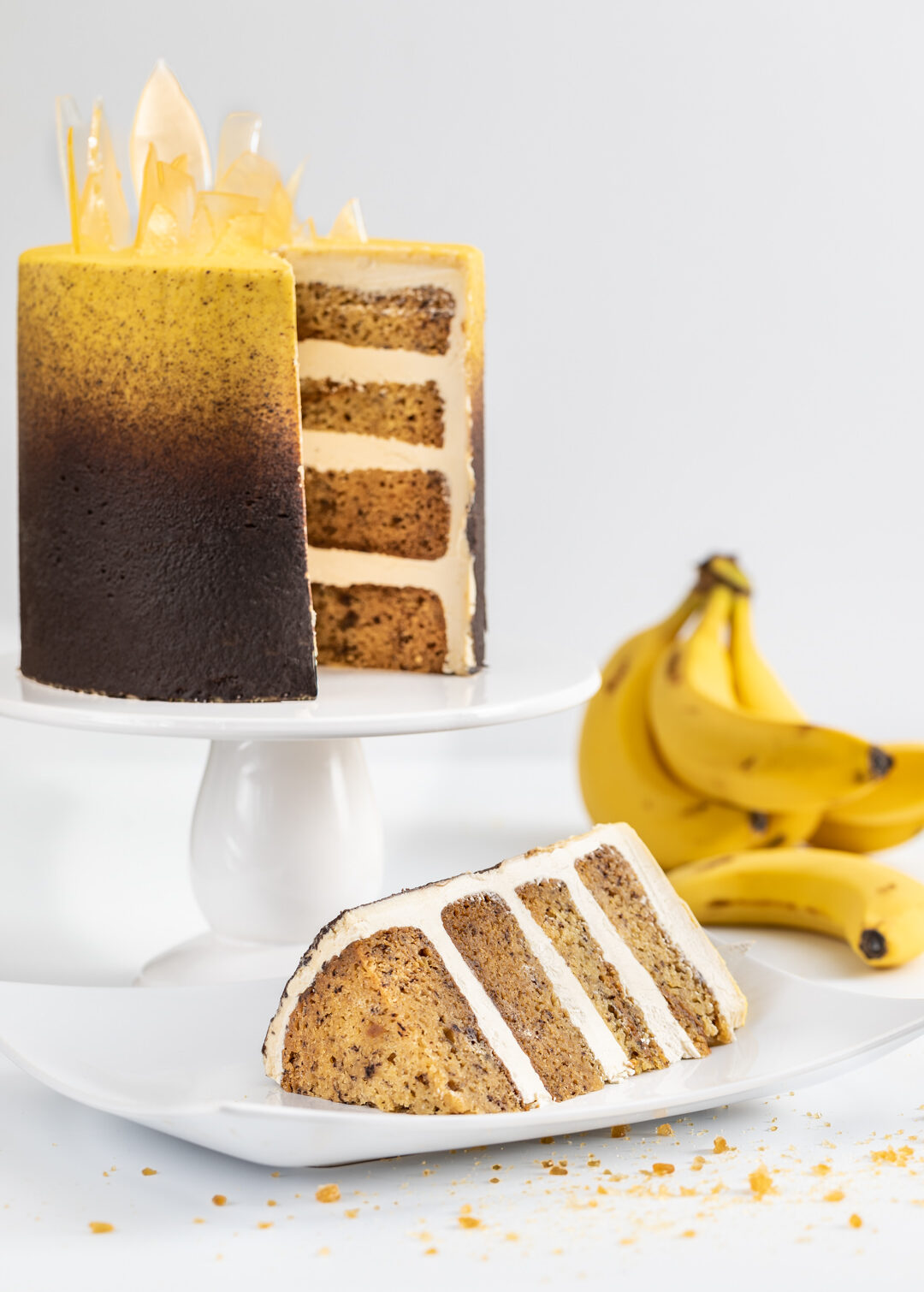 Something happens when a house is filled with the warm essence of banana bread (does that not sound like a perfect candle??). It's one of those nostalgic, iconic bakes that brings back so many happy memories and feelings for anyone within smelling distance. Not only do I absolutely love warm banana bread, but I (shocker…) also love cake. — That's when I had an idea. Why not toss the two together for a delicious banana layered cake with caramelized white chocolate frosting?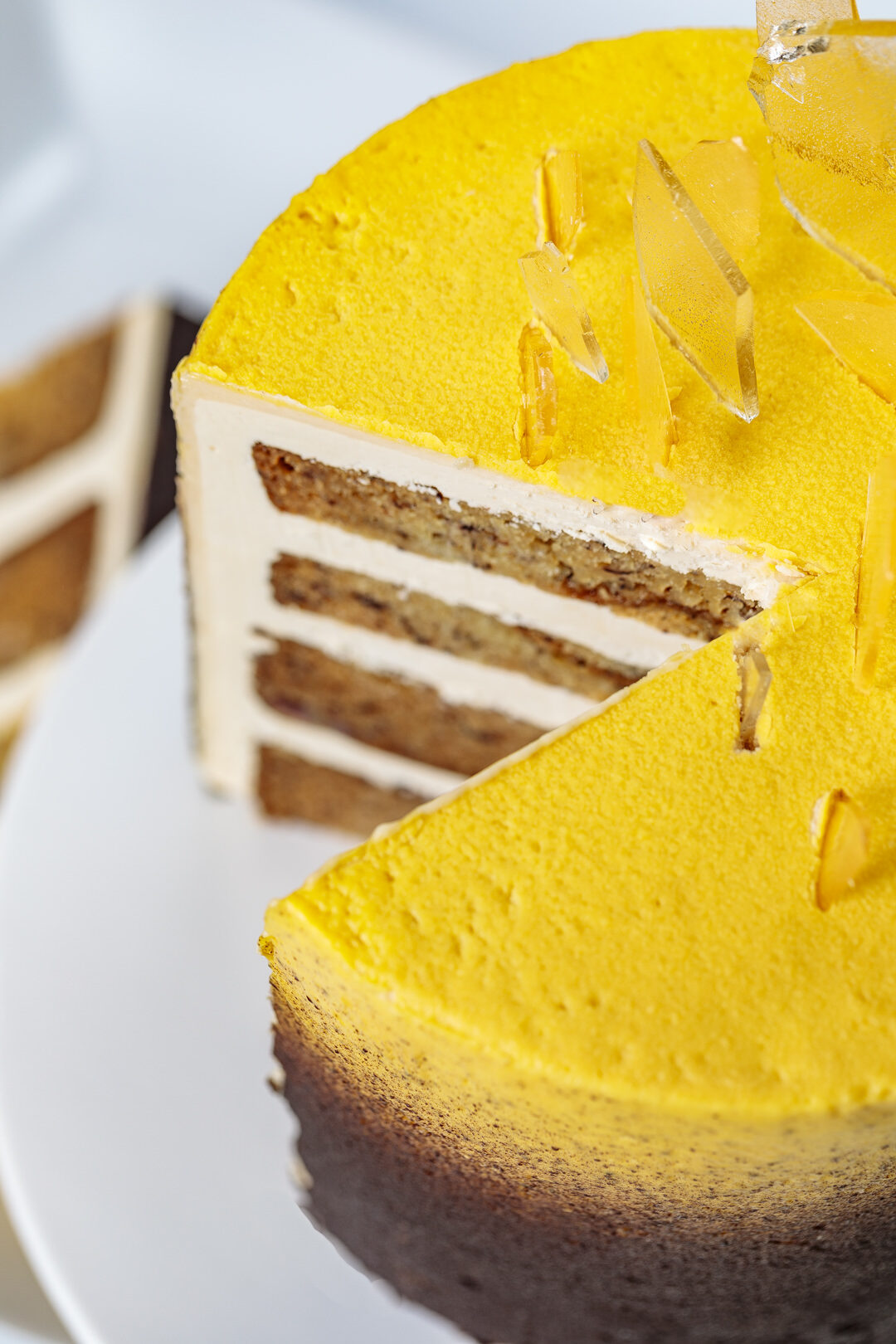 If I am honest, I prefer the lightness of cake over the more dense standard of banana bread. All of those magical flavors of banana bread, but in the light and airy format of a layer cake. Adding frosting to anything doesn't ever hurt things, right?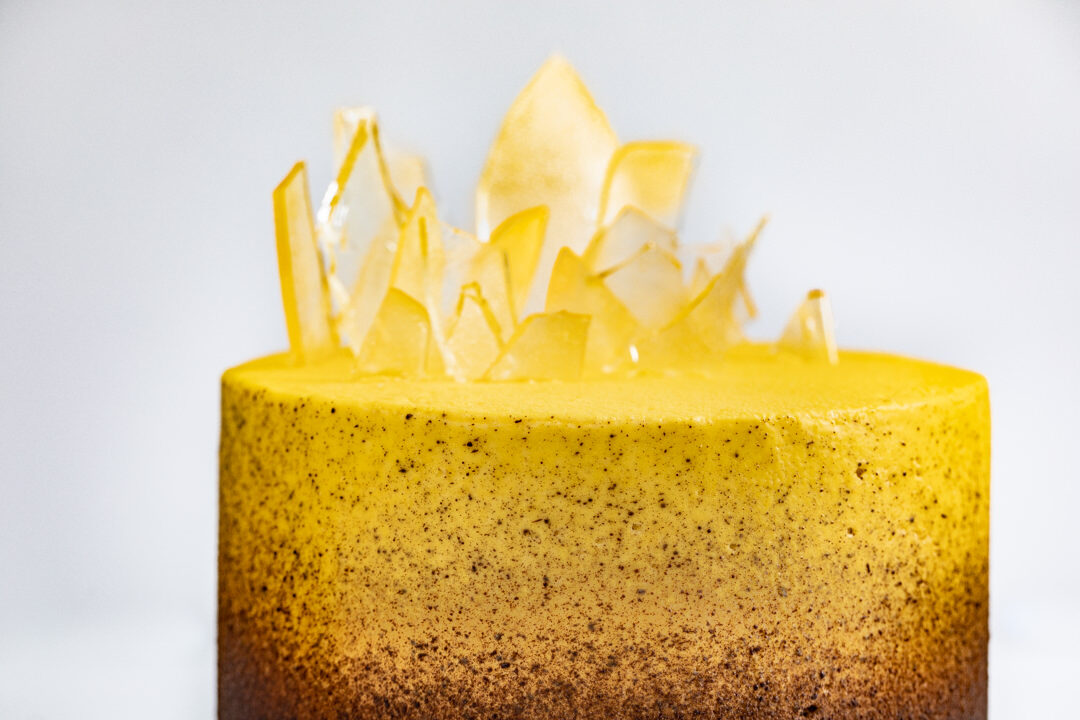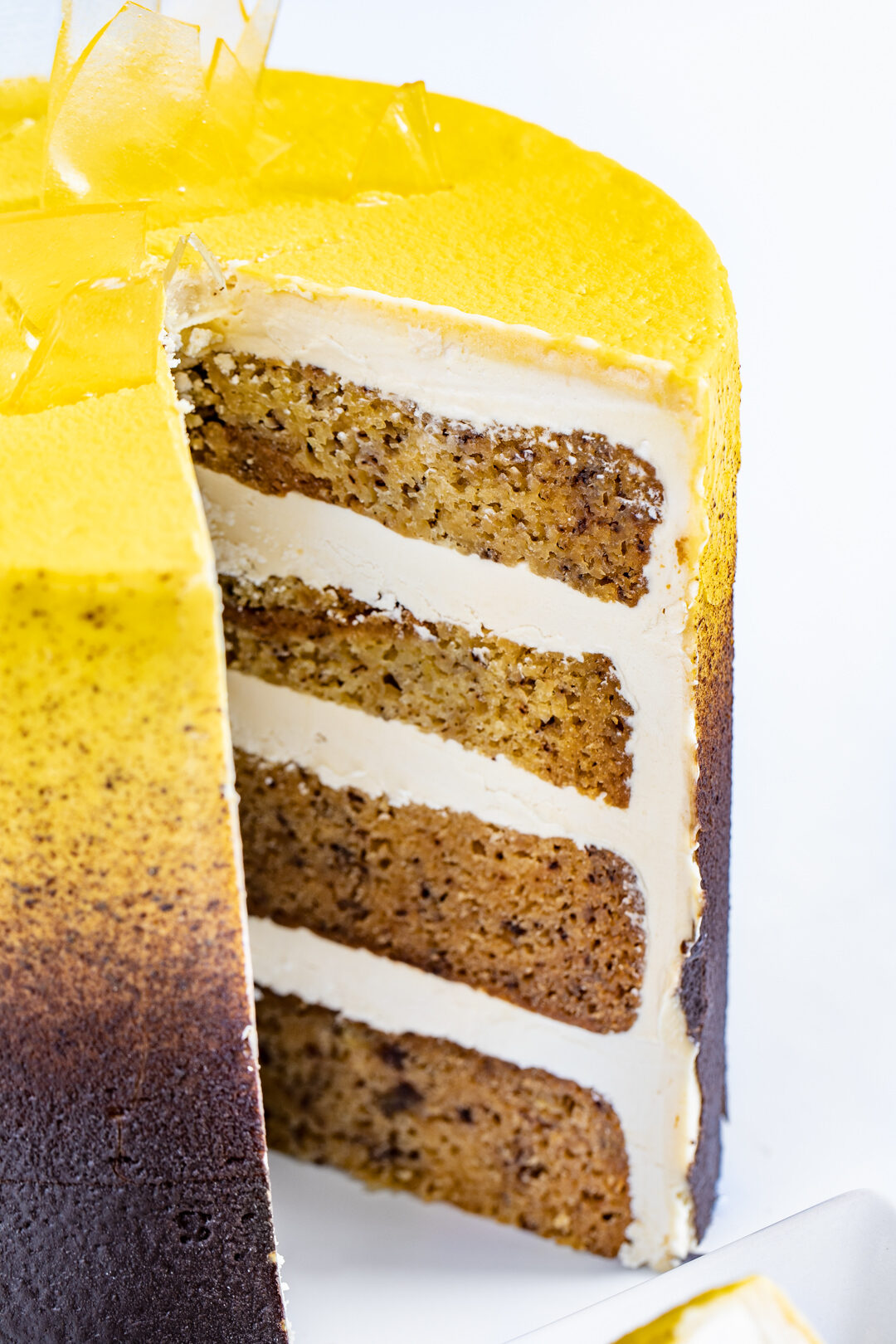 Definitely not yo' momma's ol' buttercream, the base of this frosting is that of a Swiss buttercream. Basically a thick, rich whipped cream. This style of buttercream is my go-to when I want a super fluffy, light but sweet-enough finish. I went with this option as opposed to a classic American buttercream because I wanted to, as Trudy in Steel Magnolias says, cut the sweetness. She uses ice cream… which I wouldn't say no to, either.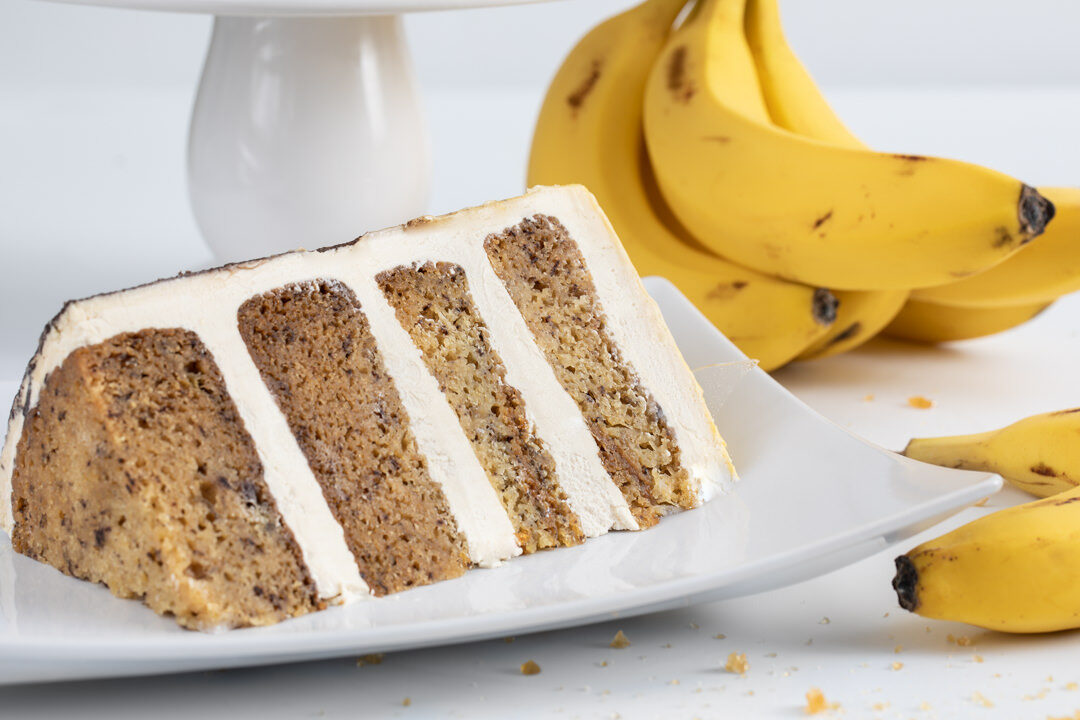 A cream cheese-based frosting is whipped with caramelized white chocolate to leave a nutty, rich but as fluffy as a cloud finish to the cake. It's the perfect companion to the toasty banana bread base. — Caramelized white chocolate is something of a forgotten treasure in a home kitchen, maybe because it just sounds intimidating. It's not.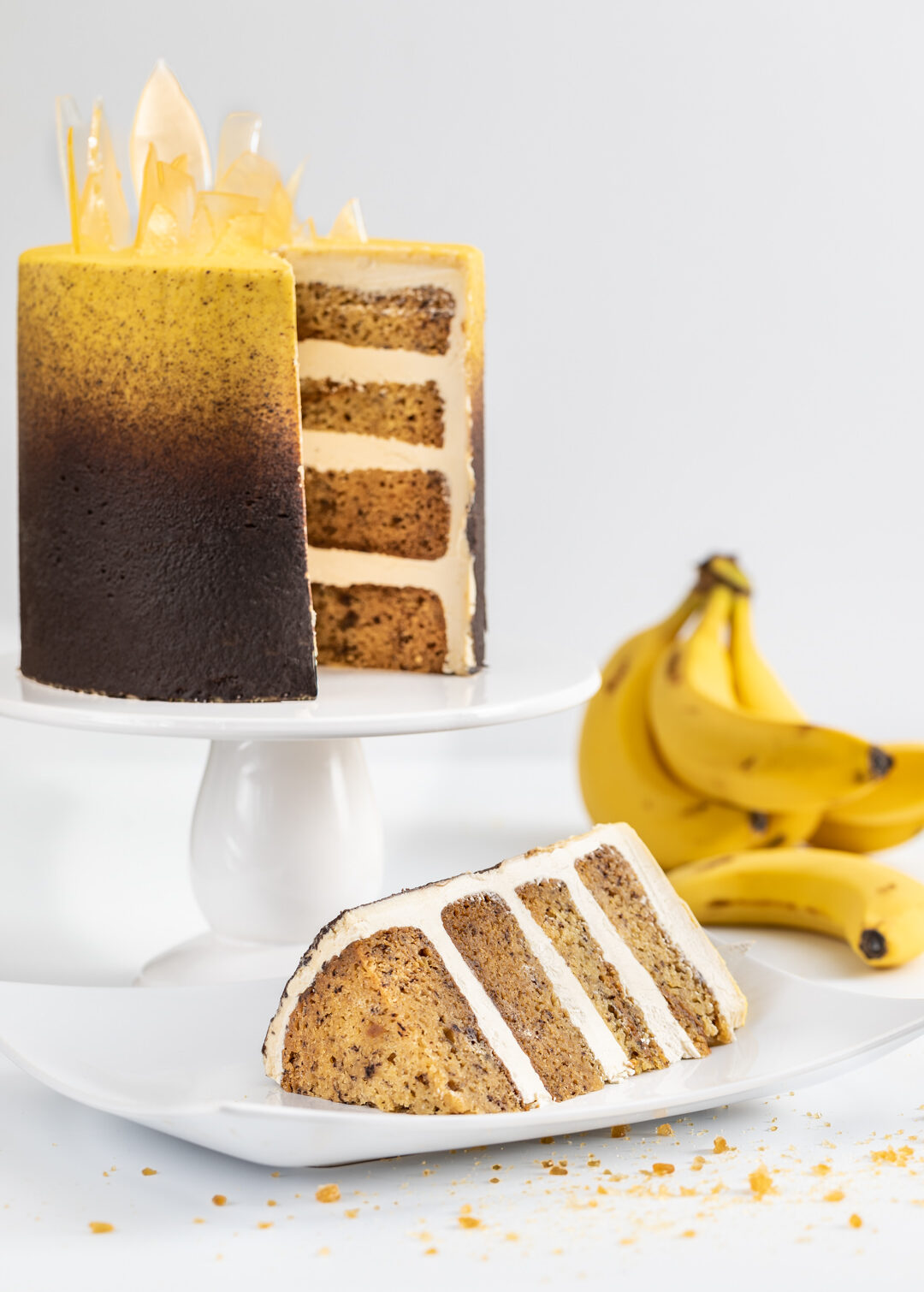 Just like you would caramelize anything else, you just toast it until the rich nutty flavors of the chocolate are highlighted alongside a slightly golden shine. For chocolate, all you need to do is toss a bunch of white chocolate (I beg of you… splurge a bit and get a good one. It is WORTH it.) onto a sheet pan or baking dish and, well… bake it. Slightly time consuming, but absolutely something you can do while you put away dishes or have a glass or six of wine one evening. I like to make a huge batch and keep it tucked away to use later. If anything, it is worth the time for the smell alone.
I'll chat a bit more about how I finished this cake in a future post. I'm not sure where the spiked sugar idea came from in my weird little mind. I didn't even watch Game of Thrones. Still not sold on that look, however the finish was fun to make. The cake s surrounded by a thin crisp chocolate shell. It involved a paint spray gun from the hardware store, cocoa butter and chocolate, special chocolate-friendly color, and resulted in a hell of a mess of that was sooooo much fun to clean off of the back yard wooden fence that I sprayed it in front of. Lesson. Learned. — Mess aside, this was delicious!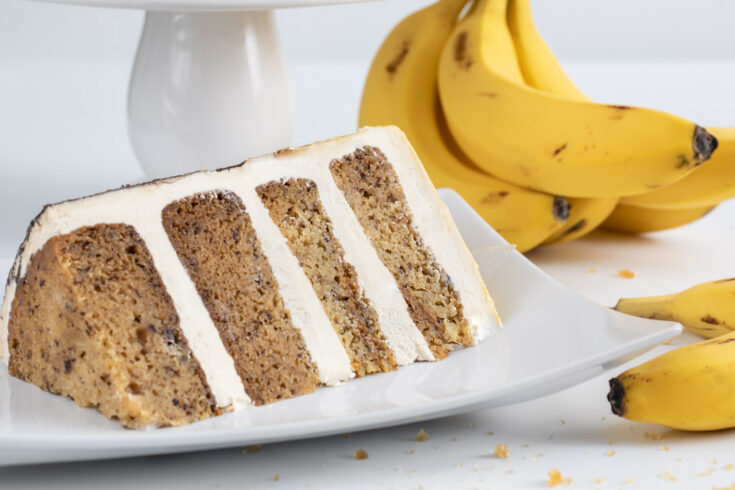 Yield:

12 servings
Banana Caramelized White Chocolate Cake
Classic southern banana and pecan cake recipe with a caramelized white chocolate whipped frosting. From SouthernFatty.cmo.
Ingredients
Banana Pecan Cake
3 bananas, very ripe, mashed
2 cups plus ¼ cup sugar
1 cup butter, unsalted, room temperature
1/2 cup vegetable oil
4 eggs, whole
2 cups flour, all-purpose
1 1/2 tablespoons cornstarch
1/2 teaspoon salt
2 teaspoons baking soda
1/4 teaspoon nutmeg
2 teaspoons cinnamon
1 cup pecans, chopped
Caramelized White Chocolate Frosting
16 ounces (2 packages) cream cheese, room temperature
9 ounces caramelized white chocolate, chopped, melted & cooled to room temp. (I prefer Valhrona Dulcey for this - see below for link)
2 sticks unsalted butter, room temperature
1 tablespoons lemon juice, fresh
1 1/2 cups confectioners' sugar, sifted
Instructions
Cake
Pre-heat oven to 350 F.
Prepare two o8-inch cake pans by greasing and gently flouring. Remove excess. Set aside.
Cream butter and sugar in mixer bowl at medium speed until light and fluffy, about 4 minutes.
Add mashed banana. Mix.
Add oil and eggs, beating until mixed.
Combine dry ingredients (except nuts) in bowl, whisk gently to combine.
In 2-3 batches, add dry mix to the creamed butter. Mix well but only until completely combined. Scrape bowl as needed.
Add nuts and briefly incoprorate.
Transfer mix to prepared pans.
Bake until a knife comes out clean, about 30-40 minutes.
Let cool compeltely.
Frosting
Beat cream cheese with mixer until smooth.
Add chocolate and beat until smooth. Scrape bowl as needed.
Add butter and lemon juice. Mix at medium speed.
Reduce speed to low and add confectioners' sugar in small batches.
Once all is added, increase speed to medium and whip until smooth, 2-3 minutes.
Frost cake and enjoy!
Recommended Products
As an Amazon Associate and member of other affiliate programs, I earn from qualifying purchases.