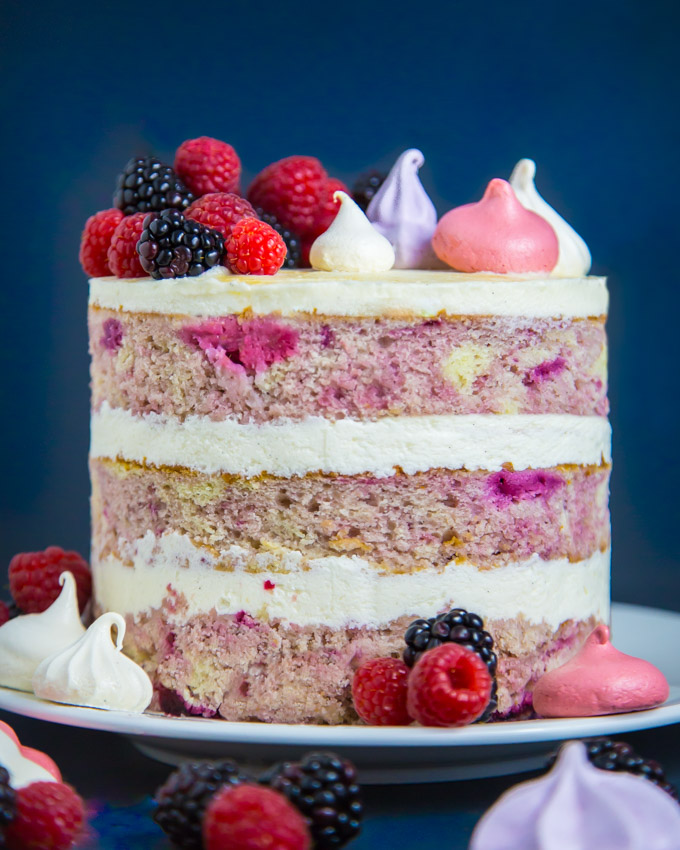 Happy New Year! Happy 2nd Blog Birthday! Happy eat-all-of-this Berry Bourbon Cake day!
I'm thrilled to kick off the new year with a million things to celebrate all at once. It just wouldn't be right if I didn't do it with a bit of boozy baking, which happens to be my favorite kind of baking. A splash for me, a splash for cake, a splash for me, a splash for meeeeeeee.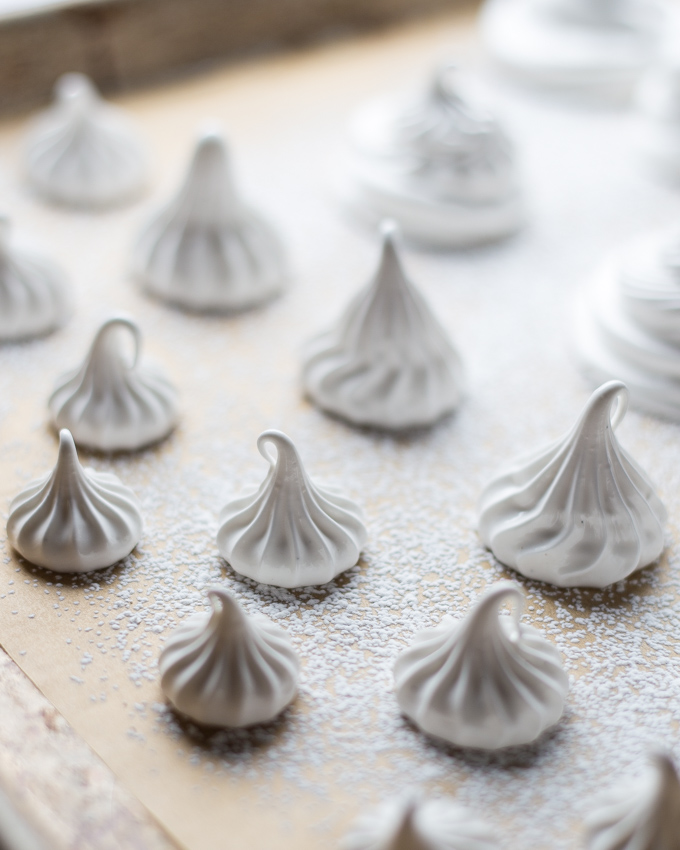 2015 was a heck of a year. I have so many things to look back upon as this year kicks off to a (very busy) start. Not only is today Southern FATTY's first day into the terrible twos, but the past year has been super generous to us over here on the blog. I couldn't be more thrilled at how many of y'all stuck around and shared what you're baking up with us during the past couple years. I'm looking forward to more posts and more opportunities as the new year creeps in.
Another great (and bit more personal) reason for me to enjoy some cake, is a brand new addition to my family. Christmas this year came just a couple days early for us, with the addition of a beautiful little (first) niece for this Uncle Fatty to completely spoil. I suggested puréeing some of the cake to feed her in celebration of her popping out, but was shut down for some reason… Next year, maybe.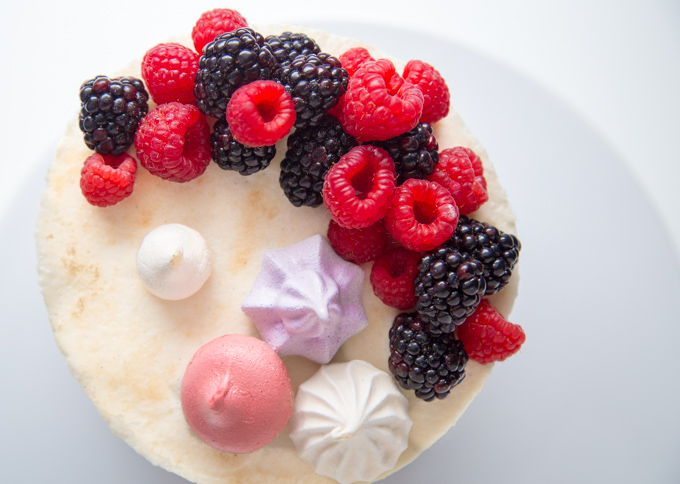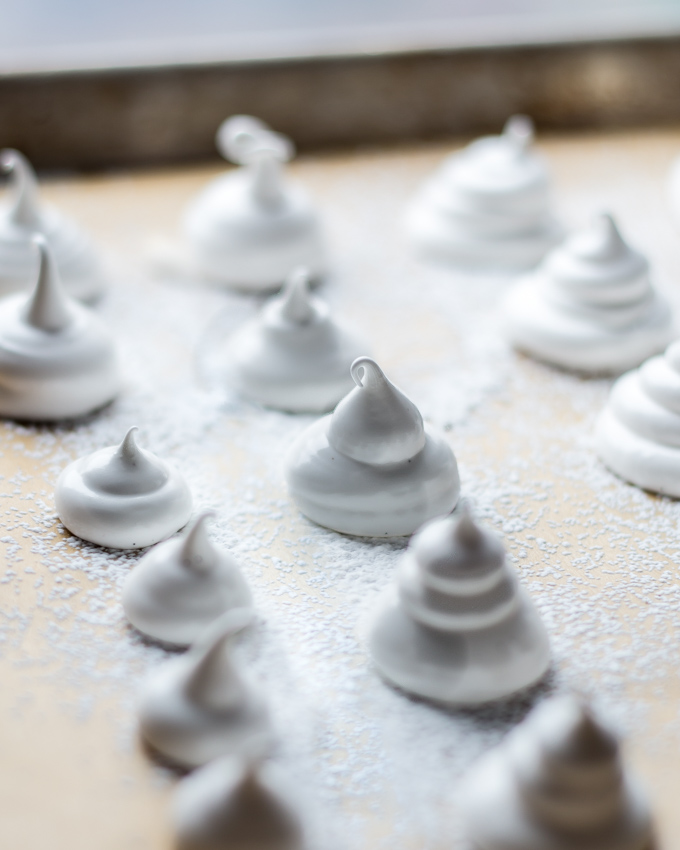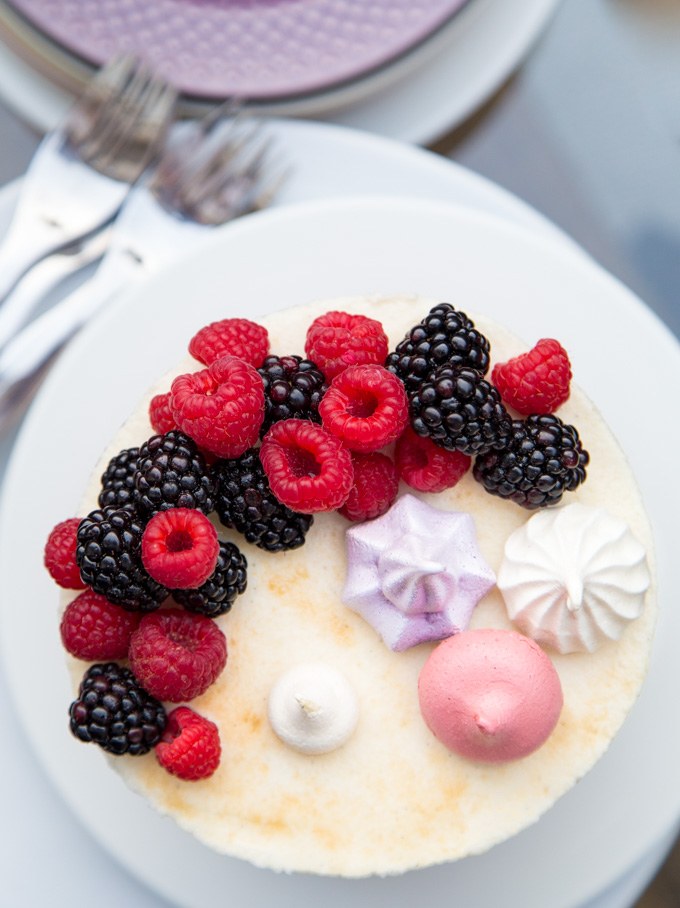 One of my very first blog recipes that posted almost exactly two years ago, Blackberry Bourbon Cupcakes, ended up being one of the all-time most viewed and shared posts on the site. It still rivals more recent posts for the top spot in the lineup each month. Personally, it is one of my very favorite recipes. It's perfectly balanced with a bit of berry, a calm cooked frosting (yes. cooked!), and topped with a splash of good ol' Kentucky bourbon. I get a lot of e-mails and requests asking about how to turn this recipe into a cake. I figured this was the perfect occasion to do exactly that. Luckily, it didn't take much extra work to transform the popular handheld favorite into a sliceable celebratory sweet.
Cheers to a new year full of treats, sweets, and brand new friends joining those of you that have stuck around for the past couple years. Go ahead and skip the gym. We all know how that always works out, anyway.
Have and share some cake! And maybe a bit of bourbon, too.
Berry Bourbon Cake
Berry Bourbon Cake by SouthernFATTY.com - 2016
Ingredients
Cake Base
2 cups flour, AP
2 tablespoons cornstarch
1½ tablespoons baking powder
1 teaspoon salt
1 and ⅓ cups sugar, white granulated
⅓ cup buttermilk
4 egg whites + 2 whole eggs
12 tablespoons butter, unsalted, room temp.
Berry Mixture
6 ounces blackberries
6 ounces raspberries
½ cup sugar, white granulated
½ lemon, juice and zest
¼ to ½ cup of each berry type, left whole, uncooked
Frosting
1 cup milk
6 tablespoons flour
1 cup butter, room temp.
½ to 1 cup sugar, confectioners
1 plus ½ teaspoon vanilla bean paste
2-3 tablespoons bourbon
Finishing
¼ cup whole milk, for soak
extra berries, to decorate
meringues, to decorate
vanilla powder, to top
Optional for Naked Cake
Instructions
Cake
Be sure to read through the entire recipe if making a naked cake, as you will need some additional equipment.
Pre-heat oven to 350 F.
Combine the berry mixture ingredients in saucepan and cook over medium heat for a few minutes until the berries are breaking down and the sauce thickens. Remove to cool.
Prepare a 9x13 baking pan by greasing and then lining with trimmed parchment paper. You want it to stick up on the sides for easy removal later.
Combine dry ingredients: flour, cornstarch, salt, baking powder. Sift well and set aside.
Place butter and sugar in mixer. Mix on medium speed for 2-3 minutes until combined and smooth, pale, fluffy.
Mix egg whites, whole eggs, and milk in bowl. Whisk until combined. Set aside.
Slowly mixing butter/sugar combination in mixer, add ⅓ of the dry ingredients that were sifted together.
Slowly add milk/egg mixture in 2-3 batches. Ensure mixed well before adding more.
Add remaining dry ingredients and mix until combined. Scrape bowl sides and mix for a few more seconds.
Carefully fold in berry mixture and additional whole berries.
Grease top of parchment paper in lined baking pan and pour batter in. Smooth out evenly.
Bake until knife comes out clean, about 30 minutes. Take care to not dry out cake by over-cooking.
Remove to cool completely. I prefer to throw it in the freezer for an hour at this point if making a naked layer cake, as pictured.
Frosting
While cake is cooling completely, make the frosting.
Combine flour and milk in saucepan over medium heat.
Stir constantly until reduced and thick. Look for a paste-like consistency. Stop when you can see the bottom of the pan remain when stirring through mixture.
Remove and cool.
Cream butter and sugar 2-3 minutes until creamed and fluffy.
Add cooled flour mixture and mix at medium/medium-high speed until mixed thoroughly.
Be sure to scrape sides or use a Beater Blade for this to ensure smoothness.
Mix in vanilla extract and bourbon.
Finishing
Remove cold cake pan. If making a naked cake, as pictured, cut out two 6-inch rounds using a cake ring. Keep the scraps.
Place the cake ring on a sheet pan or flat surface.
For a perfectly smooth surface, place a ring of acetate paper around the inside of the ring. It should extend well beyond the top of the ring. You may need to cut two pieces for this. See picture of layers on the blog post.
Using the scraps, press a thick layer into the ring. Make this look similar to the punched out layers.
Brush on a third of the whole milk to moisten the cake.
Pipe on a layer of the frosting.
Place one of the 6-inch rounds on top. Brush top with ⅓ of milk again.
Pipe frosting.
Place last layer of cake. Brush with remaining ⅓ milk.
Place entire cake in freezer for several hours, preferably overnight.
Finish by removing cake, peeling away acetate to leave smooth sides. Frost and decorate top layer as desired.
Enjoy more recipe and eye-candy photos on SouthernFATTY.com!
What are you looking forward to in the new year?
Comment below and say hello!