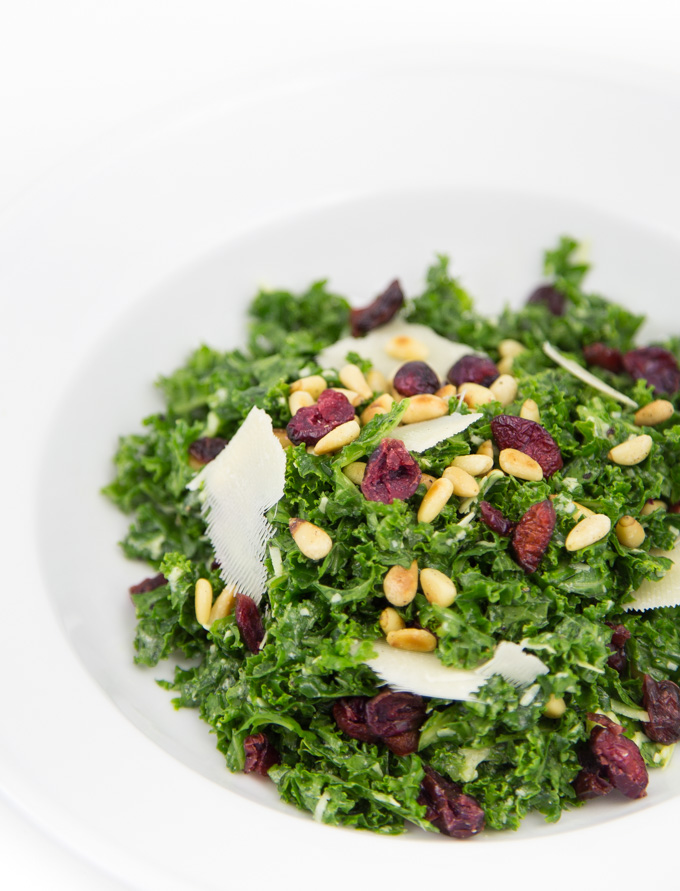 I know. I know. A second salad posted in an entire year. So sue me. — With all of the annual new year buzz about healthy eating, I've sorta slowly eased onto the bus (or jumped in front of the train, if you're an optimist like myself).
Not only am I posting another salad recipe, but its primary ingredient is *gasp* kale. This pulverized kale salad is tossed with a super-simple citrus olive oil vinaigrette. Toss on some coconut oil toasted pine nuts, sweetened cried cranberries, and fresh parm for the final shebang.
For all of you fatty-lovin' folks out there with your hand on the unfollow trigger, just know that I maaaaay have first introduced this salad into my own kitchen with a side of fries. With a glimpse of hope for my summer bikini body, I am proud (?) to say that the second and third times that I ate this during the past week (seriously.), I didn't have to add any additional safety carbs™. For a non-greeny, that's def an ode to the tastiness of this rabbit food.
The original inspiration for this salad came from a local Nashville staple, Kayne Prime. This place consistently puts out some of the best food in the city. Every great steak-stop should master a simple salad to offer on the side. They have done exactly that in a way that is so well-known in town that several of my fellow bloggin' buddies in town have re-created it in their home kitchens. This is my twist, changing a bit around with the use of cranberries and toasting the nuts with a splash of coconut oil and salt. I added a bit of white balsamic to the vinaigrette to balance the added sweetness of the dried berries.
Here's to the new year and eating a salad every twice a year. I'll drink (a shake, obv.) to that.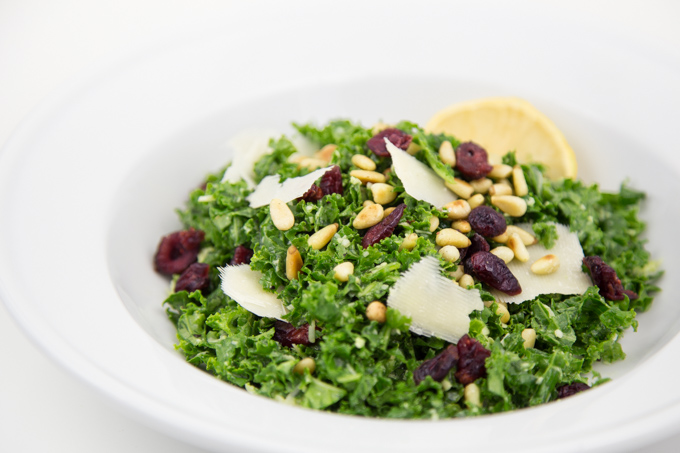 5-Minute Citrus Kale Salad
5-Minute Citrus Kale Salad by SouthernFATTY.com
Ingredients
10 ounces kale, rinsed, stemmed, patted dry
½ to ¾ cup parmesan, grated
⅔ cup dried sweetened cranberries
⅓ cup pine nuts
1 tablespoon coconut oil
½ teaspoon salt
⅓ cup olive oil
1 tablespoon lemon juice, fresh
1 tablespoon orange juice, fresh
1 tablespoon orange or lemon zest
1 tablespoon white balsamic vinegar
parmesan, salt, pepper to finish
Instructions
Begin by washing and stemming the kale. Rinse and pat dry.
Place kale (in batches) in food processor and pulse until pulverized. Store in bowl.
In a pan over medium heat, toast pie nuts with coconut oil and salt until fragrant. Remove to cool.
In a small bowl, combine olive oil, fruit juices, zest, balsamic vinegar.
Toss parmesan with kale.
Add vinaigrette and toss. Top with cranberries, nuts, additional parmesan, salt, pepper to taste.
Enjoy immediately.
Find more on SouthernFATTY.com!