Banana Split Cupcakes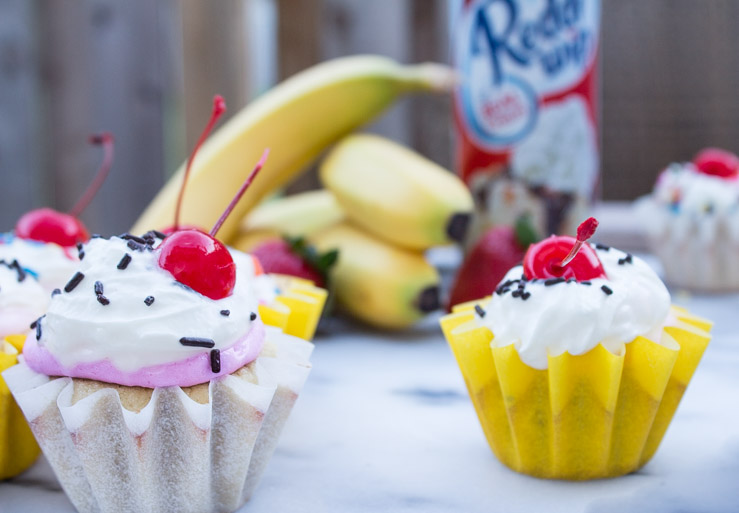 1 and ½ cup flour, AP
1 teaspoon baking powder
½ teaspoon salt
1 cup sugar
8 tablespoons butter, softened
3 eggs
¾ cup milk
1 tablespoon vanilla bean paste
2-3 bananas (3 smaller is what I used); 1 smashed and other chopped
8 oz cream cheese, softened
½ cup sugar
½ cup powdered sugar
1 and ½ cup heavy cream
1 tablespoon strawberry whiskey
½ teaspoon vanilla bean paste
5-6 strawberries, mashed or pureed
1 packet gelatin
Canned whipped cream
Sprinkles
Chocolate, Caramel, Strawberry Syrup as desired
Nuts
Maraschino Cherries
Pre-heat oven to 350 F.
Fill cupcake pan with paper liners.
Cream butter and sugar in mixer.
Add eggs, one at a time, mixing between each.
In a bowl, sift flour, baking powder, salt together. Sifting helps prevent clumping.
Add flour mixture to butter/egg mix slowly, about ⅓ of flour at first. Add half of milk. Another ⅓ of the flour, the other half of milk, and end with the last ⅓ of flour. Mix well after each addition. Mix in smashed banana and combine well.
Add vanilla paste (extract alternatively).
Add chopped banana and roughly combine.
Fill molds about ¾ of the way. Bake for ~20 minutes.
Let cool.
In mixer bowl, combine cream cheese, granulated sugar and vanilla. Cream well with whisk attachment.
Add strawberry whiskey, if using.
While mixing, slowly add cream until combined.
Mix on medium speed until fluffy.
Mix in strawberries.
Optional-- Sprinkle packet of gelatin and mix well. This will allow the frosting the hold shape longer if that is needed. I prefer adding it.
Cool until needed for piping.
Pipe frosting to cooled cupcakes.
Top with desired toppings: whipped cream, sprinkles, syrups, cherries, etc.
Enjoy! Visit SouthernFATTY.com for more.