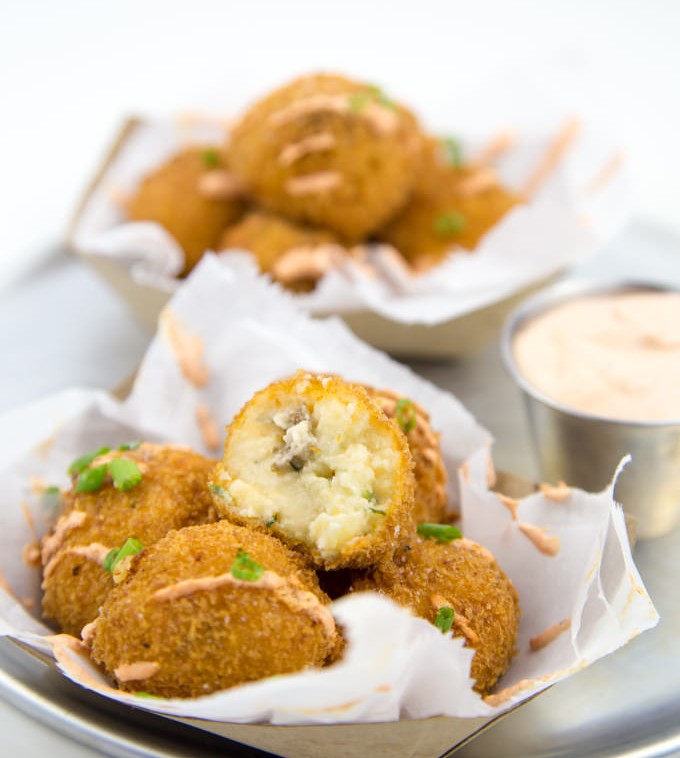 When I was a kid, I can remember going to a University of Kentucky football game. If any of you know anything about Kentucky, you'll know how horrible of an idea that even is. When we got there, it started to snow. It continued to snow. Eventually, someone in my family was able to pry their frozen ass off of the metal bleachers, making their way to the gift shop to buy a bunch of overpriced blankets in an attempt to return the life to everyone seated in the blizzard.
I didn't fall in love with football, but it stuck as my only football memory that I can ever recall. Never again will I move out of my living room for a game. That's what brings me to these beautiful balls of crispy, cheesy goodness… Super Bowl!
The only thing I enjoy about the Super Bowl is the food. The endless supply of snacking food. Nobody will judge how much you eat, because they are too busy watching the people run around hitting each other in a line on the field. It's a food-lovers paradise.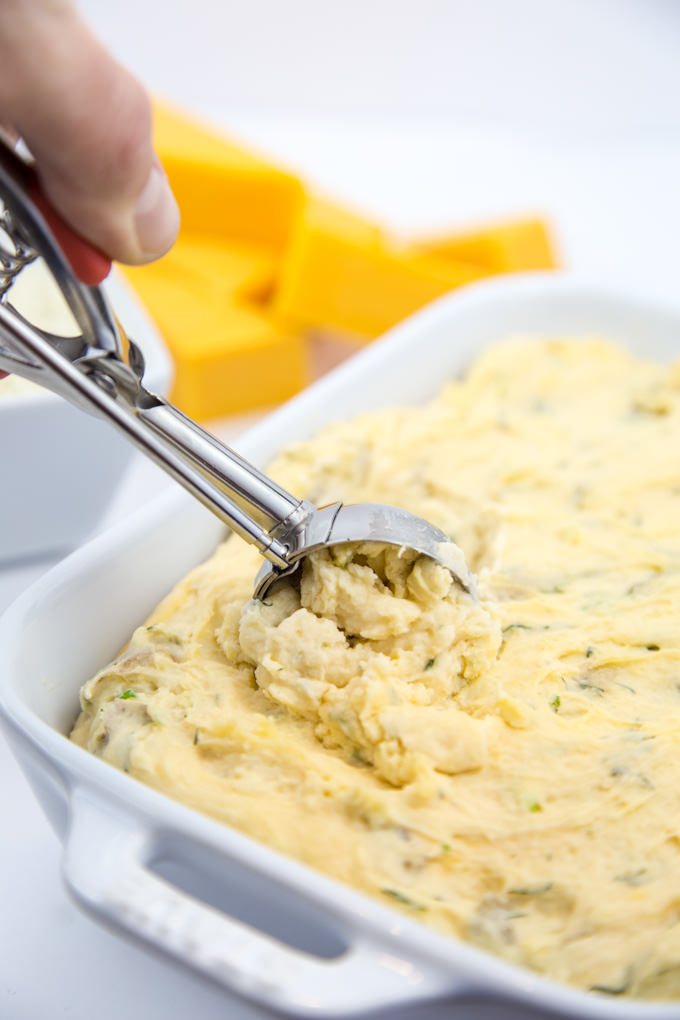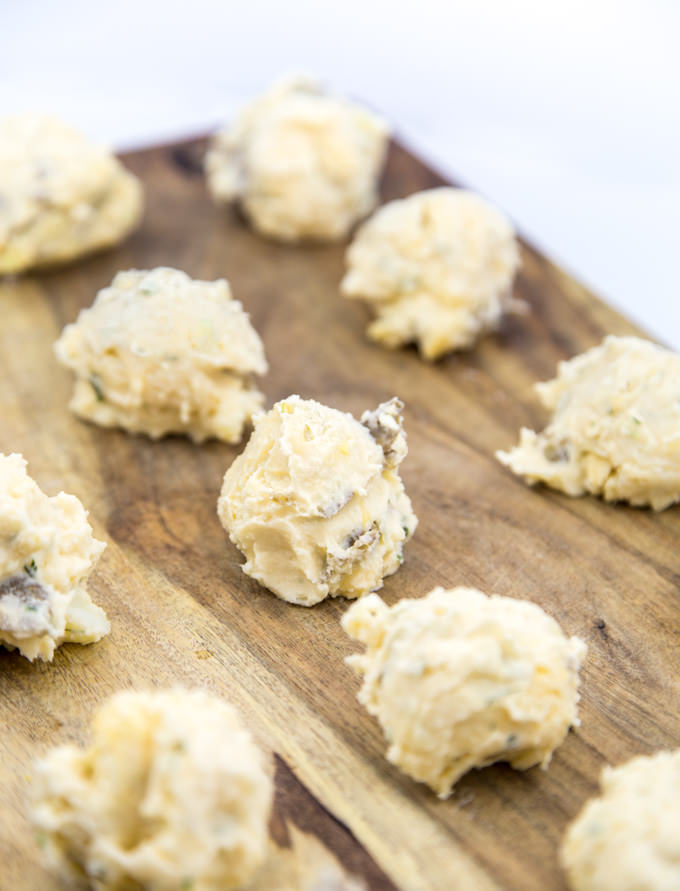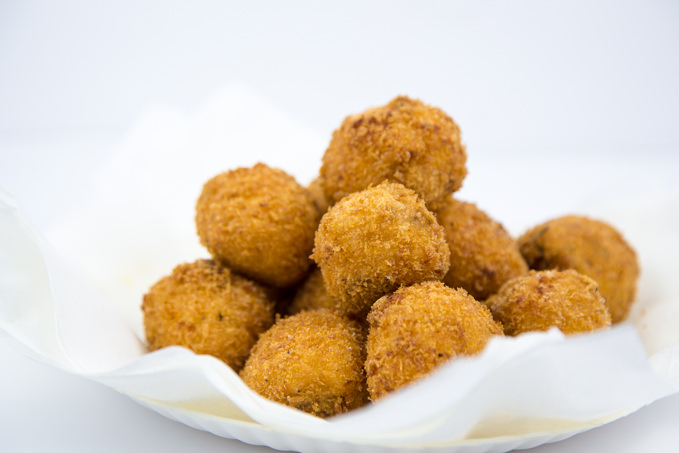 The original inspiration for this recipe came from my being a total cheap-ass. I always make an insane amount of mashed potatoes. I've been taught one small potato per person plus one extra for the pot, but my actual ratio seems to come out to more like three potatoes per person and whatever is left in the bag for the pot.
Without fail, every single time I make them, I have enough leftover to feed a hungry mob of elderly at a Ponderosa on a Sunday afternoon.
The solution to all of your massive mashed problems are in the fryer. What else would you expect from me, right? It's pretty simple. Ball 'em up, toss 'em in egg wash, bread 'em, and fry till crispy and absolutely perfect. You can add just about anything before you make them. I've even made a ton-o-balls ahead of time and frozen them to then fry or even bake.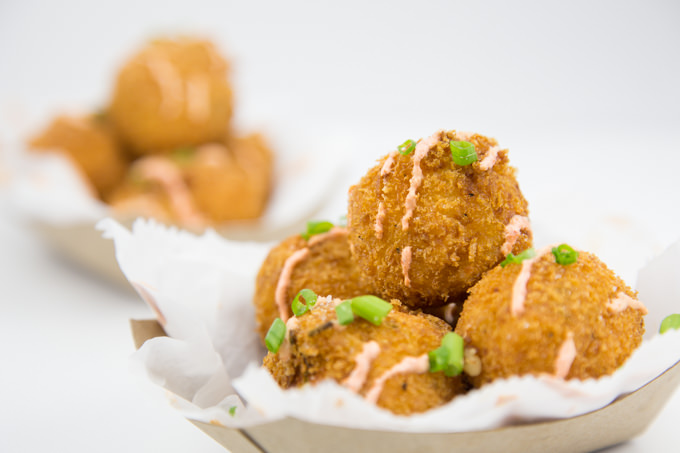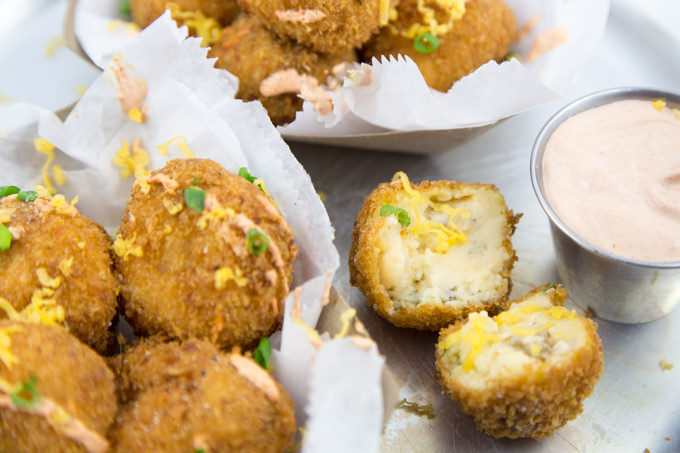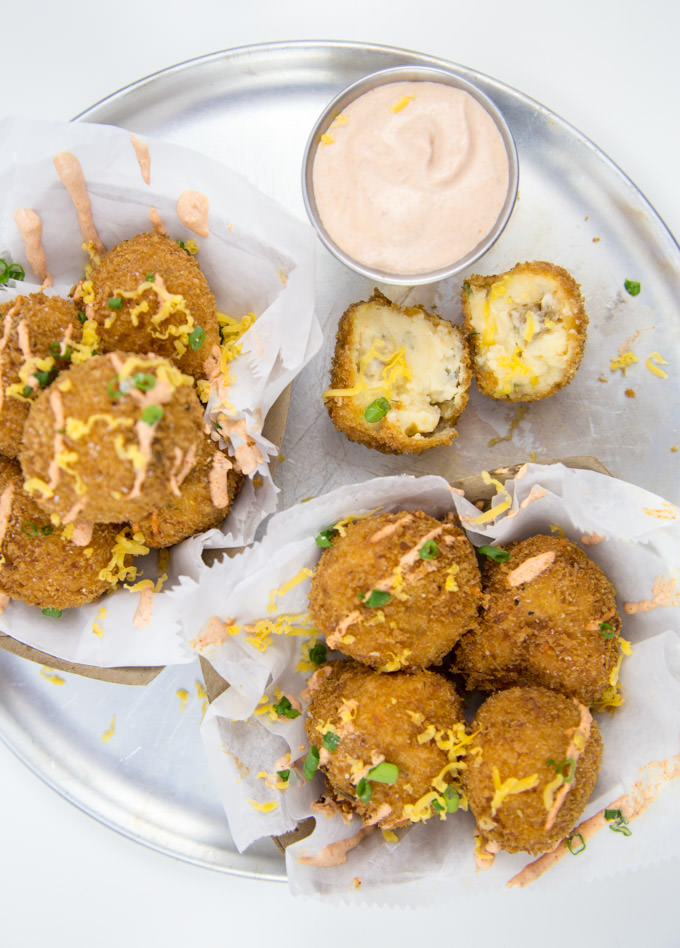 Super Bowl, here I come. Fried Mashed Potatoes for the win. Goaaaaaal! Match set. Touchdown… Whatever it is.

Fried Mashed Potato Balls
Fried Mashed Potato Balls - Loaded with cheese, bacon, garlic, and more! Perfect for Super Bowl or party food that will use up those leftover mashed potatoes.
Ingredients
Base
1 pound mashed potatoes, leftover, cold, thick works best
2 eggs, lightly beaten
1 cup panko breadcrumbs
½ teaspoon salt
¼ teaspoon black pepper
Optional
additional garlic
green onions
cheese, freshly shredded
bacon
Instructions
Combine cold mashed potatoes with any additional optional mix-ins.
Using a small scoop, portion even balls (I use a 0.5 ounce scoop) onto a baking sheet.
Chill balls to keep shape.
During this time, heat deep fryer to 360 F.
Working in small batches, coat balls in egg wash and roll evenly in panko + salt and pepper mixture.
Fry without crowding, until golden, about 4 minutes.
Remove to paper-lined plate to cool.
Top with green onions, more cheese, and enjoy.
Find more recipes on SouthernFATTY.com!