5-Minute Citrus Kale Salad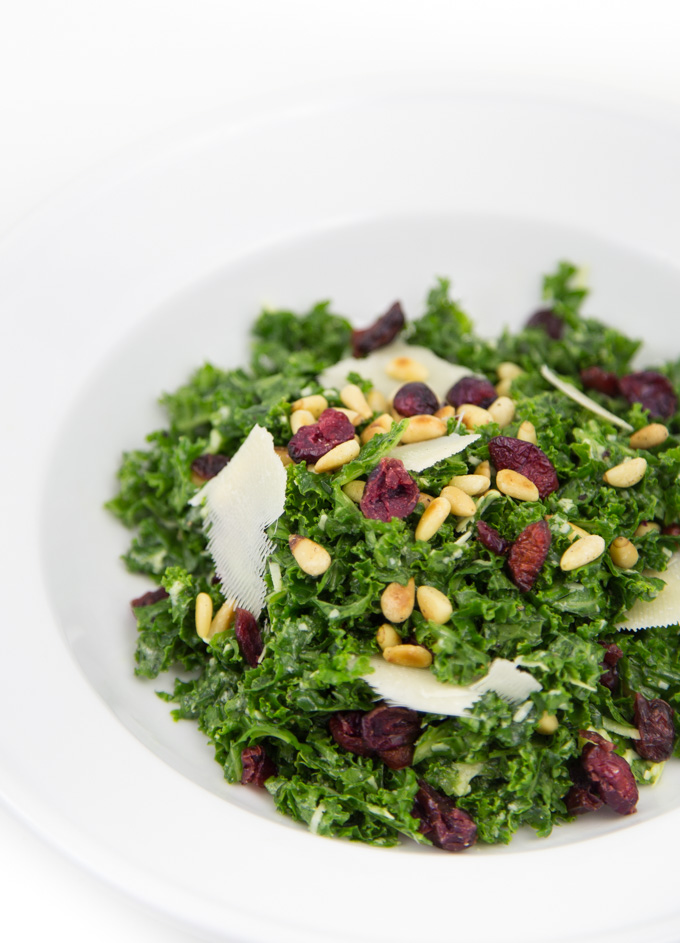 10 ounces kale, rinsed, stemmed, patted dry
½ to ¾ cup parmesan, grated
⅔ cup dried sweetened cranberries
⅓ cup pine nuts
1 tablespoon coconut oil
½ teaspoon salt
⅓ cup olive oil
1 tablespoon lemon juice, fresh
1 tablespoon orange juice, fresh
1 tablespoon orange or lemon zest
1 tablespoon white balsamic vinegar
parmesan, salt, pepper to finish
Begin by washing and stemming the kale. Rinse and pat dry.
Place kale (in batches) in food processor and pulse until pulverized. Store in bowl.
In a pan over medium heat, toast pie nuts with coconut oil and salt until fragrant. Remove to cool.
In a small bowl, combine olive oil, fruit juices, zest, balsamic vinegar.
Toss parmesan with kale.
Add vinaigrette and toss. Top with cranberries, nuts, additional parmesan, salt, pepper to taste.
Enjoy immediately.
Find more on SouthernFATTY.com!
Recipe by
Southern FATTY
at https://www.southernfatty.com/5-minute-citrus-kale-salad/