Creamy white chicken chili, made with milk, cream, lots of cheese, tossed with shredded rotisserie chicken for a quick, delicious warm dinner recipe.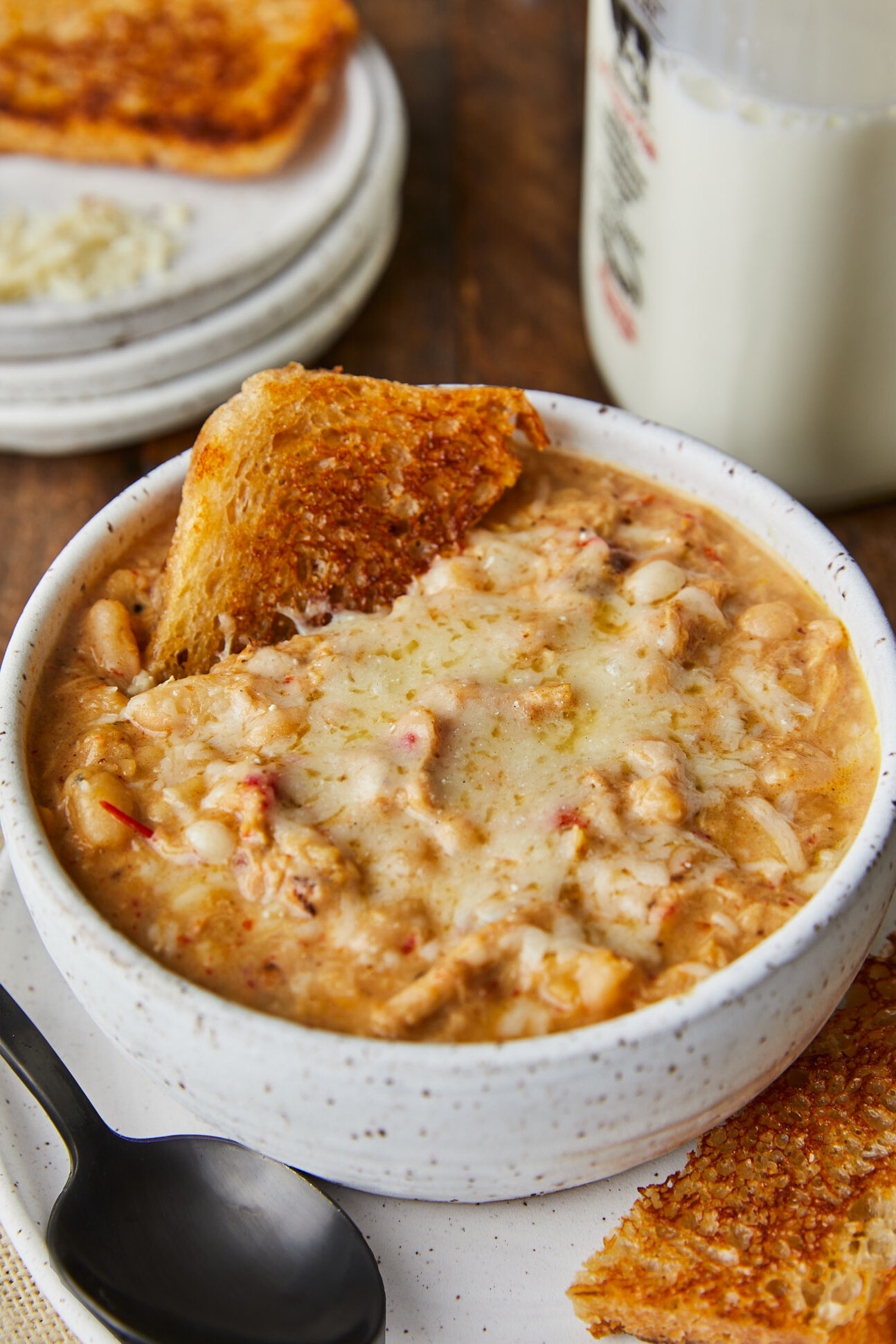 The first night that forced me to pull out my box full of jackets and sweaters from the closet was when I knew that it was time. Chili time, that is. It happens every year. I couldn't tell you what date it officially becomes fall or winter, but I do know that when you realize that the seasons have officially changed this is the dish that will be on my dining room table. White chili is the ultimate in comfort food, and this is my go-to recipe.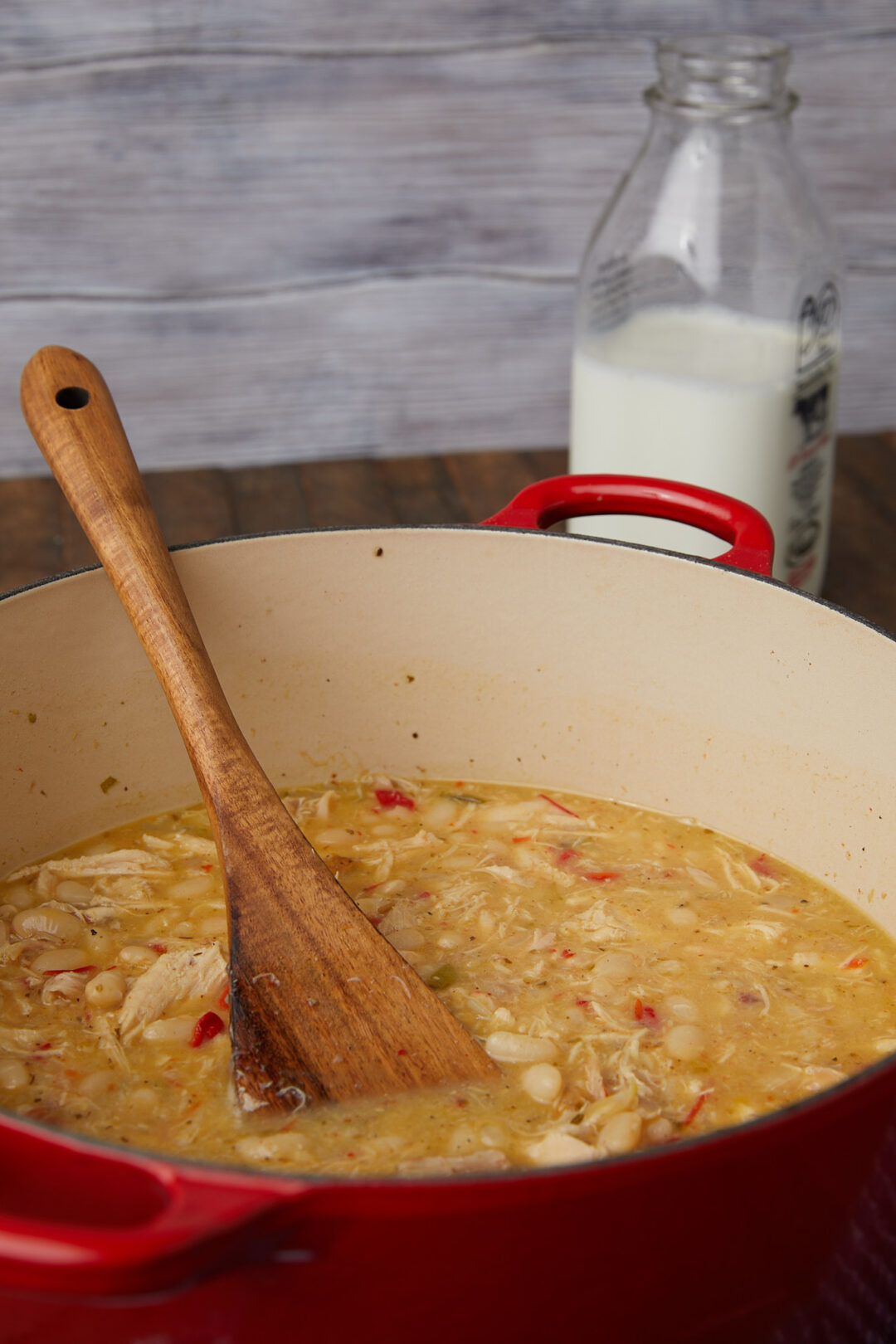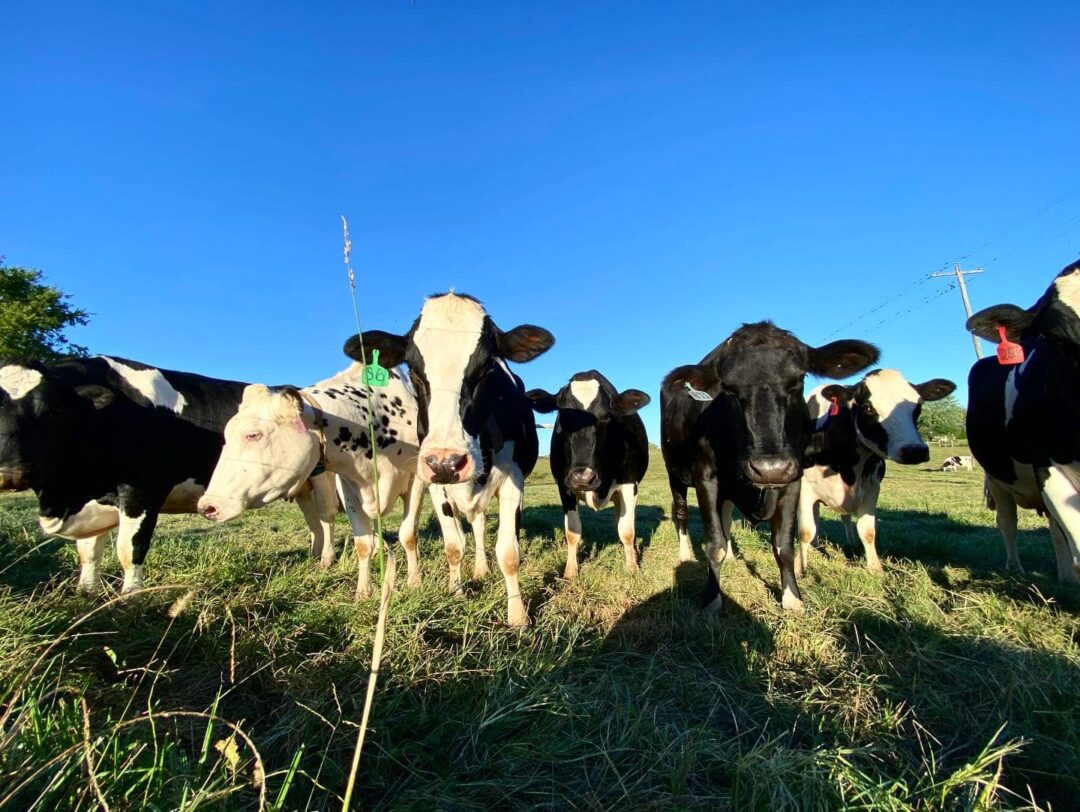 Got Milk?
Loaded with creamy milk + cheese, white beans, some favorite fall spices, this recipe is based on one that I loved growing up. Let's be honest… It's basically creamy queso with beans and chicken. What's not to love?
Since this is a creamy, dairy-based chili recipe, I like to use whole milk ( JD Country Milk this time, a local dairy just down the road in Kentucky ), heavy cream, and usually whatever cheese I happen to have on hand. This time it was white and sharp cheddars from Flowers Creamery in Tennessee (check out this post for my visit to the farm). I def recommend exploring the local dairy options to your own town.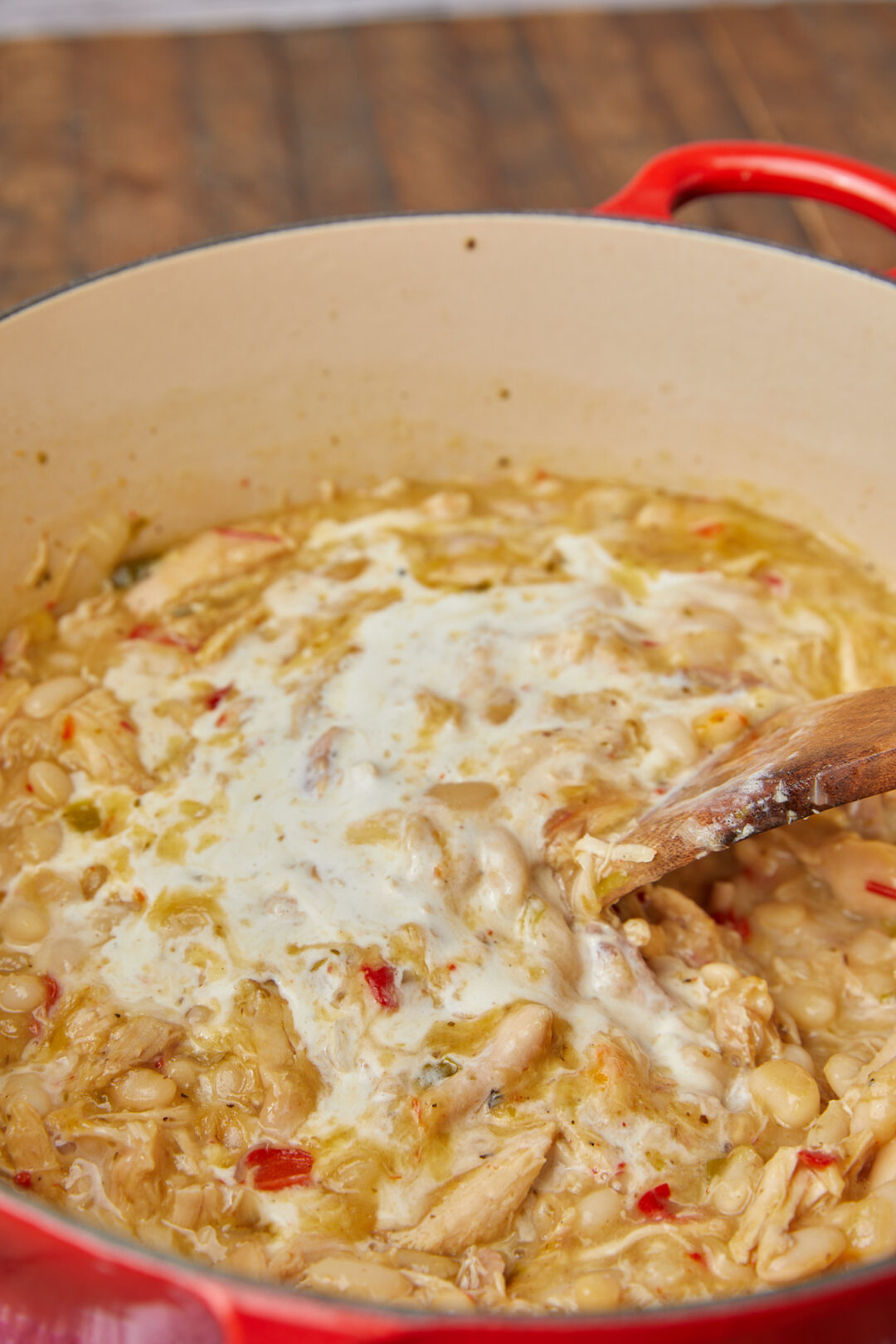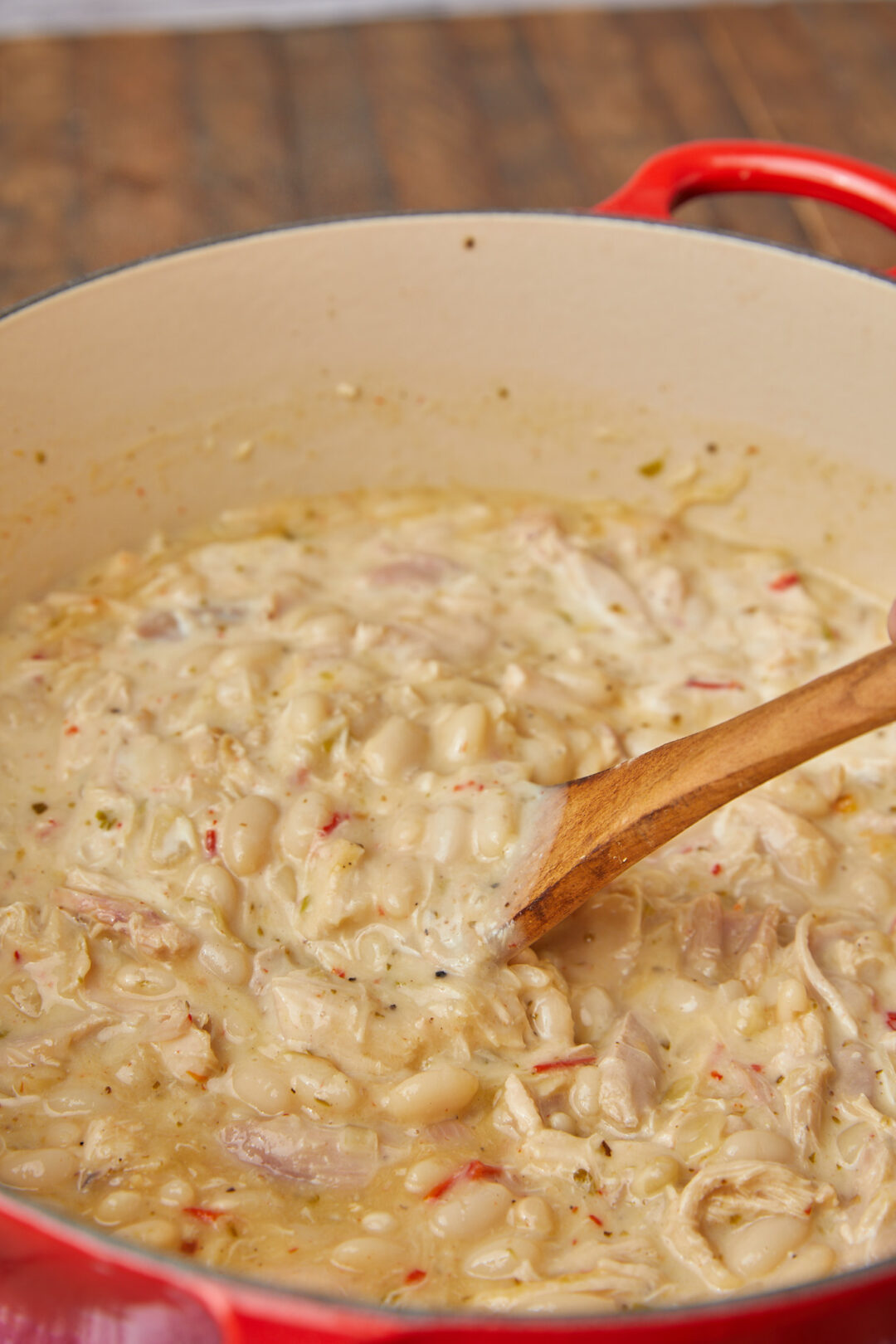 Flavor and Function, y'all
The biologist nerd in me loves that this dish uses lots of milk. I grew up drinking it all the time (ayone else have milk nearly every night with dinner??), and the vitamins and protein from it are so important to keeping you healthy as the cold weather brings in all the sniffles. Flavor and function = win, win for dairy!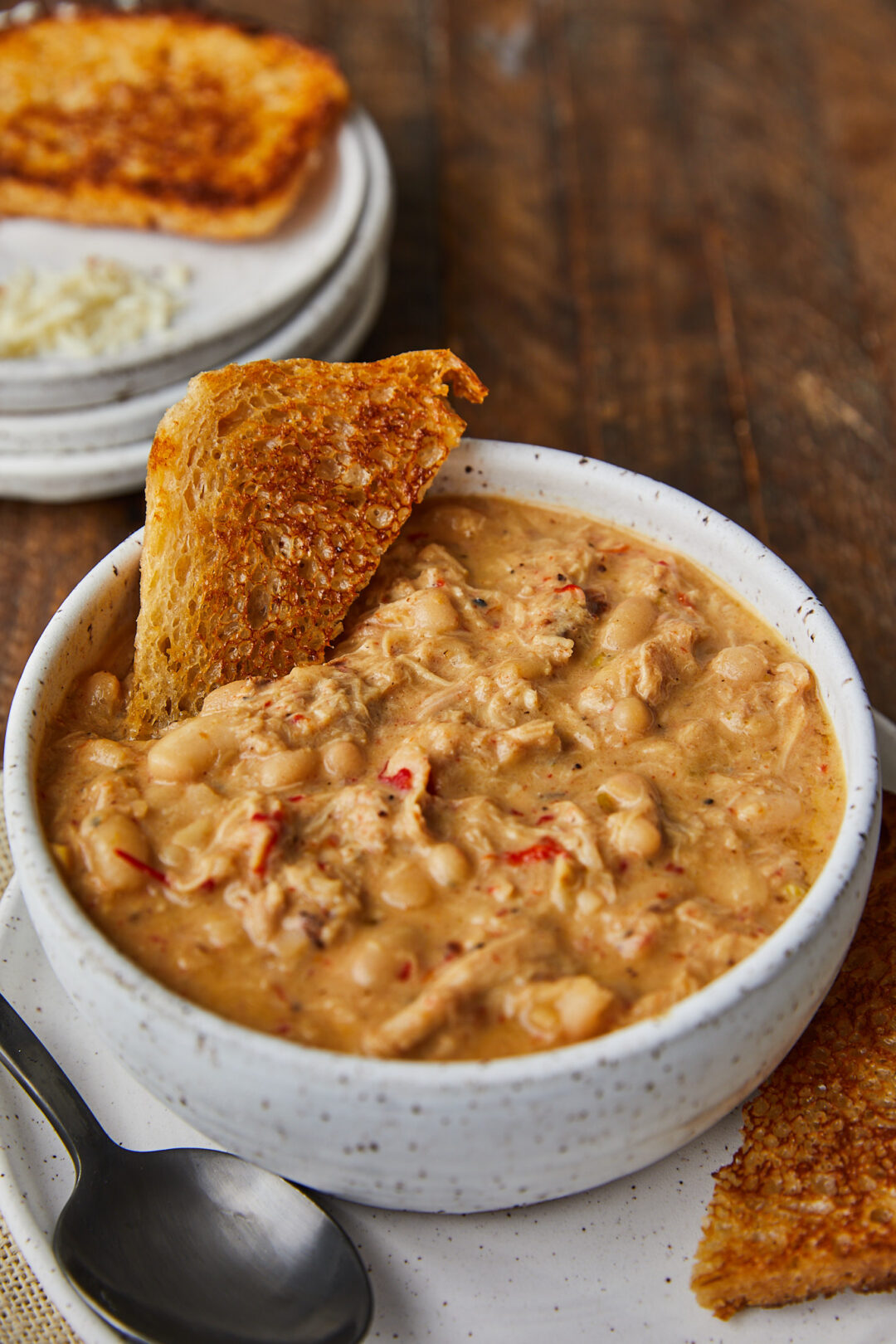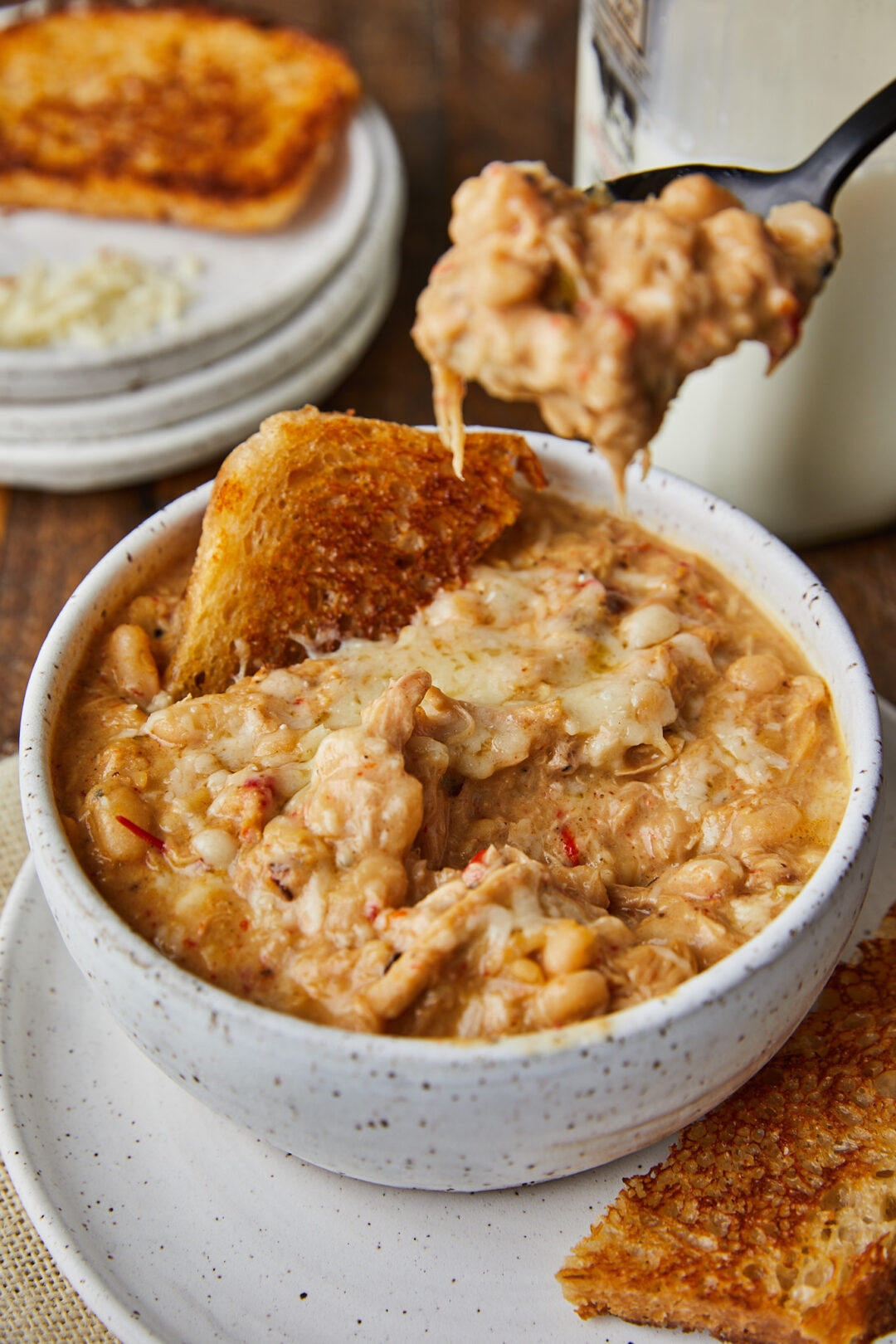 With it being dark at basically noon now (UGH!), another great reason to whip this up is that you can grab a rotisserie chicken, cans of beans, and have this ready to go in no time. I've made it with dry beans, soaking them overnight first, but almost always opt for the cans these days. This makes for a great crockpot, read-when-you-get-home kind of meal. Bonus points since you can make a bunch and just freeze the leftovers. Reheats like a champ.
If you need a warm fall and winter pick-me-up, look no further. This creamy chili won't disappoint. Enjoy the recipe, y'all.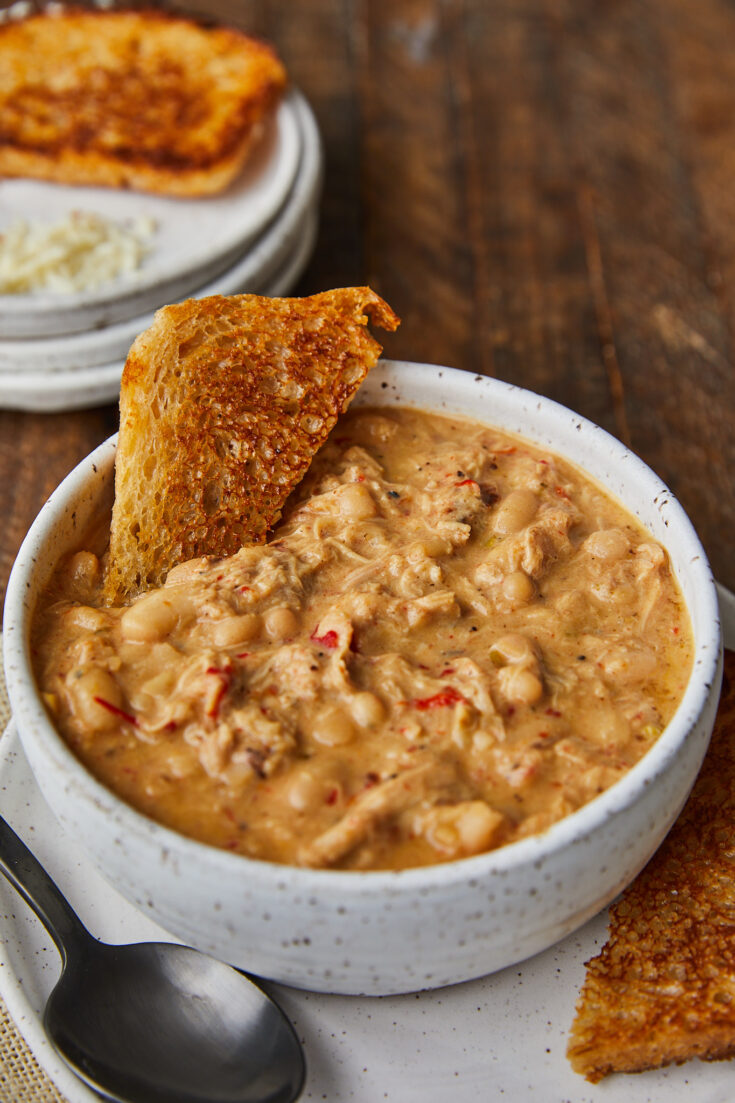 Yield:

8-10 servings
Rotisserie Chicken White Chili
Creamy white chili, made with milk, cream, lots of cheese, tossed with shredded rotisserie chicken for a quick, delicious warm dinner recipe. From SouthernFatty.com.
Ingredients
1 cup whole milk
1 lb shredded rotisserie chicken
4 cans (15 oz ea) white beans
4 tablespoons butter
3 tablespoons flour
1 sweet onion, diced
2 cloves garlic, minced
1-2 jalapeños, diced
1 red bell pepper, diced
1 teaspoon dried oregano
1/2 teaspoon white pepper
1/2 teaspoon garlic powder
2 cups shredded cheese (I used white and sharp cheddar)
3 to 4 cups chicken broth
1/2 cup sour cream
1/2 cup heavy cream
salt, as needed
Instructions
In a large Dutch oven or pot, melt butter over medium heat.
Add flour and whisk well.
Add diced onions, garlic, jalapenos, red pepper and stir for about a minute.
While whisking, add milk in a steady stream.
Add 1 cup of the broth while continuing to whisk until smooth.
Add the dry seasonings. Mix well.
Add strained beans and 2 more cups of broth.
Add the shredded chicken.
Bring to heavy simmer, reduce to medium-low heat, and allow to cook for about 20 minutes, stirring often to prevent burning on the bottom.
Add the heavy cream and sour cream.
Mix in 1 cup of the cheese. Set the remaining cup aside to top chili when serving.
Add additional broth as desired to reach desired thickness.
Salt as needed and server hot with cheese.
Enjoy! -- Find more recipes on SouthernFatty.com! Tag @southernfatty on social with yours.
Notes
Partnership with The Dairy Alliance.
Nutrition Information:
Yield:
10
Serving Size:
1
Amount Per Serving:
Calories:

445
Total Fat:

26g
Saturated Fat:

13g
Trans Fat:

1g
Unsaturated Fat:

9g
Cholesterol:

119mg
Sodium:

1896mg
Carbohydrates:

31g
Fiber:

5g
Sugar:

14g
Protein:

26g